Key takeaways
Pros
Great interface and easy navigation
Implementation is not that hard
Good live chat customization options
Cons
Lack of important live chat features
Strong emphasis on chatbot use
It can get very expensive
Getting started with PipeDrive live chat
Pipedrive is a well-known customer relationship management software that can double as a live chat software. It offers a reliable and useful feature set that can cover all your CRM needs. In this review, however, we'll take a look at the live chat and its features, and find out how they perform and how easy they are to use. Let's get started.
Getting started with PipeDrive is fast, with only a short registration standing in your way. Once you're done with it, you can start taking a look around the dashboard. PipeDrive is not a dedicated live chat solution, so users are presented with a plethora of options and tools to play around with. However, the interface looks pretty neat. It's very well polished, uncluttered and it just looks purposeful, so you shouldn't have any trouble accessing whatever feature you will be looking for.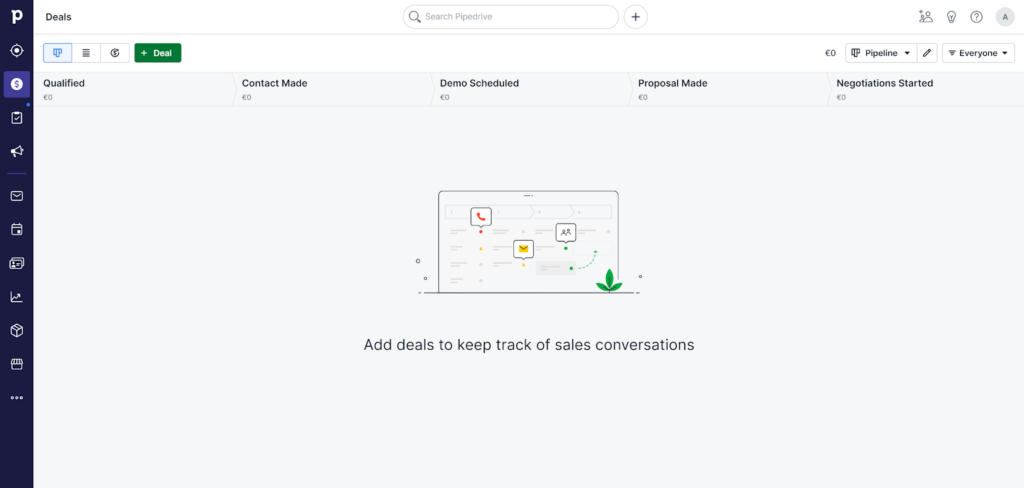 To find the live chat, I had to consult a guide as there is no visible option to add it in the menu section on the left, or anywhere else in the interface. However, it wasn't difficult to find. You just need to go to the Leads section in the menu, select Live Chat, and activate LeadBooster. PipeDrive will inform you that LeadBooster and Live Chat require a monthly subscription of $39 per month, and afterwards you can start customizing your live chat widget.
Features and user interface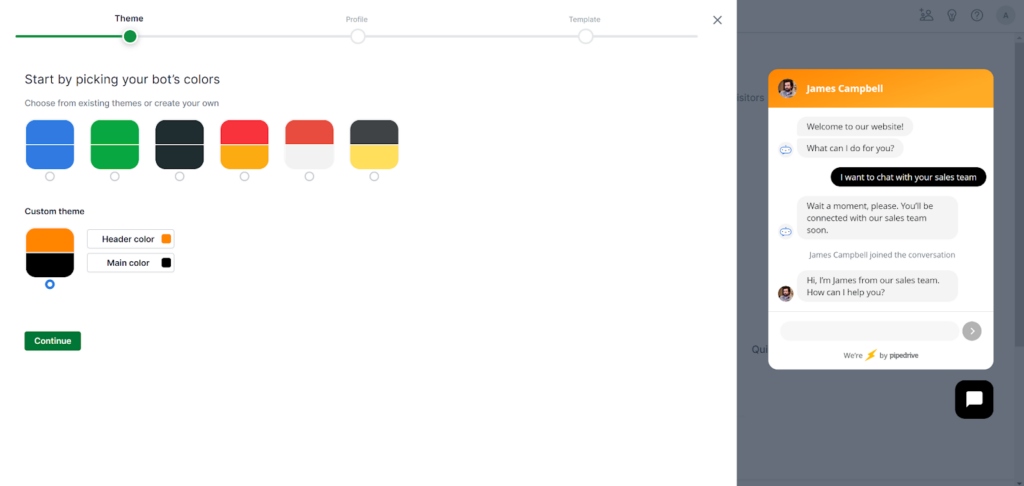 In the next section, PipeDrive will mandatorily ask you to define your chatbot (even if you don't want it). The section afterwards asks you for the purpose of your live chat, and you can select if you want to generate more leads, book more meetings, or qualify and route leads. Finally, there is an option to have live conversations with customers, so make sure you will pick this option if you're not interested in a chatbot.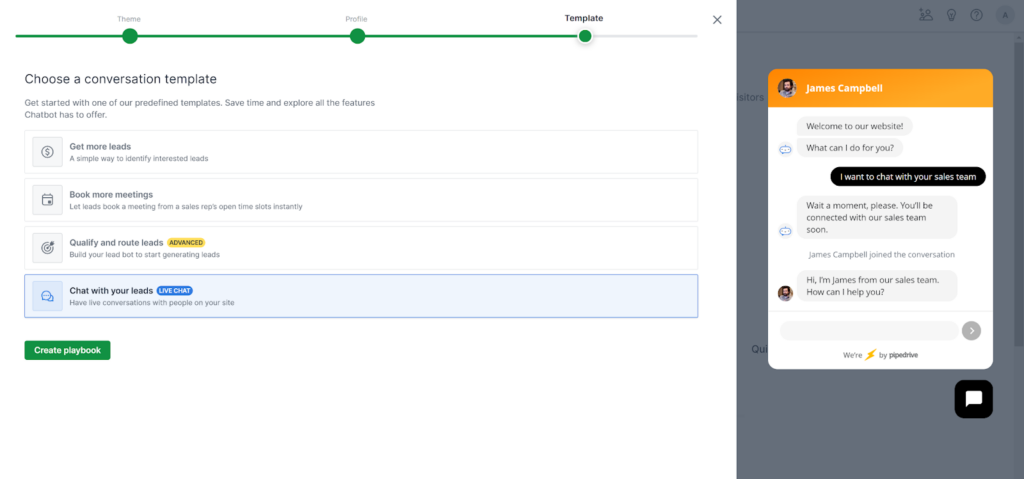 What comes next is the flow configuration. Since this is PipeDrive's specialty, you can't really skip this process; you have to configure the initial flow through a system similar to IVR routing. You will be presented with a visual representation of possibilities and actions you can automate with your live chat. Luckily, if you decide to just save the changes without configuring anything, you will be fine because PipeDrive offers a pre-defined chat flow straight away. However, there is still some automation going on and it can't be turned off. As a side note, this only concerns conversation essentials.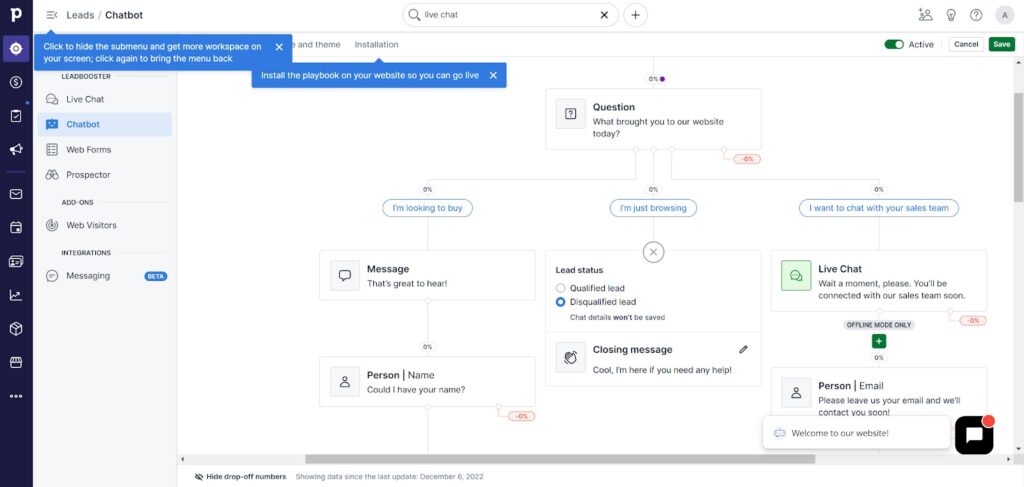 While I can honestly say that the PipeDrive flow features are very well designed, it's a pity that the application essentially forces you into using a chatbot. We're going to take a look at the PipeDrive chatbot in a separate review, so let's keep the focus on the implementation of the PipeDrive live chat. Once you're happy with your flow design, you can select the Installation tab and choose from various options, including WordPress, Squarespace, Google Tag Manager, Wix, or manual installation. I chose manual installation for the purpose of this review.
The PipeDrive website doesn't state the exact live chat features available, with the exception of the chatbot and integration with the rest of the CRM toolset for producing more leads. The next section will show you the experience of working with PipeDrive live chat from both sides, and we'll go through all available features.
Live chat performance and user experience
The live chat widget fits perfectly on my website, just as I designed it. I also used the option to check if the manual integration has been corrected in PipeDrive. With the live chat widget set up and ready on my testing website, I clicked on the widget and dealt with the pre-defined chatbot questions. I chose the answer to talk to a representative (myself) and waited until they (I) answered my inquiry.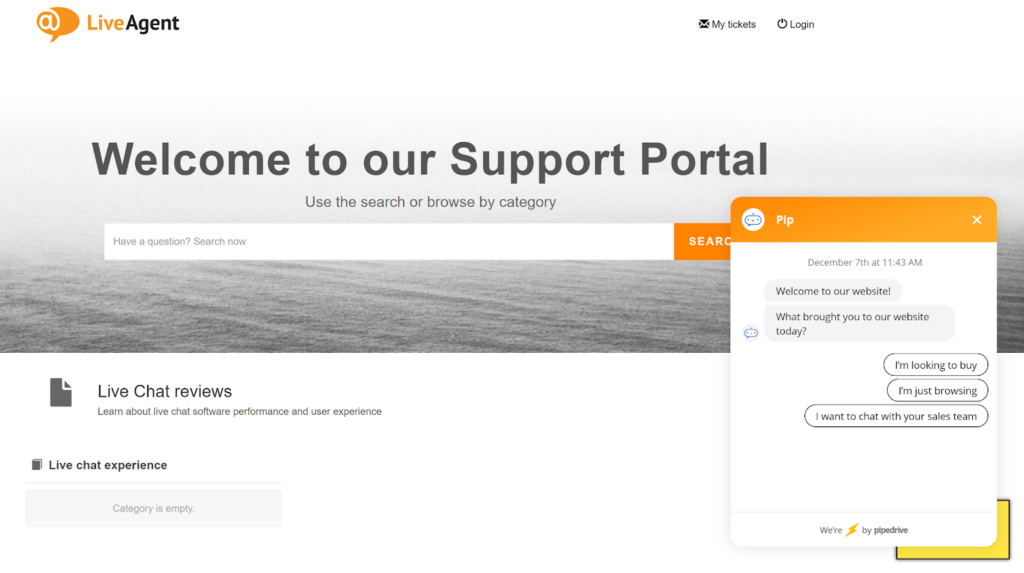 After I clicked on the option to chat with a sales team (which I left predefined), the live chat pulled out an animation of three dots to signify someone is replying, even though there is a chatbot. This is here to create a more human-like experience, but I don't think anyone will believe it. The system told me that I should wait for a representative. That's when I received a notification in the live chat section of PipeDrive. You can see it under the Unassigned tab and assign it to yourself before you can reply.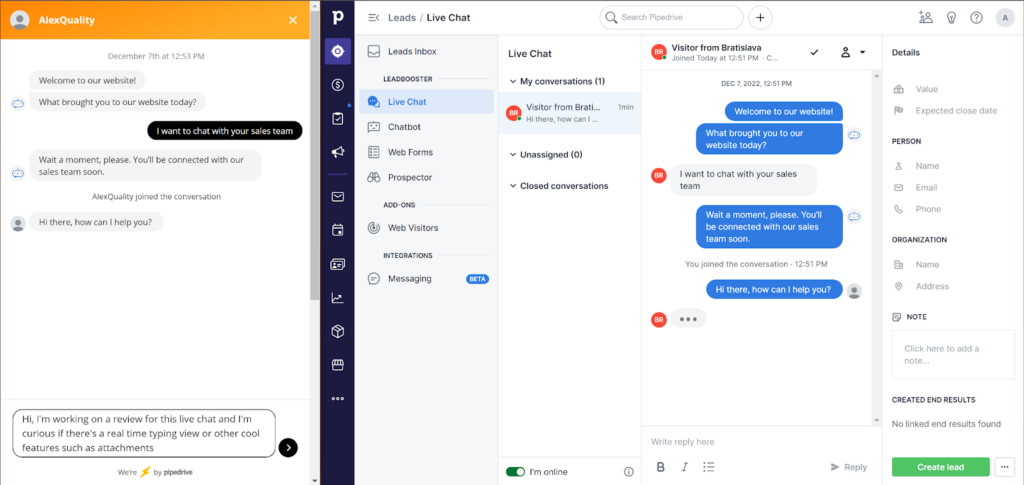 I started writing to first check out if the PipeDrive live chat supports a real-time typing view feature, but unfortunately it doesn't. Overall, the live chat is too focused on the chatbot experience and it slightly neglects the actual live chat part. There are no attachment features available at all, so this live chat is strictly for written communication. This is a sufficient option for the majority of users, but it's always nice to have additional features. Without attachments, the users might be forced to switch back and forth between live chat and email, or any other communication channel that supports attachments.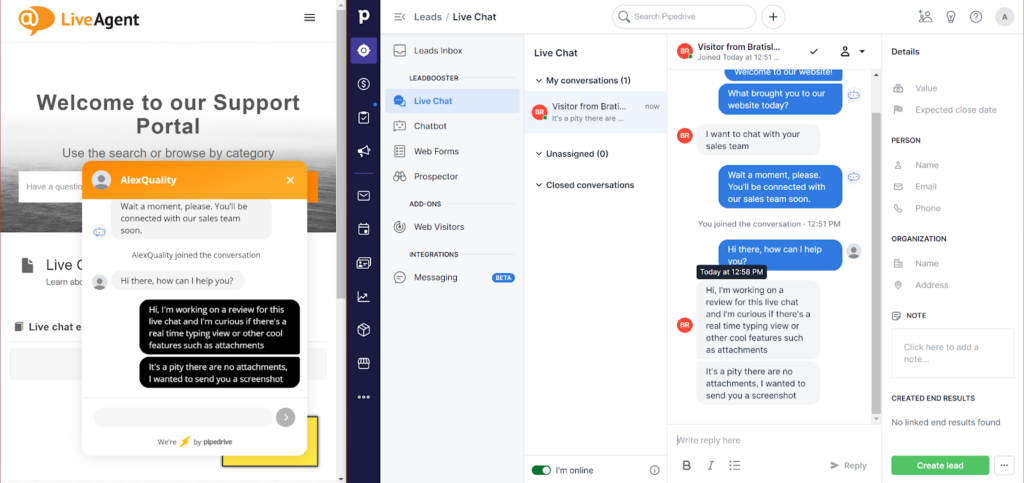 There are, however, somewhat useful text formatting features – bold, italics, and bullet points. I can't imagine many use cases for these, but they can definitely be very useful when explaining processes, or straight up writing a guide as a live chat message for a customer. That's pretty much it when it comes to the visible features. You also get some options to add contact information and save the lead to your system. There is also an add-on for tracking web visitors, but it's also hidden behind a paywall and costs an astonishing $49 per month. Many live chat software offer this feature as a part of the deal out of the box with no extra payments.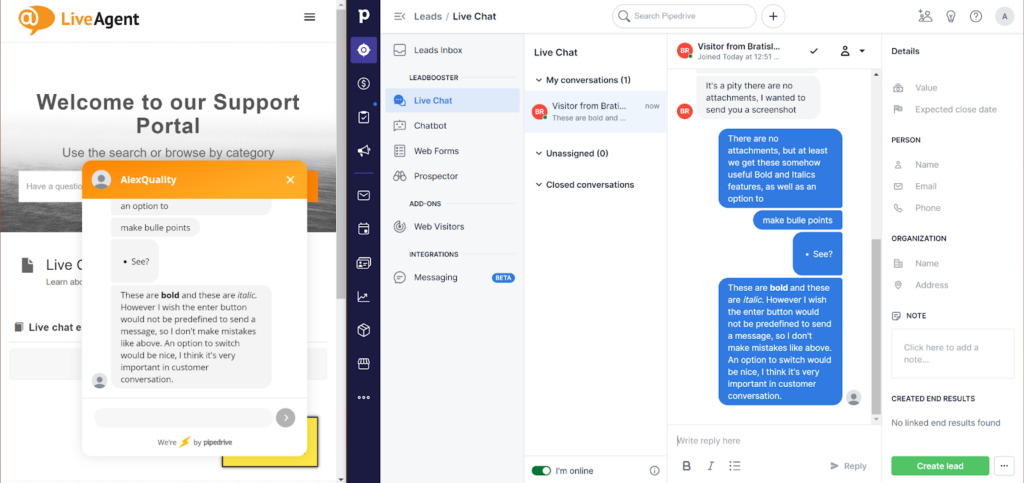 Overall, I had much bigger expectations from the PipeDrive live chat. It's easy to implement if you need it to be, but the features are simply underwhelming, and sometimes expensive. There's just not much you can do except for chatting, and even that bit is sort of taken away from you through PipeDrive's insistence on forcing at least some chatbot functionality into the deal. The live chat feature in PipeDrive is just a support feature, not a main one, which makes all of it an understandable choice.
Pricing
PipeDrive offers four pricing options, but the live chat is barely mentioned since this is not the primary focus of this software. Each plan offers a variety of features and it upscales as the prices go higher. Keep in mind that some addons can cost you additional money and they might not be included in the final price. Let's have a look at the offers.
Essential
The Essential plan costs $14.90 per month per user and it offers the lead, deal, calendar, and pipeline management features. Simple data import and easy customization is also a part of the deal, as well as 24/7 support and 300+ integrations.
Advanced
The Advanced plan costs $24.90 per month per user. It offers full email sync with templates and scheduling, group emailing plus open and click tracking, as well as a workflow builder with triggered automations.
Professional
The Professional plan costs $49.50 per month per user, and it can offer you a feature to create, manage and eSign documents and contracts, revenue projections, forecast, and enhanced custom reporting features.
Enterprise
This plan costs $99 per month per user. In addition to all previous features, you get unlimited user permission and visibility settings, additional and heightened security preferences, implementation program and phone support, and no feature usage limits.
Conclusion
PipeDrive as a CRM solution is a great addition to any business, however, its live chat features are more of an afterthought. The live chat pushes the use of chatbot, but it lacks some significant live chat features while hiding some important ones behind a paywall. The PipeDrive live chat is not bad by any means, it's just not advanced enough to compete with the best. If your primary goal is CRM and live chat is not of significant importance, you can't go wrong with PipeDrive. If you want to focus more on live chat communication, you should consider other solutions.