Key takeaways
Pros
The IVR works great
High flexibility and customization
Reasonable pricing
Great 24/7 customer support
Cons
Not an easy setup for new users
Requires some scripting knowledge and skill
LiveAgent's IVR performs very well and won't take you too long to find the IVR function, thanks to the improved user interface. While setting up LiveAgent's IVR is not the easiest task in the world, the fact that their 24/7 customer support can help you at any time makes up for it. LiveAgent's IVR can be very flexible with some patience and a little bit of skill. Another reason to go for LiveAgent is the reasonable pricing for its other great features that you should definitely consider for your help desk.
Getting started with LiveAgent IVR feature
LiveAgent has an easy registration process that's available directly from the website. It takes just a few minutes to complete and get access to your LiveAgent web application. Once you get there, you can start setting up your entire LiveAgent help desk, including the IVR. There's a handy startup guide included for each communication channel that LiveAgent has. Once you enable calls and add your VoIP number, you can click on its settings and start setting up your IVR.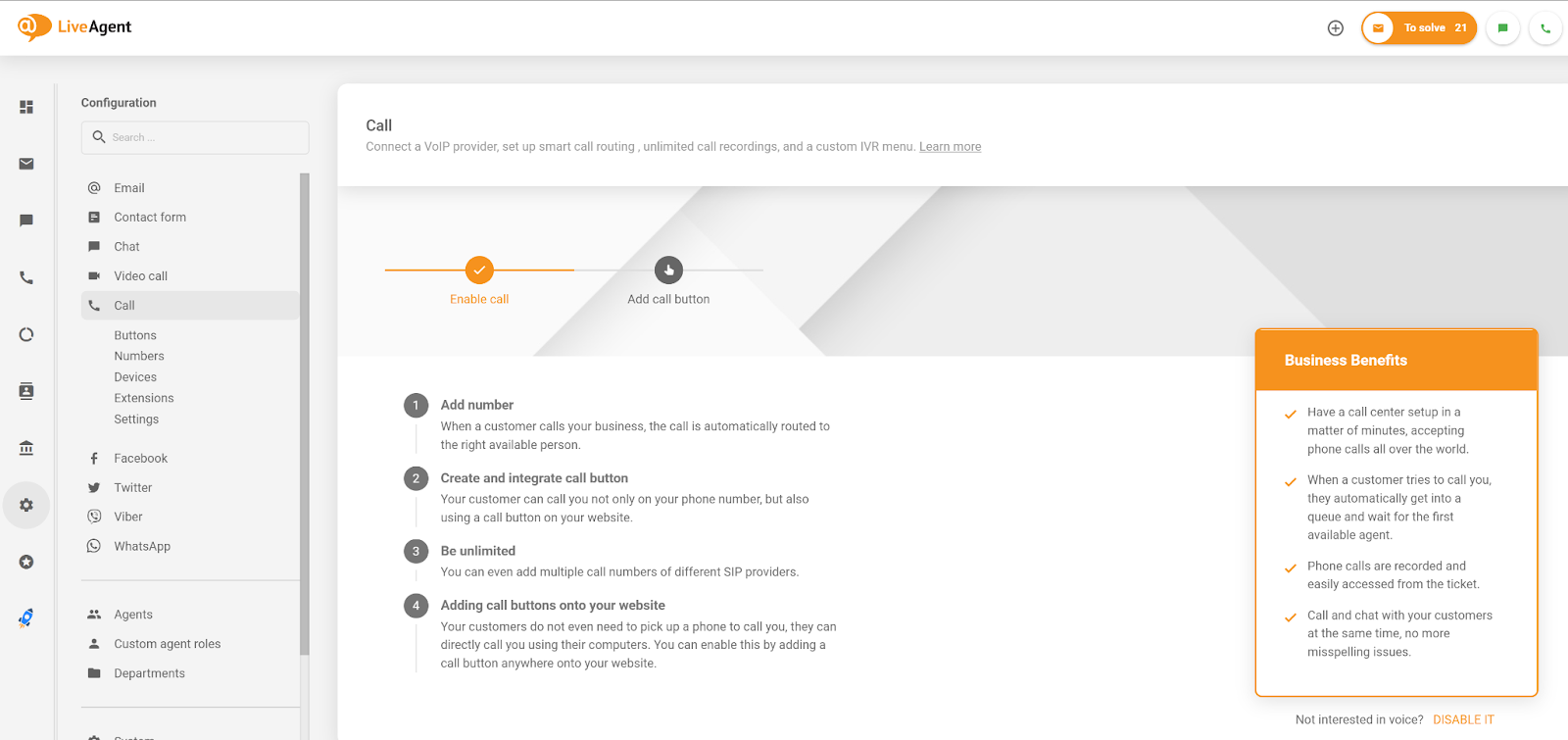 LiveAgent's IVR setup is a bit unusual at first. It doesn't offer a visual representation of IVR levels, so any planning should be done beforehand. The IVR setup and configuration needs to be done with YAML script. If this is your first time working with it, don't worry- there's a guide available and you can find the link directly in the IVR settings in LiveAgent. If you want to avoid writing the entire IVR by yourself, you can choose an example of an IVR here, copy it, and customize it to your liking.
While this process of creating an IVR is not the best, it can get easier thanks to the effort that went into making a more comprehensive guide with examples. It can also provide a whole other level of flexibility for skilled users who are familiar with this method. Each line of command unlocks a new level or action in your IVR, so you can make elaborate IVRs with some skill and patience. Making simpler IVRs can take you just a few minutes with the use of the IVR examples mentioned earlier.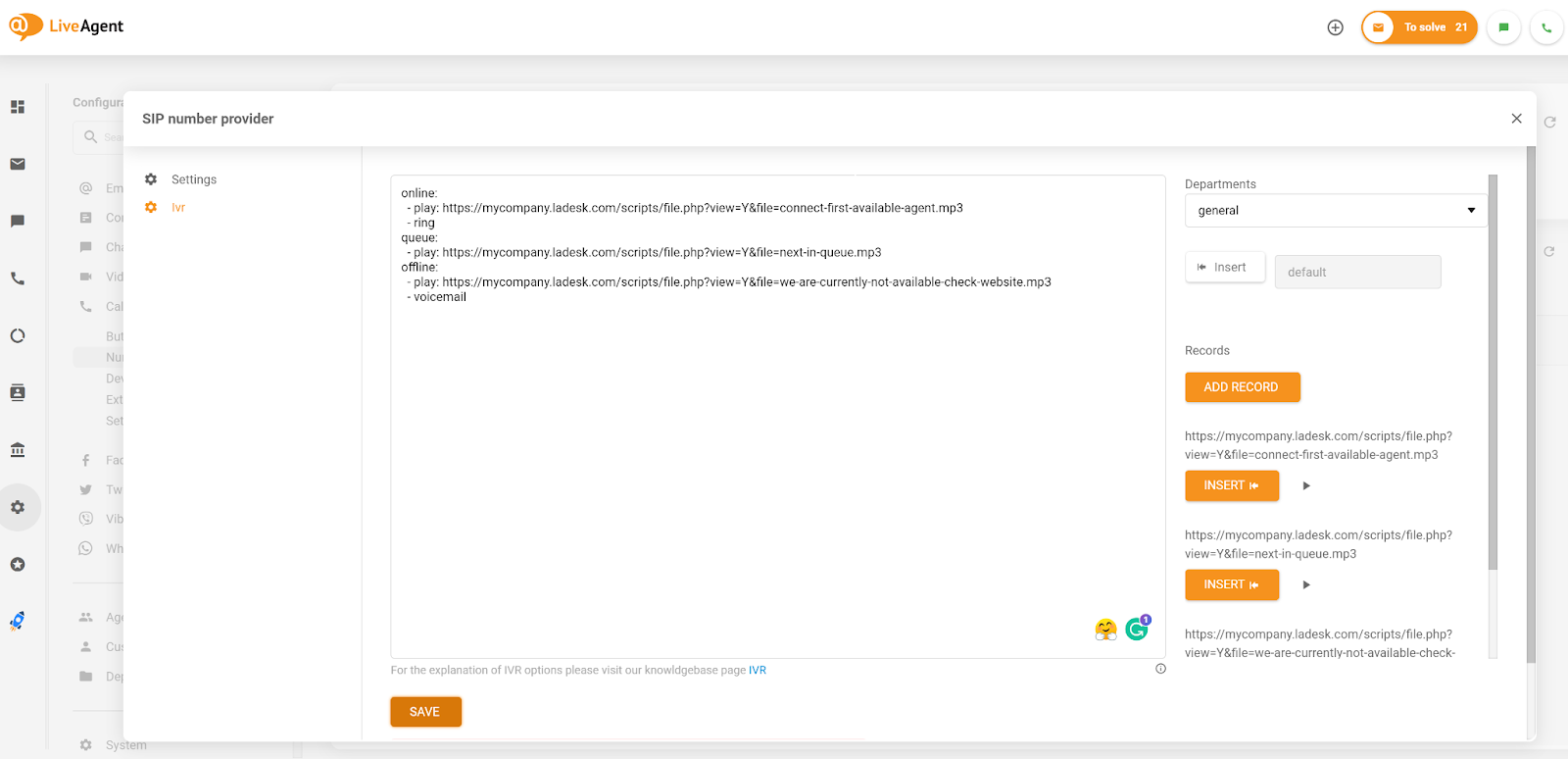 You can also choose to add your own recordings in the IVR setup, or download the sample recordings from LiveAgent's support portal article. You have to add them to the system manually. The article also has a useful guide that explains how to add recordings into the system.
While this type of setup is not the best around, what makes up for it the most is LiveAgent's 24/7 customer support that can help you every step of the process. Alternatively, you can ask the support agents to build your IVR for you, leaving the matter to the experts without you having to write a single line of script. Not every IVR software offers this type of help, and that's why LiveAgent deserves some extra praise despite the more complicated setup.
How does the IVR perform?
The LiveAgent IVR performs as well as you design it. Overall, it works without issues if planned well, and provides a great experience for callers. I never experienced any major issues during any of the tests, and the experience was pleasant. It's easy to make and upload your own recording, which gives you a great opportunity to personalize the IVR with your brand and give it a more professional feel. All in all, LiveAgent's IVR will do the job perfectly if you're willing to make the effort.
Pricing
LiveAgent's IVR feature is present only in the Large plan that starts at $49 per month per agent. This is LiveAgent's most extensive plan, offering full call center functionality as well as other important customer service channels. The entire communication is organized through a ticketing system that handles emails, live chat, social media, messenger apps, call center, and the customer portal in one place.
Conclusion
While LiveAgent's IVR is not the best contender, it does its job very well and it definitely won't disappoint. Users who look for an easy IVR setup might be discouraged by LiveAgent's IVR creation process; however, the IVR can do wonders if you have the willingness to learn. Non-skilled users can always use one of the presets included in the LiveAgent's customer portal articles, or contact the 24/7 support to help them plan their IVR free of charge. The IVR can become incredibly flexible, and will perform extremely well when planned right.
Frequently Asked Questions
I can't figure out how to design my IVR flow

LiveAgent's IVR builder relies on YAML script instead of a visual IVR builder. If you're having trouble understanding the process, you can either consult the IVR guide, use the IVR examples to copy and customize them, or ask the customer support team for further assistance with building your IVR.