Key takeaways
Pros
It's completely free
Great interface and easy integration
Essential but very useful features
Cons
You need to pay to remove the Tawk.to branding
It can get pricey if you choose to have Tawk.to handle your chats
Getting started with Tawk.to live chat
Tawk.to is a live chat software with only a free version available. Yes, you read that right, there are no mandatory paid plans available at all. The company has gained popularity thanks to its well-designed live chat that's focused on helping businesses communicate better with their customers. However, that's only one part of the company philosophy. Tawk.to is highly focused on improving businesses and helping them solve specific problems with services.
Tawk.to has a very simple registration process that requires just your name, email, and password in the first step. The second step asks you about your website, and offers you to name your chat, as well as the option to provide the name of your website. It's one of the fastest registration and implementation processes you can get with live chat software.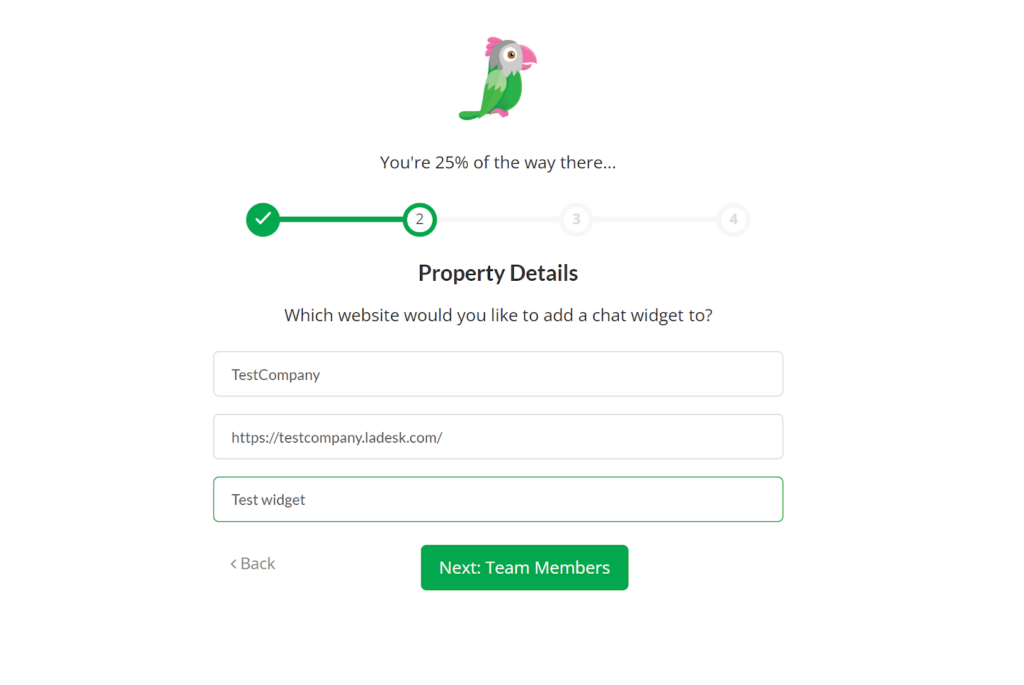 The best part is that you can implement your live chat code almost immediately, because you'll get the option during the registration process. The implementation can be done in multiple ways. You can copy and paste the code to your website, or choose an integration with popular web building services. You can customize the live chat widget's appearance and behavior later in the application. After that, you can start browsing around the interface and get familiar with the Tawk.to web application.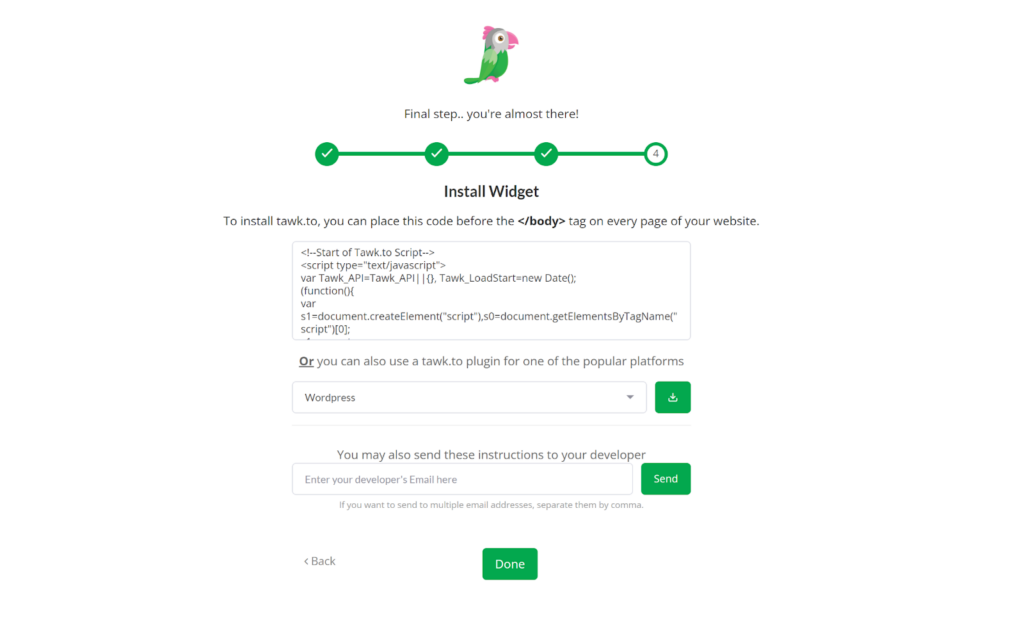 The interface will be introduced with a skippable tutorial, but I highly recommend everyone to go through it. The user interface is not difficult to navigate without it, but the guide is very short and very well made, which makes it worth it to try out. The final steps of the guide will give you the option to download Tawk.to mobile applications via a QR code, which is another great addition.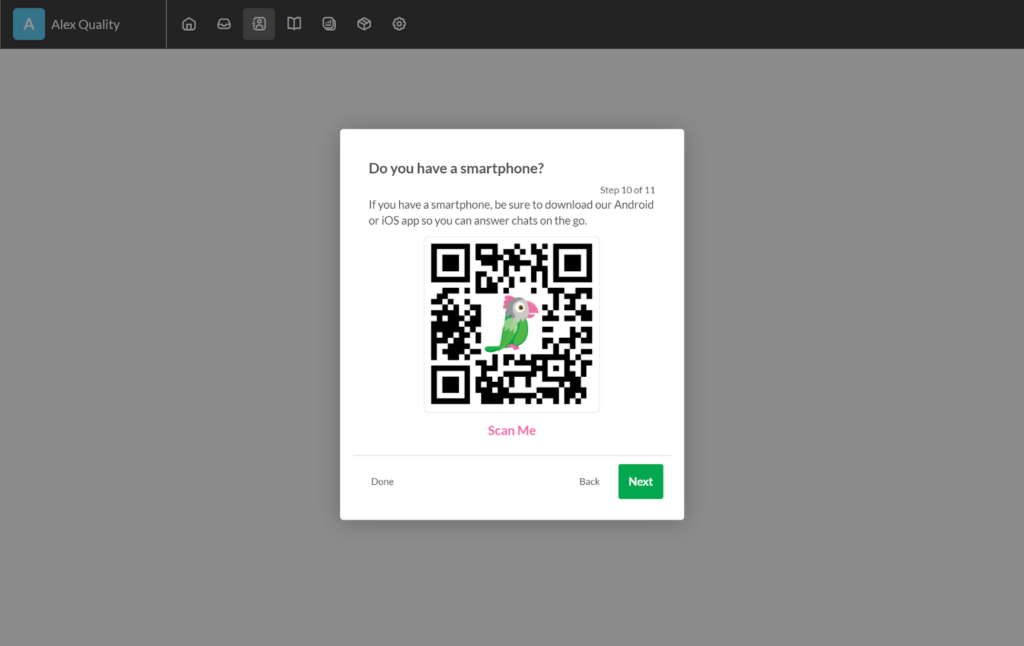 With all these steps behind us, you can start using your Tawk.to live chat right away. The interface is very well thought out; it's clean and it's easy to navigate at all times. The left side menu serves as the main access point to all subsections, and you can access all main tools at the top panel. There's also a handy notification button at the bottom where you can find the latest information about updates.
Before we get to the testing part of this review, we'll take a better look at what features you get with Tawk.to live chat application and how you can use them to your advantage. You can get further information on the Tawk.to website, but the application itself offers a better overview of the entire set of live chat features and options.
Features and user interface
Tawk.to is not the most feature rich live chat but considering it's a completely free solution, the feature set is more than enough. You can expect monitoring features that allow you to track your conversations, as well as over 45 language variations for your live chat. Tawk.to also offers the aforementioned mobile apps for easy chatting on the go, as well as the support of Shortcuts, which are essentially canned messages.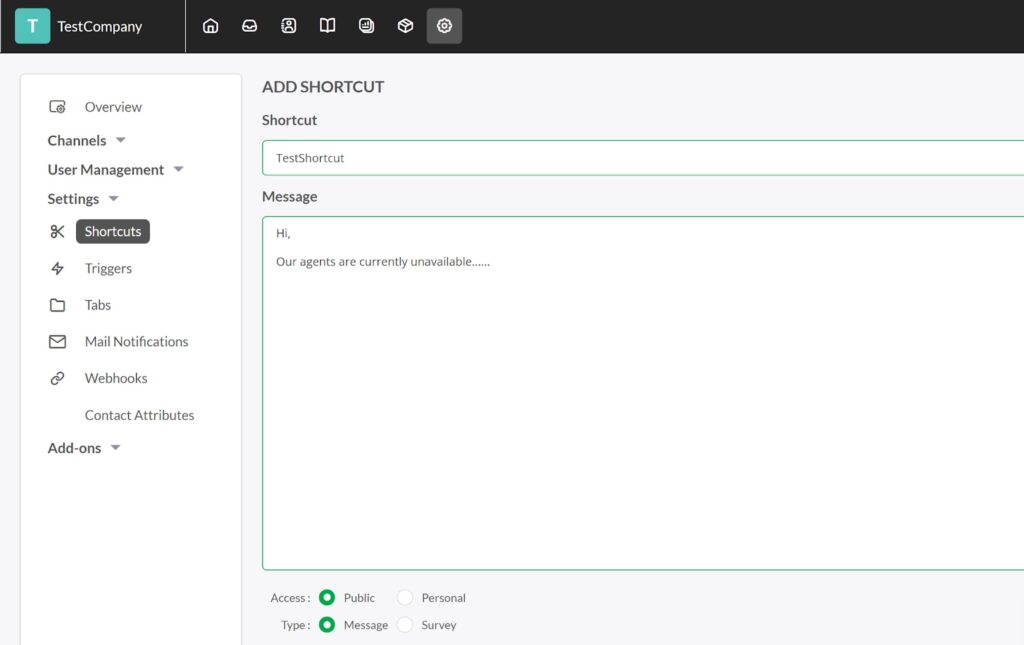 Going into the Tawk.to chat settings reveals even more features and options that aren't mentioned on the main live chat website. You can set triggered messages, email notifications, and webhooks. There are plenty of other customization options under the chat widget tab, and you can adjust and change almost every widget behavior functionality that's available.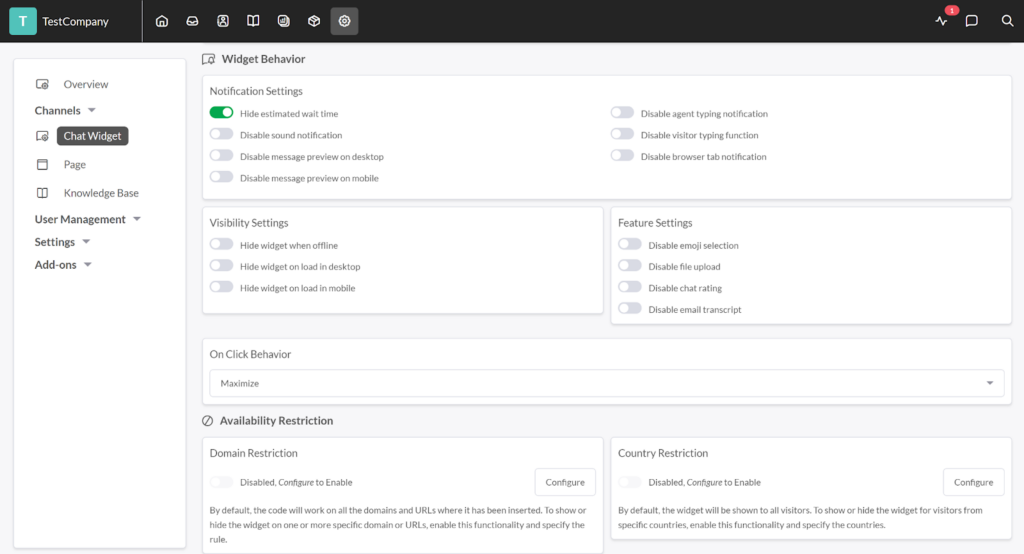 Tawk.to feature set offers a lot more than it seems at the first glance, so make sure to check out all the settings to discover every feature. Now we'll take a look at the Tawk.to live chat and features in action. The test takes a look at both the customer experience and agent experience with Tawk.to. Without further ado, let's get right to it.
Live chat performance and user experience
Tawk.to live chat widget looks great on the website. I chose the basic setup with just a simple color change. Once you click on it as a customer, the widget will prompt you to first check the help center for available answers. This is a pretty good functionality, as it can decrease the chat load on agents and encourage users to find answers on their own first. Regardless, you can start the chat and skip this option.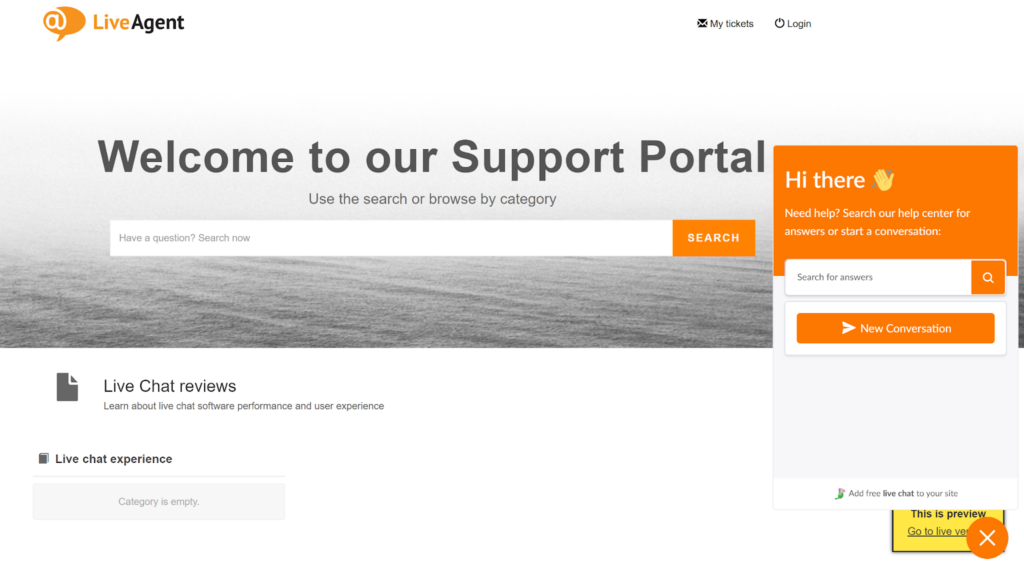 Once you write your message and hit the send button, you will get a notification in Tawk.to which you surely won't miss. It has a very distinct ringing tone and won't stop until someone answers the chat. This also gives us the first look at the chat interface from the agent's side, and it looks pretty good at first glance. A little annoyance comes in the form of a CTA button that prompts customers to add a free live chat from Tawk.to to their website. It wouldn't be a huge deal if I didn't frequently click on it instead of the actual chat field below it.
The chat features on customers' side are pretty essential, but remember that we're dealing with a free solution. Some of the other paid solutions don't even offer these options as a standard. On Tawk.to, some of the options include chat rating, attachments, and emojis, and all of them combined give your chatting customers everything they need to communicate effectively.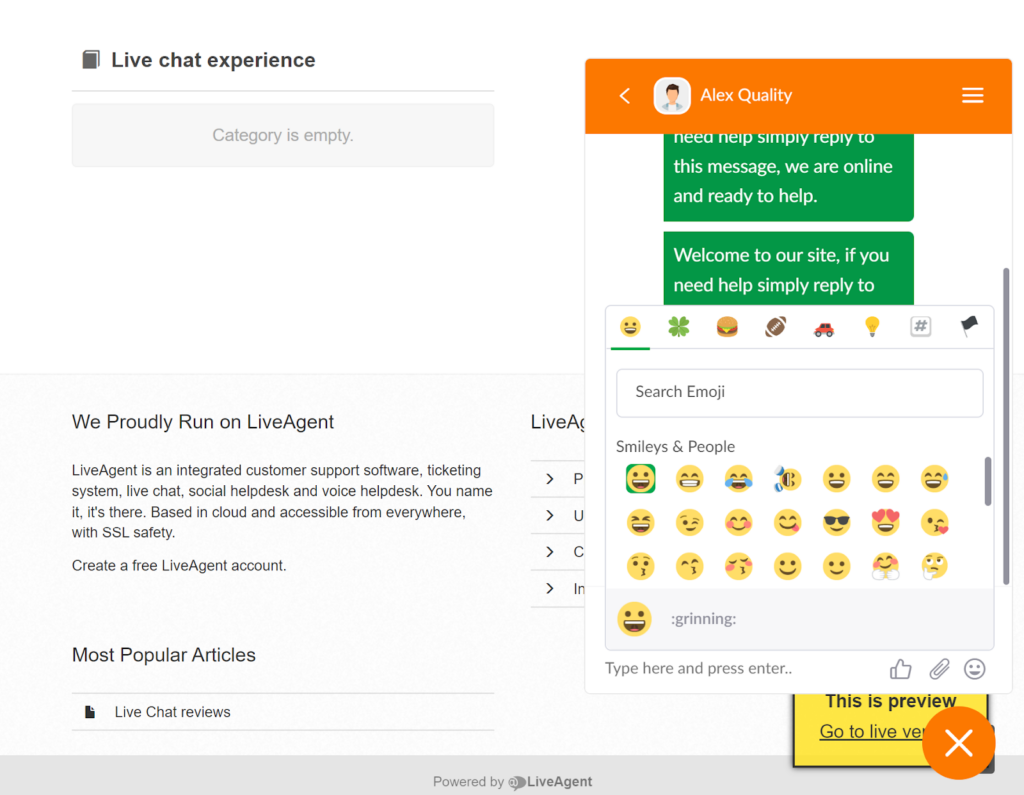 The same and better is happening on the agent's side of the chat. I discovered a new feature called Whisper. This feature essentially works as a note for other agents. You can write it directly in the chat window and customers won't see it. The rest of the features on the agent side are pretty much the same as those for the customer, except you get to see the available customer information that Tawk.to has access to.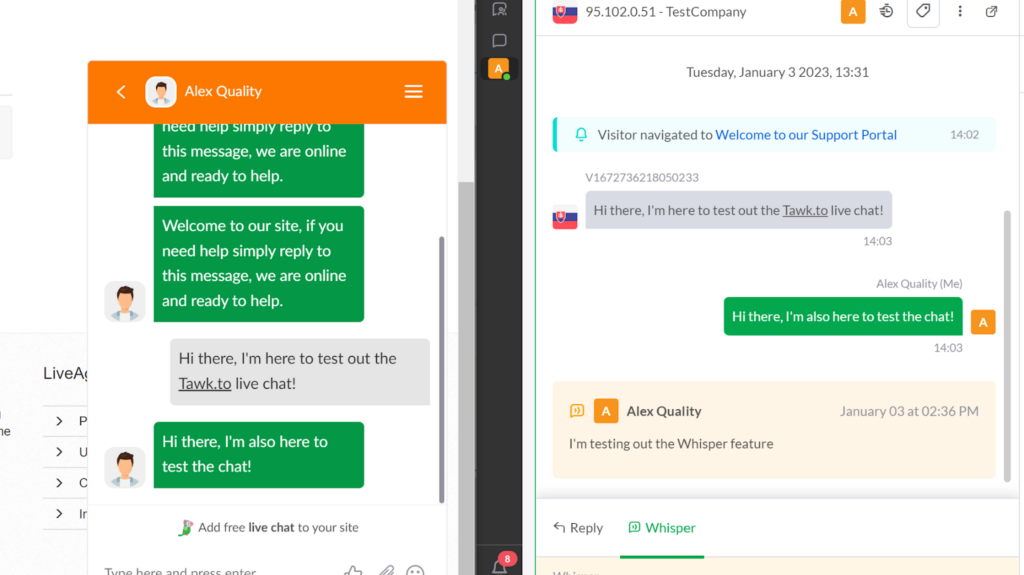 Tawk.to live chat lets you know about most actions that customers do during the chat. You will get a notification when they minimize or maximize the chat window. A surprising, but very welcome addition is the real-time typing view. While this feature is well known and often used in most chat software, it's not a standard feature for each of them. Tawk.to is free and has it, which is pretty impressive to say the least.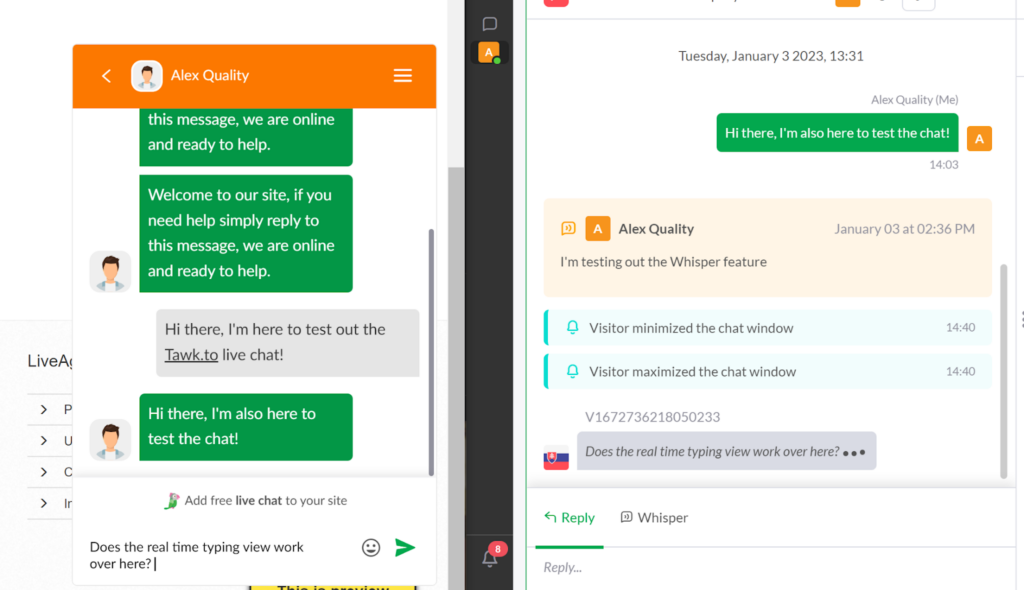 All in all, Tawk.to's live chat is an impressively good tool considering that it's free. While going through it, I hadn't encountered anything noticeably off-putting or wrong with it. You can choose to remove the Tawk.to branding from your live chat, but it's not that annoying nor visible, plus it's nice to give something in return for the free software in such a subtle way. The entire toolset worked bug free and I can't say there were any issues that needed to be addressed.
Pricing
Tawk.to is completely free and doesn't offer any pricing plans at all. However, there are two paid options for those who are legitimately interested in getting them, and neither of them upgrade the chat functionality or add new features in a significant way. They are focused on two things: You can remove the Tawk.to branding from your chat widget for $19 per month, or you can let Tawk.to handle all of your live chat communication for just $1 per hour (totaling $728 per month). If you choose the latter option, Tawk.to can get very expensive.
Conclusion
Tawk.to is a great, free live chat software that manages to surpass many paid solutions out there. The feature set is limited but it offers everything you need, so you won't feel that you don't have enough tools at any point. While you need to pay to remove the Tawk.to branding, it's not extremely visible, and I personally didn't find it too distracting. Overall, Tawk.to is a great solution and you won't regret getting it.
Common

issues and problems
I'm not getting notifications on Android
This issue might be caused by some Android smartphone manufacturers that use data saving features which might block notifications by putting some applications to sleep. Make sure to check your notification settings and allow Tawk.to app to show you notifications. Furthermore, you can take a look at the battery saving or data saving options and find out if they're not blocking any communication by Tawk.to.
Widget is not showing up with WordPress plugin
The most common solution is to enable third party cookies in the Tawk.to WordPress plugin. Go to your Tawk.to plugin settings and open Account settings. You can find a link that will take you to the cookie options for each popular browser. Once you make the changes, make sure to refresh your page to see the changes.