Key takeaways
Pros
Fast and reliable live chat
Very easy implementation
Great and easy configurable features
Cons
Expensive with higher plans
Getting started with LiveChat live chat
LiveChat is a live chat software with more than just chatting capabilities. It offers an extensive live chat feature set that ensures a focused and well-designed experience for each agent and customer. However, it also offers something extra in the form of additional communication channels, such as social media, WhatsApp and ticketing. In this review, we'll take a closer look at LiveChat's live chat widget capabilities and overall performance. Let's get started.
LiveChat registration is very fast. You simply have to register your account, and the registration process will eventually take you straight to the live chat widget integration part, which means you can implement your live chat as soon as you start. This is surprisingly fast, and LiveChat even gives you a couple of integration options. You can select between a WordPress plugin, Google Tag Manager, or manual live chat code installation.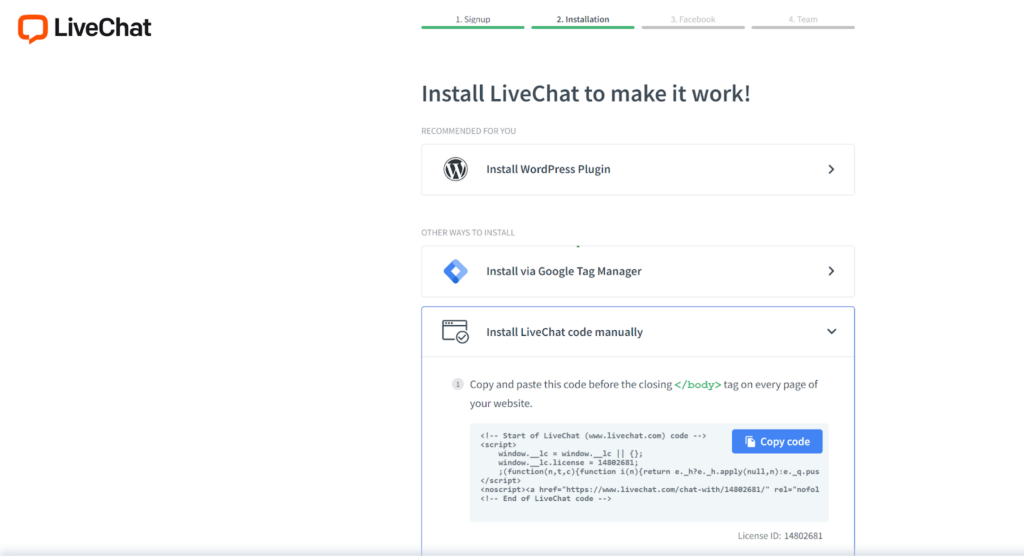 I chose the manual installation option, which was pretty easy too. Simply copy and paste the code before the closing </body> tag of your website and save the changes. If it doesn't show up, you might need to clear your browser cache first. LiveChat will let you know if the changes have been made successfully and if your live chat is integrated. Then, you will be taken straight to the LiveChat dashboard and you can start getting familiar with all the options.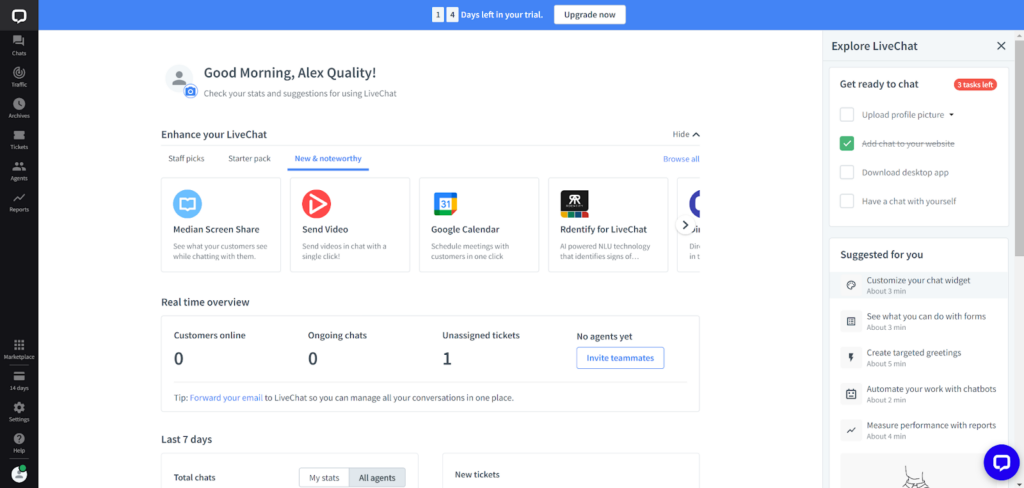 LiveChat is an established professional solution, and the interface follows that. It's easy to get familiar with most tools, and you won't get lost thanks to easy recommendations in the right panel. You can see chats, traffic, tickets, archives, contacts, and more in the left panel menu. The center of the dashboard presents some improvement options, and a quick real-time overview of live chat statistics.
Features and user interface
LiveChat offers a well focused set of features related to their live chat widget. Besides the aforementioned quick real-time view of statistics, you also get access to other features, including chatbots, reports, and extensive customization options for your live chat widget. Furthermore, the live chat experience has full support from message sneak peeks, canned responses, file attachments, chat history features, chat ratings, and more. Nothing important is missing from the LiveChat live chat, so you can be sure you're getting the full chat agent experience.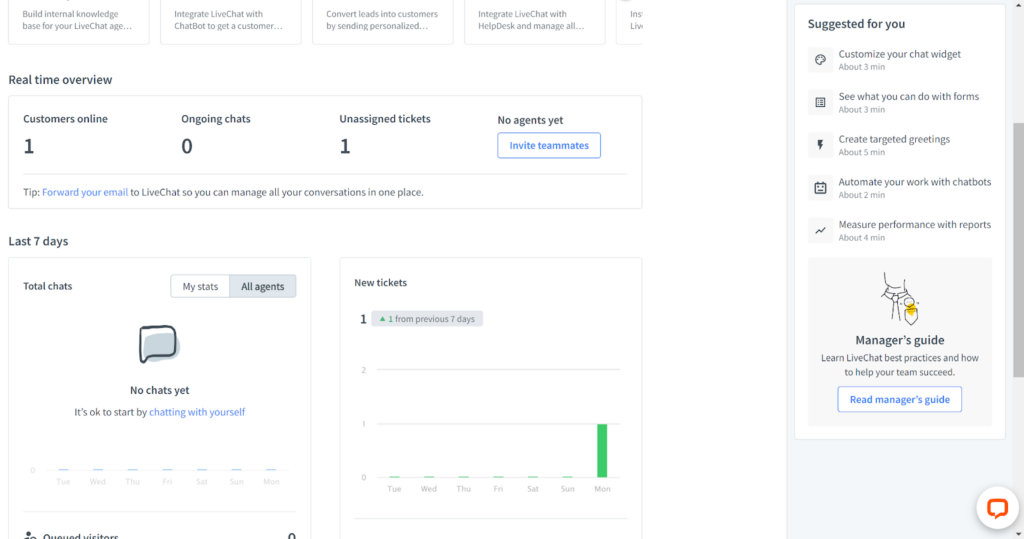 The analytics features offer a quick overview, as well as in-depth overviews of everything related to the live chat – chats, agents, customers, tickets, and eCommerce. Each section can give you more information and concrete numbers about your live chat. There is nothing missing. The analytics overview gives you a record of everything that has happened in the last seven days of your use.
You can customize your chat widget in the LiveChat settings. The options are pretty extensive, so if you're feeling like getting creative, you can adjust the live chat widget to your preferences, or to your customer branding. Your choices include how your window's going to look in maximized and minimized view, light or dark theme, theme color (custom color supported), and chat position. There is also the option to hide the widget, customize the mobile version of your chat widget, and additional tweaks where you can show the company logo, agent photo, enable or disable sounds, allow chat ratings, and a couple of more options.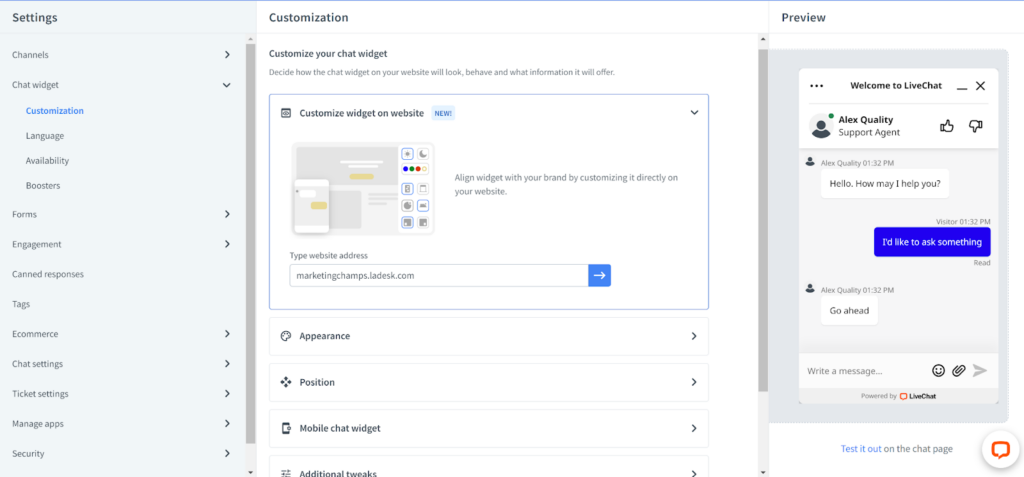 Most other features are passive, meaning they are automatically activated and you don't have to do anything with the configuration. They are ready from the get go. However, you can always go deeper with settings like routing, chat assignments, file sharing, and much more. Everything is easily accessible. Navigating the interface, setting up the live chat, and the overall user experience are pretty great, I had absolutely no issues with any tasks. With the whole setup ready to go, it's time to look at the performance and experience of working with LiveChat live chat.
Live chat performance and user experience
I looked at the LiveChat live chat widget from both sides – from the perspective as both an agent and as a customer to get the full experience, and I can say that everything worked great, as expected. Once I started the chat as a customer, and an automatic message greeted me right away (you can customize this message in the settings, under Targeted messages). With the LiveChat dashboard open, I immediately got a visual and a sound notification about a new incoming message. The browser tab also keeps giving you a notification until you decide to click on it. So far, so good.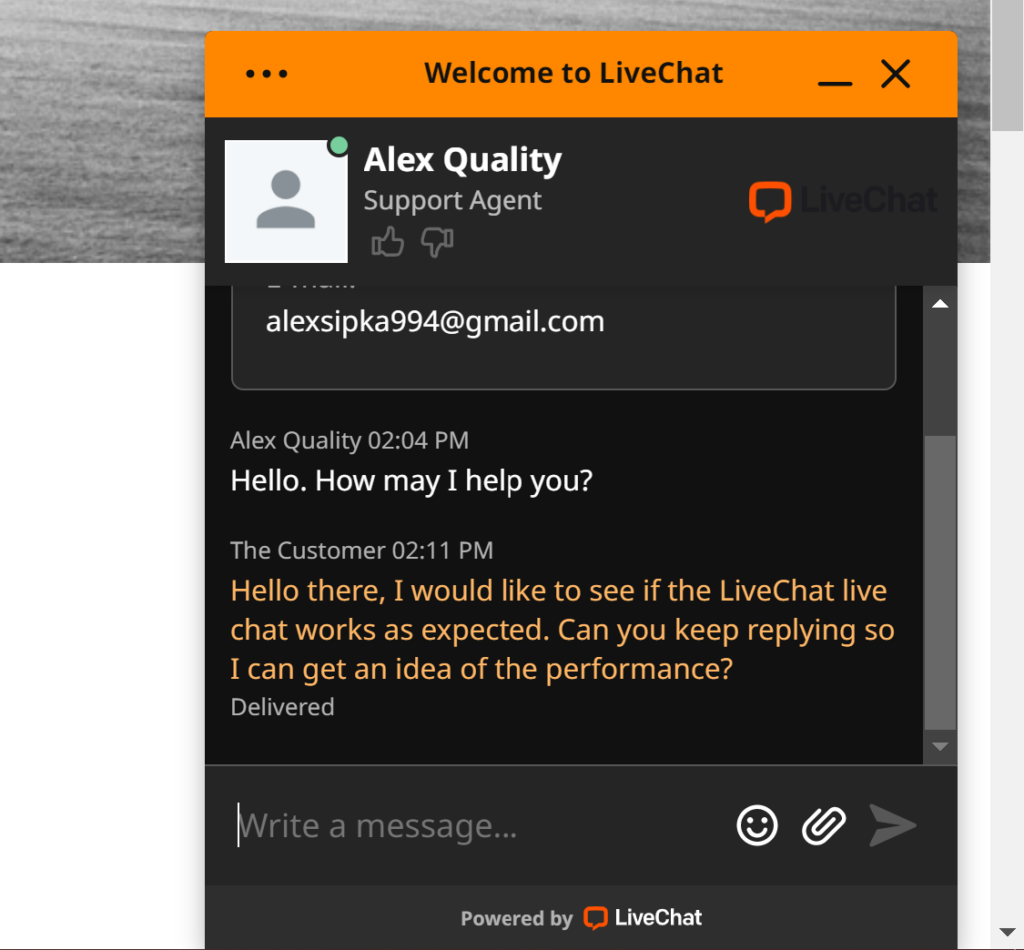 The message sneak peek worked perfectly and it picked up what I was writing in under a second. The message stays on screen when the users don't press the send button, so you can get your other messages ready. Meanwhile, the customer sees three dots as notification that the agent is typing a reply to them. It works generally very well. The reply speeds are almost instant, with no long waiting times whatsoever.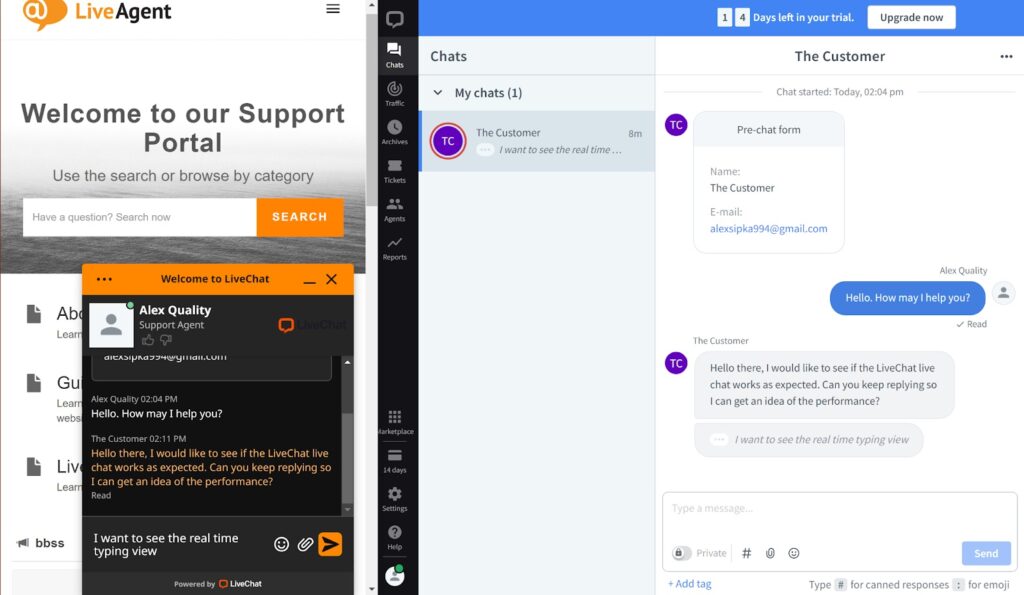 I have also given a whirl to sending file attachments. When you click on the file attachment icon, you can immediately choose a file and send it. You can delete the attachment at any time before sending. Unlike the message sneak peek, agents can't see an attachment if it wasn't sent yet, so the customer's privacy is kept in case they attach the wrong file. The attachment even gives you an option to include an alternative text for people with disabilities. A very thoughtful and extremely useful inclusion.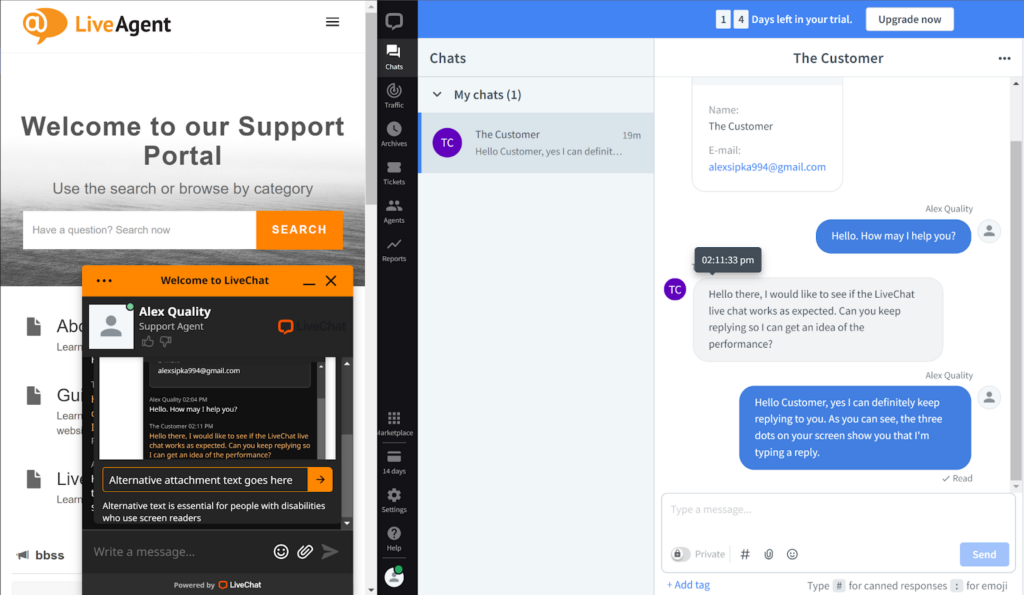 Overall, the performance of the LiveChat live chat widget is great and I have absolutely no complaints in any regards. I didn't experience any issues with the speed, and no bugs or problems were present either. LiveChat's widget is a stronger contender when it comes to performance.
Pricing
LiveChat offers three pricing plans with different features. Other communication channels besides live chat are an integral part of each plan, so you are getting added value with each plan. The plans, however, stay focused mostly on additional live chat features, so let's take a look at the offer.
Starter
The Starter plan costs $20 per month per user and it offers a 60-day chat history, basic widget customization, a ticketing system, data security, and more.
Team
The Team plan will cost you $41 per month per user. It has unlimited chat history, full widget customization, ticketing system, data security, basic reporting, agent groups, multiple brandings, and more.
Business
The Business plan costs $59 per month per user. The offer has all previously mentioned features, but adds staffing prediction, works scheduler, and other features.
Enterprise
The Enterprise plan doesn't have a visible price, so you need to request a call with LiveChat to find out. Besides all previous features, the plan offers a dedicated account manager, product training, software engineer support, security assistance, HIPAA compliance, and single sign-on.
Conclusion
LiveChat's live chat is a great tool and a very good contendender in the live chat game. The implementation is a matter of seconds, and it doesn't force you through any loops while you're handling it. Each feature works and performs very well with no hiccups, and the interface makes navigation a piece of cake. The pricing is okay too, depending on the plan you choose. You only have to decide how much you want to spend on all LiveChat features, and consider if you need other communication channels for your work.
Frequently Asked Questions
My LiveChat live chat integration via code doesn't work.

Make sure to check if you copied and pasted the code correctly into the code of your website, and check for any missing parts. Additionally, make sure you pasted the code into the correct place in the code of your website before the closing tag. If you're still experiencing issues, you might need to contact LiveChat support to find out why your integration failed.

How to set up canned messages in LiveChat?

When you are in a live chat conversation with a customer, you can type # and select a canned response. If you want to add a new one, simply click New. You can add the canned message text here, add it to a group, and create a shortcut for the message, so you can access it easier.