Key takeaways
Pros
Fast and reliable live chat widget
Chat widget customization
User-friendly interface
Cons
No real-time typing view
Frequent updates that can interrupt the workflow
Getting started with Gorgias
When you want to sign up for Gorgias, all you have to do is fill out your information on a signup form and provide your website's URL. After that, the system sets up your account, and when you verify your email, you are good to go.
When you log in to your account, you'll see a clean-looking interface with a tutorial on the right.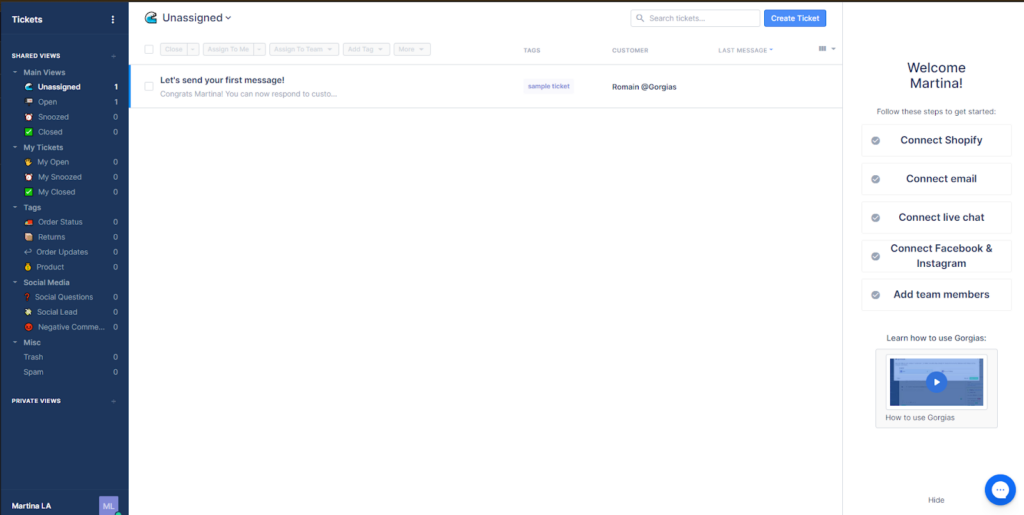 I started my live chat integration from the tutorial menu. However, if you decide to skip it, you can go to Settings → Integrations → Chat. Click on the + Add new button, and start with your live chat installation.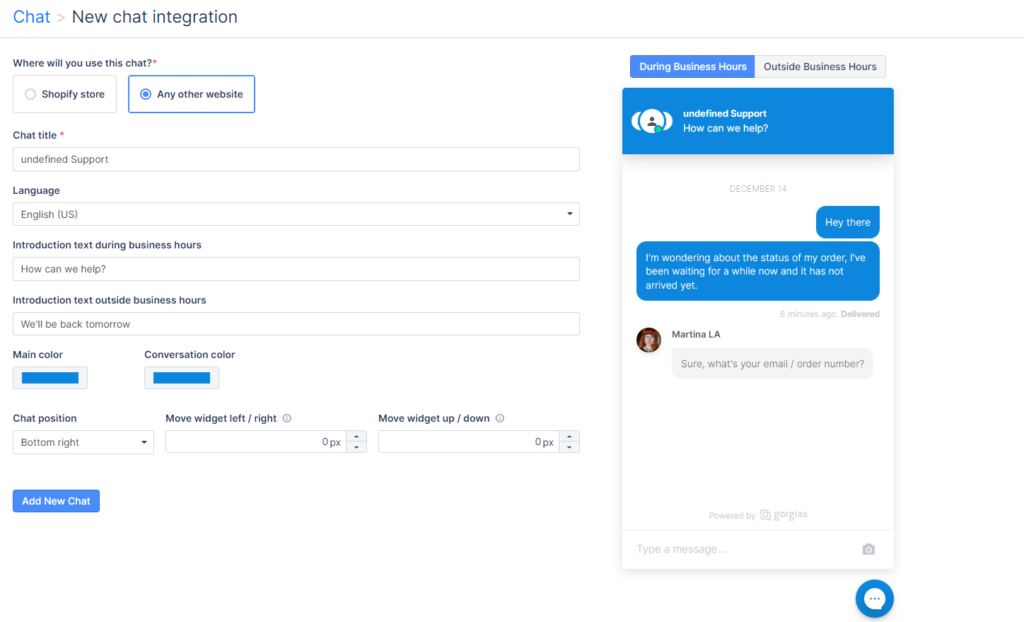 There, you can configure your live chat, including some customization options. Once you're happy with your settings, you can move on to Installation. I chose the Custom installation option, so I simply copied and pasted the code to my website in the before section.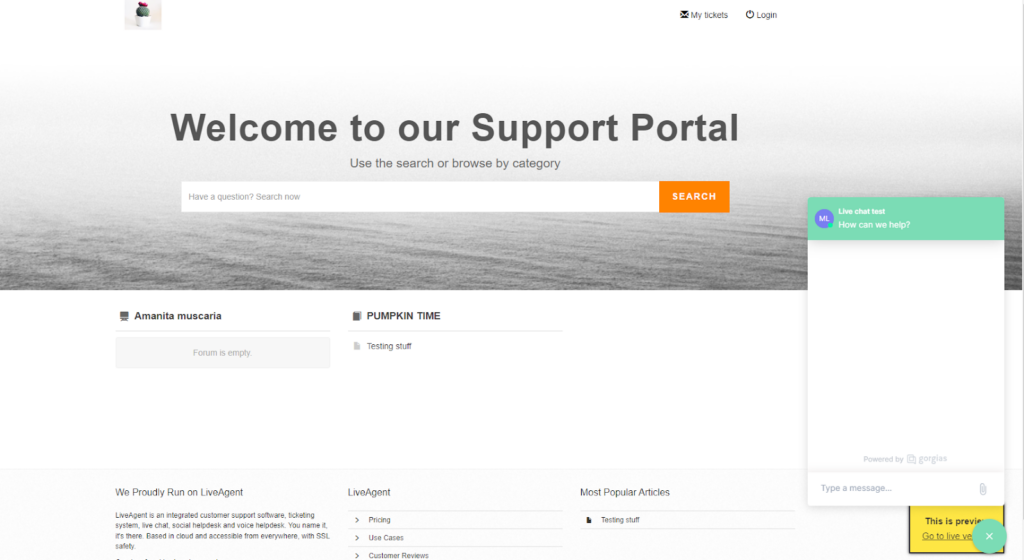 The chat widget instantly appeared on my site in the colors and position I had set in the installation process, so I was ready to test it.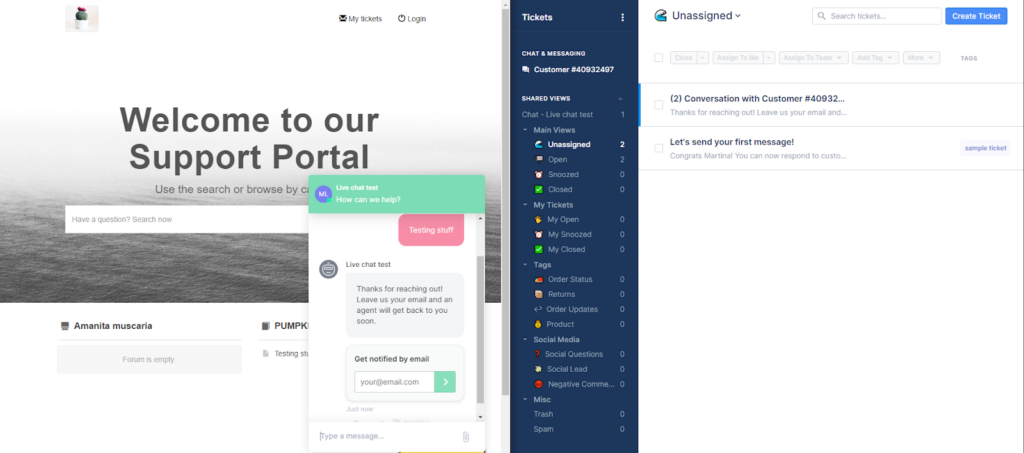 Once I started a conversation, it appeared in the Unassigned tab in my UI right away. I clicked on it, and the chatting back and forth ensued.
Features and user interface
Gorgias is a browser-based application that can be used on Google Chrome, Firefox, Microsoft Edge, Safari, and Opera. I tested the software on Google Chrome, but if you use any other of the supported browsers, your experience shouldn't be much different.
Gorgias' help desk software offers many features and configurations, but finding the live chat setup was quite easy. The UI is pretty easy to navigate even without the guide that Gorgias offers you in the beginning.
You have a lot of room for customization when it comes to setting up your live chat widget. Besides the initial setup, you can always go back and add campaigns, set up quick replies, and adjust preferences, including an auto-responder, prompts, and associated email integrations.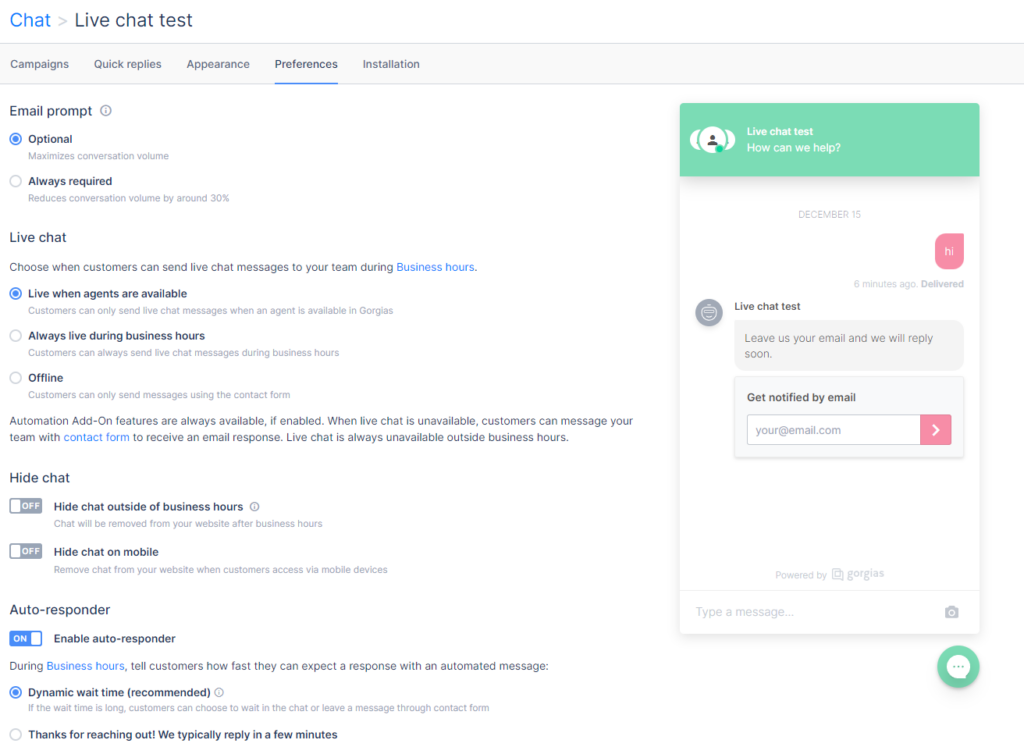 This all is very accessible and easy to find, so even the less tech-savvy users shouldn't have any issues finding everything they might need.
When it comes to the live chat widget, even though it seems pretty standard and maybe a little bare-bones on the visitor's side, responding agents can do a lot from one convenient interface. Right from the live chat conversation, agents can add tags, adjust customer information, and see their interaction history.
When it comes to the chat itself, agents can also do quite a lot without letting the customer wait, as everything they need is right there.
They can use pre-existing macros or set up a new macro right in the chat window. This can be very helpful when dealing with a large volume of incoming messages when agents don't have the time to leave the conversation to deal with canned responses in a different window.

I was a little disappointed when I realized that Gorgias' live chat doesn't support real-time typing previews. But besides that, their widget was reactive and had no problems sending messages, including media files.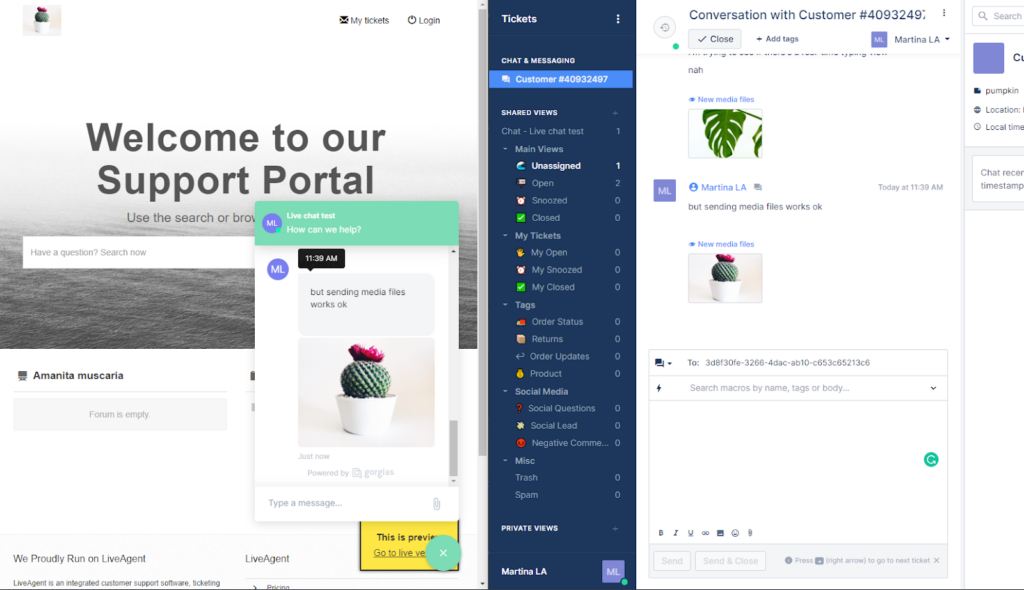 When you're done with the conversation, you can snooze or close the chat. You can always come back to it in the future, and if you need to, you can reopen it with the same ticket ID.
Live chat performance and user experience
I've had a pretty good experience working with Gorgias. The UI is easy to navigate. It offers a tutorial to help you get started, and overall, doesn't leave much to be desired. On top of that, the whole system is specially designed for Shopify, so if you're using that, you can take advantage of fully integrated Magento and BigCommerce.
Gorgias' live chat software is easy to set up and customize. It offers some basic settings, but if you want to, you can really tailor it to fit your needs and branding, add campaigns to it, connect it to a store, and so on.
The live chat widget itself works great. It is quick and responsive, so you don't have to worry about long waiting times due to your software lagging. Gorgias does a great job of ensuring productivity and minimizing response time, as it provides everything you need right there in the chat window. If you're willing to overlook that the software doesn't let you preview visitors' messages before they hit send, Gorgias' live chat widget can be a great solution.
Pricing
Gorgias offers five pricing tiers that have many features and functionalities. Each pricing option includes functionalities from previous ones with added extensions, advanced features, and upgrades. However, the most notable difference is the number of billable tickets each month. Each plan has a lot to offer, but to stay focused on the live chat, I'm going to discuss only the relevant features.
Starter
This package costs $10/month with 50 billable tickets. At this price point, you can have up to 3 user seats. Live chat software includes a live chat widget with macros, rules, and templates.
Basic
Basic pricing tier offers 300 billable tickets for $60/month. With this package, you have unlimited user seats, office hours support, and team management.
Pro
For $360/month, you can have 2000 billable tickets and an unlimited number of users.
Advanced
The Advanced package costs $900/month and lets you work with 5000 billable tickets. At this tier, you can take advantage of more social media integrations.
Enterprise
A custom ticket volume can only be set up after you schedule a meeting with Gorgias' team.
Conclusion
My overall experience with Gorgias was quite pleasant. They make the account setup very easy, and navigating the interface is intuitive right from the start. The UI doesn't leave you in awe, however, it is simple, clean, and easy to use.
When it comes to the live chat software, it was incredibly easy to implement. Even without using the quick overview tutorial in the beginning, I believe everybody can figure it out without issues. Customization was also very accessible. Even the more advanced settings were laid out in a way that didn't seem overwhelming.
The widget itself is quick, responsive, and reliable. Even though it's missing some features that could elevate the experience even more, it gets the job done very efficiently.
To conclude my experience with Gorgias' live chat software, it was great to work with from both the visitor's and agent's point of view. It seems like a great option for businesses who want to remain connected with their customers without worrying that customer support reps won't be able to use the software to its fullest.