Key takeaways
Pros
Innovative approach towards knowledge management
Well designed and very functional interface
Good editor with all necessary features
Cons
Very expensive
Not enough functionality to justify the price
Getting started with Stonly
Stonly is a dedicated knowledge base solution that brings certain innovation into the knowledge management game. Stonly offers a variety of pre-made templates for creating in-depth and interactive knowledge base articles for any purpose. Let's take a look at the Stonly feature set and see what it's like to use as a knowledge base solution.
All it takes to get started with Stonly is creating your account. You can also opt for a free trial first to see if you'll like it. There is no credit card information required, and you get a simple but effective introduction to how Stonly works and what needs to be done to get started. The introduction works as a questionnaire and aims to find out how you want to use Stonly. If you pick the knowledge base option, Stonly will automatically take you to the first step in creating it, and you'll start with picking a template color scheme. There are some good-looking options available, and you can also add your logo right away.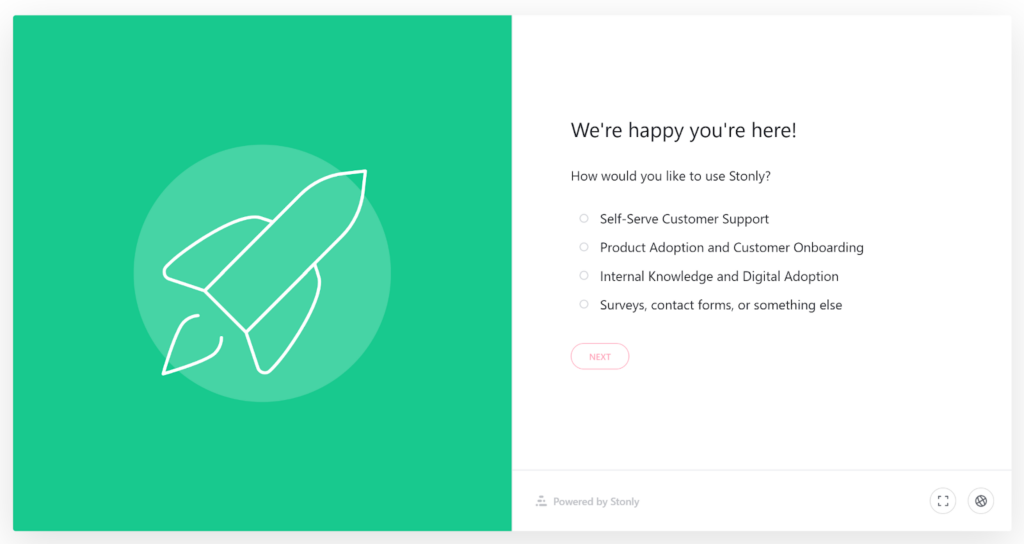 The entire Stonly interface looks and feels very modern and well designed. The aforementioned guide will take you through all you need to know and do – step by step. It's a pretty smooth process to go through, and doesn't take too long to complete. What I appreciate most is that there's very little clutter going on, the guide is straightforward and acknowledges the purpose of why you're using Stonly in the first place. The introduction doesn't take you sideways, and is always focused on what you need.
User experience and features
With the knowledge base ready to use so quickly, you can start getting familiar with the interface. You can start writing by clicking on the "Add new" button at the left panel. You get multiple options hidden under this button, including Guide, Guided tour, Folders, and a couple of article templates. The selection is not exactly wide, but it's a lot more than what you can find in most other knowledge base solutions. It's not a game changer, but it does make a lot of work easier if the templates fit within your expectations.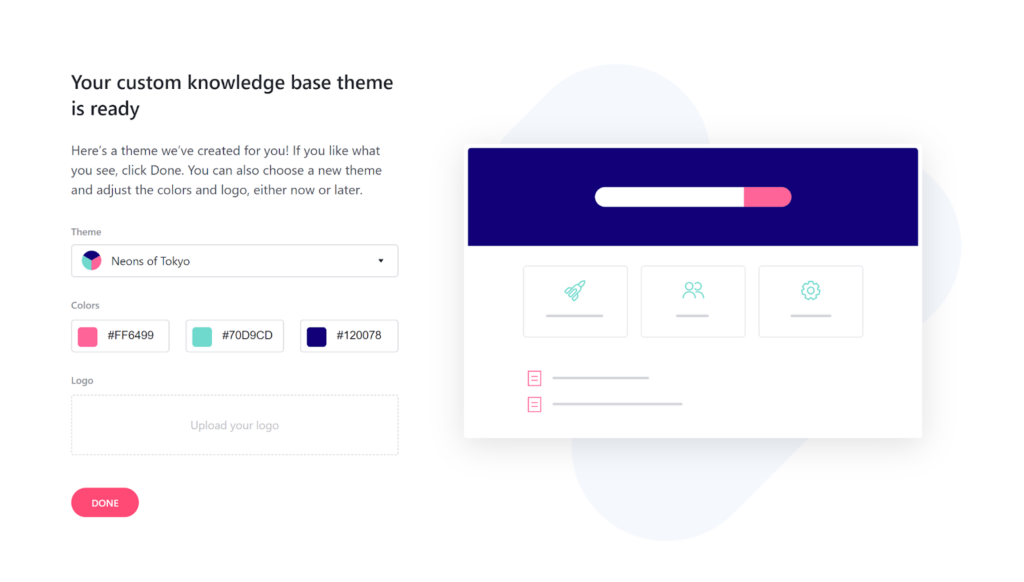 Regardless of what you choose, there's no doubt that your experience will be pretty smooth. I picked the "Guide" template first and I have to say the interface stays very focused. This guide template treats your text as a step-by-step guide, so you can fill in each step and add relevant media – pictures, videos, code, or a pre-set icon. You can also change the layout into three different variations, see a preview, share the guide, and change the settings for each guide. The editor offers all standard text formatting functionality, as well as additional settings. Overall, the editor is pretty standard, and you get what you would expect.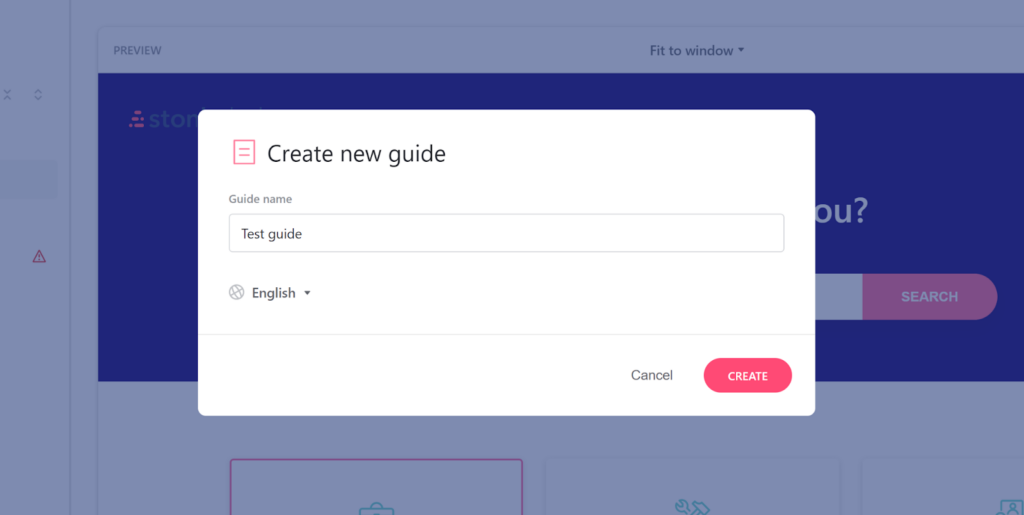 Stonly offers a variety of templates, so you can always find whatever you need to write the perfect type of content. This is especially useful for new writers, who may have trouble building their own article structure at first. Stonly templates make writing almost foolproof for anyone. Each template is perfectly designed for a specific purpose, however, what surprised me a lot is that I couldn't find any blank templates, which is just incredibly unusual and inconvenient. Not every user might want to stick to preset templates at all times, and I think the addition of a blank template would be nice. There is no option for creating your own templates either.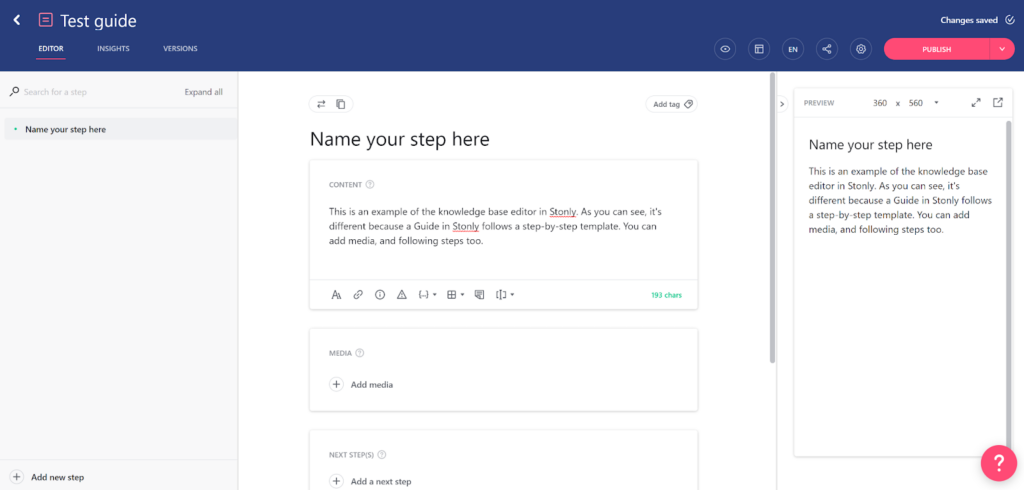 Overall, the Stonly knowledge base brings a breath of fresh air into the knowledge base game. Everything is very well designed and functional, however, users who expect a traditional knowledge base software with a simple editor might be disappointed. The knowledge base offers incredible flexibility but at the same time it takes away some of it by forcing the user to stick to certain workflows. This is what makes Stonly both an amazing knowledge base solution, but at the same time, what may present some obstacles to users.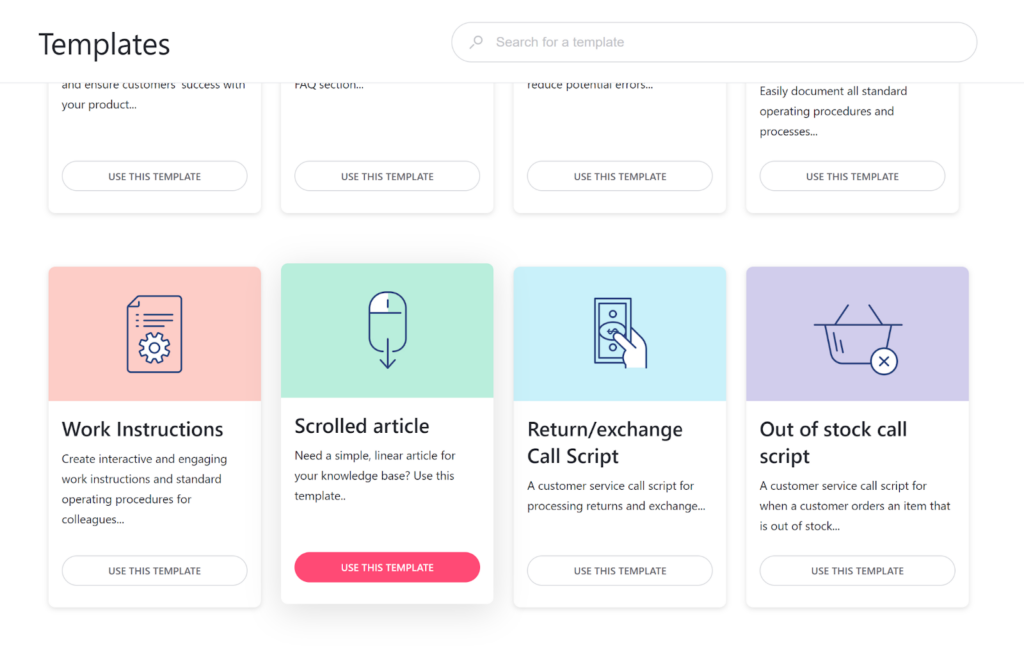 Pricing
The Stonly pricing is where things take a downward turn, since it offers three plans with no option for a free plan whatsoever. However, since Stonly can be considered as one of the few truly dedicated knowledge base solutions, the pricing can get very expensive. Let's take a look at each plan and see what you get.
Starter
The Starter plan costs a whopping $128.55 per month for three users with the monthly billing, or $102.63 per month for three users with the annual billing. This incredibly expensive starter plan offers a limit of 30 guides and the ability to embed guides anywhere. You can only use a single language, use only one knowledge base, use three triggers, and use basic analytics.
Business
The Business plan starts at $258.13 per month for five users with the monthly billing, or $206.30 per month for five users with the annual billing. You get access to all the features from the Starter plan with higher limits and additional features. You can have unlimited guides, multiple languages, three knowledge bases, unlimited triggers, versioning, SEO customization, PDF exports, file attachments, and more.
Enterprise
The Enterprise plan has custom pricing, most likely dependent on the number of users. You get all the previously mentioned features, and in addition auto-translation for guides, advanced team rights management, white label options, integration with Zendesk, Freshdesk, and Front, SSO compatibility, security review, and dedicated customer success.
Conclusion
In a nutshell, Stonly is definitely a mixed bag. It's a dedicated knowledge base software that focuses on knowledge management, and it does that incredibly well. It's trying to improve, innovate, and move the knowledge base management into a new direction, and it's very successful in doing so. However, the pricing is incredibly expensive, and I can't imagine many businesses are willing to pay such large sums for just knowledge management. While this review is focusing on just the knowledge base feature, I have to say there isn't much else going on in Stonly, which makes it a less valuable solution for most purposes. Knowledge base can't compete without the support of other important tools. However, Stonly surely has its audience and a crowd of happy users to support them nevertheless.
Frequently Asked Questions
Can I choose a blank template in Stonly?

There is no option to pick a blank template in Stonly. However, with the abundance of the templates they offer you can usually find a suitable one. Most templates also have customization options which allow you to change your article structure.

How do I create article categories in Stonly?

You can create article categories by clicking on Add New and selecting a folder. You can name your folder accordingly and store all relevant articles inside for easy organization.