Key takeaways
Pros
Easy-to-navigate interface
Fully-featured knowledge base
Categories, autosaves, and other additional features
Cons
It's incredibly expensive
Getting started with KnowledgeOwl
KnowledgeOwl is a true knowledge base software that focuses only on knowledge management. This makes it a very focused solution with extensive capabilities for creating knowledge bases of various types. The software is suitable for human resources and customer service departments in companies of various sizes. Each plan offers an extensive list of features, so the software looks very promising from the start. Let's have a look at how to get started with KnowledgeOwl knowledge base software.
All you need to try out KnowledeOwl is to register a new account with just your email address, and you can get started. KnowledgeOwl will lead you through the start with a simple set of options where you can fill out your author name, name your knowledge base, and choose a URL for your knowledge base. After that, you will be welcomed to the interface and you can start browsing the application.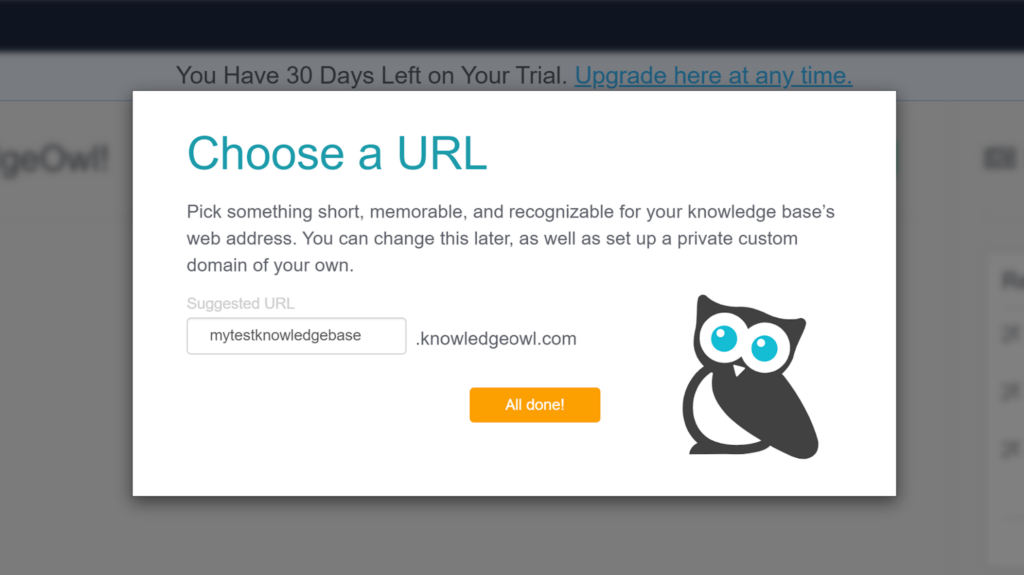 The interface looks quite clean and tidy right from the start. There is a simple and subtle color scheme, with the most important menu items at the top highlighted with a dark blue color and the submenu on the left side in light gray. It's simple and effective, but not exactly visually striking. This is however a simple matter of taste, so I won't take it into consideration in the rating part of the review. The most important thing is that the interface is very functional and easy to use even by new users, which is what counts the most in the case of KnowledgeOwl.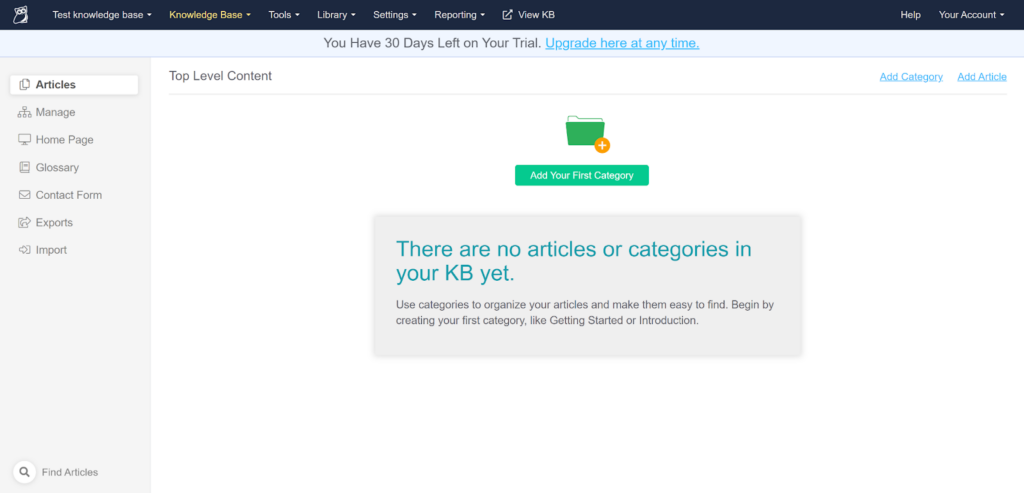 Since KnowledgeOwl is a dedicated knowledge base software without any other functionality, there is no need to search for the knowledge base feature at all. You can enter it right from the start, and get to writing guides and articles without searching. However, you can get familiar with other knowledge base tools and features included in the upper menu. You can enter the entire library of your articles later, or explore the extensive settings options. There are many options, including changing the access level to your knowledge bases, setting up the style and design of your knowledge base, security options, and plenty more.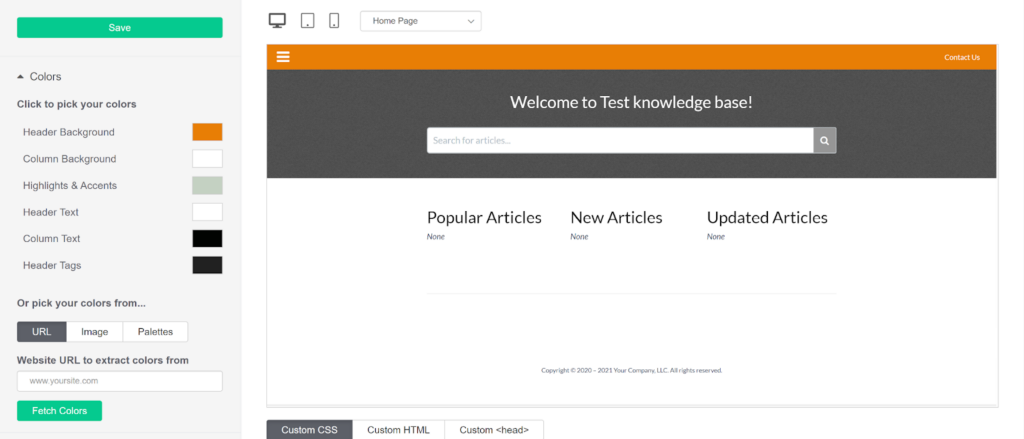 User experience and features
The knowledge base will not invite you to write the first article, but it will invite you to create the first category, which is even better. This makes it very easy for you to start organizing your knowledge base before you even start writing it. You can name your knowledge base category, and choose from multiple landing page types for your category. That's not all; you can choose to go through another set of settings afterwards where you can choose article display options, tags meta descriptions, and a lot more.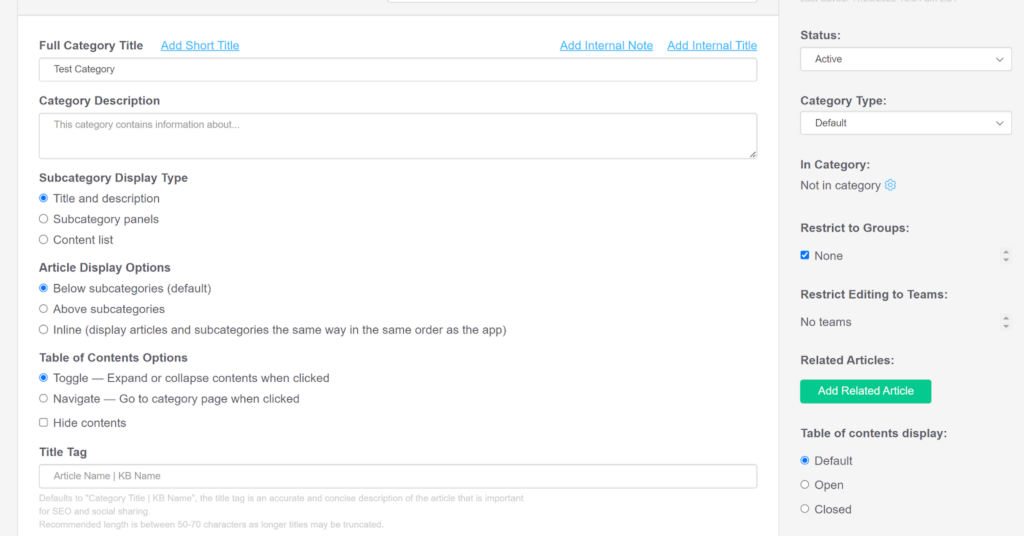 Next, you can start writing an article. You can decide if you want to start from scratch, create an article from a template, copy an existing article to use as a starting point, or share a body of another article. Quite frankly, those are pretty good options to choose from. I mainly tested out the blank template so I could get a proper feel of writing from scratch. That way, I could take a proper look at the KnowledgeOwl article editor and all of its features.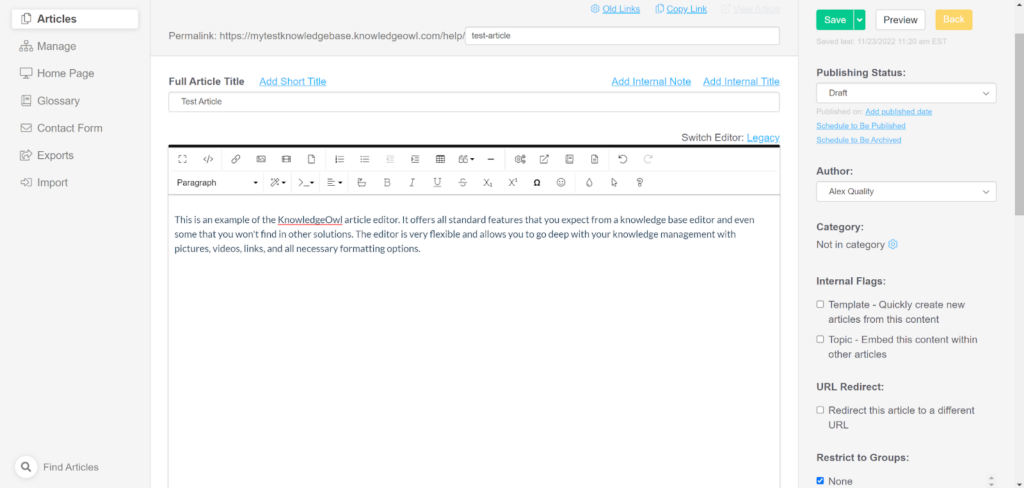 The knowledge base article editor is very good. It has the right balance of abundance of features, easy-to-use interface, and focus on writing without distracting elements. I haven't noticed anything special going on, but there is nothing lacking either and I can't really think of an upgrade that would benefit the editor further. It encapsulates everything you need for writing without clutter, and that's the right way to do it in my book.
You get all standard editing and formatting features, the support of media – pictures and videos, as well as other options including SEO, categories, authorship, and much more. The editor even has an autosave feature which I discovered by accident because I had been procrastinating and KnowledgeOwl logged me out in the meantime. This is a very cool thing to have, not just for procrastination, but also for catastrophic scenarios like getting disconnected from the internet, running out of laptop battery, and so on.
Pricing
Now, we can get to the pricing details. KnowledgeOwl offers three pricing plans, with each of them upscaling the feature set from the cheaper ones. They can get extremely expensive, and even the cheapest plan is significantly more expensive than other software solutions that offer a knowledge base. Each additional author costs $20 per month, and each additional knowledge base costs $40 per month. This concerns all pricing plans, as each one of them offers only one author and one knowledge base. Let's have a look at what else you get with each plan.
Flex
This plan costs $79 per month for one author and one knowledge base. You get access to all features (according to the official KnowledgeOwl pricing), unlimited readers, support, user access management, custom roles, and permissions.
Business
The Business plan costs $299 per month for one author and one knowledge base. You get all previous features from the Flex plan, and additionally 99.5% uptime SLA, priority support, HIPAA compliance, and the ability to upload your own SSL certificates.
Enterprise
This plan is the most expensive one. It costs a whopping $999 per month for one author and one knowledge base. All previous features and services are included and in addition you get 99.9% uptime SLA, vendor security forms, 20% discount on professional services, and dedicated account management.
Conclusion
KnowledgeOwl is without a doubt a great knowledge base software that will help any type of company create a stunning knowledge base. The feature set has everything necessary, and the interface is well designed which makes it almost perfect, if it wasn't for the price. KnowledgeOwl can get incredibly expensive, and I don't think I've seen a more expensive knowledge base software so far. While getting KnowledgeOwl will definitely not be a mistake if you want a great knowledge base, you have to be ready to pay for it. It's only up to you to figure out if it's going to bring you a significant ROI in the long run.
Frequently Asked Questions
Can I change article rating settings in KnowledgeOwl?

Yes, you can find the option to change article rating settings under the settings option in the main menu. Simply click on Settings > Article Ratings. You can choose between thumbs up/thumbs down ratings, star rating options, CTA rating text, as well as rating-submit text.

How do I create article subcategories in KnowledgeOwl?

You first need to create an article category. The option is visible after first entering your knowledge base. When you create and enter a category, you will see the option to create a subcategory for easy organizing of your articles. You can choose a name and a style for your subcategory too.