Key takeaways
Pros
Smooth and well-designed interface
Easy navigation
Great price and a free plan
Cons
Features don't bring anything new
Flowlu is a great knowledge base software that offers all essential knowledge base features. While it doesn't offer anything extra when it comes to functionality, it has a smooth and incredibly well-designed interface that ensures a great experience. It also has very fair pricing, but you need to consider if it's worth paying for additional features, and whether you're going to need them or not. Regardless of that, you can't go wrong with the Flowlu knowledge base. Take a look at the review below and find out more about how it performs.
Getting started with Flowlu
Flowlu is an extensive solution focused on making many business processes easier and is often used as a dedicated knowledge base software. It offers features and tools for handling customer relationship management, project management, task and team management, as well as finances, invoicing, issue tracking, client portal, and mind maps. Let's take a look at the Flowlu knowledge base feature, and see how it performs.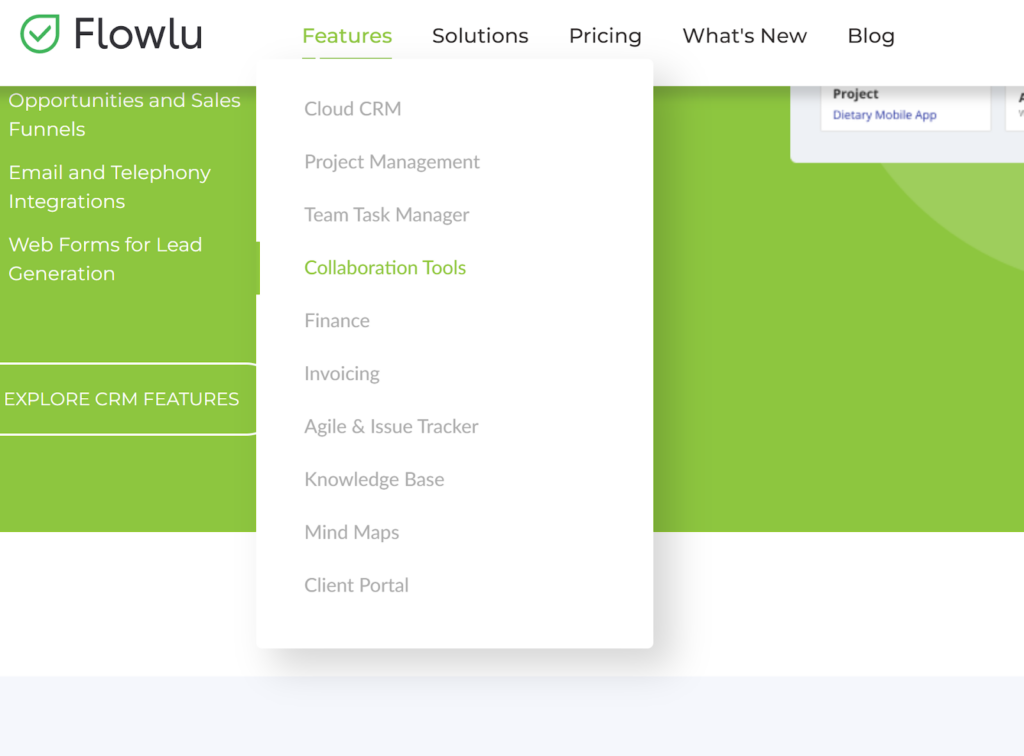 Flowlu has a simple registration process that will get you started with the free version in no time. All it takes is your email and basic information about yourself or your business. Once you finish the registration, you will be immediately taken to the Flowlu dashboard and you can start with the onboarding process. The onboarding lets you fill out your profile information and company account information, as well as also select the tools you want to use in your Flowlu account.
Knowledge base and knowledge management are two of these options, so make sure you check these items if you want to use Flowlu primarily as your knowledge base software. Flowlu offers options for internal and external knowledge base, but it's essentially the same feature. You only need to allow free access to any of your knowledge bases and make it public for online visitors. Before you get started, you need to set up the feature first. Onboarding offers an easy guide that shows you the steps to creating your first knowledge base.
The interface in Flowlu looks very pleasant and modern. You can find the entire toolset in the left menu panel and everything is clearly marked, so you shouldn't have any trouble finding whatever you're looking for. It will smartly show you what tasks you have to complete for the day, as well as allow you to see recent updates from your colleagues (or the Flowlu bot) on the homepage dashboard.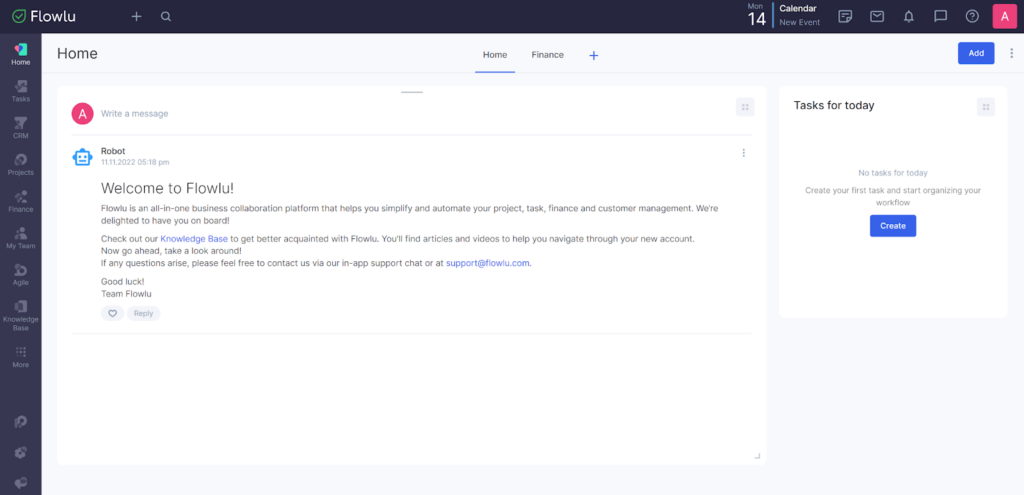 User experience and features
The interface works perfectly and there are absolutely no hiccups regarding knowledge base access. You can access the knowledge base in Flowlu by clicking on the knowledge base icon in the left menu panel. It's pretty simple and easy to access, which cannot be said about all knowledge base solutions. Sometimes you have to appreciate the little things, and this is one of those times. The feature doesn't open as a full window at first, but as a separate tab sliding from the menu bar. It looks pretty cool, and it gives additional flexibility if you misclick by accident. You can quickly select another option from the menu.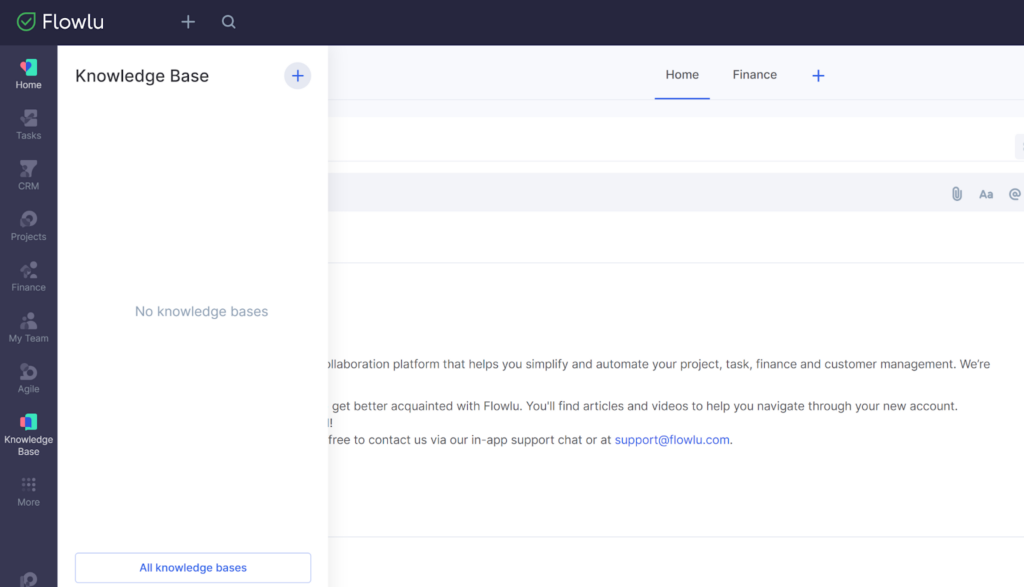 The whole interface looks and feels incredibly smooth, like an elaborate, well thought out mechanism that not only looks great but is also functional. You can click on the Plus icon to create a new knowledge base, which brings up another sliding element from the right side. Here, you can name and describe your knowledge base, as well as pick a font color, add a title picture, select a layout, and make a decision if you want to allow comments on your knowledge base article. So far, the options look pretty good, and you can change them at any time.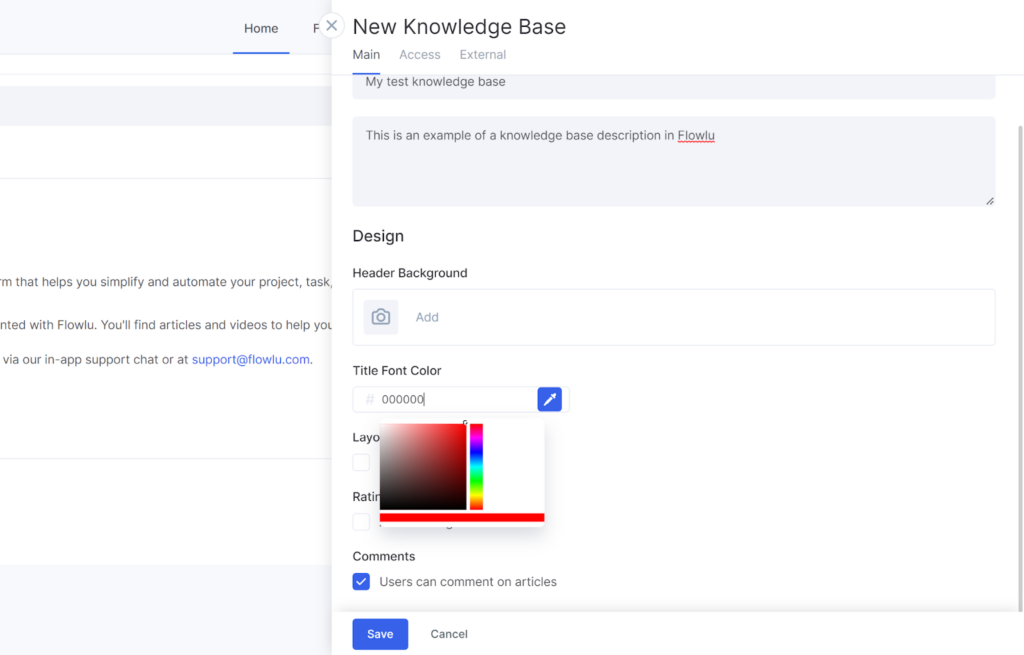 Once you enter your new knowledge base, the interface will quickly invite you to start writing a new article. When you click on Create a new article, another sliding element will show and you will be introduced to the Flowlu knowledge base article editor. The text editor looks just as great as the rest of the Flowlu web application, and it offers a simple but easy-to-navigate interface with all tools visible right away. The selection is not the largest I've ever seen, but it contains every necessary tool.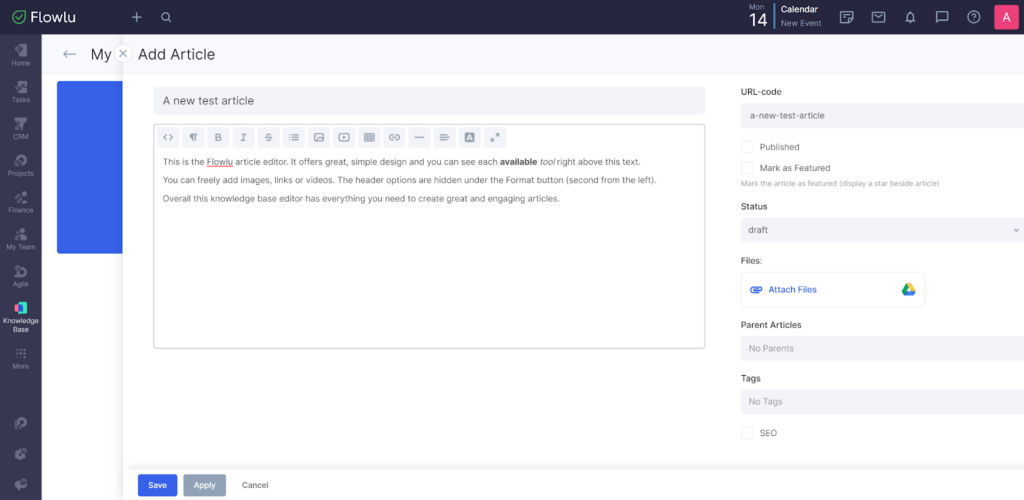 You can freely write text and use headers that can be found under the formatting option in the toolbar. The editor supports easy adding of pictures, videos, and links so there are absolutely no problems making your articles top notch and full of relevant media. Last but not least, you get additional options in the right panel where you can handle basic SEO, tags, and ticket status. You can also attach files from Google Drive. Additionally, there's the option to select a parent article, which should allow easy categorization and organization of your articles.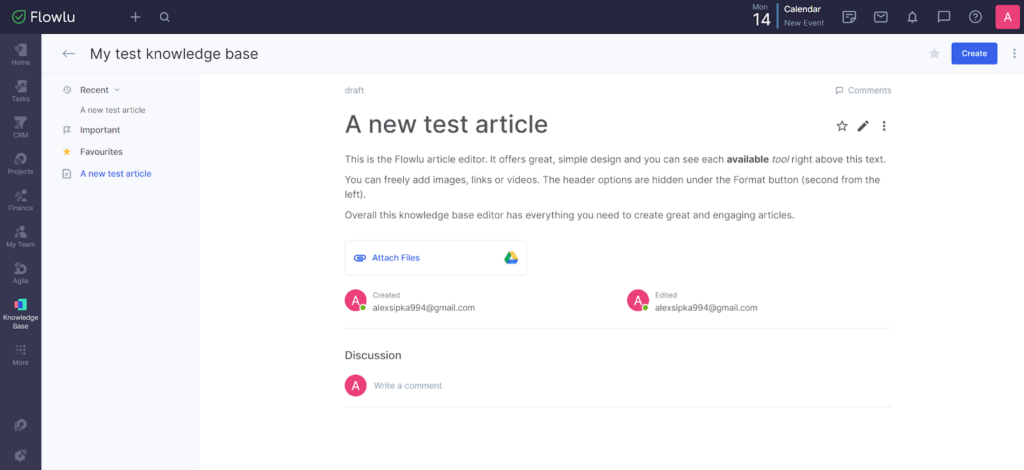 Overall, the Flowlu knowledge base is super easy to use, and you shouldn't have any trouble accessing whatever features you need. There isn't any extra functionality that would bring some extra value compared to other solutions, but then again, you don't really need it. The most important thing is that the interface is pleasant to navigate, and allows for easy access to the knowledge base and the editor.
Pricing
Flowlu offers five pricing plans with varied features. Each plan has a knowledge base. More expensive plans offer more features while removing feature limitations with higher monthly subscriptions. There's also a free plan with limited features available, but you can start a trial of any of the paid plans if you want to. Let's take a look at each plan and what it offers.
Free
The Free plan offers 1GB of storage and has a two user limit. You can handle unlimited projects and tasks, store unlimited contacts, and you also have access to CRM automation. Other features include invoicing and online payments, expense tracking, one project template, and one knowledge base.
Team
The Team plan costs $39 per month for 8 users with the monthly subscription, or $29 per month for 8 users with the annual subscription. It offers 10GB of storage. You get all the features from the Free plan but with 3 project templates and 2 knowledge bases. You also get task automation, API and webhooks, email integration, and time tracking.
Business
The Business plan costs $74 per month for 16 users with the monthly subscription, or $59 per month for 16 users with the annual subscription. It provides 50GB of storage. You get all previous features with 6 project templates and unlimited knowledge bases, as well as the custom fields feature.
Professional
The Professional plan costs $149 per month for 25 users with the monthly subscription, or $119 for 25 users with the annual subscription. It provides 100GB of storage. The only major difference in this plan is that you get 20 project templates with all the features from previous plans.
Enterprise
The Enterprise plan costs $249 per month for an unlimited number of users, or you can pay $199 if you pick the annual subscription. You get all features from previous plans, with no limits to project templates.
Conclusion
Flowlu is a well-balanced knowledge base software for a very fair price that offers an incredibly good-looking interface and an easy-to-use knowledge base feature. While it might not offer fancy advanced features, what it does offer is more than enough for anyone to create stunning knowledge bases and extensive articles. It's more than affordable for teams of any size, and you get amazing features in any of the packages. The only thing you should consider is how useful these features will be for your business.