Key takeaways
Pros
User-friendly UI
Unlimited documents
Customizable knowledge base
Offers a free plan
Cons
No external publishing
Not many advanced text editing options
Getting started with monday.com
Signing up with monday.com was super easy. Once you fill out your information and confirm your email address, you are good to go.
As a workflow and productivity software, it's only natural that the interface is clean and efficient. Once you log into your account, you are greeted by your Main Workspace.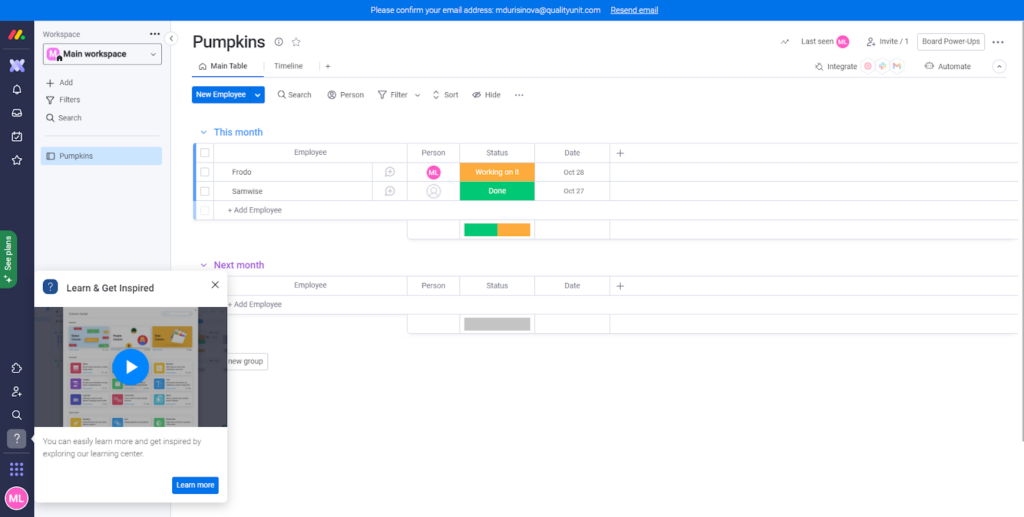 In this dashboard, you can add your team members to the system, assign them tasks, and even see your team's progress in the Timeline tab.
Right off the bat, monday.com offers you a tutorial to get you started. You can either choose to watch it, skip it, or come back later if you need it.
To begin writing a knowledge base article, go to your Workspace panel, on the left of the screen. Click on the Add option and select New Doc. Once you do that, you can create your first document.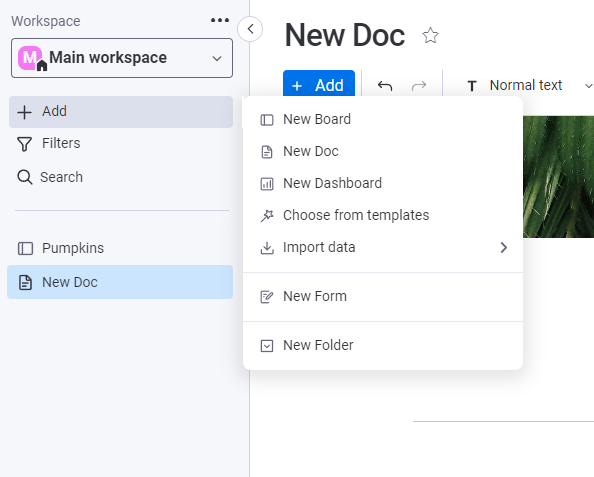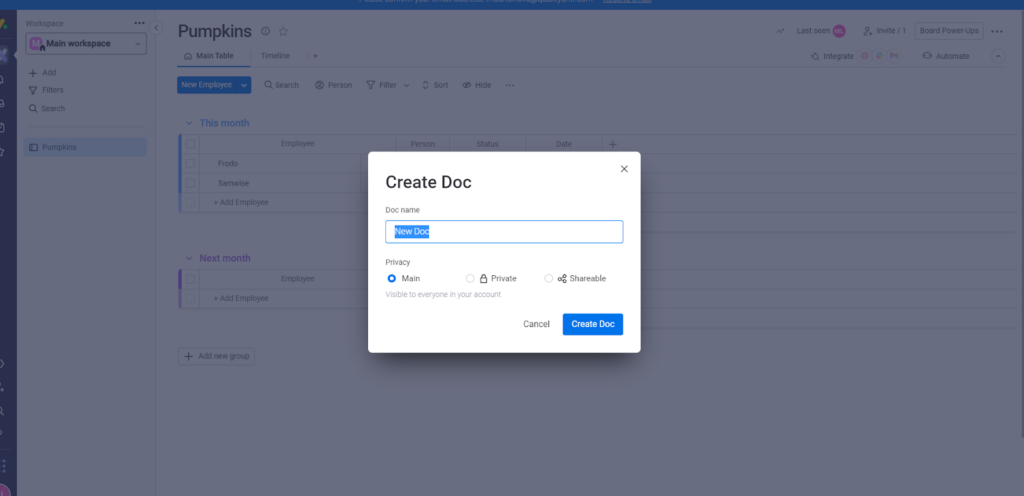 Once you've done that, you can start editing your knowledge base article. Once again, use the Workspace panel, and access the doc you've just created.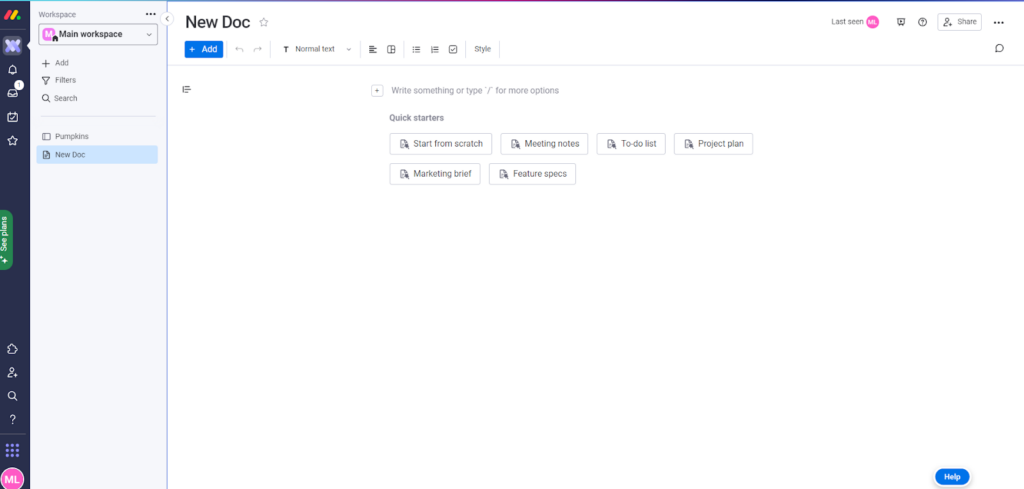 You get offered a list of quick starters that provide structure for your article. Again, you can use them or skip them, whatever you prefer. In my case, I chose not to go with any of the starters, so I began with a blank page.
You get all the basic editing options you need to create a knowledge base article.
It's nothing too fancy, but it gets the job done and it's incredibly easy to navigate.
I liked all the options to customize articles. This includes adding your own code, videos, GIFs, and checklists. Again, it's nothing too impressive, but how easily you can build it into your articles is nice, and I can see how it can be useful for many people.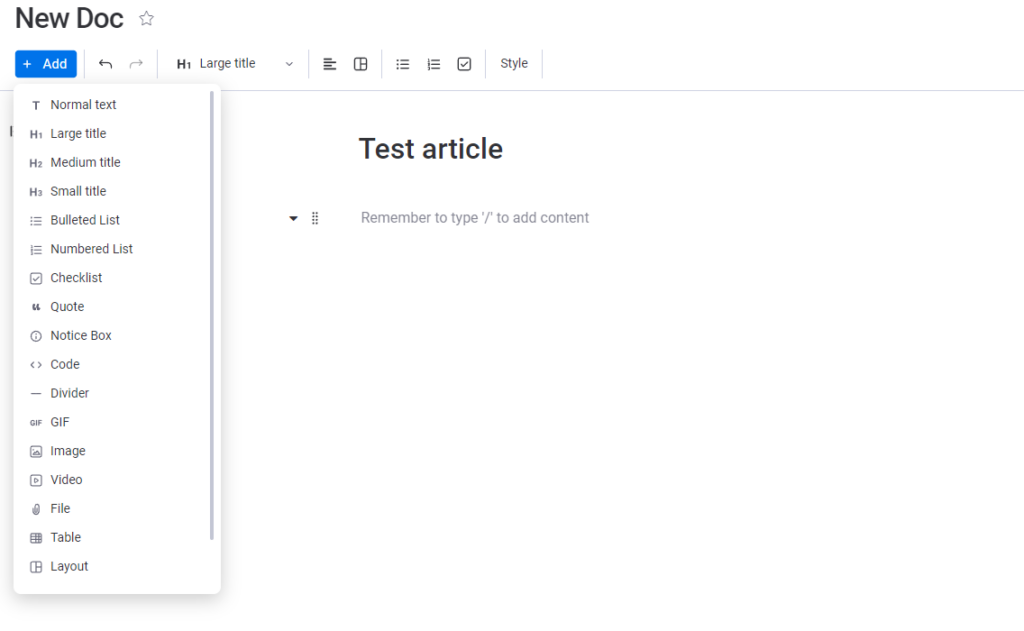 I had a look around, and customized my article a little.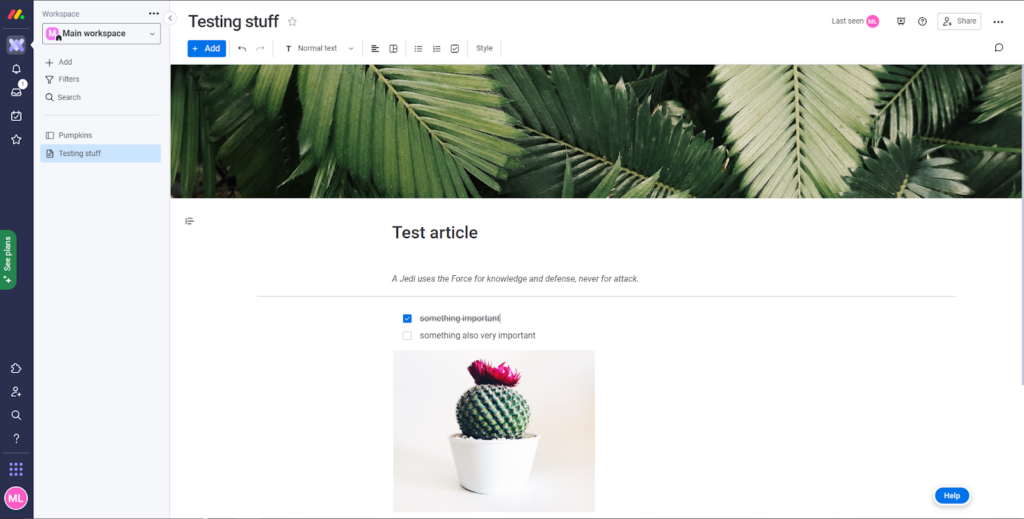 Once I was done with adding pictures of plants, I decided the article was publish-worthy. And that's where I stumbled upon my first issue. Where is the publish button? Being somewhat used to the UI offering you a big bold button to publish your work, I was taken aback a bit.
So I tried to look around and click on everything I deemed helpful.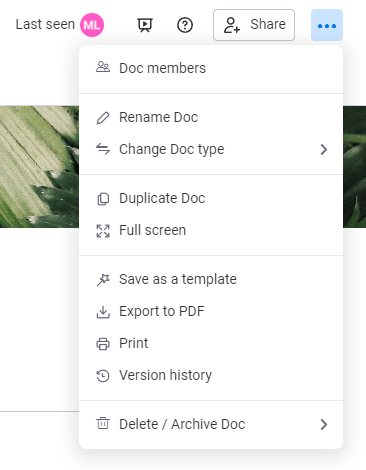 No luck. So I decided to look for the information I needed in monday.com's support articles. I read through a few, but I still didn't know how to share my article with the outside world.
Therefore, I turned to customer support. The interaction was very professional and friendly, which I appreciated a lot. After some back-and-forth, the support rep told me that actually, there wasn't any option to publish the article externally.
I was a little surprised because there was no mention anywhere that monday.com offers an internal knowledge base as their only option. Although, as a workflow software, it makes sense.
User experience and features
Monday.com runs on a browser, so the OS you use doesn't really matter. Google Chrome is the most recommended, but you can also run it without issues on Firefox, Safari, and Microsoft Edge.
The overall experience with the software itself was pleasant. Everything is very polished and easy to understand, even for someone like me, who doesn't have much experience with workflow software.
Despite a bit of confusion I experienced regarding publishing the article, I had a great time interacting with monday.com's software. And even when I needed help, customer support was readily available and very helpful. However, I would have appreciated it if they had made the fact that there is no external knowledge base available more obvious.
Monday.com lets you create an unlimited number of knowledge base articles, even in their free plan. You can keep these articles private or share them with your team.
There are plenty of features you can use to write and customize your articles. You can even add your own code if you're up for the challenge.
Pricing
Individual
This is a free plan with up to 2 seats. It offers some limited features and functionalities. Although it's not as feature-rich as the paid options, it still lets you create as many articles as you'd like, allows you to use over 200 pre-made templates, and has up to 500MB of storage.
Basic
With this plan, you pay €8 per seat per month for all the features included in the free plan. You also get 5GB of storage, unlimited viewers, shareable forms, and more.
Standard
Monday.com's most popular pricing option costs €10 per seat per month. This package includes all the features from lower-tier options, 20GB of storage, 6 months of activity logs, guest access, and a limited number of automated actions and integrations.
Pro
At €16 per seat per month, you can enjoy all the functions lower tiers offer, plus more. At this price point, you have 100GB of storage for your files, pictures, and so on. Activity logs go back up to 1 year. You can also use 25,000 automated actions per month and 25,000 integration actions. On top of that, you can enjoy the unlimited access feature to collaborate on projects with external partners.
Enterprise
This tier has a custom pricing plan, so you will have to talk to monday.com's sales team to configure it. In this plan, you get all the functionalities from cheaper packages, plus many enterprise-grade features.
Conclusion
All in all, my experience with monday.com was great. As a person who doesn't work with workflow software too often, the UI was easy to understand and navigate. I didn't need much help finding out how to create my knowledge base articles and customize them to my liking.
And even when I stumbled upon an issue, I didn't have to look far for help. The fact that monday.com doesn't let you publish knowledge base articles externally is a little disappointing. However, if I were looking for an internal knowledge base builder, monday.com would be a strong contender.
The unlimited number of documents you can create gives this software great potential to be a building block of a pretty robust internal knowledge base.
To sum it up, monday.com is very easy to use with great UI and a pleasant user experience. If you're not bothered by not being able to build an external knowledge base, this solution can be a great, accessible option for almost everyone.
Monday.com customer support
Monday.com is a free solution with no available pricing plans or extra charges for features. You can download the newest version and start using it free of charge. Monday.com doesn't include advertisements, and there are no usage limits present in the app.
Monday.com Email Support
Monday.com Live Chat Support
N/A
Monday.com Call Center Support
N/A
Monday.com Knowledge Base
Monday.com Forum
Product home page
Go to https://monday.com/