Key takeaways
Pros
A very well-designed interface
Easy to navigate and use
Simple but effective knowledge base features
Free plan available
Cons
No advanced text editing options
Price can get steep with more expensive plans
Froged offers a great opportunity for users who want to develop a knowledge base from scratch for their website. They easily boast an intuitive interface that's, quite simply, a pleasure to use. The knowledge base feature is well designed and will help you create a knowledge hub in no time. Writing articles is totally unproblematic, despite the lack of some advanced text editing features that some higher-level users might miss in this otherwise great application. Froged comes with a free plan, but some users might consider it slightly expensive when upgrading to higher plans. It's only up to you to consider if its other impressive features are worth the price.
Getting started with Froged
Froged offers a great user experience right from the start. Getting started with the free version takes literally just a couple of minutes thanks to the fast and easy registration on the website. You can opt for a free trial or get the free version right away. Once you complete the registration, Froged will ask you a couple of questions to help you specify what you want to focus on with their solution. The options include increasing customer engagement, improving your customer support, or enhancing an onboarding experience. Froged also considers what team you are on, and shows you the relevant tools accordingly. So far, I'd say that's a really strong start.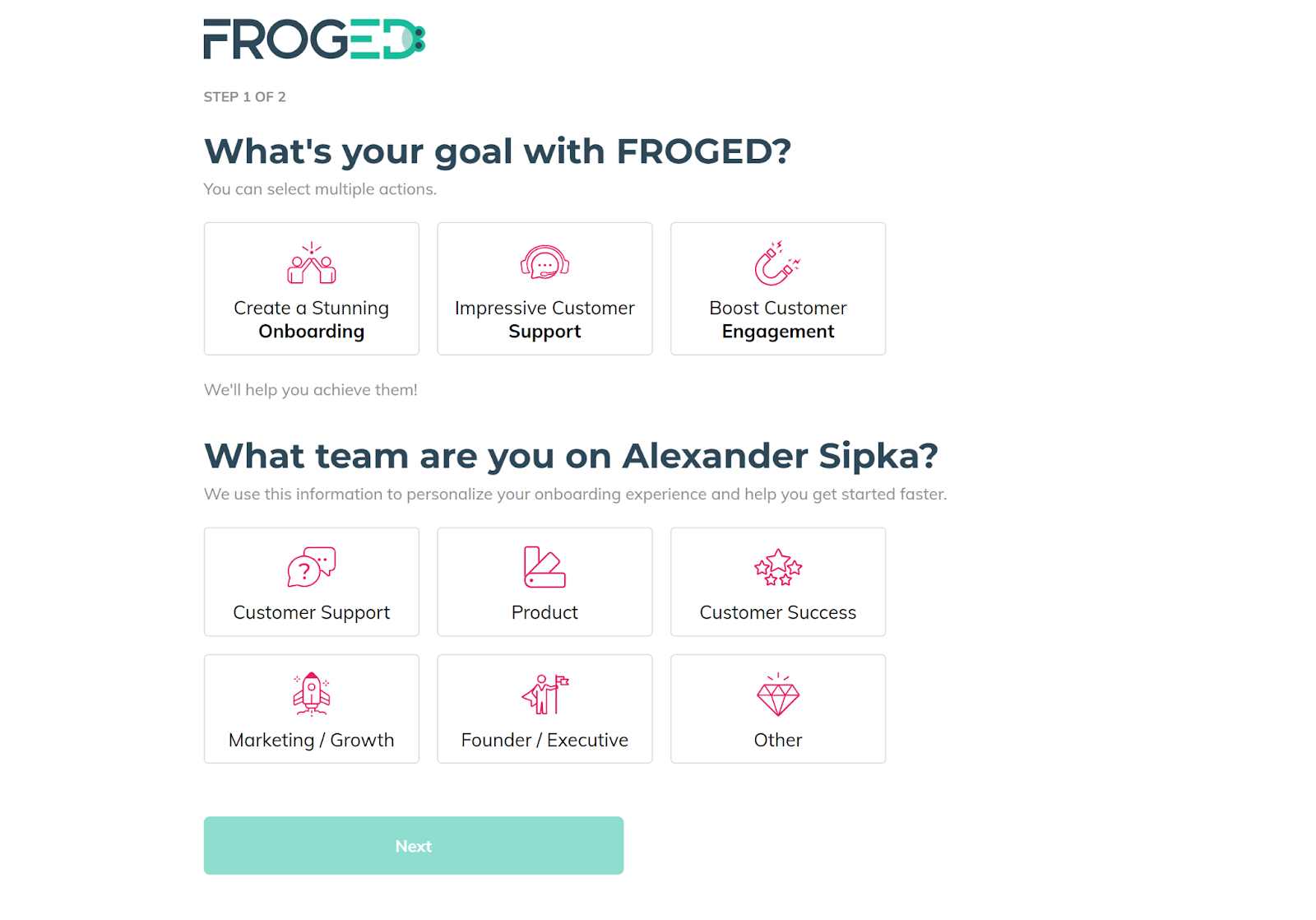 When you first open the app, you'll be greeted by the option to schedule a demo or to take a short tour of the web application. Some software solutions tend to force users into demos, leaving them without the option to try the software out on their own. It's great that Froged gives new users the option to decide for themselves if they prefer a demo or a trial. It would take a while to cover the entire Froged feature set, since it's not just a knowledge base solution, but rather a fully fledged customer experience software with multiple functionalities. This review focuses strictly on the knowledge base feature, and so far, I have to say that getting started with it is a breeze.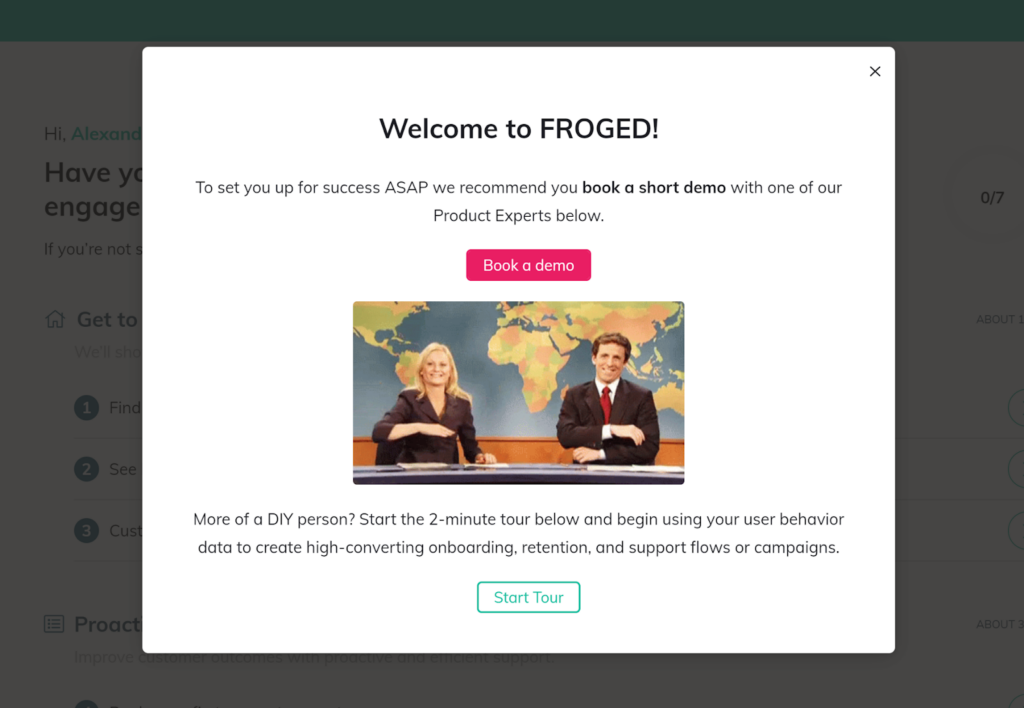 The tutorial shows you exactly where to find it – at the left menu bar, under the Support option. Click on Knowledge Base and, that's it, you're there. The interface in this part of the app is pretty straightforward, and you've even got the option to write your first article directly on the screen. Froged doesn't make you deal with complicated steps and skipping many windows- you can get straight to work and start writing immediately. Alternatively, you can configure the language settings, but the free version only lets you use one language option, which can be switched at any time.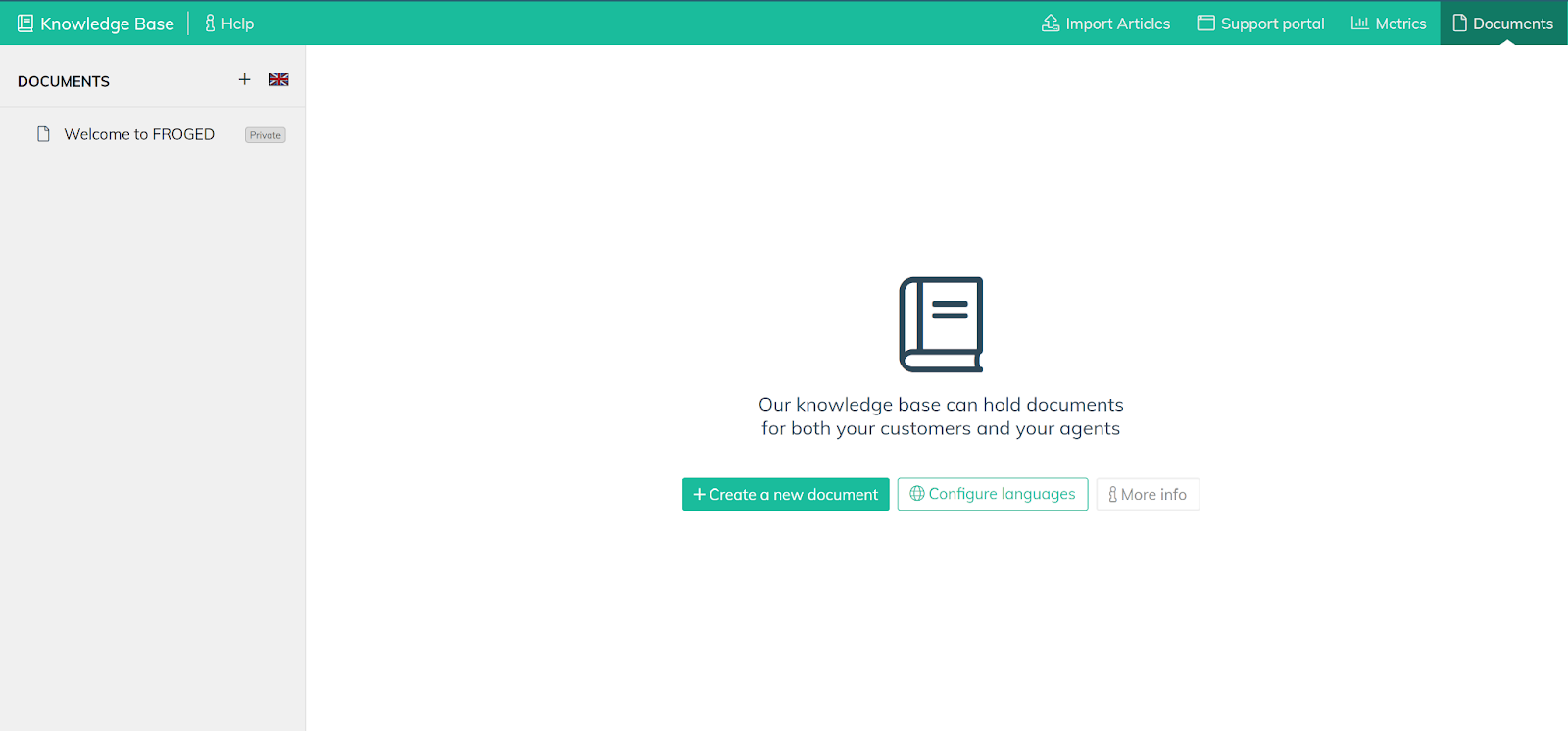 User experience and features
Working with the Froged knowledge base is very intuitive. To create a new document, you simply click on + Create a new document and you can start writing. The knowledge base supports text, pictures, videos, links, buttons, and you can also add horizontal lines to improve your formatting. All of these attachments are easily accessible thanks to a single button that covers all the available options. Writing articles in the Froged editor is simple to use, as you would expect (and hope for) from a text editor. Its features are not on par with dedicated text editor applications, but that's not necessarily a bad thing for every type of user.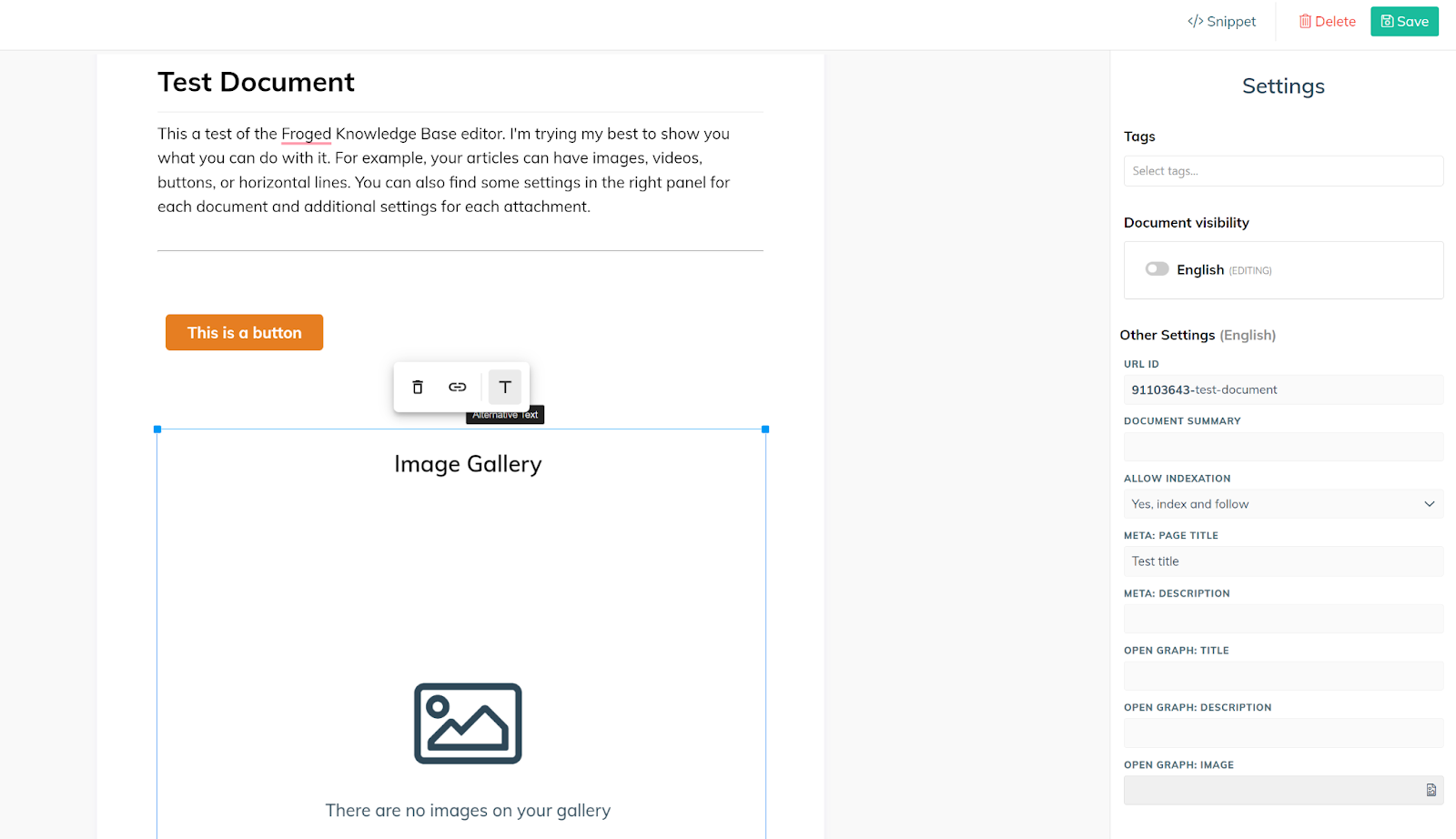 If you already have pre-written articles, you're able to just copy/paste or directly upload them onto your knowledge base. There is also the option to add alt tags, meta title and description, and more to your document. Each element you upload, such as videos and pictures, have their own small set of setting options. You can add links to pictures and alt texts. Videos offer alignment options, a resizer, and even an option for autoplay, among others. The selection is not very wide, but these essential options were more than enough in my experience.
There's not much more to say about the Froged knowledge base, as the feature set is quite simplistic. You can see the entire list of articles in the left panel. What I appreciated the most was the option to add folders for swift organization and categorization of my articles. Combined with a simple, and easy to navigate interface, working with Froged was a piece of cake. Admittedly, some advanced text editing features would be welcome, but its absence is not enough to sway my overall experience.
Pricing
Froged pricing is on a subscription basis, and it comes with four plans you can choose from based on your requirements. Each plan scales up and provides additional features, as well as additional user seats. Let's take a look at each of them and see what they have to offer.
Free
The free plan comes with a fully working knowledge base, however it does impose some limitations on functionality. It's available only for one user, and in addition to knowledge base, you get a customizable business messenger, Slack integration, and up to 200 monthly active users.
Grow
The Grow plan costs €66 per month and offers three user seats. In addition to features from the Free plan, you get engagement metrics, unlimited emails, event-based alerts, user behavior tracking, Google Meet integration, and up to 1000 monthly active users.
Scale
The Scale plan costs €290 per month with seven user seats available. You get features from the previous two plans plus automation rules, product flows, behavioral emails, NPS, more integrations, and the option to remove Froged branding from alerts and emails. You also get up to 10000 monthly active users.
Enterprise
The Enterprise plan is customizable, and starts at €740 per month with a minimum of ten user seats. The price changes depending on the number of users you need, and the features you pick. You can pick a number of active monthly users, and customize your feature set.
Conclusion
Froged offers a simple but very easy-to-use knowledge management feature that does the job well. There aren't many problems with Froged and what they offer, but some users might want to reconsider in case they expect a more advanced text editor from their knowledge base software. It may also get quite expensive compared to other competitors; however, you can also stick with the free plan if it's enough, especially since you're still able to build a full knowledge base using just that. You also get a wide variety of other features besides the knowledge base that make up for the steeper price in some plans. Froged's knowledge base won't disappoint you, but it's up to you to consider if the other features give you some extra value for the final price.
Frequently Asked Questions
How can I add media to knowledge base articles in Froged?

Whenever you are on an empty text line in the Froged editor, a + button will appear. You can click on this button and choose what kind of supported media you want to add to your article. The Froged article editor also supports copy and paste functionality, so you can paste images directly into your articles.

How can I access text formatting in Froged?

You can access qualitative text formatting by double clicking on any text typed in the Froged knowledge base editor. There is no option to change typefaces, but you can adjust your font with multiple functionalities.