Key takeaways
Pros
Advanced text editor
Advanced publishing options
Cons
The tutorial is broken and bugs out
It takes a while to figure out where things are
Needs unnecessary activation even if you're the only user
Salesforce's knowledge base feature is not the quickest, nor the most straightforward to get started with. Finding it and learning how to enable it in the vast sea of Salesforce tools might take you a while, but you won't be disappointed when you do. While the Salesforce knowledge base is not the best one available, it will definitely do the job well, especially if you require other great tools that Salesforce offers.
Getting started with Salesforce
Salesforce is a very well known software for customer relationship management, and is also one of the top rated CRM solutions available on the market. It offers an easily accessible trial that can get you started with your knowledge base in no time. All it takes is a simple registration and email confirmation. Salesforce works as a web application, so there is no need to install anything on your computer to get started. Since Salesforce has a huge variety of tools and features, the application offers a Getting Started guide where you can determine what your primary use of Salesforce is going to be. You can select the Knowledge management option and the system will start a short tutorial to get you familiarized with the interface.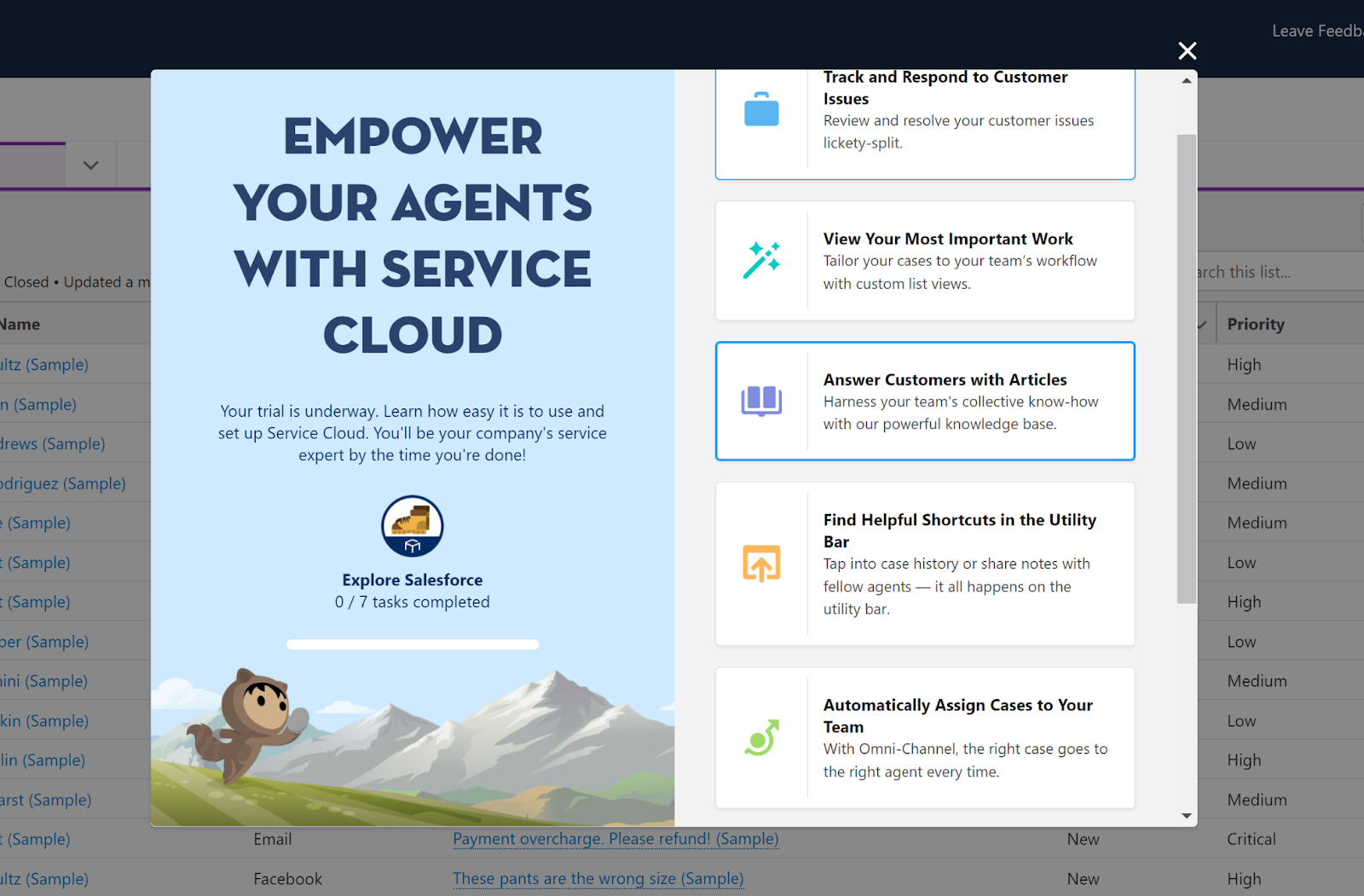 While the tutorial seemed like a great thing at first, it quickly bugged out once I did something else than what it told me to do. I got a tutorial error message within the first five minutes of using Salesforce. Overall the guide wasn't very helpful, suggestions were confusing, and I was better off exploring the app on my own. The application interface looks great at first, but you might find it confusing and unintuitive very quickly. It took me a while to start writing my first knowledge base article after skipping through a couple of hoops.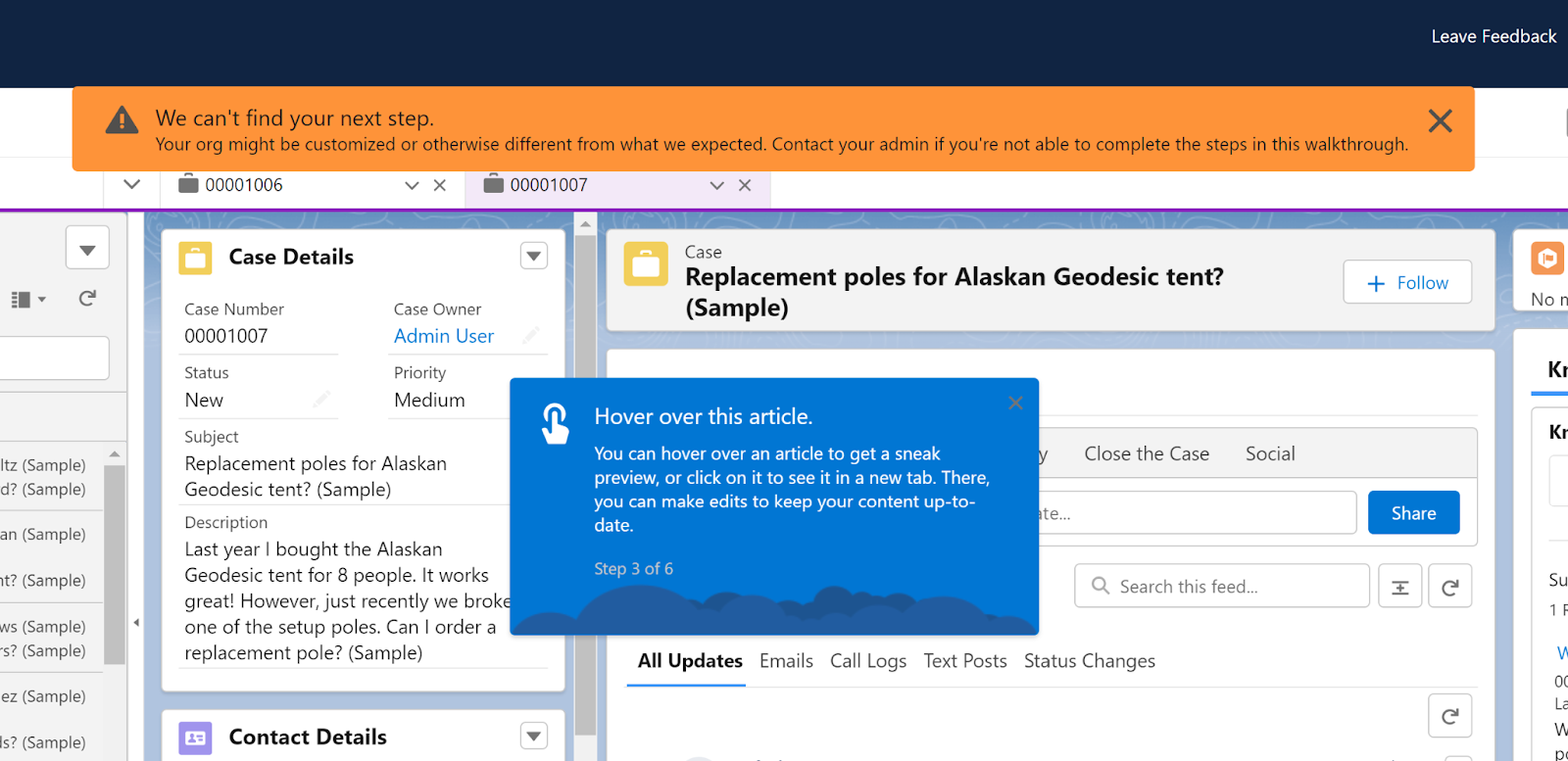 You can find the knowledge base by clicking on the App Launcher icon in the top left corner, and searching for Knowledge. Seems easy right? Well, if you're a new user like me, you will get confused as to why you can't create any new articles. There were no icons, and no editing options. I had to look up an online guide to find out that I first need to give myself permission to create knowledge base articles in the configuration. This option can be found under Setup > Setup > Users. You have to click on the user you want to change permissions for and check the box next to "Knowledge user".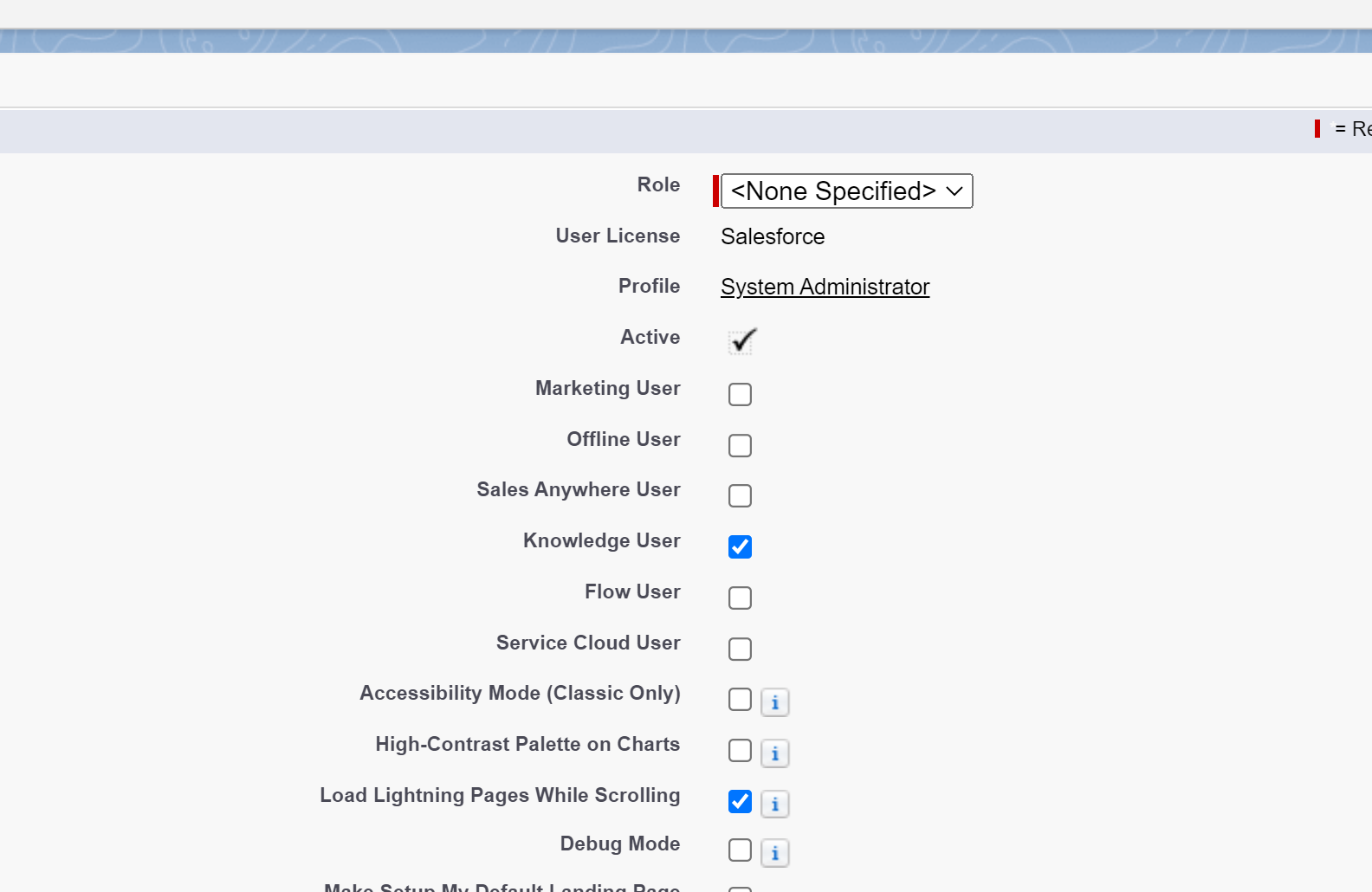 User experience and features
Once I finally got to the fully functional knowledge base, things got a little simpler. Right off the bat you can choose between writing FAQs or a description of a procedure. I chose to write a description, and what really surprised me was the selection of fields available in the article editor. Besides the article name, description, and validation status, you get a number of other fields. These are Procedure audience, Procedure purpose, Procedure warnings, and Procedure steps.
All of these fields are self-explanatory, but the choice of including these is quite unusual. That's not necessarily a good thing nor a bad thing, it depends on what type of articles you want to write. Speaking for myself, I found this a bit cumbersome and would prefer something more on the essentials side without Salesforce forcing me into a pre-set writing structure. You can also choose to skip these steps completely and write whatever you prefer instead.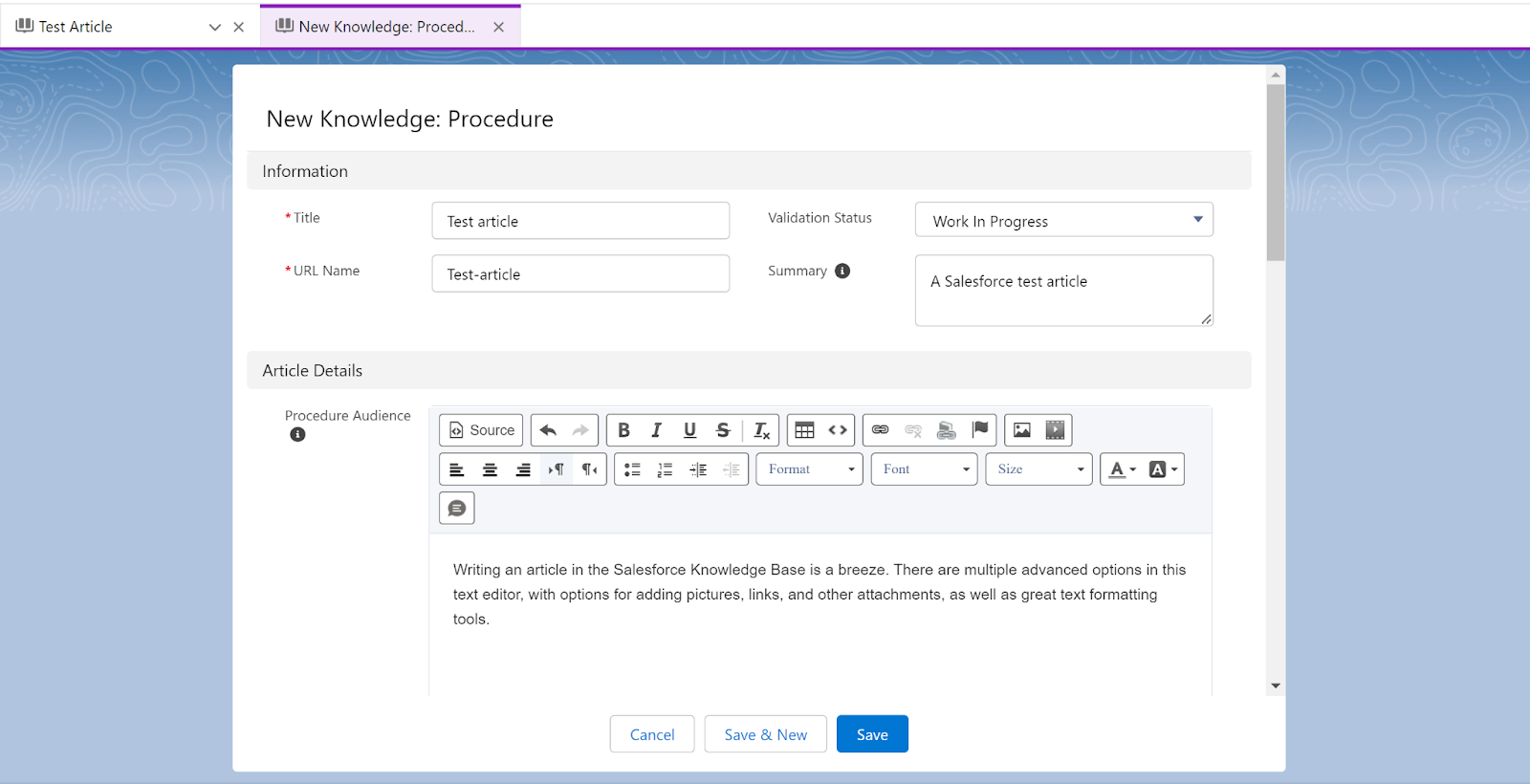 The knowledge base text editor itself is great, and I have no major complaints about it. It's not just an essential writing tool, but it also offers some advanced options for text formatting, giving users a great degree of flexibility. The editor supports attachments such as pictures, videos, and links. It's a standard editor that's pretty straightforward to use, offers no unpleasant surprises, and works as intended.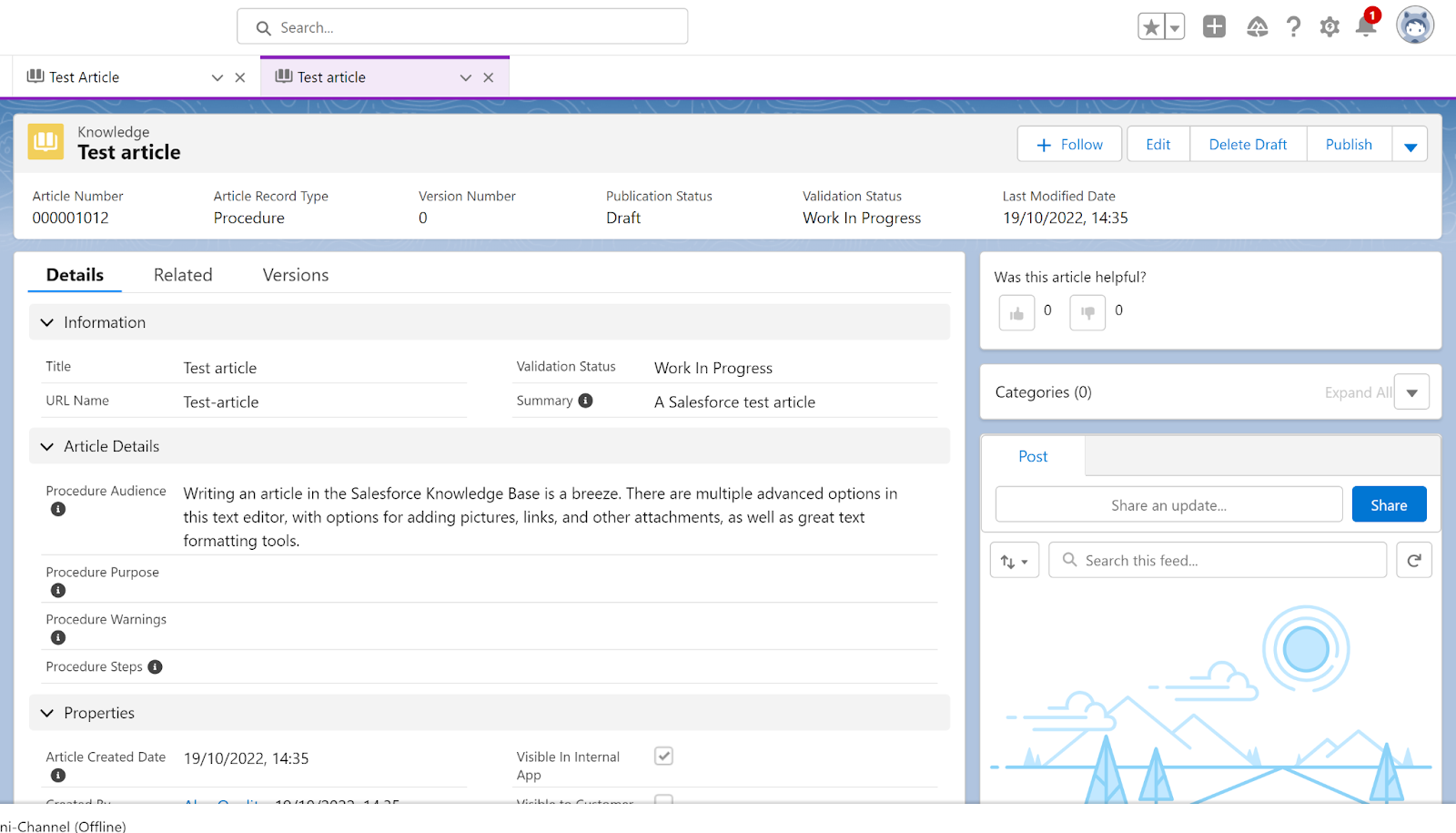 Besides the editor, you can find visibility settings, data & information, and a lot more in the article preview. It's not difficult to find the most important article information, but the interface looks a bit cluttered, trying to show as much as it can in one go. This is a small issue in an otherwise functional design. Overall, the Salesforce knowledge base isn't the worst, but it's not the best either.
Pricing
Salesforce offers a very extensive selection of pricing plans to accommodate its various tools, features, and uses. The knowledge base is mainly a part of the Service Cloud Salesforce toolset. The Service Cloud comes with four pricing plans that vary in features. Let's have a look at all of them.
Essentials
The Essentials plan costs $25 per month per user. Besides the knowledge base features, it offers case management tools, service console apps, and telephony integration. This is the cheapest available Salesforce pricing plan.
Professional
The Professional plan costs $75 per month per user, and it offers everything included in the Essentials plan, as well as new features with the service contracts and entitlements tool.
Enterprise
The Enterprise plan costs $150 per month per user. It includes every tool and feature from the previous two plans, and adds web services API tools.
Unlimited
The Unlimited plan costs $300 per month per user, and it offers everything that Salesforce Service Cloud has to offer. You get all the tools from the previous three plans, plus a premium success plan.
Conclusion
Working with Salesforce is not the easiest task in the world. The things that make it one of the best and richest solutions for various use cases are also the same things that take away focus from the user experience. While the Salesforce knowledge base works as it should, it could be designed better. The navigation in Salesforce is not the easiest, but it does work very well considering that it accommodates a lot of other tools and features. People who look for a true all-in-one solution will not be disappointed, while users who need less tools besides the knowledge base should probably look for a less extensive solution.
Frequently Asked Questions
I can't add new knowledge base articles, how can I do it?

You most likely don't have permission to create and edit knowledge base articles. You can fix this by going to Setup > Setup > Users. Click on your username in the list and find "Knowledge user". If the checkbox next to this option isn't ticked, you won't be able to work with the knowledge base. Tick the box, save the changes, and you should be able to create and edit articles in the knowledge base from then.

Where can I find the knowledge base feature in Salesforce Service Cloud?

The knowledge base feature is called "Knowledge" in Salesforce. You can find it by clicking on the app launcher in the top left corner and searching for it there. After you see the option in search, simply click on it and the website will redirect you to the knowledge base.