Key takeaways
Pros
Easy and fast setup
Great interface
Well-designed knowledge base + editor
Cons
It can get very expensive even with cheaper plans
It's hard to find anything wrong with the Freshservice knowledge base feature, as it offers simple navigation, and has all the right organization features that are often omitted in other knowledge base solutions. The text editor is state of the art, and the setup and implementation are incredibly easy. Freshservice offers one of the best knowledge base features out there, however, it can be very costly if you don't pay attention to the pricing plans. Keep reading to see the full Freshservice knowledge base review.
Getting started with Freshservice
Freshservice is a help desk, customer support, and service management software with a major focus on IT. It's also a part of the Freshworks software selection. Freshservice allows their users to make their IT operations simpler. It's a fully fledged IT help desk solution with a ticketing system, knowledge base, and every other important tool for IT support. This review focuses on the Freshservice knowledge base and how it performs in day-to-day support scenarios.
Getting started with Freshservice is as easy as filling out a simple registration form. There's no credit card information required, and you don't have to go through a multi-step process to get access to your account. It takes barely a couple of minutes to start getting familiar with your dashboard. Once you get access, you will be greeted by a modern-looking interface right at the start. There are no available guides, but the interface is clean and easy to navigate even if you're a completely new user.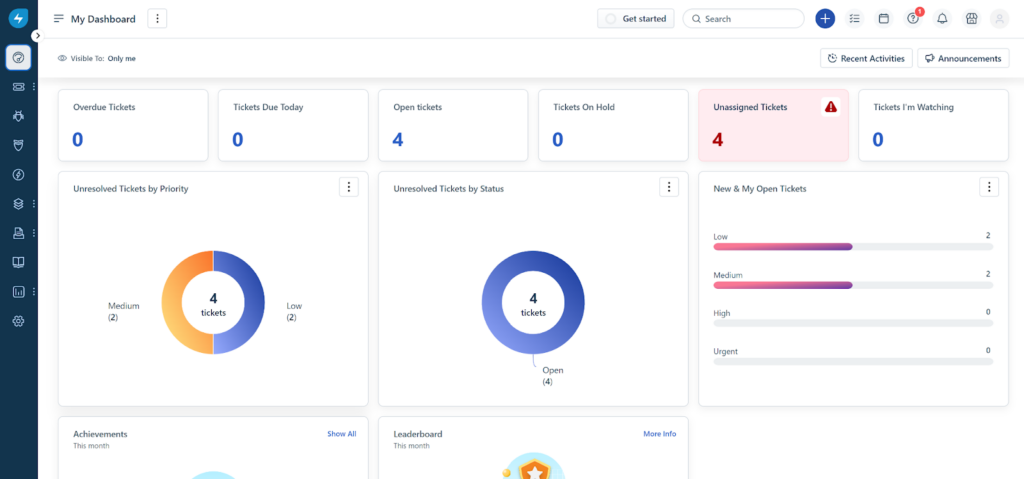 Freshworks truly looks modern and pleasing to look at. The main dashboard offers a nice overview where you can see ticketing system information in comprehensive charts. To the left is the main menu, where you can find all tools and easily access whatever you need in just seconds. At the top, you can find tasks, notifications, general settings and other related menu items. Overall, the interface is simply great and it's hard to find something wrong with it on the first look.
Finding the knowledge base in Freshservice is a tad confusing, because while the actual section is called Knowledge base, the menu item simply says Solutions. While it wasn't the most difficult task to figure out that Solutions stands for the Knowledge base, I can imagine that new users might not be in the same situation. Solutions could easily refer to software FAQs or a get started guide instead. Regardless of this minor issue, you can find the Solutions option at the left menu panel.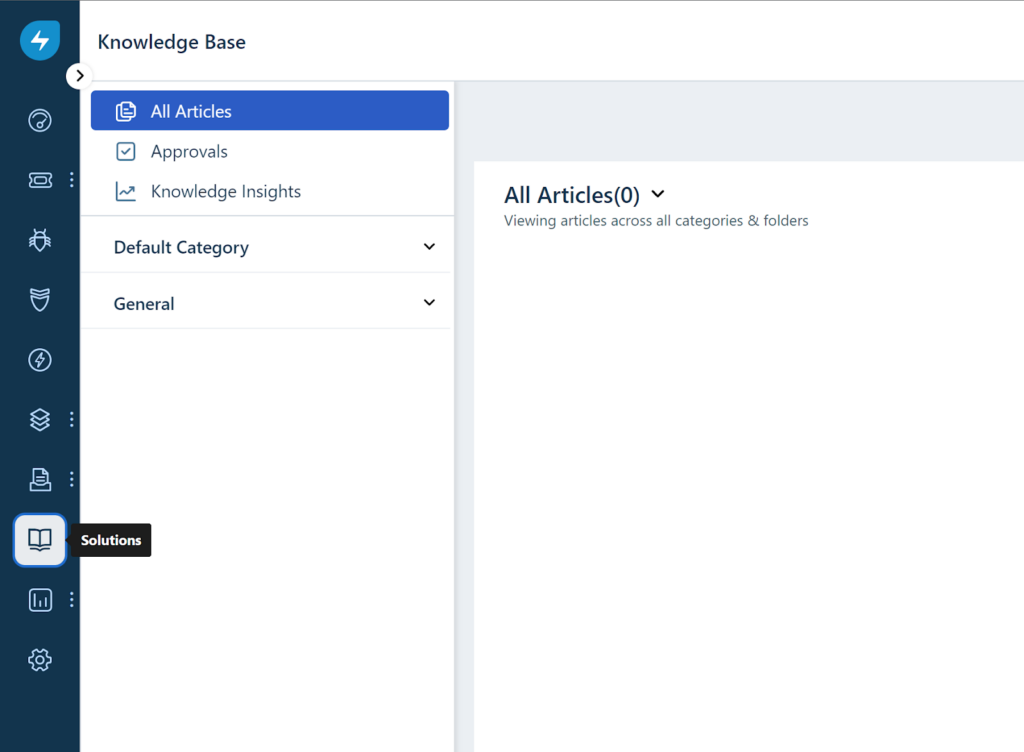 User experience and features
Once you access the knowledge base feature, you can start taking a look around. The interface remains just as pleasing as the entire Freshservice application, and it straightforwardly invites you to start writing articles when it's empty. Once you click on Create article, you will be taken to the knowledge base article editor and you can start admiring the easy to navigate knowledge base interface right away.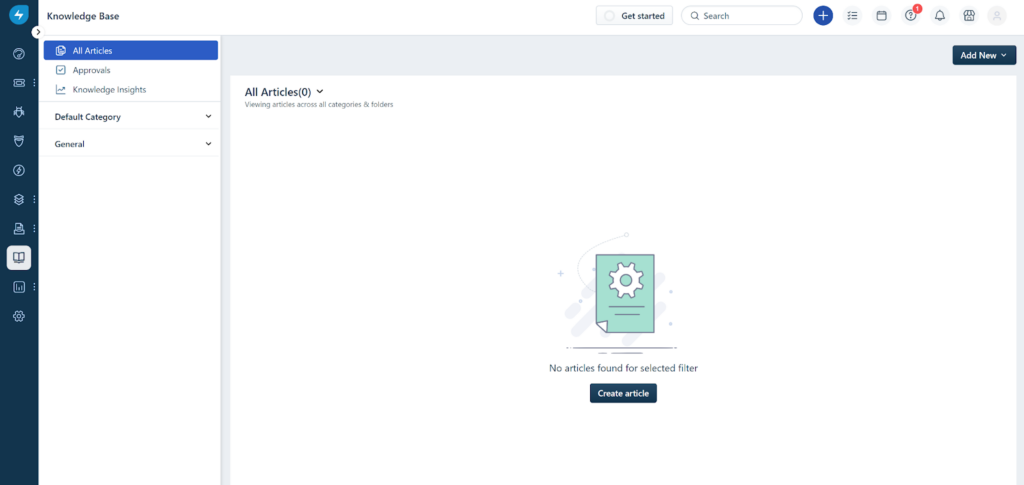 The article editor works and looks amazing. There's nothing especially fancy going on about it, which is good because it keeps you in focus, and it helps you immerse yourself into writing, just like with a standard text editing software. It's simply a classic, well-designed, and fully functional text editor, which is always a good thing. You know exactly where each tool is, and nothing is hidden from your view.
The upper toolbar offers every standard text formatting tool you already know from text editor software like Microsoft Word. The toolbar is easily available at all times, and it supports all standard keyboard shortcuts. You can add images and videos with a couple of clicks, and you don't have to worry about embedding, as both types of media embed automatically in all articles. You can also add tags and keywords in the left panel, or select the author of the article, among other options.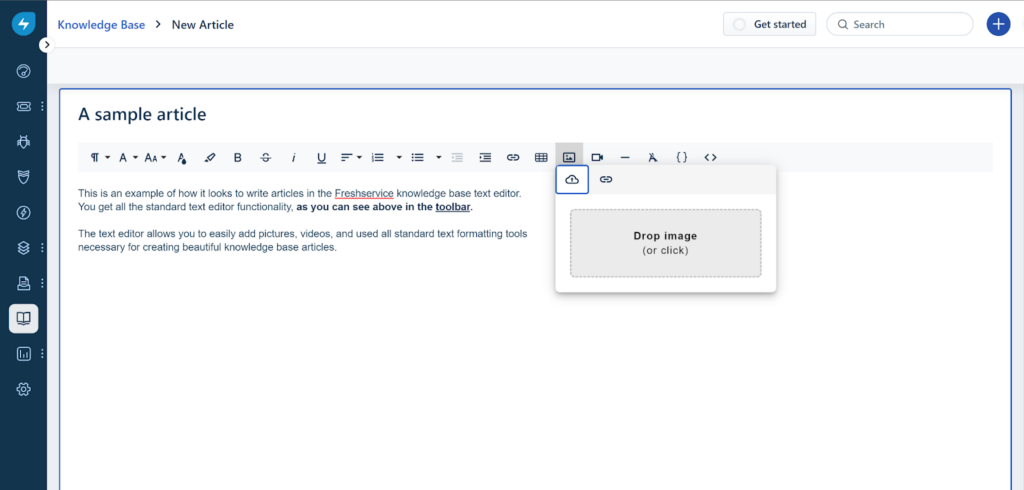 The Freshservice knowledge base supports categories and folders, which ensure that you will always be on top of your article organization structure. It's surprising that many solutions still don't utilize these features, which can be invaluable for companies that are planning to create elaborate and extensive knowledge bases. Categories are simply the go-to feature for organization, and that's why Freshservice knowledge base can be a really great choice.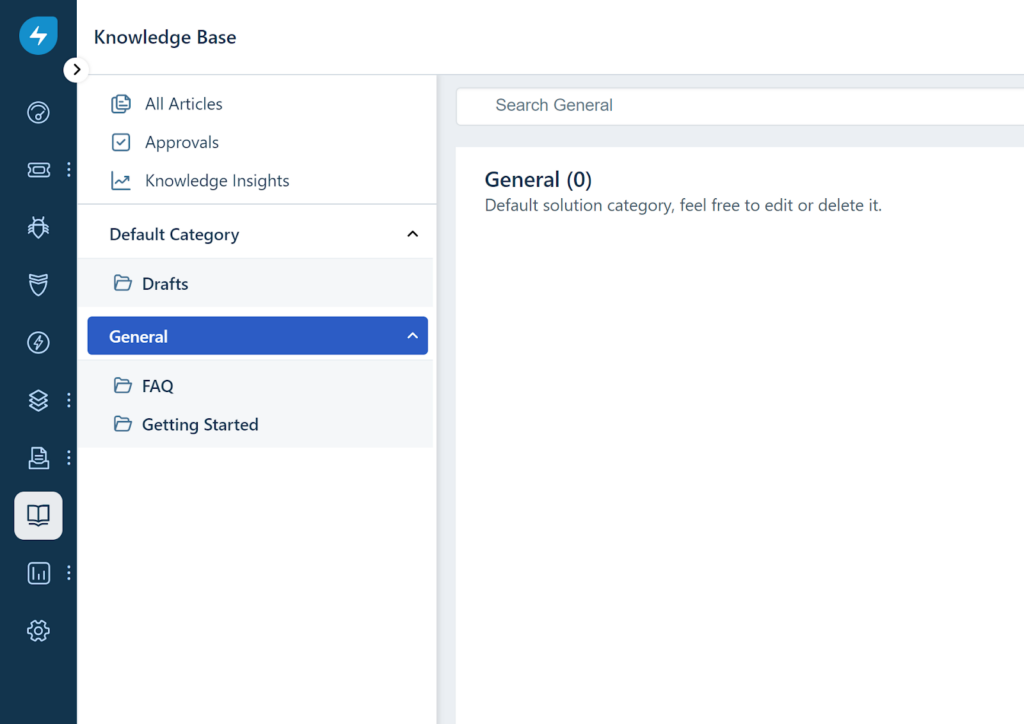 Pricing
Freshservice offers four pricing plans with different feature sets. The knowledge base feature is included in each plan. There is no option to have a free plan, so if you're planning to utilize the knowledge base feature, you will also have to decide what other tools you need before you decide on your plan. Let's take a look at the offers.
Starter
The Starter plan costs $29 per month per user with monthly payments, or $19 per month per user with annual payments. It offers a knowledge base, incident management, self service portal, SLA, workflow automations, orchestration, access controls starter, analytics, custom SSL, and much more.
Growth
The Growth plan costs $59 per month per user with monthly payments, or $49 per month per user with annual payments. You get everything from the previous plan (although it's not specified in the pricing), and in addition a service catalog, asset management, purchase order management, employee onboarding, on-call management, portal customization, Multiple SLAs, and more.
Pro
The Pro plan costs $109 per month per user with monthly payments, or $89 per month per user with annual payments. It includes previously mentioned features and adds problem management, change management, release management, project management, SaaS management, software license management, contract management, analytics pro, and more.
Enterprise
The Enterprise plan costs $129 per month per user with monthly payments, or $109 per month per user with annual payments. You get everything from previous plans, as well as your own virtual agent, sandbox, audit logs, and 20,000 orchestration transactions per month per account.
Conclusion
Freshservice offers one of the best knowledge base tools out there. It's easy to get started with it, and it's incredibly well designed which ensures an amazing writing experience. The knowledge base feature is one of the best ones available, however, you need to be mindful about your budget. While Freshservice is great, the pricing can be very demanding, especially if you decide to pick a more expensive plan with a larger feature set. However, if you do, you won't be disappointed.
Frequently Asked Questions
I can't find the knowledge base in Freshservice

The knowledge base in the Freshservice application is called Solutions. You can find it in the left menu panel. Once you click on it, you will be taken to the knowledge base and you can start writing.