Key takeaways
Pros
Robust
Well-established
Scalable
Cons
Not very user-friendly
Steep learning curve
Laggy
Updates can be time-consuming
Getting started with Dynamics 365
Signing up for Dynamics 365 is simple. All you need to do is provide your email, verify your account and fill out the required information. After you've done that, you have to wait a few minutes for your account to be set up.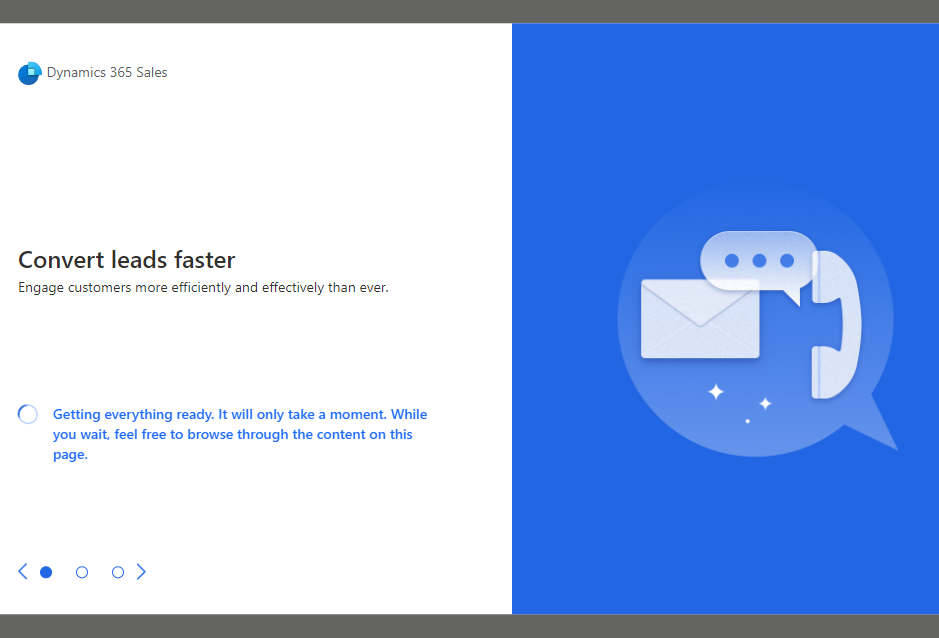 While waiting, Dynamics 365 offers you some quick tips on how to use the software to its full potential.
Once you have your account ready, you can look at a Dashboard that displays some sample information to show you how it will look once you start using it.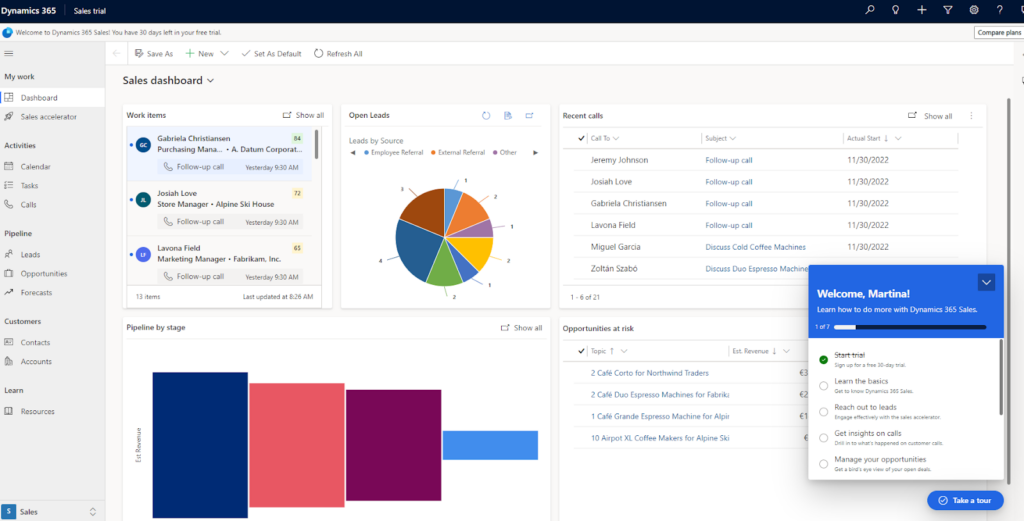 However, as you can see on the screenshot above, the title of this page is "Sales dashboard". I quickly found out I needed to switch to another app to start creating a knowledge base, so after I had a quick look around in the right side panel, I found all the apps Dynamics 365 offers.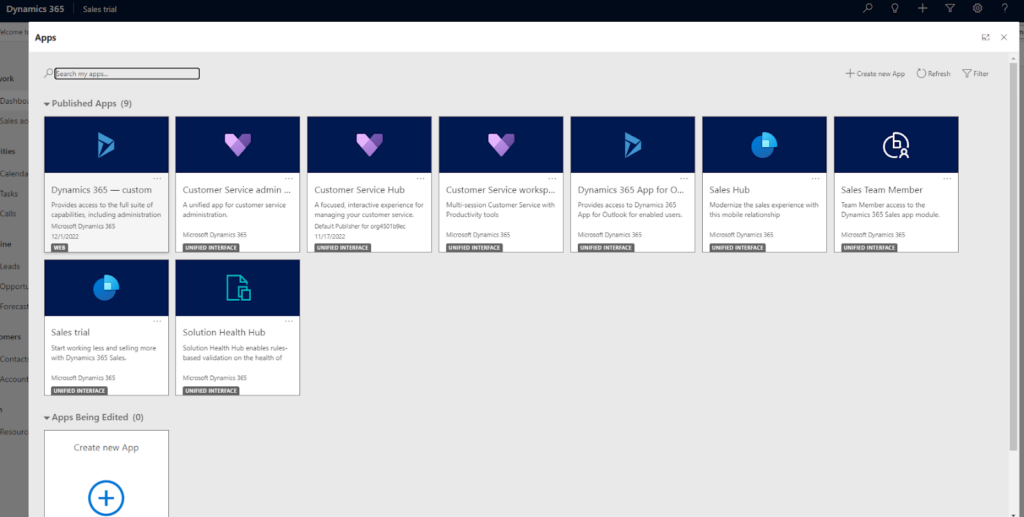 The support documentation pointed me toward the Customer Service Hub app.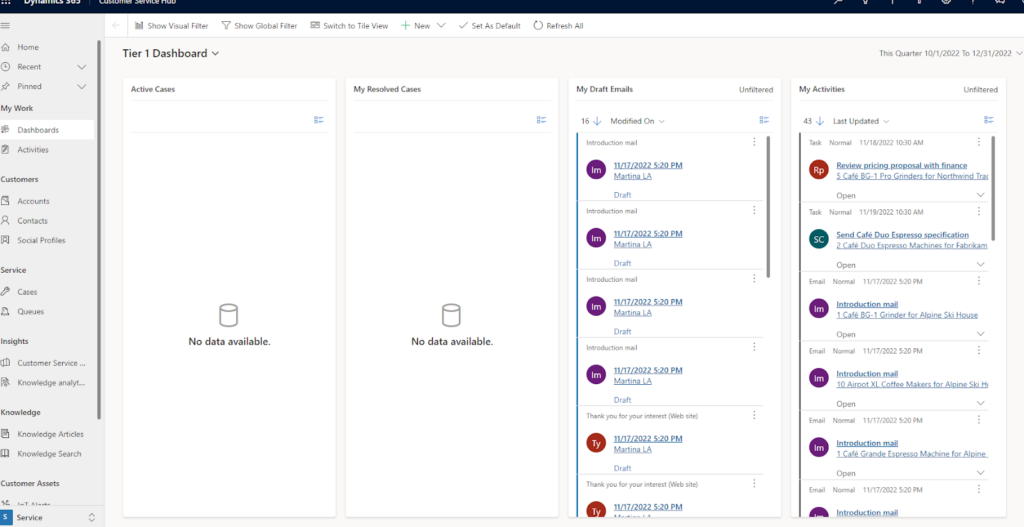 Again, you get some sample info on the Dashboard. To start working on a KB article, go to the left-hand side panel and click on Knowledge Articles.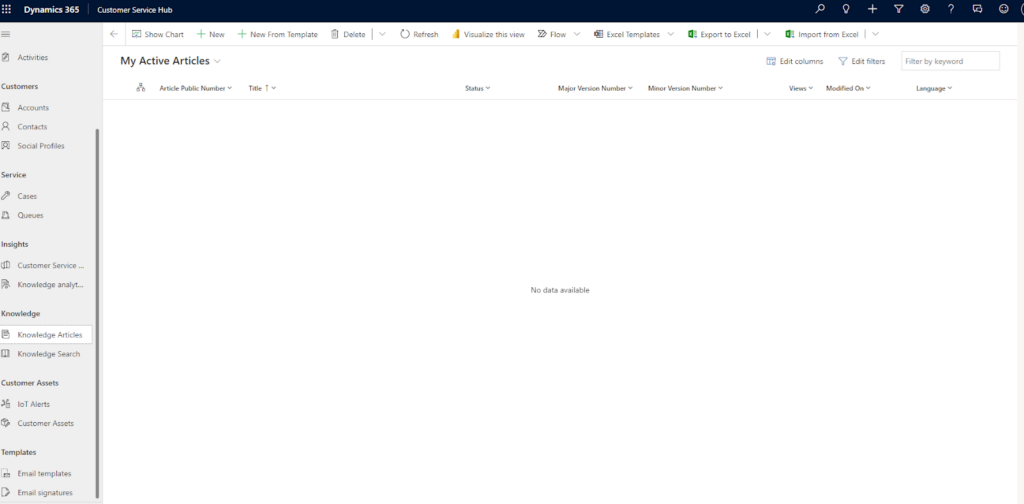 From there, click + New, and you're ready to go.
What first got my attention was the part above the editor itself.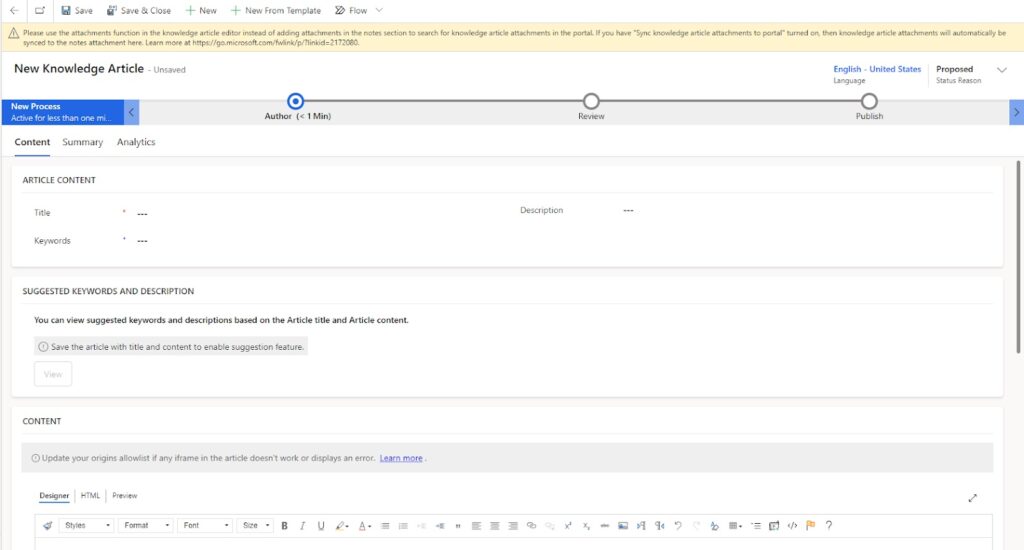 In this part, you can add a title, description, and keywords to the article. Moreover, you can look at some suggested keywords that can help you with SEO.
Microsoft stayed true to their design, as the article editor's Designer part reminded me of Microsoft Word both by the looks and the way it operates. You have all the basic functionalities to write articles and add images and internal links. You can somewhat customize the text, but it's nothing fancy.
With the content editor, you can also add HTML code. This functionality gives the article editor much more freedom.
And after you're done editing, you can preview the content. Dynamics 365 shows you how your knowledge base article looks on multiple devices.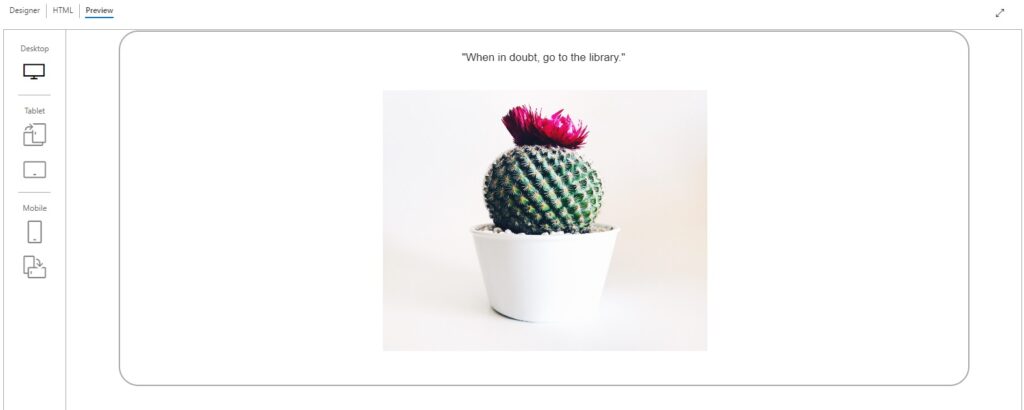 If you're happy with your work, you can hit Save and continue to Summary.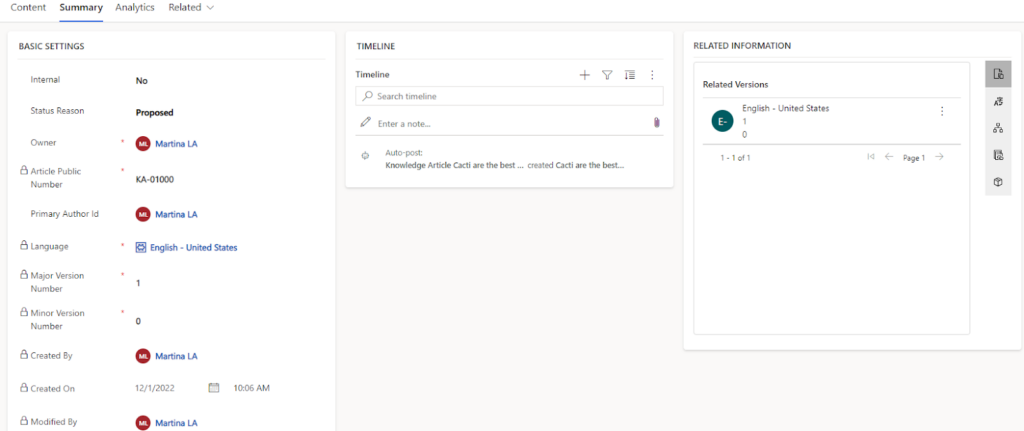 Fill out all the required fields and scroll down to schedule the time your post goes up. You can set your article to be reviewed, but it's not a requirement. Once you've done all that, you can forward it to the next stage.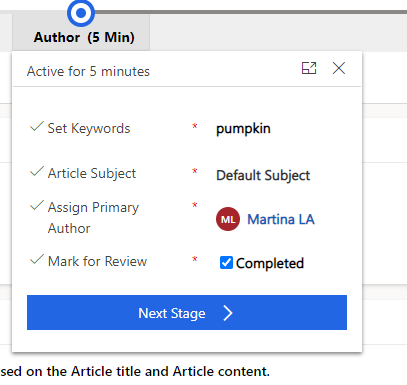 User experience and features
Dynamics 365 runs on Microsoft Edge (preferably Chromium-based Edge), Chrome, Firefox, and Safari. I used it on Google Chrome, and I have to say, my overall experience was, for lack of a better word, clunky. For a Microsoft product, I expected it to run smoothly. I was a little disappointed when pages took too long to load, and the whole app was somewhat laggy.
When you look at Dynamics 365's knowledge base builder, it lets you do a lot. You can embed media with HTML right in the content editor.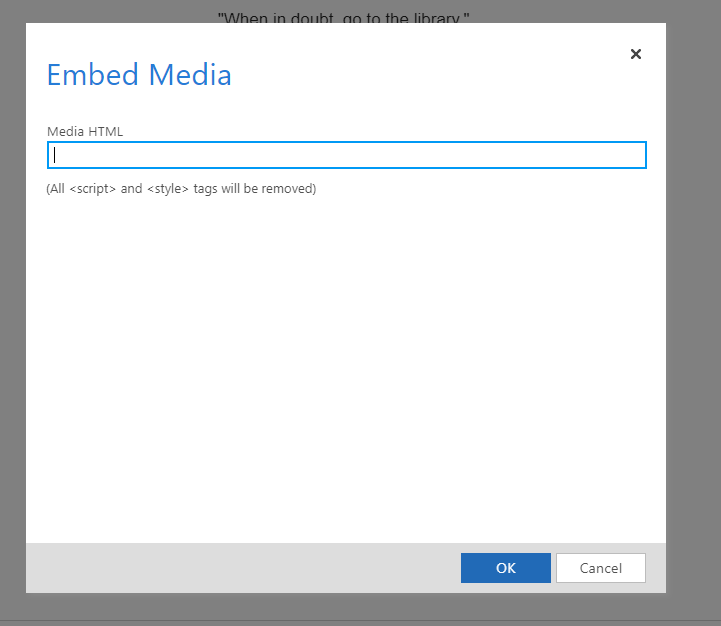 Adding images is also very easy. You can do so using a website URL or uploading the image directly from your computer. You can adjust the image size, set the alignment, and target before you add it to your content, or after.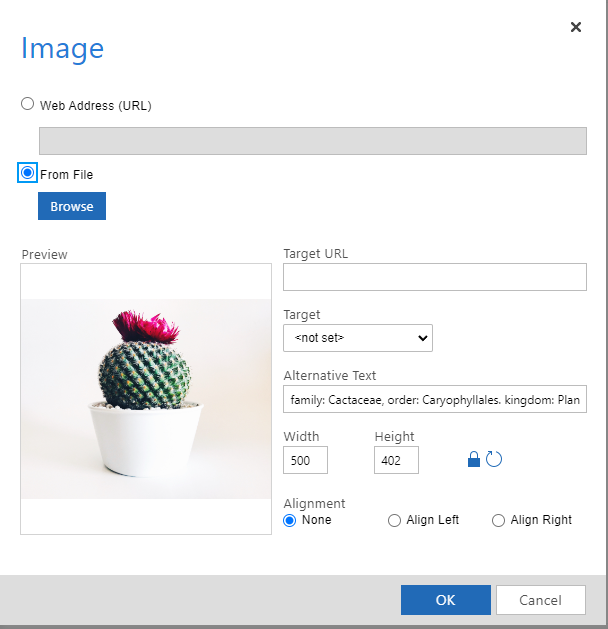 What I found helpful was the option to add alternative text to images right off the bat. As someone who tends to forget to add alt text to pictures, I especially appreciate this little functionality.
I also liked the Preview feature that allows you to see your knowledge base article and how it will be displayed on PC, tablet, and mobile.
Now, for the less impressive part. Going through the process of publishing the article Dynamics 365 reminded me of an ITIL-based process. Don't get me wrong, those have their time and place, however, publishing an article for my co-workers or website visitors doesn't seem like one.
I would go as far as to call it not very user-friendly. You can easily get confused about the stage the article is in, what is required of you, and what are the next steps you need to take to get your work out.
That being said, I liked the scheduling option. It was accessible, easy to set up, and most importantly, it worked.
Another thing I liked was that in the Summary stage, you can add related info, articles, translations, and versions to your knowledge base article.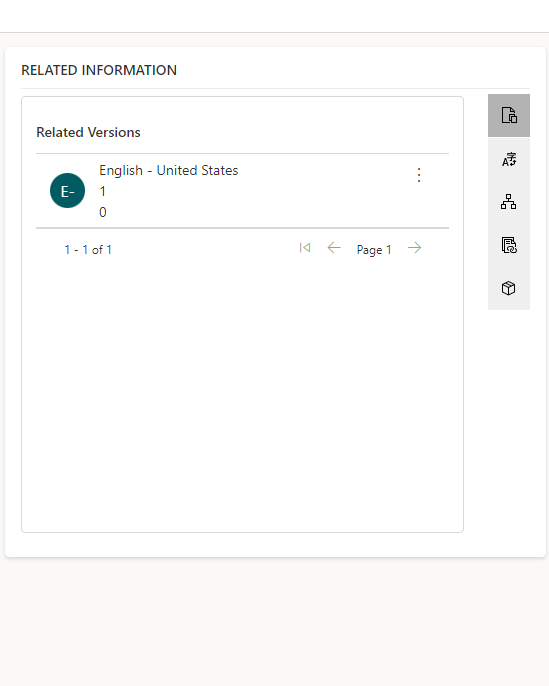 One could argue that the UI could be done a little better, and I would agree, but this is a useful functionality that can save you some time and effort.
Pricing
Customer service professional
For $50 per user per month, you can use features like knowledge base software and create a self-service portal, use knowledge-driven case management, and view and manage customer journeys with dashboards and charts.
Customer service enterprise
Aside from the previously mentioned features, this $95 per user per month package includes AI-driven productivity tools, customer insights, KPIs, sentiment-based routing, and more.
Field service
Another Dynamics 365's $95 per user per month package includes features like resource scheduling, surveys, 360-degree views of customer assets, and others.
Remote assist
This $65 per user per month package lets you collaborate with remote experts in real-time, use built-in analytics, record calls, monitor assets' condition, and many other features that make deploying technicians and field workers easy and efficient.
On top of these plans, Dynamics 365 offers tiered customer support packages. You can settle for a free support option, or opt for a $9 one. However, to take full advantage of their customer service, you can sign up for a custom plan. Based on the product you are currently using, Dynamics 365's team determines how much you pay and which support level you receive.
Conclusion
To summarize my experience with Dynamics 365, I'd say it's good, just not great. Don't get me wrong, this software has a plethora of features that can be very useful across the board. However, the not-so-user-friendly layout makes it a little challenging to navigate and use all the functionalities to the fullest. For me, it felt like I needed a professional coaching session to learn the ins and outs of the Customer Service Hub.
If you're someone that has a lot of experience with similar pieces of software, you'll probably navigate your way through the UI just fine, but for someone that isn't that well-versed in such systems, it might be a little overwhelming.