Key takeaways
Pros
Wide range of pricing plans
Large number of templates
Developer mode with broader features
Cons
Problematic sign up journey with bugs and server outages
Long loading period
Lengthy onboarding process
Lack of autosave
Getting started with the Quriobot feature
Quriobot is a popular chatbot software tool with features allowing the use of chatbots on websites. In addition to that, subscribers can use Quriobot's features on various conversational messengers, including Facebook and WhatsApp. We will now look at Quriobot's chatbot feature, and see how this software performs on a daily basis.
Since Quriobot offers a free plan, you'd think it's rather easy to get started with it. What you have to do is go to their website and click on the "sign up" button. After agreeing to some rules and policies, you're met with several options to create an account, including: Google, Facebook, Office 365 and the traditional way using your email and name.
Here, I encountered some issues. Whatever password I would type in, Quriobot would say that it wasn't strong enough. This happened with at least 5 different passwords I used (including ones with numbers and special characters, as well as upper and lowercase letters). Eventually, I had to sign up using my Facebook account.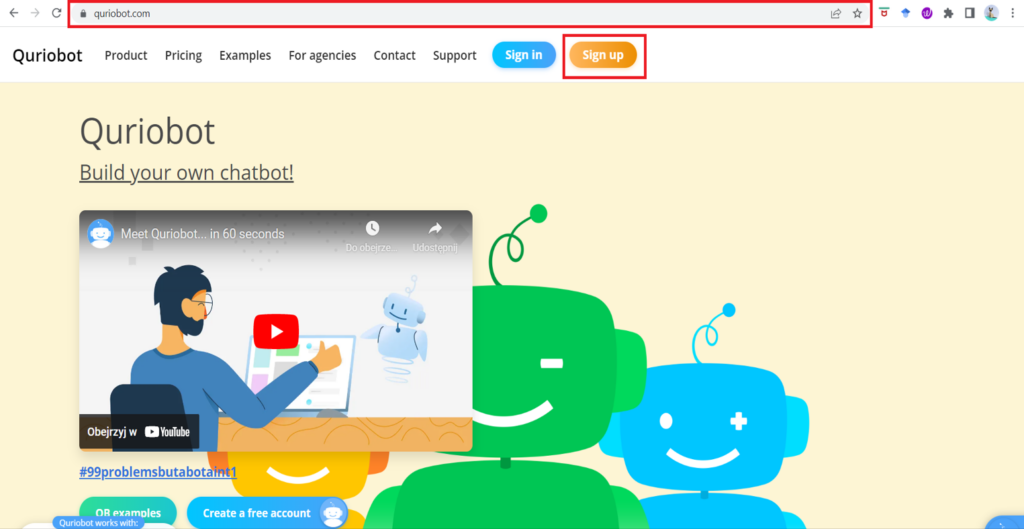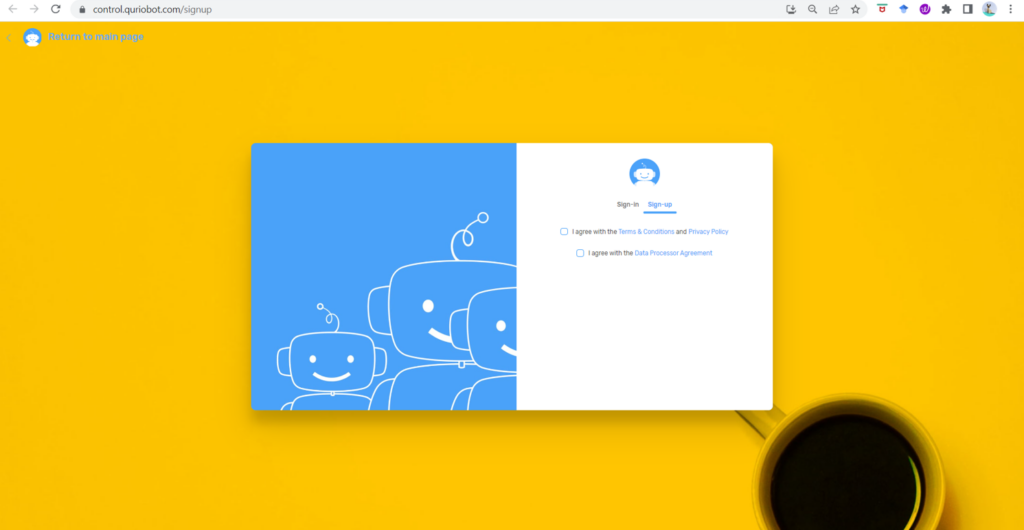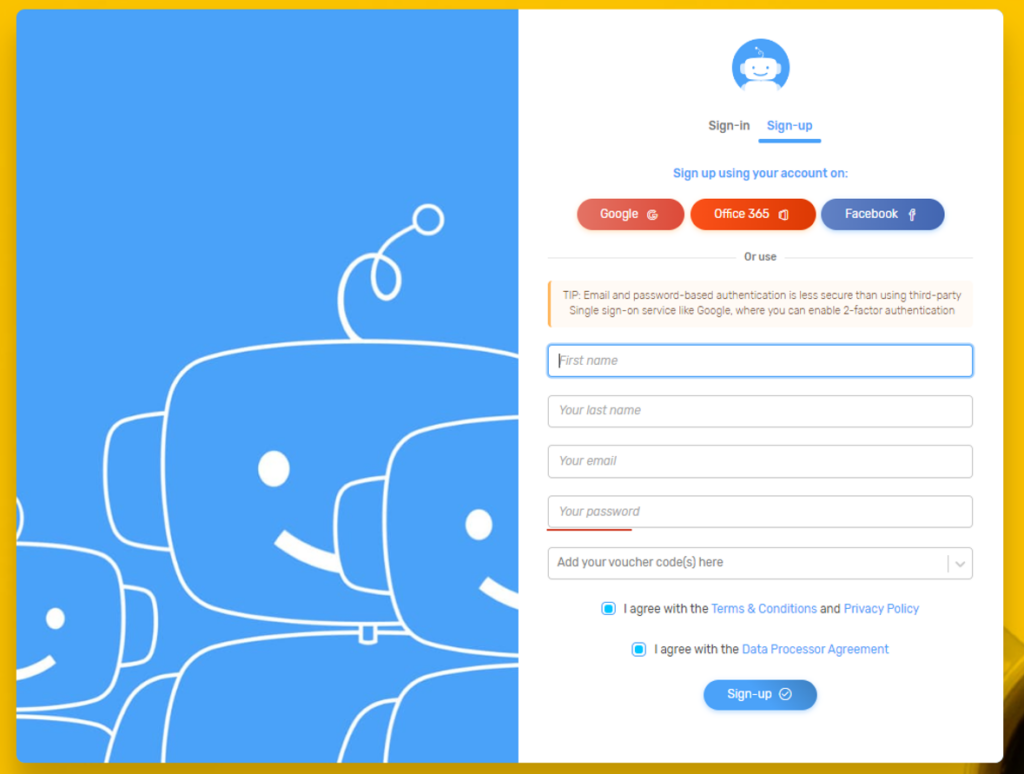 Upon successful registration, you will be taken to the main page of your account. This is where you will be met with a 16-step guide on how to get started with Quriobot. You don't have to follow it, but it may turn out to be beneficial. There's a chance you'll learn how to use Quriobot quicker. The tutorial will teach you things like how to name your bots, choose templates, add news steps and rules, configure bot messages, implement them, and more.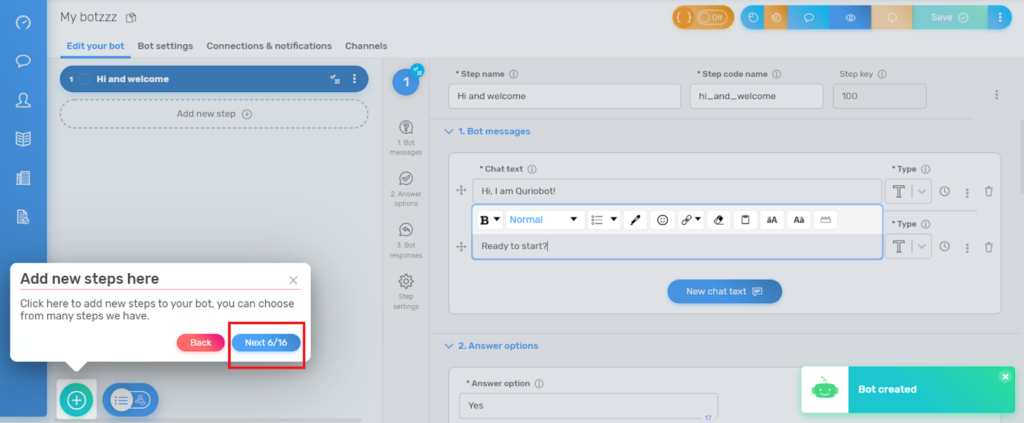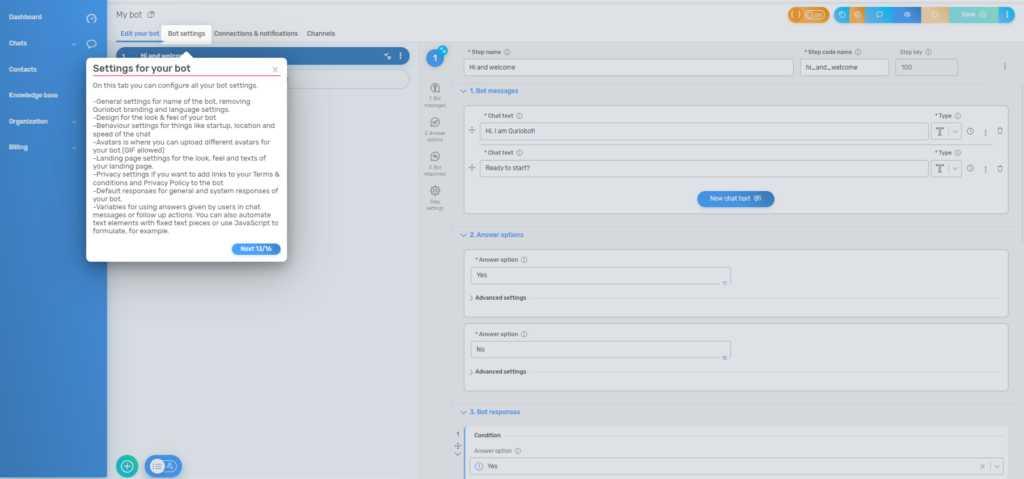 When you've created your bot, it will be time to place it in your desired channels. Here, you've got a few options to do it. You can place the chatbot on a landing page, embed it into your website, or incorporate it into one of the integrated instant messengers, like WhatsApp.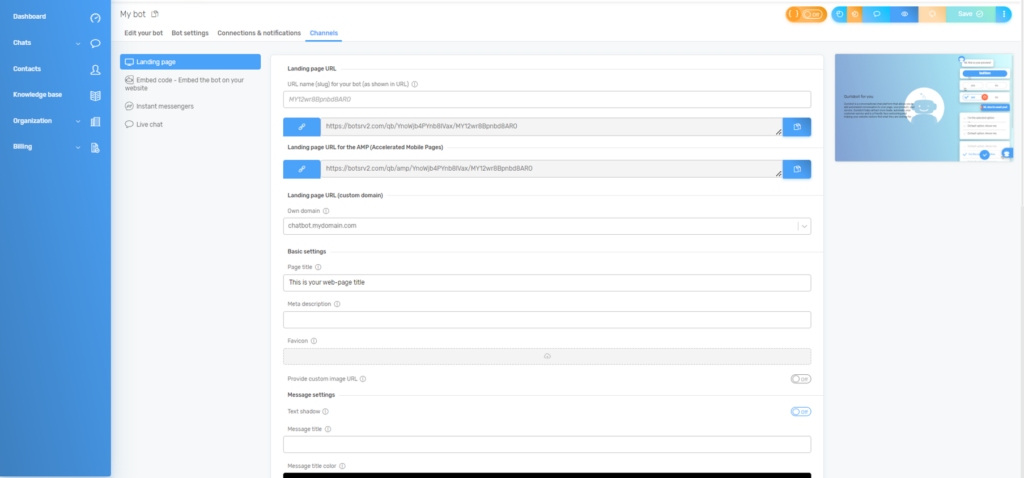 Some highlights:
The process of signing up is slightly challenging because the website gives the impression of being buggy and slow
The process of installation takes a few minutes in normal conditions, but this can be longer in case of issues
I encountered some issues, mostly with the logging in and out process, as it was impossible to log back in again after logging out – I had to create a new account
As a newbie, you might get discouraged to finish the signup process
Quriobot chatbot Features and implementation
Looking at Quriobot's features and the implementation process, there's a lot to touch up on. Once you get down to creating your first actual chatbot, you might be positively surprised with some of the available options. That's because Quriobot offers a wide range of possibilities. You can create chatbots to help your customers, retrieve leads, gather feedback, collect lead information and send it to Zapier, schedule appointments, increase sales, and more.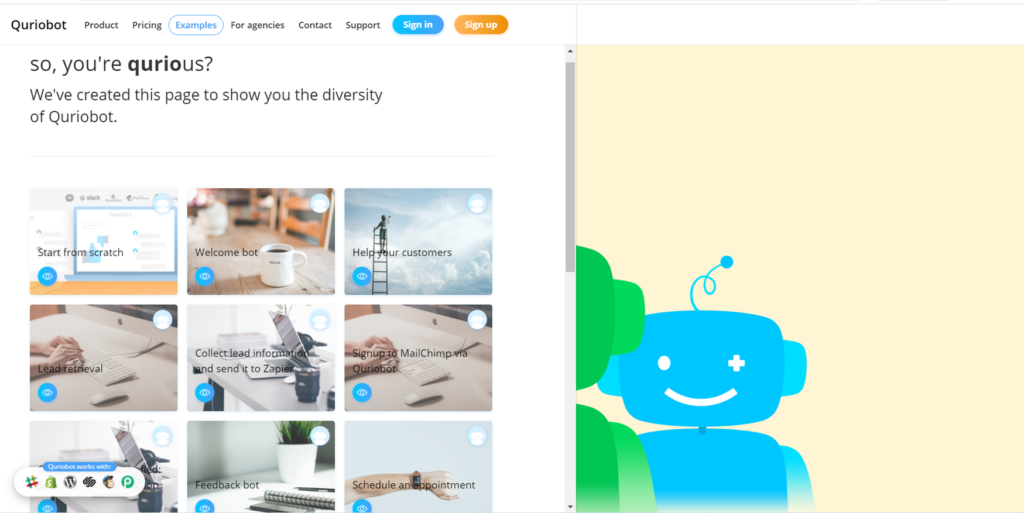 First things first, shoutout to Quriobot for providing a "preview" feature. Previewing your chatbots at every step of the creation journey is a powerful and useful thing to have. It lets you track your progress and see if you aren't making any mistakes.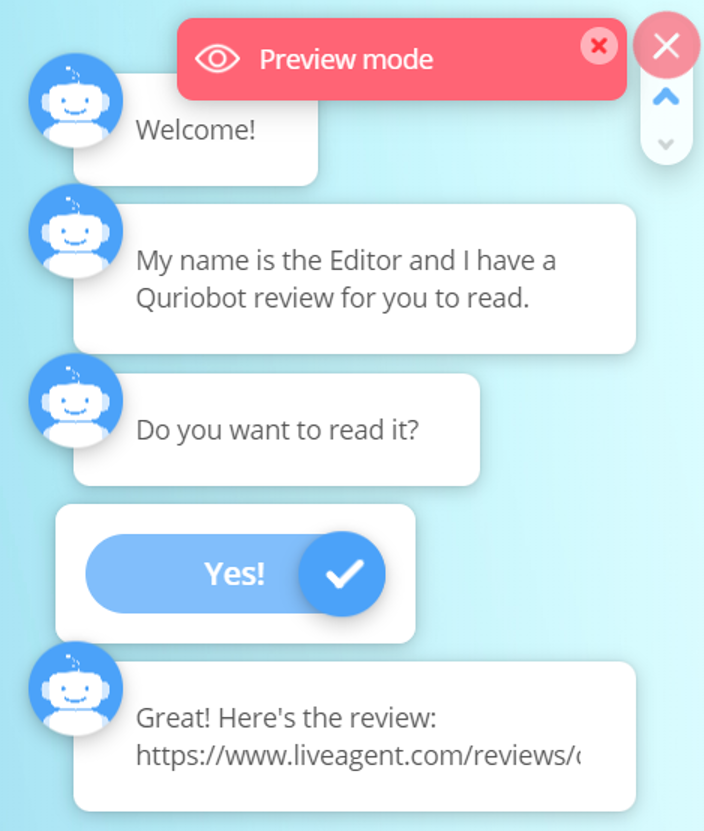 Should you need to create chatbots in more than 1 language, there won't be a problem at all. All thanks to over 70 bot languages together with dynamic translation from Google Translate. This is particularly useful for companies with international audiences.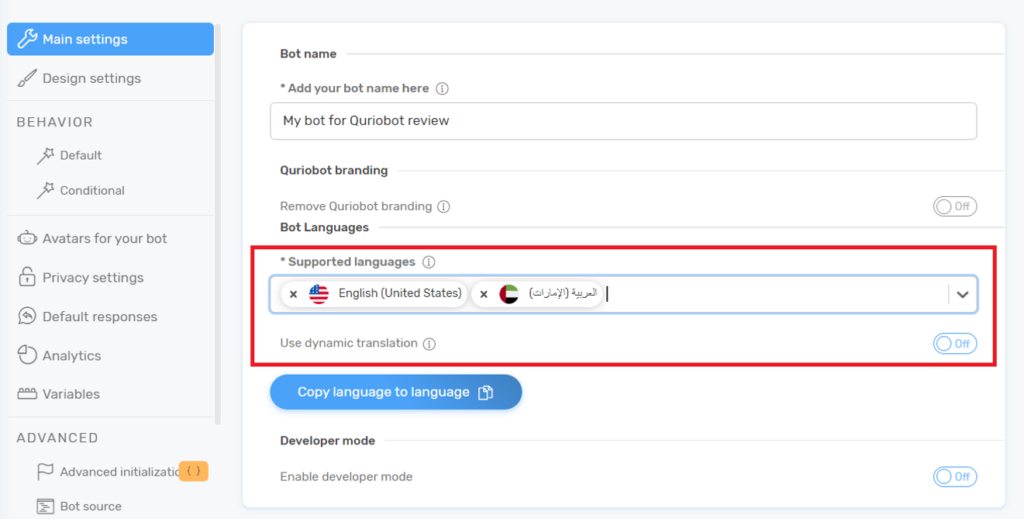 Notably, there isn't much sense in implementing chatbots if you don't engage with any sort of tracking and analytics. Luckily, you can send all Quriobot actions to your Google Analytics as virtual pageviews and events (also to Google Tag Manager).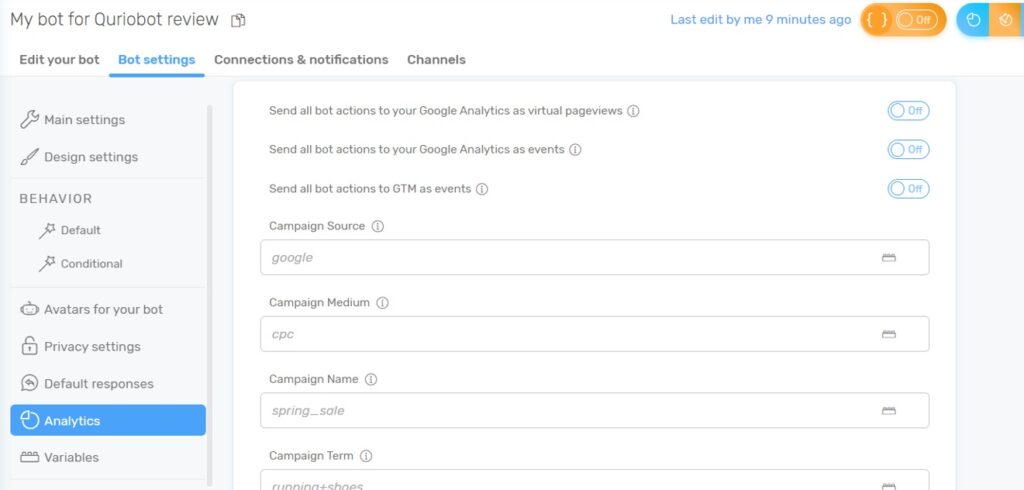 As for the implementation of the chatbots itself, there are many places to put them in. They include: landing page, your website, instant messengers (like Facebook, Viber), and as a separate live chat. Each place has a different implementation process, which is displayed in the "channels" section in the Quriobot dashboard.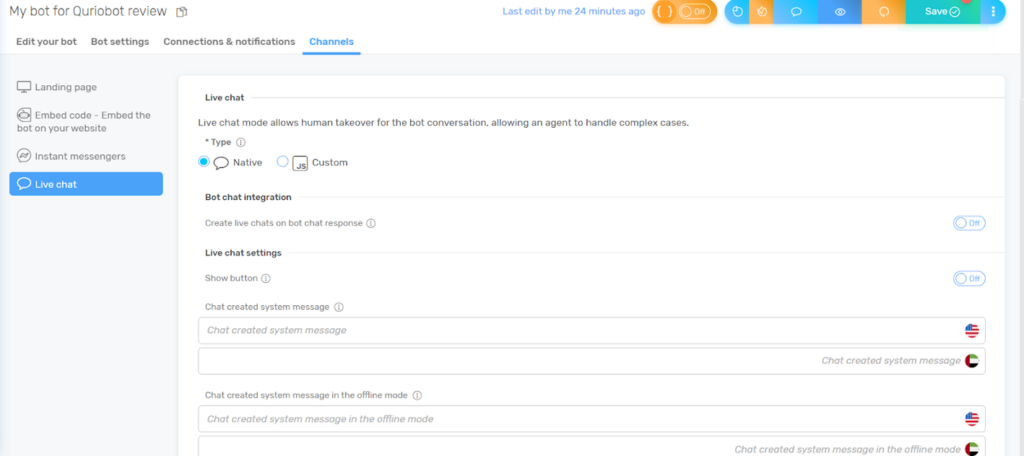 Performance and usefulness
My overall impression is that Quriobot isn't the easiest chatbot software to use, especially if you've never designed chatbots before. It does take some time to get familiar with all the features and how they work, even when it comes to creating a simple bot.
A nice benefit is definitely the "preview" feature, which lets you see what your chatbots look like in practice. This way, you can kind of track your progress on the go and adjust throughout the whole process.
However, don't expect to spend little time figuring out all the functionalities. The software gives off the impression of being complicated and not particularly user-friendly. What adds more fuel to the fire here are the occasional system outages and bugs.
All in all, Quriobot definitely has some areas for improvement. You won't spot them though if your needs aren't too sophisticated.
Quriobot pricing
First of all, Quriobot does offer a free plan for their subscribers. That's good news for all fans of non-paid solutions. Moreover, there are also paid plans that users can use. All the available plans and their specifications are explained below.
Free plan
Within this plan, you can expect to have access to a pretty decent variety of features.
Examples include email support, unlimited organization members, All Step types and custom look and feel per bot.
What's more, there's some interesting features to take advantage of for various messenger apps, like: Facebook channel, Facebook comment trigger, WhatsApp (Twilio) channel, LINE channel, MessageBird channel, Telegram channel, Viber channel, WhatsApp (360Dialog) channel and even a live chat.
Business plan
The Business plan starts at $14/ month, and includes everything from the free plan with some additional perks.
Those are: remove Quriobot branding, custom domain for the landing page, generalized domain, and also a full-featured knowledge base for you and your clients.
Agency plan
Next, we have the Agency plan that starts at $1062/month. Within this one, you can expect to see absolutely everything from the business plan. On top of that, there's also a sub-organization discount and a custom deployment domain.
Enterprise plan
Last but not least, let's dive deep into the Enterprise plan that starts at $5127/month. This one includes everything from the agency plan. As a bonus, there are also all other Quriobot features, custom look and feel, custom API integrations, custom reporting, custom-made bots by Quriobot developers, and of course premium support with phone, email and chat.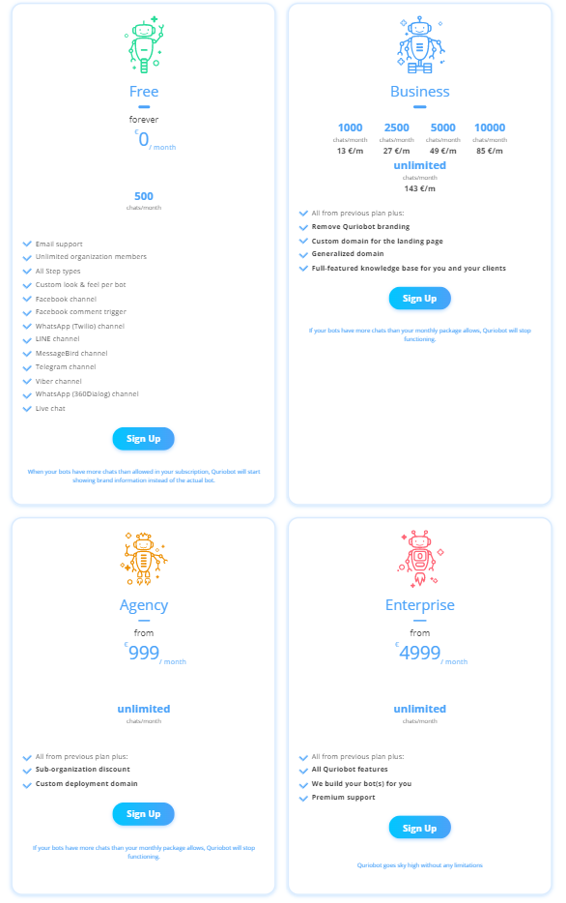 Conclusion
Broadly speaking, the Quriobot chatbot solution is an average tool that meets basic needs. The overall impression is that it doesn't provide any extraordinary features.
On the other hand, it does the job when it comes to creating simple bots, although some features seem confusing or challenging though, especially if you've never coded before.
Some of the certainly big advantages are the range of pricing plans, the variety of templates and the developer mode. However, issues like a problematic sign up journey, a long implementation process and missing autosave are what puts this tool at a disadvantage.
Note: Opinions expressed in this article are those of the guest author and not necessarily LiveAgent.