Key takeaways
Pros
Free plan available
Easy to navigate
Lots of features for a free plan
Cons
Too few tutorials and guides
Challenges authorizing credit card and VAT number information
Too basic templates (not necessarily a con)
Challenging integration with third-party apps
Getting started with the IBM Watson Assistant feature
The IBM Watson AI Assistant chatbot software can understand your requests, adapt to your domain, recognize plain-language responses, handle natural conversations without breaking, and more. In addition, the AI bot from IBM can be deployed to several social media channels, like Intercom, Slack, Facebook Messenger, SMS with Twilio, WhatsApp, and even Amazon Alexa.
To get started with the software, I went to the sign-up website for the chatbot and began the registration process. To use the chatbot, you need to create an IBM Cloud account by providing the following details:
email address (has to be verified before going further with the sign-up process),
first and last name,
country or region.
You will also be asked to accept the terms and conditions and agree to receiving marketing information (the latter is optional).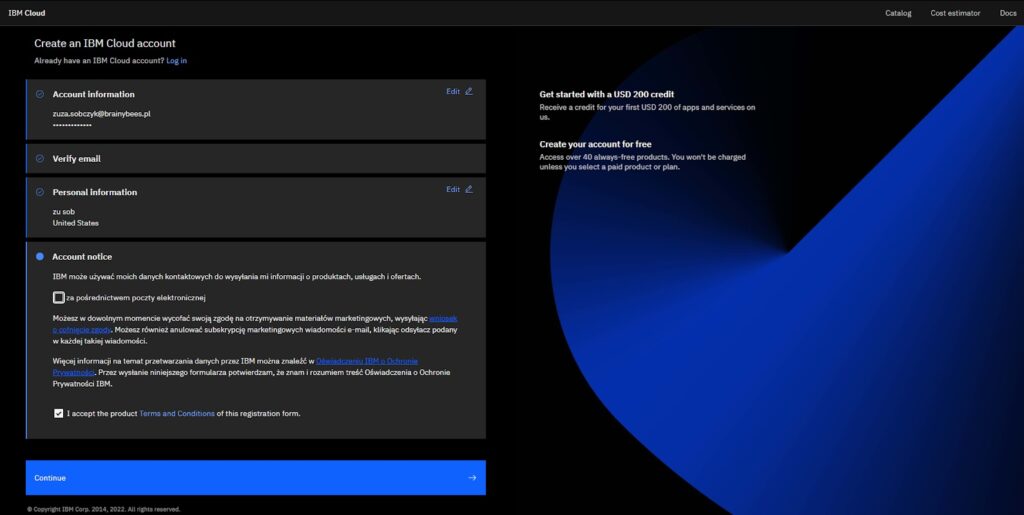 In the next stage, you will be invited to review various privacy notices and agree to data processing. Once that's done, it will be time to verify your identity. Once again, I was requested to provide various details, such as desired account type, company information, billing information, and credit card information. I was slightly discouraged by this in the beginning, as I was only looking to test the chatbot out. Providing such sensitive information as the credit card was inconvenient for me.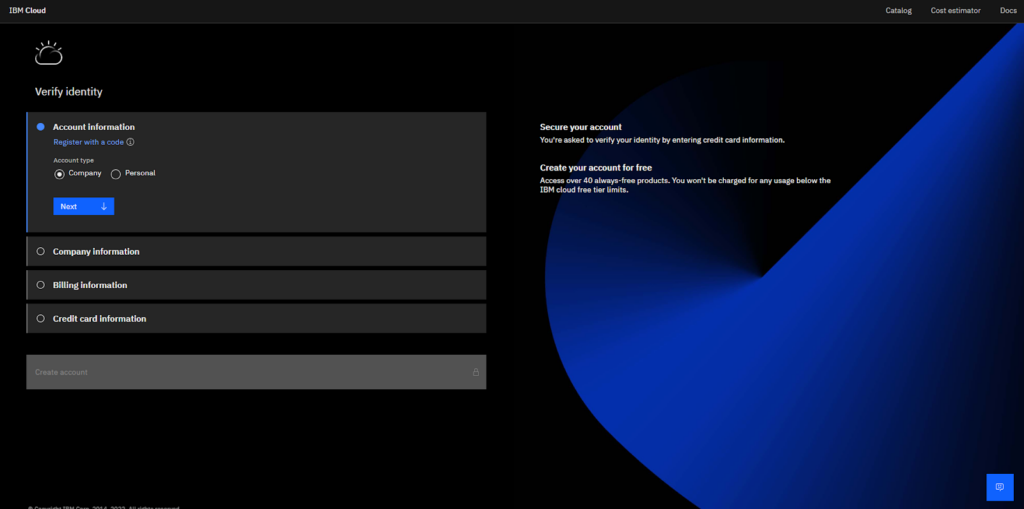 To my surprise, something disappointing happened. I couldn't authorize any of my credit cards when creating the account. What's more, it was also impossible to verify my VAT number in any of the configurations, which irritated me even more. Because of this, the whole process of registration took about an hour and I must admit it was not smooth at all. I didn't expect these issues, and yet they appeared. It could be because my cards and company are registered in Poland, but this shouldn't be an issue. Signing up shouldn't pose any problems for you, even if you're new to these types of tools, as long as you have credentials that IBM accepts.
As for the interface, it was pretty user-friendly. Although I'm not a huge fan of the dark colors that IBM uses, it was easy to navigate through the tool without any issues.
IBM Watson Assistant features and implementation
After some bumps with the registration process, it was finally time to get a feel of all the features that IMB Watson Assistant offers. I was particularly excited to test them out as the reviews I had read before were mixed.
I started by having a look around the app to see what the UX and visual design are like. After being skeptical about the overwhelming dark colors, I was surprised to find out that it didn't feel as intimidating as I had thought.
I wouldn't say it was very easy to find everything quickly, but after a while, all of it became familiar. Something that challenged me was integrating the tool with other third-party apps. If you don't have experience with APIs and integrations, you may get lost here.
IBM's chatbot offers a wide range of features within the free plan to take advantage of, such as:
webchat,
SMS and MMS,
messaging channel integrations,
custom channel API,
up to 1000 monthly active users,
3 assistants,
7 days of analytics data retention,
industry-leading NPL (natural language processing),
customer service desk integrations,
and more.
As for the issues I came across, there was one that stood out. Although, I wouldn't say it was an issue with the chatbot, but rather my experience using other chatbots. The problem I had was that, in my opinion, the chatbot had too basic templates. It may not be a problem for everybody. I guess I was just expecting more from a chatbot provided by a company like IBM.
Possibly another thing I found disappointing was the lack of guides and tutorials that would have certainly made the onboarding process more pleasurable for me. Compared to some other solutions I had tested, the developers of IBM's chatbot have some catching up to do. While there are some tutorials, I feel like they could be clearer for the user.
Performance and usefulness
All in all, the chatbot from IBM is relatively easy to use, and you can test the results as you configure it. In addition, training the model does not take a lot of time. After testing the chatbot on one of my test websites, I was pretty satisfied with the results. Moreover, I was happy to see that the chatbot was always able to understand and respond accurately to user input, even if it was complex.
IBM Watson Assistant pricing
First of all, IBM Watson Assistant does come in a completely free-to-use version. Additionally, users can subscribe to paid plans. Below are all the available plans and their details.
Lite plan ($0/month)
This plan offers quite a few features in terms of variety. Some examples include webchat, SMS, and MMS, integrations with messaging channels, custom channel APIs, and up to 1000 monthly active users.
Plus plan (from $140/month)
Starting from $140 per month is the Plus plan option. It's a nice mix between the free and the enterprise plan. Its key features include 30 days of analytics data retention, 24 hours of session timeout limit, and the possibility to search through existing content.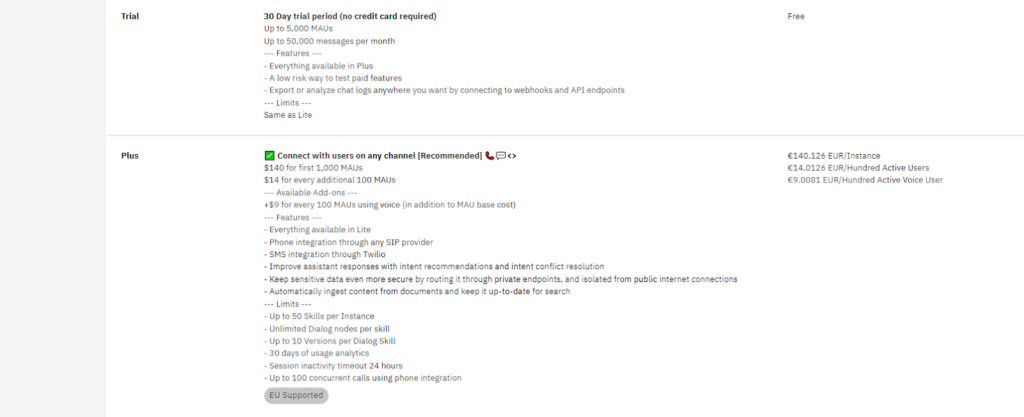 Enterprise plan (custom pricing/ month)
To access even more features, you can subscribe to IBM's Enterprise plan which is custom-priced. Aside from what's already included in the previous 2 plans, the enterprise option gives you access to data isolation, onboarding support, batch intent classification, HIPAA, uptime SLA, segment integration, and more.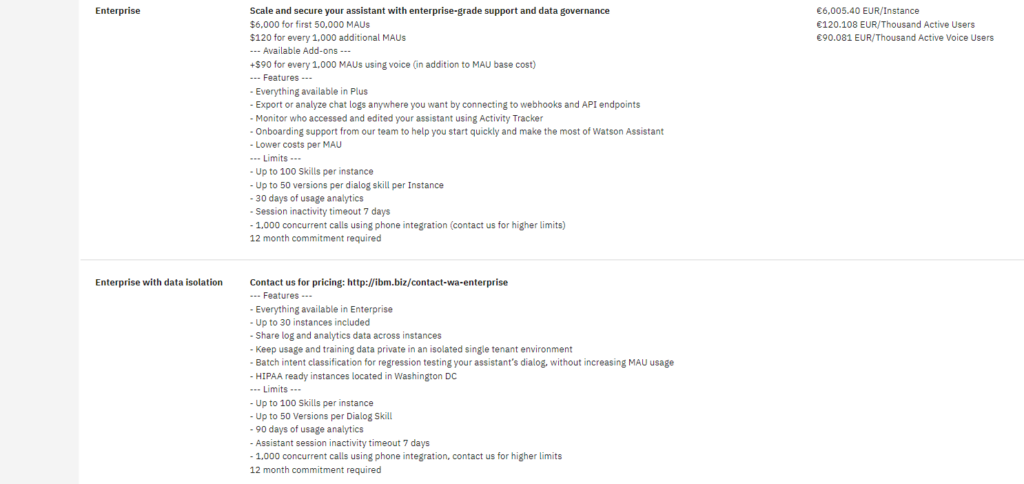 Conclusion
To sum everything up, I thoroughly enjoyed testing the IBM Watson chatbot out. In my opinion, this tool (in its free version) will be enough for anybody making their very first steps with chatbots, as well as those looking to make slightly more advanced moves. Given t the tool offers a free trial and even a free plan, I guess it won't hurt you much if you decide to give it a go even if you end up not liking it.