Key takeaways
Pros
Free version available
Easy registration process
User-friendly UI
Cons
Some occasional bugs may occur
Sign up available only through Facebook
Extremely confusing and unintuitive pricing strategy
Getting started with the Chatfuel Chatbot feature
Chatfuel is a user-friendly chatbot-building platform for businesses and individuals. With Chatfuel, you can set up chatbots for Facebook Messenger, WhatsApp, Instagram, and other websites without any coding knowledge. Its drag-and-drop interface makes it easy to build and customize chatbots that can handle a variety of interactions. This includes answering customer questions, scheduling appointments, and processing orders.
First things first, to properly test Chatfuel out, I had to sign up for an account. I did that by going to the software's website.
In my opinion, the sign-up process is straightforward and user-friendly. When I went to the Chatfuel website, I immediately saw the Start Free Trial button. I clicked on it to begin the installation process.
As soon as that was done, I got redirected to the Chatfuel sign-up page, where I was asked to log in using my Facebook account – there was no other option.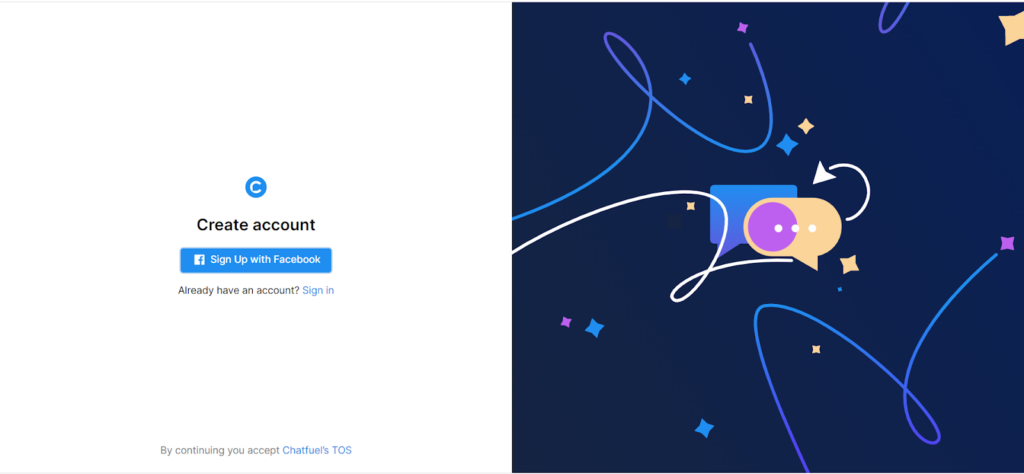 I found it to be a good way to simplify the registration process. On the other hand, I would've appreciated alternative sign-up options.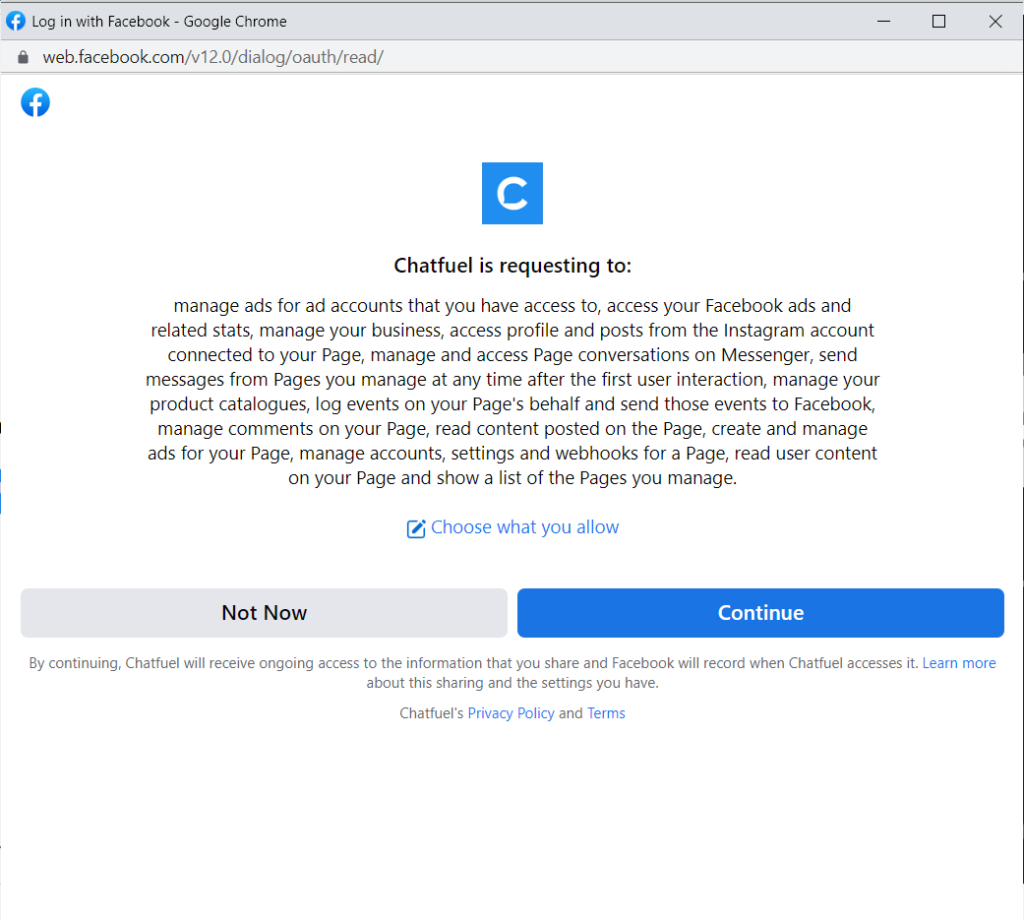 There was no need to provide credit card information or make any payments. That's because Chatfuel offers a free plan for users to build and test their chatbots without any financial commitment.
After I completed the sign-up form through Facebook, I was taken to the Chatfuel dashboard, where I had to answer a few questions: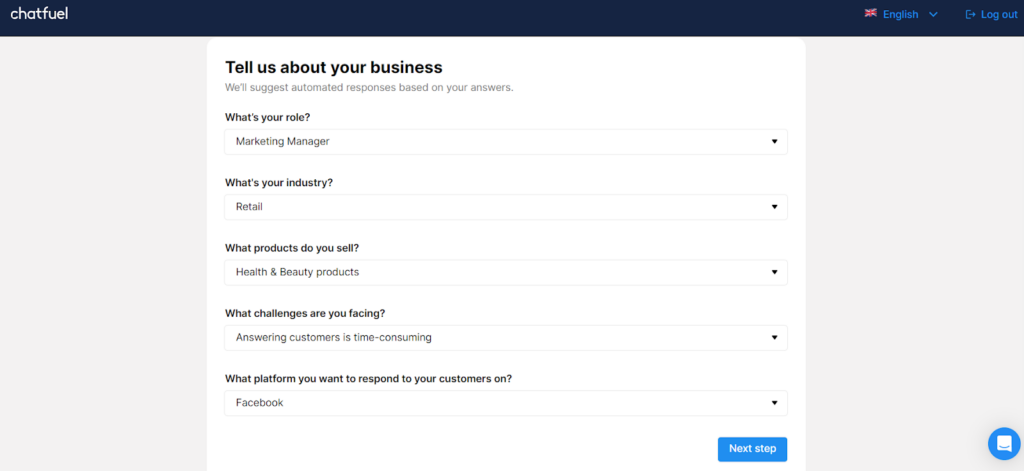 Once I answered all of them, I was prompted to connect my Facebook page to the chatbot.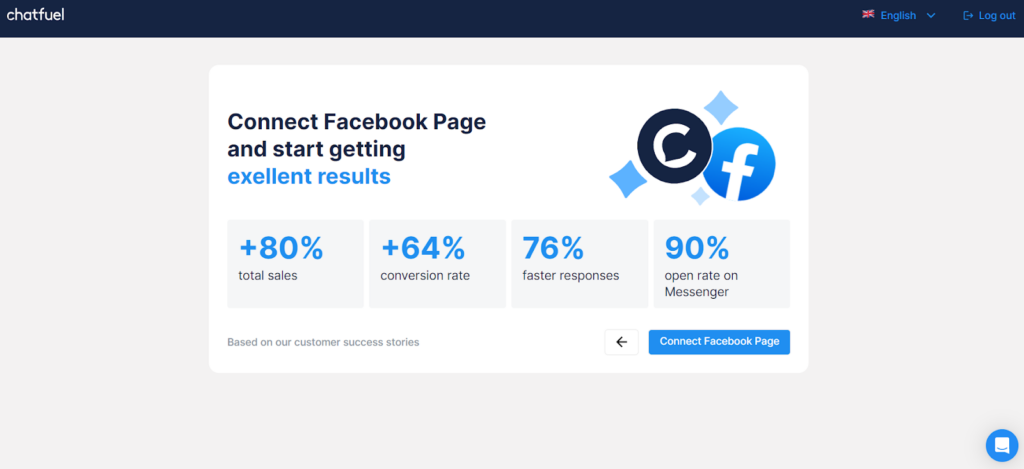 In general, the registration process took only a few minutes. There was no confirmation or verification through email or anything like that. Given all that, I think that Chatfuel provides an easy-to-use interface that allows even newbies to get started with the chatbot easily.
Chatfuel Chatbot Features and Implementation
Once I was done with the signup, it was time for me to properly test out the bot's features and implement it – the most exciting part.
In my opinion, Chatfuel offers a visually appealing user interface with a sleek design that is easy to navigate, even for beginners.
The platform has an eye-friendly look that makes it simple to create and manage chatbots.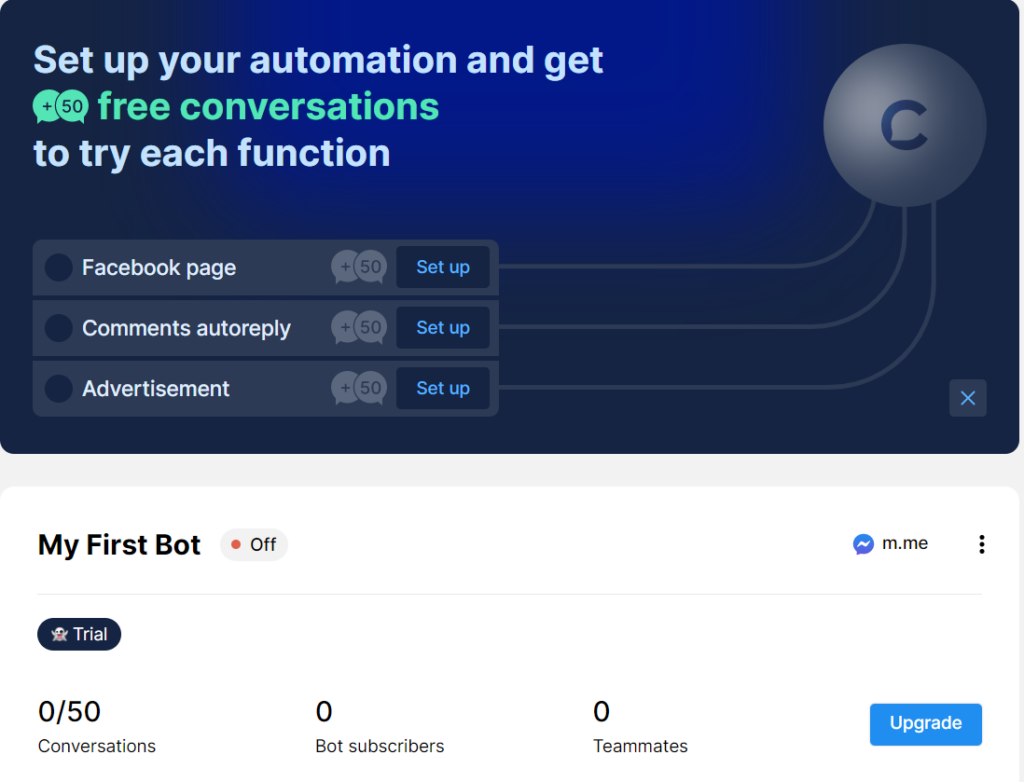 The drag-and-drop editor allowed me to customize the look and feel of the chatbot and add features to my liking.
Chatfuel provides a variety of features to its users. These include access to direct support, up to 50 active chats with users, and the possibility to create bots for Facebook Messenger and Instagram. What's more, the chatbot utilizes natural language processing (NLP), which allows the chatbot to understand and respond to natural language input from users.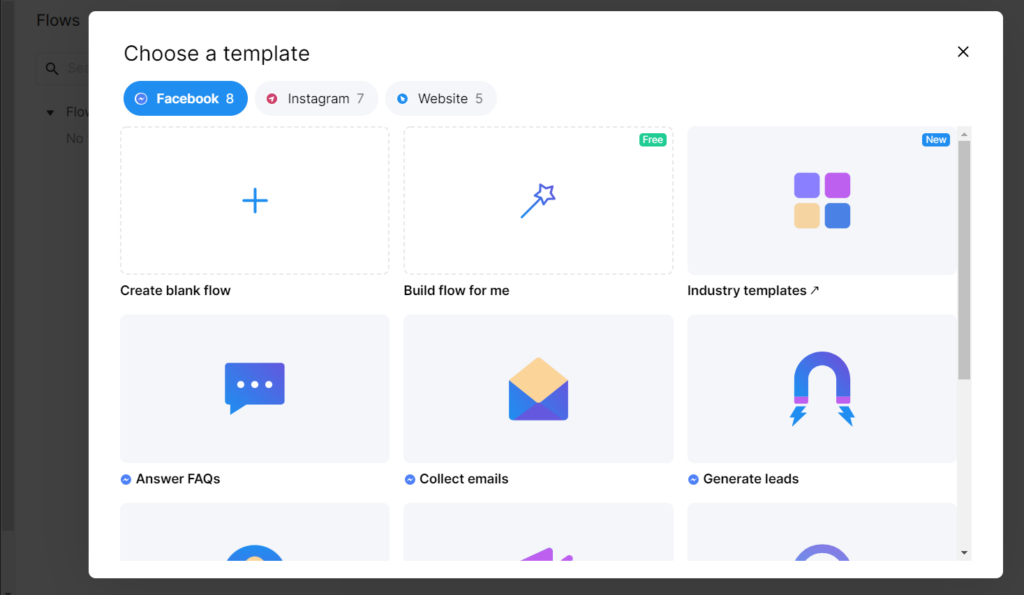 The platform also integrates with third-party services such as Zapier, Calendly, and Stripe. These allow users to automate tasks such as order processing and appointment scheduling.
While using Chatfuel, I didn't experience any issues with testing the chatbot. However, you may encounter errors when setting up a new feature or integrating with a third-party service – just like with any other tool. In that case, Chatfuel offers a comprehensive help center and a community forum where you can find answers to your questions.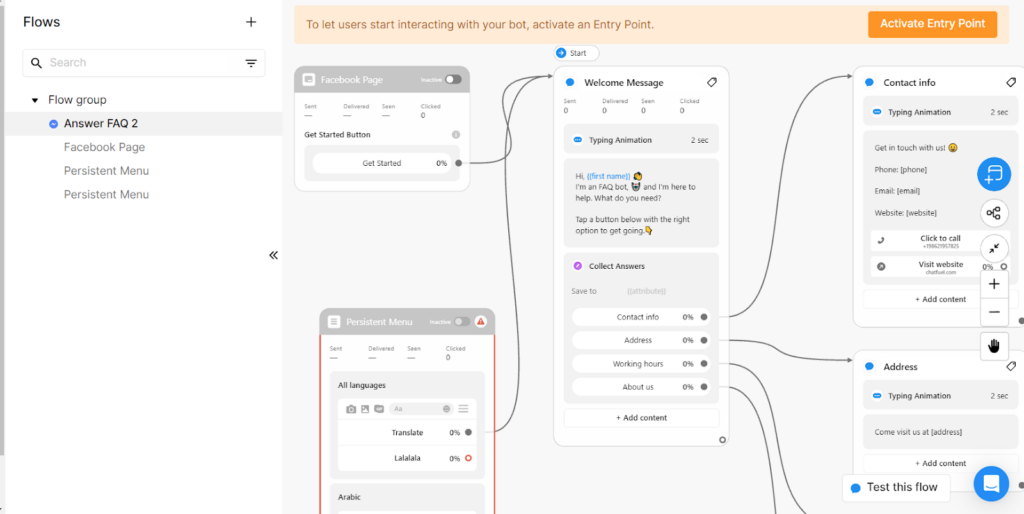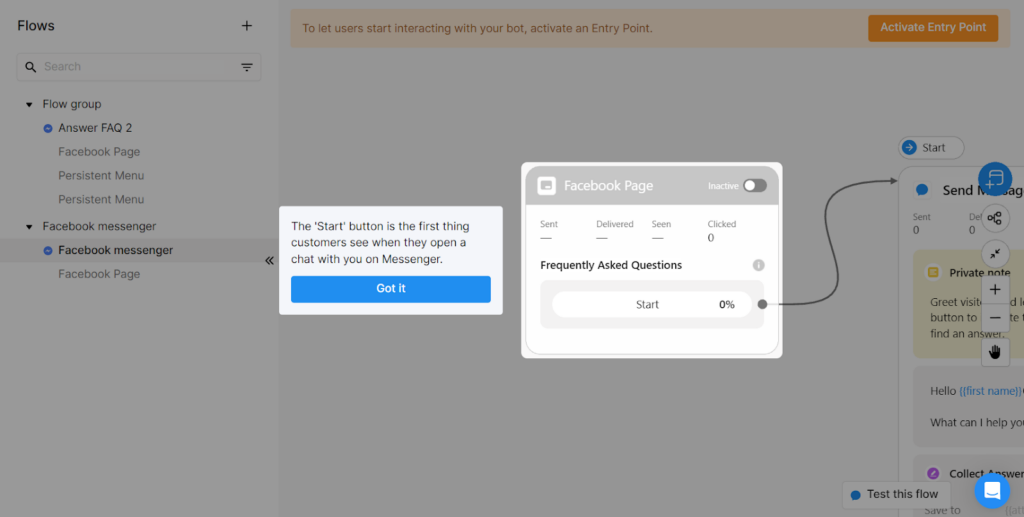 In addition, Chatfuel provides a range of support resources, including tutorials, documentation, and email support.
Overall, Chatfuel offers a straightforward and intuitive interface that is easy to navigate. While there may be occasional issues or confusion, the platform's customer support ensures that users can quickly resolve any problems.
Performance and usefulness
As someone who has used and tested the Chatfuel chatbot on a Facebook page, I am thoroughly impressed with its performance. The bot is incredibly user-friendly and intuitive, making it easy for anyone to navigate and use. I particularly appreciated the personalized experience it provided, tailoring its responses to my specific needs and interests. The bot's ability to quickly provide relevant information and answer questions saved me a great deal of time and effort.
Overall, I consider the Chatfuel chatbot to be an invaluable tool for anyone looking to engage with a Facebook page more effectively.
Chatfuel Chatbot pricing
Chatfuel has some really confusing pricing strategies. Looking through their website, I found 3 different pricing pages, each suggesting different fees. To clear up this confusion, I reached out to their customer support. Their response was prompt and insightful. From what they explained, the pricing may vary depending on the location of the user and IP address.
If you're a new user of their platform like me, there's a specific pricing table that may apply to you. I explain it below in more detail. Prices also depend on your geographical location. Therefore, keep in mind that it's not 100% certain that this pricing will apply to you.
Trial plan
Even though it's rather limited, Chatfuel users may take advantage of a trial plan. You can build chatbots for Facebook Messenger and Instagram, have up to 50 active conversations with users and access direct support. What's more, it also gives users access to various templates, a flow builder, and integrations.
Entrepreneur plan
Moving on, for $12 per month, you can get the Entrepreneur plan. On top of the features from the free plan, you can enjoy up to 500 conversations. That's a pretty significant difference from the previous plan.
Startup plan
By increasing your budget by just $8 per month, you can get twice as many conversations (compared to the previous plan). All thanks to the Startup plan that costs $20 per month, when billed annually.
Small Business plan
The next plan offered by Chatfuel is the Small Business plan for a bit more – $48 per month on annual billing. This one offers 3000 conversations.
Growing Business plan
Finally, the Growing Business option. This is the most advanced out of all. It's because it gives you a limit of up to 10 000 conversations per month. You can get this plan for a bit less than $100 per month.
Examples of features available to users with each plan include flow builder, templates, communication automation, lead management, live chat, support, and integrations.
In case you exceed your plan limit, some extra fees may apply.
Conclusion
Overall, I was quite impressed with Chatfuel's chatbot platform. Its ease of use, customization options, and range of features make it a solid choice for businesses of all sizes.
While there may be occasional issues or confusion, the platform's comprehensive help center and community forum provide ample support for users. Additionally, Chatfuel's pricing plans make it accessible to businesses with varying budgets. Overall, if you're looking for a user-friendly, feature-rich chatbot platform, I would definitely recommend giving Chatfuel a try.