Key takeaways
Pros
Easy UI
Rich features
Nice customization options
Useful analytics data
Cons
Extremely high pricing
Only 3 subscription plans
Coding skills / Javascript knowledge required for implementation
Getting started with the Drift chatbot feature
The Drift chatbot solution allows businesses to engage with their website visitors in real-time, using conversational AI to provide instant and personalized responses to their queries. Drift chatbot also integrates with other marketing and sales tools, making it easy for businesses to capture leads and convert them into customers.
To begin my test, I decided to sign up for a very limited but free Drift subscription. As part of the Drift Setup process, I was prompted to provide my work email and a password. Next, it was necessary to verify my email address. I was happy to see the verification link reach my inbox almost instantly.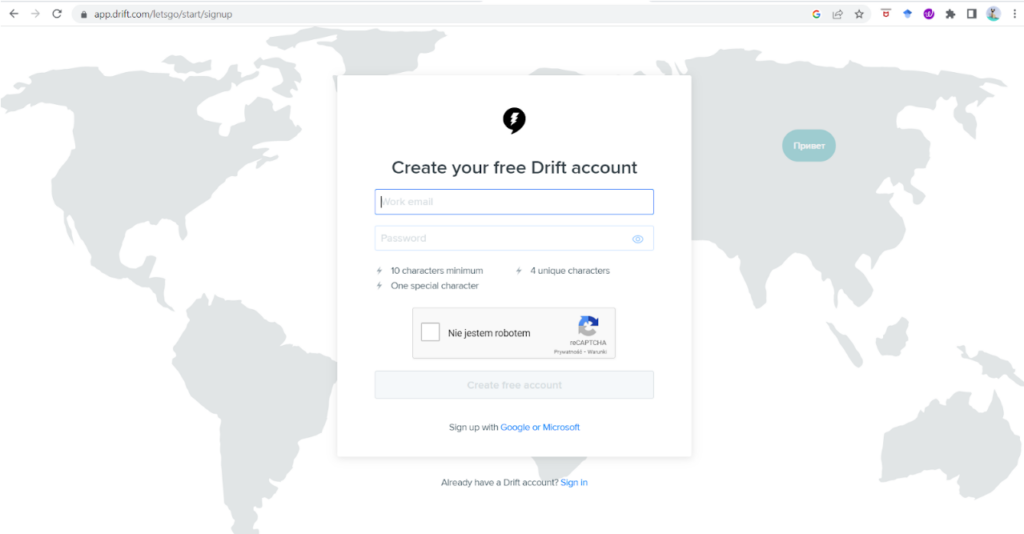 Immediately after verifying myself, I was asked to do a few things in the next few windows. That included choosing the bot color and language, as well as adding my company name together with company website information.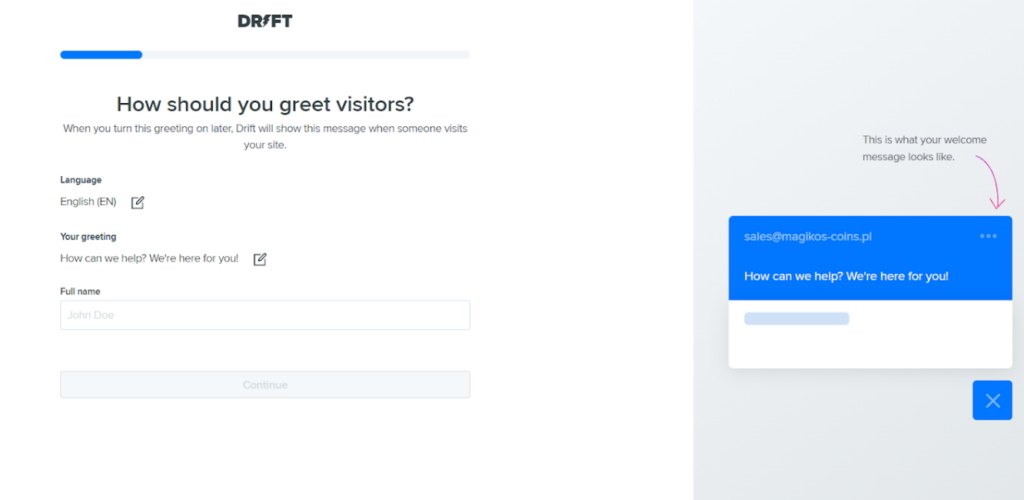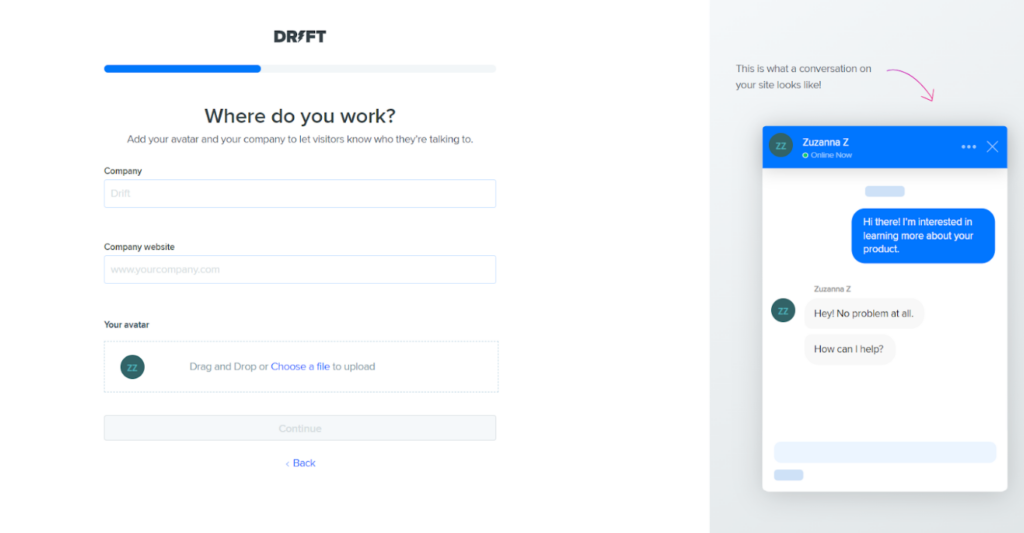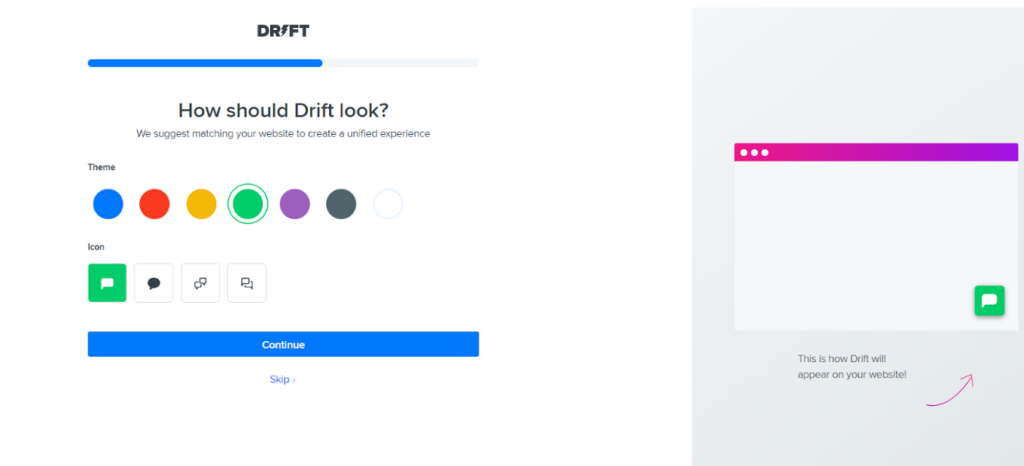 Once I did all that, I was done with the sign up and was able to proceed further with my test.
Overall, I didn't come across any difficulties. The process was very straightforward and quick. If you're a newbie worried if you'll pull through – don't stress. I don't think the sign up could be any easier.
Drift chatbot features and implementation
After I finished the registration phase, it was time to take a deep dive into Drift's features and implementation.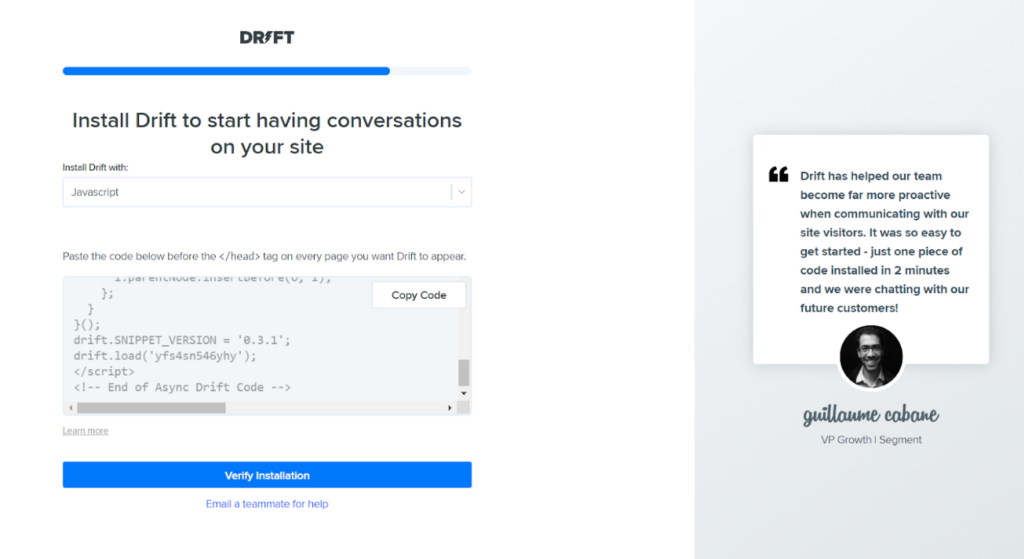 First of all, the chatbot has an impressive visual design that provides an engaging and intuitive user experience. Its clean and modern interface is aesthetically pleasing, in my opinion. The use of icons, typography, and color schemes are consistent throughout the design, creating a cohesive and professional look. It's also highly responsive, providing users with a seamless experience across different devices and screen sizes.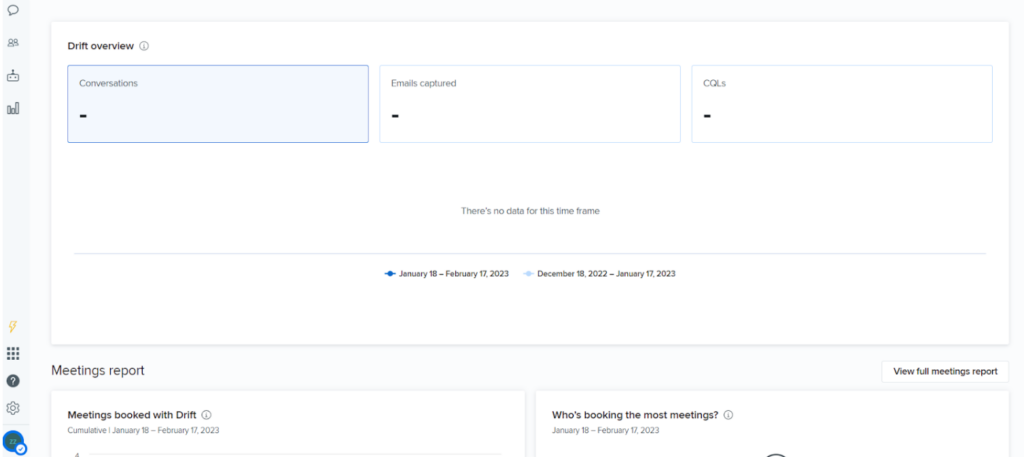 I can definitely say that the Drift chatbot interface is designed to be user friendly and easy to navigate. The interface is intuitive and straightforward, with clear menus and options for setting up your bot, managing conversations, and analyzing performance data.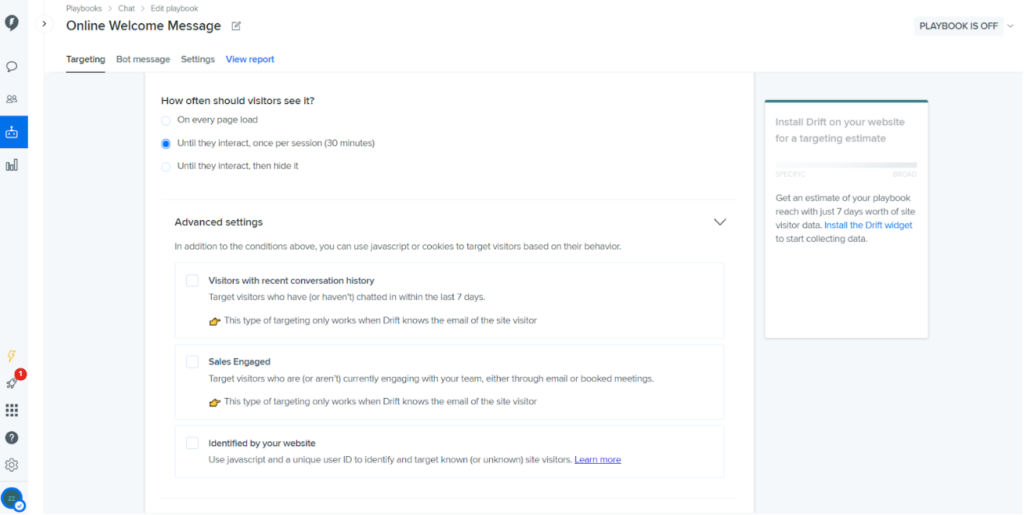 The variety of different native features, as well as integrations, made a positive impression on me. My absolute favorites are definitely chat playbooks, live visitors and conversational landing pages. Among other features, there are things like:
dedicated CMS
semi-annual sales user testing
semi-annual EBR
access to Drift support engineers
The user interface of the whole software left me so satisfied that I wasn't really expecting any issues with the chatbot. However, I must mention one: the speed of the application. I consider the website speed to be rather low. Some of the features took a long time to load. On the other hand though, this app is absolutely packed with different functionalities. So I guess it's a trade-off in this case.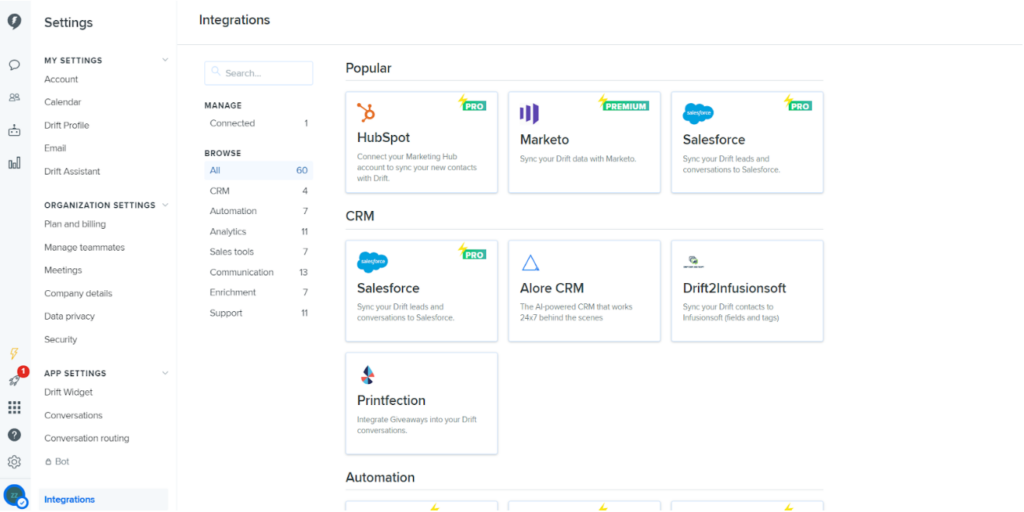 Moving on, I didn't necessarily find any confusing elements about the chatbot itself. But, if anything is unclear, you don't need to worry even one bit (and I didn't either). That's because Drift offers various helpful resources for their users. Little things like this go a long way in enhancing user experience, so big thanks to the Drift team for this.
Performance and usefulness
Performance-wise, Drift is a highly effective chatbot solution. It uses advanced natural language processing (NLP) technology to understand the intent of customer queries and provide relevant responses. I can confirm with pleasure that the chatbot is capable of handling a wide range of queries. From simple requests for information to more complex support inquiries – Drift will do the job. Additionally, it's worth highlighting that Drift offers seamless integration with other tools and platforms. Examples include CRMs and marketing automation software, which I think helps to further enhance its effectiveness and usefulness.
Drift chatbot pricing
Drift offers to their users 3 pricing plans. It's worth noting that there aren't any free options available (except for the super limited free version). Thus, if you enjoy free solutions – this chatbot isn't for you. Let's have a look at the pricing plans in more detail now.
Free
First of all, it's possible to register for a free version of the software. I didn't see any details on the length of this plan, so I assume it's not time bound. I also didn't receive any information on email about its duration. What's more, their support team told me they didn't have any information on the features of the free plan to share with me. This was somewhat surprising. From what I noticed though, this solution grants small access to some of the most basic features within the chatbot, e.g. 1 user only.
Premium
The first and, I assume, cheapest paid plan is the Premium one. It costs a staggering amount of $2500 per month. For this price, you get access to features like live chat, meetings, custom chatbots, Intel and real-time notifications.
Advanced
Moving on, users can also opt in for the Advanced option. Unfortunately, it's not possible to say how much you're going to pay for it, as it's a customizable plan. However, I can tell you what features you can expect. For this plan, it's everything from the Premium plan, as well additional functionalities like fastlane, audiences and A/B testing.
Enterprise
Last but not least, there's also the Enterprise solution at your disposal. Once again, for the exact pricing you're going to have to speak with Drift's sales team. This is the most complex of all plans. It grants you access to all the features already mentioned, as well as functions like workspaces, AI-powered chatbots, flex routing and custom RBAC.
Conclusion
To sum up the review, I can say that I had mixed feelings about this chatbot prior to testing it out. My main concern with it was definitely the price. Such high pricing could be very discouraging, especially if you've never used chatbots before and your budget is tight. After testing the chatbot, I admit it's very user friendly and easy to use. I specifically enjoyed the customization features that let me give the bots a brand-personalized look. All in all, this chatbot will be a nice addition to your company if you don't have a strict budget, so don't hesitate to try it out yourself!