Key takeaways
Pros
Flexible IVR creation
Easy to implement
Reliable and customizable
Cons
It might not be easy to navigate the menus for some users
Pricing can get expensive with the volume
While Twilio is an extensive communication solution that might not be preferred by users with simplicity in mind, the IVR feature works incredibly well. It's easy to build and implement, and it works without any issues. If you don't mind learning the way around the rich featureset, Twilio's IVR will serve you well every step of the way.
Getting started with Twilio IVR feature
Interactive Voice Response is just one of many features available in Twilio applications. It's accessible from the dashboard options, located under Studio. Studio is a part of Twilio that allows you to build various workflows, not just IVR. Right after you start, you will be presented with a couple of options that offer you to either start completely from scratch, or you can select a specific workflow builder. In my case, I've decided to go with the IVR preset. What's great is that Twilio also has a handy tutorial for each of the workflow builds.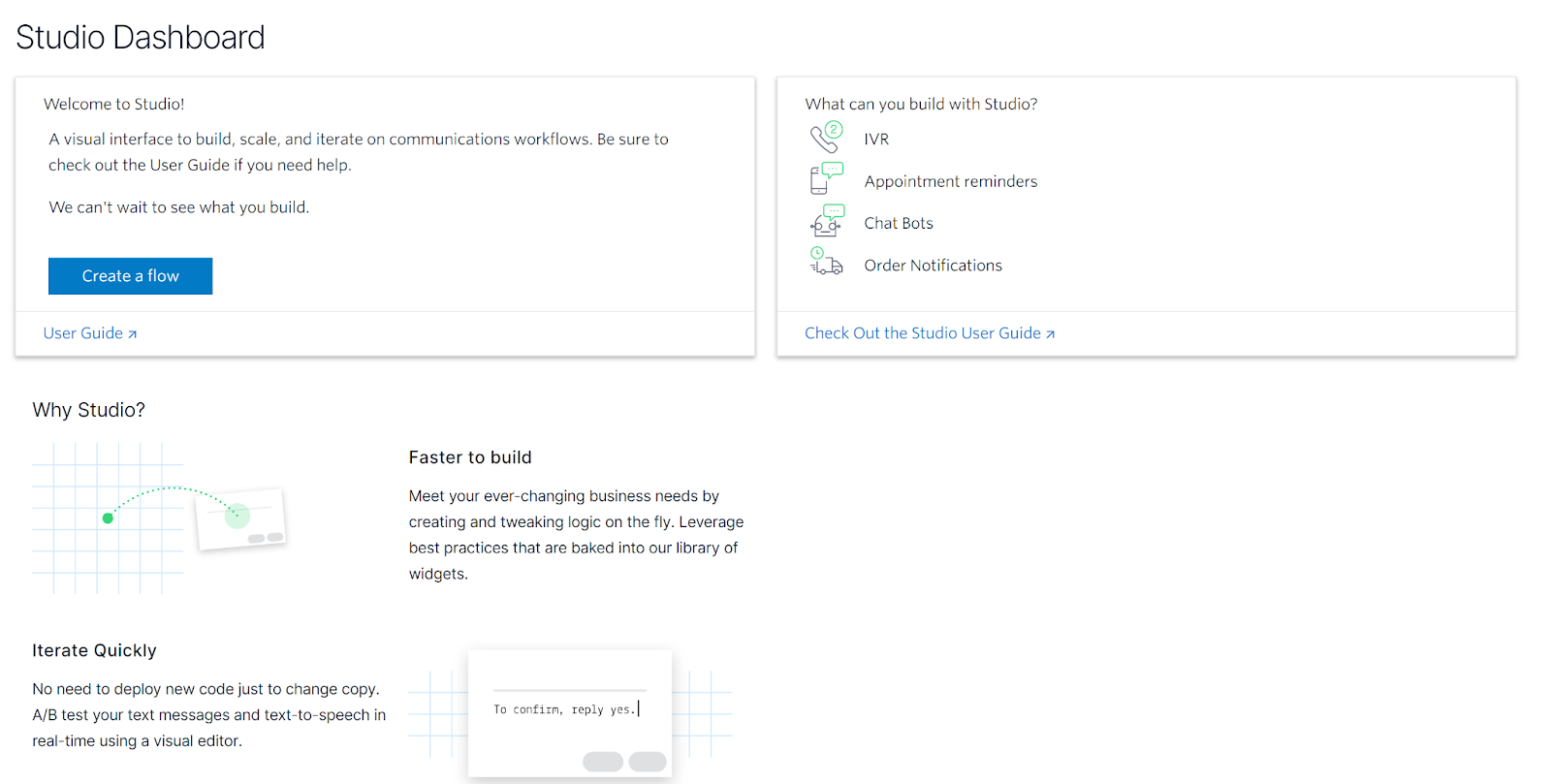 While the guide proves to be helpful, the Studio workflow is pretty simple on its own. Each IVR level is visualized, and you can plan and map actions just like a user interface designer would when building a website. All you have to do is choose what action each of the separate levels will do. You can do this by clicking on any of the workflow elements and choosing an action. The first levels have two options – saying a message or playing a message.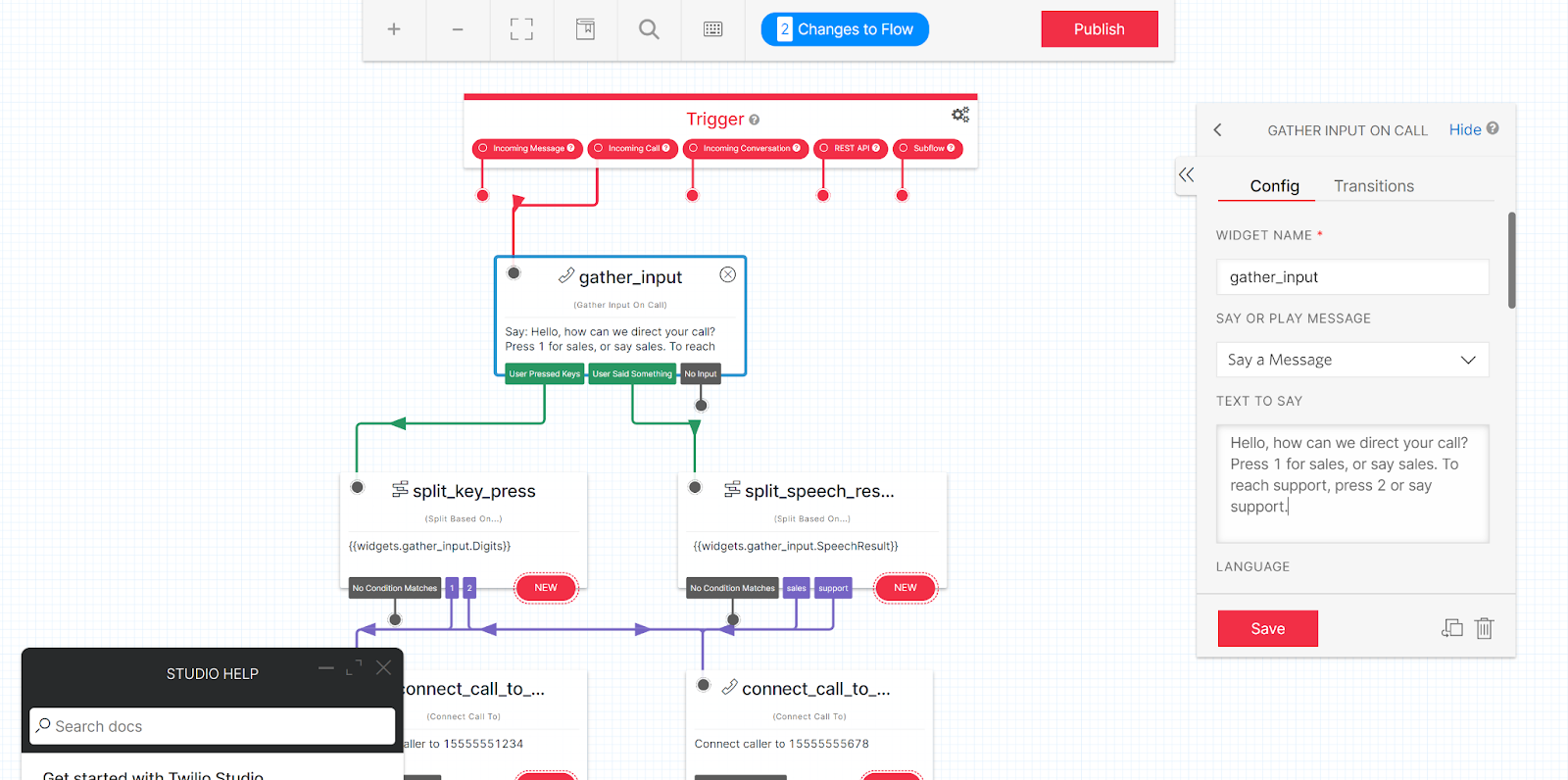 Saying a message refers to an AI voice that will read your message to a customer, while playing a message allows you to upload a custom voice recording. The latter levels include options to direct a call to a specific number, and more. You can map and plan interactively by moving the connectors to create a workflow the way you want it. When you're done with creating your workflow, you can attach it to any of your Twilio numbers, and change it at any time.
While creating workflows with Twilio Studio is an easy process, it might be difficult to find the option when you're new to this solution. Since Twilio has a great amount of features, I had to look up where to find the option to build an IVR. However, there is an abundance of guides and tutorial videos available online, so getting started wasn't difficult at all.
How does the IVR perform?
The user experience part of this review focuses on the customers' point of view and the customer experience during the use of the Interactive Voice Response. Simply put, the IVR feature of Twilio works great and there's nothing to complain about. I didn't experience any bugs while testing the IVR and the connection worked without any trouble.
The system had no trouble understanding voice commands either, and the same goes for button commands. The pre-set robotic voice is nowhere near perfect, but it does the job very well. I do, however, recommend everyone to use their own recordings to make the experience seem a bit more natural for all future callers.
Pricing
Twilio Voice pricing depends on the country you want to make and receive calls in, so the changes in pricing might be minimal or significant. Regardless of where you do your business from, the pricing for Twilio Voice is pay-as-you-go, which means that you only pay for what you spend. There are no pre-paid plans, just pricing per one minute of inbound or outbound calls.
The pricing starts at around $0.0270 per minute for outbound calls, at 0.0100 per minute for inbound calls. Twilio can be both expensive and cheap, depending on the number of call minutes you spend. However, you don't have to pay extra for the IVR functionality as it's an integral part of the Voice solution.
Conclusion
If you're looking for a reliable solution for IVR, you can't go wrong with Twilio. Twilio does everything well with no major problems or bugs to stop you during your work day. The IVR feature works without any issues. However, since Twilio is not just IVR software, you have to decide if you want to invest the time and money into this highly professional software. It can sometimes surprise you with a steep learning curve in different functionalities.