Key takeaways
Pros
Easy setup and implementation
Great user interface
IVR simulation feature
Cons
No visual representation of IVR
Multi-level IVR comes with more expensive plans
While the IVR builder could be improved by adding a visual representation of levels, it's still easy to use for pretty much anyone, regardless of their background knowledge. JustCall is extremely affordable too which means you won't ruin your budget with this well-rounded IVR solution in any circumstances.
Getting started with JustCall IVR feature
Starting with JustCall is as simple as it gets: with a quick and easy trial registration. You need to provide your credit card details to actually get access to all the features available. The user interface is designed very well. It's modest, clean, and very easy to navigate. This also means that you can easily find the IVR feature without going through complicated menus and selections. It can be found Phone numbers > Incoming Calls > IVR (Call menu).
IVR is disabled by default, so it needs to be enabled first. When you do that, you get access to the IVR builder. The IVR builder isn't complicated on its own, however it doesn't provide a visual representation of IVR levels, so it's a good idea to have something planned out beforehand. You can select a number on a keypad and choose an action for each of them. It's pretty straightforward, and you get the standard IVR customization options with each level. This includes forwarding to internal and external numbers. You also have the option to choose what happens when the number is unreachable.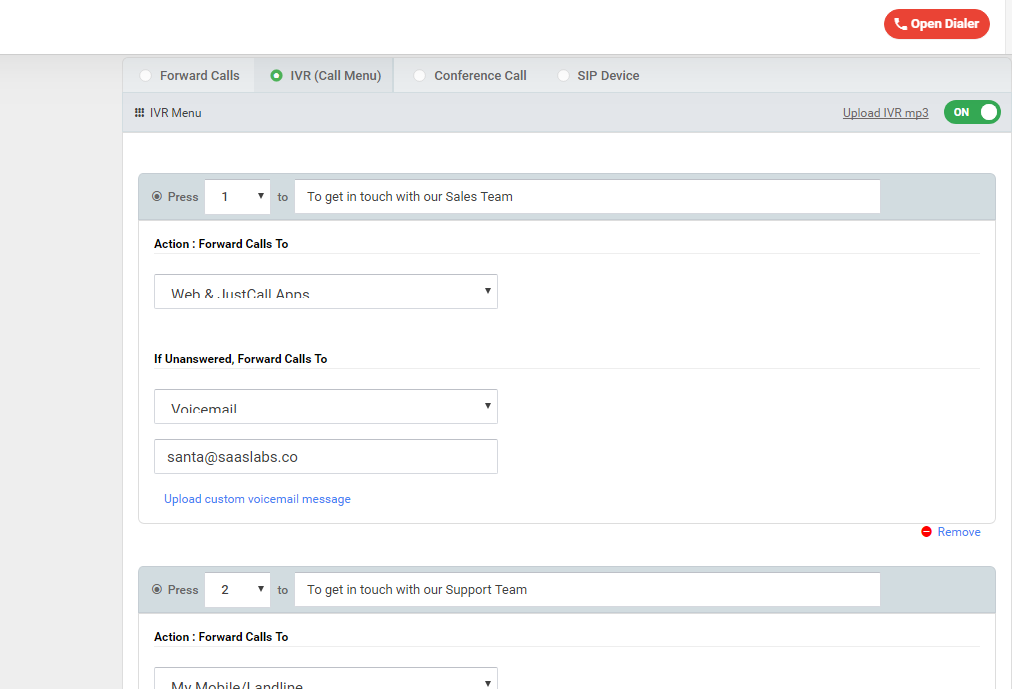 JustCall IVR has both a text-to-speech audio option, as well as an option for custom recordings which can be conveniently uploaded to the system. Overall, the IVR building process is easy despite having no visual representation of each level. A very interesting addition is the option to simulate the settings. This is essentially a test button that allows you to try the IVR in action and determine if everything works.
How does the IVR perform?
JustCall IVR performs well, as expected from most IVR solutions. The added option to simulate your IVR settings is a great benefit, and it can help you avoid non-functional IVRs that might've been poorly planned or implemented. Just in case your IVR hasn't performed as you expected, the possibility to rearrange it and test it out as often as you need to bring it up to par is an extremely useful feature. You can expect a great performance and a well working IVR with JustCall. I didn't run into any problems during my tests of the IVR.
Pricing
JustCall has three pricing plans with IVR included in each one of them. Note that the cheapest Standard plan offers only essential IVR functionality, while the Premium plan offers Multi-level IVR. Before you pick a plan, you should consider whether your IVR needs to have multiple levels, and whether you need a wider feature set or not. However, take note that even the cheapest JustCall plan offers a lot of flexibility. Let's take a look at the plans and see what each of them offers.
Standard
The cheapest JustCall plan starts at $24 per month per user, with a two user minimum. It provides IVR and other essential features including a local number, unlimited unbound minutes, call forwarding, SMS & MMS, callback automation, business hours, notes & ratings, and more.
Premium
The Premium plan offers an advanced feature set that starts at $48 per month per user, with a two user minimum. In addition to features from the Standard plan, the Premium plan adds live call monitoring, SMS automation & bulk SMS, multi-level IVR, custom workflows, priority support, and more.
Custom
The Custom plan comes with a custom quote tailored to your business. You get everything from the two previous plans, as well as an addition of SLA, custom analytics & reports, dedicated account manager and technical support, and call sentiment analysis, among others.
Conclusion
JustCall IVR feature is a very good contender that offers an overall great functionality with minimum compromises. It's definitely one of the best and easiest IVR features out there. What makes it even better is the reasonable price tag, and a good selection of other call center features available. JustCall IVR feature is suitable for any kind of business and will surely perform well for you, just as it did during my tests.
Frequently Asked Questions
My Justcall IVR is not working

Check your IVR flow for any mistakes and use the simulate function to test it out. Most problems with IVR's are usually due to design mistakes.

I can't find the IVR feature in Justcall

Justcall IVR builder needs to be enabled from the call number settings. Once you flick the enable button switch, you should be able to access the IVR feature.