What is a customer forum in LiveAgent?
A customer forum is an online space for customers to discuss the company's products, services, or preferences. LiveAgent is a complex help desk system that includes a forum platform that enables you to create, either public or internal forums.
What is a forum?
"A forum is a place on the internet where people can leave messages or discuss particular subjects with other people at the same time."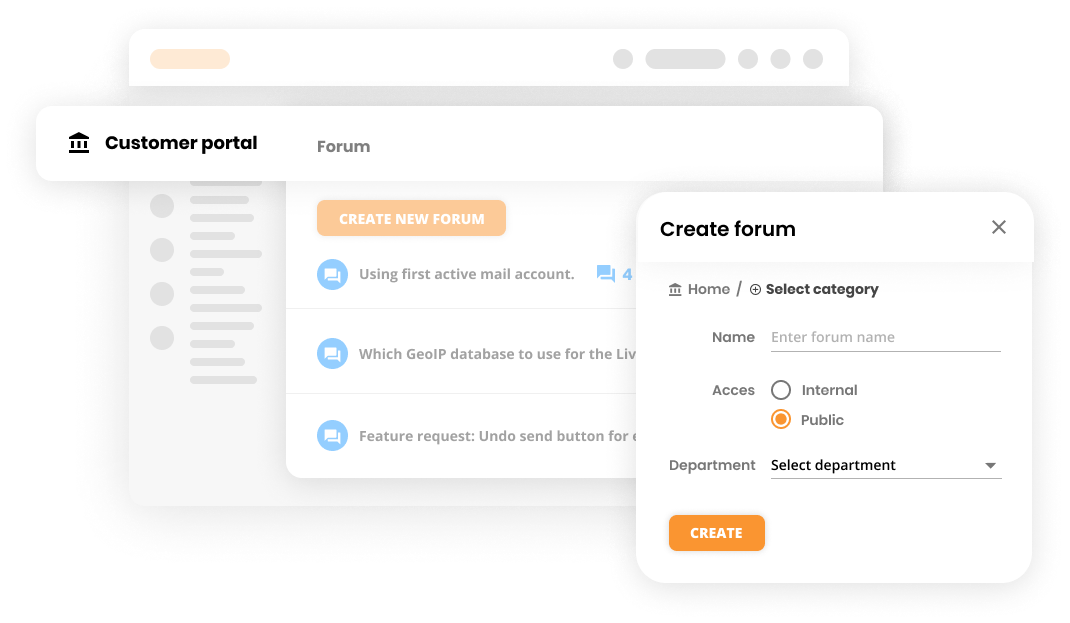 What kind of forums can you create in LiveAgent?
LiveAgent provides help desk and knowledge base solutions that include forum software, which allows you to create 2 kinds of forums: internal and public.
The internal forum is pretty self-explanatory. It can be also defined as an agent forum, usually used to share work thoughts, information, and ideas. Essentially, it is a quick and effective way to communicate internally. The internal work discussions in an agent forum also create great suggestions for further internal knowledge base articles.
On the other hand, a public forum can be accessed by everyone including your customers. As such, it's often called a customer forum. The forum enables them to share ideas, concerns, and information with each other. As a result, they can resolve their issues without having to contact your customer service agents. Because of this, forums can increase customer satisfaction as well as agent productivity.
To sum it up, the main difference between a public and an internal forum is that the content of the public forum is available to everyone. However, to use the forum, users have to register for an account.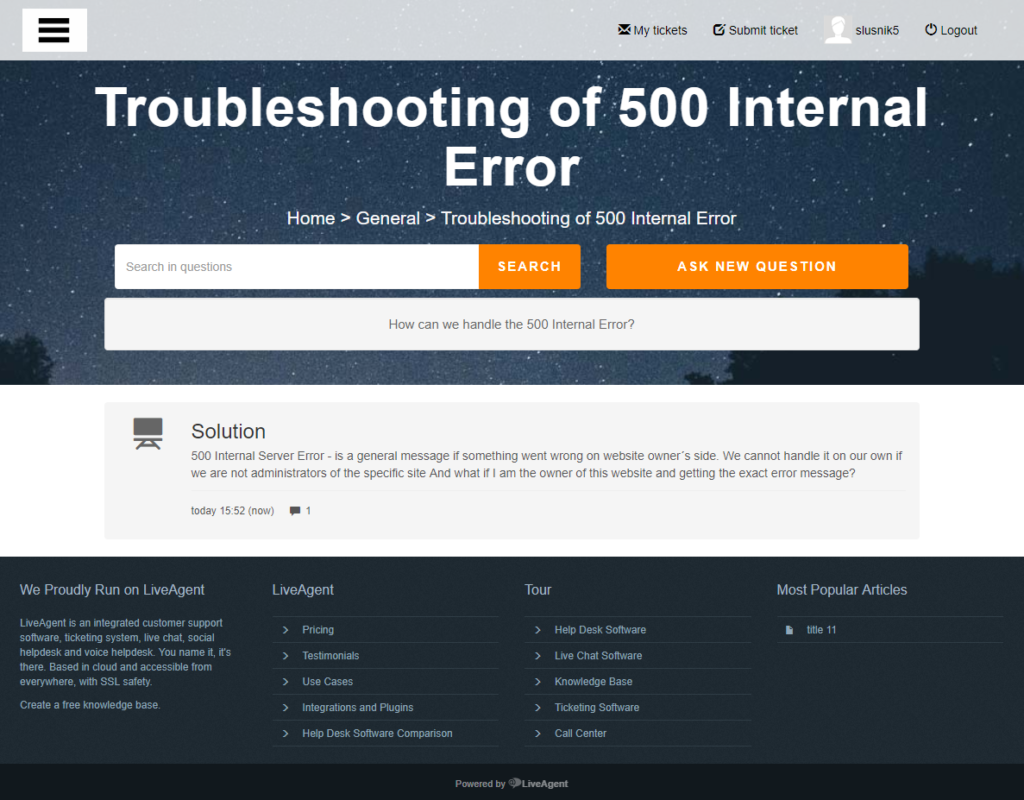 How does LiveAgent's forum software work?
Whether you decide to create an internal or public forum, each forum can be assigned to a different department within your company in the community forum software.
Thus, whenever there is a new question or a comment in a forum, the correct department will receive a ticket inside LiveAgent, which they can answer if necessary. By receiving these types of notifications, your agents can monitor customer forum discussions and step in when needed.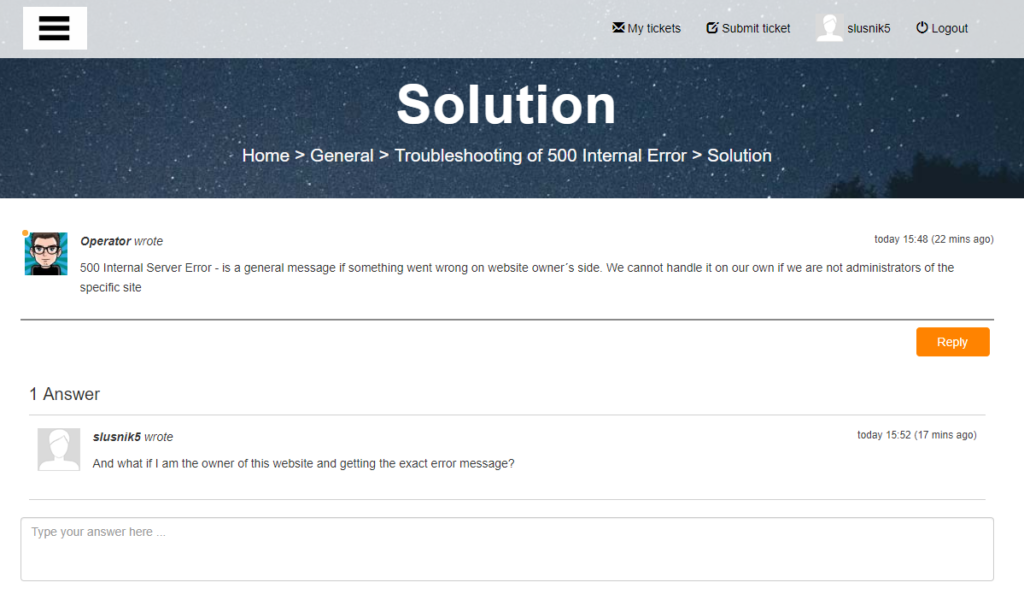 How can you create a basic forum in LiveAgent?
Step 1 – Log in to your LiveAgent account
The first step is to log in to your LiveAgent account. If you do not have one, feel free to use our 30-day free trial.
Step 2 – Navigate to the customer portal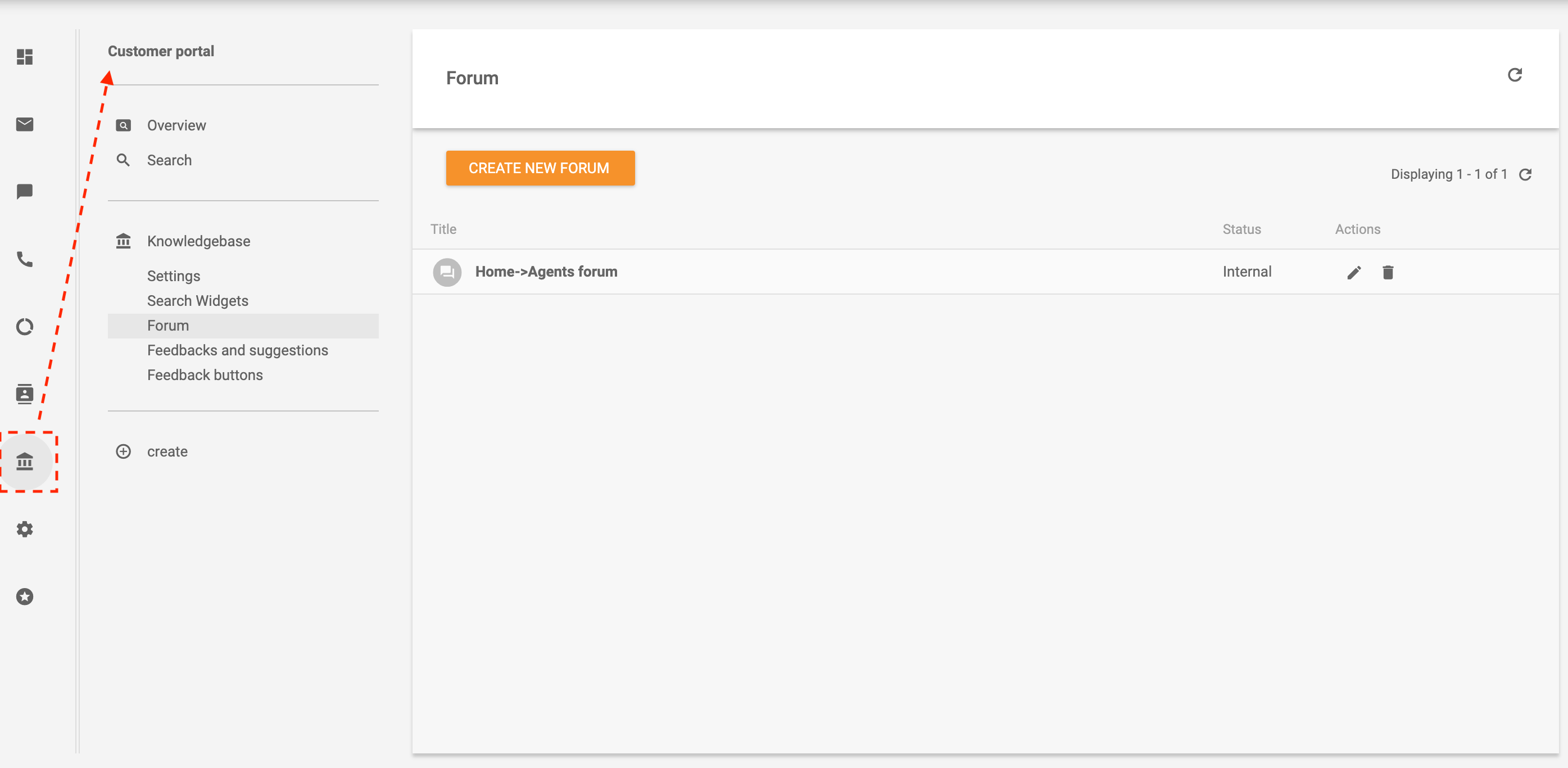 Before you proceed to make a forum, we highly suggest you create categories. Categories allow you to organize the content of the forum.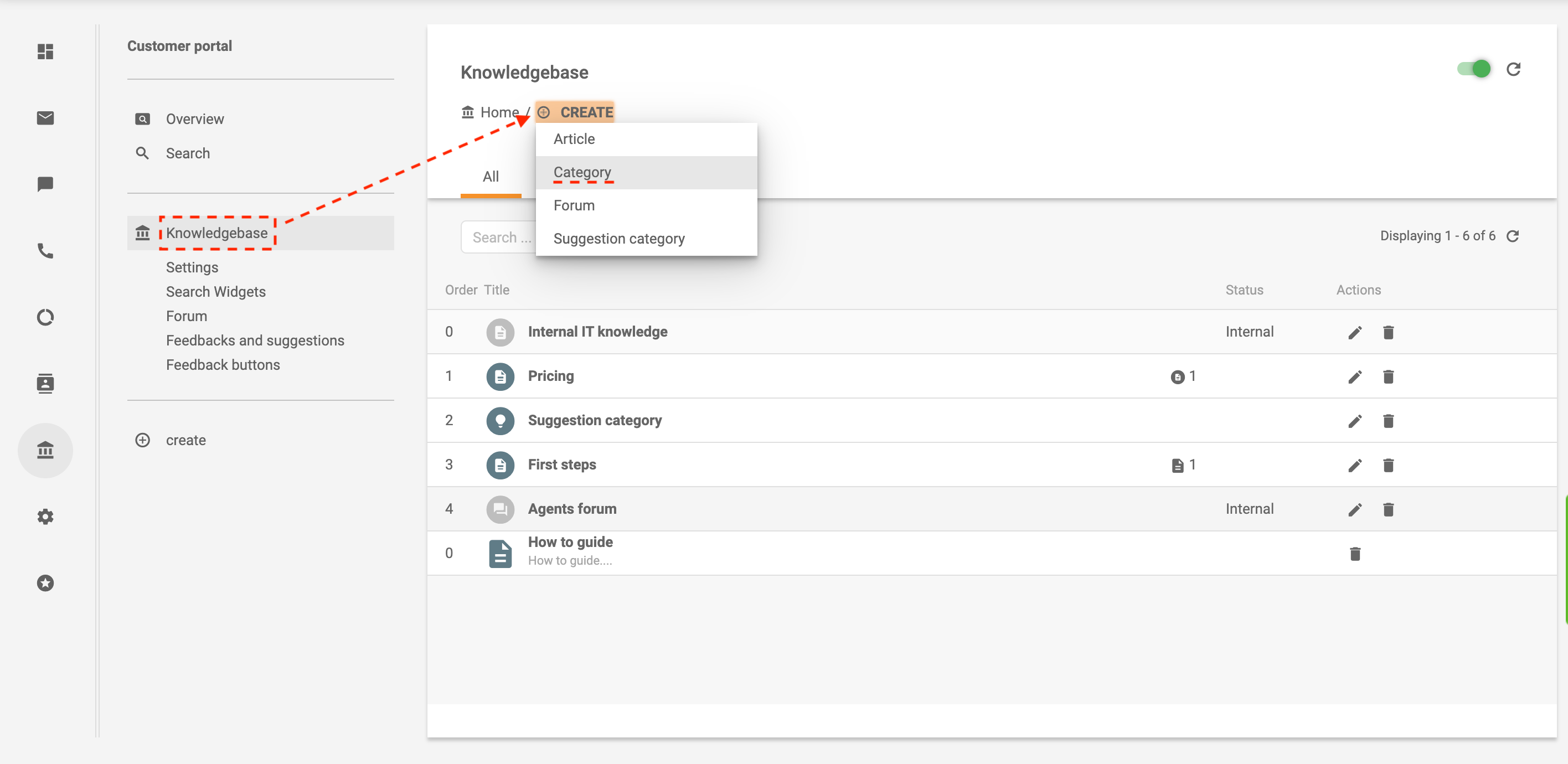 To make a new category, click on Knowledgebase -> Create. After that, you will see a dropdown menu. Choose a category and fill in a title, access, and keywords for search engine optimization.
For instance, if you decide to make an internal forum about pricing, the category can be called Pricing information. Thus, the forum entries about pricing will be neatly organized in this category. Or on the other hand, you can create separate categories for each language if your brand operates multi-nationally.
Step 3 – Create the forum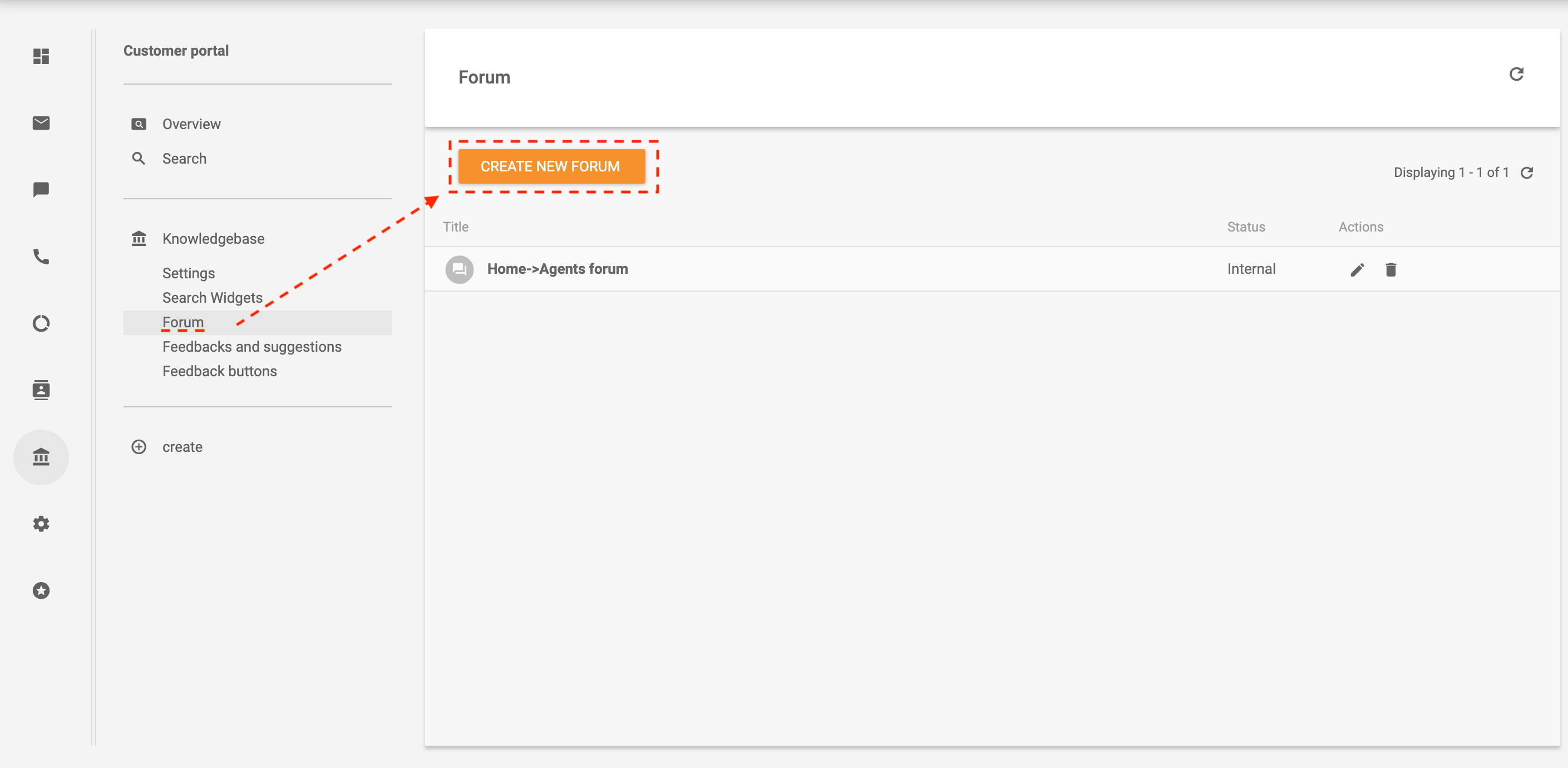 Navigate to the Knowledgebase -> Forum and click on Create. Select the preferred category and fill in all the details.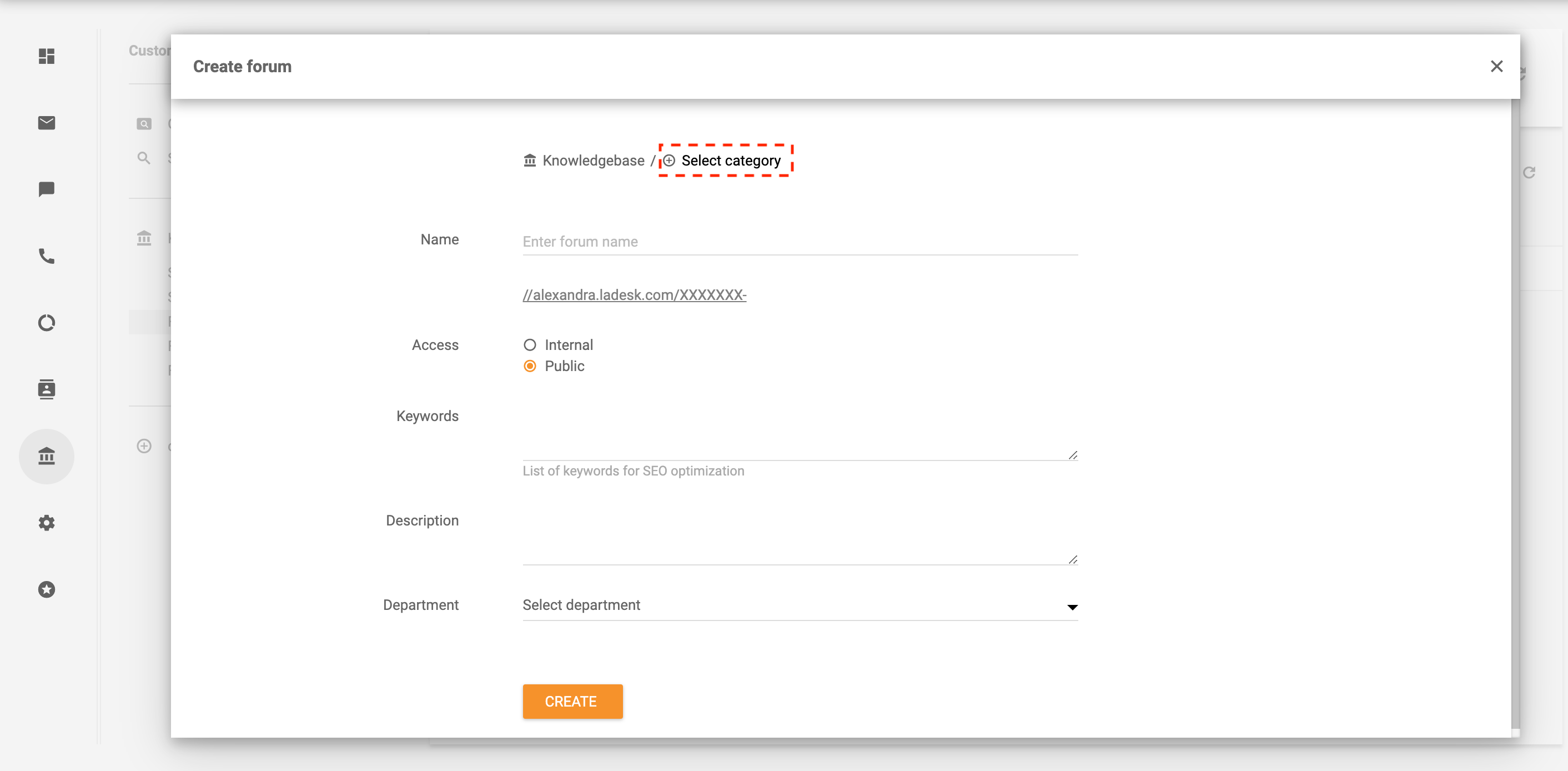 Once you have a forum, you can adjust the "actions" by clicking on the Edit button (the little pencil on the right-hand side.) The "actions" allow you to change/add additional information. For instance, you can change the department that is going to be responsible for handling forum inquiries.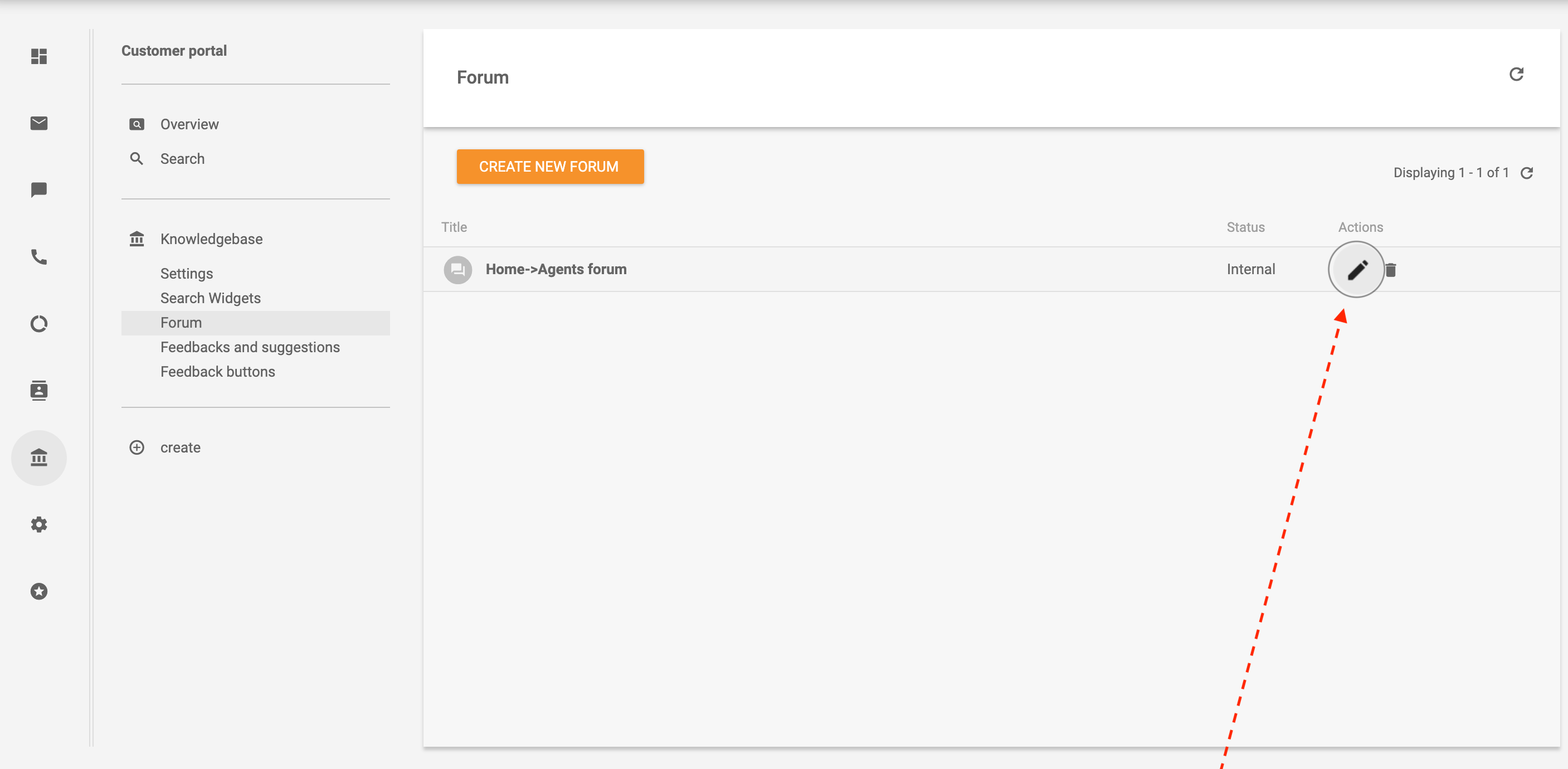 Step 4 – Add topics
To add more specification, navigate to Customer portal -> Knowledge base -> Forum -> Category -> Create a new topic.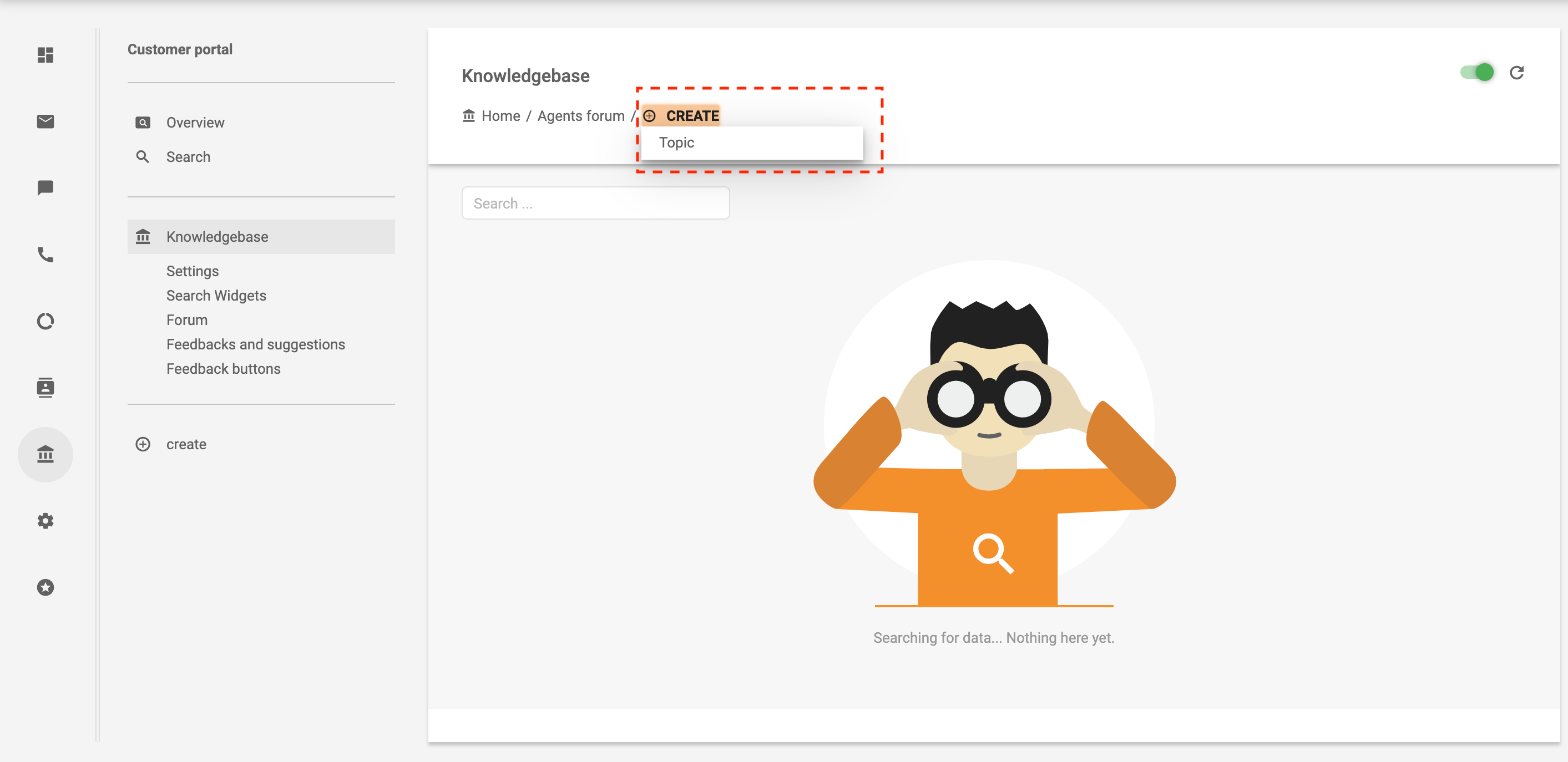 Adding topics keeps the content of the forum organized with a clear structure.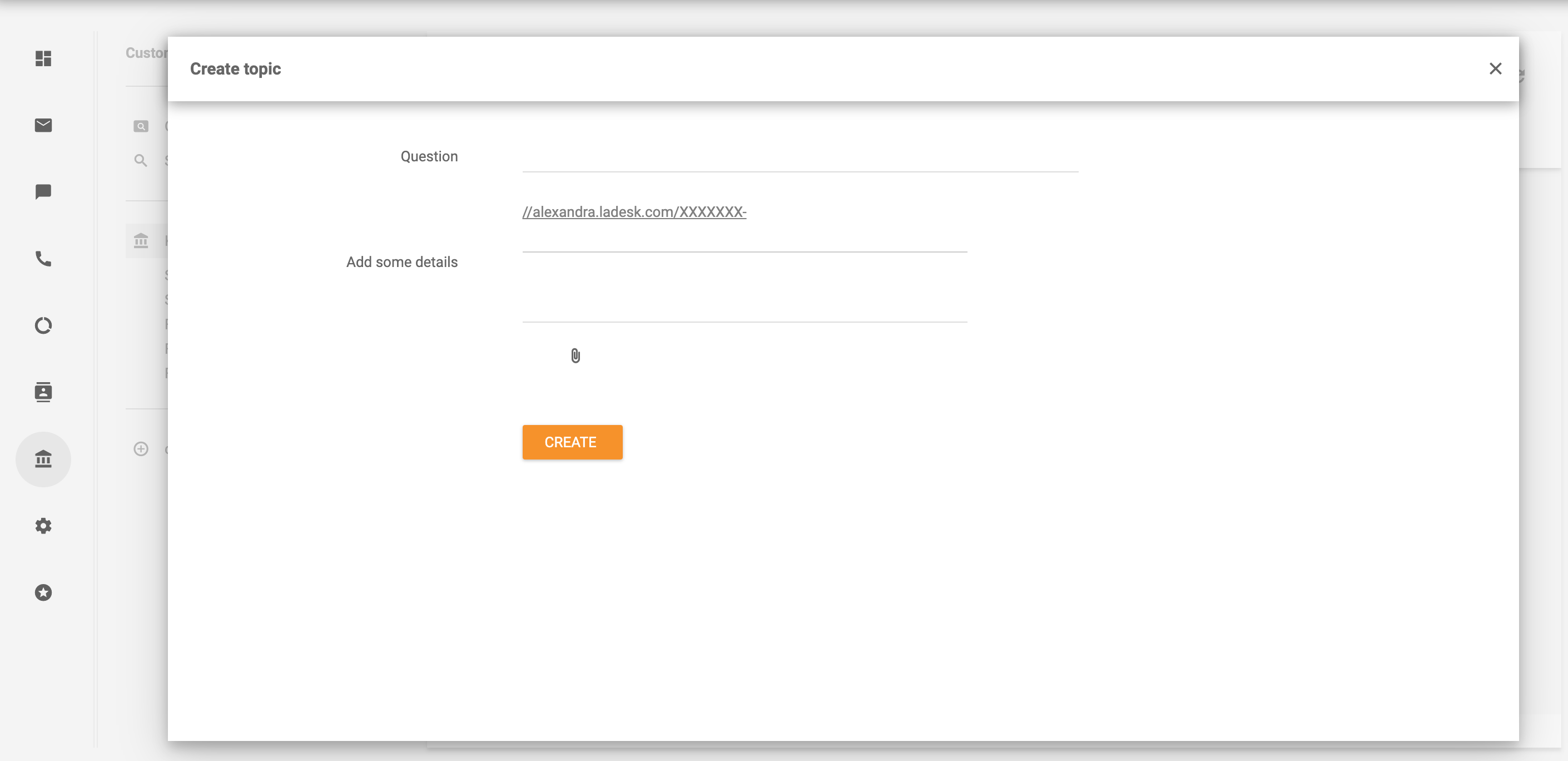 Now you can keep track of the topics, give recommendations, and solve issues easily.
Customize your forum software
In LiveAgent, you can easily customize the design of your whole customer portal, which also includes a forum. For instance, you can customize colors in themes, add a header, footer, logo, and title.
To learn more, check out our thorough Customer portal guide.
Why should your company have a customer forum?
1. Customers can help each other out
Creating a forum allows your clients to interact with each other and provide solutions based on their experiences. Due to this, they will be able to troubleshoot their issues and solve them without the agent's assistance. As a result, agents will have more time to focus on other tasks. Moreover, it is a really convenient way for customers to share their thoughts, experiences, tips & tricks about the product/service.
2. Increased customer loyalty
A lot of customers like to share their thoughts about the products/services that they use. Allowing them to share their experiences or thoughts will make them feel heard, which creates a better bond and strengthens customer loyalty.
3. Creates a community
Customer forums allow your customers to share their ideas, thoughts, and tips freely and anonymously. Such a forum can create an online community around the industry your business is operating. It presents a welcoming place to ask questions without any pressure. Therefore, it can create a strong community around your business where even beginners can feel welcome to share their thoughts.
4. Product/service improvement suggestions
LiveAgent's forum software creates a new ticket each time there's new activity/changes in the message board. Therefore, agents get always notified and can answer all the pressing issues that might arise. For instance, answering product improvement inquiries and providing temporary alternative solutions is a great way to strengthen customer relationships as well as improve your business.
Create a community with LiveAgent!
Want to improve customer engagement or provide a better way to share information internally? Easily create a forum inside LiveAgent and always stay notified.
Don't know LiveAgent?
LiveAgent is a help desk solution that also provides community forum software. Community forum software allows your business to create an agent forum as well as a customer forum for improved customer loyalty, customer satisfaction, and agent performance.
However, LiveAgent offers a lot more than forum software. LiveAgent's help desk system allows you to connect all the customer communication into one platform and efficiently respond to inquiries from one interface.
LiveAgent Product Tour | Live Agent02:25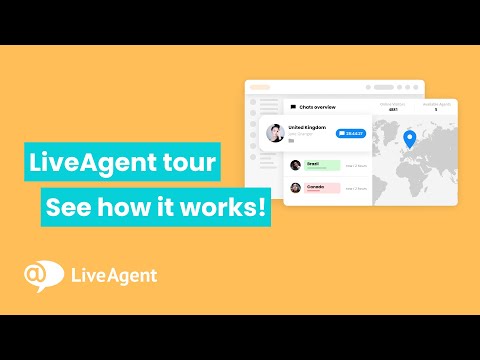 Live Agent
Discover more key features:
Don't have LiveAgent yet?
Try out LiveAgent for 30 days without a charge. No credit card information is needed. Test all the features and provide stellar customer service right now!
Knowledgebase resources
If you would like to learn more, check out our in-depth forum guide.