Are you thinking of starting an Etsy shop? If so, you'll need to have all the necessary supplies.
Here, we will provide a checklist of everything you need to get started. From setting up your shop to creating your first listing, we've got you covered.
The importance of starting an Etsy shop checklist
Though you might have great ideas for your homemade jewelry or vintage finds, you might not know exactly how to run a shop.
Let us show you how.
No matter what you plan to sell on Etsy, having a checklist of everything you need before opening your shop will prevent you from missing any steps toward making it a success.
The following checklist is a quick and easy way to avoid encountering any problems with your Etsy shop during the setup process (and afterward).
Who can benefit from starting an Etsy shop checklist?
You can sell your artwork on Etsy and become a shop owner whether you paint, draw, sculpt, or any other type of artist. This checklist will help you take your first steps towards making money from your passion.
Makers of homemade, vintage, and craft supplies
Wondering if an Etsy shop would be right for you? If you want to sell unique treasures such as craft or vintage items, Etsy is a great place to find your audience and niche. By providing you with the following checklist, we are simply making it easier for you to start your online business.
Get yourself noticed – Etsy is a marketplace for people looking for one-of-a-kind items. Whether you're just starting out or are a seasoned professional, this checklist will ensure your Etsy shop has a solid foundation.
Before you get properly started, you need to analyze whether the product or service you wish to sell is worth your time and energy to pursue as a business.
Why is it important to establish if your idea is a viable business opportunity?
Etsy is a fantastic platform for selling handmade and craft items. However, you must be confident that there is a demand for what you want to sell.
How to establish if your idea is a viable business opportunity?
Research your competition – find out whether there are similar products on the market already. Standing out may be difficult if there is already a lot of competition.
Check out Etsy's search function – use Etsy's search function to see how many people are searching for the type of product you want to sell. If a lot of people are, then there is definitely a demand for it.
Ask your friends and family – getting honest feedback from those closest to you can be really insightful. They will be honest and let you know if they think your product is something people would actually buy.
Google Trends to see if there is a general interest in the product you want to sell
Google Ads Keyword Planner for an idea of how many people are searching for a particular phrase to gauge demand for your product
Both are free, so you should definitely check them out before opening your first Etsy store.
We won't mince words – without one, you simply can't get started.
Why is creating an Etsy account important?
Opening an online store is much more expensive and complicated without an Etsy account. Etsy is a good alternative to paying for hosting and a web domain for your e-commerce site if you're just starting out and want to see how it goes. Besides minimizing your risk of wasting lots of money, Etsy will also get you noticed.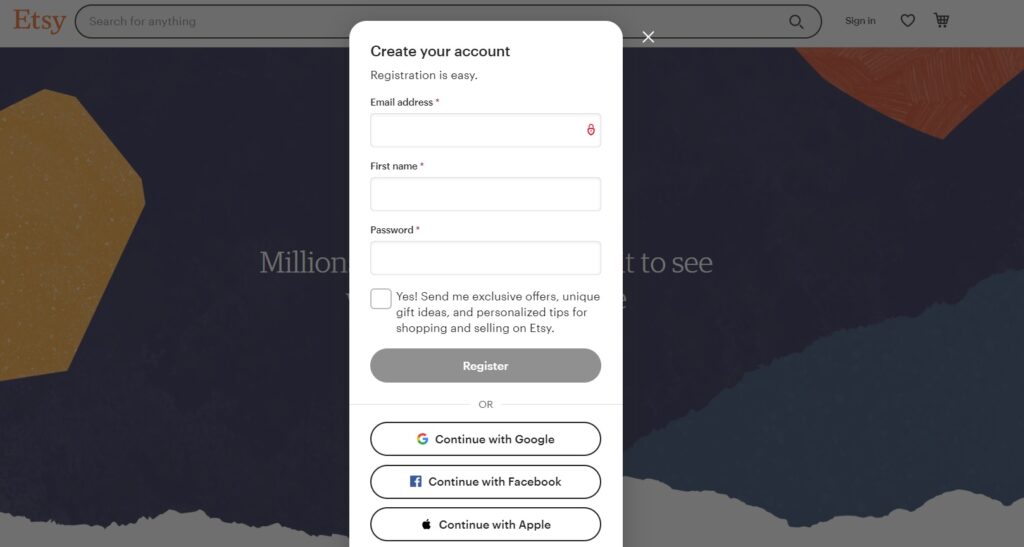 How to create an Etsy account?
Have you just realized that your dream of starting a small online business is turning into a reality and you're freaking out about it?
Take a deep breath and click here to create an Etsy account.
Don't worry, we'll walk you through the whole process.
Note: Your items need to be handmade, craft, or vintage (at least 20 years old), and you must be at least 18 years old (unless your account is registered by a parent or legal guardian).
Enter your email address or register with an existing Google, Facebook, or Apple account. Then, just add your name and set a password. You're in.
Now that you have an Etsy account, it's time to set your shop preferences. These include aspects like the language and currency you want to use, as well as your location and tax information.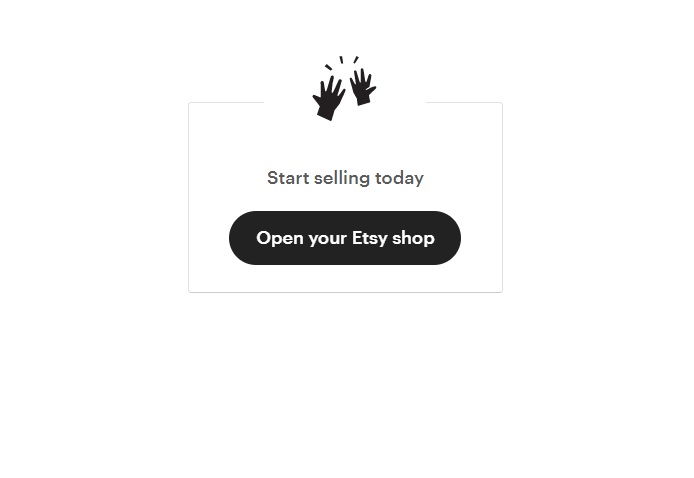 Why is it important to set shop preferences?
These settings will determine how your shop appears to buyers, and will also affect things like shipping and taxes.
How to set shop preferences?
Start setting up your shop by clicking Open your Etsy shop.
Select the default shop language that you'll use to describe your items.
Note: Choose carefully – you can't change this, but you may add other languages later on.
Then, select the shop country and shop currency. Customers from other countries will see product prices in their local currencies automatically.
Your final step is to choose information about yourself that most accurately describes you, such as whether or not selling is your full-time job.
Etsy's Shop Preferences page
It's time to name your shop. Let's take a look at our tips.
Why is it important to choose the right name for your shop?
Your shop title is one of the first things that buyers will see when they find your Etsy store, so it's important to choose a name that reflects the products you sell and the brand image you want to project.
How to choose the right shop title?
Keep it short and sweet – a shorter name is easier to remember and looks better on marketing materials.
Make it relevant – choose a name that reflects the products you sell.
Avoid using numbers and special characters – they can be difficult for buyers to remember and might make your shop seem less professional.
Do research – see if the name has already been taken or if it may not resonate with your target market.
Note: Etsy shop names must be between 4-20 characters in length, and can be changed later.
Etsy shop name generator, e.g. Namify
Google for conducting thorough research
It's crucial to stock your Etsy shop with inventory, because without products you won't be able to sell anything.

Why is it important to carefully stock your shop?
People make purchases based on what they can see. In order for potential customers to envision themselves using your products, it's crucial to publish high-quality images.
How to stock your shop?
According to Etsy, the best photos are those that display the products from all angles, show product details, and demonstrate how to use them.
Start with a small selection of products – you can always add more later.
Take high-quality photos – use bright, well-lit photos that show your products in the best possible natural light.
The optimal dimensions – for product images, are 2,700 pixels wide by 2,025 tall.
Add videos – publish short, 5-15 second long movies (max. 100 MB) to drive sales. It's worth the effort.
Based on Etsy's 2020 analysis, shoppers are more likely to buy items shown in videos.
Note: Some of print on demand products sold through Etsy have to be distributed through sites like Printful or Printify. Etsy usually requires people to set up their products (ceramic, clocks, shirts, jewelry, handbags, phone cases, etc.) on this second site to put their products on Etsy.
Photo and video editor – use a free online editor like Canva, or download a program like Adobe Photoshop or iMovie
Now it's time to tell the world about your products and why people are going to love them.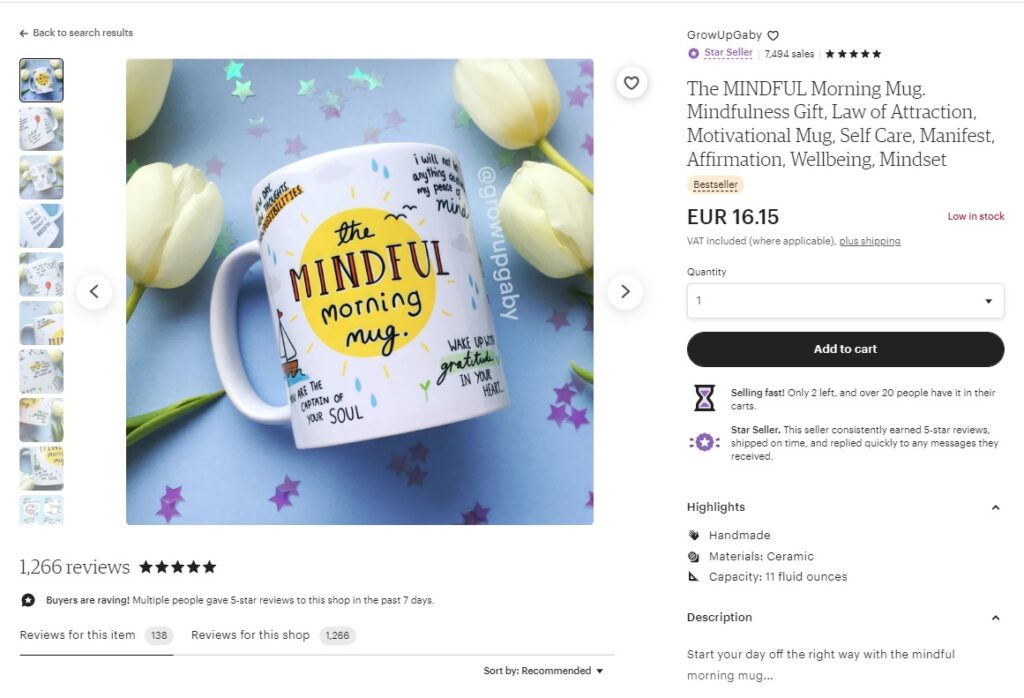 Why is adding product listing details important?
It is a mandatory step, so you won't be able to add any new item without doing so.
How to add product listing details?
Come up with product titles – Include keywords so that your audience can find you easily. You need to also add some additional details by answering Who made it?, What is it?, and When was it made?
Type a product category – such as a men's coat, crochet blanket, etc.
Choose renewal options – determine whether or not your listing will be automatically renewed. Each renewal lasts 4 months and then it expires or can be renewed again (costing $0.20 each time).
Choose the type of the product – physical or digital items (files that buyers will download).
Write a clear and concise listing description of every item – include all relevant information about your products such as size and materials, etc.
Set up inventory and pricing – you can also add variations if your product is e.g. available in different colors. Add personalization if needed.
Note: Use the preview button to see how your listing will look after publishing.
Etsy's Listing Details page
Clearly communicate the processing time to shoppers so they have realistic expectations when it comes to deliveries.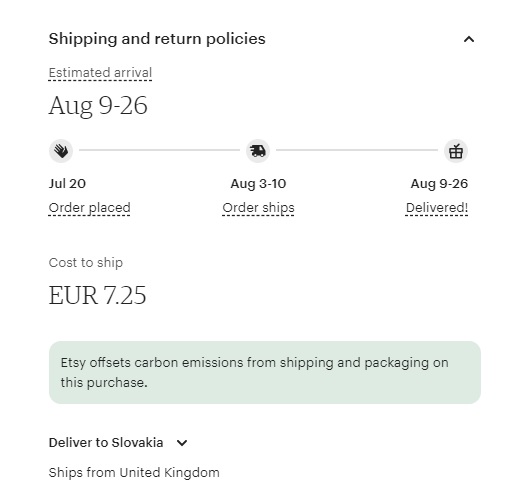 Why is setting realistic delivery times important?
Otherwise buyers may become impatient and cancel their orders, which could lead to negative reviews and a loss of business.
How to set delivery options?
Set up postage prices – let Etsy calculate them or enter fixed shipping prices on your own. The price of each listing will be determined by the location of the buyer and the weight and dimensions of the listing.
Add your postcode and processing time – enter a custom range.
Add all the details such as where you will deliver to, which services buyers can choose at the checkout, and whether or not you offer free delivery.
Don't forget to add exact dimensions and the item's weight, including when packed.
Note: You can save all these options for future listings as a delivery profile.
The destination country may impose import taxes, customs duties, and fees on packages delivered internationally.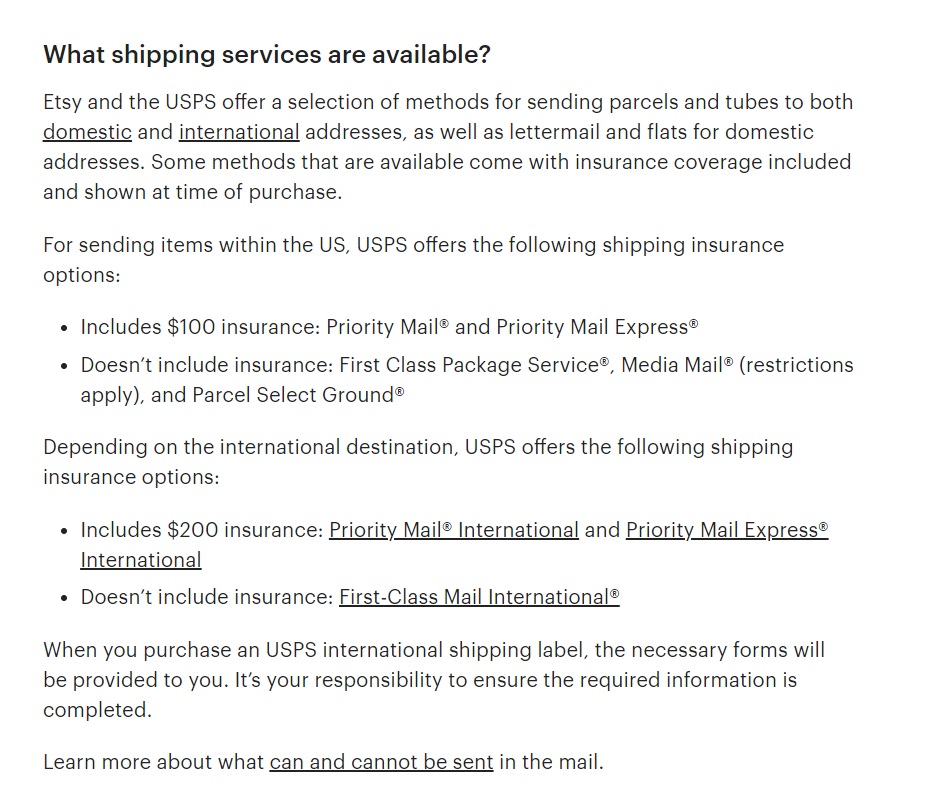 Why is checking international shipping requirements important?
If you do not obey the law, you expose yourself to paying heavy fines. Etsy can also ban your shop.
How to check international shipping?
Customs clearance fees, duties, and taxes are generally the buyer's responsibility. In some countries, Etsy is obligated to collect VAT from imported goods and to pay this over to the government.
If a buyer and a seller are located in different countries, Etsy informs buyers that additional duties and taxes may apply.
Note: Etsy recently changed the law (July 1, 2022) that anyone shipping to Germany must apply for certification from the German government. If you fail to register and send the package to Germany anyway, you could be fined €200,000. Learn more here.
Etsy Help Center
Local custom office websites
Central Agency Packaging Register
Let Etsy know how you'll get paid.

Why is setting payment and billing details important?
Etsy offers many different payment options, so you need to choose the one that suits you best.
How to set up payment and billing details?
Pick how you prefer to accept payments – the options include PayPal, check or money order, "other," and Etsy Payment.
Etsy Payments is the most popular option that sellers choose. With this option, you will accept PayPal, Apple Pay, and Etsy gift cards and have more control over your finances. Purchasing this way is much safer, so buyers will trust you more in return.
Note: To receive your payment deposits from Etsy, you'll need to set up a bank account and residential address in your payment settings.
It's worth noting the fact that Etsy was designed primarily for US citizens, so its most flexible payment options are available mainly to them. If you're from Europe you might have some trouble participating. The regulations depend on your country. Check them to find the most suitable payment processor to receive payments.
Although your shop banner and shop logo are separate graphics, they work together to tell Etsy shoppers about your brand.
Why is designing your storefront important?
As a brief welcome message to your potential clients, your storefront must be catchy, easy to understand, and relevant to what you're selling. When buyers enter your shop, your storefront needs to immediately convey what your business is all about.
How to design your storefront with Etsy?
Designing your Etsy storefront is easy with the help of their built-in tools.
You can upload photos, add text to the about section, and even use HTML to customize your shop's appearance.
An Etsy shop icon is associated with your business. This image represents your shop across the site, so it needs to reflect the feel and quality of your business.
An Etsy shop icon should have: simple graphics, minimal text, be memorable, understandable, and scaled down to 500 x 500 pixels.
Note: The shop icon will appear much smaller on the Etsy app, activity feeds, and receipts. Take this into account while designing your logo.
Your banner is probably the first thing that your customers are going to see when visiting your store.
The Etsy banner should have: a clear message, high-quality visuals, and be 1,200 x 300 pixels in size.
Canva offers Etsy templates (for both Etsy shop icons and Etsy shop banners), so use it to easily create professional visuals if you're a beginner in this field. The extCanva premium extension costs about $13.
Adobe Illustrator and Photoshop are great tools for creating your own graphics. From $9.99-$54.99, depending on the plan.
Etsy provides an opportunity to link your shop to social media platforms such as Pinterest, Twitter, Facebook, and Instagram.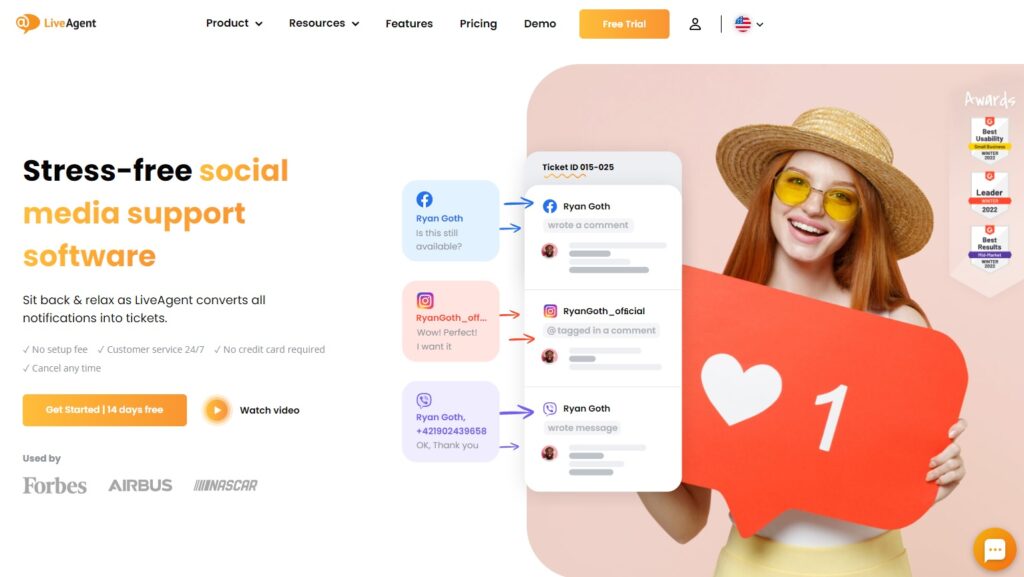 This is a great way to promote your products and reach a wider audience. By sharing your products on social media sites, you can attract new customers and make more sales.
Go to the Social media section in your shop, then click social media accounts to connect Etsy to your profiles.
From the Social media section, you can also create quick posts and share important updates about your Etsy shop.
Etsy offers six types of posts:
Up to 25 of the latest listings you've added
Recent milestones and successes like your shop's anniversary
Current or upcoming sales and coupons
5-star reviews
Items you've favorited
Social media profiles on Instagram, Pinterest, and Facebook, etc.
Etsy's Social media section
Tools such as Kontentino to manage your social media presence effectively
In order to reach your potential customers via social media more effectively, consider implementing such tools as LiveAgent social media support software. It lets you set up automation rules and handle all your social media messages from one universal inbox.
Etsy Ads are a great way to promote your products, both in search results and on other Etsy pages.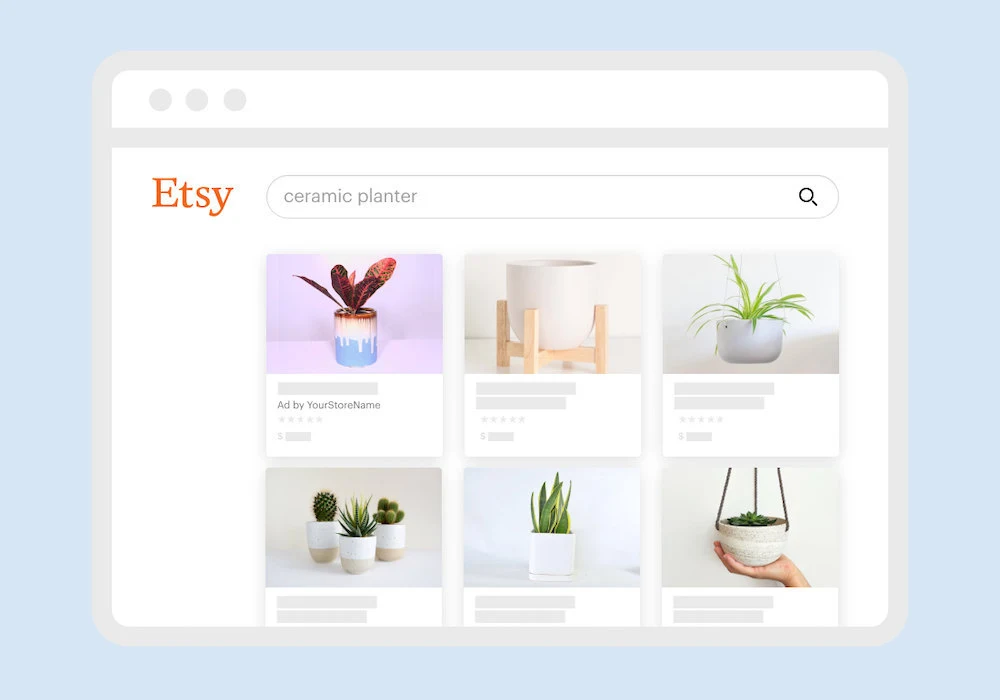 Why is it important to consider paid advertising?
Investing in paid promotion allows you to reach a wider audience and potentially attract new customers.
How to start using Etsy Ads?
Go to Shop Manager > Marketing > Advertising.
Create an ad campaign, choose which listing you want to promote, and set a daily budget.
Note: This is the maximum amount you're willing to spend advertising your items per day, which you can change at any time. The default minimum daily budget is $1.
Etsy will then match your products with relevant shoppers.
When creating an ad campaign, keep in mind that you should:
Set a budget
Choose your target audience
Select the products you want to promote
Where will your ads appear?
Across the Etsy site, meaning Etsy Search, Category Pages, and Market Pages on both Etsy.com and the Etsy app.
To start or stop advertising individual listings, go to Etsy Ads and manage all of your current campaigns from there.
You can offer price reductions on your items, shipping, or both.
Why is it important to offer discounts?
They are a great way to entice buyers, especially if you are just starting out. By offering discounts, you can draw attention to your shop and make it more likely that people will purchase from you.
How to offer discounts on Etsy?
Etsy offers sellers three ways to discount items in their shops: Sales, promo codes, and targeted offers.
Sales – discounting some or all of your items to a set audience for a limited period of time.
Promo codes – buyers can use them during checkout. Share codes via Messages, social media, shop announcements, or any other way.
Targeted offers – create promo codes that are automatically emailed to shoppers who have shown interest in your items.
Go to Shop Manager > Marketing tab > Sales and Discounts, then set up all discounts there.
You have such discount types to choose from as percentage off, fixed amount off, or free standard shipping.
➡️ If you need more info, check out the Etsy Help Center.
Some tips for offering item discounts:
Consider giving a percentage off the item's original price
Think about offering a buy one, get one deal
Do a bundle discount that saves shoppers money when buying multiple items at once
Just be sure to set some guidelines so you don't end up losing money on every sale.
Etsy built-in tool
Promo codes
Targeted offers
Sales
Many Etsy sellers rely on these community spaces to grow their businesses, so join the conversations with other sellers.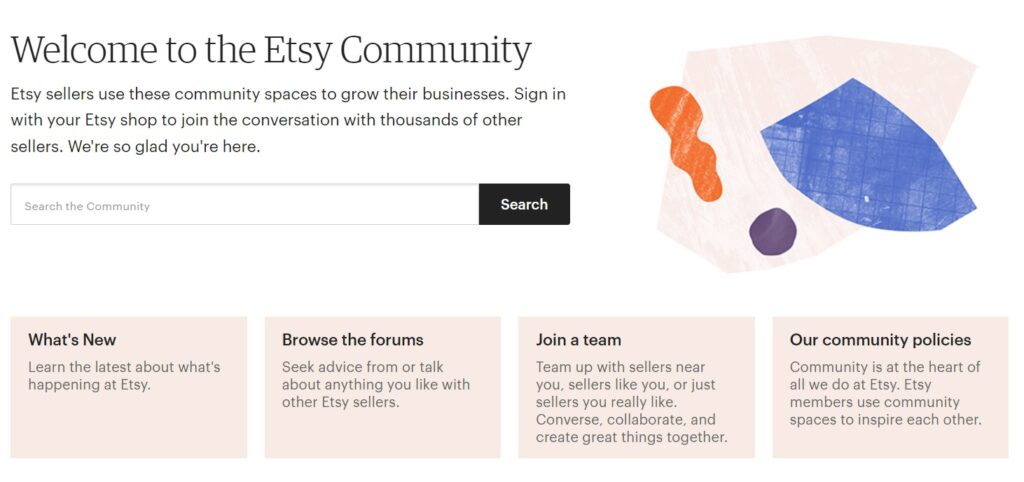 It's a great place to connect, network, and find collaborators. Chat with other sellers to learn what's new on Etsy, ask for advice, or discuss anything you like.
The best way is to join some of the many teams that are available.
Etsy's own community forums
Facebook groups dedicated to Etsy sellers
Instagram hashtags specifically for Etsy shops and products
Online directories that list Etsy shops in specific categories or niches
If you've received your first order but don't know what to do next, Etsy has a great tool in their Shop Manager to keep track of everything.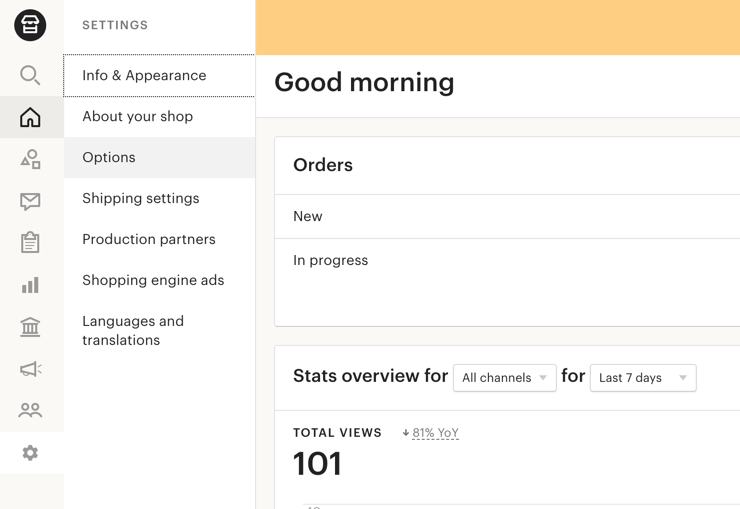 Why is it important to use Shop Manager?
By using Shop Manager, you can see which orders have been paid for and shipped, as well as print shipping labels all from one place. Also, keep your buyers up to date on the status of their purchases to build trust and keep them coming back for more.
How to manage orders?
After you receive your first order, head to your Shop Manager and update the order status. This way, the buyer will know that you've received their order and are working on it. You can also leave them a message if you have any questions about their purchase.
Note: By clicking Complete Order, you can add an optional Note to Buyer, a tracking number, a shipping provider for the package, and set the Ship Date.
Once you've sent the item, mark the order as shipped in the Shop Manager. This will send the buyer a notification that their order is on the way.
Shop Manager also allows you to:
Create and send invoices
Print shipping labels
Track payments
Communicate with buyers
Upon receiving an order, send the buyer a quick message of gratitude through Etsy.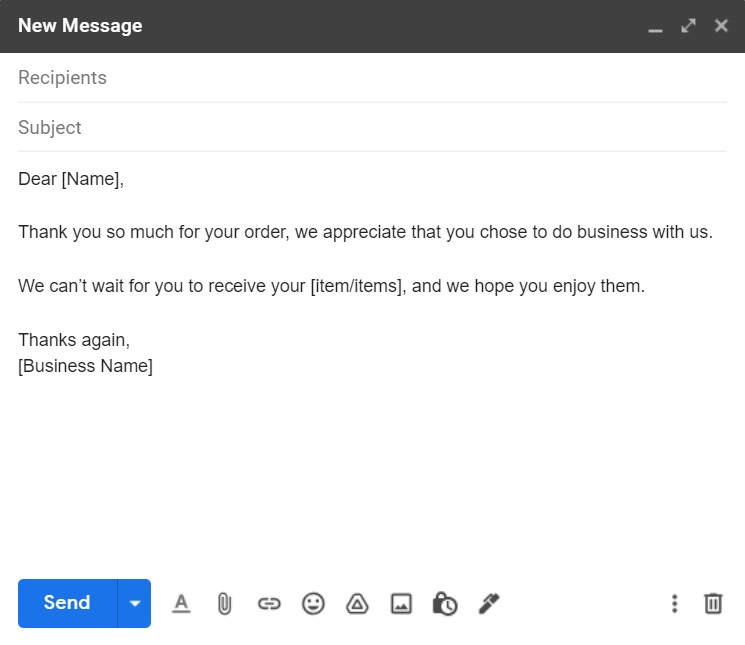 Why is it important to thank your buyers?
First of all, it's simply good manners. By thanking your customers, you start building relationships with them and increasing the chances of them returning to buy from you again in the future. Also, if there are ever any problems with an order, thanking the customer upfront can diffuse the situation.
How to thank your buyers for ordering?
In your message, you should:
Thank them for their order
Confirm that you've received the order and are processing it
Provide them with an estimated shipping time
Include a link to your shop policies
Let them know how to contact you if they have any questions
Etsy direct messaging system
Pack your order with love, then it's time to send it off.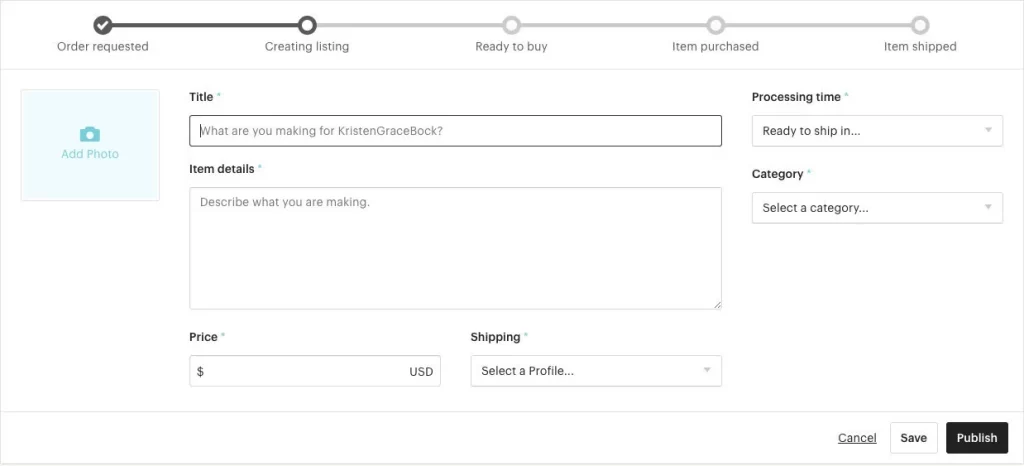 Why is it important to have an effective strategy for shipping orders?
You can save time and money by implementing an effective fulfillment and shipping strategy.
How to ship and complete orders?
Calculate the shipping details (item weight, size, shipping carrier) so that you can accurately calculate shipping costs.
Once your order is on its way, mark it as shipped on Etsy and include any tracking information.
Go to Shop Manager > Orders & Shipping > Click on the timer icon on the right side of the order that you have shipped, then click Complete order.
Note: When a shipping label is purchased on Etsy, the order is automatically completed and a shipping notification is sent to the buyer on the label's Ship Date.
Don't forget to request a few words from the buyer about their experience with your product.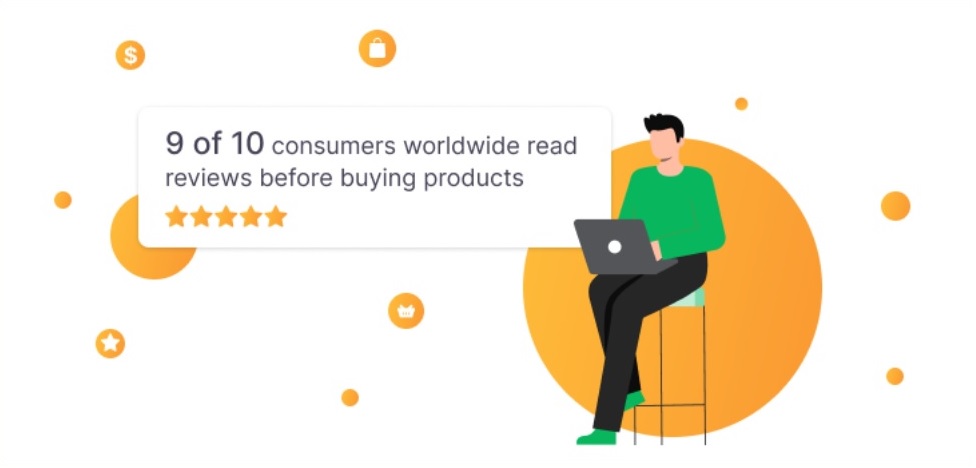 Why is it important to ask for reviews?
Asking your buyers for reviews is a great way to get feedback on your products to improve your business. Reviews are also important for building trust with potential customers.
How to ask for reviews on Etsy?
Etsy allows buyers to leave reviews after their orders have arrived.
Your buyers may give you a rating from 1 to 5 stars along with a message. These reviews can be viewed by the public in your shop. And don't worry about getting anonymous feedback. Buyers can only leave reviews if they're logged in to Etsy.
Note: You can report reviews that you believe violate Etsy's guidelines.
None – reviews will be added automatically
Summary of starting an Etsy shop checklist
Establish if your idea is a viable business opportunity
Getting started
Etsy shop configuration
Set your shop preferences
Choose your shop name
Stock your shop
Add product listing details
Organize deliveries
Check international shipping requirements
Set your payment and billing details
Design your storefront
Link your shop to social media
Think about paid advertising
Consider offering discounts
Join the Etsy community and teams
Start selling
Manage your orders in Shop Manager
Thank the buyer for making an order
Ship and complete the order
Ask for reviews
If you want to get the most out of your new business, LiveAgent can help. It's a tool that provides plenty of features useful for providing excellent customer service, such as live chat, ticketing system, and social media omnichannel inbox. Try it out for free!
Frequently

asked questions
Is Etsy worth it in 2023?
Definitely – it's one of the leading online marketplaces worldwide. You can make a great living from an Etsy shop, and running one doesn't cost much.
Who pays for shipping on Etsy?
The buyer pays for shipping on Etsy. This is something that you will need to take into account when pricing your items. The cost of packaging materials should also be considered.
How do Etsy sellers get paid?
Etsy uses Direct Checkout to process payments for sellers. With Direct Checkout, buyers can pay with credit or debit cards, Etsy Gift Cards, or PayPal. When you receive a payment for an order, it will be deposited into your Etsy Payments account. From there, you can transfer the money to your bank account.
Can you make a living from an Etsy shop?
Yes – in fact, a lot of people do. It's important to start with a product that people want to buy. This may seem obvious, but it's worth saying because so many people try to sell things that nobody wants. Do your research to verify that there is a market for what you would like to sell.
How many products should you start with on Etsy?
Etsy recommends at least 10 because the more listings you have, the more likely customers are to find you. This will give you a good selection of items to choose from and will also help you gauge customer interest.
What are the requirements for opening an Etsy shop?
You must be at least 18 years old and have a credit or debit card to open an Etsy shop. You will also need to provide a few other pieces of information such as your legal name, address, and phone number.
How much does it cost to run a shop on Etsy?
There are a few fees that you need to be aware of:
Etsy listing fees – You will be charged $0.20 for each item that you list for sale on Etsy.com or Etsy's mobile apps. Each listing has a duration of 4 months, or until the item is sold. After this time, you will be charged a listing fee again if you choose to relist the item.
Transaction fees – When you make a sale through Etsy.com, you will be charged a transaction fee of 6.5% of the total listing price plus the amount you charge for delivery and gift wrapping.
Payment processing fees – If you use Etsy Payments (which is the recommended method), there will be a small fee for each transaction. Etsy Payments is the easiest way to get paid on Etsy, as it allows buyers to use credit cards, debit cards, Etsy Gift Cards, and PayPal.
What do I need to start selling on Etsy?
To start selling on Etsy, you need to create an account and set up your shop. You must also create listings for your products, each of which should include a photo, product description, price, shipping information, and keywords.
You will also need to choose a payment method for your customers. Etsy offers direct checkout and PayPal as payment options.
Use the checklist above to avoid missing any crucial steps when starting your Etsy shop.