Let's face it – real estate is one of the most lucrative, dynamic, and active industries out there, and one's success mostly comes down to proper customer management. Ensuring that your customers are satisfied with your services is an absolute cornerstone of any good real estate agency.
However, communication is no longer as simple as it used to be. These days, premium real estate companies have a strong internet presence and ways to stay connected to their clients at all times. To do so on their website, they'll need to offer a real estate live chat option, which requires software. 
Choosing the right software for the job can make or break a company. For that reason, we'll give you a brief review of some extraordinary real estate live chat services.
What is live chat?
Live chat is one of the most popular customer service tools that the web world has to offer. Real estate live chat services aren't just recommended– they're a must-have communication tool these days.
Most live chat for real estate comes in the form of help desk software that handles customer inquiries. This software can initiate conversations once the prospects have landed on your website, generate leads, assist with website navigation, and help them decide which services are suitable for their specific needs. 
How does live chat work?
Live chat allows your real estate agents to connect with your website visitors to offer them any help they might need. Think of live chat software solutions like a program that allows your client to come in for a meeting, but virtually.
Once someone visits your website, a chat box will appear (if you have a real estate chat feature), and they can contact you.
Benefits of using live chat in real estate
To say that using live chat solutions in real estate is advised is an understatement –  it's an industry standard. The first thing that comes to mind when thinking about the benefits of using live chat in real estate is the virtually unmatched customer support aspect.
One of the most appealing aspects of using real estate live chat services is that you can truly understand your customer's wants, and needs, which allows you to connect with them on a human level. It's also the leading tool for establishing communication with the prospect, which immediately enhances the chances of cooperation in the future. 
Using such software, you're able to provide your customers with immediate support, which can help them navigate your offers, content and work wonderfully as a lead generation tool. With live chat, you can: 
Help your customers navigate through your website
Boost the performance and creativity of your agents
Build rapport with your prospects and customers
Offer immediate support to anyone on your website
Provide support 24/7
Prolong the time people spend on your site
And this is just the tip of the iceberg. Unlocking the full potential of live chat solutions is business-specific, meaning it can do different things for different businesses, even if they're in the same industry. 
Top 5 live chat software
| | | | | |
| --- | --- | --- | --- | --- |
| Chat software | Capterra Rating | Free version  | Free trial | Starting price  |
| LiveAgent | 4.7/5 (approx. 1K reviews) | YES | YES | $9 per agent/mo |
| HubSpot | 4.8/5 (250 reviews) | YES | YES | $50 /mo |
| Drift | 4.5/5 (153 reviews) | YES | YES | n/a |
| Sendinblue | 4.5/5 (approx. 800 reviews) | YES | YES | $25 /mo |
| Syncro | 4.5/5 (2 reviews) | YES | YES | $25 /mo |
Dated as of May 6th
Top 20 live chat software solutions for real estate industry
There are more live chat software solutions for real estate businesses than you can imagine, but just like most software, not all of them are equal. The market is full of faulty software that isn't capable of doing what you need. Luckily, we've vetted a lot of software and found twenty solutions for real estate businesses that surpassed our expectations.
1. LiveAgent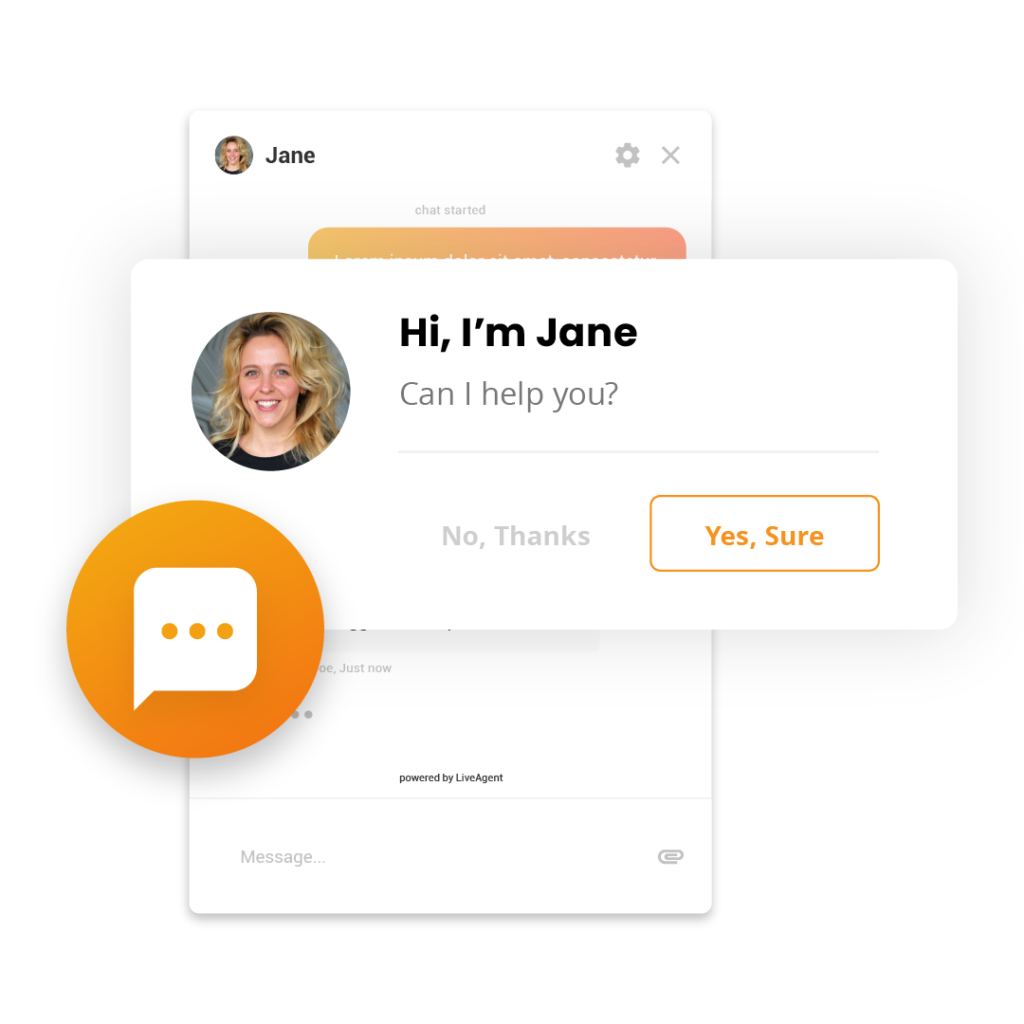 LiveAgent is an outstanding live chat for real estate. Unlike other live chat software providers who are continually looking to reinvent the wheel, LiveAgent is a help desk software focused on personalization.
In real estate, it's essential to have the proper approach to your customers if you're looking to make a sale, and through the use of LiveAgent, that possibility becomes a reality.
The software is super easy to use, streamlined and offers a good-looking chat feature that supports real-time responses. It can also boost agent productivity and help your staff provide the best customer service possible, thanks to an intricate CRM.
Through automation, smart routing, and chat invitations – your customers can rest assured that the software will direct them to the agent that's best equipped to help them with any question, issue, or service they might need. This software also supports real-time internal chat, chat distributions, and chat invitations, all without seeming aggressive or pushy. 
It's a tool that helps you build a loyal customer base. It's fully customizable so that you can adapt it to your brand with relative ease. The best part it, you can use it not only for live chat, it's a great service ticketing system that offers multichannel capabilities. Its customization doesn't only end with its looks, as you can integrate third-party apps, customize functionality, and edit many aspects of the service without any coding knowledge.
Try out LiveAgent today
Start a free 30-day trial and try out all customizable features.
2. Chaport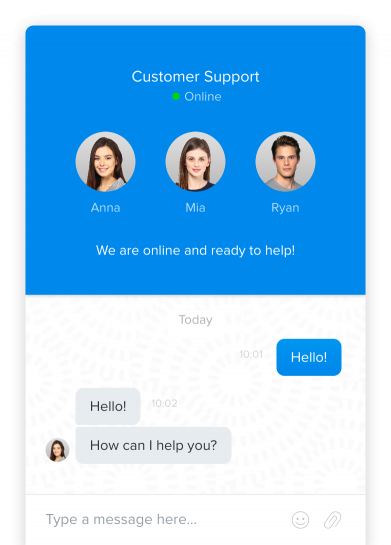 Many real estate businesses can benefit from integrating a simple live chat solution like Chaport. Chaport is packed with an intricate set of tools that make it both easy to use and powerful.
One of the things that stands out with Chaport is that it's slick and user-friendly. It has a unique GUI that maximizes UX, making it easy to use for both the customer and your real estate agents.
Some of its features, such as the automatic replying and the group chat capabilities, only add to its versatility. Chaport is a fantastic chat plugin that integrates with almost all websites. Unlike most live chats, which only support a handful of languages, Chaport supports up to eighteen languages, making it a truly universal tool. 
Its simplicity and affordability make it one of the best tools for small and medium-sized businesses. It has some intricate monitoring features, such as reports, typing insights, and saved replies. 
3. ClickDesk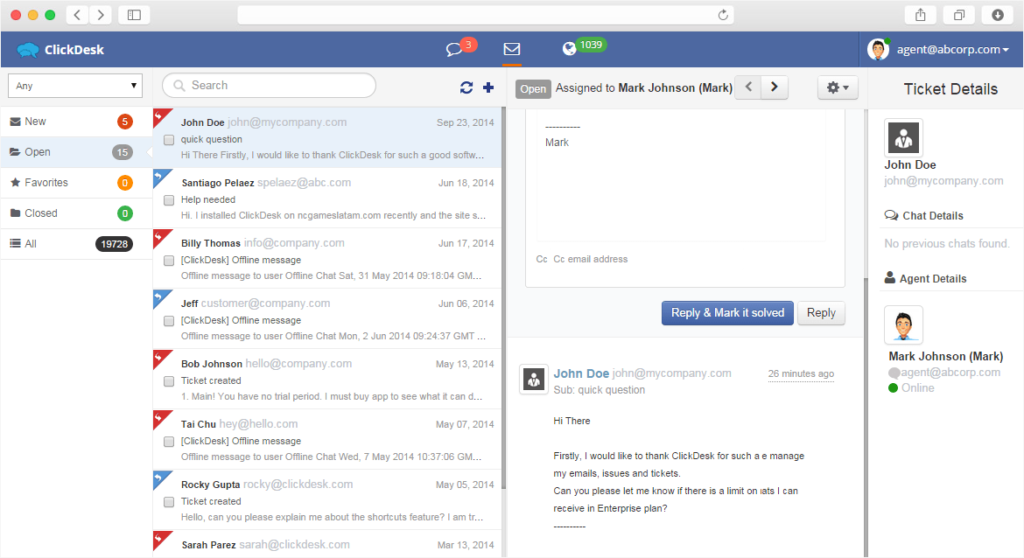 Real estate companies are on the lookout for high-performance live chat software that's easy to use, such as ClickDesk. ClickDesk excels in efficiency, which makes it one of the most popular live chat options around.
Integrating ClickDesk with your website is simple and requires no coding, and deploying the software is just as simple.
One of the most notable things about this software is that it's customizable, so you can mold it to match the rest of your website with relative ease. It comes with all the tools and features a real estate company needs to offer impeccable, fast, and reliable customer support. 
It's packed with map information features and provides the option to email chat transcripts.
ClickDesk comes with automated template response features for after hours, which allow you to serve your customers even when your agents aren't available. It's equally easy to integrate with your social media.
4. Drift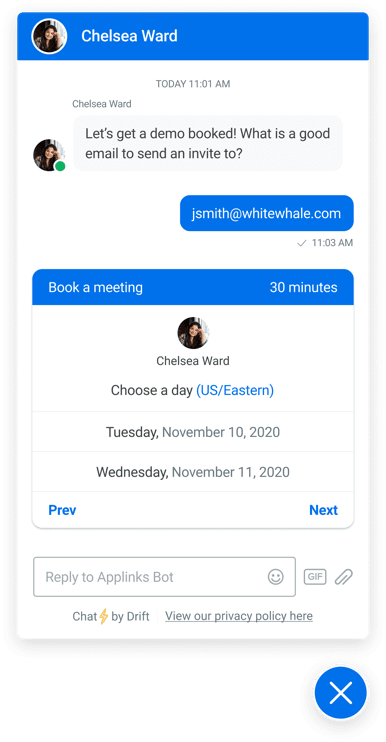 Drift is different. It's not a traditional real estate live chat services provider, as it has more of a sales and marketing approach. Through the use of this webchat widget, you can streamline all your conversations, provide top-of-the-line customer support, generate leads, and increase conversions by a considerable margin. 
It has a huge selection of features that encompass most of the things a high-end real estate website could need. Some of the most notable features Drift comes with are:
Advanced geo-targeting 
Streamlined integrations
Real-time and offline chat
Fully customizable chat windows
Simplified chat transfers and chat routing
Simple AI bot features
Direct booking 
Aside from these, there are many, many more fantastic features in Drift's arsenal. Unlike other live chat platforms centered around customer support, Drift focuses on providing both you and the visitor with the best possible experience. 
Its focus is on generating leads, assisting the sales team, and captivating your audience. It also automates many menial tasks, making it one of the best possible live chat options out there. 
5. Facebook Messenger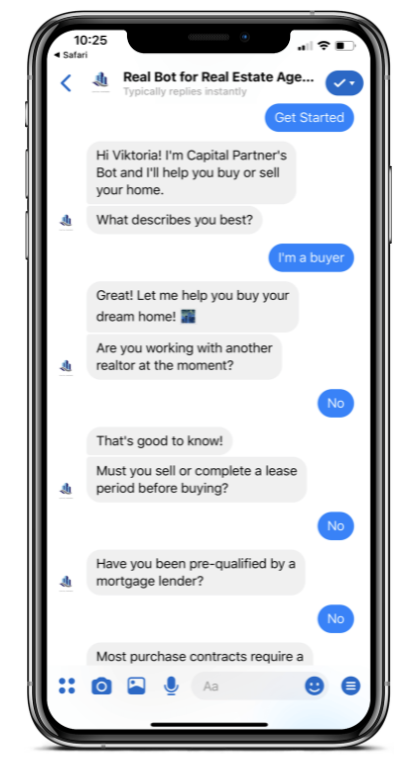 Facebook is the world's most popular social media, and it has held the crown for some time now. What you may not have known is that it offers a superb live chat option that you can easily integrate into your website.
Many people use Facebook's official messaging platform, making Facebook Messenger one of the most used live chat software out there. Most of us are well acquainted with Facebook Messenger, but its live chat option offers much more. It allows you to directly approach the visitor through a familiar and trusted platform – which ultimately adds to your reputability. 
What Facebook Messenger does have in simplicity and familiarity – it lacks in unique features. All the standard features, such as automatic replies, chat loading, and caching behavior, are present, but there isn't any automatic reporting, monitoring, or geo-locating.
A couple of simple customization features allow you to change how your Facebook Messenger plugin will look, and the integration is one of the simplest on the market. If you're running a smaller scale business and are looking for a quick, easy, and familiar live chat plugin for your website, Facebook Messenger might be your best bet. 
6. FreshChat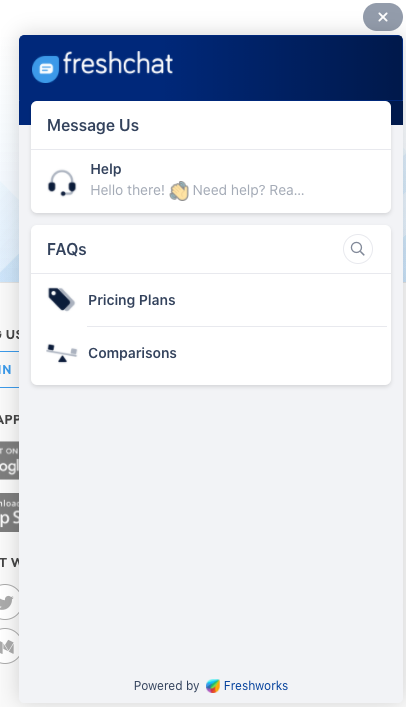 FreshChat is a simple, slick, and versatile real estate live chat software provider with some interesting capabilities. One of its premier features is intelligent message routing, so it will almost always connect the right consumer with the right agent. 
This key feature helps businesses cut down on time spent manually rerouting customers to the correct agents, which is a prevalent problem with almost all live chats. Aside from the routing, it has automatic chat invitations and distribution, making it one of the most consumer-friendly live chat options out there.
The design is beautiful, and it's alamo customizable. The GUI interface of both the tool and the chat itself is fully customizable, so you can truly make it fit in with the rest of your real estate business. It also has botting capabilities, so it offers 24/7 customer support even when agents aren't available. 
FreshChat is a live chat software with a keen focus on automation, as it allows you to automate virtually any aspect of customer service. The charm of this software comes from its simple integration and advanced configuration.
7. HubSpot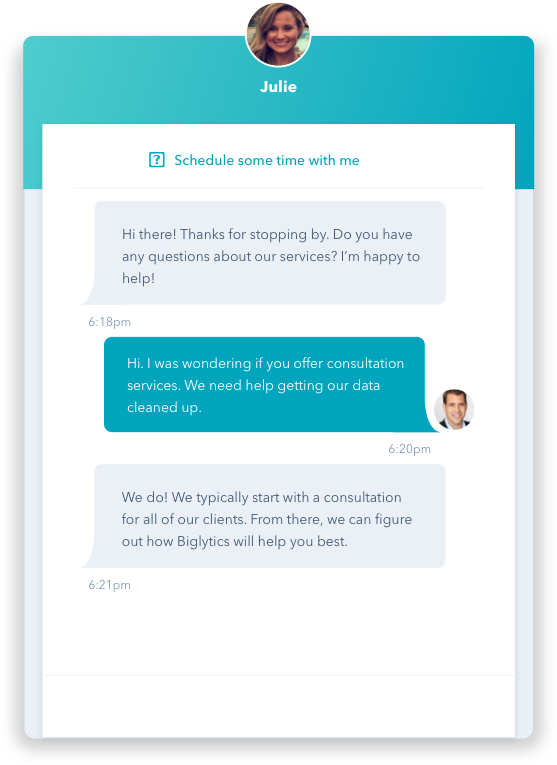 HubSpot is one of the best-known names in the world of live chat software, and it has fantastic use in real estate. It's a free real estate chat software with the capabilities and the features of a premium tool.
Everything related to this software is as streamlined as possible, meaning that integration and deployment will take no time or skill at all. HubSpot is, without a doubt, one of the most popular live chat providers for small to mid-range businesses in both the paid and unpaid categories.
Chat invitations, chat distribution, and chat history are present in this software, which only adds to its appeal. It allows for contextual chat conversations, as it's equipped with HubSpot's very own CRM, which is also free.
In addition to that, it has powerful tracking and reporting features, making it one of the most company-friendly pieces of software around. Due to its general ease of use and simplicity, customers won't have difficulty using it. 
Just like any good live chat software, it allows you to deploy bots after hours and uses advanced AI and ML to make conversations as personal and contextual as possible. The bots don't give vague or automated responses – they serve the customer. 
Additional features such as scheduling, templates, and third-party integrations, are central parts of HubSpot. Since this online real estate chat is free, you can start using it today without having to pay a dime. 
8. Intercom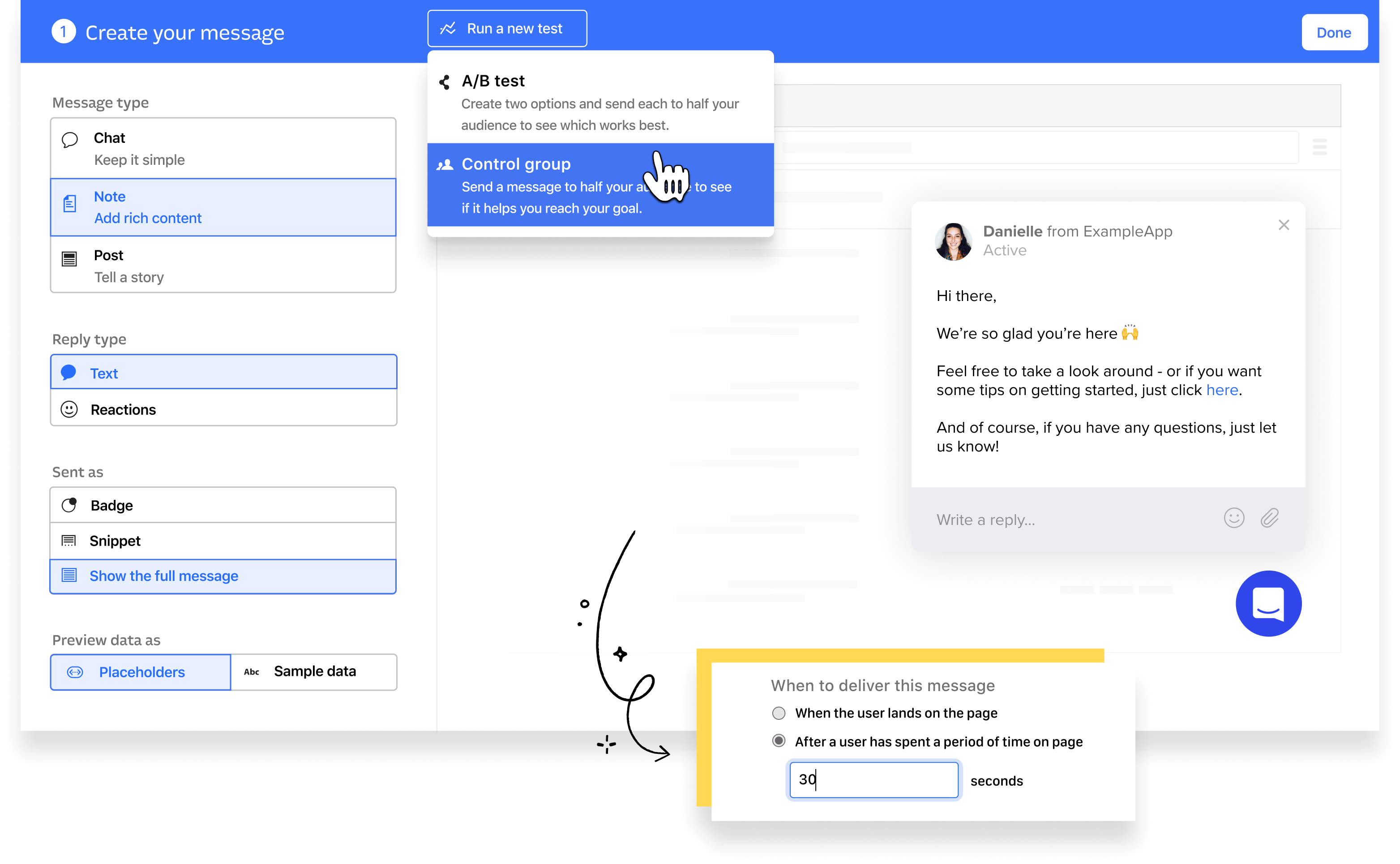 Intercom is, without a shadow of a doubt, one of the most intricate, complex, and powerful SaaS live chat solutions on the market. Almost every aspect of this software is fully adjustable, and it comes with outstanding personalization features that allow you to micromanage every aspect of your customer support.
It's also one of the fastest running live chat options on the market, providing seamless communication with your prospects and allowing you to turn them into clients with the marketing, sales, and lead generation features.
It comes with fantastic data collection features such as visitor tracking, geolocation, and superb third-party integrations.
Perhaps the most exciting and unique feature Intercom brings to the table is its capability to captivate customers and make them stay on your website through targeted messaging and interactive tours. 
It's used by services such as Shopify, an industry giant in their field of work. Still, for something as complex, sophisticated, and intricate as the world of real estate, Intercom provides a full-stack solution.
It's also amazing for branding, as you can customize the chat's appearance without infringing on its speed at all. 
9. LiveAdmins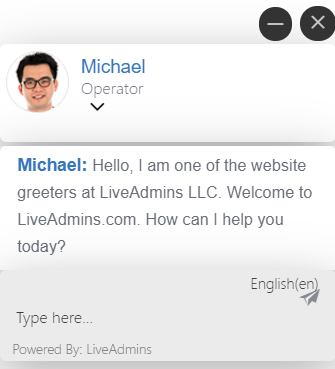 Real estate is a lucrative, complex, and demanding industry, and it needs a lightweight, simple, yet powerful tool to accompany its practices. One of these tools is LiveAdmins, which got a foothold in the real estate industry due to its outstanding potential.
With LiveAdmins, you can:
Provide outstanding customer support
Use a team of professional customer support agents
Use your in-house real estate professionals 
Seamlessly integrate with your website
Provide online and offline services 
LiveAdmins has a unique structure for customer service operators to utilize. This feature, combined with the relatively low price of the software itself, makes this service ideal for smaller businesses with an in-house team. 
The operators are real people, and there are over 700 operators across the world. These operators cover eight time zones and work for selected industries, one of which is real estate. 
Aside from offering their in-house specialists, as long as you have the software, you can use your agents to contact your prospects. 
Connect with prospective buyers and clients in real-time
Start building a relationship one conversation at a time with LiveAgent.
10. LiveChat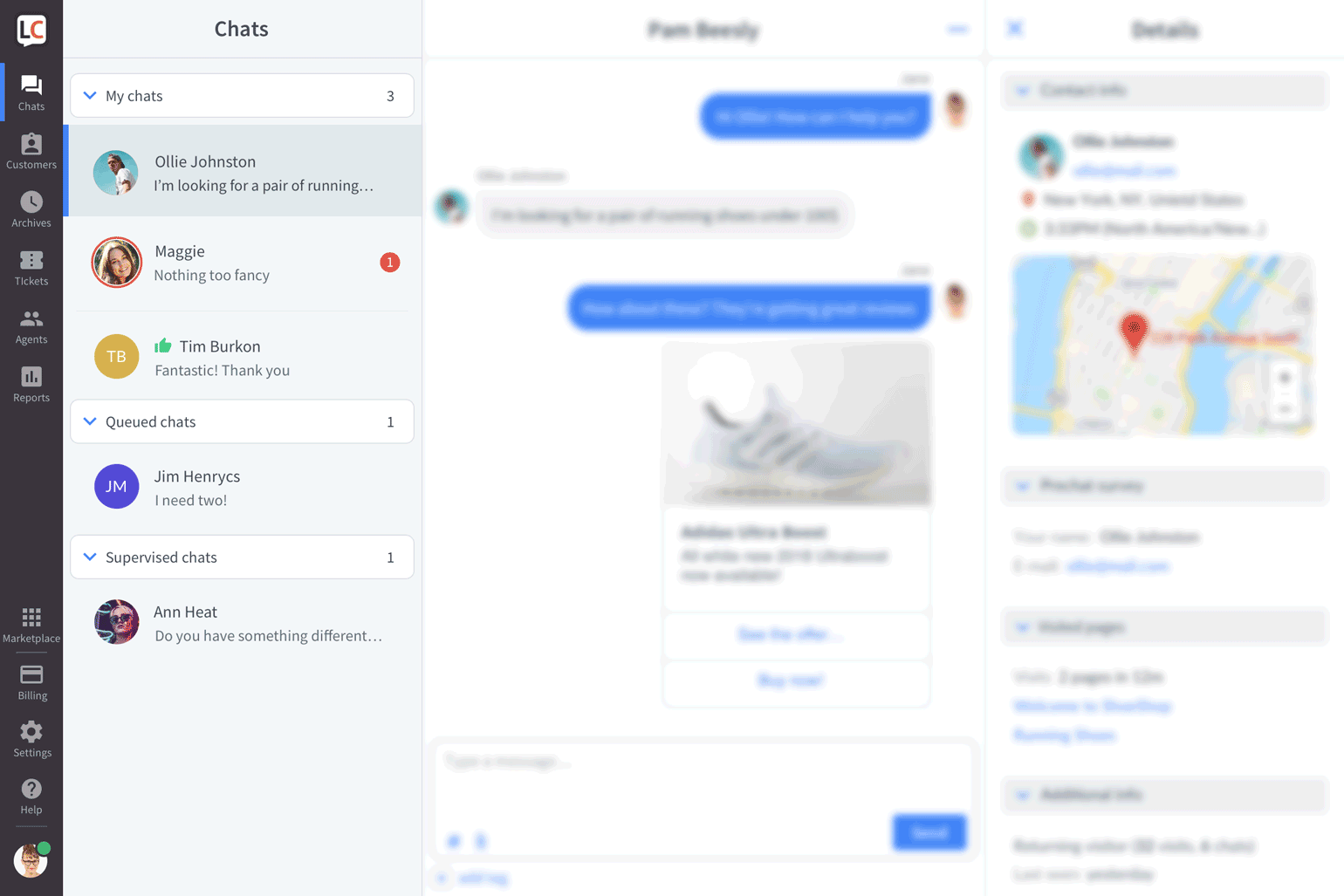 If you're looking for an advanced yet simple to use, intricate yet straightforward, lead capturing but non-aggressive live chat for real estate, consider LiveChat. LiveChat is a customer service software that allows you to chat with your customers, capture leads, and augment your chances of making a sale all at the same time.
It's the premier tool used by industry giants such as McDonald's, PayPal, and Mercedes-Benz. These are three mega-corporations, all of which are in different industries, which only highlights LiveChat's fantastic versatility. It is a tool used by small, medium, and large businesses, as it's just as scalable as it is flexible.
Almost every single step from integration to communication is streamlined to near-perfection, allowing you to use this service with the utmost ease. Easy doesn't mean plain in this case, as LiveChat has features such as:
Tracking geographical locations
Automatic smart customer routing
Selection of performance and monitoring options
Simple branding and full customization
Outstanding chat distribution, history, and reporting
Screen sharing and fast responses
Analytics and feedback gathering 
CRM 
Saying that LiveChat is the juggernaut of real estate chat features would be an understatement. Its premium features, impressive customization, and outstanding performance make it a flexible solution for the real estate business.
11. LiveHelpNow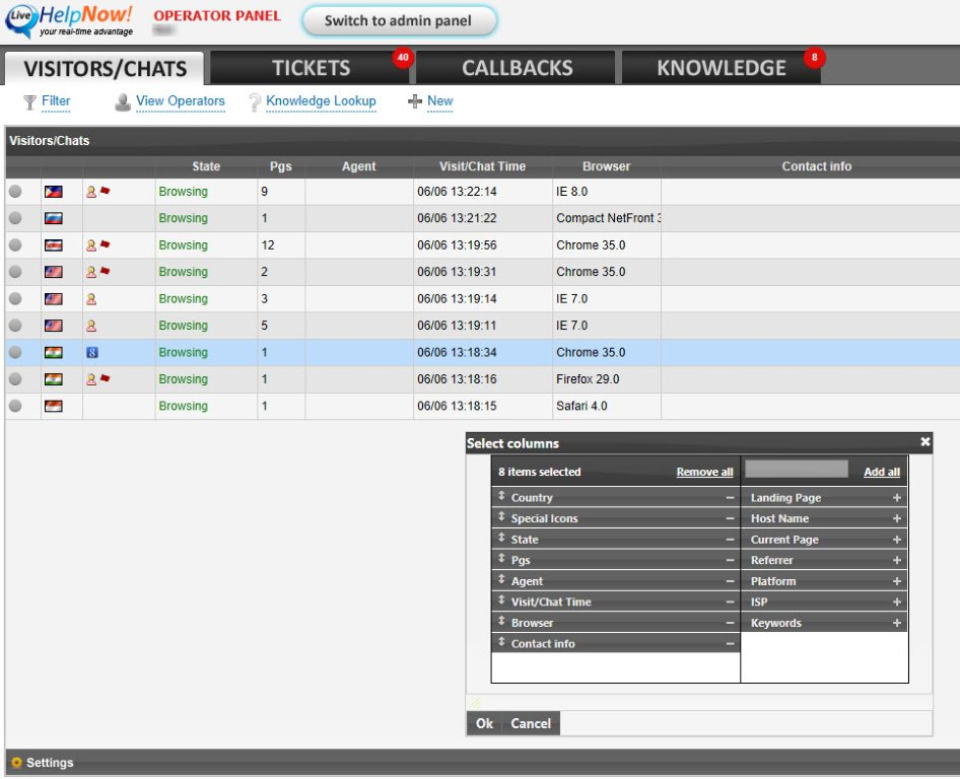 LiveHelpNow is an outstanding live chat service provider with good live chat, security, and integration features. It's a well-established piece of software that has been used for a decade at this point and has undergone numerous improvements. It's a help desk software that allows your agents to connect with customers on a human level, which is crucial for real estate agents. 
Integration is as streamlined as possible, as it won't take any coding knowledge or prior experience with such software. 
The deployment is just as simple as the integration, and educating your staff on using this software shouldn't take more than a couple of minutes.
It features a GUI interface that is easy to use for both the agent and the customer alike. It has fantastic customizability, which allows for easy branding and adaptation. What makes LiveHelpNow stand out is its excellent security and encryption, which protect both your agents and your customers from unwarranted threats. This software is as intuitive as they come without coming off as annoying – all while collecting essential data for further analysis. This is a great piece of SaaS for mid-sized companies, which have the resources and means to use it to its full capabilities.
12. LivePerson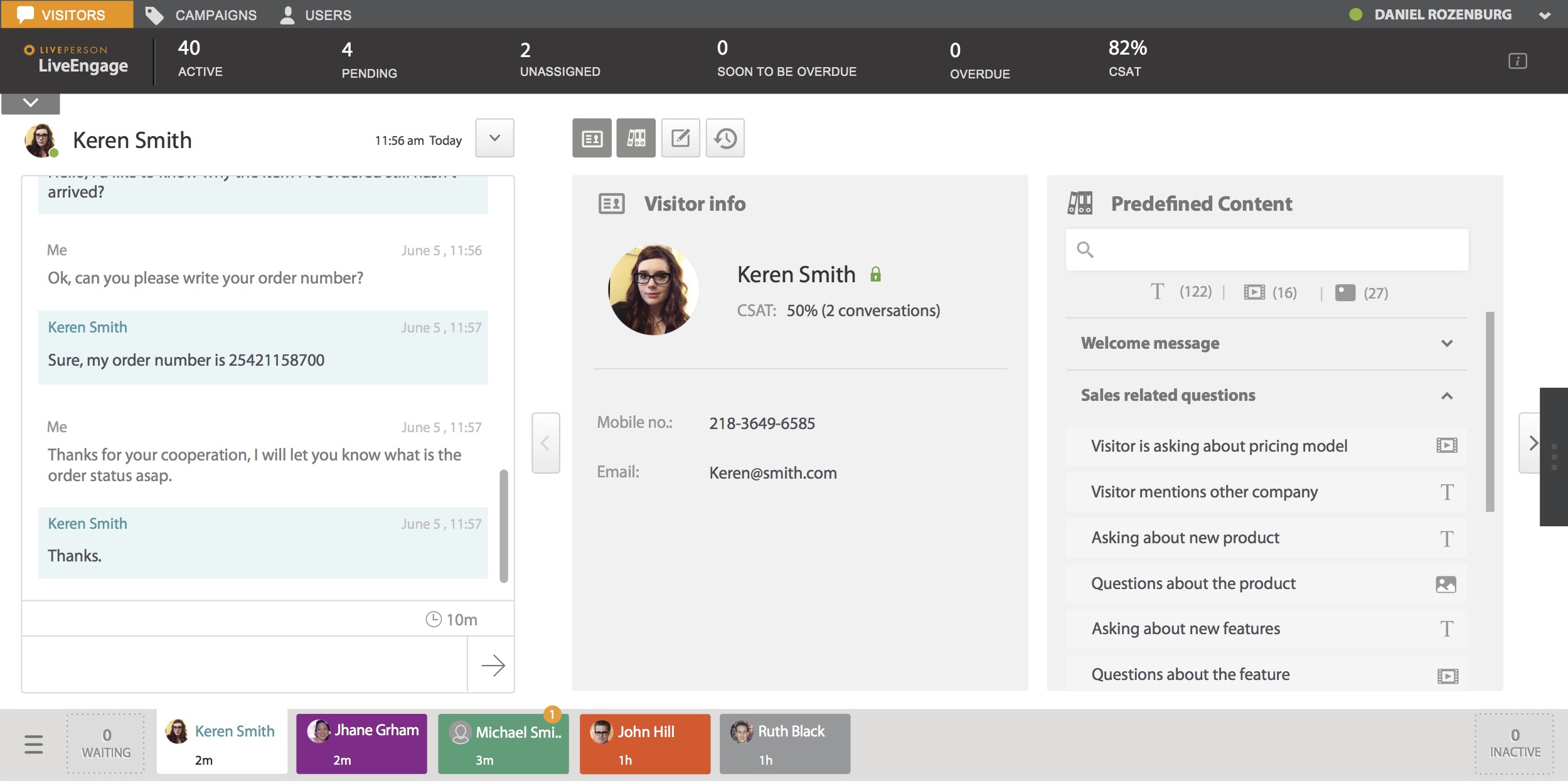 If you're running a smaller scale company and need an engaging and supportive live chat option for your real estate website, you might want to give LivePerson a shot. This software has fantastic capabilities and settings, specially catered to the needs of smaller companies.
It's a lightweight, simple, and practical software that focuses on providing your customers with the best possible customer support while gathering the essential data you need. It also comes with bots, which use advanced AI to serve any need your customer might have.
This software supports online and offline chats, meaning you don't always need to have an agent on site ready to help the customer out with anything they need. Unlike most chatbots and AI-powered automatic response features, this one does its job, and it does it well.
Through CRM features, LivePerson bots can assist your customer and appear as human as possible. If a solution isn't found, the customer can leave a note for a real agent that can be addressed during business hours.
The real estate chat box is fully customizable, and the deployment is relatively simple as well. It's not the most straightforward software to use, so setting it up and managing it might be challenging if you don't have any prior experience working with this kind of software. 
13. LiveZilla
LiveZilla is a comprehensive help desk system that allows you to connect with your customers, capture leads, and generate conversions with the utmost ease. It's focused on simplicity, making it an appropriate option for small to mid-range businesses. Unlike the previous addition to this list, it's easy to integrate, program, and customize.
It allows you to connect it to third-party apps, meaning you can modify its functionality to fit your unique professional needs. It's fast, reliable, and offers a streamlined connection between the agent and the user. 
One of the more interesting features of LiveZilla is that it has real-time ticket management – which allows your agents to assess the needs of your customers as fast as possible. Aside from this, LiveZilla also has geographical locating, which means they can automatically determine where your visitor is coming from and approach them accordingly. 
That is especially useful, as LiveZilla helps you collect data from your customers, which you can use to build unique answers for future inquiries. It's a slick, lightweight help desk system that is fast, independent, and reliable. 
14. Olark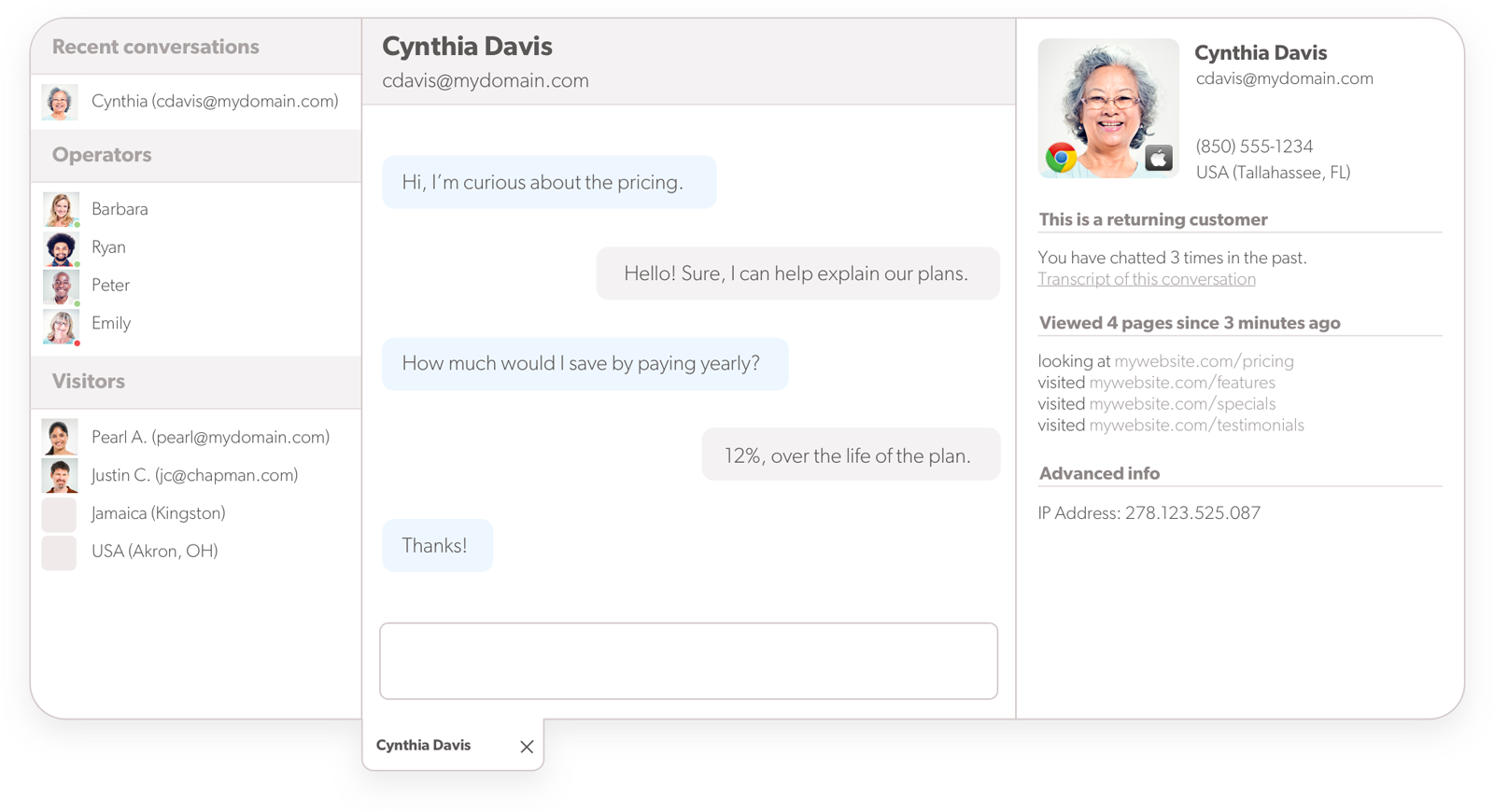 If you're looking for a live chat support software with high-end features that's also easy to use – you're probably looking for Olark. Olark is a high-end live chat software that has seamless integration, rapid deployment, and impeccable performance. One of the most notable features of this software is that it is a customer-orientated software as much as it's a necessary tool for support and sales. Olark has all the essential features:
Easy to use for the customer
Simple to use for the agent
Highly adaptable
Fully customizable
Fast, reliable, and versatile
While offering the best possible customer solution is down to the agents, Olark has an intricate way of guiding them through the process by using an advanced CRM. 
Customers visiting your real estate website aren't going to be interested in the sky-high list of features that your live chat support software has to bring to the table – they'll want a chat option where they can inquire.
On the other hand, you will be interested in the whole process , and Olark understands both of these notions. That's why, on the customer's end, they'll receive a fast, responsive, and easy-to-use chat bubble, and you'll receive a bundle of features you can play with to make this software your own. From the customization down to the configuration – Olark doesn't disappoint. 
15. Podium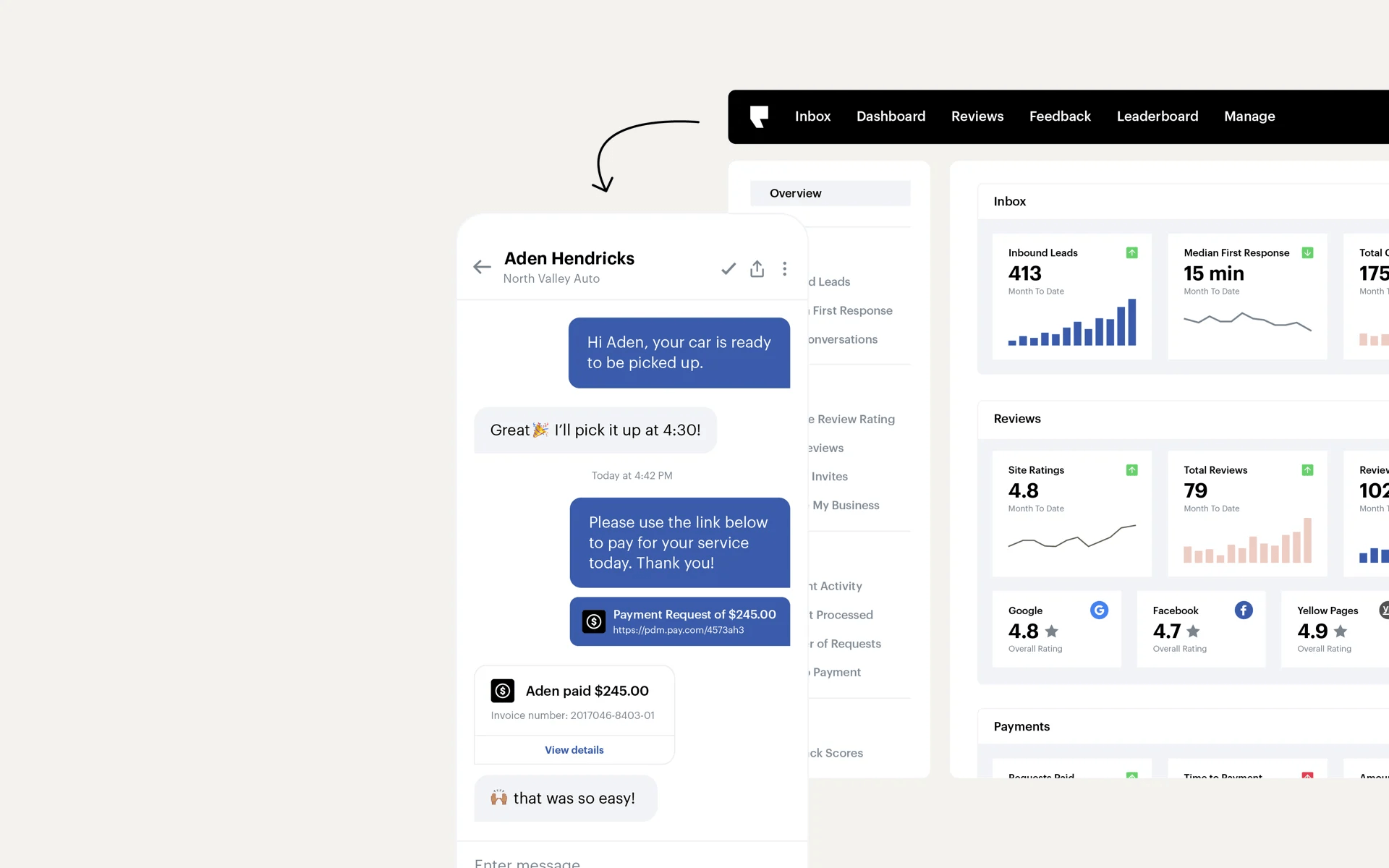 Podium Webchat is a real estate live chat option that offers fantastic sales and marketing options as well. It's a full-stack tool that's ideal for businesses of all sizes and industries, including real estate.
Podium might look simple at first glance, but it's a pretty sophisticated piece of software. It allows you to connect with your visitors, turn them into prospects, and finalize the whole process without seeming overly aggressive. 
Podium WebChat allows you to connect with your visitors remotely and turn their queries into viable data that you can use later on for analysis. The software also comes with analysis tools that make the job easier. Podium is ideal for:
Marketing and advertising your services to your customers
Answering any queries your website visitors might have
Streamlining and perfecting the data collection process
Analyzing the data for viable market research
It's also one of the most practical tools on the market. It's a plugin that works with almost all major website platforms, allowing for seamless integration and deployment. Podium will also distribute your chats perfectly, meaning your users will always get the answers they need at the fastest possible speed. 
Guide your customers towards their new dream home
Provide 24/7 customer support even when you're offline with LiveAgent.
16. Pure Chat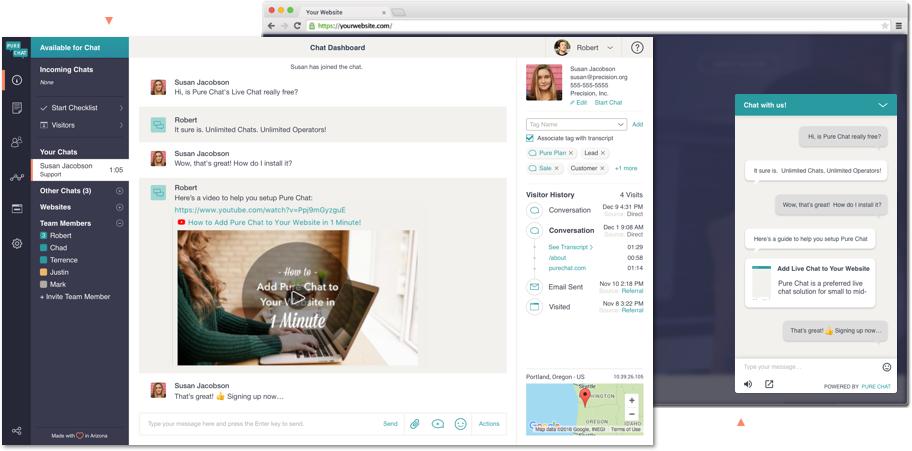 PureChat is another fantastic option for smaller companies looking to get the most out of their live chat and customer service department resources. It's not unique, special, or jam-packed with features, as the main appeal of this software comes from its simplicity.
Signing up for the service is simple – deploying it on your website is simple – using it is simple for both the agent and the prospect alike. Almost every single part of this service is streamlined and as straightforward as possible.
Simplicity might be its most notable feature, but that's not to say it isn't without other appealing aspects. It comes with unlimited chats, an easy-to-use dashboard that allows you to manipulate the chat however you like and customize to your business aesthetic. It has native iOS and Android apps, meaning it can function cross-platform. 
Dare we say that using PureChat is kind of fun? The whole app and widget are gamified. It's a powerful, lightweight, and easy-to-use software, ideal for real estate companies that deal locally and are looking to streamline and improve their customer support. 
17. Sendinblue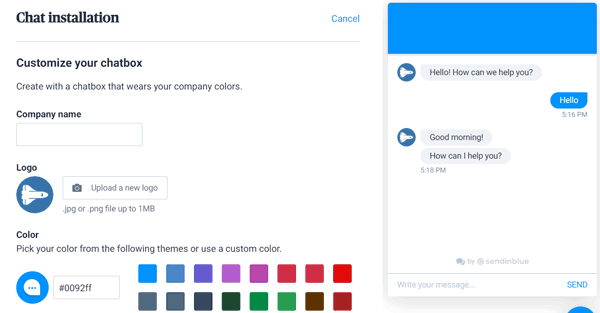 Sendinblue is an advanced CRM software that's jam-packed with excellent customer support features, powerful configuration, management, and customization tools, and even comes with outstanding customer support itself.
It's the ideal tool for larger businesses that have to deal with many customers at the same time and provide high-quality support to all of them. Sendinblue has a fantastic configuration that allows you to modify the service to such a degree that you can make it adaptable to virtually any environment, no matter the size, industry, or company policy. 
It excels in automation features, which allow you to streamline your customer support processes and communication so you can focus on more pressing matters. 
It supports third-party applications and can be integrated with your email transcripts, email campaigns, SMS, and a myriad of other tools. The beauty of Sendinblue lies within its options, where you can truly customize everything.
While robust, intricate, and scalable – this service is also simple to use.
18. Syncro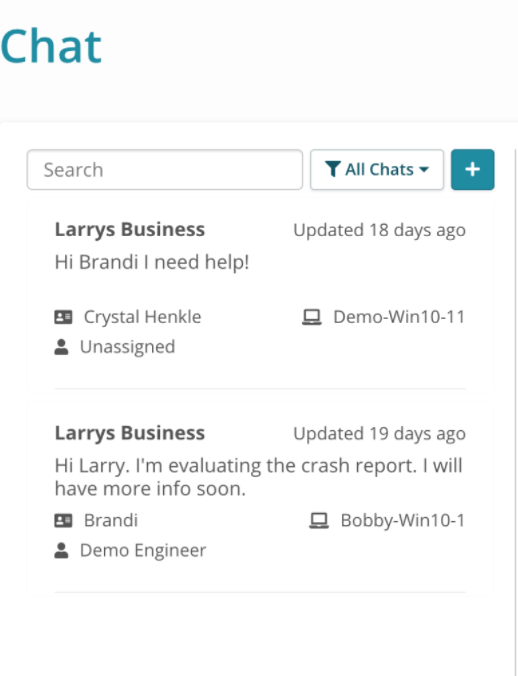 Syncro is all about adaptation. It's a help desk live chat software with many of its roots in real estate, as it has a personal approach to almost all its functions. It allows your real estate agents to appear as if they were really conversing with the prospect and slowly turning them into a customer. 
It skips the unnecessary management that most live chat software has attached to it and is directly linked to your SMS messages, allowing you to converse with all the visitors on your website in a simple, slick, and familiar manner. It's a web-based SaaS that is ideal for small companies looking to expand their customer support. 
It's not overly complex – it's not elaborate – it's just as sophisticated as a service catered to smaller companies with smaller amounts of visitors. This simplicity doesn't automatically mean dullness, as Syncro still has geo-locating, chat invitations, screen sharing, and a fully customizable appearance. 
It takes the customer support away from the cubicle and puts it into the real estate agents' pockets. It also makes use of your SMS and phone, making it as secure as possible. Perhaps the best part about this service is that it doesn't even require an internet connection, meaning you can use it even when you're strapped for net data. That's because it makes use of the SMS and eliminates the middleman. It's just you and your customers when you're working with Syncro.
19. WhosOn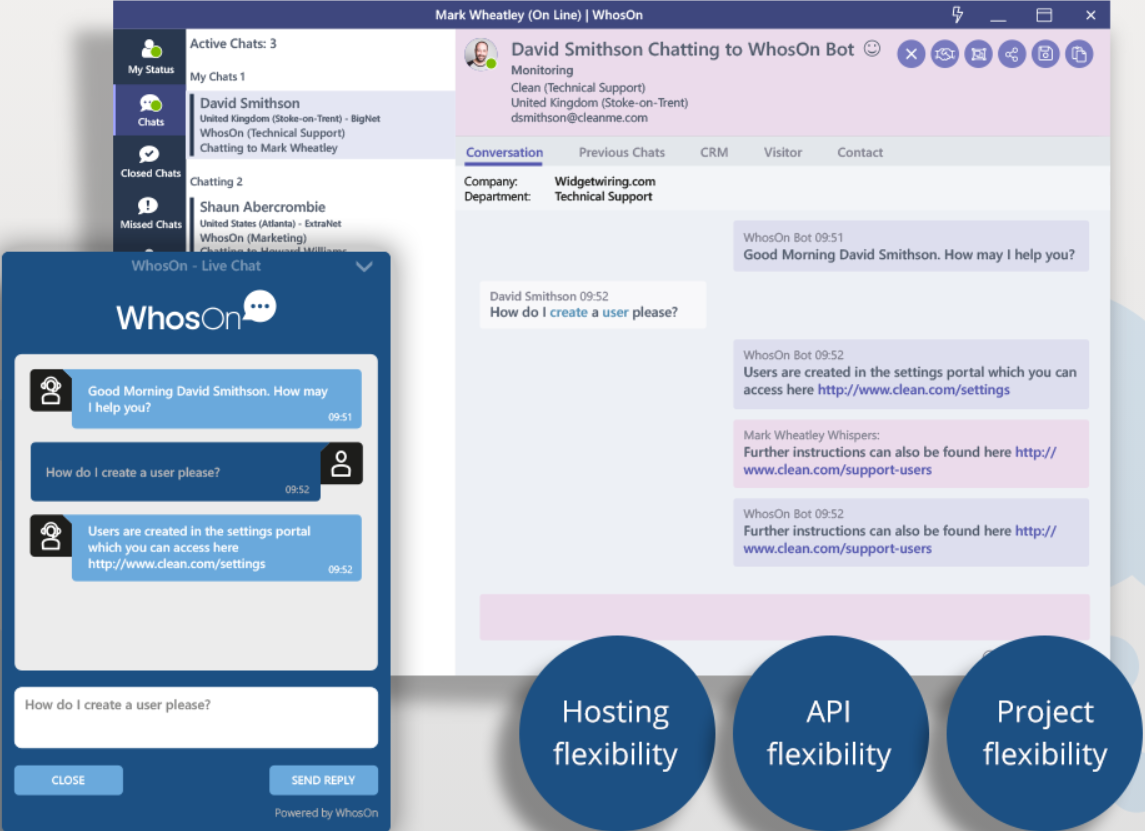 WhosOn is an advanced, AI-infused live chat system. It's renowned for its massive potential to automate and streamline most of the customer support process, all while having the ultimate configuration, customization, and most importantly, giving your agent the upper hand.
Bots aren't enough. They're excellent customer support tools, but they still have a long way to go before they can assist customers all on their own. Hiring a customer support agent for your real estate business can be quite expensive, especially if you need more than one. WhosOn combines these two issues and provides a unique solution to both of them.
It gives your agents a complete set of options they can use to make their chatting experience smoother, more personal, and successfully turn prospects into customers. It also has geolocation features and a built-in translation tool.
It automates conversations with bots, and even offers data collection and advanced analytics – making WhosOn the premier tool for large enterprises that have to deal with many visitors each day. Such a powerful tool doesn't come cheap, but it's not that expensive either. 
20. Zoho SalesIQ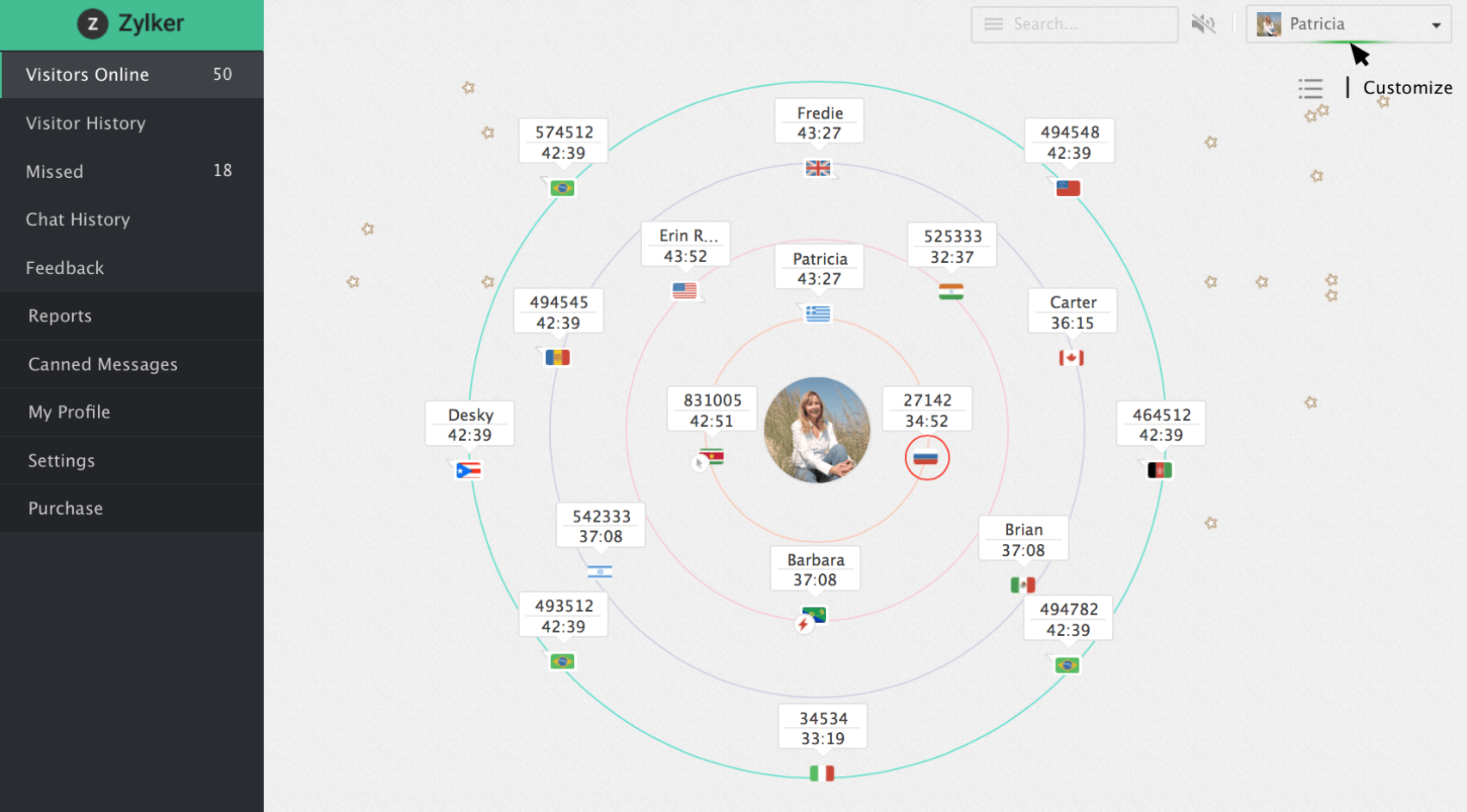 Zoho is a full-stack option with a lot to offer, ranging from real estate live chat services to quizzing. It's a reputable tool with a lot of use in select businesses, industries, and corporations. Aside from its superb versatility, its live chat is a fantastic lightweight software that can help you make your customer support that much better. 
Aggressive marketing and sales aren't a part of good real estate agents' vocabulary, but expressing them through live chat is much easier than in real-life. Luckily, Zoho provides you with subtle tools that make it easy to turn a website visitor into a paying customer. 
Zoho is one of the most advanced live support software providers on the market. It has everything from geo-locating, third-party integrations, marketing tools, lead generation features, and organizational tools such as scheduling, segmentation, and 24/7 customer support.
It's a full-stack CRM tool used by businesses of all shapes and sizes – from small local real estate companies to international mega-corporations.
Lot of options to choose from?
Try LiveAgent and all its customizable and proactive features.
Top 5 live chat solutions for real estate 
| | | | | |
| --- | --- | --- | --- | --- |
| Chat software | Capterra Rating | Free version  | Free trial | Starting price  |
| LiveAgent | 4.7/5 (approx. 1K reviews) | YES | YES | $9 per agent/mo |
| HubSpot | 4.8/5 (250 reviews) | YES | YES | $50 /mo |
| Drift | 4.5/5 (153 reviews) | YES | YES | n/a |
| Sendinblue | 4.5/5 (approx. 800 reviews) | YES | YES | $25 /mo |
| Syncro | 4.5/5 (2 reviews) | YES | YES | $25 /mo |
Dated as of May 6th
The twenty choices listed above are all fantastic options for all businesses. Some are better catered to smaller businesses, while others work well with large enterprises.
Exceptional service, features, and functionality are present with all the twenty plugins listed above, so highlighting the best of the best wasn't an easy task at all. To vet our list further and deliver the five best live chat options for your real estate company, we've had to do further research and delve a little deeper into every option on this list. 
We've ultimately found our top five live chat for real estate options, which are: 
LiveAgent 
Hubspot
Drift
Sendinblue
Syncro 
The five chat plugins listed above are the definitive victors in our real estate live chat services review. They all have fantastic speedy service, remarkable unique features that make them stand out and provide you with a chance to engage with your prospects on a personal level.
The five software are drastically different and part of our top five list precisely because they're different. No matter the industry, business practices, or size of your company, one of these solutions will be the right one for you. 
They help you improve and streamline customer support, generate leads, create conversions, and provide an outstanding ROI. All of these are drastically different, so make sure to do some research on your own to find out which one suits your business.
Final thoughts
Real estate is a dynamic business, and it has changed quite a lot over the past few years. The digital revolution has brought many solutions, and real estate has welcomed and implemented them with open arms. It's a highly competitive industry, and companies are always looking for ways to best their competition. 
Perhaps one of the most remarkable ways to do so is through live chat for real estate. Real estate chat helps companies and consumers alike, as it supports real-time communication. Aside from customer support and assistance, it can help generate leads and drive conversions.
Since most people get acquainted with real estate services through the internet, a state-of-the-art live chat solution is practically a necessity. There's a live chat option for all real estate businesses, regardless of size, type, and budget – and employing it can give you a competitive advantage.
Still not sure which live chat software is the right for you?
Discover all that LiveAgent live chat software has to offer, and delight your customers with quick and efficient solution.
LiveAgent Product Tour | Live Agent02:25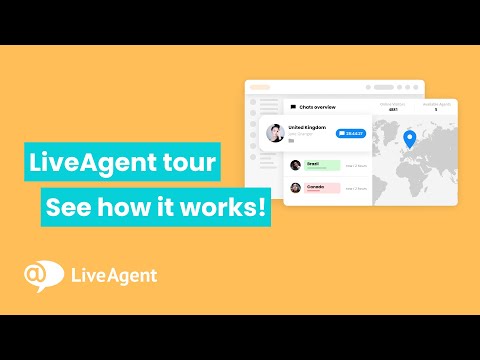 Live Agent
Frequently Asked Questions
Does my real estate business need live chat software solutions?

A resounding yes. Live chat is practically industry practice at this point. Utilizing a real estate live chat software solution will help your business approach customers, establish communications, and is an overall fantastic investment. Using software such as this, you can help your customer, make sure they stay on the website longer, and increase your chances of making a sale. Real estate businesses are all about communication. Through proper communication, you can make sure that your agents turn your prospects into customers without ever meeting them.

What can my company gain from using this software?

Your company can gain quite a lot from using live chat software solutions such as this. The first thing that comes to mind is communication, but just as important is the connection that the agent establishes with the customer through live chat. All this collectively results in a much higher ROI, helps your customers with anything they might need, and helps your representatives stay in shape even when they aren't in the field. Aside from these obvious perks, you can also significantly increase leads, the time people spend on your website and massively augment your conversion rate.

Can't I just use a bot to handle my customer service?

AI is a fantastic technology that promises to revolutionize the field of customer support, but for industries such as real estate, it's simply not sophisticated enough at this moment. Bots can be handy as website assistants, and they can significantly streamline menial tasks, but they pale compared to a good sales representative. Perhaps in the future, when bots are better at providing customer support, they can handle a portion of this task. At this point and time, AI and bots are nowhere near sophisticated enough to hold this position.

How do I use one of these software solutions?

Most of the real estate live chat services are easy to use. Real estate chat is a SaaS (software as a service) product, which easily integrates with your website's existing framework. Depending on your choice of online real estate chat solution, the process for integration and installation will be different. Once you've found a suitable solution that fits your exact needs, you've virtually finished half the job. What's left is to follow the instructions offered by the service. While different, most of them are relatively similar. You subscribe to the service, read the user agreement, and implement it into your website.

Do I always need to have an agent present?

No live chat software company will expect you to have someone next to the chat 24/7, so that's why most services have an offline mode. This mode is set when no agent is available for a chat and allows the user to ask any questions. An automatic response is sent to the user via a contact form or a bot that offers services and solutions in offline mode. While a bot isn't nearly as sophisticated as an actual agent, it can help most of the time. If it's unable to help, it will leave a chat bubble and explain to the user that they'll have to leave a message, which the agent will reply to once working hours start.

Can I modify the live chat?

Many live chat solutions come with a full-stack set of tools that allow you to make your own live chat experience. The most notable way many services allow you to modify your live chat is the reporting feature, which will notify you of the activities completed throughout the day. Just as important as the previous feature is the appearance modification tools, which allow you to customize your chat bubble's aesthetics. Of course, these features don't come with every live chat software solution. Many services will require a subscription for you to gain access to these features, as they're reserved for premium accounts rather than free trials in most cases.

Which real estate live chat software is the best?

That depends on your unique needs. There are many software solutions, all with different capabilities, perks, and features. If you're running a smaller scale business and don't need heavy-duty software, you shouldn't get one. There are plenty of free software solutions that are just as good as higher-end options; they're just for different applications. When making a choice, the best practice is to assess your needs carefully. Finding out what you need is as simple as looking at your website's traffic, the type of your clientele, and your company's capabilities.