Customer service is the part of an organization that answers customers' questions, exchanges goods that are not satisfactory, etc.

Cambridge dictionary
Why is customer service important?
The State of Global Customer Service report from Microsoft found that businesses lose more than $75 billion a year due to poor customer service. The report also reveals that customers worldwide say that customer service is "critical in their choice of loyalty to a brand." Moreover, the customer service experience has become so important that studies predict it will overtake price and product as the key brand differentiator.
How can you improve your customer service?
A customer's purchase decision is profoundly influenced by their overall enjoyment of their experience with that business. Thus, companies need to be equipped with the best tools to meet this requirement. In addition, since there is a range of channels that customers use to communicate with brands, it makes perfect sense to use customer service software to collect data for analytics and ensure that all requests are answered.
The basics of customer service software
In recent years, we've seen the rise of advanced applications such as the chatbot. Chatbots are just one example of customer service software. These software programs are often powered by artificial intelligence and perform functions that were previously done manually by customer service agents. As a result, customer service software programs are perfect for cutting customer service costs and collecting valuable information. And that's why their use is on the rise.
Currently, there are more than 300,000 chatbots on Facebook Messenger. The increase in chatbot use suggests that more companies are becoming serious about their customer service automation efforts.
However, chatbots are just one example of customer service software. There are many different applications in this category. So let's take a closer look at what is customer service software.
What's the definition?
Here are some of the basic customer service definitions:
According to Jach Jeffery (Customer service leader from Assignment Helper);
"Customer service software is a digital tool that helps businesses handle customer service requests. It helps them communicate with their customers and to address any questions or concerns they may have. The heart of most customer software systems is the ticketing system. It converts customers' social media posts, phone calls, emails, and chat messages into individual tickets."
His colleague, Greg Watson (Customer support specialist from A-Writer), adds;
"Nowadays, customer service teams are super busy. Therefore, having such software is an essential requirement for resolving support tickets and managing the maximum number of requests. With more leads and customers, it makes perfect sense to use this software to keep customer satisfaction high."
Types of customer service software
There are four fundamental types that you should probably know very well;
the help desk is software that addresses almost all customer queries,
live chat is the most preferred option by customers because it provides assistance in real-time,
the IT service desk has all the functions of a help desk in addition to addressing purchase requests,
call center software is either a standalone system or a part of a larger software package, which enables agents to provide service to customers through voice and video calls.
Features of a quality ticket-based customer service software
Following features are necessary for a reliable mobile or computer customer service software to have. Some may seem more essential than others, however, you should always opt for software that can deliver the most.
Customer insights
First, a quality system should allow the user to accumulate many tickets and then use analytics to discover patterns, trends, identify the most common issues and the most effective resolutions.
Automation of processes
The software should allow users to automate repetitive processes, such as routine reporting, ticket sorting, re-routing, queueing, and other related tasks.
Easy integration with popular marketing/sales software
A quality help desk software should enable you to integrate other marketing/sales platforms since they help your business to gather insights about customer preferences, issues, and needs,
Call recordings
You've probably heard this many times; "This call may be recorded for quality and training purposes." Good customer service software should support call recording for quality, training, and legal purposes.
Feedback
Customer service systems should be able to generate a feedback form after each customer interaction automatically. As a result, it helps your business collect customer feedback on agents and the overall quality of their support.
24/7 support
A proper help desk solution also offers a knowledge base and forum, which enables your business to assist customers 24/7. Implementing knowledgebase software can be an effective way to empower customers with self-service capabilities, allowing them to find answers to their questions without having to contact support.
Customer software innovations
Having good customer service software has become a must for modern businesses that strive to build positive customer relationships. Moreover, with the demand for artificial intelligence and customer service software on the rise, it's reasonable to assume that customer service will be one of the main focuses of businesses in the foreseeable future.
Would you like to know more? Read about the differences between customer service and customer support.
Discover on your own
LiveAgent is customer service software with more than 180 features available. In addition, the system collects, automates, and reports. To learn more, feel free to watch the video below or contact our customer support for further information.
LiveAgent Product Tour | Live Agent02:25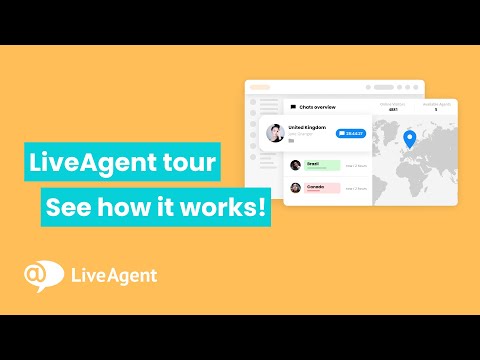 Live Agent
Try out LiveAgent for FREE
Handle all customer inquiries from one interface. Start improving your customer service with a 30-day free trial right away!
Frequently Asked Questions
What is customer service?

Customer service is the assistance your employees provide to customers before, during, and after purchasing a product/service.

What is the main role of customer service?

The main role of customer service is to assist the customers. For instance, with product/service-related issues, questions, or to provide needed information.

What are the 3 most important aspects of customer service?

The 3 most important aspects of customer service are proactive listening, assertiveness, and empathy. If your customer service rep has all of these skills, he/she can effectively and efficiently deal with any customer.