What do customer service jobs involve?
Generally speaking, customer service employees interact with customers on behalf of an organization. Some do it face-to-face, while others specialize in a particular service channel such as phone, email, live chat, etc. More often, their duties imply communication with customers through more than one channel. The job functions and activities of customer service employees may significantly differ. For example; from simply answering customer questions and providing tech support to ensuring customer happiness and retention.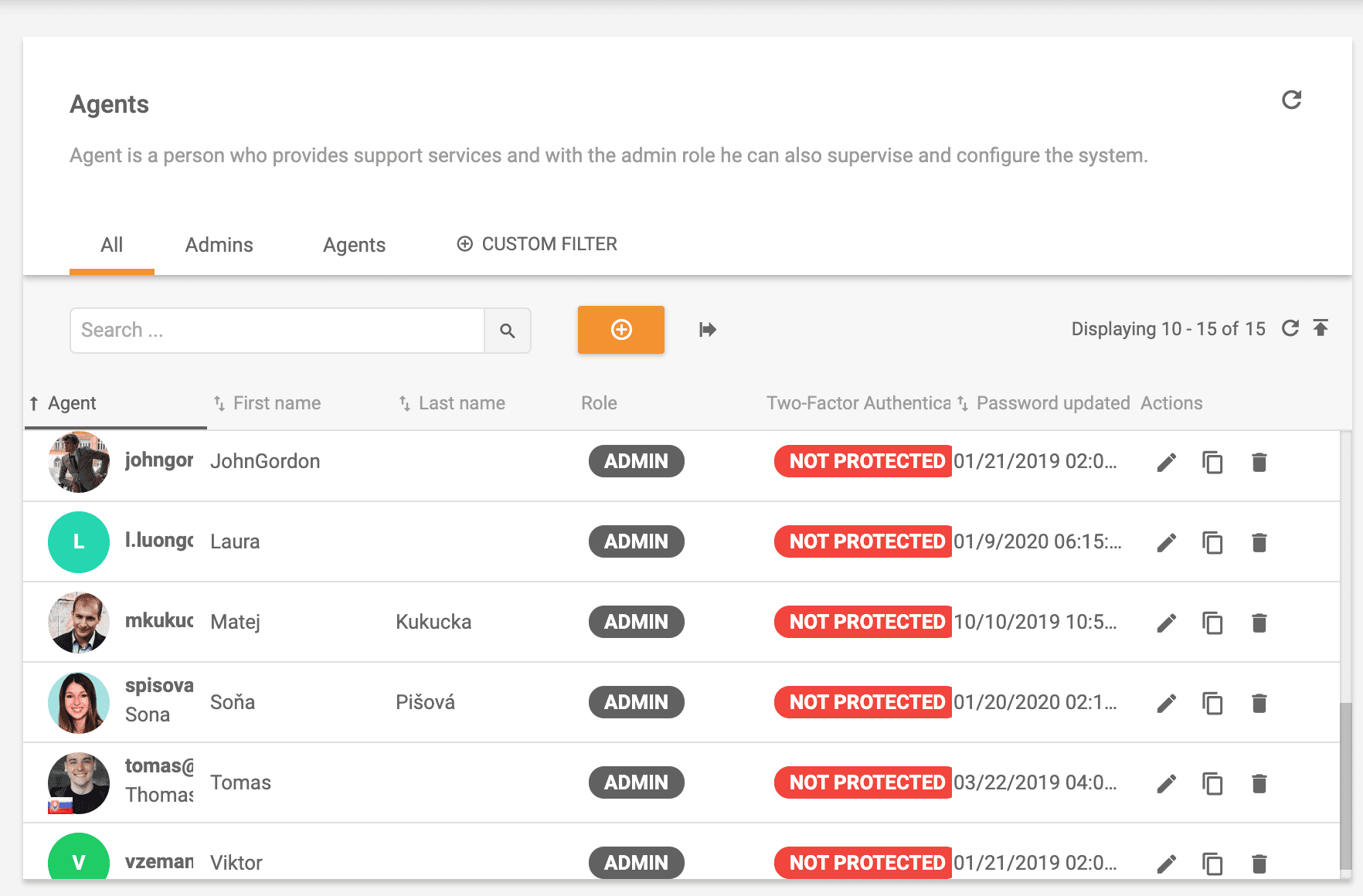 Most common customer service roles
Some customer service roles are the same but can have various titles. For instance; customer service representative, client service representative, customer care agent. Whereas some positions can have the same titles but include varying responsibilities in different companies. Here are some of the most popular customer service roles and how they are supposed to be differentiated:
1. Customer service representative
Customer service reps answer customers' questions concerning a company's products/services, policies, and procedures. In addition, they resolve issues, take orders, handle returns, respond to complaints, and proactively provide information about a company's offerings. Typically they have a certain number of emails or calls they must hit daily.
2. Call center agent
Call center agents may work either in-house or remotely at a virtual call center. Their duties include answering inbound calls, handling and resolving complaints, processing transactions. Or simply, generating customer interest in the services or products offered by the company. Call center agents are usually expected to handle a high volume of calls.
3. Customer service supervisor
Customer service supervisors oversee junior customer service representatives or a part of the service team. They may also take an active part in the hiring process. For example; helping to shortlist and interview potential customer service candidates. Later on, they also participate in the training and coaching of new team members.
4. Customer service manager
Customer service managers supervise customer service teams. They are responsible for the successful onboarding and training of new service agents. Overall keeping track of their progress and overall performance. They also manage any conflicts that involve either customers or service reps.
5. Customer support representative
Customer support representatives are often seen in SaaS and tech companies offering products or services that require ongoing technical assistance. They respond to customers' questions and resolve product or service issues. This might include help with installation, troubleshooting, maintenance, and upgrading of the product.
6. Customer support engineer
Customer support engineers (or technical support specialists) specialize in troubleshooting technical problems customers have with a company's products or services. They specifically research, diagnose, and identify solutions to resolve tech issues. Moreover, they prepare reports and escalate unresolved issues to appropriate internal teams.
7. Customer support manager
Customer support managers supervise day-to-day operations of the customer support department and train new support reps. They are also responsible for delivering best practices, Knowledge Base content, and methodologies. These ensure the overall quality of customer support provided by a company.
8. Customer success manager
Customer success managers focus on the long-term success of customers. Therefore, building relationships with them and helping them realize the full potential of a company's products or services. Their goal is to ensure that customers make the best use of the product. Therefore, successfully implement it into their companies.
9. Customer experience manager
Customer experience managers are focused on examining the needs of customers. Consequently, creating and implementing strategies that improve customer experiences and enhance customer loyalty. Essentially, their job is to ensure that each touchpoint across the customer journey is engaging and efficient for customers.
10. Customer advocate
Customer advocates represent customers' interests in the company and ensure it remains client-minded. They basically work as the missing link between a company's customers and its marketing team. Being responsible for pushing internal changes within an organization in order to constantly meet customer expectations.
11. Chief customer officer (CCO)
The role of the Chief Customer Officer (CCO), is relatively new but rapidly growing in popularity. Duties may vary from company to company. However, the general role of the CCO implies working alongside the executive board. Therefore, designing new strategies for improving customer experiences.
Bonus: Creative customer service job role titles
When it comes to selecting titles for your customer service team, the options can be versatile. The word 'Customers' refers to how you see the relationships between your company and your customers. They might also be 'clients', 'users', or 'community'. The word 'Service' refers to what the team actually does. The alternatives could include 'help', 'support', 'care', 'advocacy', or 'success'. Finally, the word 'Team' is about who is actually doing the job. You can call them 'specialists', 'consultants', 'advocates', 'heroes', 'squad', or even 'gurus'. Here are some of the examples of how these words can be combined:
Client Support Heroes
User Support Gurus
Community Help Specialists
Customer Support specialist
Consumer Success Squad
Customer Service specialist
As for job titles for the customer service role, it depends on the shades of meaning you intend to convey. For technical support employees, the titles can include descriptors like; customer service specialist, expert, technician, professional, guru, or whiz. These can additionally imply the level of their competence and tech expertise. The words can also either emphasize internal hierarchy (assistant, associate, or leader) or deemphasize it (agent or advisor). Whatever role titles you select, those should make clear distinctions in who is responsible for what. These are for both; employees and customers.
Discover on your own
Knowledge is important, but only when put into practice. Test everything in our academy right inside the LiveAgent.
Try out LiveAgent for FREE
Handle all customer inquiries from one interface. Start improving your customer service with a 30-day free trial right away!
Frequently asked questions
What are the 3 important qualities of a customer service rep?

The first important quality of the customer service rep is the ability to actively listen. It can help determine the customer's needs in a short time. The second is to empathize with the customer, and last but not least is flexibility/adaptability.

What are the duties and responsibilities of a customer service assistant?

Customer service duties and responsibilities include answering customer questions and providing information, either technical or general, regarding your company products/services. Moreover, the customer service assistant handles these inquiries in different forms, whether through Phone, Email, Live Chat, or in person.

What is a Chief customer officer?

The general role of the CCO implies working alongside the executive board. Therefore, designing new strategies for improving customer experiences.