Call center setup for your business involves much more these days. Allocating a room full of phones and agents to answer them is simply not enough.
An effective call center that contributes to your company's bottom line will require a blend of many important components.
Building a call center needs research, thorough planning, technology, execution, and measurement. All of that is an investment of both time, money, and resources.
Below is a 10-step guide on how to start a call center from scratch. Follow this guide and ensure your call center business is efficient, easily managed, and cost-effective.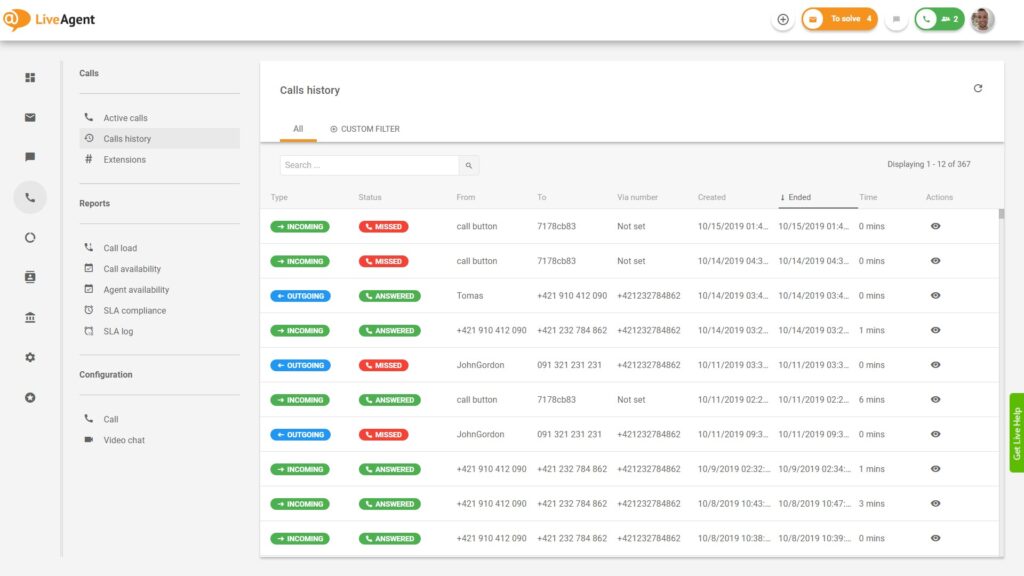 How to start a call center in 10 steps
1. Establish the goals and objectives of your call center
The first and the most critical step to a successful call center setup process is defining the goals, objectives, and the purpose of your call center. Those are going to dictate the major focus and the kind of operations you will handle. For instance; inbound/outbound or both. Moreover, the number of employees you will need to hire for your team, the processes you will implement, the costs and expenses you will incur. Or how you will measure success.
2. Determine the setup type (On-site Vs. virtual)
Decide if you opt for a physical call center with in-house agents or a virtual call center with remote agents.
A physical call center will operate on-site. Meaning, from a central location with all the needed resources. Such as; infrastructure, software, and employees in one place. It is often a structure within the business premises.
In a virtual, or remote call center, hardware and infrastructure is the responsibility of a service provider. The agents will be operating remotely. This means most likely from their own homes, or any other place. 
3. Estimate the budget and staffing requirements
Set the budget that is aligned with your business goals and establish parameters regarding the minimum and the maximum expenses. The budget at your disposal will eventually determine what kind of facility and technology will be used, as well as the manpower involved. Differentiate between your initial investment to build a call center and ongoing operating costs to keep it running. You should also be able to define the staffing requirements. These are based on predictions, call volume forecasting, taking into account all shifts, staff absenteeism, and days off.
4. Decide on the type of call center software
There are four types of call center software solutions (on-premises, hosted, cloud-based, and browser-based) that differ in terms of cost, deployment model, maintenance, scalability, and robustness. It is essential to first identify the most suitable type of call center software for your business before shortlisting potential providers.
In addition to the rapid deployment time, cloud-based and browser-based call center software solutions are generally more cost-effective. The reason is that they require minimal upfront investment. Plus it is easier to implement and scale, unlike their on-premises and hosted counterparts.
5. Choose the software provider based on your requirements
Since there are numerous call center software providers on the market, selecting the right solution that will best fit your organization's needs might be challenging. Create the list of 'must-have' features that you definitely want. Thus, your team can work at their optimal levels. Another section on your list should be 'nice-to-have' features that are desirable but not critical. When researching the options, apart from the feature set, take into account ease of deployment, use, scalability, security, integration options, tech support, and pricing. 
6. Configure your call center software optimally
Once you've selected the right call center software tool, customize it according to your team's needs and requirements. Make sure all the features are configured optimally from both; an agent's and a caller's standpoint. Your team should be able to use the call monitoring software smoothly and efficiently in their workflow. When it comes to inbound calls, create an easy-to-navigate IVR menu. It should include greetings and messages that are appropriate to provide a seamless experience for callers.
7. Staff your call center team
Your call center team should consist of agents who are specialized in product support, technical support, or other components of customer service. Having a call center manager who will oversee all call center operations, ensures agents adhere to internal policies and procedures.
Depending on your needs and the size of your team, other roles could include a team leader/ supervisor, a call center analyst, a call center trainer, etc. Regardless of a position, all call center employees that you hire should possess certain skills/abilities. Such as; excellent communication skills, display patience, empathy, and problem-solving abilities.
8. Obtain appropriate call center equipment
On-premises call centers require all the hardware and entire infrastructure including servers and call center phone systems to be set up at your location. However, with cloud-based call center software, hosted or browser-based solutions, your call equipment list basically comes down to computers, USB headsets, a high-speed internet connection, call center desks, and ergonomic chairs for the comfort of your team.
9. Organize your call center processes
To ensure your call center setup operates seamlessly and efficiently, design and create well-thought-out processes for your team to follow. Those should be comprised of the internal procedures and practices. Thus the agents can easily refer to their day-to-day activities.
In general, call center processes define; how the agents answer calls, how they escalate an issue if they can't answer a question, how they track customer inquiries, what happens after a call is complete, etc.
To reduce wait times, you should also build comprehensive call center scripts that agents can use when interacting with customers.
10. Create a robust disaster recovery plan
Since customers naturally expect uninterrupted service, draw up robust disaster recovery and backup plans that can keep the business up and running at all times on the final stage of a call center setup. It ensures you are prepared for any potential risks and helps to minimize the impact of disruptions on the network and call center operations. It's essential to document and periodically test the recovery plan as well as train agents on the steps that should be taken in case of any unplanned disruptions.
5 Bonus Tips on How to Run a Successful Call Center:
By now, you probably have a good idea of how to start a call center, but it's even more important to know how to run a successful call center. Here are some additional bonus tips to give you a good headstart.
1. Gather and Use data
To run a successful call center, you need to take a look at generated data. This is the best and most accurate indication of your call center business performance.
Define your goals and track them with call center metrics, such as customer satisfaction, net promoter score, call wrap-up time, and more.
For instance: Many call center statistics suggest that the Average call duration should be ideally around 3 minutes.
2. Listen to your Employees
The most essential and often overlooked factor, listening. Your call center agents are the first point of contact that the customer has with your company. Listening to your employees makes them feel like valuable members of the company. Being heard is important and can ultimately affect daily performance at work.
Pay attention to your employees, they might just give you ideas on how to improve the workflow for better efficiency or even boost your overall call center business performance.
3. Provide the necessary tools to your agents
If you are looking into tips on how to run a call center, you should not skip this one. The efficiency and overall performance can be simply increased by providing the necessary tools to improve the agent's daily workflow. 
According to The Taylor Reach Group,
"60% of agents agree that their company doesn't always provide the technology that staff needs to address the challenges they face when helping customers. 44% of agents lack the tools that are available to them and 34% believe they don't have the right customer data available at the time of the request."
If you are starting a call center from a scratch, make sure you provide these tools: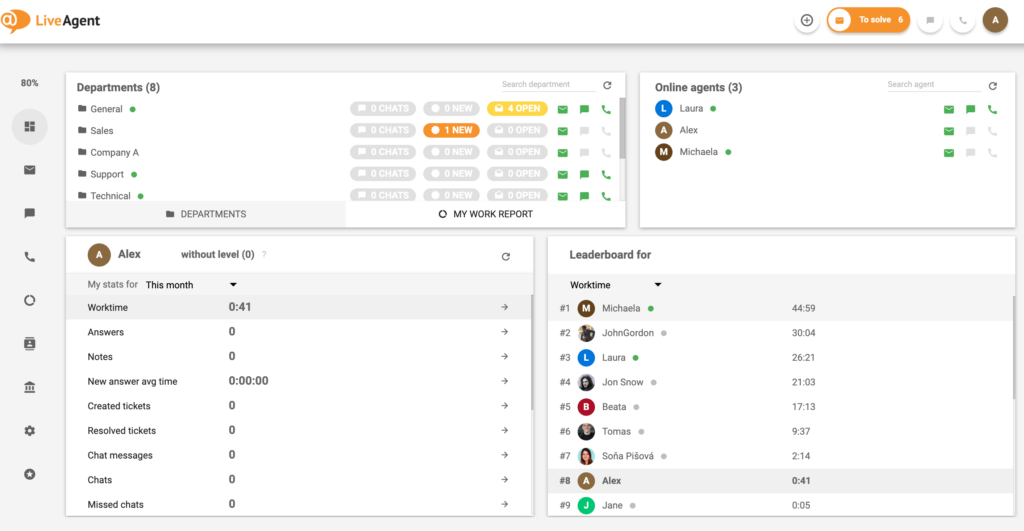 Searching for a comprehensive solution?
Check out LiveAgent's call center software. Try it out for 30-days and test all the features for free.
4. Give Feedback
Providing constructive feedback is essential for the development of your call center. As a manager of the call center business, you need to figure out how to provide feedback to your employees. Good or bad, both are necessary to improve daily call center operations.
Actually, almost 65% of employees expect feedback which is another reason why you should provide it. It can be motivating either to improve or to continue doing a great job.
5. Provide a proper training
Tailor your training according to your customers' needs. If you are dealing with call center support focus more on the technical skills in detail. On the other hand, if you are providing training for call center service, focus more on practicing agents' soft skills.
Furthermore, providing proper training will give the agents confidence to resolve the issues on their own since they will have the proper knowledge. However, it is important to point out that to run a successful call center the training needs to be periodically updated.
Discover on your own
Test out everything you've learned in our academy right inside LiveAgent. 
LiveAgent 2021 | Better Customer Service Starts Today | Live Agent01:12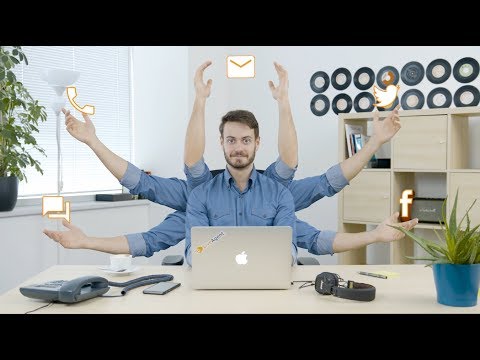 Live Agent
Try out LiveAgent for FREE
Handle all customer inquiries from one interface. Start improving your customer service with a 30-day free trial right away!
Frequently asked questions
What are the 4 types of call center software?

The four types of call center software solutions are on-premises, hosted, cloud-based, and browser-based. These options differ in terms of cost, deployment model, maintenance, scalability, and robustness.

How to choose a call center software?

When researching the call center options, apart from the feature set, take into account ease of deployment, use, scalability, security, integration options, tech support, and pricing.

How to run a call center successfully?

To run a successful call center, you need to take a look at generated data. This is the best and most accurate indication of your call center business performance.