Key takeaways
Pros
Easy to set up and navigate
Reasonable pricing
A large number of ready-made connection profiles
Accessible and helpful support documentation
Cons
A large amount of features means a bit of a learning curve
Call recordings are only accessible through tickets
Getting started with the LiveAgent call tecording feature
Setting up your LiveAgent account is a piece of cake. All you need to do is fill out your information and a company name, and you're good to go. LiveAgent takes only about a minute to get everything ready.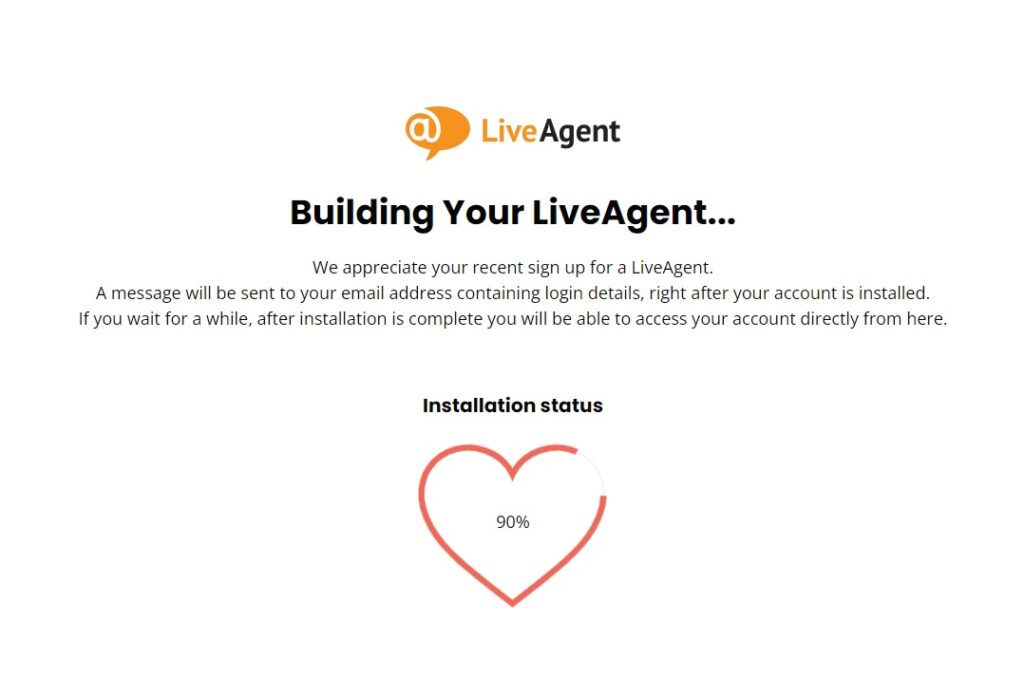 fter I was logged in, the first thing I could see was the Dashboard, which you can filter through so it always displays the relevant information you're currently using.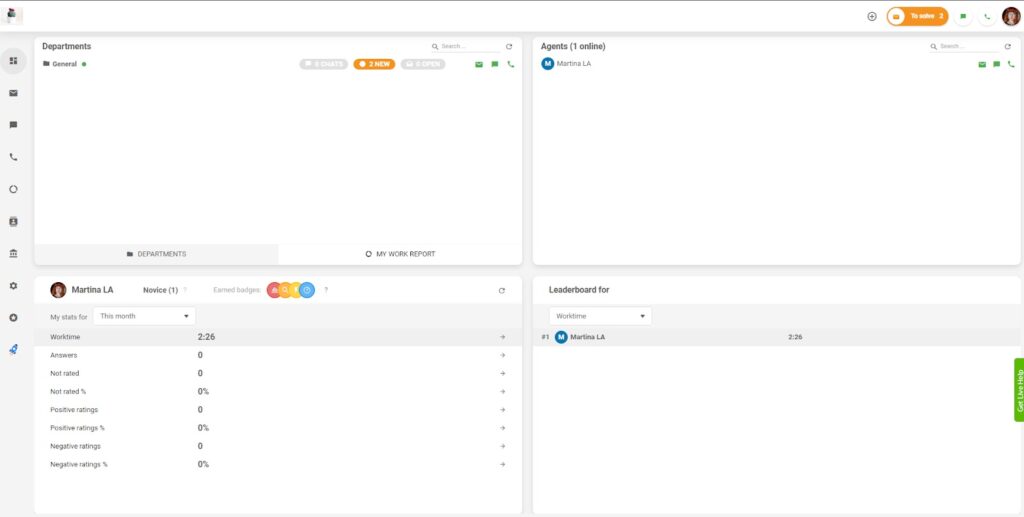 After I looked around for a while, I was ready to test LiveAgent's call recording capabilities. Of course, you can't record calls if you don't have a VoIP number and SIP trunking set up. No worries, LiveAgent provides a plethora of integrations for that, so no matter who your VoIP provider is, there are good chances that LiveAgent has them covered. To check out which ones you can integrate, go to the left-side agent panel, click Settings > Calls > Numbers, and then hit the orange Create button.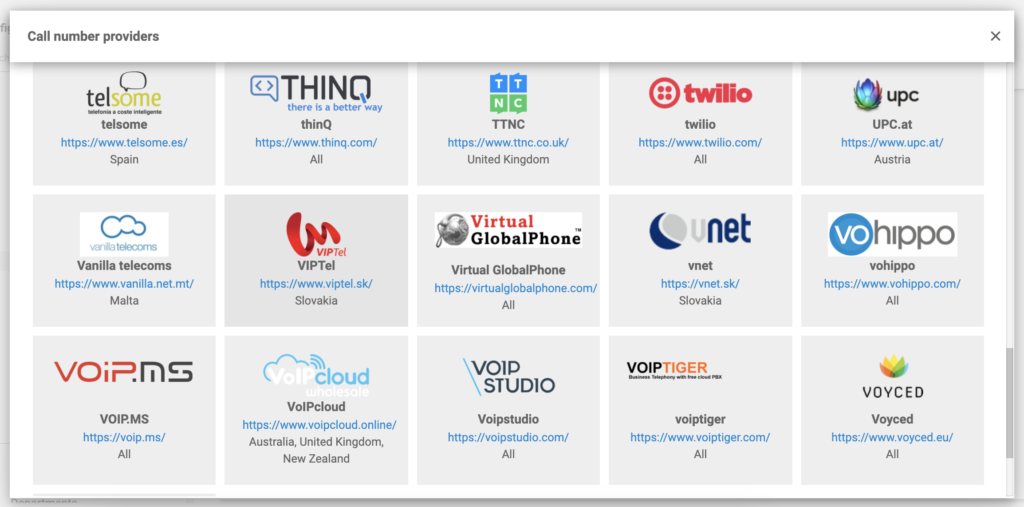 I had my Twilio account, so I integrated that. If you don't have your VoIP provider set up, LiveAgent's knowledge base provides a helpful article that walks you through the process.
So, after I chose Twilio, I needed to integrate it. For the purposes of this review, I made sure to tick both call recording boxes.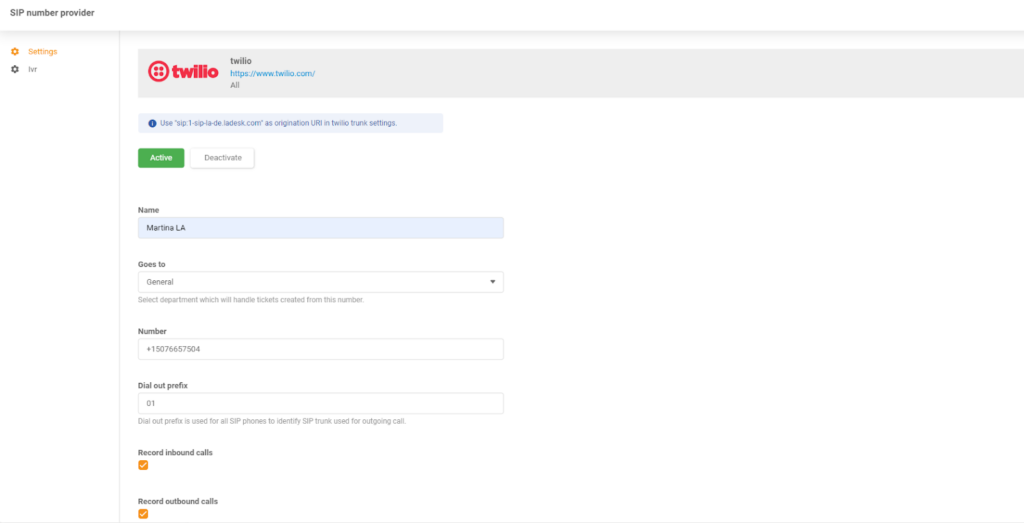 After I hit the Add button, my number was successfully integrated into LiveAgent.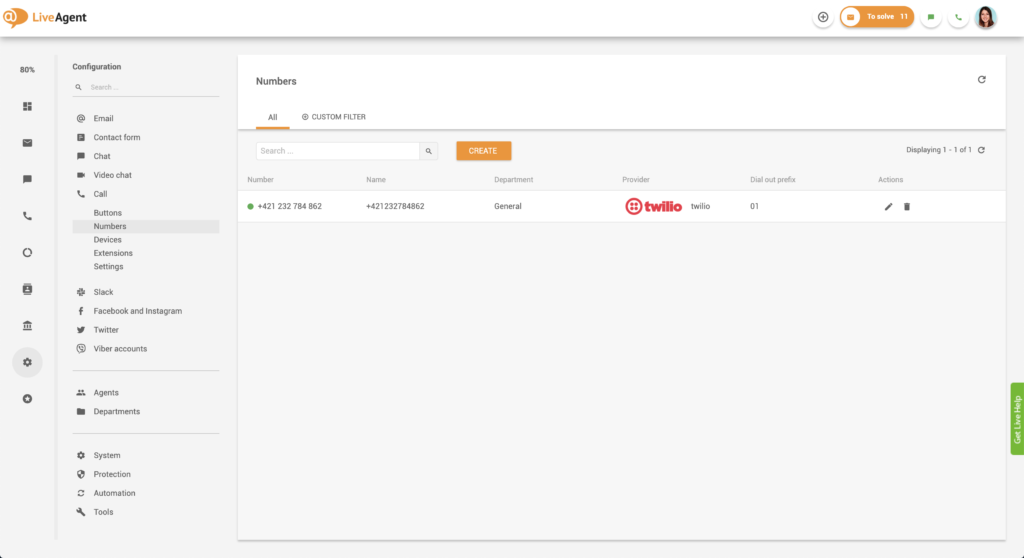 Once I got that done, I moved on to adding a SIP button to my website, so customers have a user-friendly way of contacting me. To do that, I again used the agent panel and accessed Settings > Calls > Buttons.
You can choose from the provided buttons or create your own from an image or use an HTML code. To keep it simple, I decided on one I found in LiveAgent's button selection.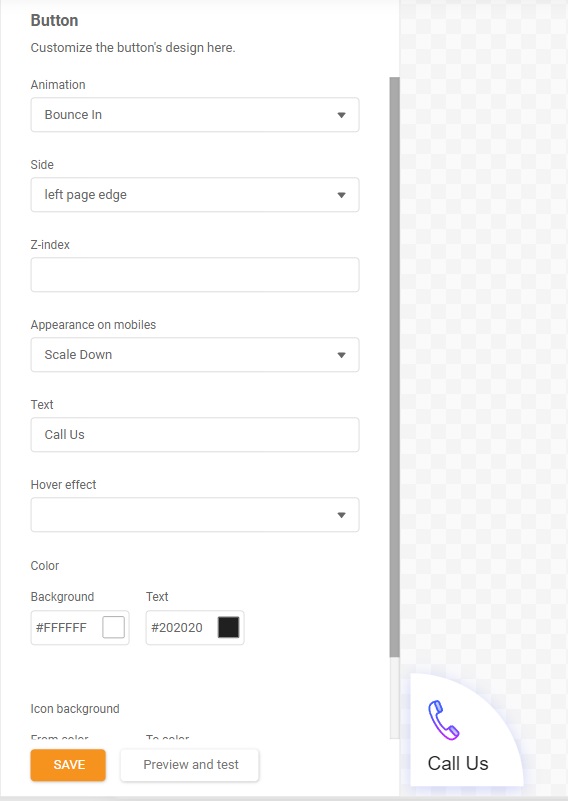 You can configure it to fit your needs better, and once you're done, you can hit Save, and the button should immediately appear on your website.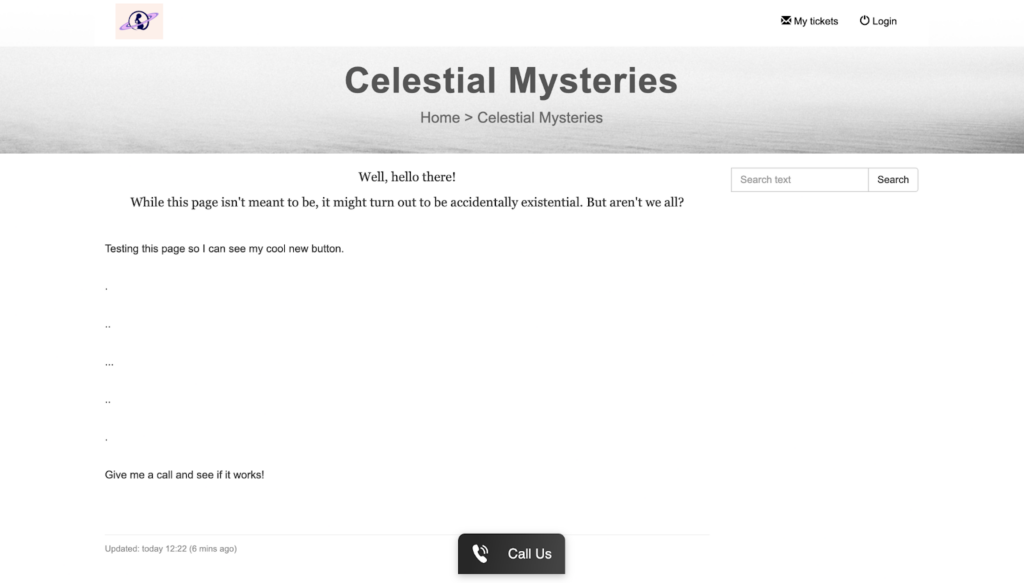 With everything set up, I was ready to start answering my business calls.
LiveAgent call recording software performance and user experience
Clicking on the Call Us button on my page created a pop-up window with customizable text, so you are in control of how customers perceive your service even before initiating the call.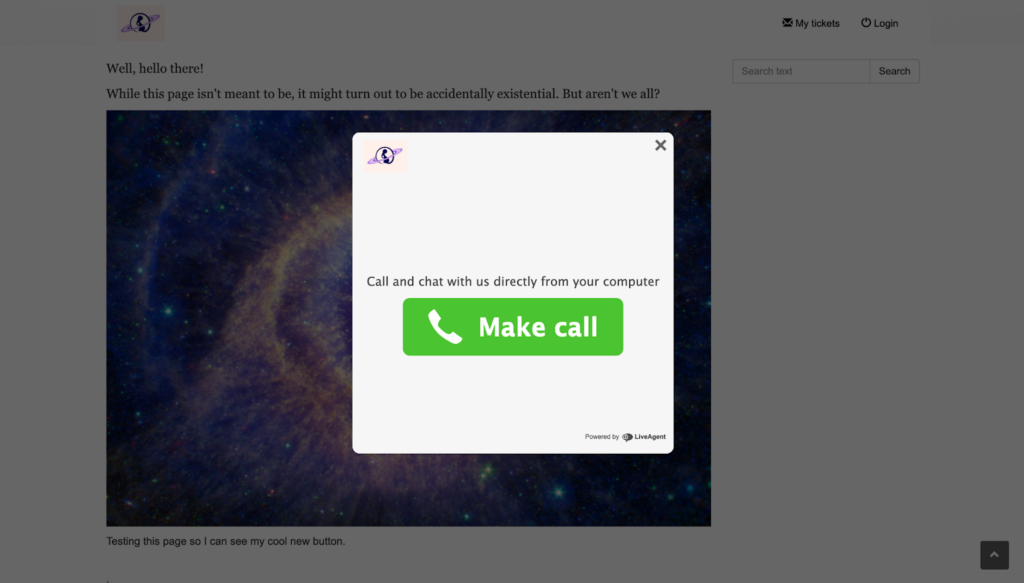 My agent interface in the LiveAgent application alerted me about an incoming call in the form of a ticket, and a ringing notification, so you can be sure you won't be missing customer calls any time soon.
During the phone call, I was able to mute myself, snooze the call, or transfer it to another agent. And of course, after the call had ended, I could listen to the recording.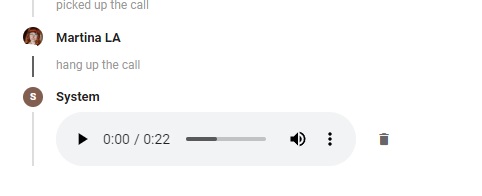 All call recordings are mono 32kbps mp3 files and they are stored as part of the tickets. You can merge them, forward them, and add notes to them, the same as any other customer service ticket. You can adjust the playback speed and also download the recording, so you can study it or use it for training purposes later.
One thing I was missing was some kind of feature that would let me access only call recordings without the need to open tickets. This could be useful if you need to quickly pull up one particular phone conversation.
If you want to let your customers know that you are recording the conversation beforehand, LiveAgent lets you set it up as an IVR feature. You can upload an mp3 file, set up a flow, and the system will play it automatically for all incoming calls. If you find yourself struggling with implementing IVR, just contact LiveAgent's customer support. They will help you set it up, or they can do it for you.
Besides call recordings, LiveAgent also offers a comprehensive call history and call load report so you can stay on top of all your call center operations.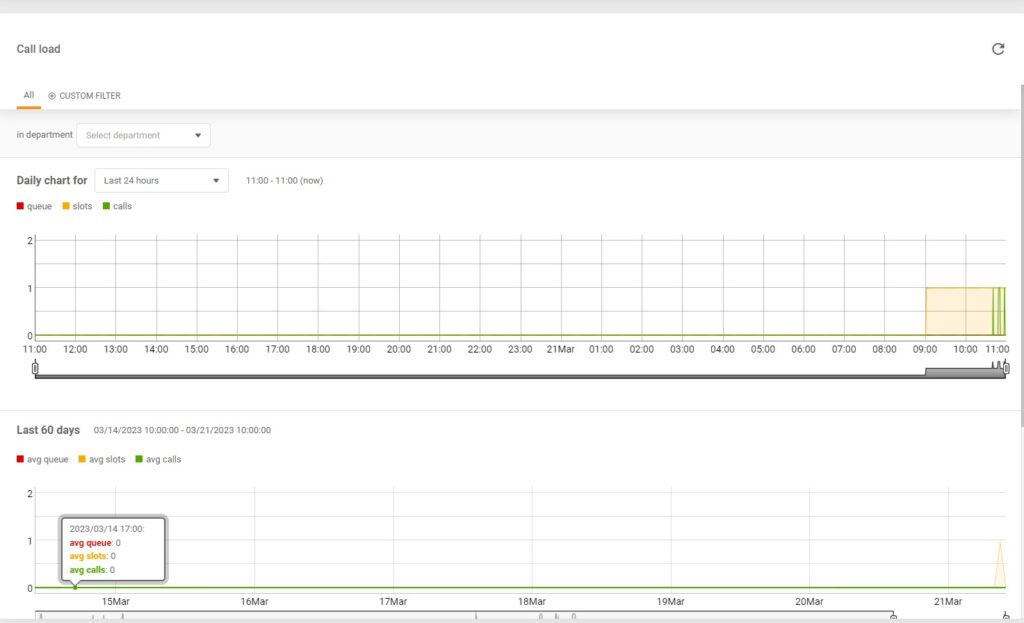 Pricing
LiveAgent offers four main pricing tiers – Free, Small, Medium, and Large. However, call center features are available only in the Medium and Large plans, so I'm going to further discuss only those two.
Medium
For $29/agent per month, you can use LiveAgent's Medium plan that grants you an unlimited ticket history, IVR, call recording, 5 SLA levels, and up to 20 departments, among others.
Large
This pricing package includes everything from the previous plan and for $49/agent per month extends some existing functionalities and adds new advanced features. These include custom roles, up to 10 SLA levels, 50 departments, and more extensive automation options.
Conclusion
LiveAgent's call recording software is part of an intuitive and user-friendly help desk system. Although I was intimidated at the beginning, my experience was smooth, and the features were easy to set up. When I struggled or wasn't sure what my next steps should be, I had no issues finding answers and step-by-step tutorials in the support documentation.
The call recording feature itself performs as expected – pretty well. You can download your recorded conversations for future reference. And because all recordings are tied to service desk tickets, you can organize, merge, and route the tickets for easier collaboration within your customer service team. Although I was missing a more convenient way of browsing the recordings, it didn't hinder my experience too much.
All in all, LiveAgent is a solid choice when it comes to call center and call recording systems. It's flexible and customizable, and it doesn't leave much more to be desired.