What are metrics?
Metrics also called Reports are various types of measurements that can be helpful for you in order to see the current standings of your business.There are 3 main categories of metrics: time-based metrics, effort metrics and agent activity metrics.
Time-based metrics provide you with data such as first reply time, requester wait time or full resolution time. Effort metrics include number of replies, reopened or reassigned tickets and agent activity metrics concern online time, availability and resolved tickets. You can also create custom metrics to track data of your highest interest.
Learn more about Metrics in LiveAgent.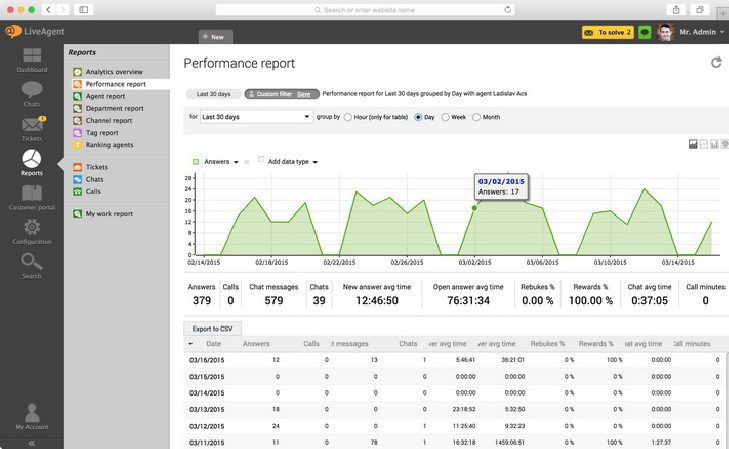 Frequently

asked questions
What are metrics?
Metrics are measures of quantification. They are used to evaluate, compare and track performance or production. It is a group of metrics against which management or analysts regularly review to maintain ratings of performance, opinion, and business strategies.
What are the most common customer support metrics?
The most common customer service metrics are Ticket Volume, which is the number of notifications that measure the total number of calls in the help field. The next ones are Average Problem Solving Time, Average Response Time, Average First Response Time, Customer Satisfaction Score, and Average Customer Service Time.
What metrics can you measure in LiveAgent?
In LiveAgent you can measure clients and the work of agents. When it comes to customers, you can measure, among others Net Promoter Score, Customer Satisfaction Index, Customer Effort Score, Internal Quality Score, Customer Engagement, Customer Churn Rate, Customer Retention Rate, Recommendation Rate. When it comes to agents, we can measure, among others ticket volume, number of contacts, service level, and ticket backlog.