What is an IT ticketing system?
IT ticketing system is a part of a help desk that makes it easier for your customers to get a help and to your agents to deliver a fast answer. When customers can send you an email, chat with your agents through live chat or connect with your company though other channel – all communication is stored in tickets. IT ticketing system manage all tickets, so it helps your customer service staff to stay organized and efficient. There are even free ticketing software that you can try in order to experience the benefits first hand. All in all, support ticket software can enhance your customer service capabilities beyond what you expect.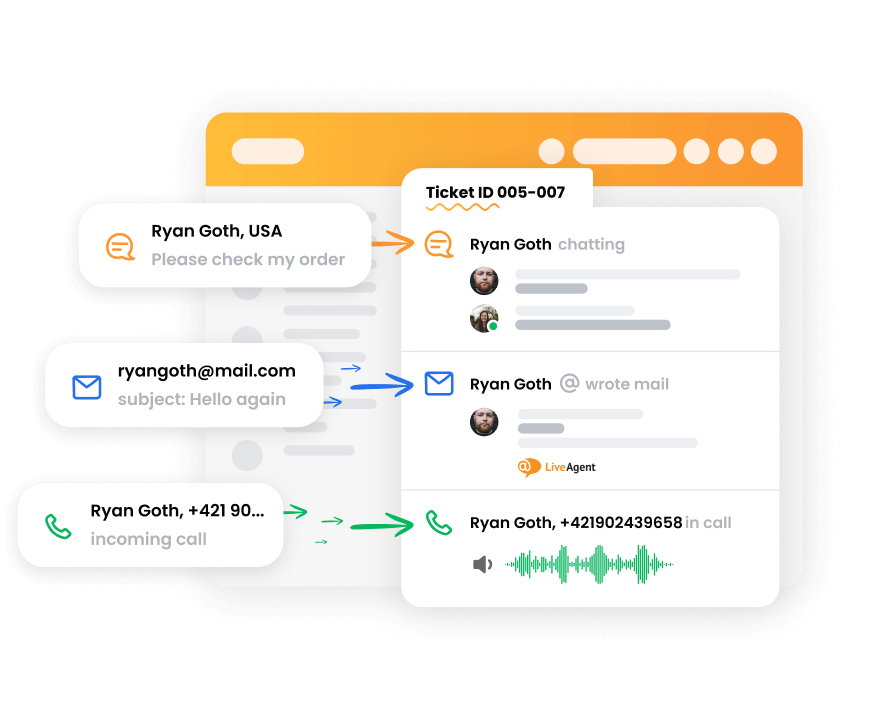 Frequently

asked questions
What is an IT ticketing system?
It is a ticketing software for IT support that enables organizations to resolve their internal IT support queries by managing and streamlining the problem resolution process. Agents handle individual elements called tickets, which allow you to find out about the problem that the user is facing.
How does an IT ticketing system work?
The IT ticketing system works by creating a ticket that records your support or service request interactions. The agent has access to the ticket and thus has access to communication in one continuous thread. This way, if an agent or client wants to bring up something that has appeared a few threads before, they can do so without any problem. It also helps to get back to the story in an easy way.
How does the IT ticketing system look in LiveAgent?
LiveAgent's IT ticketing system is available in one panel just like the other tools offered by LiveAgent. Thanks to this, you have access to a universal inbox, inquiries are grouped into tickets, you can easily check the contact history of a given customer and reports that allow you to analyze the activities so far.
Expert note
An efficient IT ticketing system is the backbone of successful customer support. It streamlines communication and enables prompt issue resolution, leading to improved satisfaction and loyalty.

Andrej Saxon
Sales manager