What should you require from a customer support tool?
Bearing in mind the number of various customer support tools available on the market, it should come as no surprise that one can feel a bit lost when it comes to making the final decision about purchasing them.
Thankfully, there is one characteristic that can serve as a pretty good indicator of the quality of a tool. A well-chosen customer support tool should streamline your workflow. We could leave you with this criterion alone, but there is so much more to say.
Firstly we will look at how a customer support tool is built and what its role in your daily work is, and then we will talk about some important factors that you can put on your list of requirements when choosing a customer support tool.
How is it built?
Let us start with understanding how, in general, every help desk tool is built. 
Ticket management
This is the heart of every customer support tool. Any incoming message, question, or query from a customer gets registered as a ticket. To make it sound a bit less technical and more intuitive, it is like a conversation thread with your client. The ticket stores not only communication, like emails, phone calls, chats, or social media messages, but also private agent's notes and other data related to the issue. By accessing a ticket, you can see the whole history of the conversation and quickly understand what happened during the resolution process.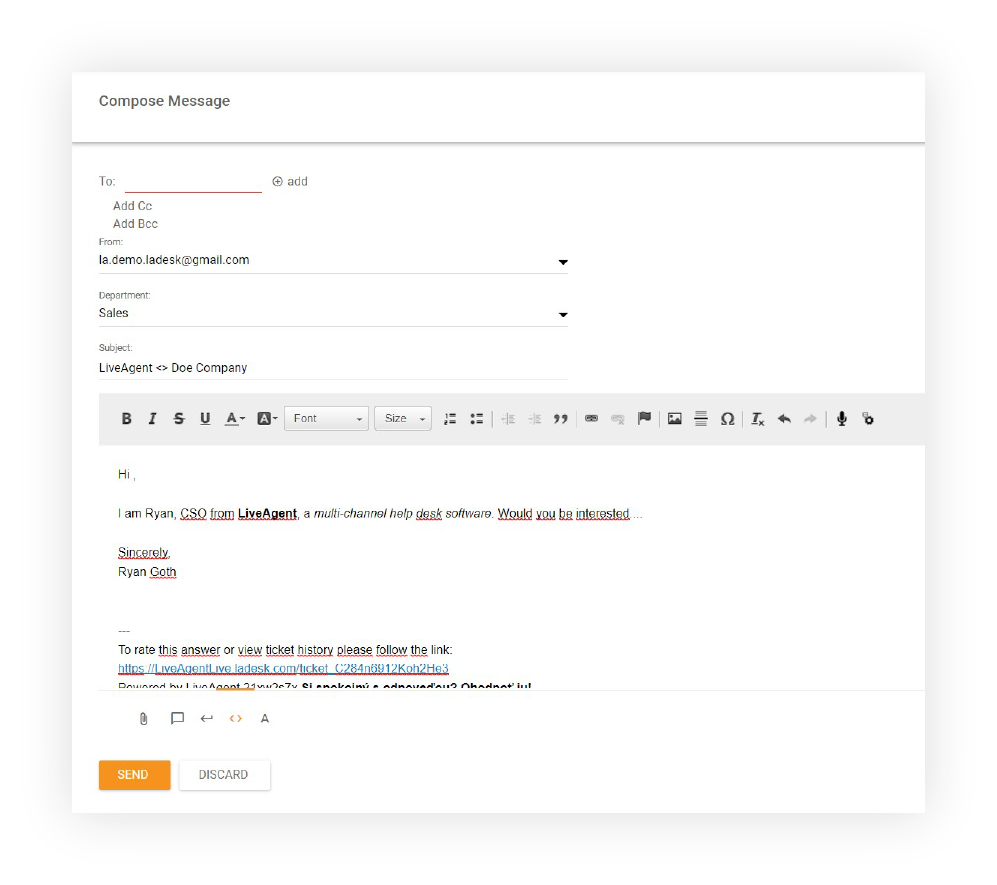 Help desk automation
This part of the tool takes the distribution and assignment process off your shoulders. You can automatize the flow and make sure that tickets reach the right agents by setting up custom priorities such as subject, ticket source and category, etc. Help desk automation optimizes the workflow by automating the ticket distribution, ensuring your agents have an optimal workload.
SLA management
A Service Level Agreement (SLA) is now standard across customer service departments. Yet, without tracking its compliance, a SLA won't fulfill its purpose. On the other hand, without a proper tool, it can be hard to manage. If you make sure your customer support tool has integrated tracking, then you'll save time on manually checking if the SLA is met.
Analytics
Another feature that helps you with evaluating the performance of your customer services, and how to improve it, is your analytics dashboard. This is how you can spot some bottlenecks and areas that need further training, but also recognize agents that deliver the best results so that you can reward them accordingly. Your analytics report can show you various indicators of your team's performance during a given time period in a nice, graphical format.
What can you analyze? Virtually everything connected with your daily duties. You can track the number and percentage of missed calls, the performance of your agents and department, the time spent on a particular ticket or action, SLA compliance, and the ratings of your agents, etc. To gain a deeper insight of possible options, take a look here.
Knowledge base
A knowledge base may be the first port of call where your customers look for help. A stack of articles with replies to the most common, simple and more complex questions can benefit everyone. Your clients can feel more self-sufficient and get the support that they need instantly, while your agents will be able to focus on more demanding queries. 
Call centers
Sometimes there is no better option than to actually talk to a real person on the phone. Although this may seem like a costly solution that is falling out of favor compared to modern live chats and chatbots, for example, call centers still make up an essential part of a customer support system.
Live chat
This is now a feature that a modern customer support tool can't go without. As this Kayako report states, 52% of customers are likely to repurchase from a company that offers live chat support. What's more, 79% of companies stated that including this channel in their customer service system had a positive effect on sales, revenue, and customer loyalty. 
The role of the customer support tool
We can see that even a basic customer support tool should come with a wide range of features. The exact way of implementing it into the workflow of your team will differ in every case. Nevertheless, we can highlight some areas that every customer support center has in common and think about how a customer support tool comes in handy there.
External communication
This is the most apparent area of your duties where a customer support tool can show off its importance. When you first start a customer support department, you probably rely on a regular email inbox and a spreadsheet. Soon you'll notice that this solution is temporary, though: it can't keep up with an increase in queries, and your team will be flooded by messages. A ticket management system is the best cure for this pain, by gathering all conversation threads and allowing them to be organized easily. 
Nowadays, a customer support center provides several channels on which to communicate with clients. A well-designed customer support tool allows you to manage all of those channels from an all-in-one inbox, so you can remain in control of the entire communication process. 
Internal communication
As much as the external communication process is visible – and evaluated – by your customers, your internal communication flow reflects heavily on it. Every misunderstanding in terms of who is responsible for a given ticket or call, of where your agents should find relevant data, and what is expected from them, leads to delays in replying to your customers and a lower quality service.
How can your customer support tool help you in the process? Think about features like automated ticket routing that, based on predefined criteria, assigns tickets to adequate agents, or extended reporting tools that keep you up-to-date with the performance of your team.
Integration
An appropriate tool should support your agents with assisting customers, so an ease of use and simplification of processes is crucial. Having a long-enough trial period to check within your team if the tool that you want to implement works fine for them is an important step towards switching to new software.
Team management
In the case of a customer support center, team management is particularly focused on measurable results, which is why you need an in-depth analytics feature in your tool. When this is set up properly, you can access data that is relevant for your business goals and evaluate your team's performance.
Based on this data, you're able to set up KPIs and targets properly, so that they are both achievable and yet challenging for your agents. You also can find the sweet spot between productivity (in terms of the number of solved cases) and quality (meaning customer satisfaction). 
Self-service support platforms
The first place where a customer looks for help isn't usually your communication channel, it's an FAQ or a knowledge base. Three years ago, Microsoft stated that 90% of consumers expected a self-service help portal, and in 2020 this trend is still visible.
Your first attempt to create a knowledge base may be a company blog, but, as in the case of an email inbox, this could be insufficient. A customer support tool can be of use here by organizing all of your texts neatly and writing them in an intuitive editor. But let's go one step further. Have you thought about creating an internal knowledge base? This would dramatically reduce time taken up by searching for information and allow for easy updates, whilst eliminating the need to ensure that everyone is on the same page.
A forum is a special type of self-service support tool that actively involves your customers, not just your team, in content creation and assistance What's more, setting one up with a customer support tool can convert each new forum topic into a ticket, allowing your agents to supervise answers and provide help if needed. It will be less time-consuming without having to track the progress of each thread manually.
What should you focus on?
As we have now covered both the construction and role of a customer support tool, it is time to look at what differentiates the perfect customer support tool from the rest. 
Easy to work with
Your agents often work on complicated cases: don't make their lives harder by using an unfriendly tool. What can instead make their duties easier? Let's start with some obvious points: features that let agents avoid repeating the same tasks by using mass actions. The same will apply to their contact with customers, so that your agents can meet expectations for supplying answers as soon as possible. Think about predefined answers, canned messages or email templates. These are just a few things that can save your agents some  precious time, and lead to increased job satisfaction by allowing them to complete more challenging tasks.
Another time-consuming process is ticket management. Here, automated ticket distribution and chat distribution can both lend a helping hand, allowing you to set up some rules for assigning tickets or chats to your agents. This will allow you to stay in control of your agents' workloads, which can be managed better with the possibility of splitting or merging tickets depending on the difficulty of a case. Furthermore, an agent collision detection may come in handy to flag up a situation when two or more agents get assigned to the same ticket.
The last category contains elements that aren't blatantly obvious, but will definitely improve the work environment of your agents. First of all, the possibility of choosing various languages in your interface gives the option for your agents to use their native language or anyway that they would prefer to work in. Another factor that has a big impact is the quality of messages that your agents receive, in which case SPAM filters may be the remedy for unwanted contacts. The last interesting feature to have in mind when looking for your perfect tool is multi-device access. An app can give your agents the opportunity to stay in control of their tasks even if they can't access a desktop PC at a particular moment.
Analytics & reporting
There is where your customer support tool may directly contribute to the stable growth of your performance, not only by speeding up your processes but also by showing where your bottlenecks are. To deliver this value, your analytics system should be simple and show the most important metrics in the overview
A general report isn't enough, though. For evaluating the performance of your agents or departments, more specific views are necessary. In the performance report, you can sort the results by various metrics such as finished calls, new answers, average time, or missed chats. 
All-in-one inbox
This feature allows you to gather all incoming messages, convert them into tickets, and manage them from one universal inbox, no matter where they come from. Also, if you solve your customer's issue using various channels, you'll be delighted by the hybrid ticket stream that will keep all of your calls, emails, and chats together in one ticket. This is where omnichannel communication makes the difference: you can maintain context across all available media.
Price-to-quality ratio
This factor can become apparent after analyzing other metrics and comparing the results scored by various providers. However, there are no good or bad answers in general: depending on your needs, priorities and budget, etc, you could make a different decision to a colleague.
Integration
The customer support tool of your choice should connect easily with other software solutions that you already use. This way you can avoid manual copying or merging of data in order to get a full overview: it should be accessible from your tool. You should go through the list of integrations and check whether you can use an API if your other tools aren't provided with one-click integration. 
One area where this particularly comes in handy is your contacts. By integrating with CRM you will be able to gain deeper ticket and customer insights, thus allowing you to provide better customer support. All of the necessary information will be at your fingertips.
Also, take a look at integrations that send information from your customer support tool to another tool you use, such as Google Analytics. Chat Embedded Tracking is a good example of this, since it converts live chats into events for Google Analytics, such that you will be able to track the influence that they had on your conversions.
Security
When we talk about customer support, we also mean handling sensitive customer data. That is why you have to pay attention to your tool in order to ensure that your internal procedures are secure. The most objective indicator of this is GDPR compliance, whose regulations are unified across the European Union region.
GDPR means giving your customers control over their data and ensuring that you store it safely. However, there are further security concerns that will not be prevented by GDPR compliance. While taking precautionary measures usually deems this preventable, security concerns can include situations like the hijacking of your account. To minimize this risk, make use of 2-Step Verification, which is especially important when you log in from a new device.
If your tool is browser based, make sure it uses HTTPS Encryption. HTTPS is a secure version of an HTTP protocol, and it means that all the data exchanged between your browser and the website you use (including chats and emails) is encrypted.
Reliability
We have already spoken about the importance of security and the way your data is stored. Another aspect of this topic is the risk of a natural disaster, power cut, or any other danger that can influence a single data center. A solution to this potential problem, among others, is employing multiple Data Centers. If the data is backed up and stored across several locations, it minimizes most risks that are serious for a single data center.
Support
There will be times when you'll be the one in need of support for your customer support tool. This factor is hard to evaluate prior to finding yourself in such a situation, but pay attention to reviews or the quality of contact during the trial period, and whether or not 24/7 support is available.
Trial periods
As we mentioned before, a trial period is essential for choosing your customer support tool wisely. This is the time to test both the software itself, as well as how it fits together with your workflow and needs. So, if the tool you're thinking about purchasing doesn't offer a trial period, or the time period is severely limited (e.g. a week or less), it's not a good sign.
Reviews
Google can be an interesting source of insights when it comes to considering a new tool. However, remember to read them carefully and compare different reviews to reveal the most significant points. Also, think about talking with your coworkers or friends from the industry: they can probably recommend something or indicate issues to be aware of.
Fun
This last (but not least) point may be far from obvious, yet it can have a strong influence on the work experience of your team. Why don't you turn target hitting, which can sometimes be boring and discouraging, into something more friendly by adding a little gamification? You can customize each badge to fit your organization's culture and watch your agents reach new levels.
Final thoughts
Probably the most important takeaway from this article is to analyze each customer support tool in order to see how well it meets your needs. We have mentioned some features of general importance, such as reliability and security, as well as others that are more subjective in terms of ease-of-use.
If, after reading, you wish to have one suggested tool to start off with, then we recommend going for a 30-day free trial of LiveAgent. You don't even have to enter your credit card details, so no worries that you'll be charged afterwards. Just go ahead and find out for yourself how LiveAgent can improve your customer support, no strings attached.