The customer service/support receives a tremendous amount of customer requests from multiple communication channels daily. As a result, the day-to-day routine of a typical customer service rep can be pretty challenging. That's when the ticketing system comes in.
The ticket management system technology has dramatically revolutionized the way businesses deal with customer service. The system enables teams to handle the daily influx of support queries from a single interface effectively.  
Ticketing system description
A ticketing system is software designed to organize and distribute incoming customer support requests.  It is also known as an online ticketing system, a support ticketing system, or a ticket management system, which usually comes as a featured part of most help desk software solutions available on the market.
Unlike email, the ticketing system doesn't require multiple folder structures to track customer queries. Instead, it brings in all customer conversations from various support channels into one interface. Simply put, a ticketing system is an innovative online software that acts as a shared inbox for customer questions/requests.
For instance, when customers reach out through platforms like email, contact form, live chat, or a call, the ticketing system automatically creates tickets (documents) that record and store client interactions with customer service. Support agents use these tickets to track the progress of customer issues until they resolve them, which enables them to provide a consistent customer service experience efficiently. 
Depending on the industry, some support agents can handle up to 50 cases per day. Therefore, it is crucial to have a support ticketing system in place. It allows agents to deal with significant customer request volumes quickly, efficiently, and professionally. In addition, ticket management systems also; automate several routine support tasks, help increase the team's efficiency and productivity while also reducing excessive workload.
What is a support ticket?
In an omnichannel ticketing system, customers can raise a ticket via ticketing system using a variety of communication channels. A support ticket is an official record of a customer's request, its current stage of progress, internal notes, and other context information regarding the issue. Every ticket that enters the system has its unique reference number, enabling support agents to quickly locate, add information, or communicate the user's request status. Additionally, a ticket in an omnichannel ticketing system contains a complete stream of emails, chat messages, calls, or messages from other communication channels about the same issue reported by a customer.  
What is a ticket status?
A ticket status marks each ticket's progress, or a ticket phase, assigned to it. It explains whether a customer's problem has been solved, and if not, why. Ticket status names can slightly vary depending on the ticket tracking software you use. However, you can customize it according to your business needs.
Each ticket is typically marked as 'New' by default. The system can change the ticket status to 'Open,' 'Answered,' 'Pending,' 'On-hold,' 'Postponed,' and finally 'Resolved' or 'Closed' when it reaches its final stage in processing. A ticket is closed when a customer's problem has been resolved or a request has been handled successfully. 'New' and 'Open' statuses usually have the highest priority as they need to be dealt with first.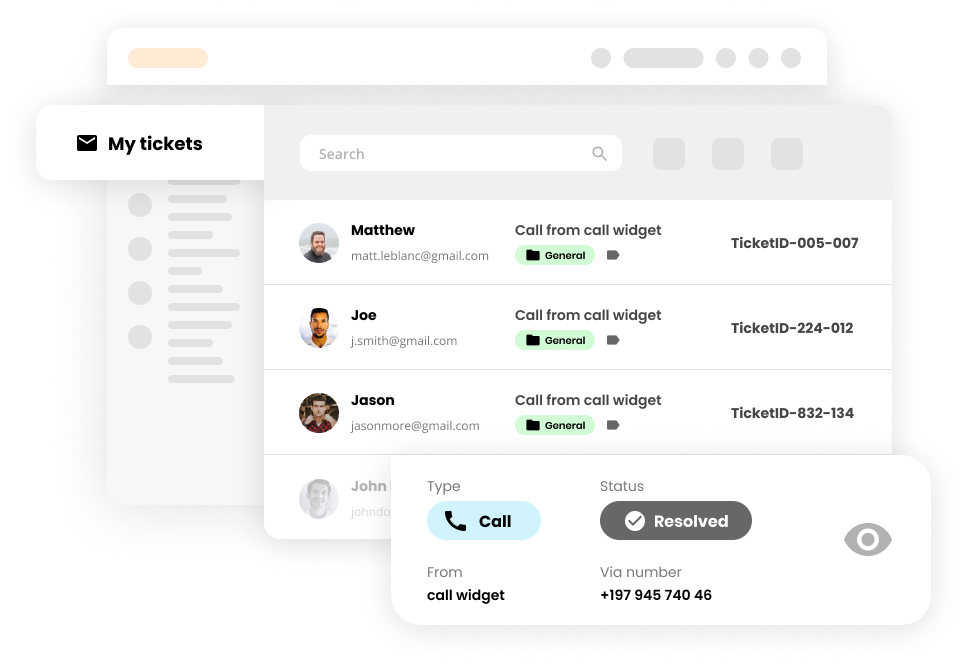 Must-have features of a quality ticketing system
A professional ticket tracking software system may include, but is not limited to, the following key features and functionalities;
Multichannel accessibility
Today's consumers prefer using various communication channels to connect with brands, often switching between them during a single inquiry. A solid ticketing system should be able to;
track customer requests from multiple channels
Workflow automation
The workflow automation features, offered by top ticketing systems, enable your support agents to provide quick and efficient customer service. These beneficial workflow features include automated ticket distribution, canned responses, email templates, knowledge base articles, and more.
SLA management
Setting and applying SLA policies is a must-have feature for any excellent ticketing system since they enable agents to prioritize specific tickets. As a result, customers get a response within a reasonable timeframe.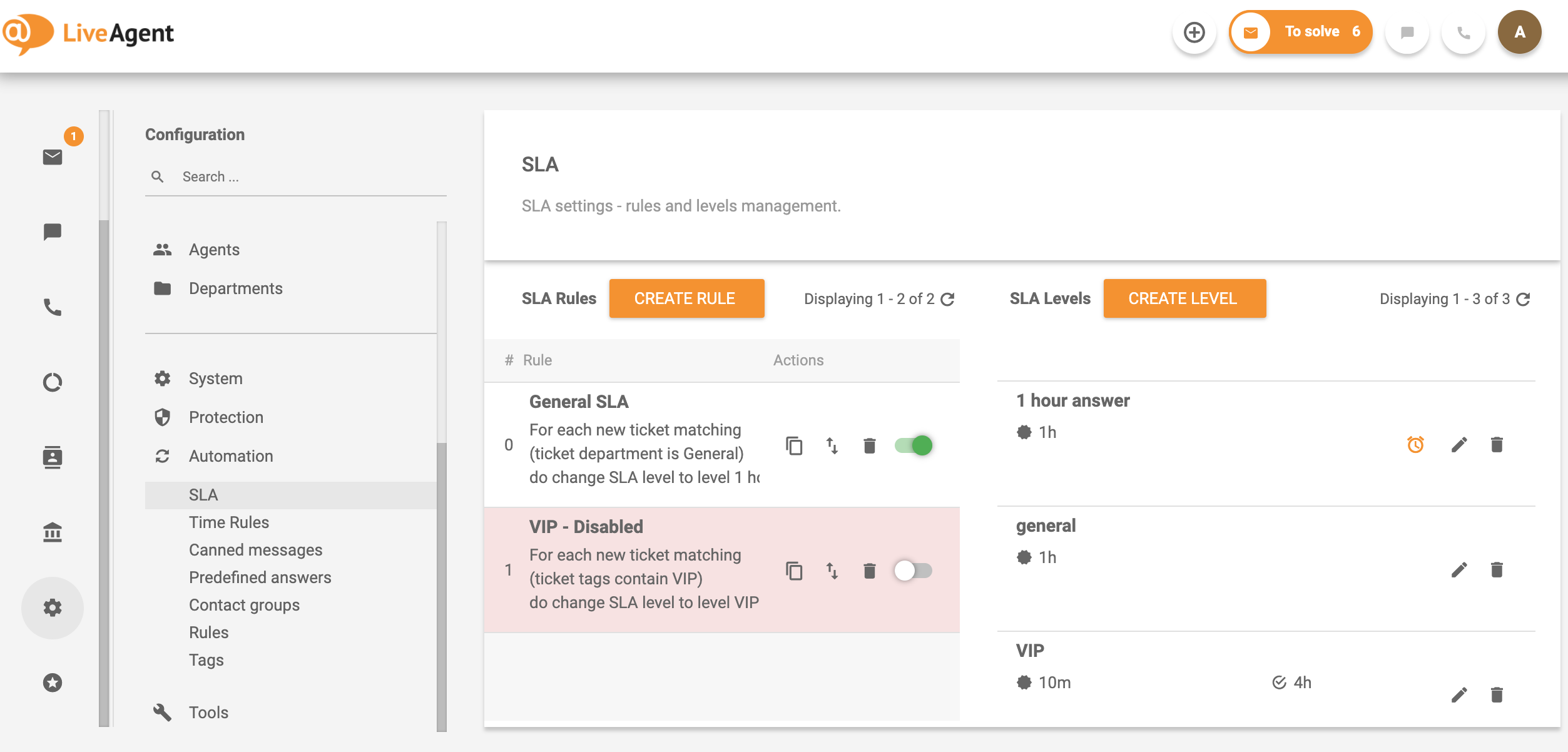 Categories, tags, and filters
Categories, filters, and tags are essential features for any IT ticketing system since they allow agents to locate and manage tickets easily. In addition, the features help agents customize daily workflows and spot reoccurring customer issues.
Team collaboration
A set of team collaboration tools is a must-have for any ticket management system. The team collaboration tools should include features/actions like;
assigning tickets to departments or individual agents
escalating and managing ticket responsibilities
agent collision detection to prevent multiple agents from working on the same ticket
attaching files and images to tickets
Canned responses
Customer service representatives are likely to get lots of similar queries from different customers. Thus, a ticketing system usually has a canned messages feature that allows your agents to create pre-made responses to the most frequently asked questions. The feature also helps;
save agents a lot of time and effort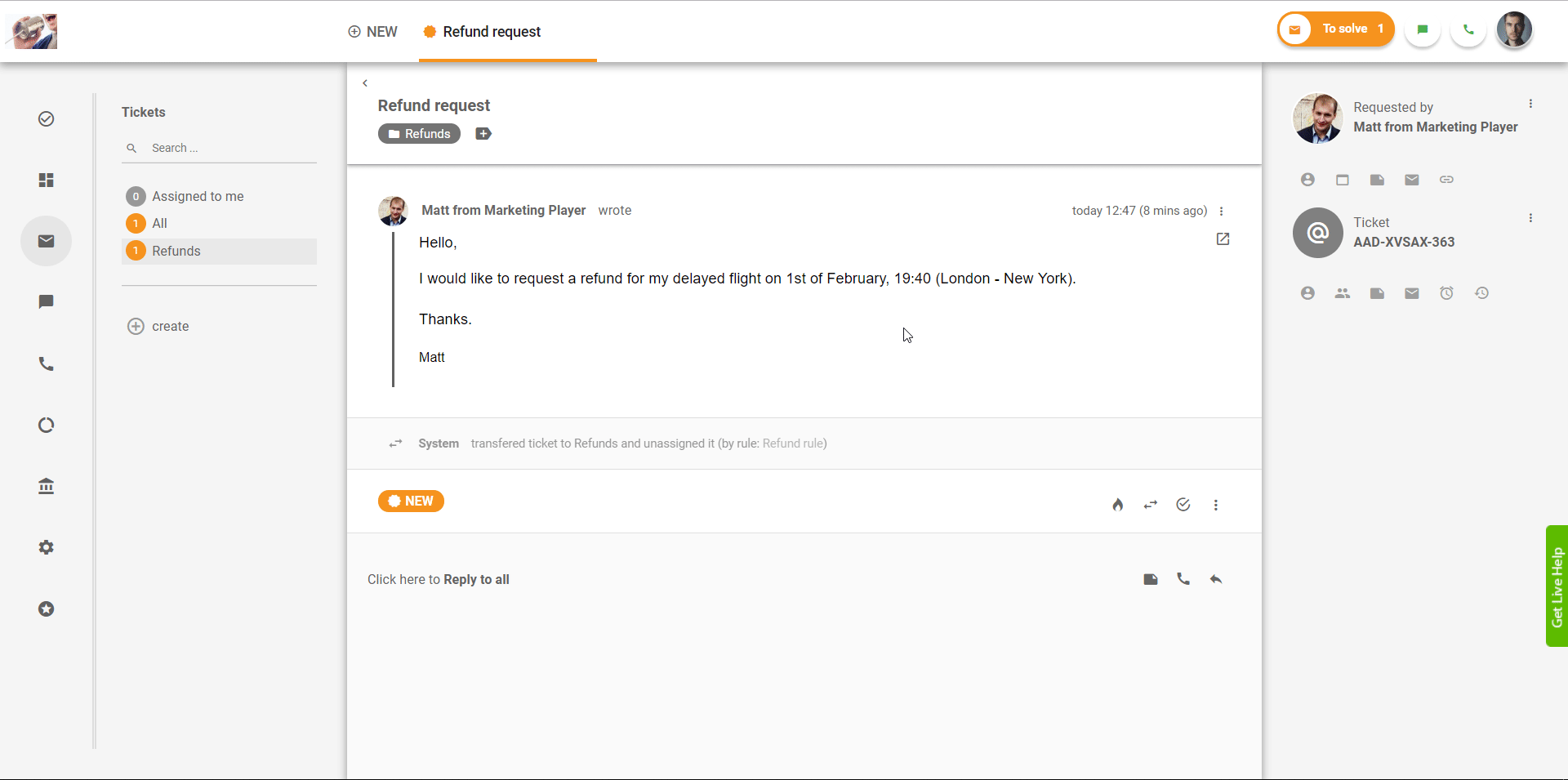 Reporting capabilities
Robust reporting capabilities are essential for excellent ticket management software. Reports and analytics provide managers and team leaders with invaluable insights. Thus, enabling them to monitor their team's;
Identify top and substandard performers in a team
Monitor service standards
Track customer satisfaction
Discover on your own
LiveAgent is quality help desk software with more than 180 features that improve your customer service right away. The system includes ticketing, call center, live chat, social media integrations, customer portal, knowledge base, forum, and more. If you would like to learn more, feel free to watch the video below for further information.
LiveAgent 2021 | Better Customer Service Starts Today | Live Agent01:12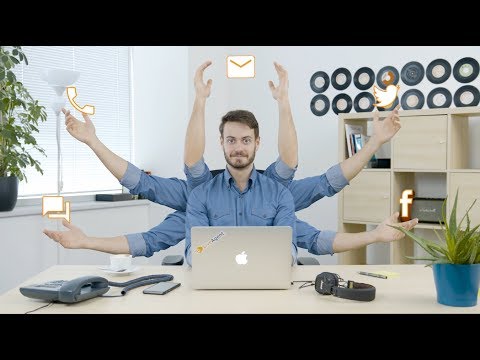 Live Agent
Try out LiveAgent for FREE
Handle all customer inquiries from one interface. Start improving your customer service with a 30-day free trial right away!