Key takeaways
Pros
Easy to understand
Real-time feedback
Interesting features
Cons
The implementation may be challenging for first-time users
Missing leaderboards
Inaccurate performance measurement
Zoho Desk setup and implementation
To start using Zoho Desk's gamification feature, sign up for a Zoho Desk account. Luckily, there is a free trial waiting for you there.
I headed to Zoho's official website and began the sign-up process. I was asked to provide information like my full name, company email address, and telephone number. Once I did that, I agreed to Zoho's terms and policies and that's it – my account was ready.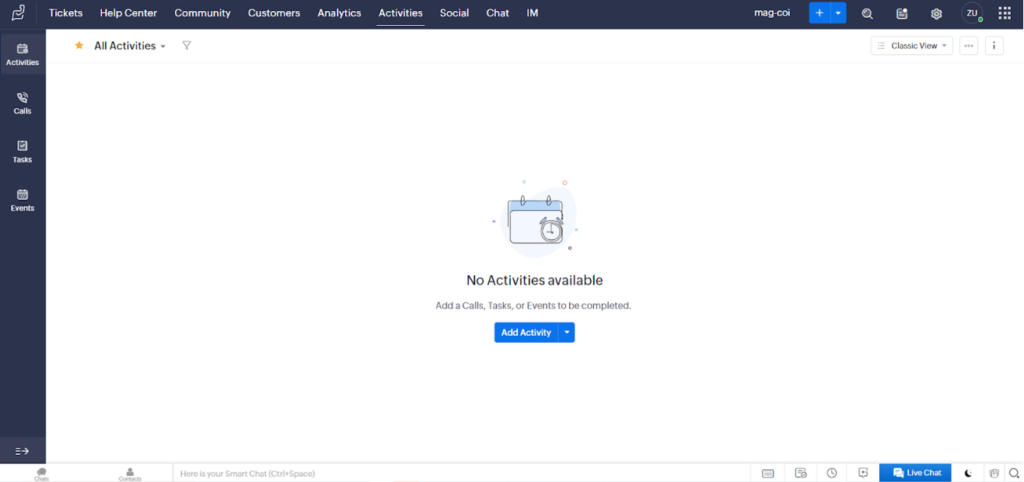 Excited to test the software, I went ahead and added all the test agents to properly look into the gamification features from both sides. To add agents, I was asked to provide a bunch of info. This included their first and last names, email addresses, and the department they were in. I also assigned them the right roles and permissions. There are a few more settings you can configure for your agents if you want to be thorough, but I chose to skip them just because they weren't all that important for the gamification feature.
With all this configured, the gamification fun could finally begin.
Gamification features in Zoho Desk
Zoho Desk's gamification features are available with the following subscription plans:
Standard
Professional
Enterprise
This means that you can use gamification no matter which pricing plan you choose. That's a pretty convenient solution – you don't need to pay more just to add a bit of fun to your workplace. Now, let's take a closer look at what Zoho's gamification has in store for us: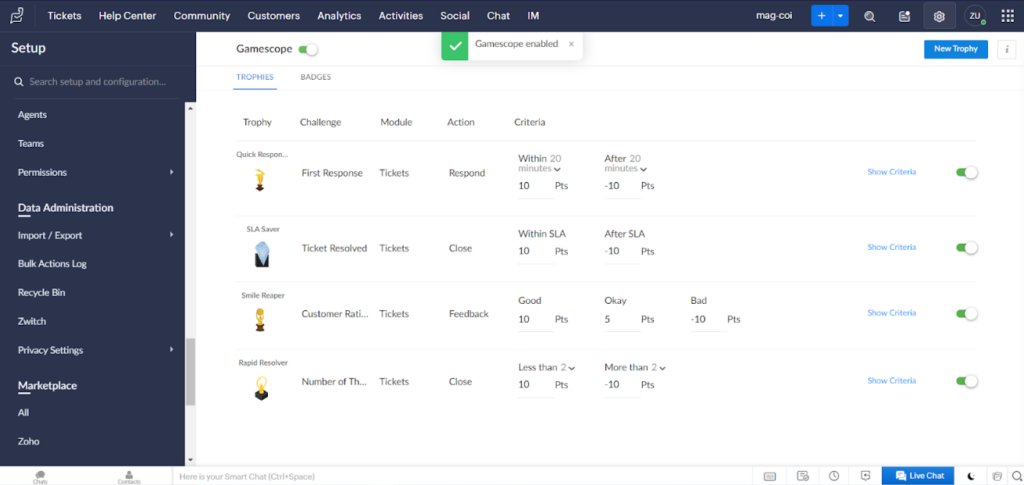 Badges
One of the key features of Zoho Desk's gamification is the badge system. Support agents can earn badges based on their performance, such as "Mail Magician," "Customer Delight," and "Ticket Terminator." These badges are displayed on the agent's profile, providing recognition for their achievements. Zoho lets you add custom badges as well.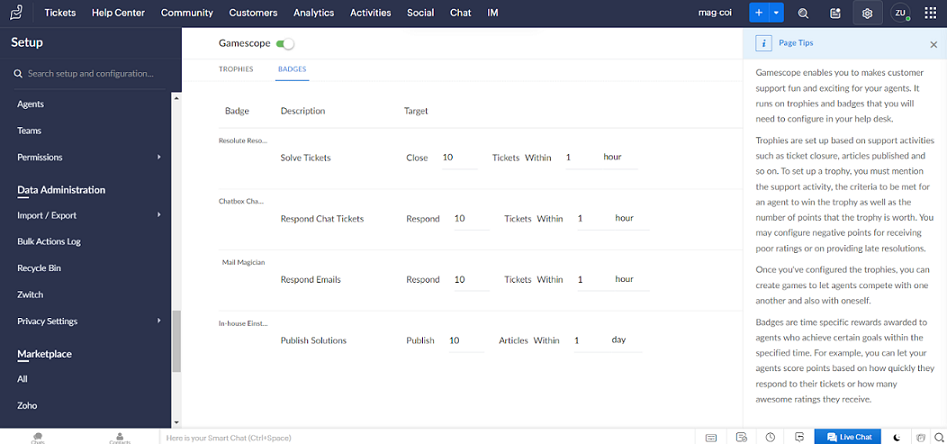 Trophies
Aside from badges, you can also introduce trophies. They are rewarded based on completing various support tasks. What's interesting about this feature is that you can configure trophies based on both positive and negative points. While the former moves the agent toward receiving a trophy, the latter moves them away from this achievement. This is a fun and competitive way of keeping your agents focused and on top of their game at all times.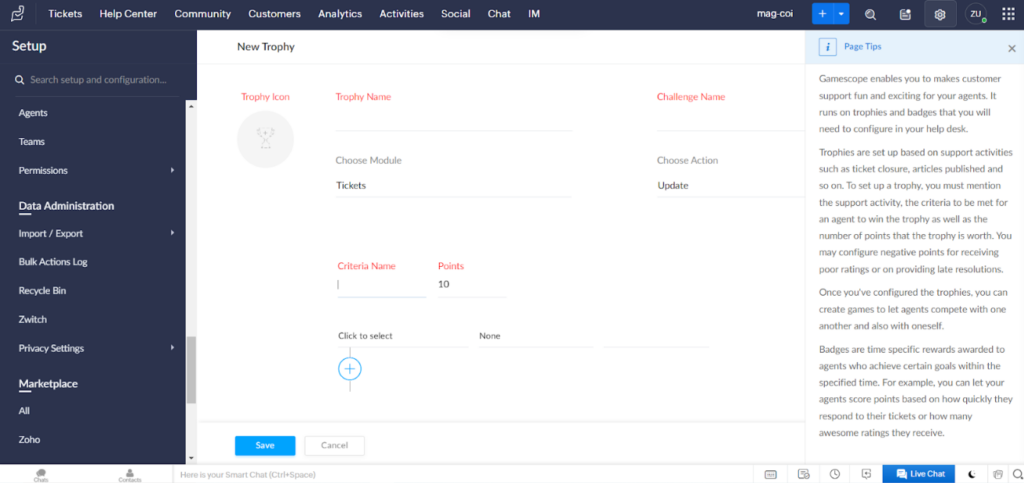 Challenges
Challenges are another feature included in Zoho Desk's gamification. Admins can create challenges for agents to complete, such as resolving a certain number of tickets within a specific time frame. Completing challenges earns agents points, helping them get new trophies.
Zoho Desk gamification features in action
Once I had finished setting up all the gamification rules, Zoho Desk automatically started tracking the required data based on the criteria I had saved.
From what I saw, agents receive points when they meet certain conditions. They can also see all the possible conditions, which acts as a motivation booster. When they can see which actions they need to take to complete the challenge or earn a reward, it provides an incentive for them to step up their game.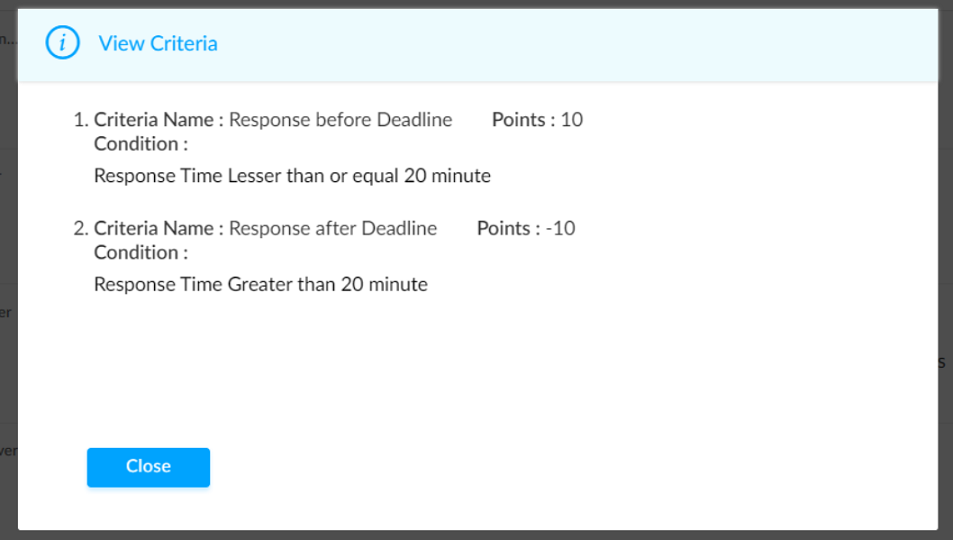 Usefulness of Zoho Desk gamification features
Zoho Desk's gamification features can be highly beneficial for teams; they provide a fun and engaging way to motivate agents and improve customer satisfaction. The system of setting up challenges and awarding trophies offers recognition for agents' hard work. One feature that I was missing was some kind of a leaderboard. It could add an element of healthy competition in a fun environment. Nevertheless, the system is easy to manage and work with. It's also worth mentioning that it offers a pretty fair degree of customization when it comes to trophies and challenges.
Pricing
Zoho Desk offers three different pricing options for users to choose from, each with a distinct set of features catering to the needs of various people and their businesses.
Standard
Zoho's Standard plan starts from €14 per agent per month. Within this option, subscribers can expect to access all essential support features to augment their customer service teams, including 5 email channels, ticket management features, and, of course, the gamification feature.
Professional
The next available plan is the Professional one. For €23 per agent per month, subscribers can take advantage of simplified collaboration and process automation functionalities, making it specifically suitable for fast-growing teams. It's worth noting that this plan too grants access to gamification features.
Enterprise
Last but not least is the Enterprise plan. If you decide to subscribe to this one, you will get access to advanced AI and customization capabilities, enabling enterprise-level support of the best quality. The best thing about this is that you can access all this for €40 per agent per month, and yes, the gamification module is included in this plan as well.
Conclusion
Zoho Desk's gamification is an excellent way to make customer support more enjoyable and engaging. With its trophy and challenge systems, Zoho Desk provides a fun way to motivate agents and improve customer satisfaction. If you are looking for a way to boost your team's motivation and productivity, Zoho Desk's gamification feature is worth exploring.
Although fun, it lacks some touches that would make the experience more interesting. Features like leaderboards and gamification templates are missing, which is unfortunate because they could add a touch of healthy competition.
All in all, if you're looking for something simple, it's a nice and functional feature. One word of warning though – if you're looking for a sophisticated and very complex solution, Zoho Desk's gamification may not be for you.