What is a conversion funnel?
Conversion funnels are the journeys customers take online. From searching for a product or service to making a purchase. They give companies a perspective on the user experience. Originally conversion funnel was a term used for e-commerce businesses, but nowadays it can refer to any business.
It has become imperative to observe the customer journey as it helps understand what customers might be missing.
Companies also use marketing funnel visualization, which focuses on a wide range of audiences and tries to stir them onto the path of conversion.
What is a funnel conversion rate?
All successful businesses have high funnel conversion rates. They can track their customers accurately and use data to make informed decisions. You can improve a sales funnel in many different ways, but the goal is to find the most cost-effective one.
You need to find ways to turn visitors into leads and leads into customers as quickly as you can. In other words, your conversion rate should be high. What does this mean? Conversion rate is the number of leads that have turned into customers.
The most basic conversion funnel metric is calculated by dividing the number of sales by all the leads in your funnel and multiplying it by 100.
Conversions:
Leads X 100 = funnel conversion rate %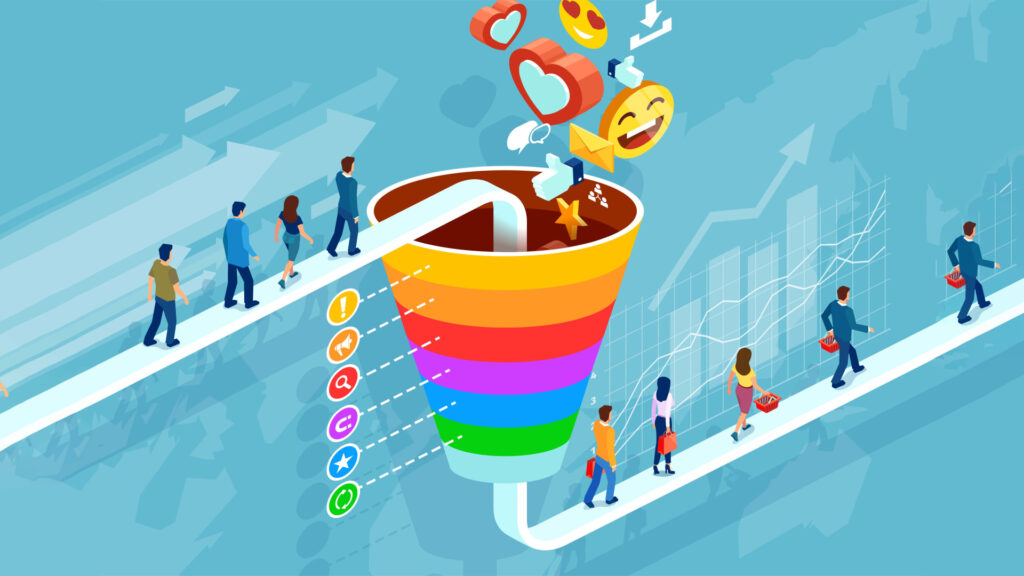 Improving the funnel conversion rate
Conversion funnel optimization is all about improving your conversion rate. It is the key metric that determines how good your customer journey and your funnel are. That is why marketing and sales teams work hard on improving conversion rates.
There are many ways you can do this, and funnels can differ quite a bit. A particular approach will not work the same all the time. However, there are some general actions that every conversion funnel can benefit from:
Increasing organic traffic (SEO)
Using social proof to engage customers
Performing a variety of tests
Working on CTAs and forms
Learning about your target audience
Doing market research
Creating a sense of urgency

Stages of the marketing funnel
Prior to making a purchase, qualified traffic goes through several funnel steps. You have to understand all of them in order to set the right practices to help move people along the funnel.
Awareness stage
Customers reach the first stage of a funnel through marketing. That's when marketers start to gather information about potential customers and generate leads.
Interest stage
In this stage, your leads start to learn about your services, products, and brand. It's the most ideal stage to create a great relationship with leads.
Consideration stage
The consideration stage is when your leads turn into qualified leads. Your marketing teams start nurturing them further to make them convert.
Intent stage
Customers enter this stage when they've performed an action showing that they are interested in particular products or services.
Evaluation stage
Evaluation is when customers are making their final decision on whether to buy a product. At this stage, marketing and sales teams must work hard to convince them to buy.
Purchase stage
The final stage is when the customer has made a purchase.
Analysis of a conversion funnel
Analyzing your conversion funnel can help you understand where you need to improve. It can help you learn the percentage of leads moving from one funnel step to another so that you can recognize phases that perform poorly and improve the conversion process.
Analyze from the top level
Analyze all the four primary stages of the checkout process, including:
landing page
product page
cart
purchase
Analyze which of the steps needs the most improvement to better serve your clients.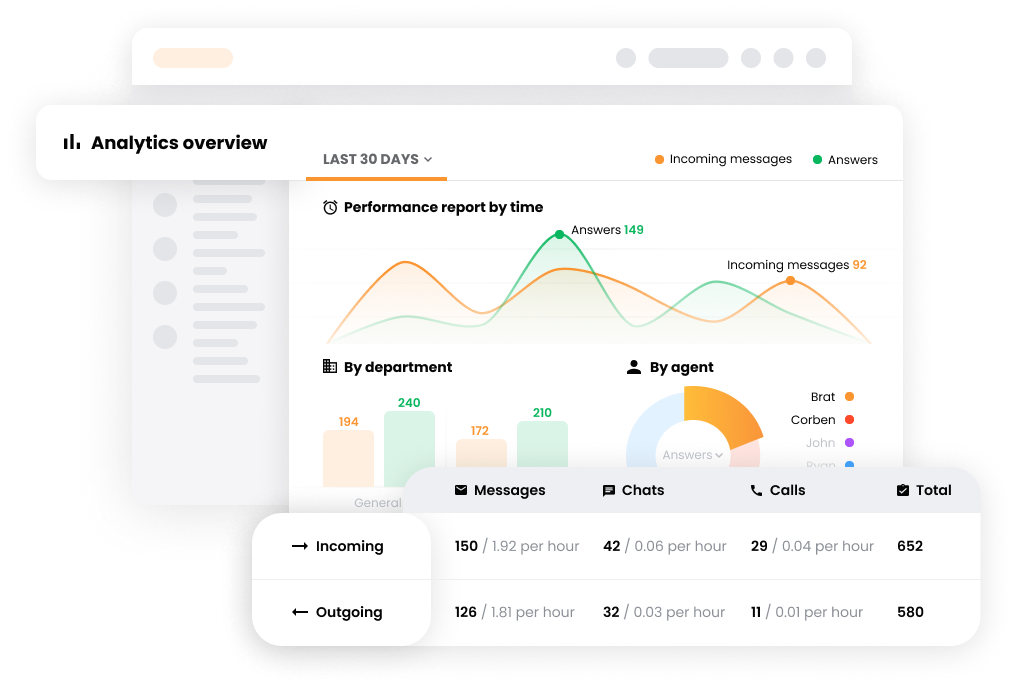 Get into the specifics of the issue
Once you've discovered which stage is derailing your customer journey the most, it's time to analyze it further and determine the cause. For example, if people are leaving the cart, it might mean that your checkout process is too complex.
Or perhaps you don't have the desired payment method. If you want to work on your customer retention, improve the purchase stage and convince customers to return.
How to make a conversion funnel
Creating a powerful conversion funnel requires time and effort. You need to have a strategic approach while considering your business model and business goal at every stage. Always keep in mind that a positive customer experience is the key to success.
create a flawless buying process
create a landing page
offer a valuable service or product
adjust conversion goals
use content to generate traffic
analyze to find leaks in your funnel
perform conversion rate optimization
add additional offers
consider creating multiple funnels
Looking for the right tool for you?
LiveAgent offers plenty of useful features which can help you improve you conversions. Curious about all the opportunities?
Watch a video about the conversion funnel
A conversion funnel is an analysis tool which allows businesses to track the process of customers as they interact with a product or service. LiveAgent help desk software is an intuitive customer service platform designed to facilitate the creation of an efficient and effective customer journey within the conversion funnel. LiveAgent provides a suite of features including ticketing, live chat, chatbot integration, and more, enabling businesses to measure and optimize customer journeys, identify user issues quickly, and increase online conversions.
Conversion Funnel 101 | Marketing and Sales Funnels Explained 🔻AARRR, AIDA, and Growth Loops | Railsware Product Academy13:28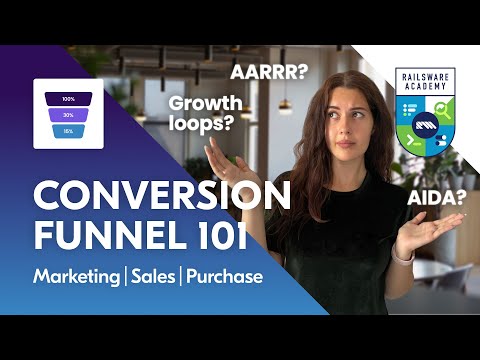 Railsware Product Academy
Topics
Marketing Funnel
AIDA Funnel
Dave McClure Funnel
Video summary
The marketing funnel is a visualization of a client's journey divided into stages from finding out about what you offer and your brand to eventually purchasing your product or service. The funnel breaks down your client's journey into steps and then tracks and improves how all the steps convert one into another. The purpose of building and tracking conversion funnels is to get more people to become your clients and hence operate more successfully. The video discusses the concept of funnels and different funnel types. The AIDA funnel includes the stages of awareness, interest, desire, and loyalty. The Dave McClure funnel includes the stages of acquisition, activation, retention, revenue, and referral.
Frequently asked questions
What is a conversion funnel?

It refers to the visual representation of the buyer's journey. As customers move closer to making a purchase, fewer remain in the funnel.

What is a funnel conversion rate?

Funnel conversion rate is one of the simplest metrics for the sales funnel. It represents a percentage of leads who have converted over a given period. Divide the number of conversions by the number of leads and multiply by 100 to get the funnel conversion rate.

How can I increase my funnel conversion rate?

There are many methods marketers suggest for improving sales funnel conversion rates. These include creating data-driven funnels, running personalized marketing campaigns, creating a sense of urgency, using social proof, and much more.

What are the stages of the marketing funnel?

Marketing funnel stages are: awareness, interest, consideration, intent, evaluation, purchase.

How do you analyze a conversion funnel?

Conversion funnel analysis is an extensive process that includes KPI monitoring, user behavior analysis, using heatmaps, doing surveys, performing tests, identifying bottlenecks for steps in the funnel, comparing the funnel for deeper analysis, and so on.

How do I make a funnel?

Create a hassle-free buying process, create a landing page, offer your services or products, adjust conversion goals, generate traffic by using content, analyze where in the funnel you are losing leads, optimize conversion rate, add additional offers, consider creating multiple funnels.
Expert note
<p>Conversion funnel is the path customers take online, from search to purchase. Understanding this process is key to improving conversion rates and optimizing customer journeys.</p>

Andrej Saxon
Sales manager