How to buy a functional call center?
To buy your call center, you need to understand all of the factors that affect the price of such an organization and make a solid investment. Buying a contact center is possible, but many companies avoid doing this.
For businesses that have other core responsibilities, it's usually better to outsource call center services. But if you want to run a call center and make money this way, you can.
The first important thing to know is that you'll be able to pick from call center franchises or independent organizations.
Call center franchises
A lot of call centers today operate as business franchises. They are part of a larger organization but are run locally by franchise managers. This option requires lower up-front investments, and you get the necessary digital solutions from the main company. However, you are in charge of finding a location, space, employees, and setting up operations.
Independent call centers
An independent call center is all about doing everything from scratch. There is no help from a franchiser, and you're in charge of everything. This approach requires more work and a more significant investment but offers greater profit potential.
Process of buying a call center
establishing why this is the right investment
acquiring information for operational and strategic decision-making
understanding your business needs
setting your budget
finding a potential purchase (listings, ads, word-of-mouth, business agents)
assessing all of the aspects of the organization
negotiating a price
going through with the purchase
How profitable is a call center business?
Business experts say that there are two ways call centers make money:
charging per call
charging per hour
If you are facing consistent call times, charging per call might be the right way to go. At the same time, depending on the service you provide, calls might last longer or shorter. Generally speaking, a customer support center with shorter average call times can earn more when charging per call.
You need to sum up the wage of your employees and multiply it by four. As a general rule of thumb, this is the amount required to cover all ongoing expenses. Everything above that can be considered pure profit.
But for the profits to grow, you need to adopt a scalable business model. In other words, you need to find deals with Internet providers, cloud solutions, and software companies that exponentially decrease the price per employee as the company grows.
Where can I find a call center for sale?
The best option is to find listing sites with businesses for sale. These sites let you filter your search according to your needs and get valuable details about each listing. At the same time, it's easy to reach out to the business owner if you've found an option that you like.
When going through listings, make sure to check these things:
location
size
frozen properties
price
type of entity
number of employees
operational status
services offered
any special terms
Keep in mind that even though you will become the business owner, most call centers are sold along with the management.
How to choose the right call center for sale?
There are a lot of different factors to consider when choosing a call center. By understanding your business needs, you will find the best option within your budget to achieve customer satisfaction, be efficient, and minimize your running costs.
Where do you plan on operating?
Your call center business can be focused on one particular country, English-speaking countries, or countries around the globe. This is why it's essential to find a team that speaks the required language and has access to technology to accept/make calls to a targeted area.
At the same time, your location is also important because of the time zone if you're expecting international calls from different time zones. In other words, you need to align your regular business hours with the busiest time of day.
Team size
The required team size directly depends on your target market and your budget. For example, some industries require customer service teams that offer detailed technical support. At the same time, there may be a smaller client base meaning that you need a smaller team to avoid unnecessary costs.
Level of knowledge and experience
Different industries require different knowledge from call center agents. For example, if a company requires customer support for musical instruments, representatives need to have valuable knowledge and experience to help them with their queries.
Technologies available
Exceptional customer service depends on technology. Having outdated solutions can hinder the success of your business. Here are just some of the technologies modern call centers use:
CRM systems
campaign management system
intelligent call-back
intelligent call routing
call distribution system
live chat
TTY/TTD
knowledge management system
workforce management system
universal queuing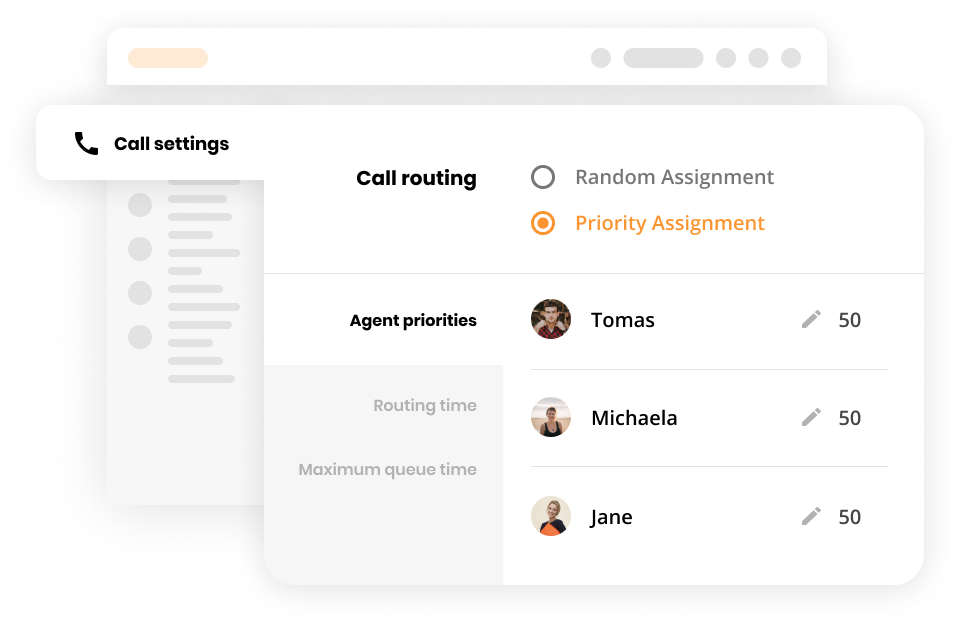 Office space equipment
Apart from digital technologies, a call center business needs the necessary infrastructure to conduct its operations. This includes the cost of equipment like headsets, computers, desks, lounge areas, conference rooms, telephone/internet lines, and so on.
How much does it cost to buy/own a call center?
It can be difficult to know the selling price in advance. It all depends on your needs, what kind of call center you're looking for, and its location.
On business listing sites, you can find prices ranging from $100,000 and over $2,000,000.
According to Glassdoor, the average base salary of a call center agent in the US is $30,000.
The average employee cost for a typical call center per year is around $260,000.
Costs for setting up equipment and digital infrastructure per employee range from $2,500 up to $10,000.
Choose only the best for your call center
LiveAgent allows your agents to deal with all customer support calls effectively. Want to find out more?
Frequently Asked Questions
How to buy a functional call center?

Buying a call center is like acquiring any other business. You need to gather essential information and make a big investment at the very start. The process is extensive and includes assessing key aspects of the business, including technologies, assets, property, employees, cash flow, competition, and so much more.

Is call center business profitable?

There are many different call center business models out there. It is important to choose the right one and execute it properly if you want your business to be profitable. All of the models have their pros and cons; it's up to you to choose the cons you can live with and minimize their effects.

Where can I find a call center for sale?

Call centers are usually sold online on business listing websites, through outsourcing consultants, or via ads. No matter how you find a call center for sale, it is essential to analyze the organization thoroughly before buying.

How to choose the right call center for sale for my business?

A successful call center has many good aspects. It would help if you considered factors like current international reach, the size of the call center, potential for expansion, capital, technologies, costs of running, employees, and so on.

How much does it cost to own a call center?

The price of buying a call center can vary a lot depending on a variety of factors. It all depends on the type of call center, the number of employees, location, types of service provided, infrastructure, and so much more. The bottom price is around $100,000+ and can go over $2,000,000.
Expert note
Buying a call center can be a solid investment, but it requires thorough research and understanding. Consider factors like franchise vs. independent, profitability, and thorough analysis before making a purchase.

Andrej Saxon
Sales manager