Key takeaways
Pros
Modern and sleek design
Many interesting features
Incredibly easy setup and installation
Flexible and customizable configuration
Cons
Some features could be more visible
The occasional bug or two
Limited feature set in the free plan
Bria, previously known as X-Lite, is an easy-to-use softphone software suitable for users who want to get slightly more functionality. It offers a sleek user interface with useful features, and even something extra for users who are willing to spend more money. Bria can be very versatile which makes it excellent for single users, teams or even entire companies.
Installation and implementation of Bria
The process starts with creating a new account at the Bria website. I started by making a trial version first. I selected the Bria Solo trial for the purpose of this review. It takes just a couple of minutes to complete, and the website didn't force me to select any payment method or add credit card information. Once I provided my details, I was welcomed to my account with a simple message telling me what to do next.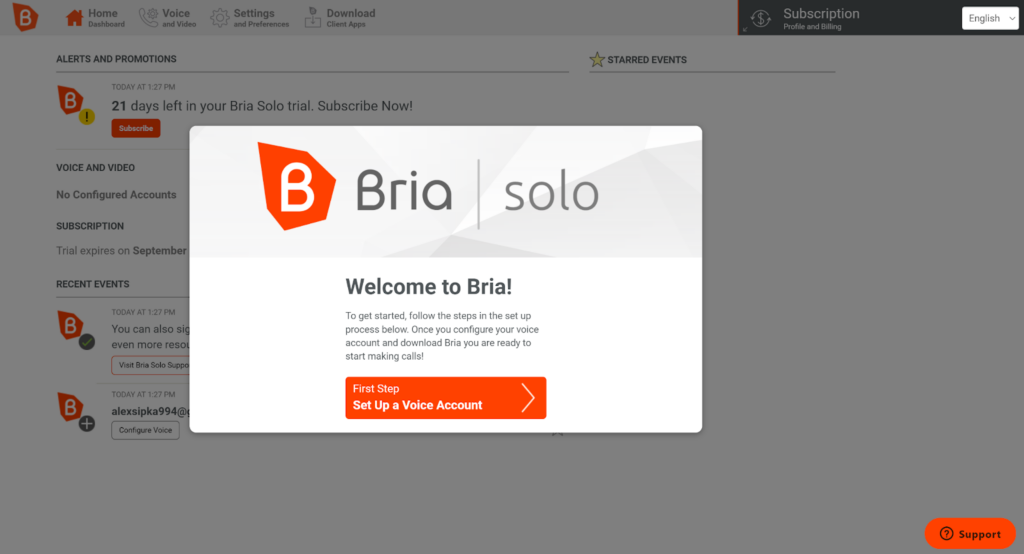 Next, I had to set up a voice account, enter my login, and finally download the app. Bria directly integrated 12 VoIP service providers into the initial setup, so connecting them took a few moments. The installation and implementation process was fairly simple and fast. The guide proved to be very helpful along the way, and should be a part of every softphone software. I'm sure it would be appreciated by every beginner who has never set up a softphone before. I also appreciated that you have to connect your VoIP service during your account setup. The software is all set up and ready for action by the time you install the Bria app and log into it.
User experience and features
When you first open the Bria app, it's all set up. You don't have to worry about adding accounts or fiddling with the configuration anymore, and you can start making your first calls. The look of the app is sleek and modern, and has an overall nice aesthetic. The same goes for the user interface design, it is simple and not overly complicated. Everything is where you would expect it to be and works as it should. On the first tab you can find a large dial pad with the option to type a number and start a call, or you can select a number from your contacts list.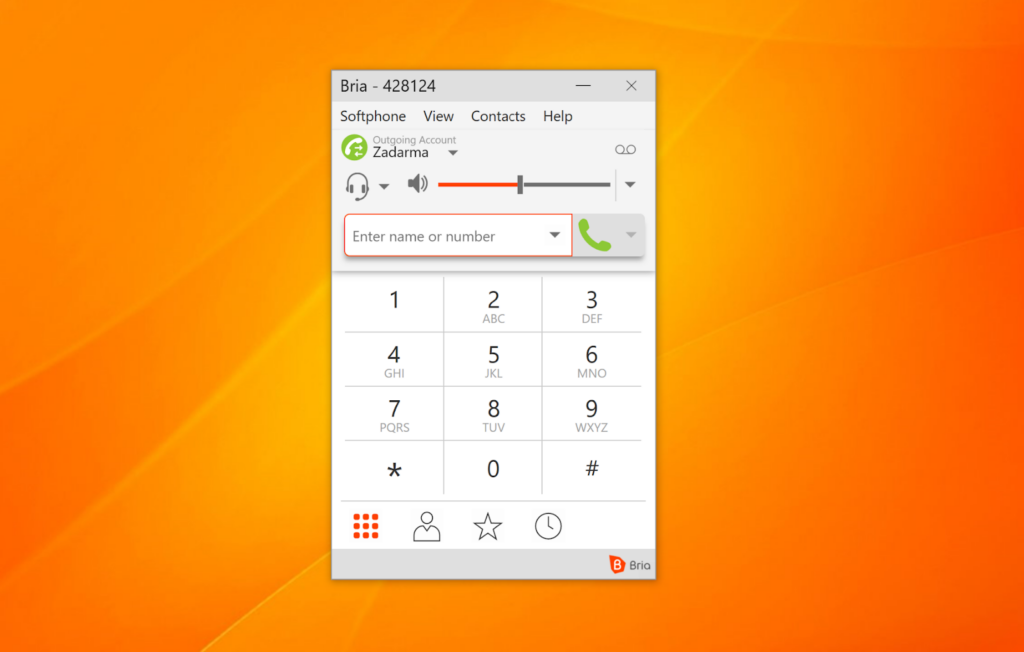 Other options include voice messages, volume controls, and the option to select either speakerphones or a headset as your primary listening device. This part of the app also includes voice settings where you can test your equipment, set up shortcuts, set call blocking and much more. There are very few things that you cannot control, which gives every user great flexibility and the ability to customize their day-to-day workflow.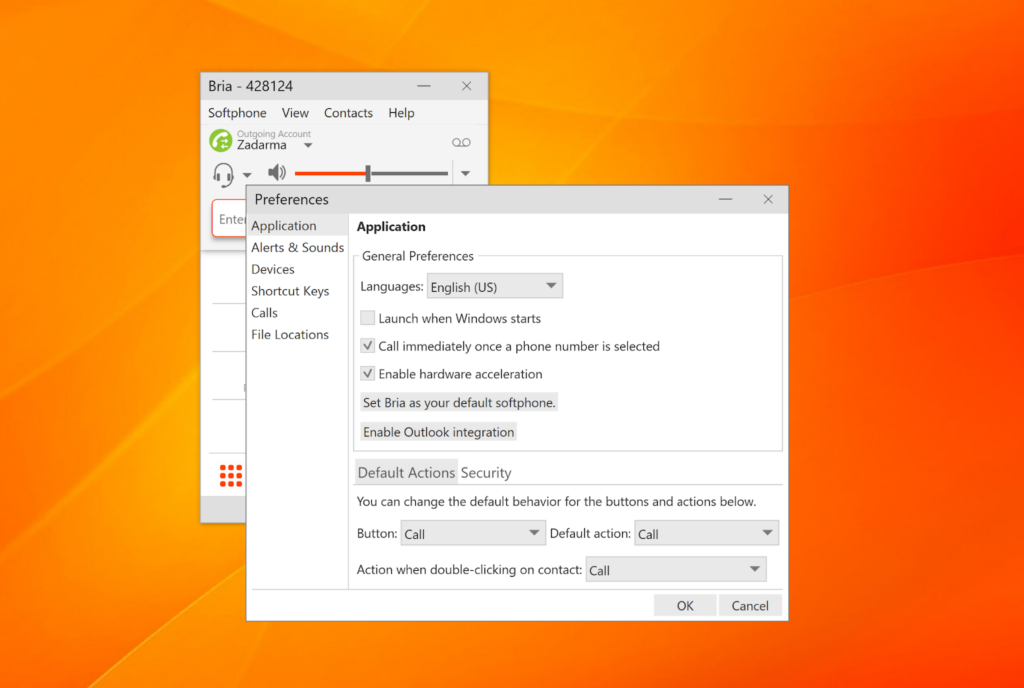 The main screen of the app includes a few more buttons at the bottom for contacts, favorites, and call history. The contacts list is simple, but effective. It offers the option to add contacts to three groups: Work, Family, and Friends. These groups can be customized or renamed and you can create new groups by clicking the contacts button at the top of the interface. There's also an option for importing and exporting contacts in the same section.
It's a slightly confusing choice to include these options outside of the main focus area. At first, I thought there was no option to create groups or import/export contacts, and only discovered these options later. On the bright side, this design choice saves a lot of screen space so you can see all of your contacts without distracting buttons that won't be used very often.
Creating a new contact offers some options: display name, first name, last name, and a field for saving numbers and addresses: a softphone number, work number, home number, email address, website, and the "Other" option where users can input custom data. There is no option that would allow users to write a comment or a simple note in the contact details, which is another disadvantage of Bria's contact list.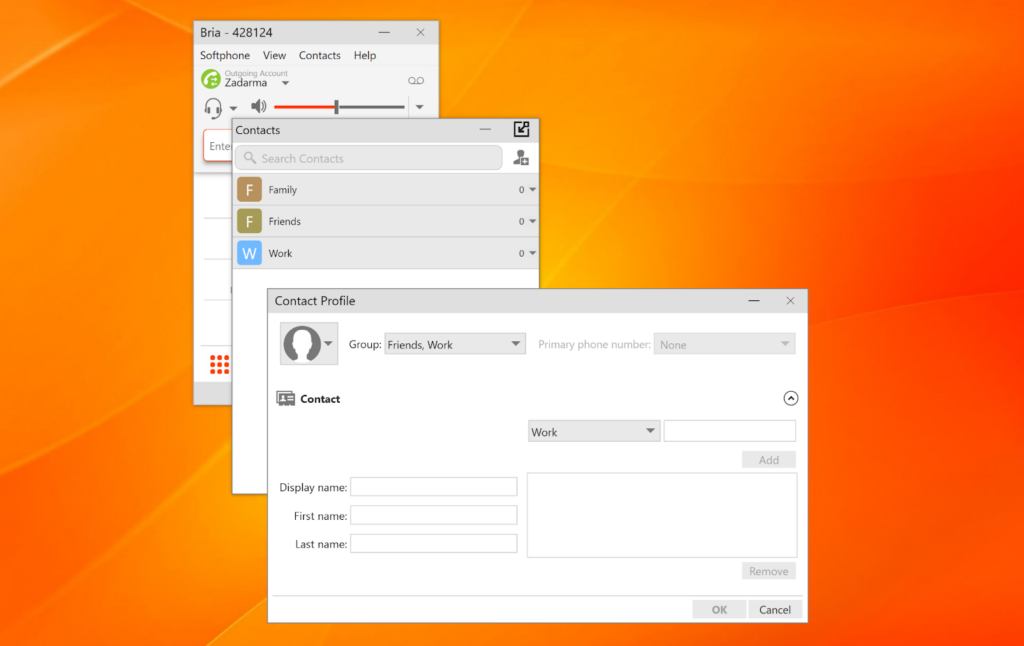 The favorites tab is self explanatory; you can add your favorite or most used contacts in this list for easy access. This option can be very useful for certain users, so there's not much to criticize. There are no other extra options, which is a good thing as there is no need to overcomplicate a simple feature such as favorites.
The call history tab offers a preview of the latest calls with time of the call visible right away.
There is a nice option to sort calls: incoming calls, missed calls, calls that were answered elsewhere, recordings, or you can also select the option to sort calls by date. You can choose calls from the last day, last month, last week, last seven days, and more. The call history feature is simple to use and the call sorting options are a great addition.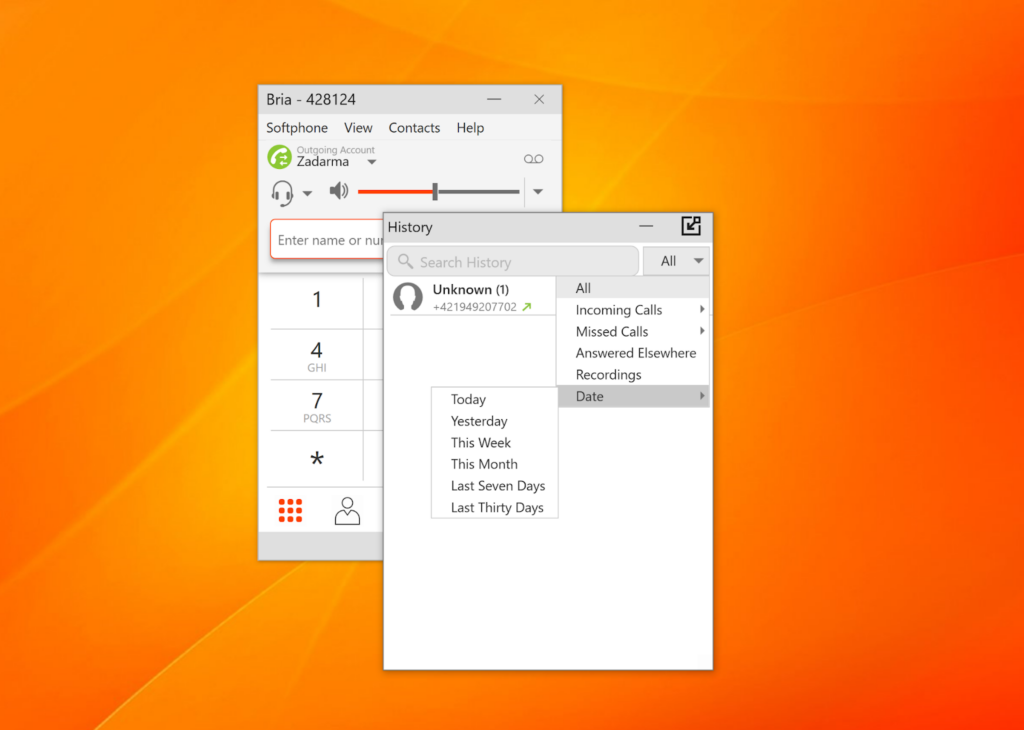 The last features include the option for video calls, strangely hidden under the View tab at the top of the interface. You can also find a user guide, troubleshooting options and an update checker in the Help tab right next to Contacts. Even though I didn't need any help while setting up or using Bria, the user guide looks comprehensive, organized and it offers short articles with helpful explanations and screenshots. The main feature, calling, worked well and I didn't notice any problems during my tests.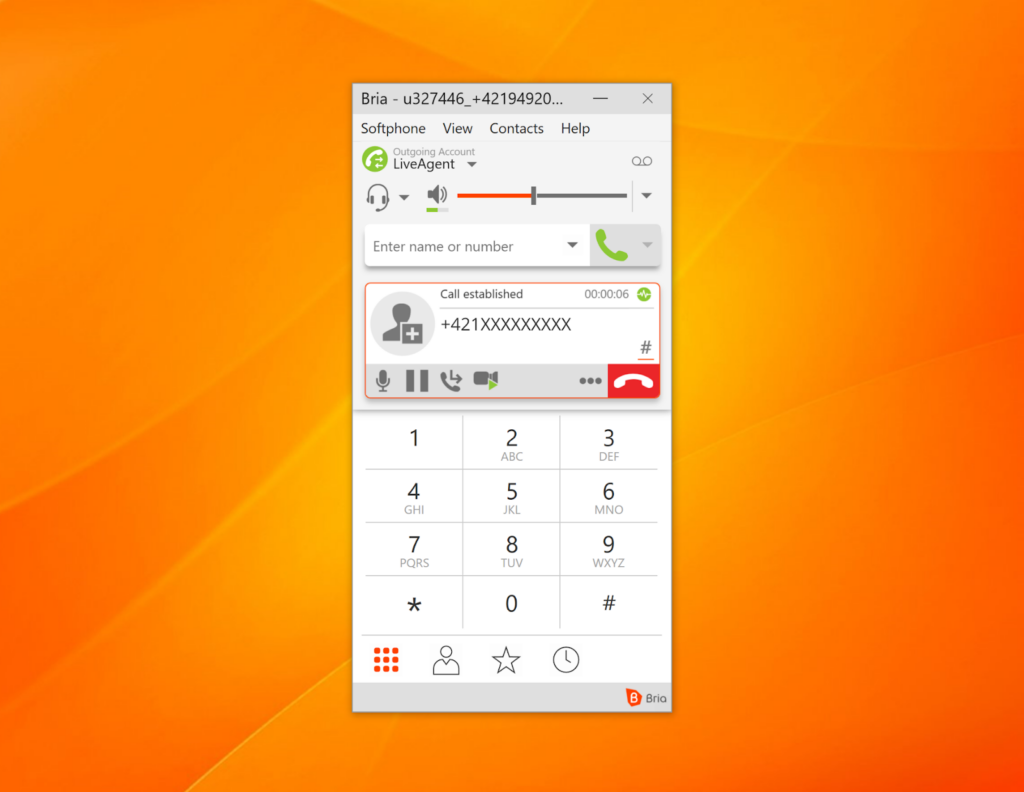 Although Bria generally runs very well and without any major hiccups, I did notice a few issues. There was one occasion where my Bria app simply wouldn't start when I attempted to open it, so I ended up reinstalling the app to make it work properly. I wasn't able to find out what caused this issue (tested on Windows 10).
I also noticed a minor issue where the app wouldn't update my VoIP service provider when I changed it or added a new one in the settings of my account. Although a simple reinstall of the app solves this issue, it can get slightly annoying if a user needs to switch accounts or add new ones.
Both of these issues might be very situational and dependent on the current version of the app. Neither of them halted my workflow for longer than a couple of minutes; they were just minor setbacks and none of them hindered my experience in a significant way.
Pricing
Bria offers three plans for various use case scenarios, and there's also a free plan option with limited features. I used the free trial version of Bria Solo for the purpose of writing this review. The remaining paid options are Bria Teams and Bria Enterprise. Every plan, except Bria Enterprise, includes a free 21-day trial with no credit card information required. Let's take a quick look at what each plan offers and how much it costs. You can see the full comparison of Bria plans at their website.
Bria Solo – $2.95 per month
Bria Solo is a plan for single users that includes 3 app downloads for desktop and mobile, 5 calling accounts, HD voice and video, call transfers, auto answers, call recordings, call history with sync, and a configuration portal.
Bria Teams – $4.95 per month per one user
Bria Teams includes everything mentioned in Bria Solo, and adds unlimited HD voice and video calls, unlimited team messaging and chat rooms, integration of 5 additional call servers or VoIP services, an administrator portal and more.
Bria Enterprise – Custom quote
Bria Enterprise comes with a Basic, Standard, or Business bundle which adds various features depending on your preference. They include 4 app downloads per user, 5 SIP or XMPP accounts support, advanced configuration options on Stretto Provisioning, LDAP/Active Directory integration, remote troubleshooting tools, screen sharing service and a lot more, depending on which bundle you choose.
How does Bria work with LiveAgent?
It works very well. Creating an integration with LiveAgent was a very easy process that took me just a few minutes to complete. Once I connected my VoIP provider with LiveAgent, all that was left to do was adding Bria as a softphone to the LiveAgent call center feature. Everything worked well within the system and Bria performed well with LiveAgent. The integration process was fairly simple. You can take a look at the full guide and learn how to integrate Bria with LiveAgent here.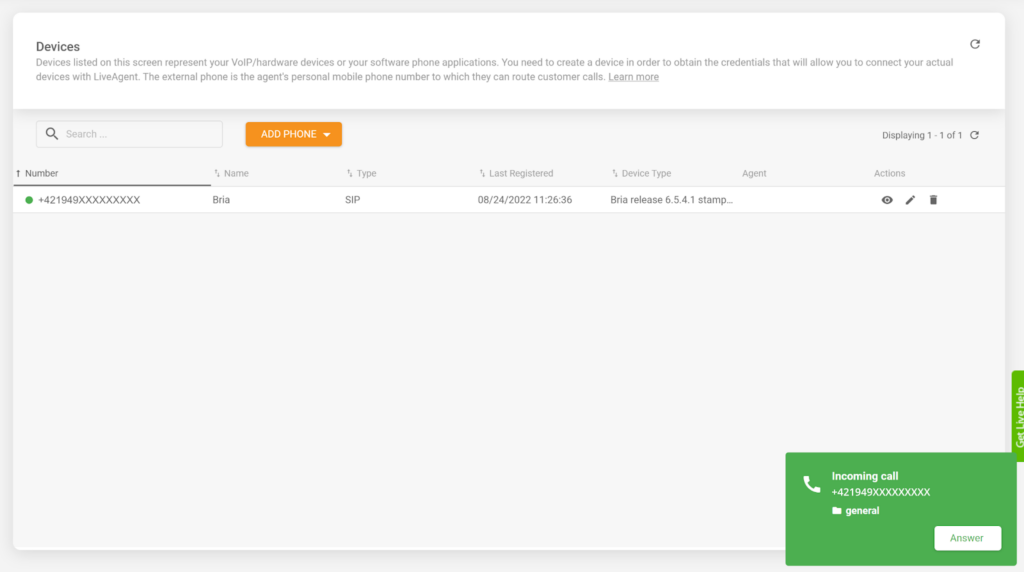 Conclusion
Although Bria might not be everyone's first choice due to the availability of free softphone software, professionals will definitely appreciate the added feature set. The features scale with each paid plan, so it's only up to you to decide if you will find use for them. Bria's free plan can work just as well as any other popular softphone, and you can scale up as you need, which is a nice addition. The interface is sleek and works well, although some features could be more visible and not hidden under various tab options. Overall, Bria is a great solution for any type of call center or help desk, and it works well with LiveAgent call center software. The only major thing to consider is if you're willing to pay for the advanced features.