Key takeaways
Pros
Amazing interface
Great functionality
Super fast implementation
Seems to be completely bug free
It's great even with the free version
Cons
You have to pay for extra features
Constant reminders that encourage you to upgrade to paid version
Zoiper is as close to perfection as you can get. Besides being a reliable softphone app that simply works great, it has one of the fastest setups and implementations I've ever seen. All features seem to be completely bug free. Zoiper just seems to be too good to be true, especially since the basic version is free and completely sufficient for all use cases. In general, Zoiper is simply an amazing softphone app and you won't regret your decision if you decide to use it.
Installation and implementation of Zoiper
Zoiper comes with three versions of the app, a limited free version for non-commercial use, a paid version for business, and a customized solution tailored to your needs. For the purpose of this test, I downloaded the free version. Bear in mind that some features mentioned in this review are only present in the paid version of the app. I have to say that getting started with Zoiper was unbelievably easy. The app installation is pretty standard; there is nothing difficult going on. What pleasantly surprised me was that Zoiper offers preconfigured settings for a selection of VoIP services, so users who prefer particular services don't have to deal with the configuration at all.
However, the setup process isn't difficult even for the rest of us who use a different VoIP service. Zoiper simply doesn't let users stumble in the dark. You get to connect your VoIP service right at the first launch of the app without unnecessary searching for the option in settings. The entire process is incredibly easy and Zoiper even automatically tries various configurations without any extra effort from the user. This certainly was a pleasant surprise.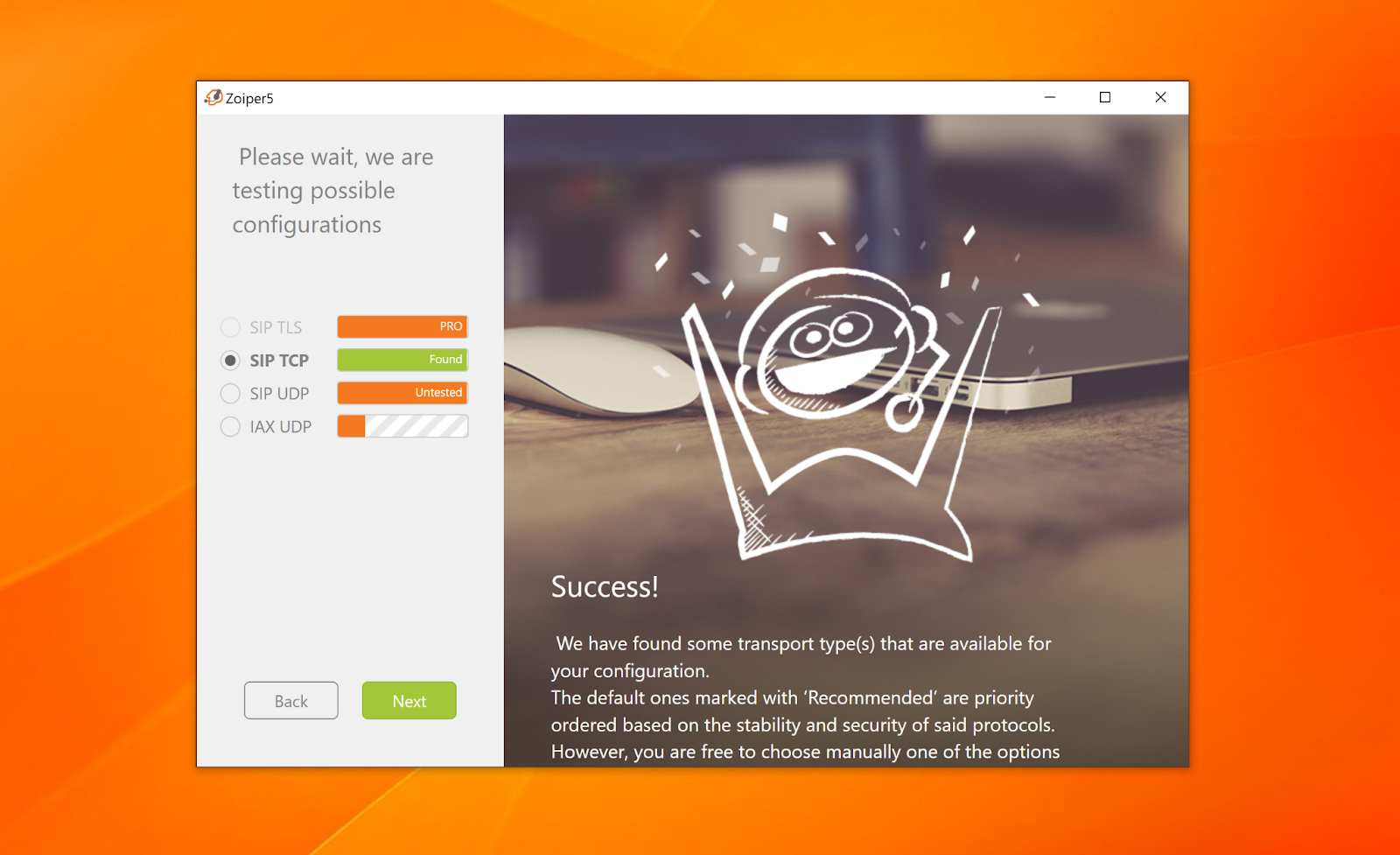 And the pleasant experience doesn't end there, as Zoiper also continues with the app configuration. It offers a live test of your speakers, microphone, and your web camera if you have one. The entire process of getting started with Zoiper is made easier thanks to this built-in guide. I never felt the need to look up for a user guide or search through forums online because something wouldn't work. Zoiper is, hands down, one of the smoothest softphones to get started with.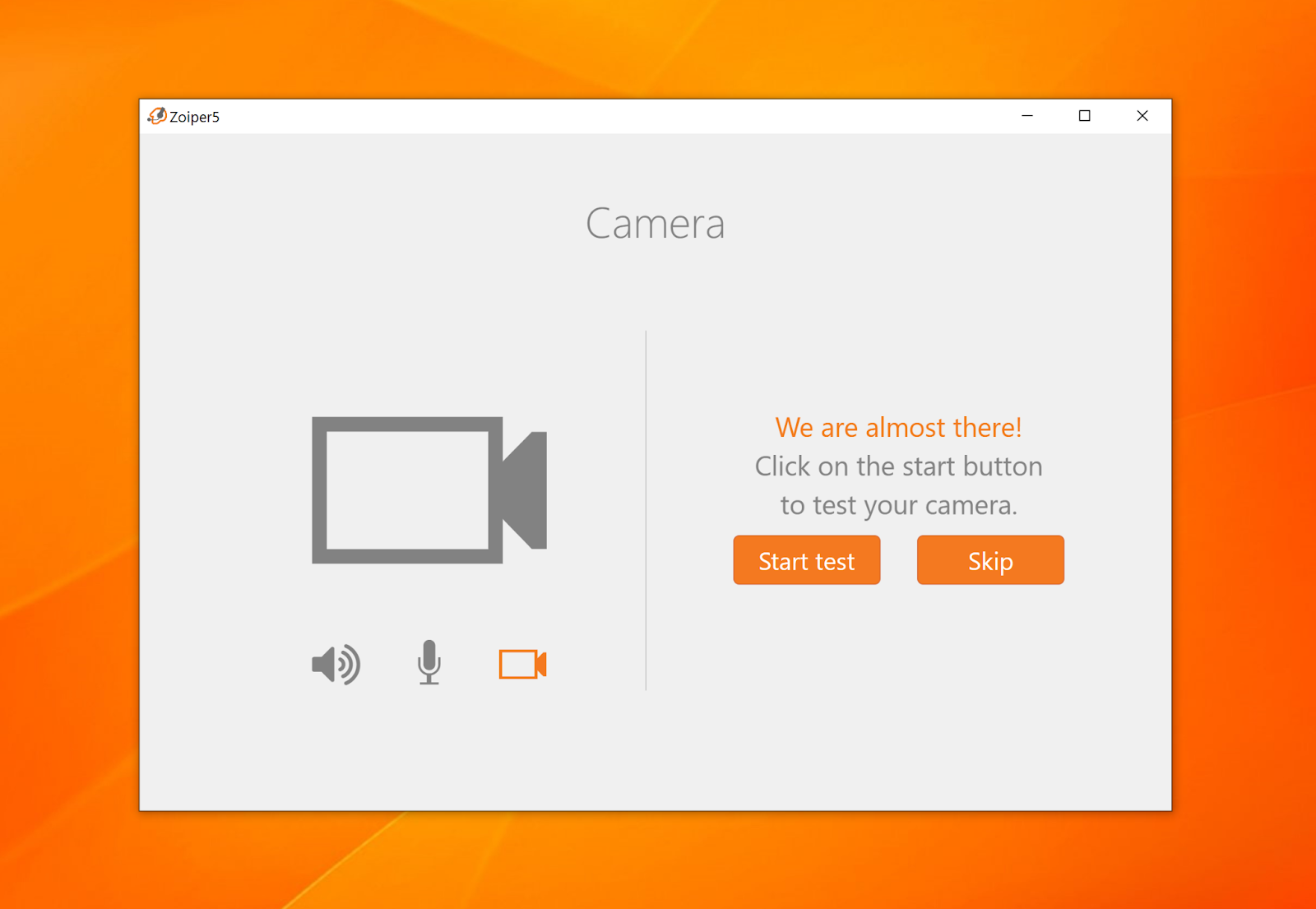 User experience and features
Zopier offers a pleasant, modern, and simple interface design that overall looks good and up to date. The interface is superb – it looks clean and everything is where you expect it to be right from the first look at the app. There are no unnecessary interface elements that would make navigating the app difficult, and no visual clutter present.
The largest element on the main screen is the contacts list, with the option to switch to recent contacts. The contacts list has the option to switch between all contacts, online contacts, and favorites. Recents on the other hand lets you switch between all recent contacts, calls, and messages. Using this list is simplicity itself and there seems to be no way to get lost. The plus button lets you add contacts or import contacts.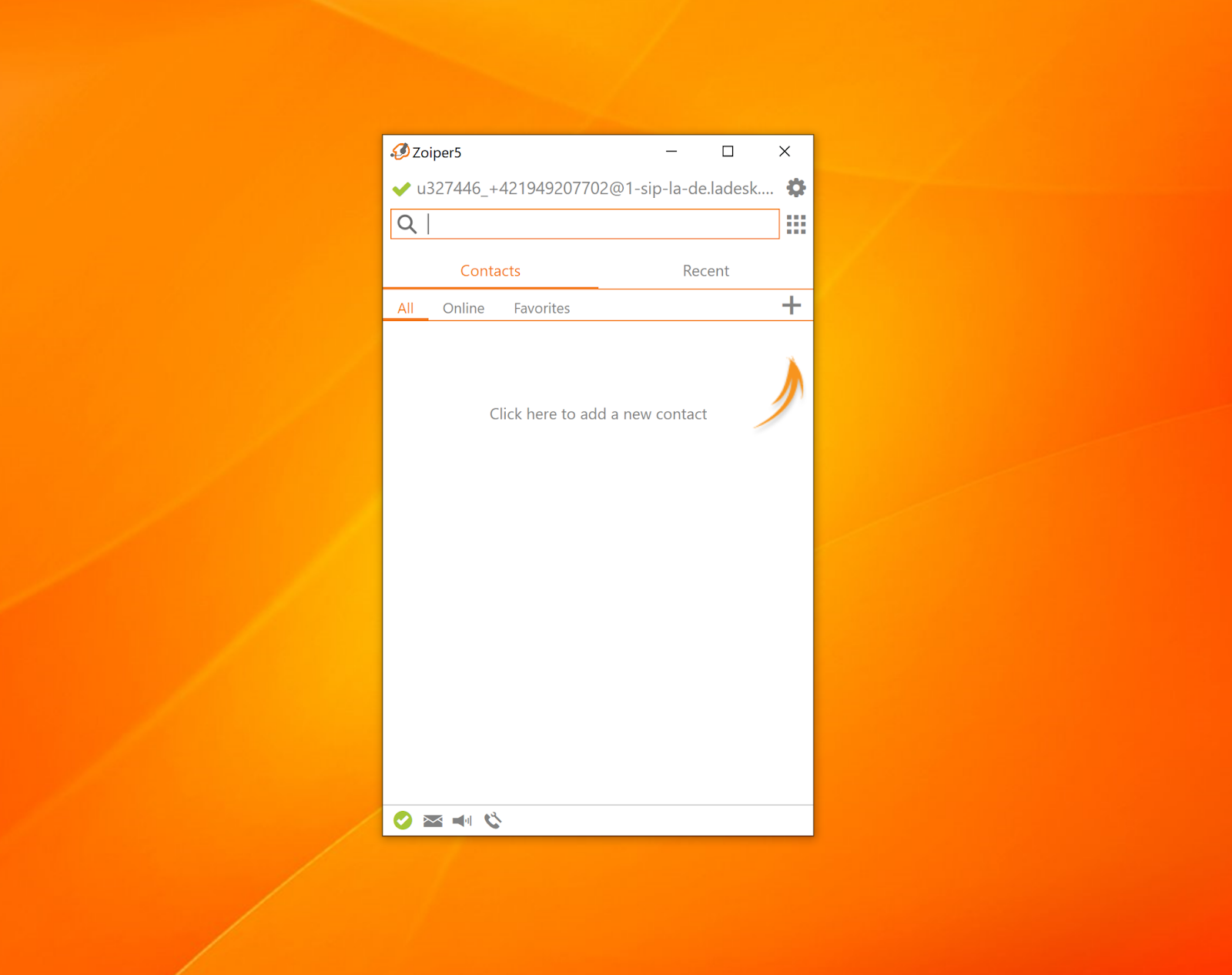 Adding new contacts is where things get especially good. There are the usual fields for names, company, and display names, but there's also an extra option to add custom fields. This should be standard for every contact list in all apps that have one. You can save contact information of all kinds without any limits, such as for saving Facebook or Instagram accounts to keep them backed up, or use this option to add custom comments, which is simply amazing.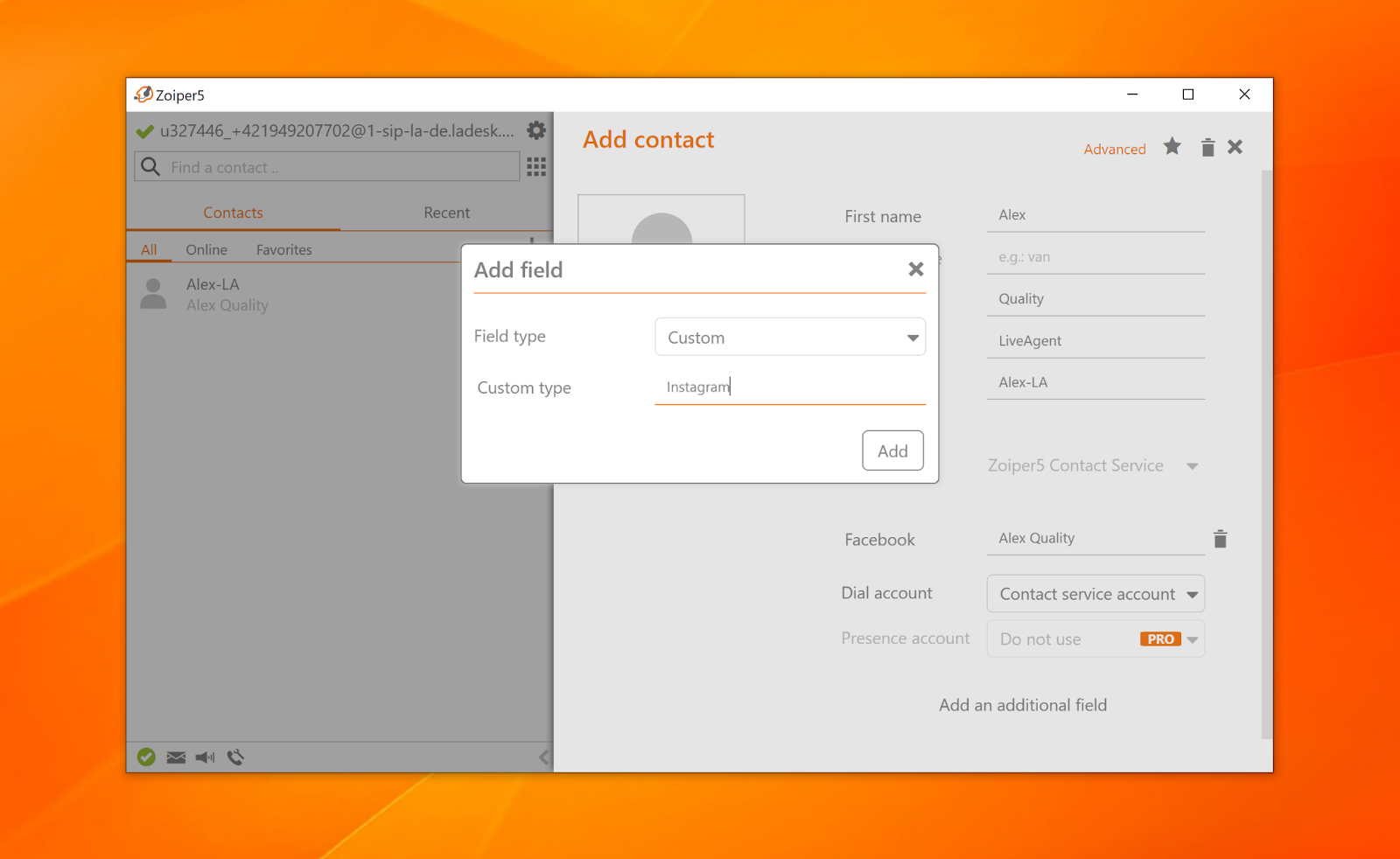 The top part of the app has a search bar where you can find contacts by name, or type a phone number. You can then add it to contacts directly from the search, or start a call. There's also the extra option of having a digital dial pad, which is a great backup option for dialing numbers. There's nothing to add here, the search and dialing simply works great, and there's nothing to complain about.
You can also find settings in the top section. They include account management and the option to add more VoIP services. An interesting feature is the option to merge all of your contacts from Outlook, Gmail, MacOS, Windows and more into the Zoiper app. These contacts regularly synchronize, so your contact list will always stay updated. The rest of the settings focus on audio, video, and app behavior. The options are very generous and you can customize the app and your calls in multiple ways, which is inarguably great. Note that most of the advanced configuration settings are unavailable in the free version.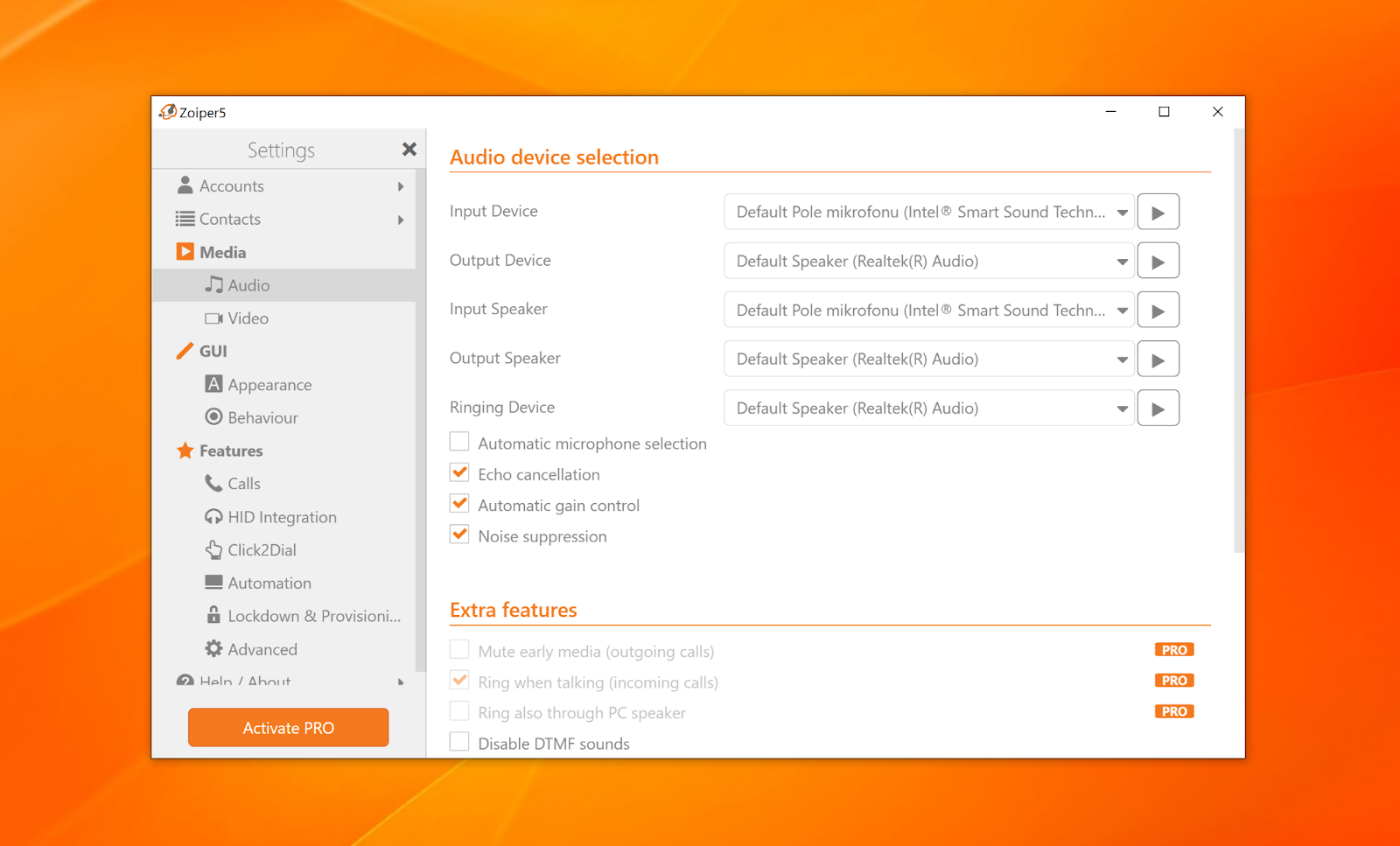 Lastly, the bottom part of the application has the option to change user status, voicemail options, volume controls, and call settings. You can change your status from available to unavailable, offline, away, lunch, and anything in between. Volume controls are convenient for quick adjustments. Access to voicemail is self explanatory, while call settings take the user to the configuration.
Basically the only negative thing about Zoiper is the constant reminding that a paid version of the app also exists. I didn't really mind all that because of how well Zoiper looks and performs in all circumstances, but I imagine some users won't find this pleasant. However, it's a small price to pay for such a great softphone application.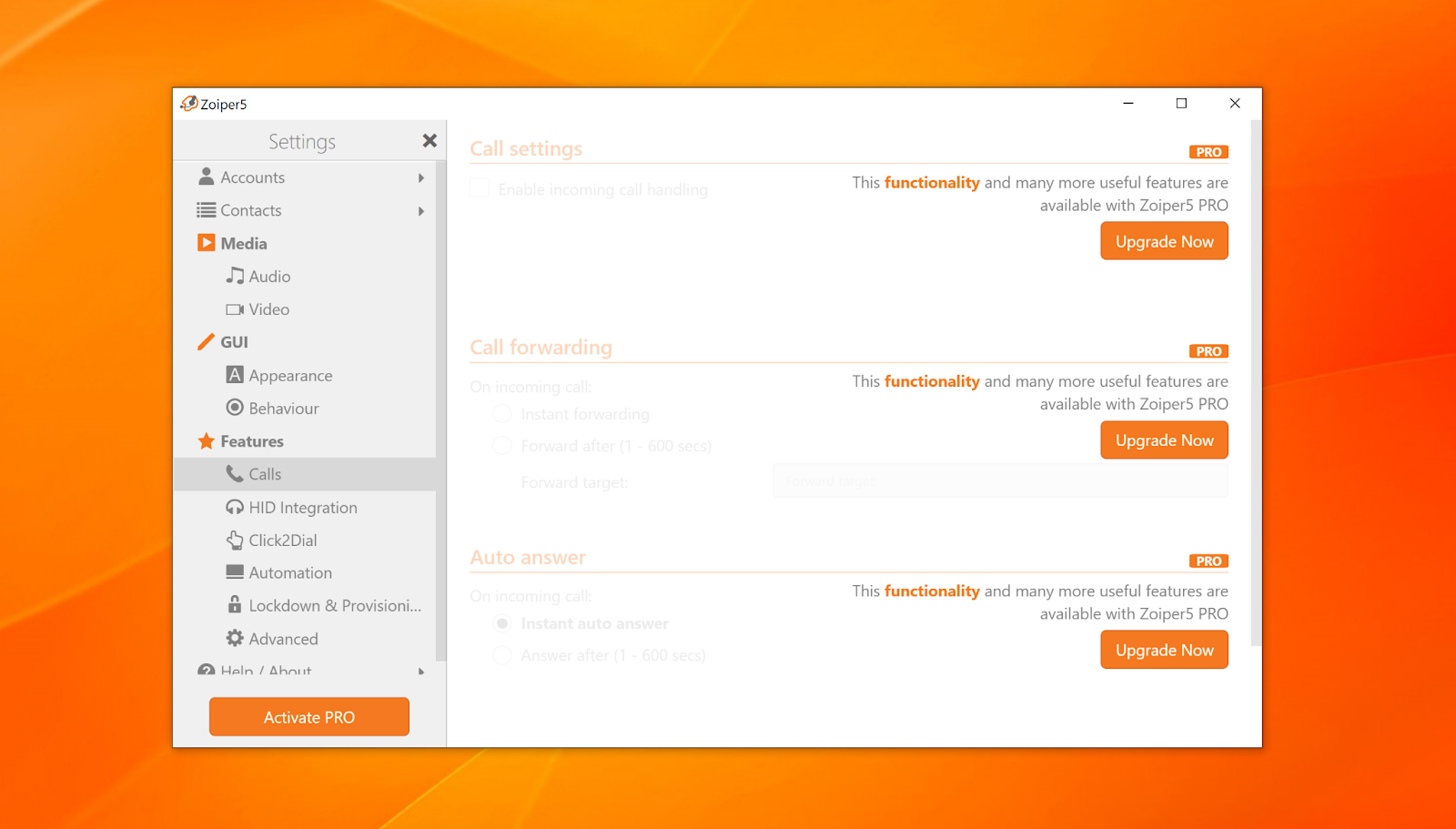 All functionalities in Zoiper worked splendidly and I haven't experienced a single bug during my tests. Call quality and general functionality were up to par, and working with the messaging and video call features was a piece of cake.
Pricing
While the free version of Zoiper is absolutely perfect and does an amazing job, there is also a paid version of Zoiper for those who need something extra. This paid version includes HD call support, encryption, and a couple of other extra features for a one time payment of $49.95. Lastly, you can get a customized solution with your logo, custom interface, and you even get to pick your feature set among other things. This version requires you to get a custom quote based on your preferences and number of users.
How does Zoiper work with LiveAgent?
In one word, superb. Zoiper has absolutely no trouble connecting with the LiveAgent call center features. As mentioned earlier in this review, the VoIP service accounts addition is one of the first parts of the initial setup. There's no need to go through long integration processes, you can simply connect LiveAgent right from the start. Zoiper is among the easiest softphone applications to integrate with the LiveAgent help desk. I strongly recommend it. If you'll ever need an integration guide, here it is. But, fortunately, I doubt you'll ever need to use it.
Conclusion
Zoiper is, without question, a state-of-the-art softphone app, and one of the best ones you can get. When it comes to its most basic functionality, it's close to being perfect. Zoiper won't let you down, regardless of if you decide to pay for it or go for the free version of the app. The user interface is simply great and pleasant to navigate, all features work completely bug free, and the implementation and setup are some of the fastest I've ever experienced in any software. If you want to make your calls and your life easier, there is no reason to look for another option. Zoiper has got you covered every step of the way.