Key takeaways
Pros
Customizable features
Flexible
Reliable call tracking and analytics
Cons
Can be difficult to navigate
Occasional lags in dialing
Can get expensive
All you need to do to create your Dialfire free account is provide the required information in the Sign Up section of their website and tick the terms and conditions box.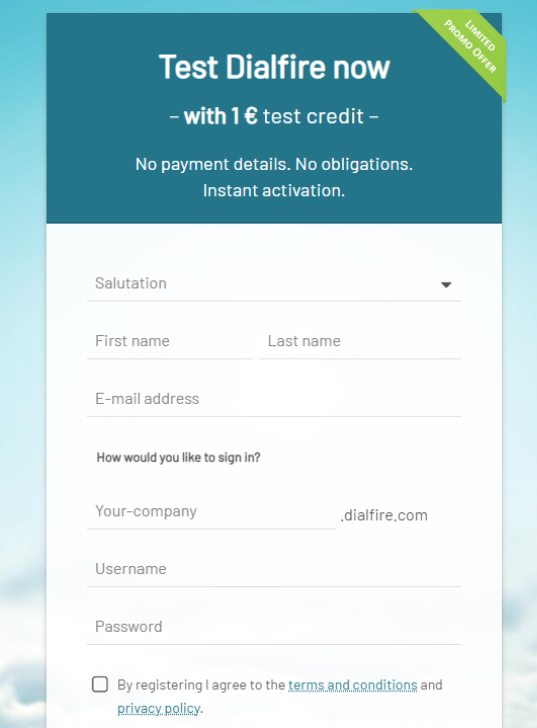 After that, you simply verify your email, and you can immediately start using Dialfire's platform.
When accessing my account, I was immediately met with multiple ways of getting support, including a video tutorial and a link to Dialfire's knowledge base. This user-centric approach impressed me quite a bit.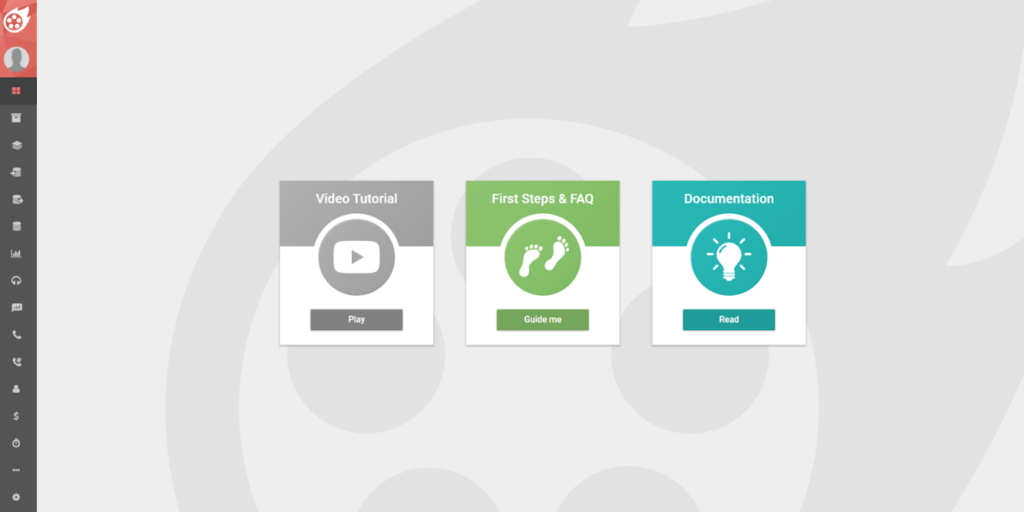 I had a quick look around and decided it was time to start testing the call center features. I admit, I would have had a much harder time setting everything up without the documentation. Even though I expected a big red "Make a call" button, it didn't really work like that.
The first thing you need to do is import your contact list. To do this, go to the Import tab in the left-side menu. There, you can upload your contact list from a spreadsheet like Microsoft Excel, LibreOffice Calc, or Google Docs.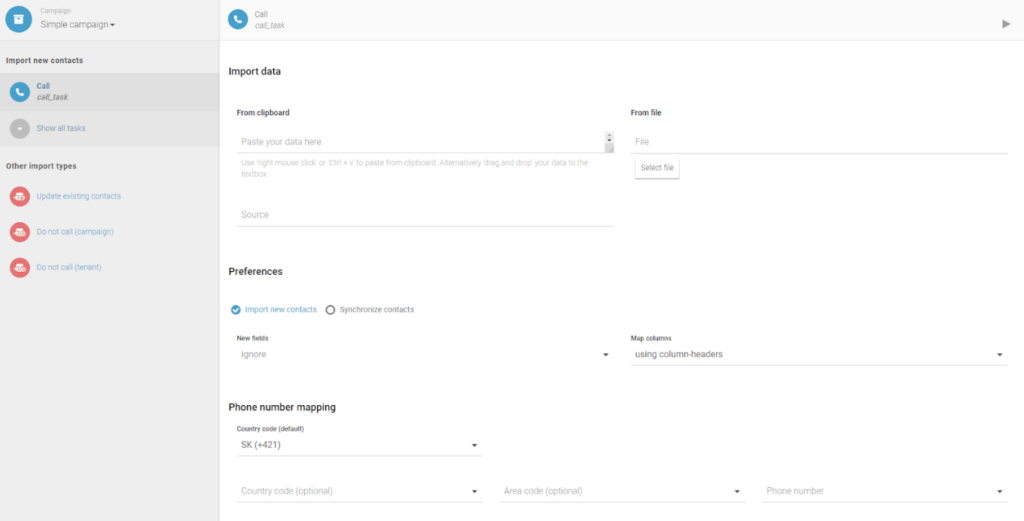 After you've done that, open the Call tab. There, you have the option to call an existing customer or add a new one. I decided to add a new customer to my contacts. You can fill out quite a lot of information about them, including conversation guidelines and call results.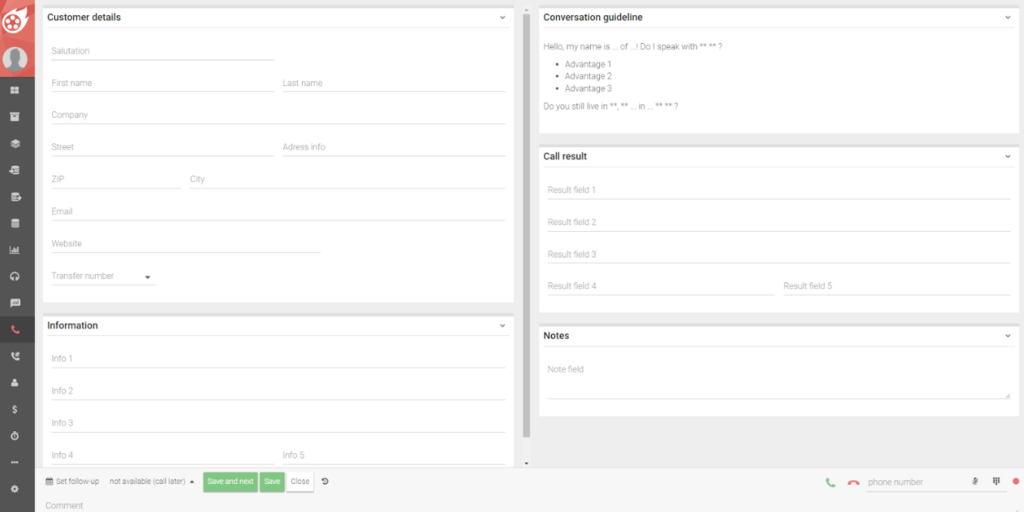 In the bottom right corner, you can initiate a phone call by clicking on the green telephone icon. You can also mute yourself, and by pressing the red dot on the right, you can initiate call recording.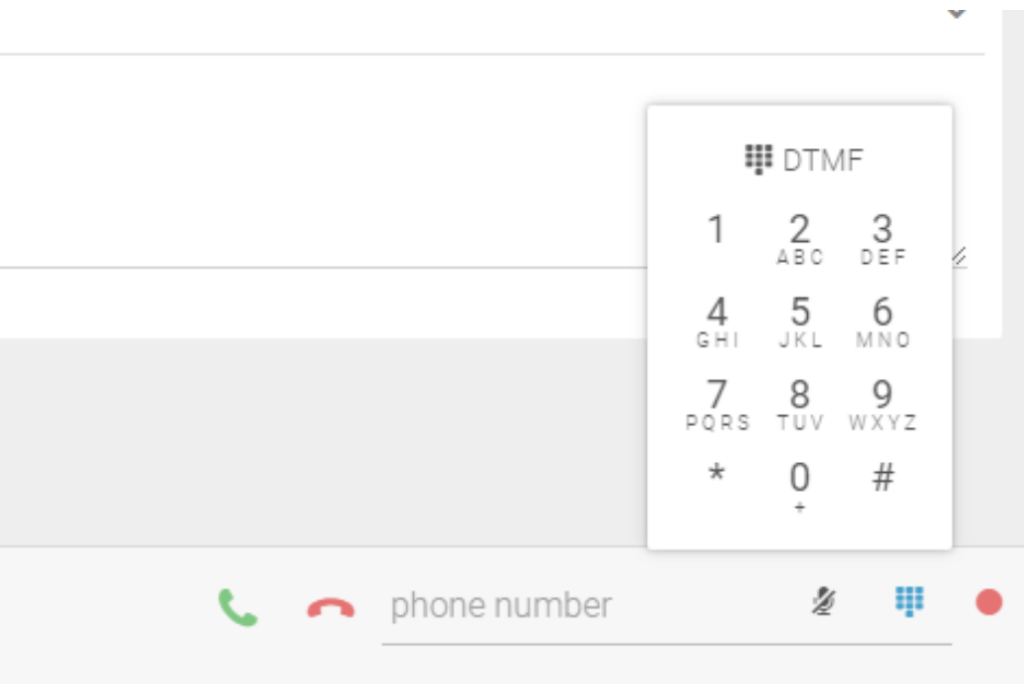 If you want to enable the inbound function, Dialfire lets you configure your number in the Phone numbers section. You can choose to register an already existing phone number, order a new one, and create a virtual line. I would have appreciated it if this configuration option was highlighted. But you shouldn't struggle too much with finding it.

Dialfire call center features and implementation
Dialfire is a cloud-based browser call center application mainly intended for making outbound calls. As I've already mentioned, I liked that right off the bat you get directions from tutorials and FAQs.
However, the overall UI can be a bit confusing, so I recommend that every new user keeps the documentation tab open while figuring the system out. Fortunately, knowledge base articles are well-written and informative.
When you're creating call campaigns, Dialfire lets you configure them quite thoroughly in the Tasks section. You can create IVR flows, export voice recordings, and more. This could be very useful in larger call centers to establish processes.

Dialfire's call center platform also offers some agent monitoring features. In the Guiding section, you can configure the office branch for each call center agent, add campaign details, and even listen to call recordings.
Another feature that can greatly enhance your call center operations is the preview and predictive dialing. You can configure compliance rules and limit the number of simultaneous calls. You can also set up dialer groups for different teams or departments.

Additionally, you can study call center analytics and create reports in the Analytics tab, and easily import and export available data. This includes contact list statistics, inbound queue statistics, and activity statistics.
Performance and usefulness
When it comes to Dialfire's call center performance, there is not much to criticize. If you've ever worked in a large outbound call center, you'll know that" if it works, it works". And that's that. Could the UI use some tweaking? Sure, but it's not an experience-breaking problem. The call quality is up-to-par, you can import and export necessary data, listen in on calls, and monitor your call center agents, and that's mostly all you need.
However, I can't leave this review without pointing out that after a very short testing time, I was logged out and required to verify my account. Sure, I can do that. Let me check my email, I thought.
Well, it's not that easy. The email they sent basically asked me to book a demo call or I'd remain logged out. I know when to count my losses, so I decided I had a good enough look around the software to comment on it, and I called it quits.
Dialfire pricing
Dialfire's pricing is a little complicated to explain. They offer 5 main subscriptions. The higher the subscription tier, the less you have to pay additional fees for Dialfire's functionalities.
Pay as you go
As the title suggests, with this tier, you pay for functionalities as you are using them. The initial subscription is free, but everything, including using the Dialfire platform, campaign scripting, predictive dialer, and inbound call blending, requires you to pay from €0.001 to €0.005 each time.
Basic
For €15 per user per month, you can use the Dialfire platform, predictive dialing, and technical support without additional fees.
Advanced
This tier costs €20 per user per month and lets you enjoy everything from the previous package, plus inbound call blending and call recording, without having to pay extra.
Professional
Paying €25 per user per month, the Professional tier builds on the previous one and adds customizable campaigns to the list of features that don't charge extra.
Enterprise
The most expensive and robust Dialfire subscription package costs €30 per user per month and includes all the features from the previous tier with the addition of campaign scripting, Google Calendar and Google Data Studio Connector, activities module, and the subtenant agent feature without additional fees.
Conclusion
To conclude my experience with Dialfire's call center software, I'd say that it's a mixed bag. Initially, despite being slightly turned down by the confusing UI, I was impressed with the robust and helpful documentation and the number of configurable features. The platform may seem a little bare-bones, but in the call center environment, there is barely the need to be fancy.
That being said, I would've enjoyed a more user-friendly interface, but if you don't mind having the "How to" open on the second screen, you'll be just fine.
The last thing I need to talk about is how my experience ended. I didn't appreciate being forced into booking a demo call. I understand why it might work for some people. However, all I needed was to test the software out by myself. Being logged out felt like my account has been taken hostage until I complied with Dialfire's demands to talk to their sales team.