With 71% of customers expecting companies to communicate with them in real-time, it's more important than ever for businesses to deliver service that's seamless and customized to the individual. Call centers have long been a resource that companies would leverage for this, but recently, what was intended to be a powerful line of support has often ended up causing more frustration and questions.
Frequently overwhelmed and understaffed, customer call centers struggled with these core issues even more during the pandemic. One survey found that:
Hold times have increased 50%, and the percentage of callers waiting over 30 minutes for a response has more than doubled.
Consumers are most frustrated with long hold times (47%) and a lack of clear information from agents (20%).
1 in 4 consumers did not get their questions solved the first time when reaching out to a call center.
This reality shined a spotlight on the need for digital customer service solutions that could help alleviate the pressure on customer care agents. By supplying customers with online resources that can help answer questions and solve problems with no wait time, live agents are freed up to address more pressing issues with care.
Most commonly, these resources take the form of lengthy FAQs or help guides, but these generic texts can be difficult to sift through and they fail to deliver solutions personalized to each customer's unique situation. Fortunately, video — particularly, personalized video — is here to help.
Today, video is practically inescapable. From newsreels to viral TikToks, the medium has become one of the most pervasive forms of media and communication. So why not leverage it in your customer service efforts?
Why use video for customer service?
Here are five reasons why video is such a powerful tool in the field of customer service:
1) It's engaging.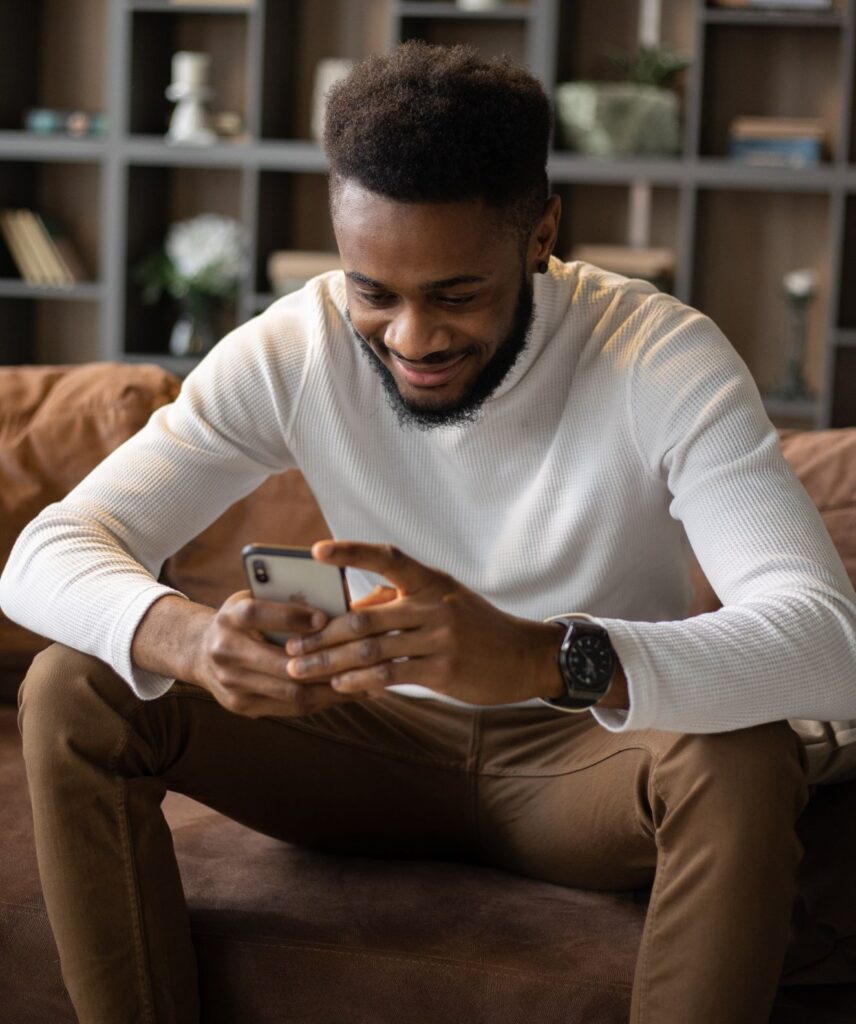 There's little doubt that video dominates when it comes to entertainment, especially online. In between streaming, live streams, and both short- and long-form content, online video was predicted to make up a whopping 82% of all consumer internet traffic by 2022.
It's no surprise consumer watch time has increased over the past few years.
People watch an average of 19 hours of online video per week.
Over the course of 4 years, from 2018 to 2022, the average hours of an online video watched per week increased by a staggering 8.5 hours.
Considering the popularity of the medium, incorporating online video into your customer service strategy is akin to speaking the same language as your customers. It ensures that you're communicating with them in a way they'll actually enjoy.
2) Video is great for explaining complex information.
A big part of customer service includes being available to answer questions and clear up any confusion about a product or service. To do so effectively means having clear communication so that your customer's concerns are addressed in one go. This can be difficult when it comes to topics that are more complicated for the customer.
Video, with its combination of audio, visuals, graphics, and text, is the most optimized form of communication. Research shows that when oral and visual communication is combined, we're able to retain information 200%-600% better than with just spoken words or visuals separately. That makes the video perfect for breaking down complex concepts. You could even convert image to videos so that the viewer finds the instructions extremely easy to follow.
At the end of the day, communication is all about understanding. Just as people want to be understood when they reach out with questions and concerns, businesses should strive to be understood in their efforts to help them. When you and your customers are on the same page, that alignment is the foundation for a strong and loyal relationship.
3) It adds a human touch to digital communications.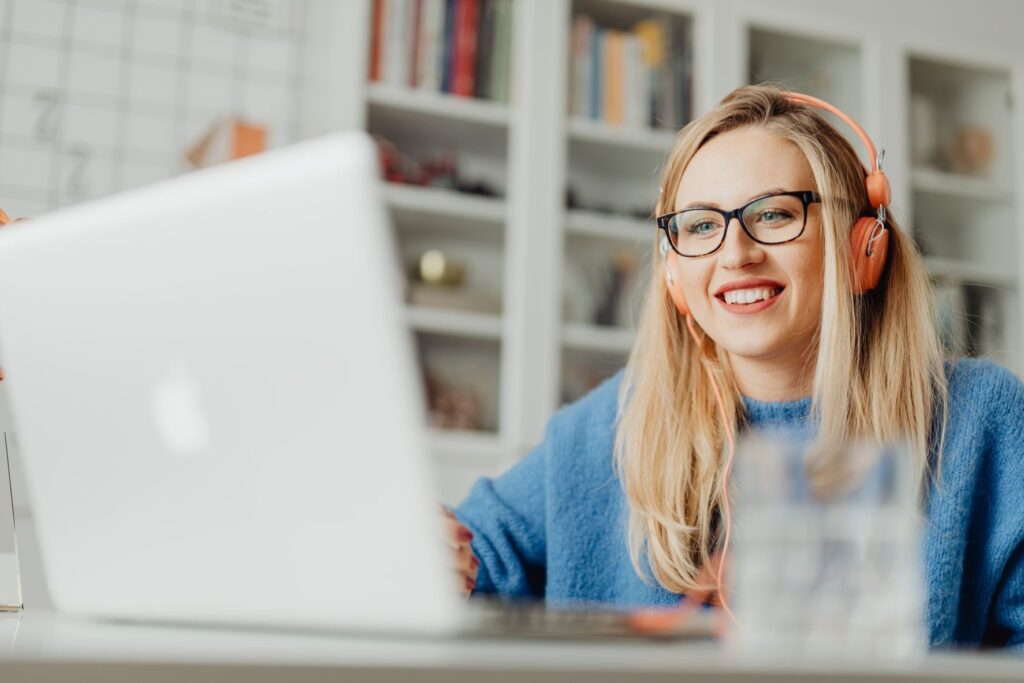 With 80% of people being more likely to do business with a company that offers personalized experiences, it pays to treat your customers like the unique individuals they are, at every touchpoint possible. While this approach is most often used in advertising, customer care efforts are a prime opportunity to deliver personalized experiences.
As such, a great advantage of using video in customer service is that the content can be personalized in a variety of ways. A customer can be addressed by name both in text and verbally through a voiceover. Videos that are dynamic show the scenes and data relevant to that specific individual. People don't just get a video — they get their video.
By using personalized video for customer service interactions, businesses can add back a bit of that one-on-one human element so important for relationship building.
Think about it. Would you rather be directed to a generic FAQ page or presented with a personalized video where an agent greets you by name and provides you with the next steps and info just for you?
4) Incorporating video can help reduce the burden on call centers.
By delivering information and solutions via video, businesses are essentially shifting from a reactive to proactive approach to customer support.
Rather than having agents responding to every question or concern that arises, you can proactively create videos that empower customers with the knowledge to solve the most common problems, for instance through screen recorded videos of your products/services.

With an ecosystem of video resources in place, more customers will be able to get the answers they need without calling support.
In other words, it allows for speedy resolution without the frustration of being put on hold. At the same time, this frees up call centers to focus on more complex tasks and help customers who need that one-on-one care.
Would you like to enhance the customer experience for more complex tasks?
With LiveAgent's call center video feature, even the most difficult tasks can be handled personally.
5) It improves CX, which leads to greater retention.
Finally, using videos to boost the effectiveness of customer service efforts leads to an overall improvement to the entire customer experience. In other words, the better care and support you provide for your customers, the more reasons you give them to stay loyal to your business.
This focus on satisfying current customers and reducing churn has a huge impact on revenue and profit. For one, it costs about 7x less to retain existing customers than it does to acquire new ones. Plus, the more loyal a customer is, the more likely they are to spend more money and become an advocate for your brand.
With so many advantages to using video, adding it to your customer service toolkit is a no-brainer. Now, let's see it in action with some examples.
How to incorporate video in your customer service strategy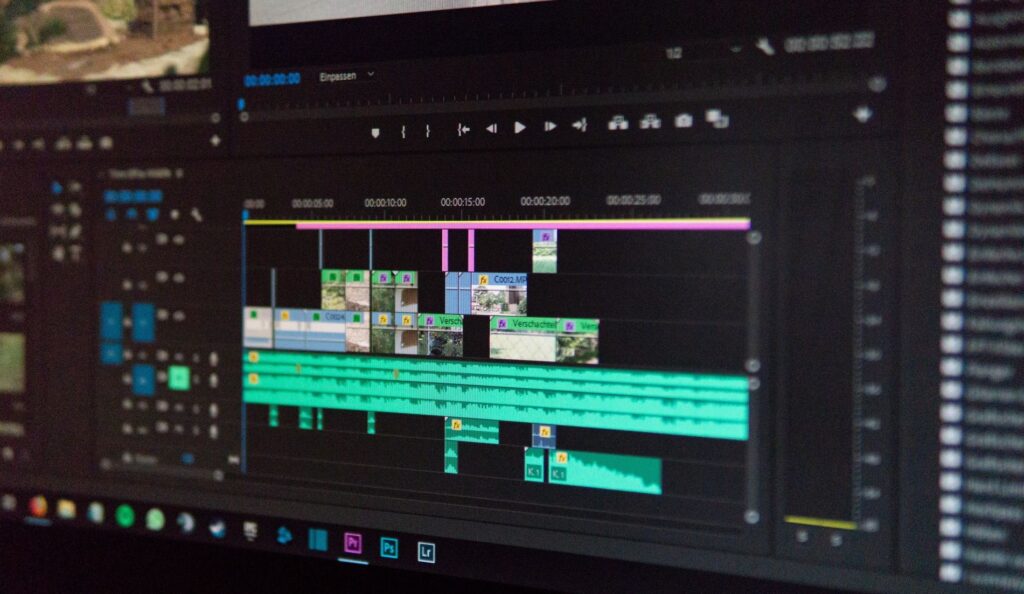 Think about your customer's experience, especially all the possible service interactions that they may have with your business. Are there opportunities to improve a touchpoint to be more engaging, easy-to-understand, or personalized?
Here are some ideas to help you get started.
Add support videos to your customer portal
Customer portals have become a staple tool to improve customer experience. As consumers turn more tech-savvy, the demand for self-service options has increased, with people preferring to quickly find answers and solutions themselves rather than reaching out to a representative every time.
In addition to being loaded with support features and account information, customer web portals often include a library of helpful resources. These resources can take many forms, but video really takes the cake when it comes to delivering an optimized customer experience.
By adding support videos to your customer portal, you can present important information in a way that is both engaging and easy for customers to understand. Additionally, the videos can be personalized to include details that are unique to the customer.
See how Bell leverages personalization in the video below to walk Christopher through his bill and proactively explain upcoming charges.
Bell Personalized Onboarding Video | Idomoo01:53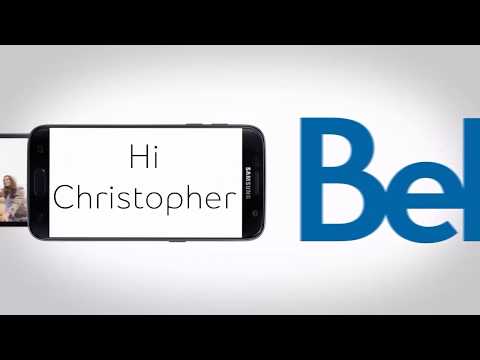 Idomoo
In a similar way, you can use video to create straightforward tutorials, answer FAQs, and personalized messages that your customers can access on-demand 24/7.
Follow up on customer service inquiries with a personalized video
No one likes to be ignored. Anytime a customer reaches out for service, it's critical for the business to acknowledge their inquiry and follow up to make sure the experience was satisfactory. It's now common for people to receive automated emails acknowledging a service inquiry or following up after a service interaction.
But while automated text-only emails have been the standard in the past, they're impersonal and easy to ignore. Video, on the other hand, is engaging. It can easily summarize key points and next steps related to the service inquiry, and with personalization, it adds back that human touch that shows your company cares.
For example, if a customer submits a service inquiry about their bill, a quick auto-generated video could be emailed to them in response. The video would greet them by name, acknowledge their request, and provide them with dynamic, relevant information about their bill. At the end, they could click right in the video to access a customer portal to make payments or adjustments.
Similarly, a personalized video could be sent following a service interaction with a representative. By including visuals of a worker talking or even just a voiceover, videos can humanize automated communications and extend the feeling of being cared for by an actual person rather than a bot.
Let customers choose the help they need with interactivity
Gone are the days of being forced to sit through or haphazardly skip around a video in order to get to what's relevant. Thanks to advanced technology, videos can now be interactive.
An interactive service video puts the power in the hands of the customer, allowing them to navigate to the information that matters most to them. The effect is a more convenient customer experience that doesn't sacrifice the quality of service.
For example, when homeowners had questions about their forbearance ending, call center call volume increased dramatically. In response, some mortgage companies responded with interactive videos personalized to the individual homeowner. It let the viewer select what they needed information on, such as the four options shown in the still below, so they could self-serve on any device.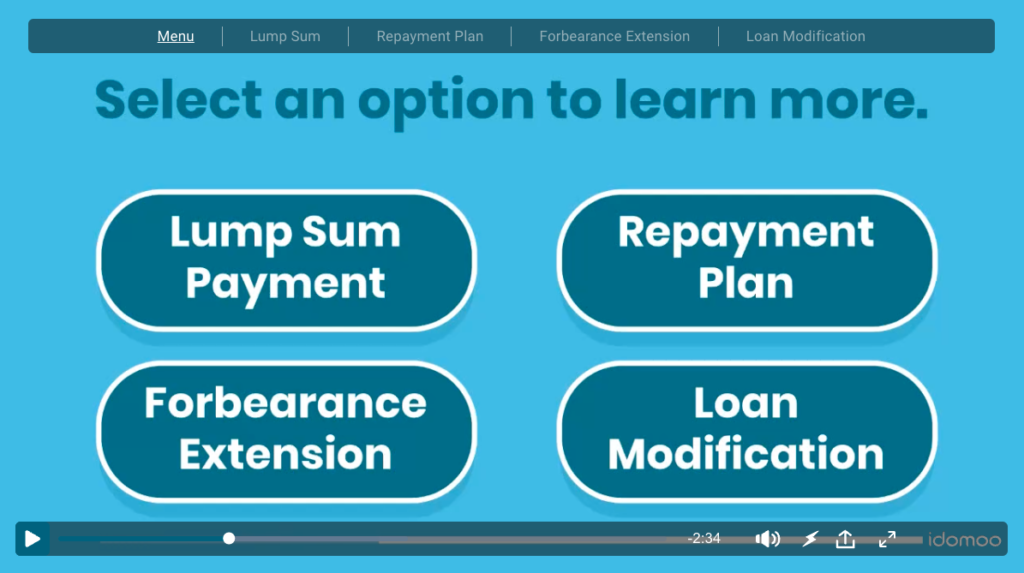 Overall, when it comes to customer service videos, remember not to overload your customer with excess information. Interactivity is a great way to instantly increase relevance.
Upgrade Your Customer Service With Video
Video, as one of the most effective mediums for communication, has proven to be a powerful tool in the field of customer service. Now more than ever, businesses need to invest in customer service solutions that can simultaneously reduce the burden on call centers and transform customers' experience for the better.
With interactivity, personalization, and dynamic visuals, video can be used to provide the solutions and answers that customers typically call about. This frees up agents to focus on the most pressing matters. Even more, the medium can be incorporated across the entire customer experience, boosting engagement and satisfaction at all other touchpoints.
From tutorials and explainers to announcements and personalized messages, the possibilities with video are endless. All you need to do now is get started.