Key takeaways
Pros
Available as a mobile app for both Android and iOS
Straightforward pricing
Reliable customer support
Cons
Only available in the US
Information is only available after paying for a subscription
The information is not always 100% accurate
No option to buy a single report
Getting started with BeenVerified
Finding your way around the website and accessing all the information you need is very easy. Everything is explained clearly, so you know what they offer right away.
When you go to BeenVerified's main page, the first thing you notice is the search options. You can search based on names, do a reverse phone lookup search, email lookup, address lookup, and vehicle search.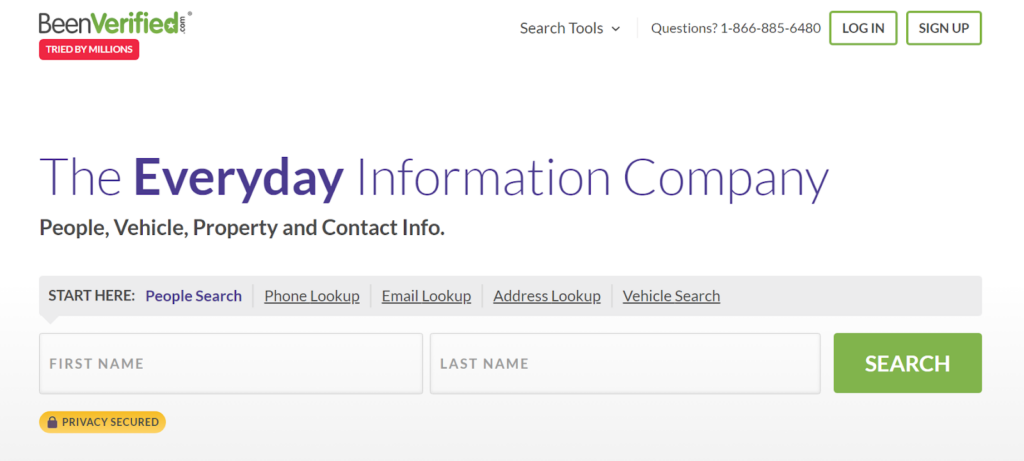 Enter a name into the search bar under "People Search" and click "Search". After a few seconds, BeenVerified will ask you for additional information about the person you are looking for. If you provide more information, such as city and state, BeenVerified will be able to narrow down the search to give you more accurate results. If you are unsure where the person lives, you can click "I'm not sure".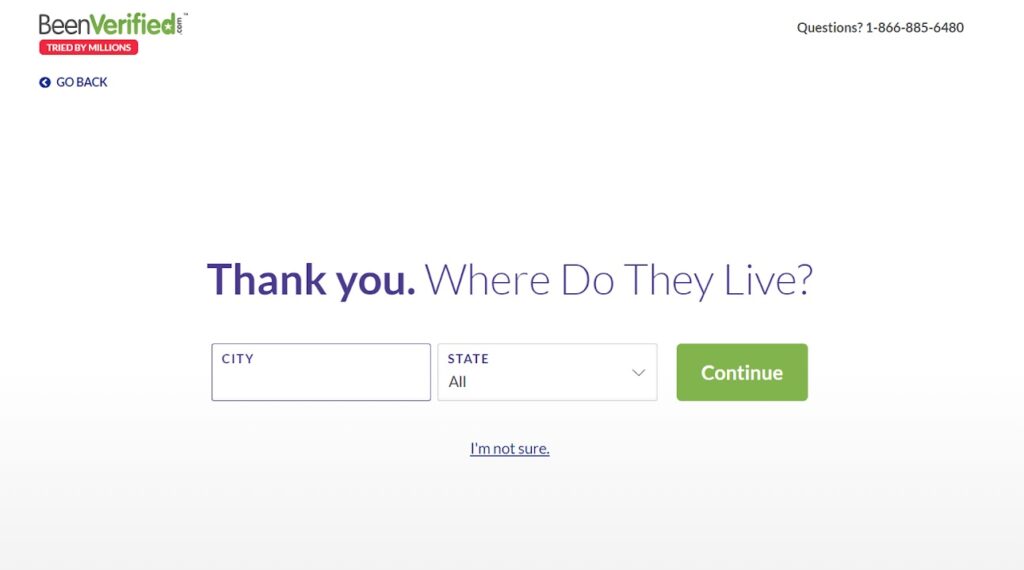 You can also narrow down the search even more by entering the person's age and middle name. If you don't have this information, you can simply click "I'm not sure".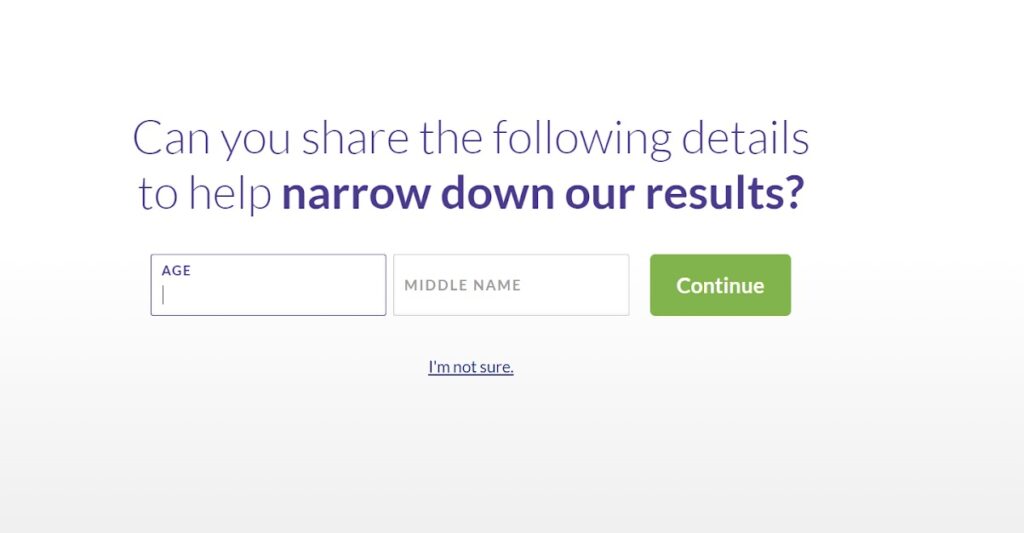 After that, you can choose what kind of information you would like to get in your report. You can choose as many as you want and click "Continue", or skip this step.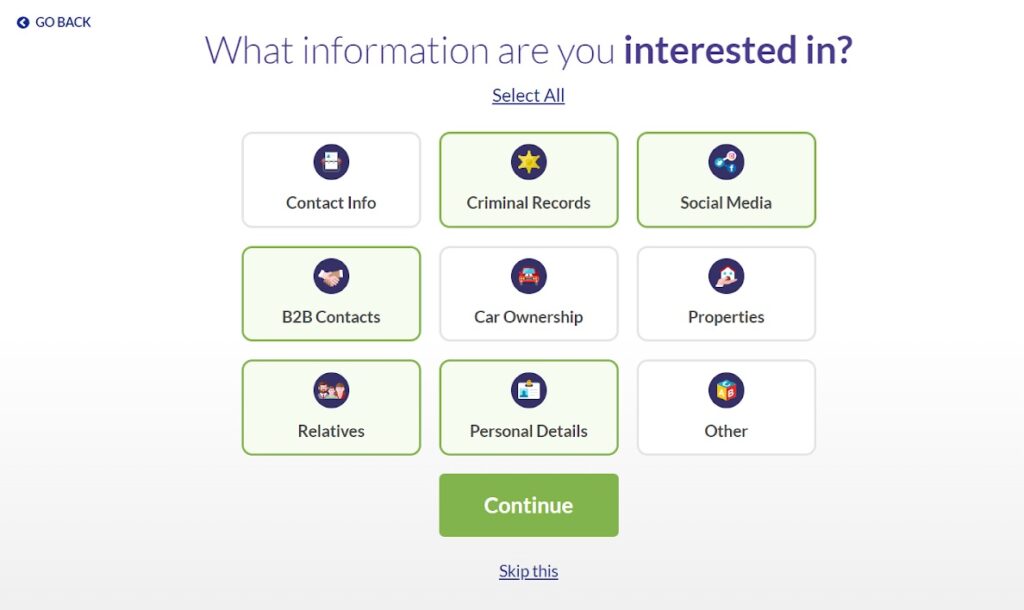 All you have to do now is agree with their terms and conditions and click on "I Agree".
Then BeenVerified starts to gather the information from their database. This process takes a few minutes, and after it's completed, you have to fill in your email address and full name to save the report. You can't skip this step if you wish to continue.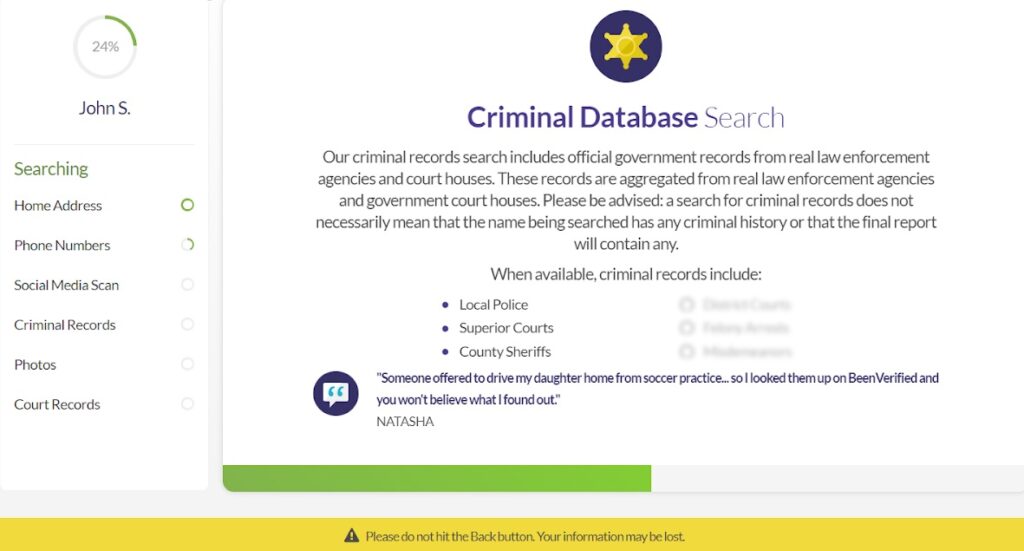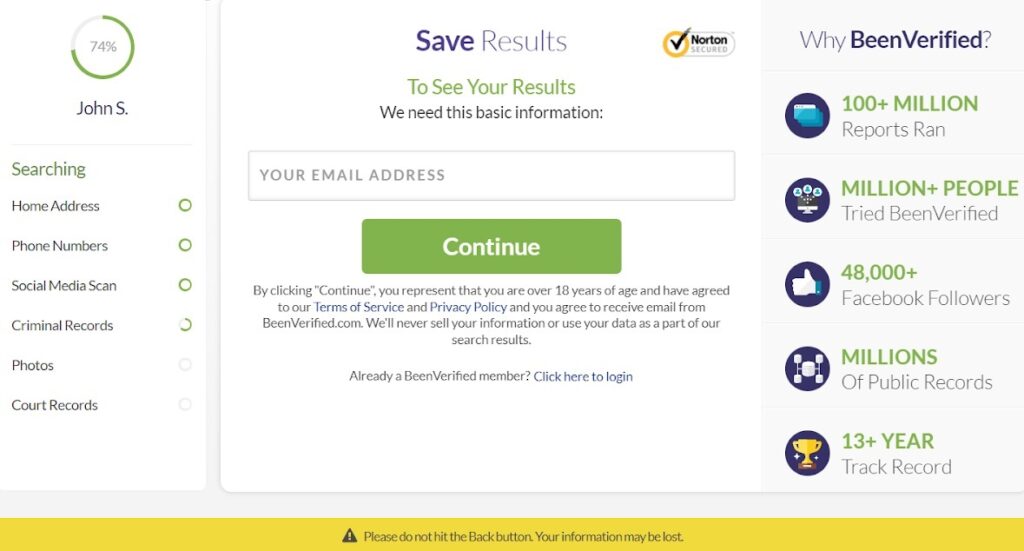 After entering your email and full name, BeenVerified searches for the results again. This time the process takes quite a long time. After the long wait, you should get your full report with all the available information. Keep in mind that BeenVerified is a paid service provider. As long as you are not a paying customer, you will not see any search results.
When you scroll down the main page, you can find helpful articles and guides that answer frequently asked questions.
You can find the pricing information when you click on "Sign up". However, it takes some time to get to the pricing. Before displaying the prices, you have to click "Confirm" in the last step and wait for the information to load. Then, it takes you directly to a page with their prices and subscriptions. This process seems unnecessarily complicated and a little frustrating just to get to the pricing information.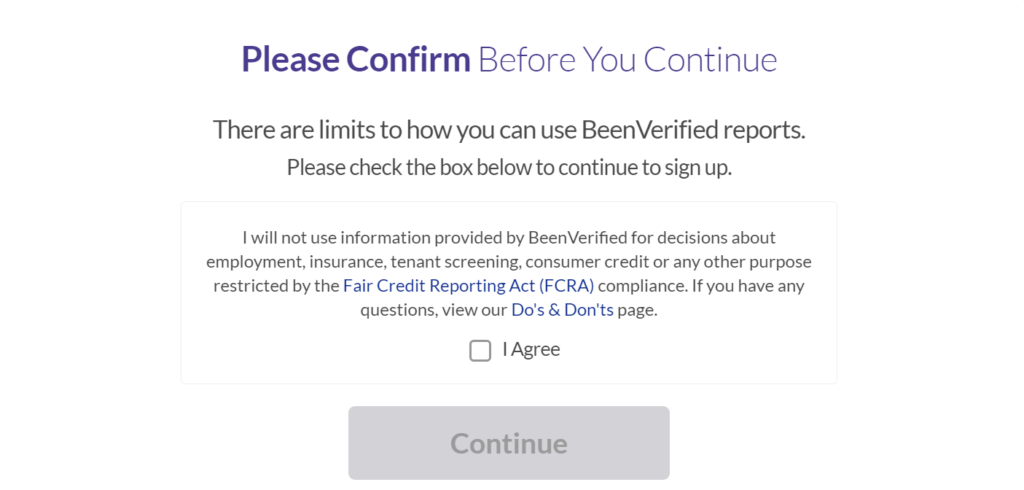 Features
BeenVerified offers 7 different product features: People search, Reverse phone lookup, Email lookup, Address lookup, Username search, Unclaimed money lookup, and Vehicle lookup.
The reports also include personal information about the person, such as their name, age, relatives, photos, jobs, educational history, and more. With the People search, you can also find things like criminal reports, traffic violations, and arrests.
BeenVerified works as an in-browser application, but they also offer a mobile app available for Android, iPhone, iPad, and Apple watch. No matter if you are at home on your desktop or on the go, you can use their services anywhere as long as you have an internet connection.
Opt-out your information
You have the option to opt out from BeenVerified's People search results. The process is pretty simple. You just need to put your information into a short form on their website and choose which record you want them to remove. They will send you a verification email where you need to confirm your opt-out request. After that, you will receive another email informing you that the record has been removed. You don't need to be a paying customer to opt out of the People search and it is free of charge.

Customer support
BeenVerified has their own Help Center where you can search for answers to your questions before contacting their customer support team. You can find frequently asked questions regarding billing, your account, or their data and public records.
If you can't find what you are looking for, you can contact their customer support agents via email or call them at the number listed on their website.
BeenVerified doesn't offer live chat or other types of direct communication, and they are not available 24/7.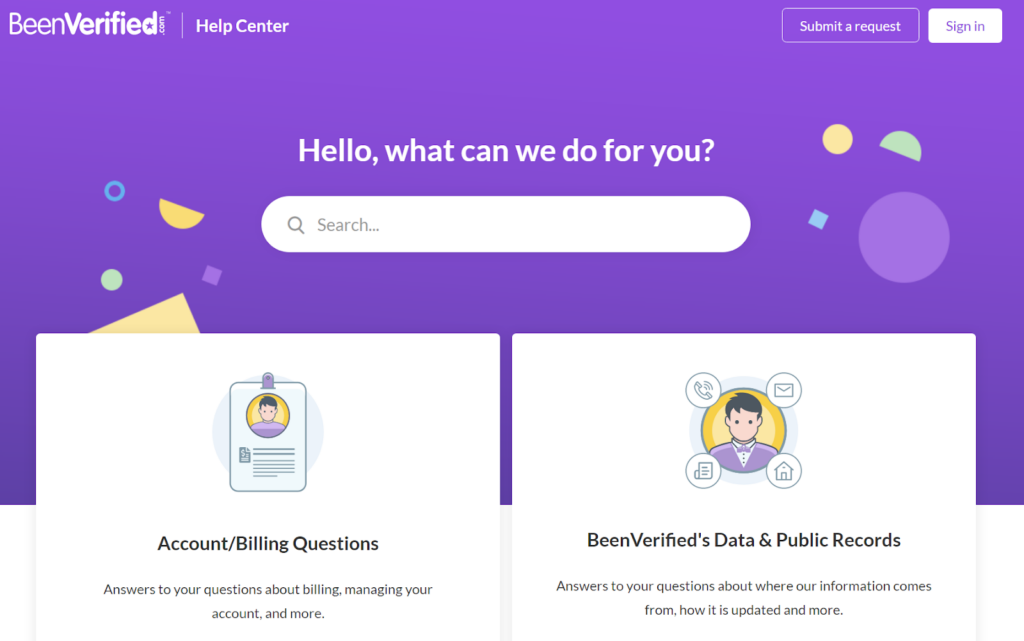 How can call centers use BeenVerified?
Reverse phone number lookup, such as BeenVerified, can be a beneficial service for call centers and customer support agents because it gives the option to look for unidentified numbers in their extensive database. This can come in handy when the call center receives a call from an unknown caller, and they either forget to leave their contact information or if the data gets lost because of a system failure.
Call centers also use it to identify prank calls or other inappropriate calls that put your agents in uncomfortable situations and decrease work productivity and efficiency. By blocking such callers, call centers can focus on legitimate customers.
When agents perform reverse phone number lookups, they can usually find data like email addresses, residency addresses, social media accounts, and other valuable information. This data is also useful for cold sales calls and reaching out to potential customers.
To avoid any legal issues, call centers must ensure they comply with the laws and regulations of a particular jurisdiction if they decide to use these services for business purposes.
Performance and user experience
When you enter a phone number into the search bar and press enter, the website generates results and searches the database for a match. It looks for a name associated with the phone number, the person's location, background information, criminal records, etc. The entire process takes longer compared to BeenVerified's competitors, but it is still fairly quick.
BeenVerified only works in the United States. Therefore, it is only possible to search for US-based numbers. The website, as well as the app, are only accessible from the US, and access to their services is restricted outside of the country.
It's important to note that BeenVerified doesn't offer any of their services for free. This means that to see the results, you have to be a paying customer.
The accuracy and level of detail depend on many factors. As it is with all reverse phone lookup providers, it is not 100% correct and you shouldn't rely only on one source. They get their data from publicly available sources and records that may not be up to date and may result in inaccurate data.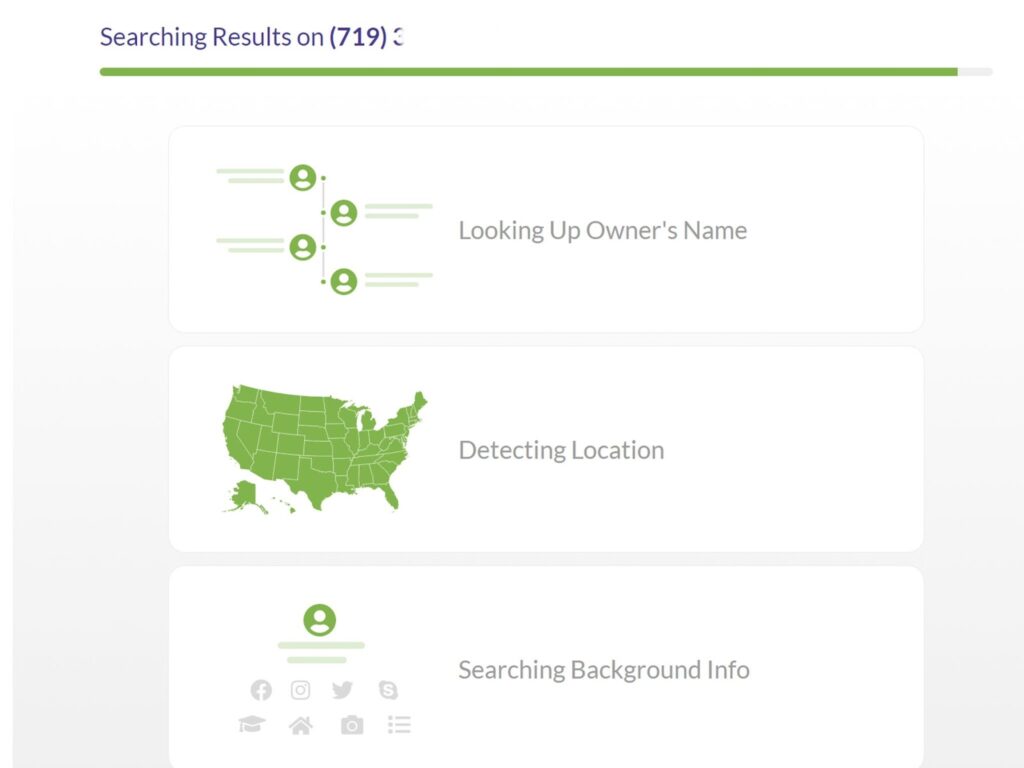 Pricing
BeenVerified is a paid, subscription-based service. Compared to their competitors, they don't offer any free version.
They have only 2 subscription options:
The first option is a monthly membership that costs $26.89 per month and includes all 7 search types mentioned previously. With this subscription, you can run up to 100 reports per month.
The second option is a 3-month membership costing $52.44, which equals $17.48 per month. This subscription also includes all 7 types of searches. With this package, you are limited to 100 reports per month.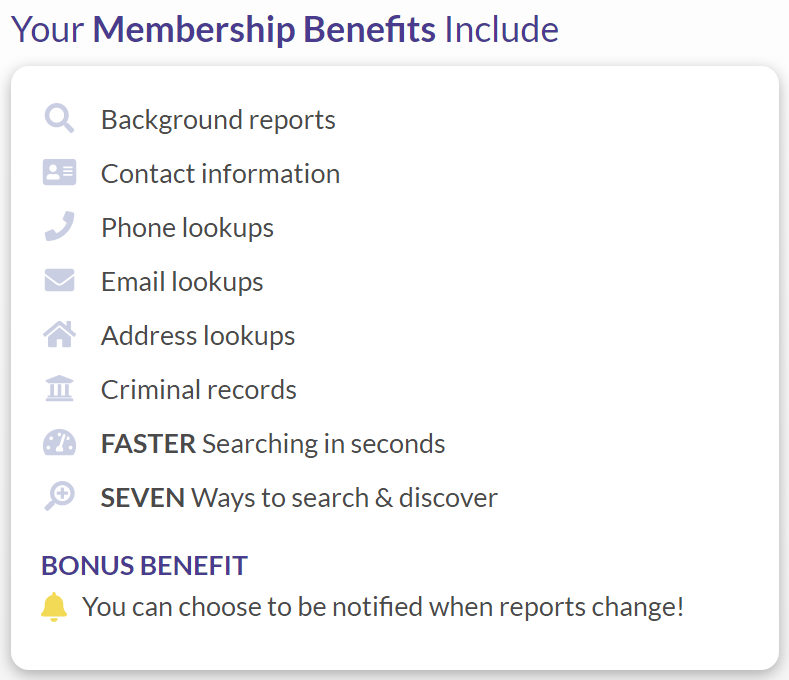 You can cancel your subscription at any time. However, the membership automatically renews monthly or every 3 months unless you cancel before the new subscription term starts.
There is also an option of a 7-day trial to test BeenVerified's services before you decide to make a purchase.
You can choose a 7-day trial for only $1, which includes up to 40 reports per month. You can also choose a 7-day trial for $5, which allows you to run up to 40 reports a month, plus you can download them as PDFs.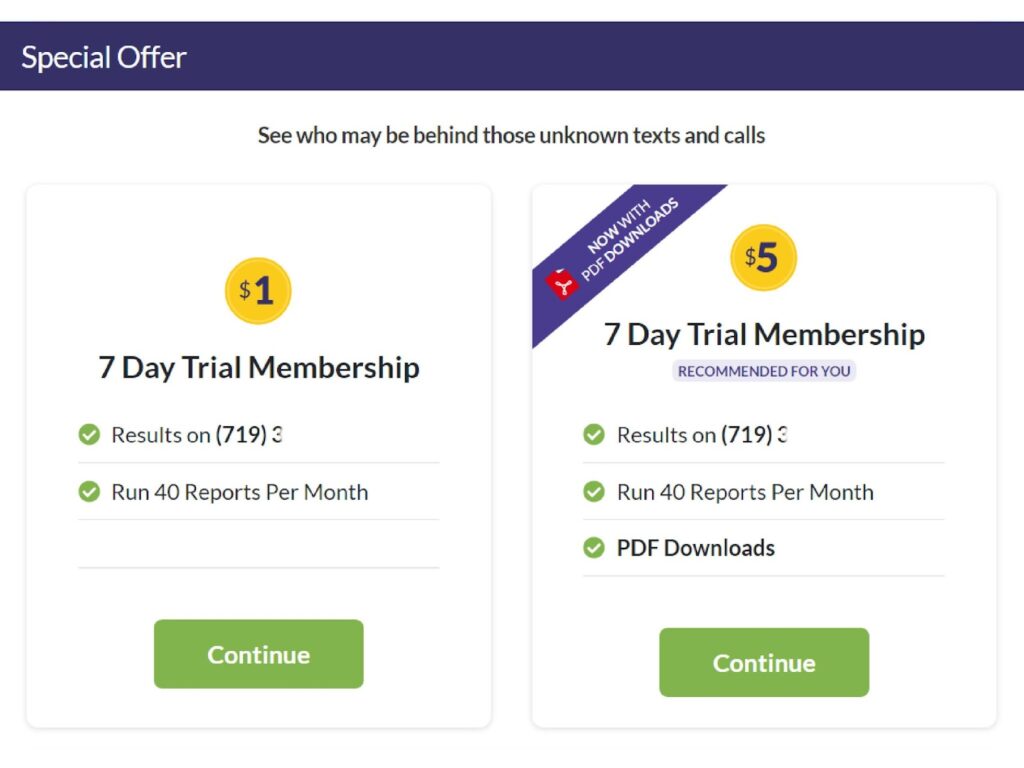 Conclusion
BeenVerified provides a reverse phone number lookup service with extensive data and reports. After entering the phone number into the search bar, the process takes a little longer compared to their competitors. However, you will not be able to access any information without paying first. They offer a 7-day trial option that is very affordable if you would like to try it before committing to a subscription.
Their services, as well as their website and mobile app, are only available in the US and work only with US-based data.
Frequently Asked Questions
I can't find a specific person.

BeenVerified gets their data from public records, which are not 100% accurate and complete. This is due to many factors, such as laws in specific states regarding public information, the amount of collected information, etc. The person can also choose to opt out of their information from BeenVerified.

I want to cancel my BeenVerified account.

You can cancel your account at any time by contacting their customer support department via email or phone call. You have to provide your 9-digit customer ID number, and the support agents will cancel it for you. You will also receive an email confirming your cancellation.