Key takeaways
Pros
Completely free of charge
Easy to use
You can spy dial the unknown caller
Works with VoIP numbers
Cons
A lot of ads on the website
The results are not always accurate
Getting started with Spy Dialer
Spy Dialer offers a free reverse phone number lookup service that helps you to look for unidentified numbers.
The website is quite simple and very easy to navigate. You just enter the unknown phone number, name, address, or email into the search bar on the main page. Then, wait a couple of seconds for the results to appear.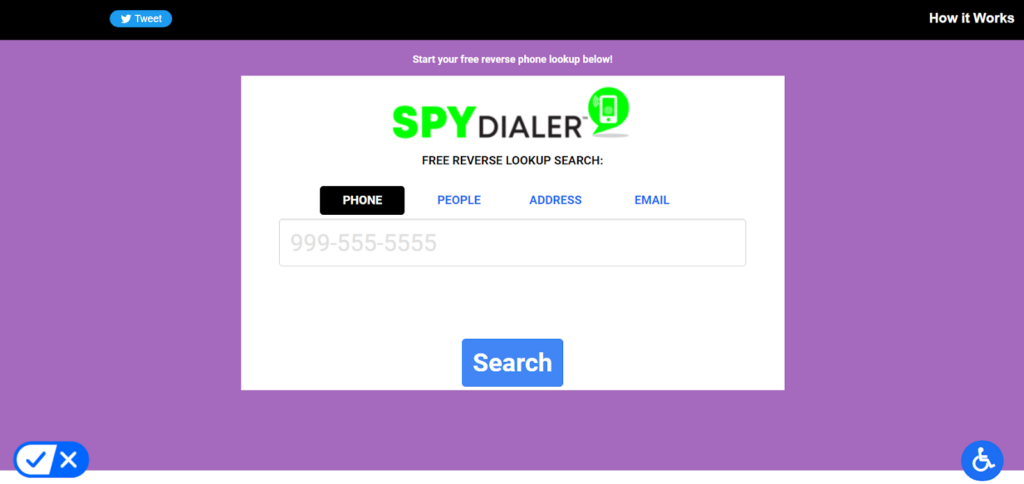 Based on the amount of data Spy Dialer has about a certain person and/or organization, you will be able to see information such as the name of the owner, possible address that the number is associated with, and the type of phone number (landline, mobile phone, VoIP number).
On top of that, you have a few more options that you can choose from:
You can click "Report Call" which files a report at Spy Dialer about the number being spam or any other abusive activity. Spy Dialer will then inform the other users. It is 100% anonymous and the number owner won't be notified.
Another option is to "Hear Voicemail". The meaning can be a little bit unclear but what this does is that Spy Dialer will spy dial the number. You will hear the automatic message pre-recorded by Spy Dialer, plus the person's pre-recorded voicemail.
When you choose "Phone Spam" and click "Search", it will show you if Spy Dialer classifies the number as spam. If the number is reported through "Report Call", Spy Dialer will show the number as spam.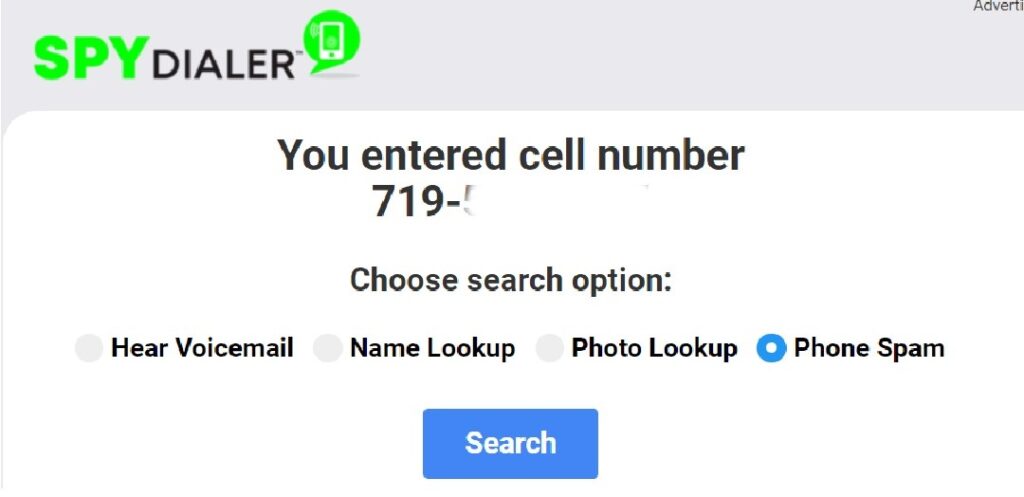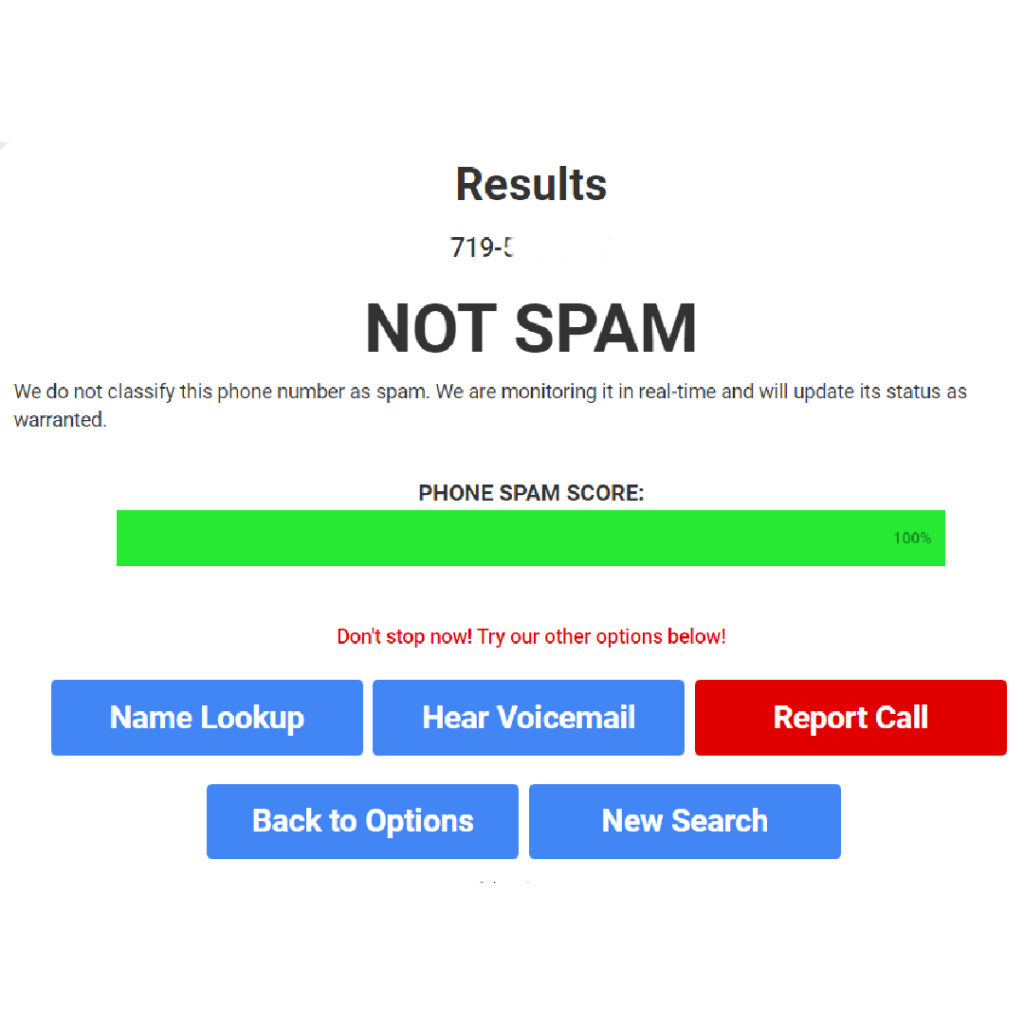 The website contains basic information about how the service works and how they collect their data. They also have an FAQ section where you can find short answers and explanations that should help you better understand what they do and how they operate.
Features
Spy Dial a number
One thing that you can do is to spy-dial a number. This feature allows you to call an unknown number you have found on the website. The receiver of this type of call can't trace who called. If they pick up, they will hear an automated voicemail that informs them that they have been spy dialed.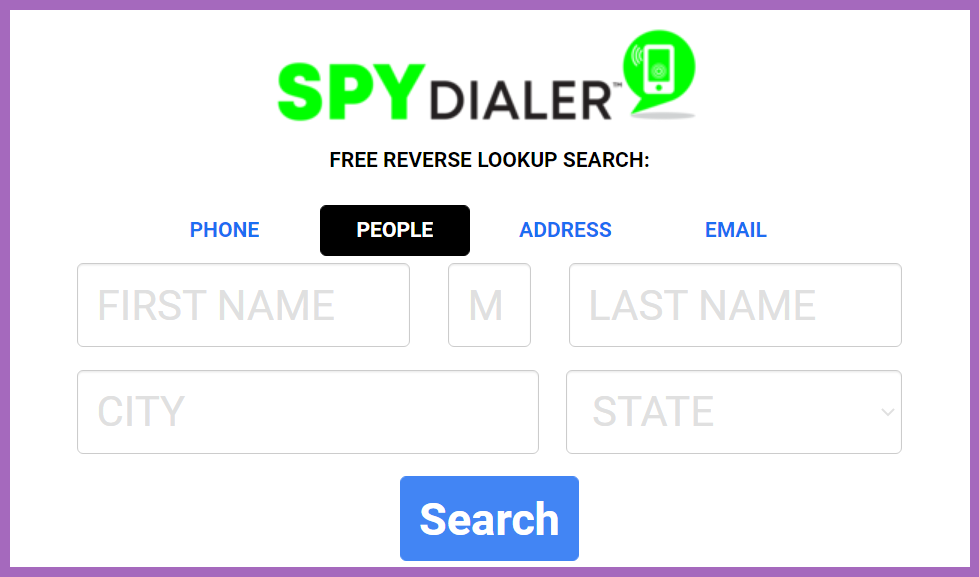 Additional features
Spy Dialer doesn't offer many additional features compared to its competitors. They are mostly focusing on the reverse phone number lookup, but you can also search based on name, address, and email address.
The website only works with American cell phone numbers. Therefore, you can not search for international phone numbers.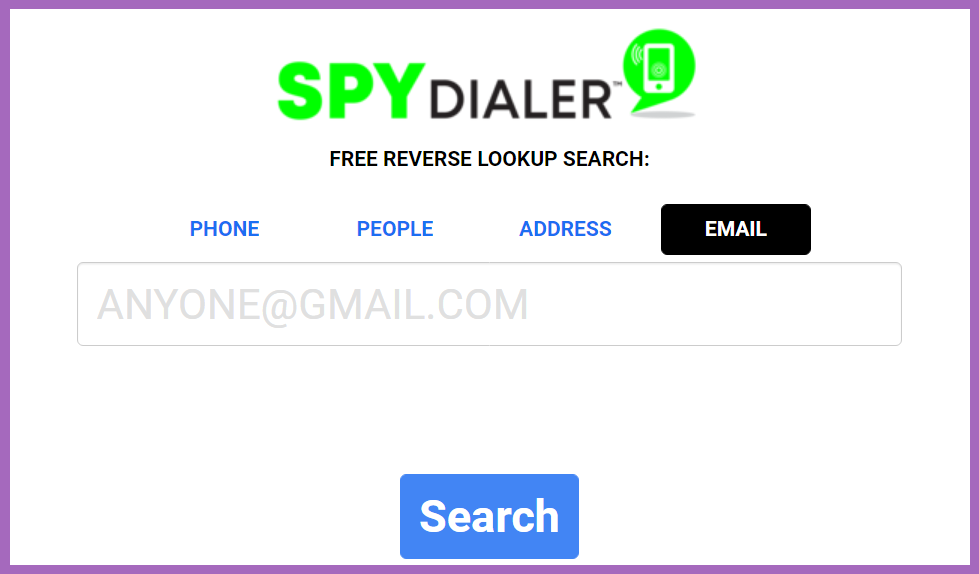 Their privacy policy is set to protect their users. They make sure that none of the personal information is shared with third parties
Opt-out feature
They also have an opt-out option that allows their users from all states to delete their personal information from their database.
This process is simple and quick. You choose a state where you live, and the website displays the Privacy laws in that state. After this step, you can either opt out straight away or check what kind of personal information Spy Dialer has about you.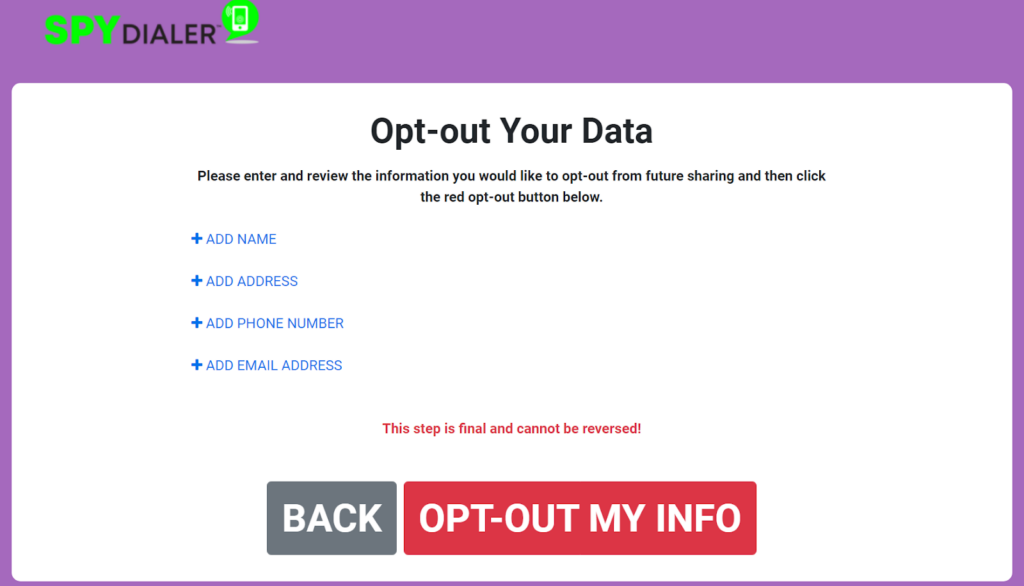 Customer support
If you have any issues during the process, you can contact customer support by filling out a form on the website. You enter the required information and shortly describe your issue.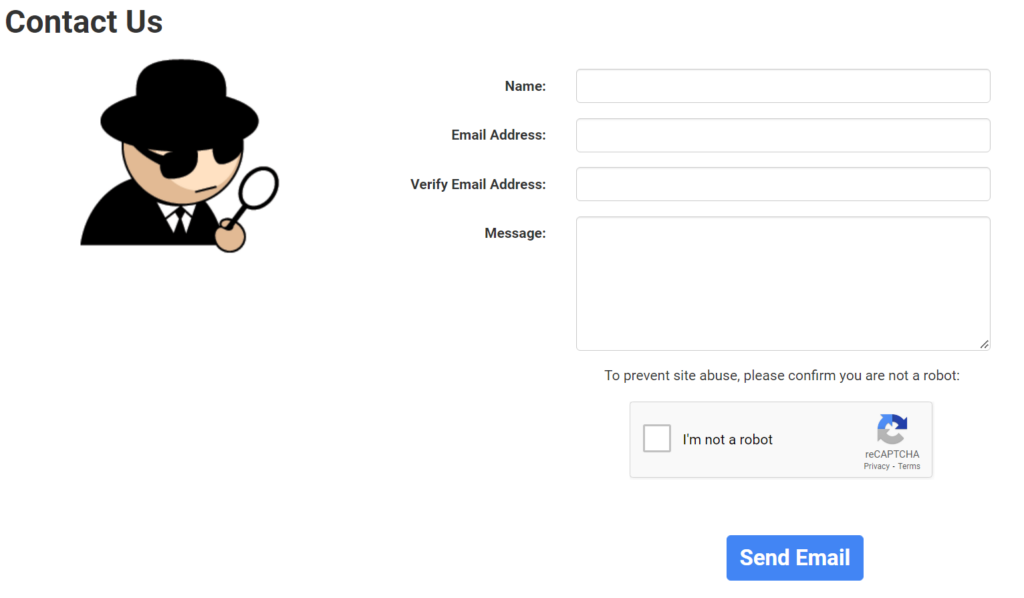 How can call centers use Spy Dialer?
Spy Dialer can be very beneficial for call centers and customer support agents to identify the caller by their phone number to improve work efficiency and effectiveness. It can help verify the caller's identity and track additional contact information of a customer that contacted the support team but didn't leave their contact information. You can also use Spy Dialer if there was an error in the call center system and customer information wasn't saved correctly.
Moreover, it can provide additional information about the caller, such as their location or other contact details. Businesses can then use this data for marketing purposes or sales efforts.
On the other hand, Spy Dialer can help to identify the person behind prank calls or any other inappropriate types of interactions that your customer support agents have to deal with. Identifying and blocking these callers helps to avoid uncomfortable situations and improve efficiency by only focusing only on legitimate customers.
However, it is imperative to check the law regulations of a particular country or jurisdiction to avoid any issues. In general, it is legal to use reverse phone number lookup services for business purposes if it's not shared or sold to third parties without the customer's consent.
Performance and user experience
In a few seconds, the website will generate information related to the number entered into the search bar.
If Spy Dialer finds the number, it will show you the name associated with it. Then, you can choose from a few different options to get some additional information. If you click "Phone Detail", it will show you the possible location and the type of phone number (landline, cell number, VoIP, burner apps, etc.).
The good thing about Spy Dialer is that it also works with VoIP numbers, which is a big plus compared to some of their competitors on the market.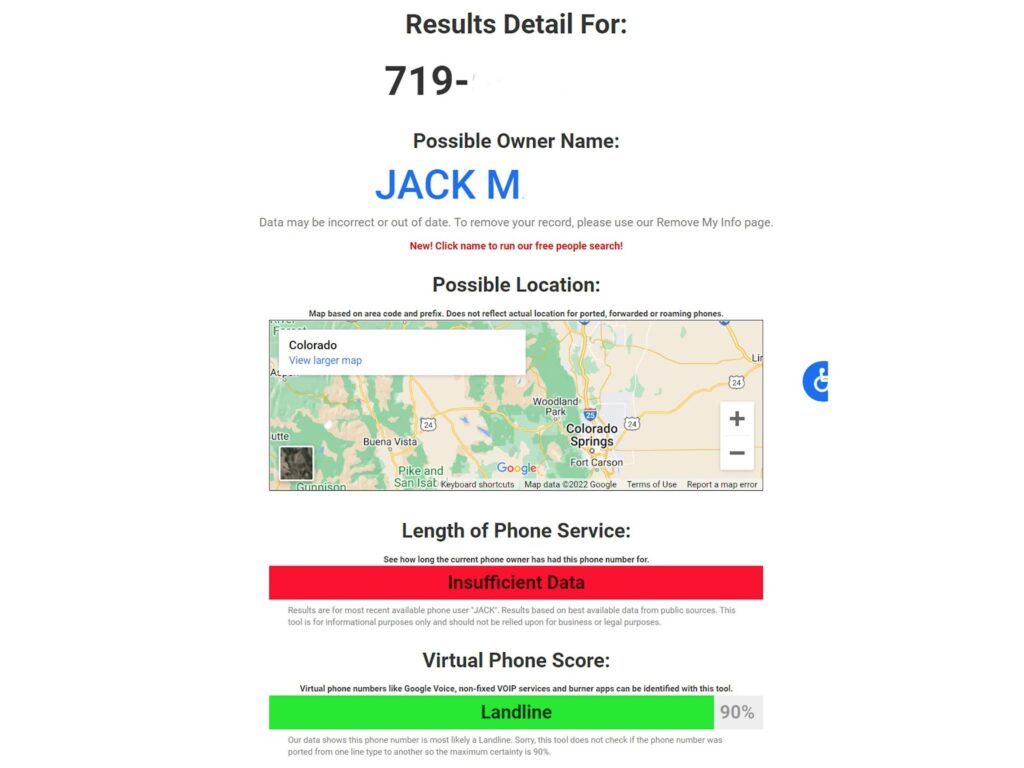 There is still a high chance that you won't find many numbers. That can be due to the opt-out option that allows people to delete their private information from Spy Dialer's database, or it can be because Spy Dialer gets their data from a public source that is not always 100% accurate and updated. Therefore, it's crucial to keep some limitations in mind.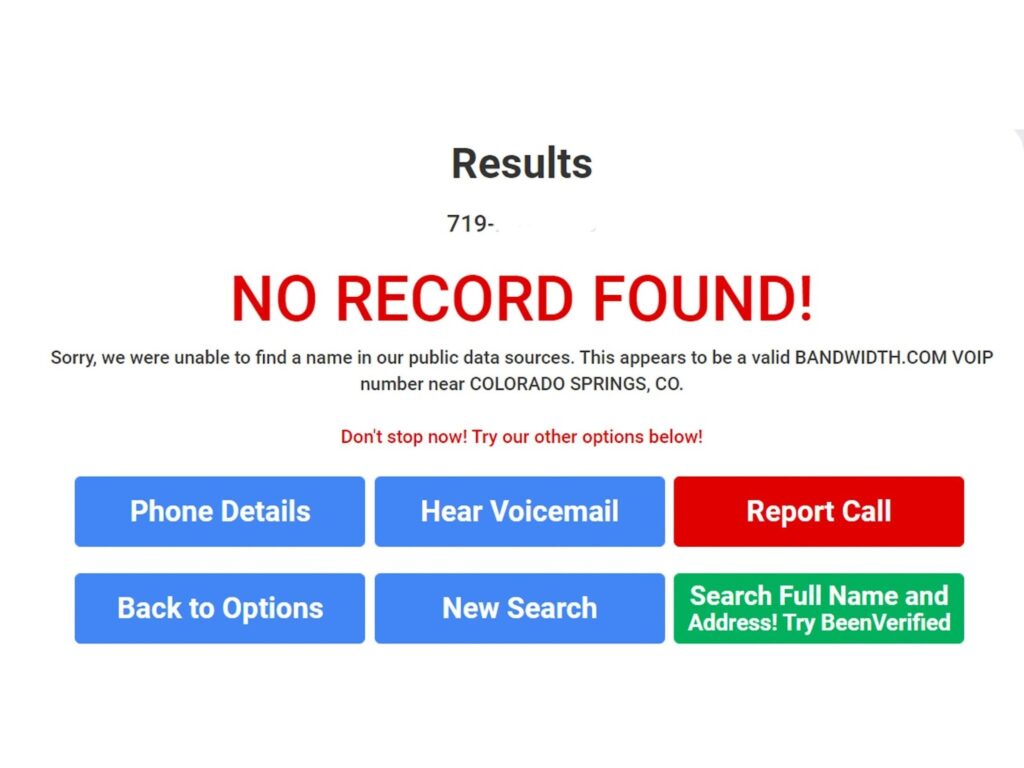 One thing that is very hard to overlook is the number of ads displayed on the website. They can be disruptive because they make the website look overly cluttered, which can taint the user experience.
Spy Dialer is only available as a website and doesn't currently have a mobile app.
Pricing
Spy Dialer offers all these features for free. There are no additional fees, and they don't work on a subscription basis. However, they encourage their users to verify the results with other reverse phone lookup providers, or to use those providers for more detailed information.
Conclusion
In conclusion, the website is responsive and very easy to use. It has quite an extensive database and can find a lot of different numbers and information connected to them. However, verify the information that Spy Dialer provides just to be sure the results are accurate. Overall, it is a great free option because you can access a lot of information without paying additional fees.