Key takeaways
Pros
Beautiful interface
Easy navigation
VPN, Cloud storage, and Calendar
Fair price
Cons
Some competitors offer more for the same price
Features could be richer
Getting started with Proton Mail email management software features
Proton Mail is a dedicated email service and email management software with a couple of additional features that come with it. While Proton Mail offers dedicated business plans that support multiple users, it also comes with a free plan for a single user, which is an ideal way for trying it out before making a purchasing decision. Getting started is therefore quite easy – I only needed to fill out a standard registration form. Proton let me customize my inbox right from the start, where I was able to select between a couple of themes.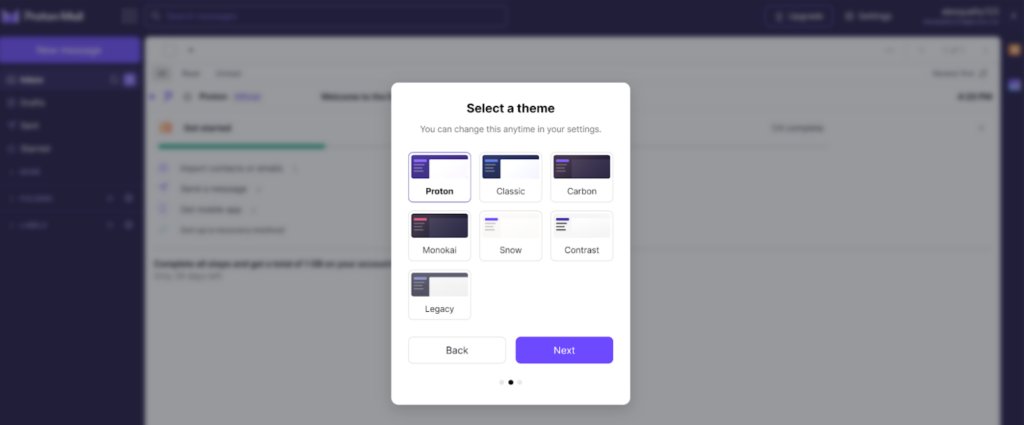 When you finish picking a theme, you can start looking around the interface. The interface looks pretty standard, which is a very good thing. Email clients and web apps tend to follow the same set of rules as to not confuse the user any more than necessary. The online mailbox design is one of the things which sticks regardless of what solution you use, and it's good to see that Proton follows the same rules as the rest of them. It makes the navigation easy and intuitive, just like it should be.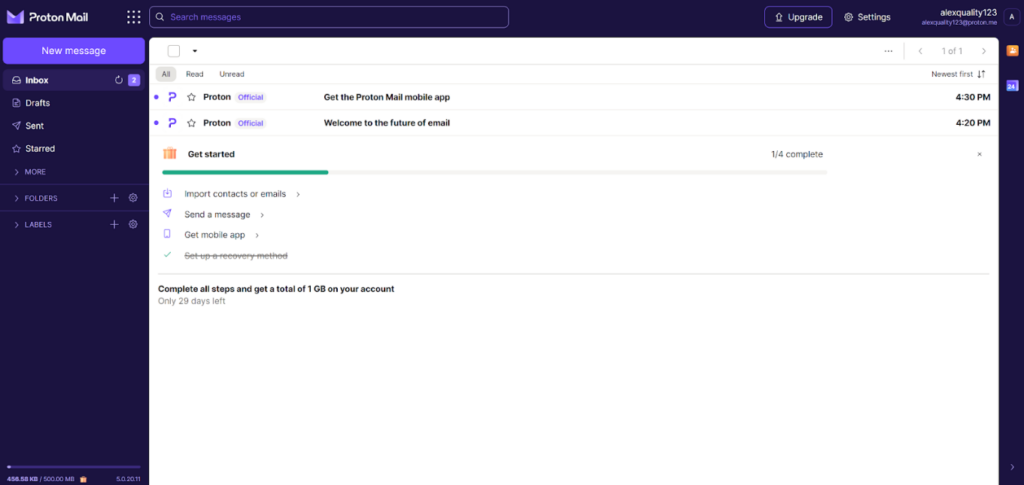 Proton supports multiple interconnected mailboxes for different users in the business plans, so you shouldn't have trouble creating a hub for your company communications. The implementation is fairly easy and you can basically start using Proton Mail right after your registration. If you want to further configure your mailbox, dive into the extensive settings options. Proton can be customized in all sorts of ways, and you can adjust your privacy and filtering settings, interface design, and much much more.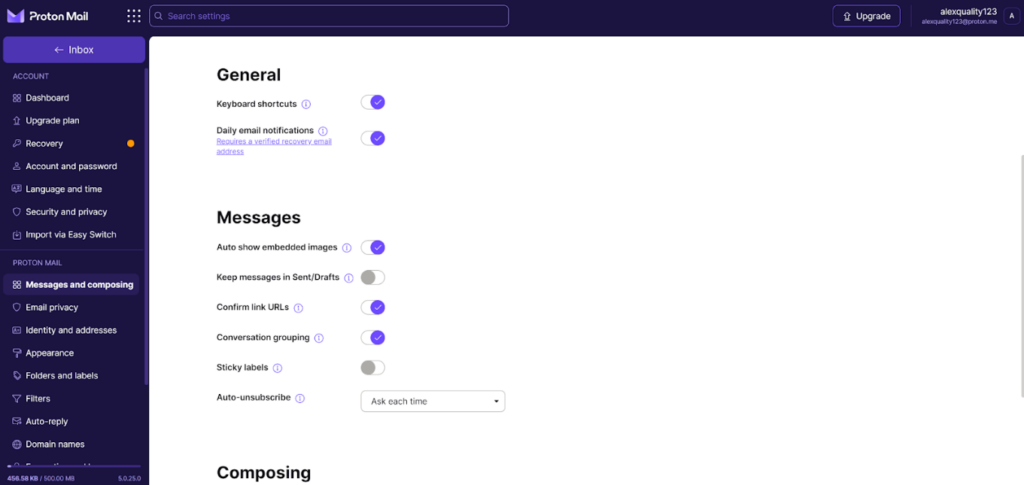 Proton Mail lets you add additional email addresses, but this feature is locked for users of the free accounts. An interesting offer comes with the getting started guide which is available when you enter your inbox for the first time. If you complete the steps, you can get an additional 1GB of storage for free. I assume this offer applies to all types of accounts, regardless of your plan. Before I start describing the experience of working with Proton Mail, let's take a look at what features it offers.
Proton Mail email management features
Proton Mail focuses on providing safe and secure email management software with no other major focus, which means that all of its features are dedicated to fulfilling this mission. Security is a major focus, so Proton offers a variety of security measures and encryption for each email account. You can also customize your email addresses to match your company name. The encryption extends also to the Proton calendar feature, so all your event information is therefore secure as well.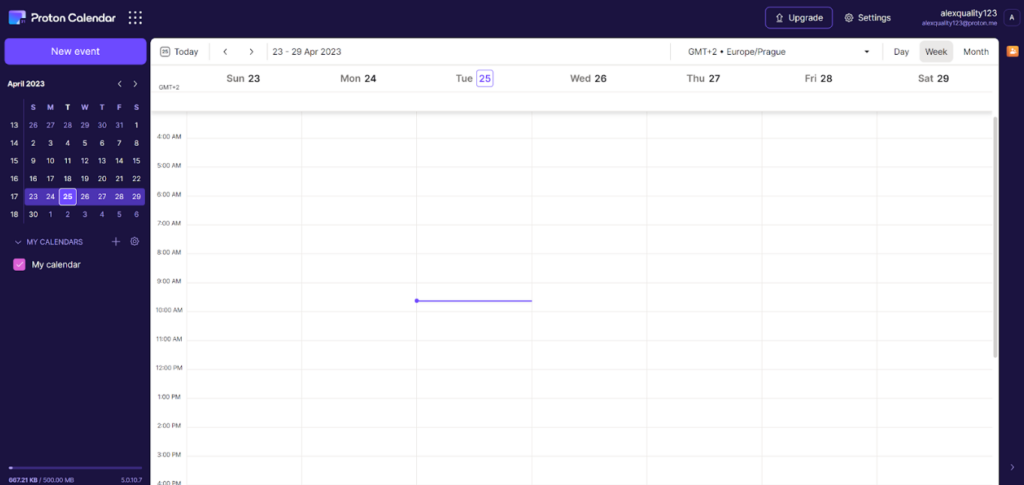 The email supports advanced filtering, search, out-of-office responses, email signatures, account transfers, user management, and contacts lists. You can also get support and help with data migration, or troubleshooting issues with the Proton team if necessary. Proton Mail also offers mobile applications, a VPN, and a cloud storage service.
Working with Proton Mail email management software features
Proton Mail offers a very good and smooth working environment thanks to the well designed interface. I sent myself a few test emails to see what it's like to work with Proton in a day-to-day scenario. The emails arrived in a timely manner and I got to explore the interface a bit further. It looks pretty good, although I don't see why the option to reply isn't available right away. You have to click on the reply button first to access this function, which just seems like an extra step to me. However, this is still a very minor personal issue in an otherwise great interface.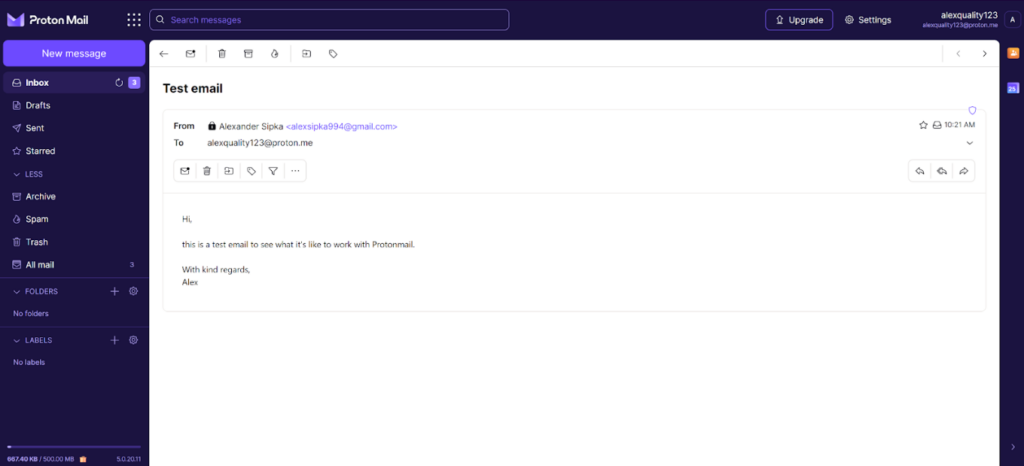 Once you hit the reply button, Proton opens up a smaller window where you can type your reply. At first I thought this was a pretty unusual design choice, but I got used to it very quickly. It came with a benefit too; I could see the entire original message so I didn't have to scroll up and down constantly if I wanted to double-check something. Messages are automatically saved as drafts, and the window, albeit a bit small, provides a good selection of tools for editing and formatting your messages in various ways.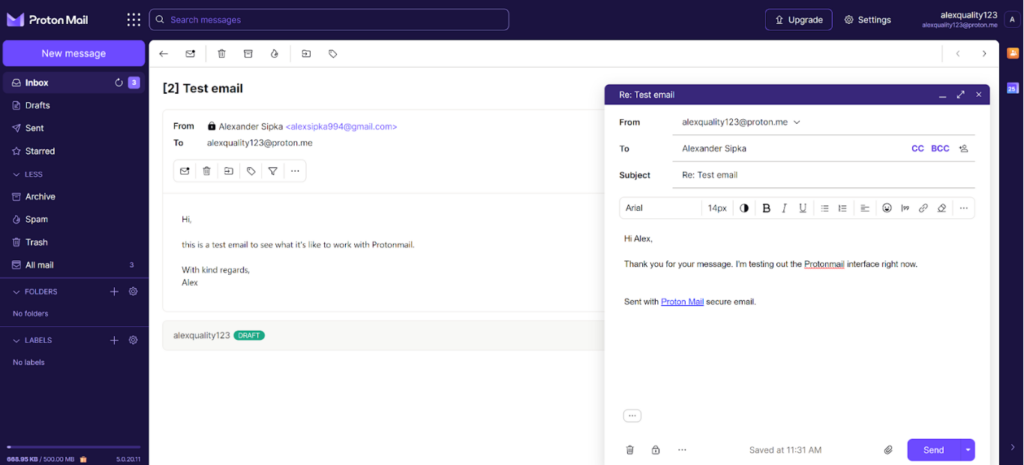 There could be some space for adding extra tools and features in this area, but it's questionable if they are necessary, and after some thought, I don't think they are. The options are not the richest but they are more than sufficient enough to help you craft great messages. This allows the interface to stay clean, as well as maintain its easy navigation. This logic can be applied to almost the entire Proton Mail interface, including the mailbox.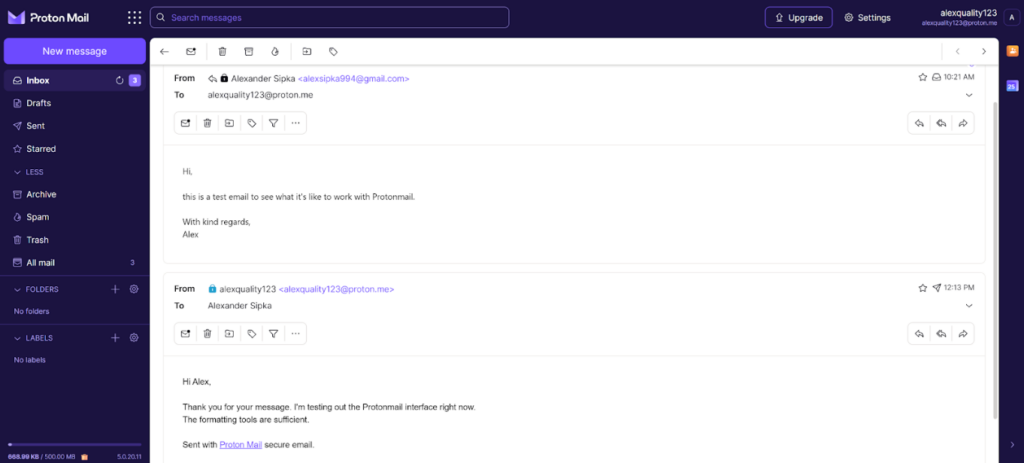 Proton Mail allows you to customize and create new folders to help you organize all of your email communications. You can choose if you want to receive notifications for a particular folder, and that's not all. You can also create labels for your emails, name them, and select a color for each one to increase your organization even further. Proton Mail offers some basic categorizing options for selected emails. You can move them to SPAM, trash, archive, add labels, or move them to different folders. Once again, not the richest set of options, but I definitely find them useful and didn't experience any confusion whatsoever.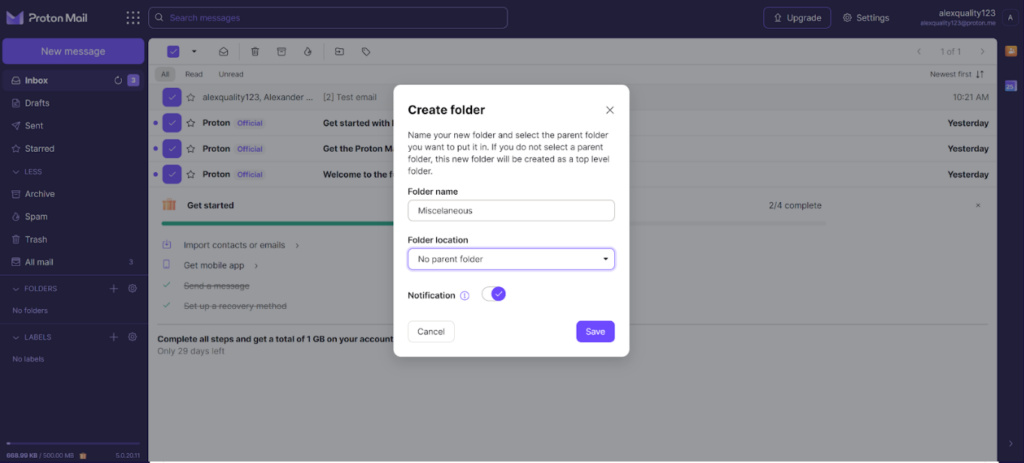 Overall, Proton Mail offers a standard, useful email management system that won't disappoint. It might not offer the flashiest tools and features, but that doesn't necessarily have to be a bad thing. Whether you prefer more or less, you surely won't be disappointed with the selection in this dedicated email management software.
Proton Mail email management features pricing
Proton Mail offers two types of pricing plans. The first category is for individuals, which also includes a free version of Proton. The second category are pricing plans for businesses. These plans support more features and are meant to be used by more users in the same working environment. Since we're doing these reviews mostly for business owners, we're going to take a look only at the business plan selection.
Mail Essentials
The Mail Essentials plan can cost you $6.49, $6.99, or $7.99, depending on if you choose 24 month, 12 month, or monthly billing periods. All prices are per user per month. This plan includes 10 email addresses per each user, support for 3 custom email domains, unlimited folders, labels, and filters, contact groups management, calendar sharing, 1 free VPN connection in total, and 15 GB of storage for each user.
Business
The Business plan costs either $9.99, $10.99, or $12.99 per user, depending on which billing option you choose. It gives you access to 15 email addresses per user, support for 15 custom email domains, 10 VPN connections per user, 500 GB storage per user, unlimited Hide My Email aliases, and all the features from the Mail Essentials plan.
Enterprise
This plan offers custom pricing, so you need to contact Proton Mail's Sales department to find out the price estimate. You get everything from the previous two plans. The solution can be tailored to your needs, and you will also get a dedicated account manager, as well as a custom storage limit.
Conclusion
Ultimately, Proton Mail is a very good email management software. It offers all the necessary features for managing your email communication effectively, and it even provides a little something extra. All businesses can benefit from VPN, calendar, and cloud storage. The main selling point are the added security features, so you should definitely consider Proton if you require an extra layer of protection. However, it's important to say that even though Proton Mail does everything right, there might be certain competitors which can bring you more value for the same cost. If all you need is a dedicated email management software, you can't go wrong with Proton Mail.
Frequently Asked Questions
Problems with Proton Mail login

Login problems with Proton Mail can be caused by multiple things, so it's best to try out a few of solutions to find out which one helps. First of all, if you're using a password manager, try disabling it for Proton Mail as not all password managers support Proton, and they can cause trouble with logins. Try clearing your browser cache and restarting your browser, as corrupted browser cache might be the reason behind your problems. If you're using any browser extensions, try disabling them, alternatively try logging in via private browsing. Proton Mail cannot work unless JavaScript, sessionStorage, and cookies are all enabled. Try double-checking if they are enabled. If your problems persist, try resetting your passwords, or alternatively contact Proton support to seek further assistance.

Proton Mail won't send emails

The most likely problem is that you tried to send too many emails in a short period. Proton Mail has a sending limit for each plan. The Proton Free plan has a sending limit of 50 emails per hour, and 150 emails per day. The limit changes if you are using one of the paid plans. The maximum number of recipients is 100. Proton Mail is not designed for bulk email communication. That's why it also issues warnings about the sending limit as well as SPAM detection. If you believe your issue has nothing to do with the sending limit, please contact Proton Mail support and seek support.