Key takeaways
Pros
Very fast and responsive
Easy to navigate and use
Compatibility with the Zoho Suite
Cons
Implementation was very problematic
Limited storage space
Getting started with Zoho Mail email management software
I've only really used Gmail and Outlook as email management software throughout my life, so I was a bit excited to try something new. To get started, I went to Zoho Mail's website and decided to create a business account.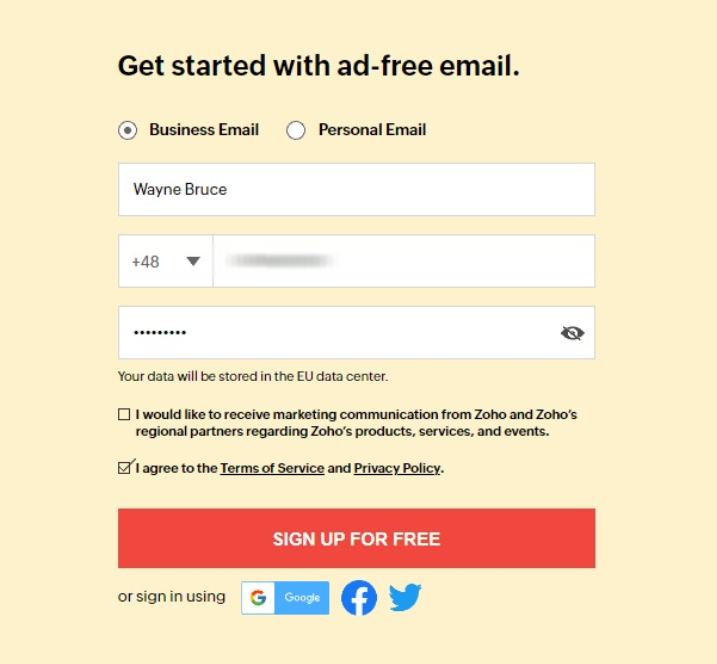 After adding my name, phone number, and password, I was prompted to verify my phone number with a One-Time Password that I immediately received on my phone. You can also use an email address instead of a phone number to receive your OTP.
After that, I was greeted with a page that outlined the different payment plans.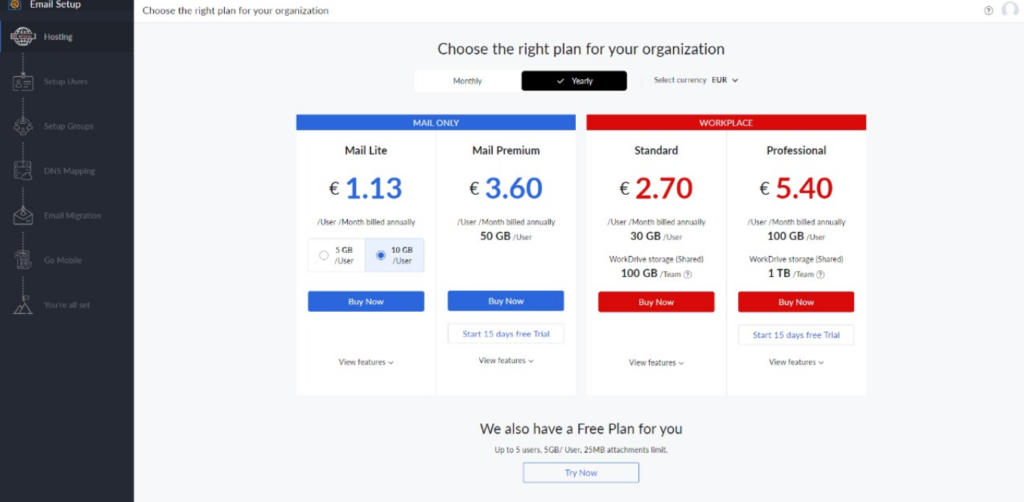 I chose the free option and received an Unexpected Server Error.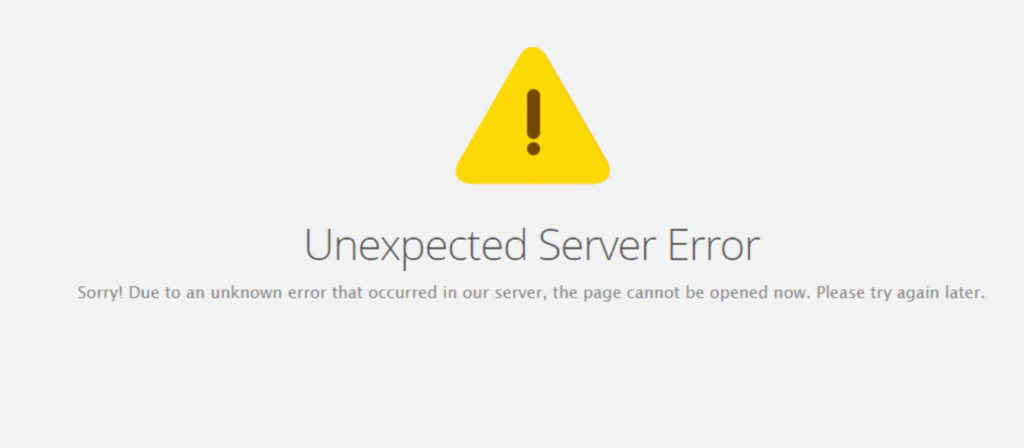 After going back to the homepage to sign in again, I was met with another error.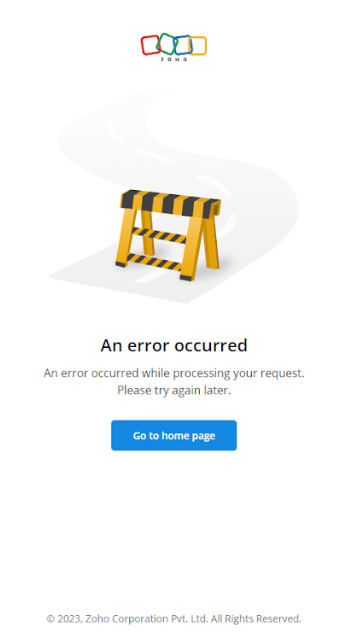 At this point, I was getting frustrated and unsure of how to proceed. Due to prior experiences on the internet, I decided to try using a private tab. And voilà! The sign-in screen! I was finally able to log in and try out this email management software.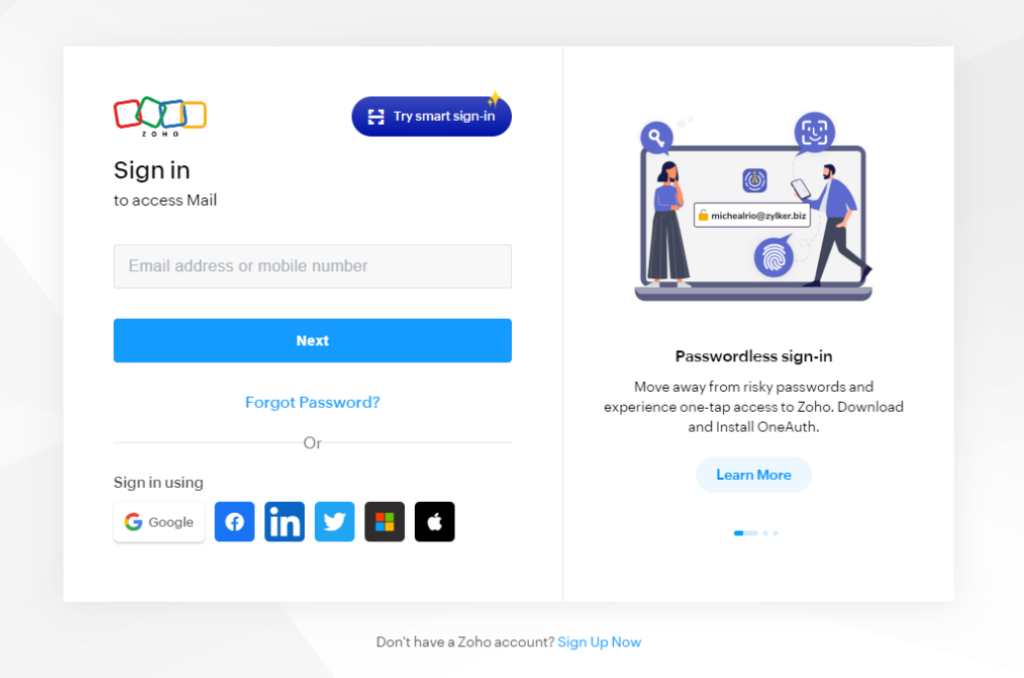 Sadly, I wasn't done being disappointed, since after inputting my login information, I received yet another error.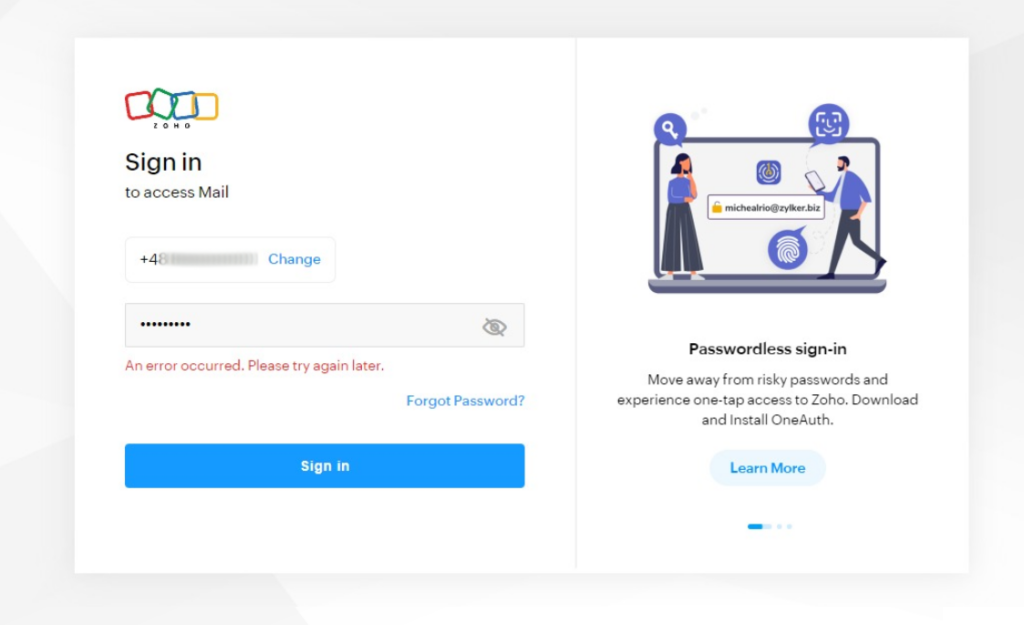 Needless to say, this was frustrating and discouraging, but I wasn't done trying, and I was going to write this review whether they wanted it or not.
My next step was to create a totally new account, to which I was finally able to log in and start configuring. Because I don't have my own domain, I had to choose a personal account, which completely defeated the purpose of creating a business account in the first place.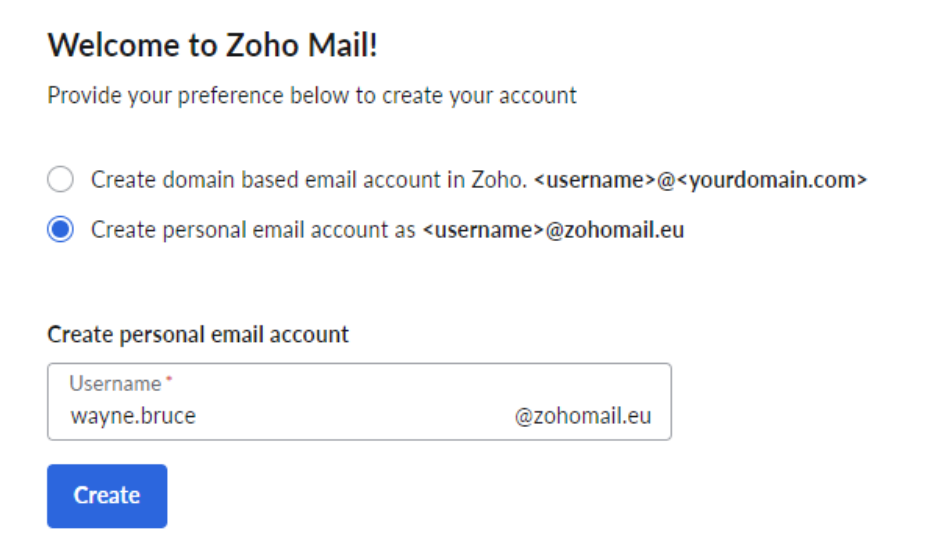 Finally, after a process that was much longer than it should have been, I could see my inbox.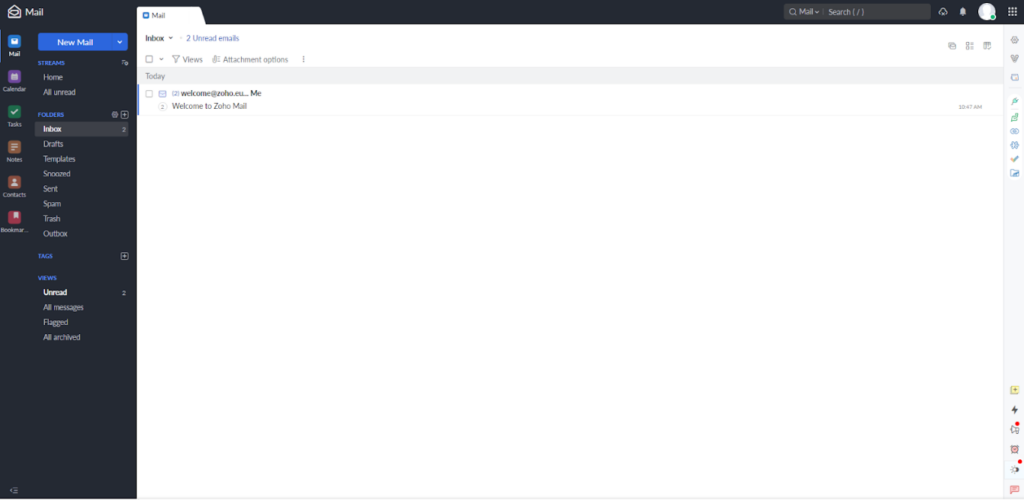 Zoho Mail email management features
Right off the bat, I was looking for the night mode settings. After a quick glance at the UI, I noticed the right sidebar and the bottom part in particular.

Here, I quickly found the Night Mode option as well as some other cool little features such as Sticky Notes and Reminders.
On the top side of the right sidebar, you can connect with all the apps in the Zoho Suite, as well as access the settings.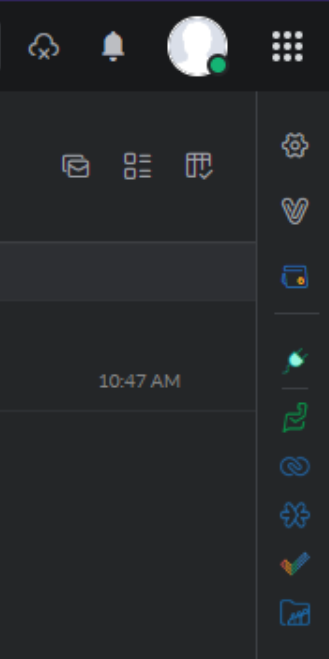 The settings window was a nice surprise. It was very clean and organized, which made it super easy to navigate and find what I was looking for. My first order of business was setting up out-of-office emails. I found them under a very appropriately named tab called "Out of Office".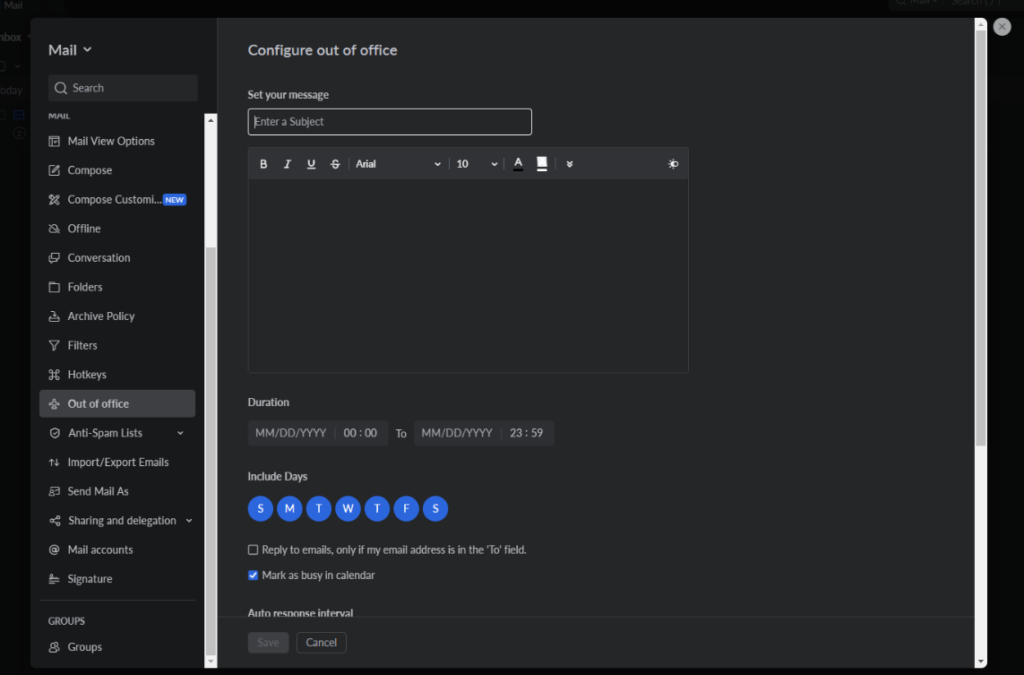 You can do all the usual configurations regarding days and times, as well as only reply to the emails you were sent to and not the ones you are in CC.
Another feature I found would be interesting for businesses is the ability to add multiple email accounts to manage within the same browser tab. You can also set up different accounts for Incoming and Outgoing emails. However, IMAP accounts are only available to premium users.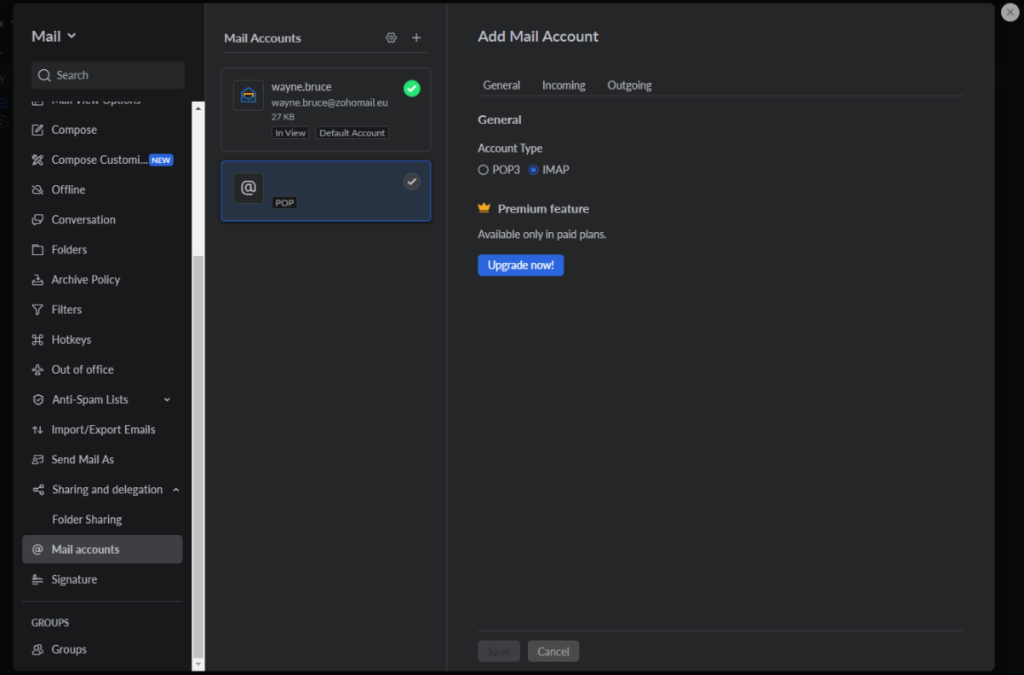 Under the same tab, you can also set up email forwarding, which would be an essential feature for all businesses in this day and age. It is very easy to set up, but sadly my free account only let me set up one account to forward to.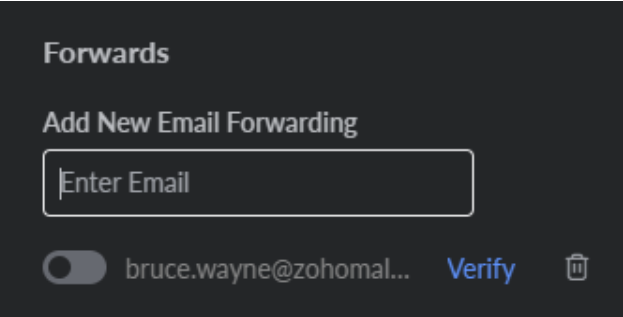 Zoho Mail has all the basic features you would want from your email management, and you could probably get even more out of it if you are already using apps from the Zoho Suite.
Working with Zoho Mail email management software features
The software felt super responsive and the interface was reminiscent of the most popular email management software in the market, so it was easy to navigate.
There were two things in particular that I liked. One of them was the Tab system that Zoho Mail used. When drafting my first email, I noticed that the draft was opened in a new tab, and the inbox was its own tab. Writing the email and adding an attachment was straightforward.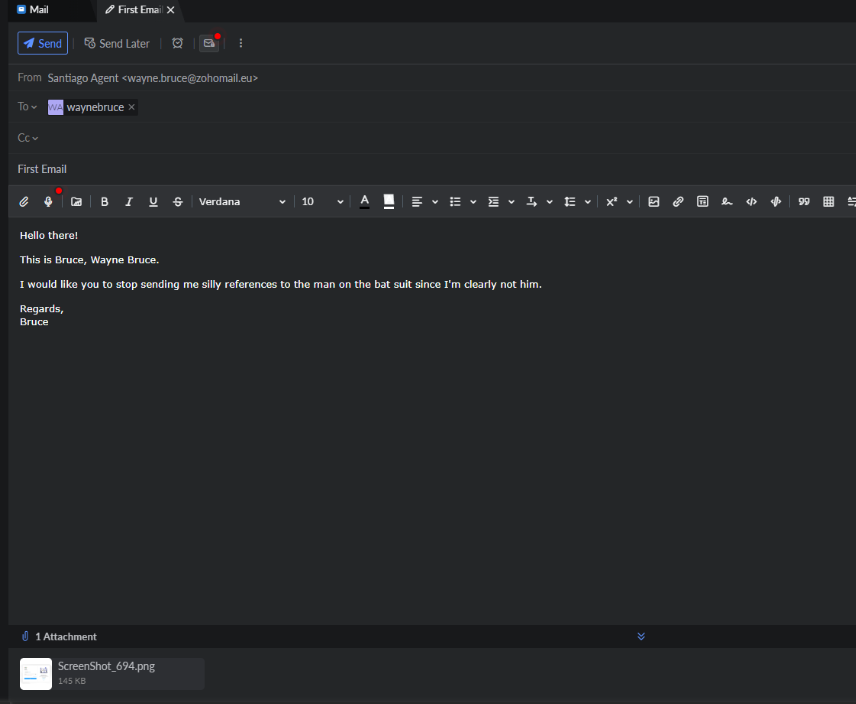 Unsurprisingly, I received my email instantly, and then I found the second thing I liked about this tool. When I opened the email, it opened as a sort of window that allowed me to see the email and my inbox at the same time.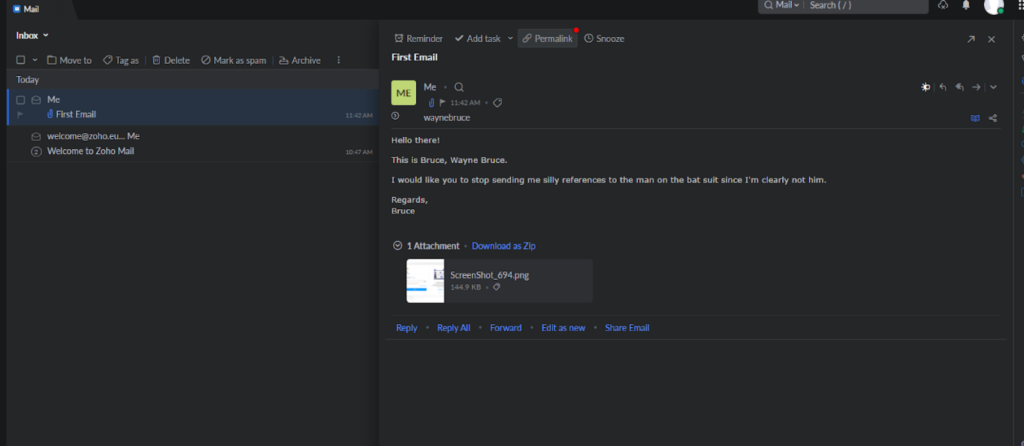 Zoho Mail email management features pricing
Zoho Mail is free to use; however, you will need to have your own domain in order to create a business account. Understandably, the free version has certain limitations, but it allows the user to get a feel for the software before committing to a purchase. Other than that, Zoho Mail has three pricing tiers: Mail Lite, Mail Premium, and Workplace.
Mail Lite
It costs €0.90/User /Month billed annually for the 5 GB storage per user version, and €1.13/User /Month billed annually for the 10 GB storage per user version. Both versions come with access to mobile apps, 250 MB attachments, domain aliases, and much more.
Mail Premium
This tier costs €3.60/User /Month billed annually and contains everything offered in the Mail Lite version plus Huge Attachments up to 1 GB, Archival and eDiscovery, Email backup and restoration, White labeling, and S-MIME.
Workplace
This tier starts at €3/User /Month billed annually and contains not only email management features but also online office apps, including an online file manager, online word processor, online spreadsheet, online meeting software, and more.
Conclusion
Despite the very rocky start, I ended up liking Zoho Mail. For someone who has mostly used the most popular email management software, it was a refreshing experience. It has everything you would expect from free email software, and it even has a quite affordable pricing structure. The software was fast and responsive, the UI was clean and easy to navigate, and the settings window was clearly labeled, making it easy to find what I was looking for. It even had some original ways of presenting the email drafting and reading.
Another important thing to highlight is that Zoho Mail is clearly meant to be paired with all the other apps in the Zoho Suite. Even though not being a part of the Suite doesn't detract from the experience, one can only imagine that the integration of all those apps can significantly enhance the users' workflow.
To sum this up, Zoho Mail is a solid email management software, that has everything you could probably want, provided you make it through the rocky implementation phase.
Frequently Asked Questions
I have issues with accessing the Control Panel.

To access your Zoho Mail Control Panel, you can log in using your Admin or Super Admin credentials, or alternatively, you can click on your profile picture located in the top right corner of your mailbox and select the Control Panel option.

Why is my account blocked, and how do I unblock it?

There are two main reasons why your account could be blocked: surpassing the storage limit for your account or the detection of suspicious spam activity in your account.

I'm struggling with adding an email alias.

Navigate to the Users section in the left pane of the Admin Console, then choose the specific user for whom you wish to configure the email alias. From the top menu on the user's page, select Mail Settings. On the left-hand menu, click on Email alias. Enter the desired alias username and select the domain you want to associate with the alias, then click the + button. By default, all emails are sent from your primary email address. If you want to change the primary mailbox address, hover over the created email alias and click on "Set as mailbox address," then confirm the change by clicking "Change" on the pop-up confirmation.