There are many email providers and email alternatives on the market, each with its own unique offering and features. In this article, we'll delve deeper into which email clients are best and shed some light on email alternatives that business owners can benefit from using.
The best email clients and their features
Protonmail
Protonmail is a lesser known Gmail and Outlook alternative, but it offers better terms and conditions than its mainstream counterparts. Protonmail offers end-to-end encryption, has a better privacy policy, and offers custom email domains, as well as ad-free email browsing.
Instead of offering "free" email and mining your data, this non-mainstream email client charges its users a small monthly fee  (€5.00) for its email services.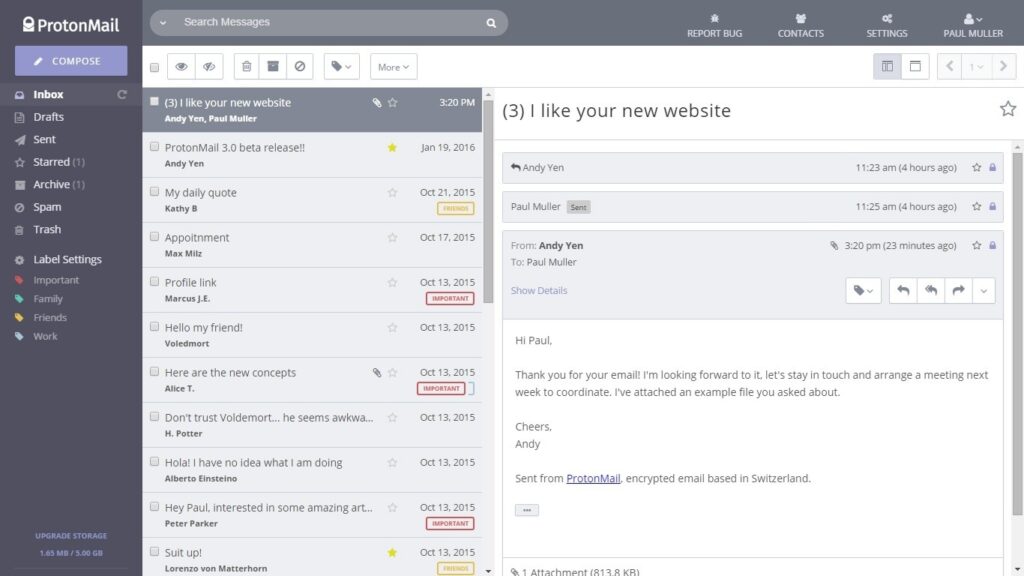 Protonmail FREE features
 500MB storage
 150 messages per day
 Limited support
Protonmail PLUS features 
 5 GB storage
 Up to 1000 messages per day
 Labels, custom filters, and folders
 End-to-end encryption to external recipients
 Custom domain (ex: john@smith.com)
 Up to 5 email aliases
 Priority customer support
Protonmail cons
Limit on email messages per day on the free plan
Tutanota
Tutanota is similar to Protonmail in that it offers better privacy, security, and terms and conditions than its mainstream counterparts. Tutanota's users can enjoy ad-free email browsing, custom domains, multi-user access, end-to-end email encryption, as well as an encrypted calendar for just €1.20 a month.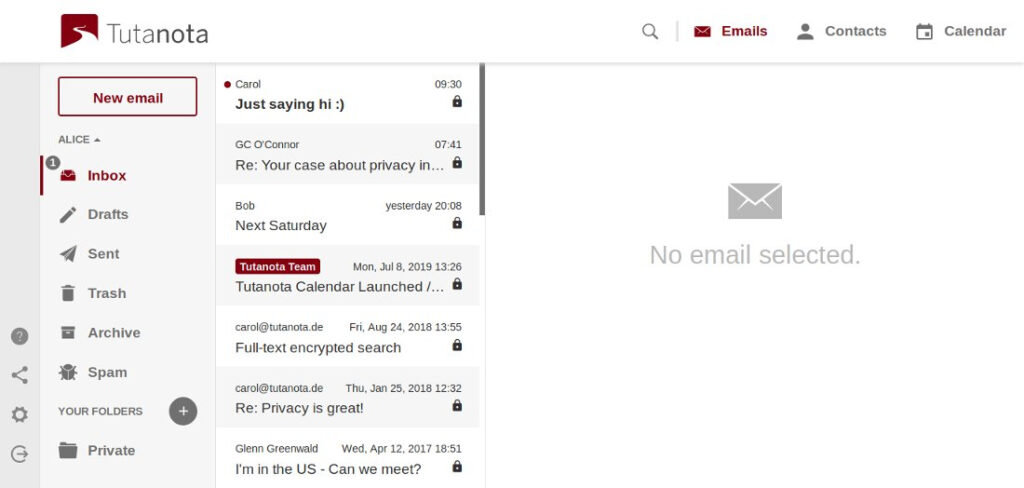 Tutanota FREE
One user
1 GB storage
Tutanota domains only
Limited search
One calendar
Tutanota PREMIUM
Add user (€12)
1 GB storage
Custom domains
Unlimited search
Multiple calendars
5 aliases
Inbox rules
Support via email
Calendar invites
Tutanota cons
UI
No third party integrations
Gmail
Gmail is one of the most well known and used email clients with over 1 billion monthly active users. Gmail users can create labels and categories for their emails, and star the most important emails to make them stand out in a cluttered inbox.
Gmail is armed with 2-factor authentication and enables users to take advantage of its calendar and docs features.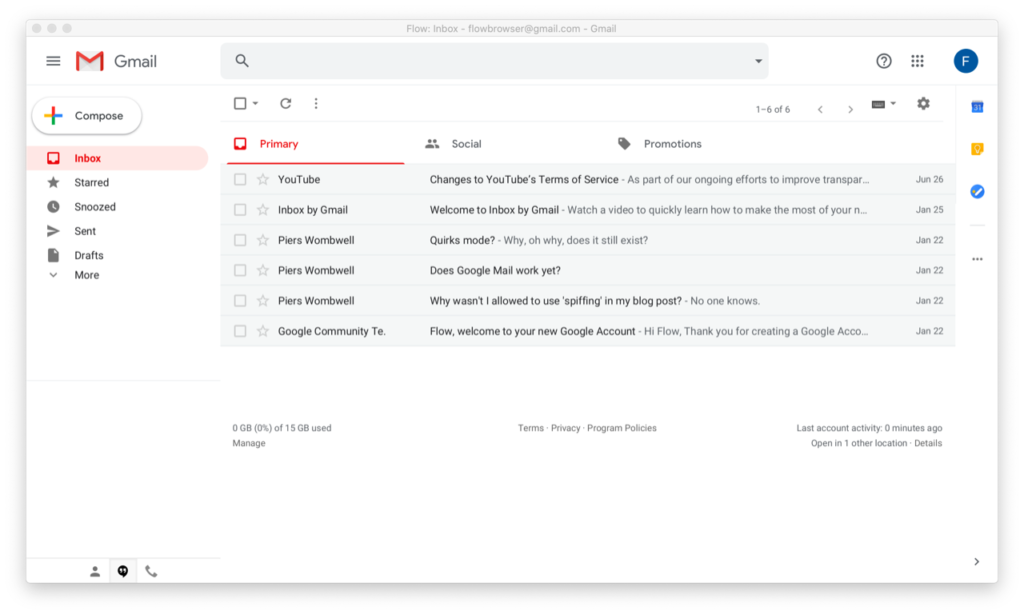 Gmail features
15 GB of free shared storage across Google Drive, Gmail, and Google Photos (more storage starting at €1.99)
Email snoozing
Email scheduling
Theme and layout customization
Send cancellation of up to 30 seconds
Autocorrect, spelling, and grammar suggestions
Smart replies
Gmail cons
No end-to-end encryption
Inbox ads
Outlook
Outlook is the second most popular email client used worldwide. It's great for making to-do lists, scheduling meetings, and saving contacts. Outlook is free to use; however, to have access to an ad-free interface, custom domains, enhanced security options, and 1 TB of cloud storage to help you empty scratch disks and solve other potential storage issues, you need to have a Microsoft 365 subscription ($69.99-$99.99 per year).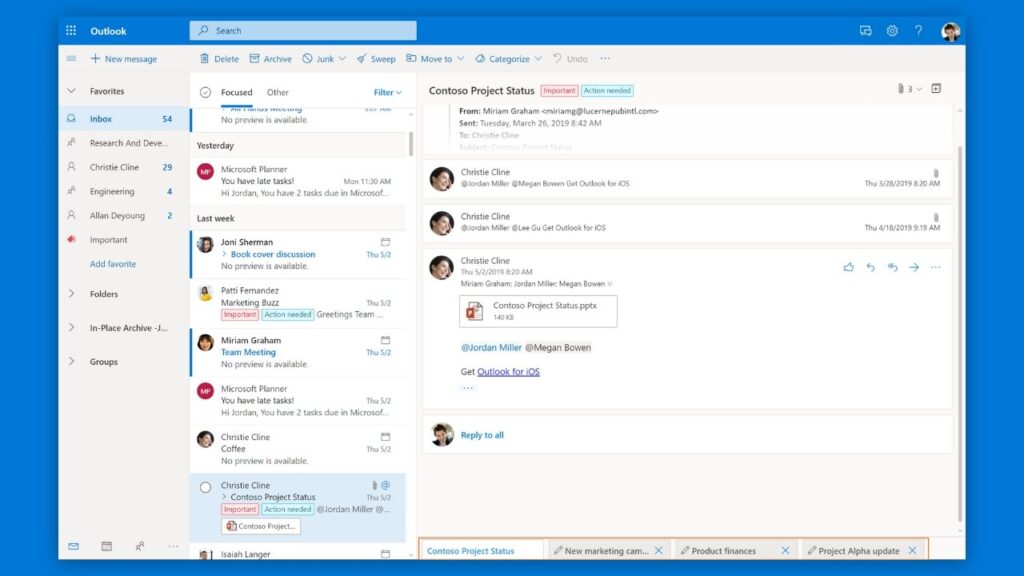 Outlook features
5 GB of free storage
Labels and folders
Separate tab email view available
Supports email aliases
Smart filtering
Outlook cons
Not many customization options
Yahoo! Mail
Yahoo! Mail, formerly known as Hotmail, is the third most used email client, with over 225 million active monthly users. Yahoo! Mail offers its users an inbox conversation view, multi-user support, and alias email addresses. Yahoo does provide encrypted email transmission (TLS), but no end-to-end encryption or custom domains.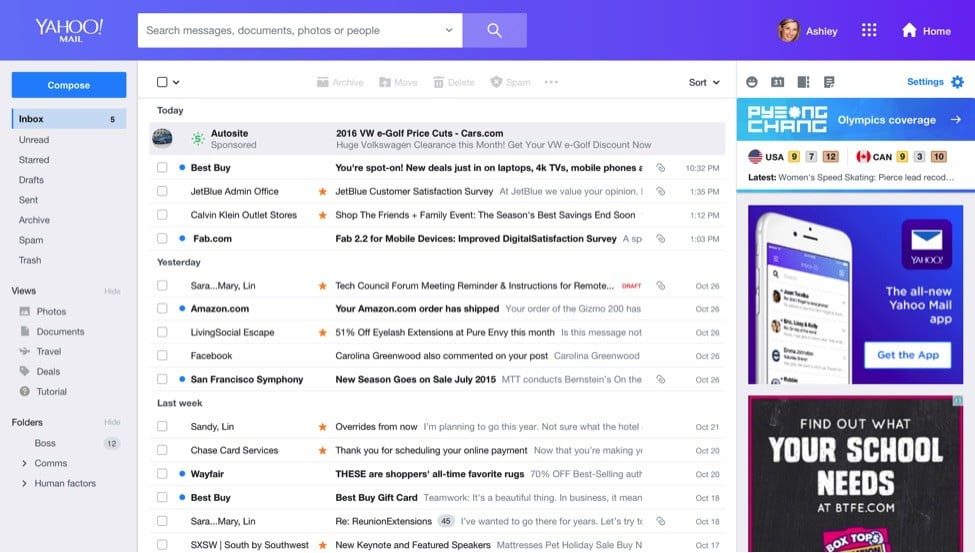 Yahoo! Mail features
1 TB storage
500 disposable addresses
Yahoo calendar
Folders
Yahoo! Mail cons
Inbox ads
Few filters and inbox rules
AOL Mail
AOL Mail, also known as AIM was acquired by Verizon in 2015. AOL Mail has tons of customizable themes and offers virus protection. However, it does not offer end-to-end encryption or advanced automation inbox rules.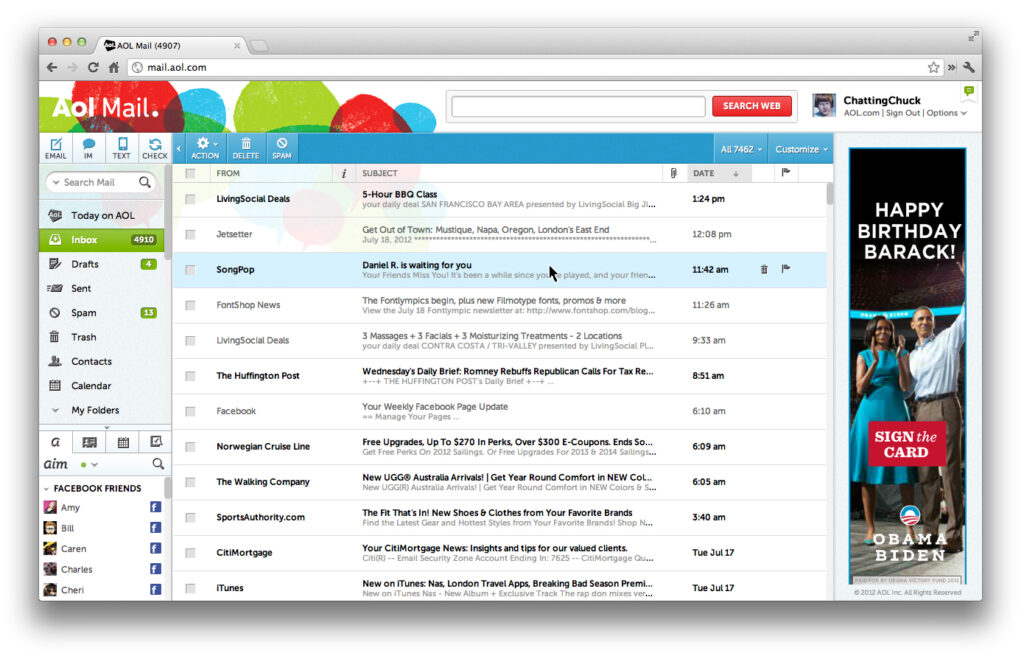 AOL features
Unlimited storage
Spellchecker
Folders
Calendar 
Contacts import
AOL cons
iCloud Mail
iCloud is Apple's designated email service. It syncs with all Apple devices, uses end-to-end encryption, and offers an ad-free experience. It has a very modern and clean user interface, however, it is lacking in collaboration features, inbox rules, and email templates.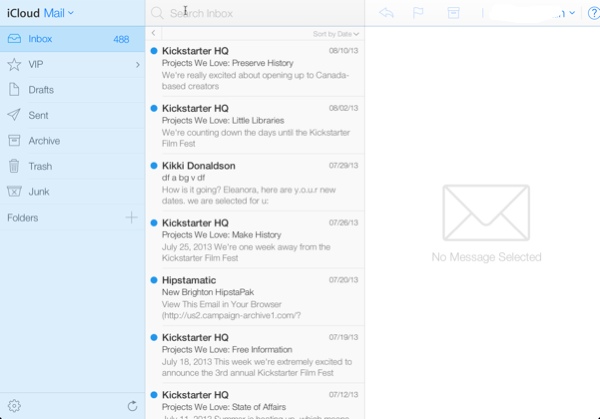 iCloud Mail features
5 GB of free email storage space
Folders and subfolders
Smart search
Email aliases
iCloud Mail cons
Zoho Mail
Zoho Mail is equipped with end-to-end encryption and offers an ad-free experience. The Zoho Mail inbox is customizable and makes it easy to get a custom domain email for your business. It also allows users to build email templates.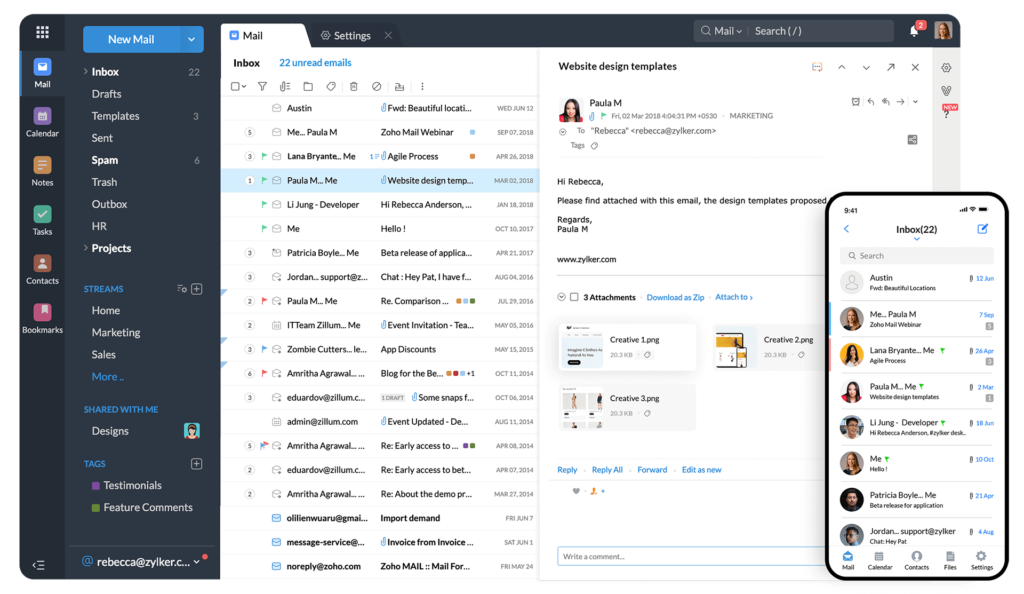 Zoho Mail features
Email streams (social media style likes and comments)
Free Zoho CRM integration
5 GB free storage
Folders and labels
Folder sharing
Email reminders
Email scheduling
Tasks, notes, to-do lists, and calendars
Zoho Mail cons
No contacts import from social media
Thunderbird
Thunderbird is Mozilla's open-source, highly customizable email client that offers its users phishing protection and end-to-end encryption. It has email tabbing options and a one-click address book.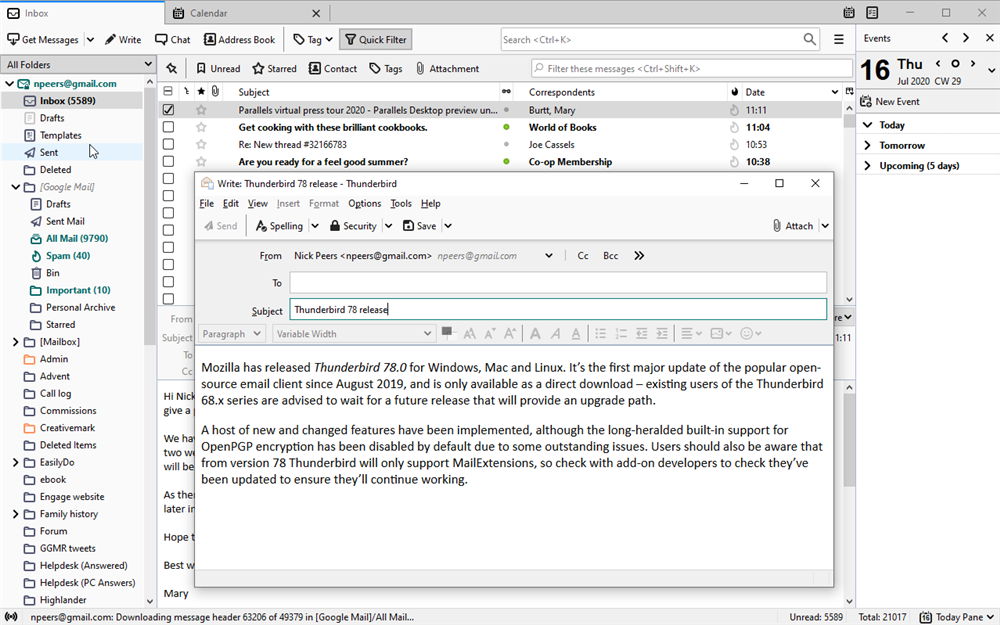 Thunderbird features
5 GB storage
Smart folders
Email tabbing
One-click address book
Attachment reminders
Quick search 
End-to-end encryption
Thunderbird cons
No calendar
Outdated look
Mail.com
Mail.com is a free email provider that enables its users to choose a domain name from an extensive list. It offers its users' virus protection, end-to-end encryption, unlimited storage, and Facebook integration. However, it does not offer 2-factor authentication or an ad-free experience. It's also lacking automation inbox rules.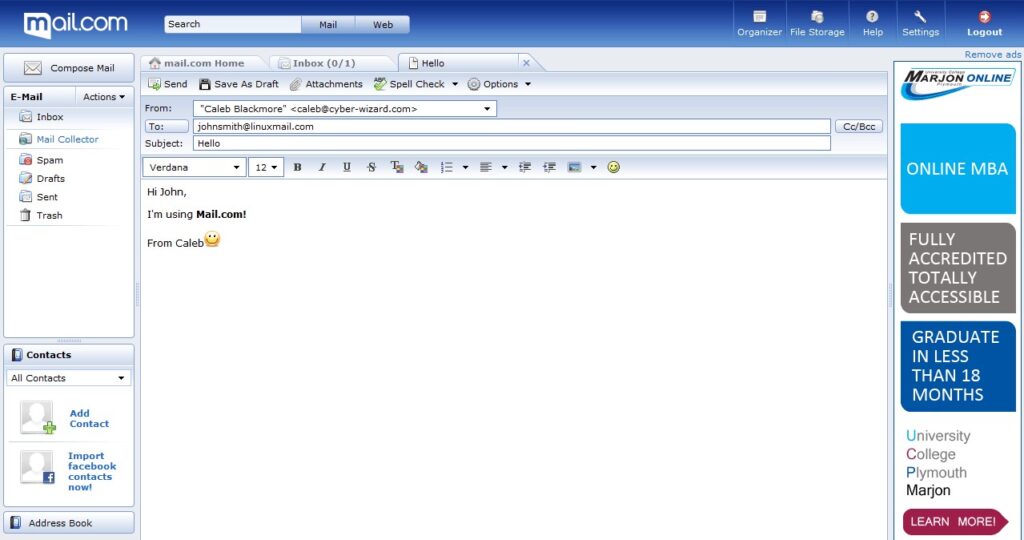 Mail.com features
Labels
Custom email domains
Virus protection
Facebook integration
Mail collector feature
2 GB file storage
Online calendar
Mail.com cons
Inbox ads
No 2-factor authentication
What are the benefits of email alternatives when compared to traditional email clients?
Let's be honest, when it comes to collaboration and organization, basic email clients have started to falter, and email alternatives are on the rise. Outlook, Gmail, or even Yahoo just don't cut it anymore. 
Gmail and Yahoo are cluttered with ads making it difficult to focus on what's important. Outlook makes it challenging for multiple people to answer emails from the same account. And that's just the beginning. 
There are also security issues, spam, and a lack of advanced filtering and automation features. When compared to email alternatives like ticketing or help desk software, it's clear why more and more businesses are making the switch.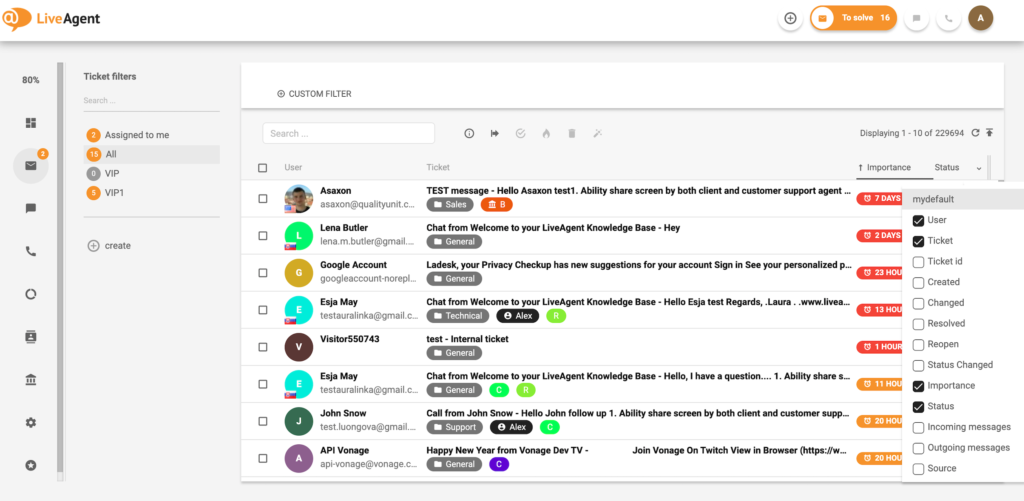 Shared mailbox
Using email alternatives like ticketing or help desk software enables you to collaborate with an unlimited number of colleagues. Each agent has their own unique login to the system, allowing each individual to work together simultaneously.
Learn more about the shared mailbox.
Tags
Learn more about tags.
Departments
Email alternatives like help desk and ticketing software enable you to create multiple departments for better email organization and responsibility distribution. As an example, all incoming emails with the words "reset" and "password" can be automatically routed to the IT department, and assigned to a dedicated IT support representative. 
Learn more about departments.
Responsibilities
Ensuring each incoming email is automatically assigned to the best-equipped agent saves businesses tons of time and eliminates any confusion. With traditional email clients, it is often the case that emails are not assigned to specific people, resulting in overlooked, unanswered emails as no one feels responsible for them. This can create negative customer experiences and hurt your business in the long run.
Learn more about responsibilities.
Advanced automation rules
Advanced automation rules enable users to automate a number of tasks — from automatically adding tags to emails, assigning emails to departments and agents, to sending out pre-formatted follow-up emails after a certain period of time has elapsed since your last contact.
Learn more about rules.
Canned responses
Canned responses are another great feature that email alternatives offer. They enable you to create answers to your most frequently asked questions. When you receive an email that requires a generic response to a frequently asked question, you can save yourself time by simply clicking on the canned response button and selecting the answer that you want.
Learn more about canned responses.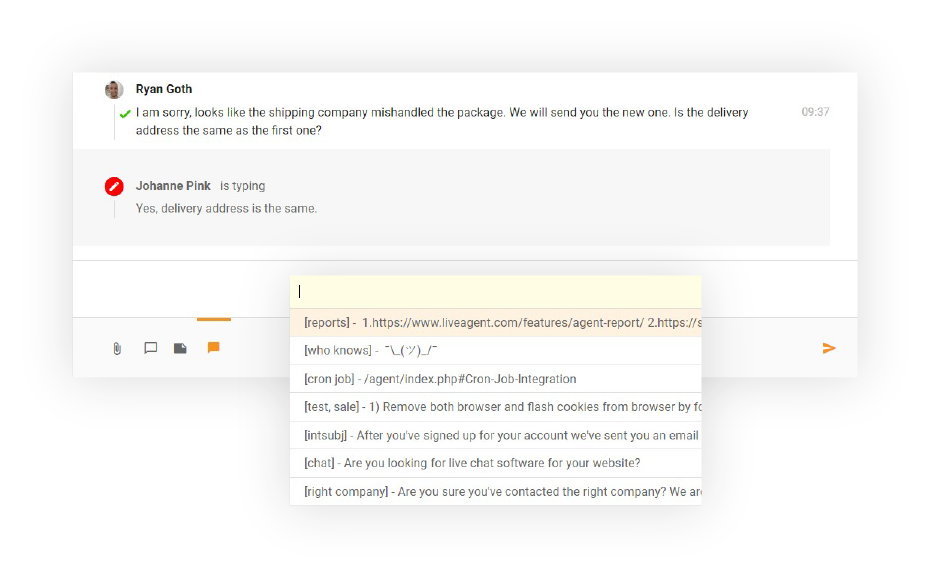 Customizable email templates
Ticketing email alternatives enable you to create fully customizable email templates that can be used to send out newsletters, password reset emails, and more.
Learn more about email templates.
Custom CRM fields in built-in CRM
A built-in CRM that's always on hand enables you to record custom information about your clients and can aid you in providing more knowledgeable and personalized customer service.
Learn more about CRM.
Internal notes
Internal notes enable you to create private notes that can disclose more information about a given email, customer, or resolution process. Your colleagues can view these notes at any time as they resolve a particular email/query.
Learn more about notes.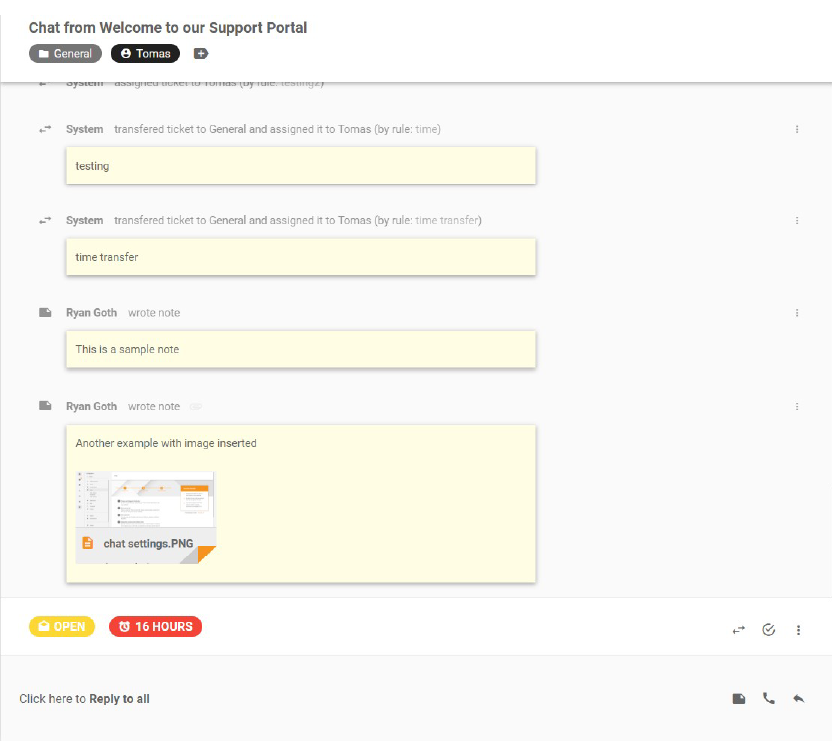 Ticket splitting/merging
If an incoming email raises multiple issues and needs to be resolved by multiple departments (such as sales and IT) the ticket can be split in two to ensure a faster resolution. Alternatively,  email alternatives like ticketing software also allow you to merge multiple tickets into one. For example, if a client sends you multiple emails about the same issue, the tickets can be merged to ensure no time is wasted resolving an issue that's already been fixed.
Learn more about split tickets and ticket merging.
Agent collision detection
Another email alternative feature that is extremely useful is the agent collision detection feature. It ensures that no email or query is answered multiple times by alerting agents (as they view a ticket that's already being worked on) that someone is already crafting a response and allowing them to see what's being written.
Learn more about agent collision detection.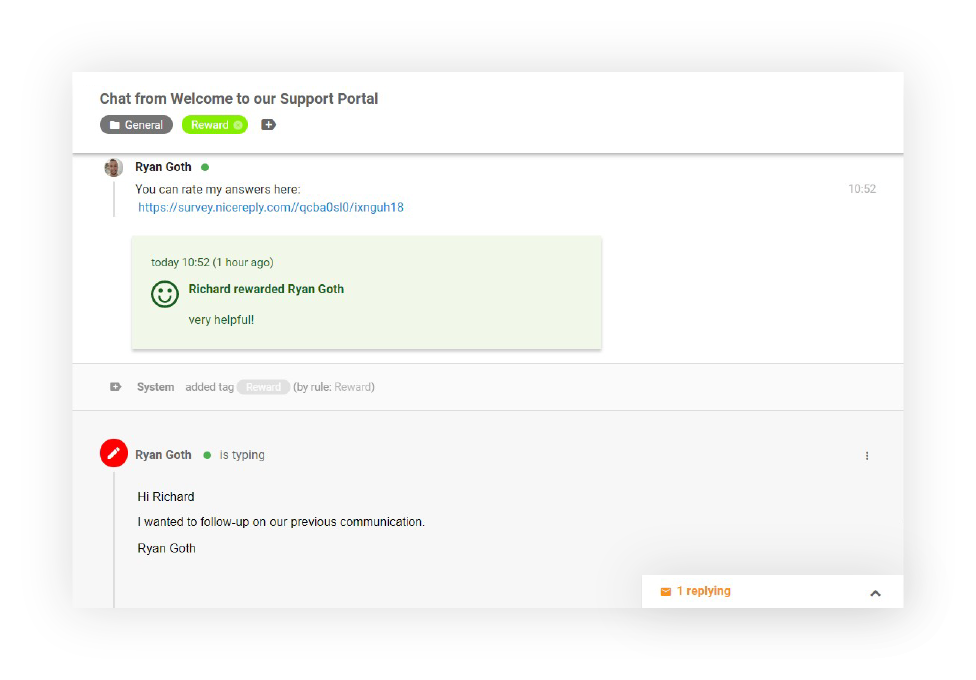 Multiple ticket tabs
The multiple ticket tabs feature enables users to open multiple tickets at the same time, allowing agents to answer several tickets with similar contents with ease, simply by tabbing in and out. This feature is especially useful used in conjunction with canned responses/predefined answers.
Learn more about multiple ticket tabs.
Integrations
Most email alternatives offer third-party integrations to ensure workflow is even more efficient. Integrations can be made with payment processors, customer relationship management systems, websites, social media apps, and more.
Having these integrations in place ensures agents don't have to log in to third-party apps and input data into 2 systems. Instead, they can do everything inside their help desk/ticketing system and the data will sync with the third-party integration.
See all integrations.
Bonus: Call center, native live chat, customer portal, and social media integrations
Last but not least, email alternatives like help desk software offer additional features that can make your customer support efforts even more efficient. By connecting your phone, social media accounts, and deploying a native live chat on your website, you can answer all incoming calls, chats, social media messages/comments from your help desk system. 
Streamlining all support queries into one shared account ensures that not only are your emails organized and assigned to designated support representatives, but also all incoming calls, social media messages, chats, and queries from your support portal (which you can build with the help desk system).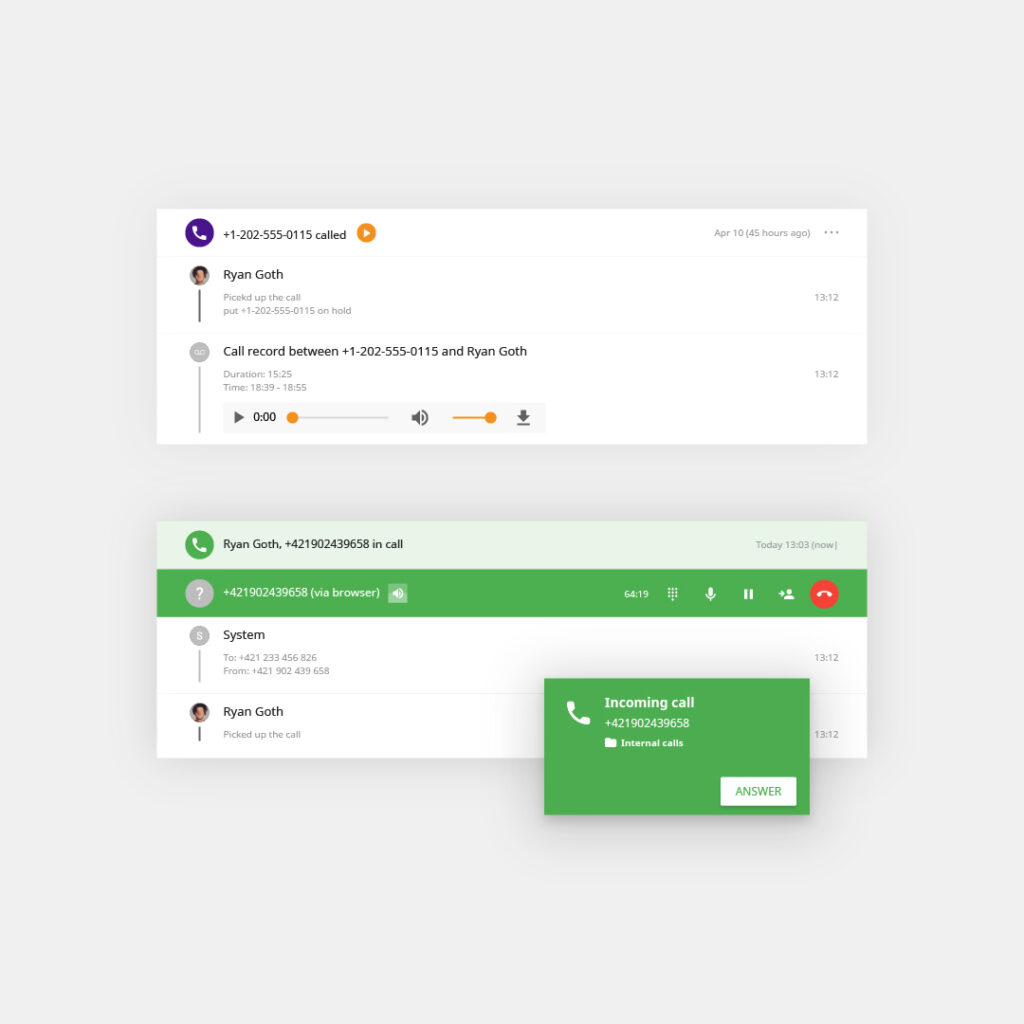 What email alternatives are currently available?
Ticketing software
The first email alternative is ticketing software. Ticketing software can be used for free by both individuals and business owners. 
So, why use ticketing software? Ticketing software offers the following benefits:
HTTPS email encryption
Unlimited email storage
Email organization by priority, SLA, date, time, and channel 
Email tags for searching, filtering, at a glance views
Email responsibilities
Agent collision detection
Email templates
Automation rules
Third-party integrations with other communication channels and other tools
CRM (Customer relationship management) tools
Streamlining emails from multiple accounts into one shared inbox
More helpful features depending on which ticketing software you choose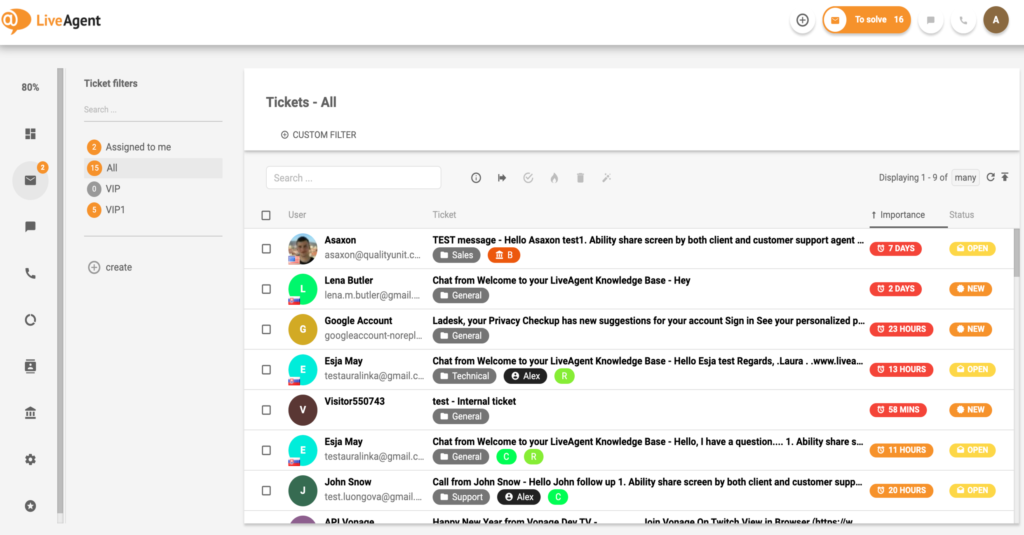 Help desk software
Help desk software is another email alternative that's great to use. It's like ticketing software, but on steroids. However, we wouldn't recommend help desk software for non-commercial, individual use. It's a better fit for anyone that's selling something on their website– from solopreneurs and start-ups to small businesses, medium-sized companies, and even large enterprises. Here's why.
Firstly, help desk software gives its users the ability to integrate multiple communication channels such as email, live chat, social media, forums, knowledge bases, and phones, creating a streamlined support solution.
What this means is that help desk users are able to answer phone calls through their browser, answer social media messages without logging into their social media accounts, chat in real-time with their website visitors, and answer emails from a single interface.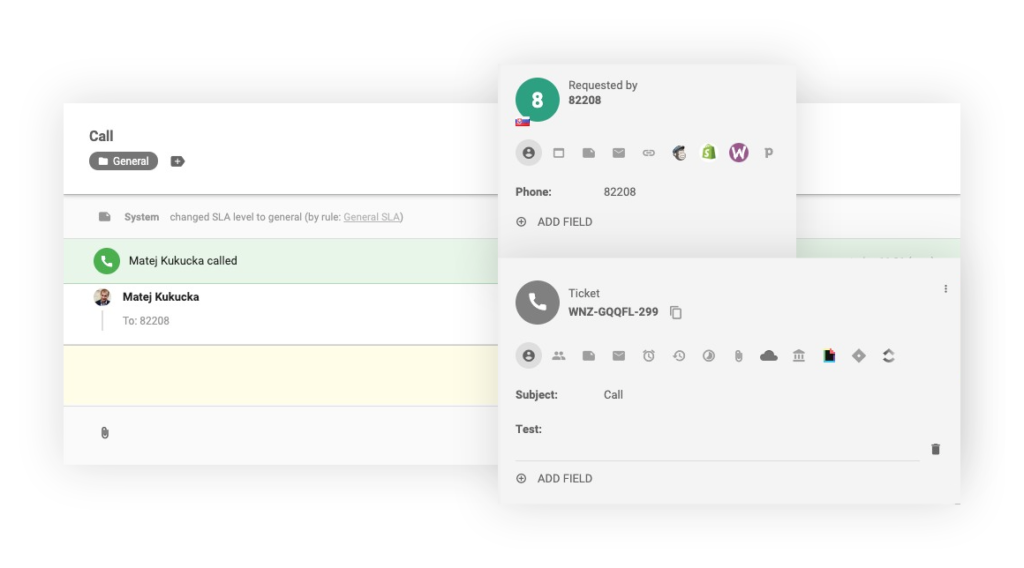 In essence, help desk software frees its users from monitoring different accounts, platforms, and devices. As such, this is a game-changer for those who strive to provide excellent customer service across all communication channels but struggle with:
Why use email alternatives?
Improved workflow
Email clients like Gmail, Yahoo, Outlook, Zoho Mail, and Thunderbird offer limited email organization. You can, of course, create different categories and labels for emails, but that's pretty much it.
Email alternatives like ticketing and helpdesk software allow you to add tags to emails, making it easy to filter and search for emails while viewing each email's contents at a glance. In addition to that, email alternatives create a reply priority level for each email in your inbox according to SLAs and date received.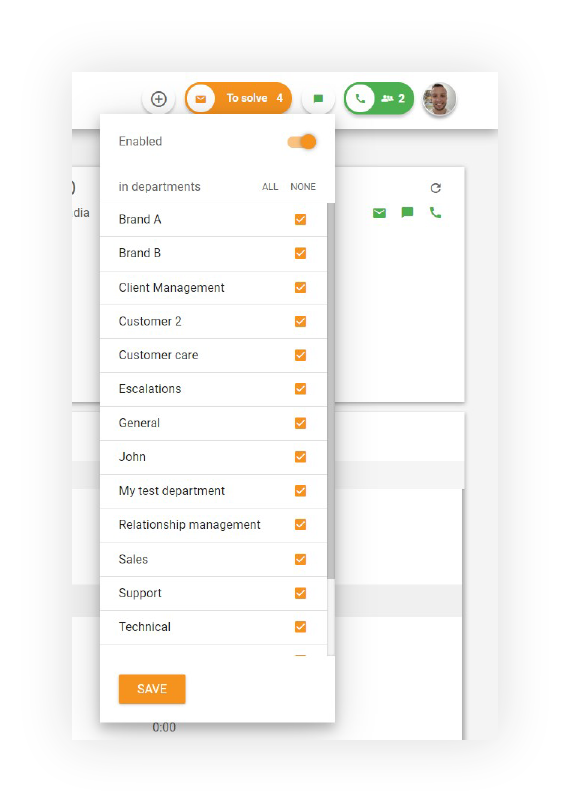 Last but not least, these email alternatives can be integrated with plenty of third-party applications, making your workflow more efficient. For example, instead of having to log into another platform to issue a customer refund, you can do so directly from your help desk or ticketing software (given you've integrated the two tools together). In the long term, this saves you tons of time and effort, and is also more secure, as it requires less login sharing amongst different users.
Better collaboration options and collision detection
When it comes to collaborating with colleagues and answering multiple emails from one account, email clients can't compete with ticketing and helpdesk software. 
The likes of Outlook make it impossible to decipher whether you're responding to an email at the same time as a colleague and erasing their work in the meantime. Moreover, email clients like Gmail sign you out when then another person signs in to your account.
As such, email alternatives like ticketing and helpdesk software rule supreme. Business owners that receive a lot of emails and have multiple departments within their business, such as a customer service department, or sales and marketing, will benefit from agent collision detection features, ensuring no work is lost or duplicate. 
Moreover, email alternatives support multiple online users by issuing each user their own unique login credential that allows them to use the account and answer email queries.
No ads or spam and more privacy
Using email alternatives is also better for your privacy. Many people think that using email clients like Gmail, Outlook, or Yahoo is free. Although there is no monthly price to pay, most people don't realize that they are paying for the product with their privacy (which is worse than paying a small monthly fee). 
Traditional email clients scan your emails and search engine inquiries and create ads based on what they find. With email alternatives like helpdesk and ticketing software, this is not the case. 
Encryption & security 
Are Gmail, AOL, Yahoo! Mail the most secure email clients out there? You'd think so, given they are products of tech giants with billion-dollar evaluations. However, this is not the case. Even though they do have some security precautions in place, such as 2-factor authentication, and TLS they don't offer end-to-end email encryption.
End-to-end email encryption ensures that the messages you send are encrypted and unreadable (coded) while they're in transit to the recipient of your message, ensuring they're safe from the prying eyes of hackers. 
Because these mainstream email clients don't provide end-to-end encryption, there have been a handful of significant data leaks resulting in million-dollar losses.
As such, investing in alternative email clients or email alternatives is the best choice in terms of security. Both ticketing and helpdesk software pride themselves on providing state of the art email encryption through HTTPS. 
Ticketing and helpdesk software was specifically built for B2B markets. Their creators knew that to succeed, they needed to create secure systems that would protect the identity of their client's customers.
Built-in template builders
Sending email newsletters is something that all businesses do on a regular basis — be it daily, weekly, or monthly. However, traditional email clients like Yahoo, Outlook, Gmail, and even iCloud have overlooked this. 
There are no email templates that businesses can use to craft email newsletter campaigns, and thus all business owners are forced to sign up for email marketing automation platforms like Mailchimp or Mailerlite.
Although this isn't as big of a problem as the other points mentioned above, it is still inefficient. Why sign up for a third-party email marketing service, pay for premium features, and keep track of multiple login credentials?
Email alternatives like helpdesk and ticketing software offer built-in customizable email templates that can be scheduled for automatic deployment (just as you would do in Mailchimp or other email marketing automation platform).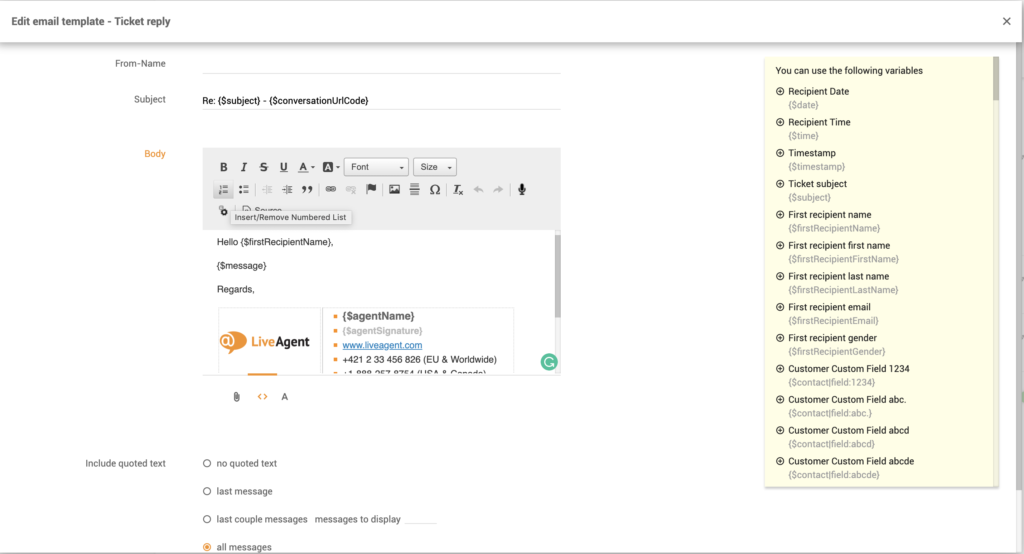 Unlimited storage/history
Email alternatives like LiveAgent offer unlimited email storage. However, Gmail, Yahoo! Mail, Thunderbird, Zoho Mail, Outlook, and even the better, less known, email clients like Tutanota and Protonmail have storage limits. 
Having a full inbox storage limit can result in losing incoming emails, and essentially being stuck in terms of your workflow. Gmail, Outlook, Zoho Mail, and even non-mainstream email clients offer additional email storage that can be purchased for a monthly fee, but why pay for storage when you can have free, unlimited space by simply switching over to an email alternative like helpdesk or ticketing software?
You could, of course, erase past emails to free up some storage space (which is a tiresome and timely task that requires strategic and analytical thinking) but as a business owner, this isn't a recommended practice as you should keep all client communications for legal and quality assurance purposes.
Which email alternative should you try out?
LiveAgent is a great email alternative that offers both free and paid ticketing/help desk software. Our suggestion is to test all that LiveAgent has to offer with a free, all-inclusive, 30-day trial (no credit card required).
The all-inclusive trial will enable you to test over 180 ticketing and help desk features including customizable email templates, agent collision detection, ticket responsibilities and routing, and advanced automation rules (both time based and action-based). 
Create departments and invite agents into your account and watch how our system automatically routes each incoming email into the correct department and to the correct agent based on pre-defined rules. Collaborating from one shared inbox has never been easier. Add tags, filter through emails, or test over 50 third party integrations. 
Once the free 30-day trial expires, your account will be automatically downgraded to the free version of LiveAgent in which you can still organize tickets according to priority and collaborate with an unlimited number of agents within your account.
However if you don't need all the special features that the paid plans have to offer, create a free account from the get-go.
View more information about free LiveAgent accounts.
Conclusion
Using the likes of Yahoo, Gmail, Outlook, or iCloud for business emailing is dated. It's time to improve your workflow efficiency and enjoy unlimited free storage paired with state of the art security.
Save yourself and your employee's tons of time and headaches, and start focusing on what's important with email alternatives like LiveAgent.
Try LiveAgent free today.