What is the workload in call center jobs?
Call center jobs may involve a number of tasks ranging from simply answering inbound calls from customers and providing tech support to customers to outbound cold calling and telemarketing. The workload and the scope of responsibilities of call center employees depend on the job role and the type of call center they work in (inbound or outbound call center). The most basic call center jobs include:
How do I get hired in a call center?
Call center jobs are relatively easy to get at an entry-level since they usually don't require any specific education, qualifications, or deep expertise. In order to get hired as a customer care center agent, you may be required to have a bachelor's degree, be fluent in English (or other native languages) and be familiar with using computers and the Internet. Having any previous experience in sales, marketing or human resources would be an added advantage as they can be considered valuable call center agent skills. Having former customer service experience is the best bet. Below are some basic steps to follow to get hired in a call center:
Search for call center job offers: Look through available call center job offers in your area. If you're considering a remote opportunity, you can use websites like monster.com or callcenterjobs.com that have plenty of options.
Write a comprehensive cover letter: In addition to your CV, make sure to compose a solid cover letter that should highlight your core skills and previous experience that might prove you are a good fit for a contact center role.
Practice for the job interview: Take a look at some of the most common customer service job interview questions and think of the best answers you could provide, in case of being asked the same or similar ones.
Do some research on the employer: Learn more about a company's mission, culture, values, customers, products and services. It can give you a huge advantage during the interview and make you stand out among other candidates.
Be prepared for the ongoing training: Getting hired in a call center is only the first step. Call centers usually put a great emphasis on training and ongoing employee development to ensure agents are knowledgeable and efficient.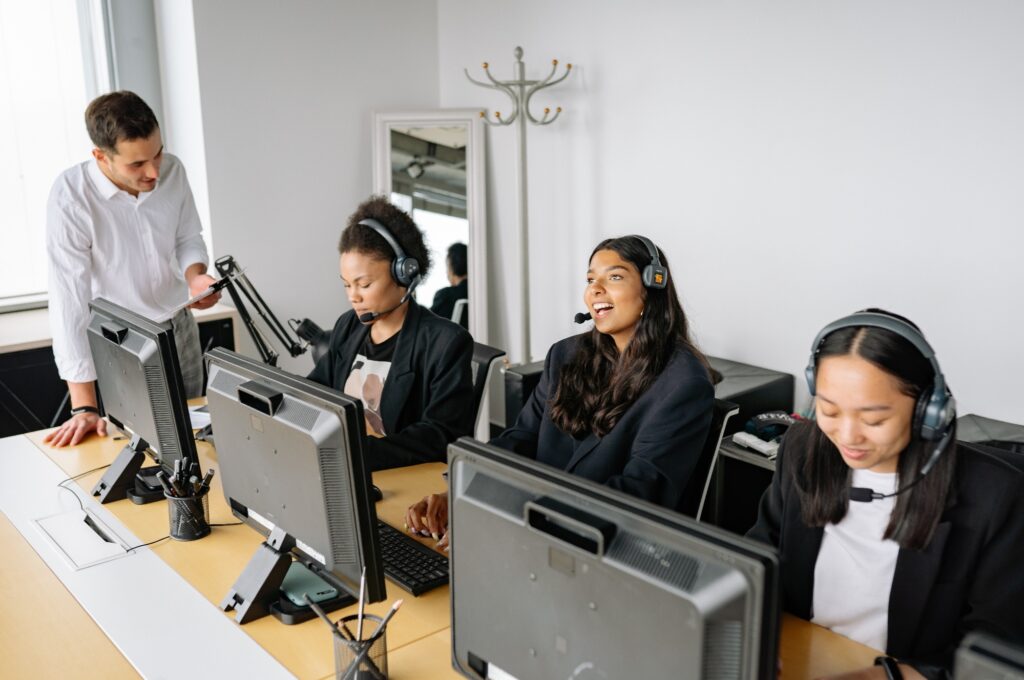 Is there a career growth in a call center?
Despite the typically high turnover rate, call centers provide great career growth opportunities. As a long as you have the right motivation, attitude, and experience in customer service, you can move up the career ladder to become a team leader and then a manager. Since customer support centers are generally fast-paced, top performing agents can usually move from junior call center reps to team leaders within around 2-3 years. Here is what might help you get promoted in a call center:
Demonstrate your reliability, consistency and willingness to do more than required
Be proactive and clearly showcase your interest in career advancement
Make sure you are consistently hitting benchmarks and delivering high performance
Show your positive influence and an ability to collaborate efficiently in a team
Focus on training and continuous learning to expand your skillset and knowledge
What skills do you learn in a call center?
Working in a call center environment is an excellent opportunity to develop and polish a range of soft skills. That might be highly useful for further career advancement in the customer service sector and beyond. Below are some of the core skills you can learn from working as a call center agent. Employers across nearly all sectors are always on the lookout for these skills in future employees.
Stellar communication and listening skills: Since call center agents engage in remote customer service interactions, they acquire great listening and communication skills (both verbal and written).
Sales and negotiation skills: While working in a call center, agents gain experience in handling difficult customers and responding to objections. That creates a solid foundation to developing sales and negotiation skills.
Organization and multitasking skills: Being required to juggle a variety of tasks (talking on the phone with customers, checking the knowledge base, taking notes and updating CRM), often all at once, builds great organization and multitasking skills.
Flexibility and problem-solving skills: Call center agents often have to deal with unexpected problems and out-of-the-box scenarios, where they are expected to think and act quickly. That naturally develops flexibility, creativity, basic computer skills and problem-solving ability.
Frequently Asked Questions
What is the workload in call center jobs?

The workload of call center employees heavily depends on a particular job role (agent, team leader, manager) and the type of a call center (inbound or outbound). The scope of responsibilities and daily operation may include answering incoming customer calls to resolve service issues and provide tech support, making outbound calls for lead generation and cross-selling to existing customers, and more.

How do I get hired in a call center?

Getting an entry level job in a call center doesn't require any specific qualifications or expertise. To get hired as a call center agent, start from searching for available job offers (either local or international if you're looking for remote virtual opportunities), write a detailed cover letter that outlines your skill set. Good practice is to research the employer and look through the most common call center interview questions to get prepared for the interview.

What skills do you learn in a call center?

Working in a call center enables agents to develop and strengthen a variety of soft skills that might help them in further employment opportunities in customer service or other sectors. Those include strong verbal and written communication skills, multitasking, organization and time-management, sales and negotiation skills, as well as flexibility and efficient problem-solving.

Is there career growth in call centers?

Call centers offer great career growth opportunities allowing agents to get promoted from junior reps to team leaders and then managers. In order to facilitate the promotion, agents need to consistently demonstrate high performance level, dependability, effective team collaboration skills, the right motivation, willingness to go the extra mile and develop new skills through continuous learning and developmental training.

What is a salary in call centers?

Salaries in call centers may vary based on a number of factors, such as the level of seniority or expertise, years of experience in the industry, the skills involved and the area you work in. E.g., the average salary for a call center representative in the United States is around $14 per hour, while per-call pay rates might be anywhere from $.10 to $.25 per minute. Bilingual call center agents may be paid at the upper end of the average scale.

How hard is it to work in a call center?

Call center jobs are known to be one of the most demanding and stressful ones, mainly due to the nature of the job and typically high workloads. Call center agents and customer support specialists may be required to handle about 50-80 calls with customers per shift and regularly have to deal with challenging and difficult customers. In addition, agents can often feel underpaid and unappreciated for their efforts, which ultimately results in increased burnout and call center attrition.
Expert note
Call center jobs offer a wide range of responsibilities, including inbound and outbound calls, technical support, and sales. Key skills include communication, problem-solving, and multitasking.

Andrej Saxon
Sales manager