A live chat button is an icon placed somewhere on your website that allows customers to communicate with customer support in real time. It enables your agents to quickly and effectively resolve customer inquiries. The live chat button can increase a company's profit, customer satisfaction, customer retention, agent satisfaction, and many more.
You can customize your chat button to better fit your page and overall branding. In LiveAgent, you can even set up a chat button animation to grip your website visitor's attention right off the bat. Live chat for website users can make the most of it by customizing the chat button.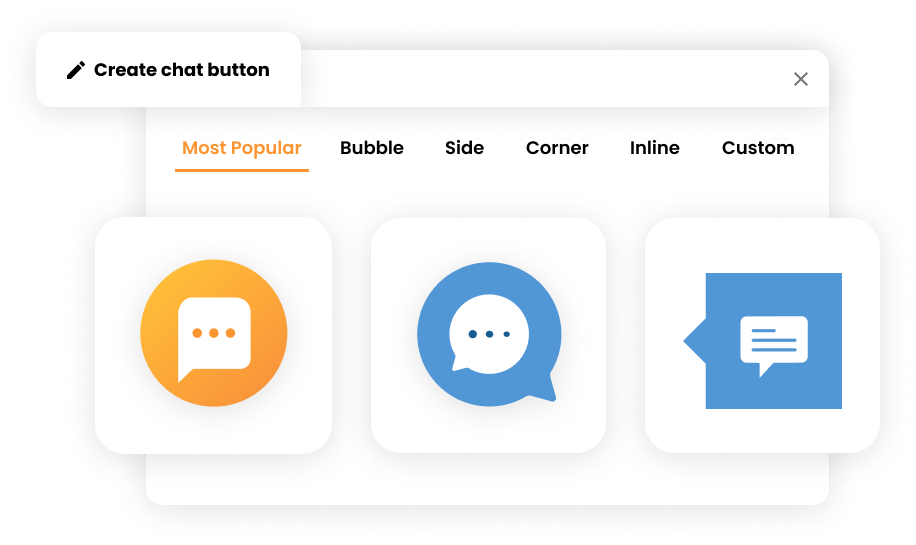 If you would like to learn about other features to improve your customer service, check out help desk software.
Frequently Asked Questions
What is a chat button?

The live chat button is an icon that is on your website and allows your company's customers to contact customer support. Due to the fact that the live chat allows for real-time contact, we have a chance to respond quickly to our clients.

Where a chat button should be located?

The live chat button should be placed on every page of your website in a visible place. The client should have no problem finding it. Thanks to this, the client can get a quick answer to the question that bothers him.

Can you personalize the LiveAgent chat button?

Live chat allows you to quickly answer customer questions. The chat button that should be on your site should be adapted to it. In LiveAgent you have the option of personalizing the button. By going to the Configuration > Chat > Chat buttons tab and clicking create, you will see the possibility of creating a button. You can choose from the available styles: speech bubble, side, corner or built-in. You can also create your own by uploading an image or by writing your own code. In the next window you can change the text, position and colors of the buttons.
Expert note
Having a chat button on your website is crucial for real-time communication with customers, increasing customer satisfaction and trust in your brand. Customize the button to fit your page.

Andrej Saxon
Sales manager