If you own an ecommerce store, you probably already know that offering high-quality products and services is not enough. To achieve long-term success, you need to provide top-notch customer service as well. But how do you do that?
Providing great customer service can be challenging when you are flooded with countless amount of customer inquiries from various channels. That's why it is important to have the right customer support tool in your toolbox. But with the large amount of options, how do you choose the best one for your Shopify store? Don't worry! We are here to help you.
We have researched and analyzed the top contenders to bring you a comprehensive comparison of the best Shopify customer service apps currently available. Not only that, but we will compare 10 software solutions in-depth while briefly touching on another 40 options! These apps will be evaluated based on eight essential categories:
Support ticket management
Live Chat
Contact form
Customer order tracking
FAQ and knowledge base
Feedback and surveys
Phone support
Returns and exchanges
So, if you're ready to dive deeper, keep reading to gain a comprehensive understanding of the features and capabilities offered by each app, allowing you to make an informed decision that aligns with your specific customer service needs.
Let's take a closer look through an example: Imagine you are running an online clothing store on the Shopify platform. As your online business grows, you start to receive an increasing number of customer inquiries. They range from questions about product availability to concerns about order shipments. But handling each inquiry manually can become very time-consuming, right?
By implementing a Shopify customer service app, you can easily automate and simplify your customer support processes. For instance, a live chat feature allows your customers to reach out to you instantly and receive prompt assistance. The app can also provide a support ticket management system, where you can easily organize, assign, and track each customer query, ensuring that no message goes unnoticed.
By using customer service software, you can improve your response time, enhance customer satisfaction, and ultimately boost your sales. These apps are a great way to deliver exceptional customer service, setting you apart from your competitors and building long-term customer loyalty.
Why use a Shopify help desk app?
Using a Shopify help desk app comes with numerous benefits for both you as a store owner, as well as your customers. Here are a few reasons why you should consider integrating a customer service platform with your online store:
Streamlined customer support: A help desk can store all your customer inquiries in one centralized place, allowing you to effectively manage and respond to them in a timely manner. With features like ticket management and live chat, you can provide seamless support to your customers, resulting in improved customer satisfaction.
For example, let's say a customer contacts you asking about the current status of their order. With a customer service tool, you can access order details and give them real-time updates, leading to a smooth and transparent buying experience.
Enhanced communication: It also enables you to communicate with your customers through various channels, such as live chat, email, or phone. This allows your customers to choose from their preferred communication channel, increasing the chances of effective communication.
Imagine a situation where a customer runs into a problem with a product they purchased from you. Thanks to the live chat functionality, you can provide immediate assistance, guide them through the troubleshooting process step-by-step, or initiate an exchange if necessary.
Improved customer experience: The integration can also significantly enhance the overall customer support experience by offering self-service options, such as FAQs or knowledge base. This way, your customers can independently find answers to common questions without contacting your customer support and waiting for a response. According to research, more than 81% of customers try to solve their issues on their own before contacting customer support representatives. In addition, over 91% prefer using an online knowledge base when it's available to them and tailored to their needs.
For example, what if a customer wants to know how to return an item and ask for a refund? They can contact your customer service agents and ask. Or, they can simply go to your dedicated customer portal and access step-by-step instructions resolving the issue on their own, saving their time as well as yours.
A comparison chart of the top 5 Shopify customer service apps
The best 10 Shopify customer service apps: In-depth comparison
1. LiveAgent
LiveAgent is a comprehensive helpdesk software that offers a wide range of features to improve customer service. It's an all-in-one solution that enables businesses to efficiently manage customer inquiries from multiple channels, such as email, live chat, phone, and social media, from one centralized place. It provides tools for ticket management, canned responses, automation, knowledge base, and customer feedback, allowing businesses to streamline their customer support processes and provide prompt and personalized assistance. With seamless Shopify integration, it's ideal for online stores looking to provide exceptional support.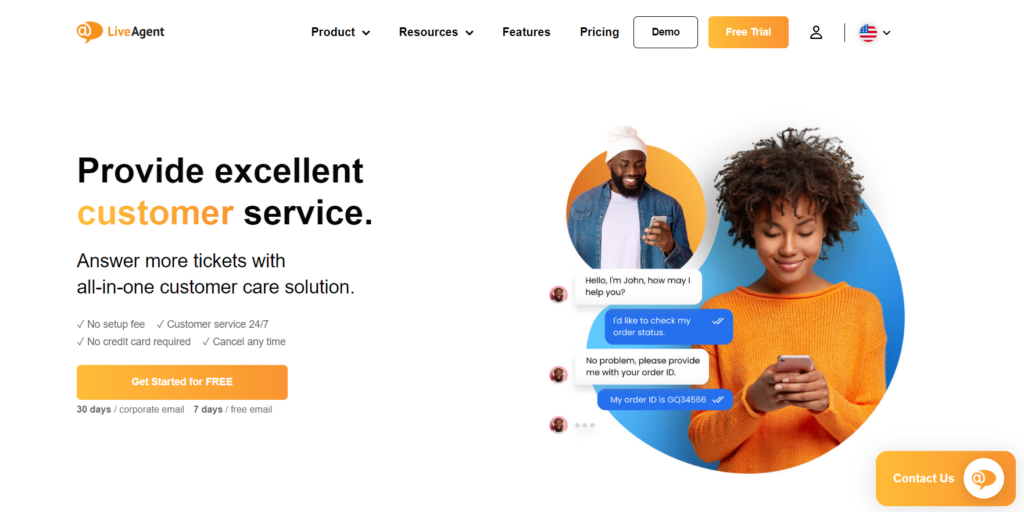 Shopify integration features
LiveAgent can help you take your eShop website to the next level with its powerful features:
Live chat
Ticketing system
Internal and external knowledge base
Call center
Feedback and suggestions
LiveAgent also offers many other features, such as:
Canned messages
Contact forms
Service level agreement (SLA)
Real time typing view
Website visitor tracking
Call routing
Social media integration (Facebook, Instagram, WhatsApp, Twitter)
Analytics
Forum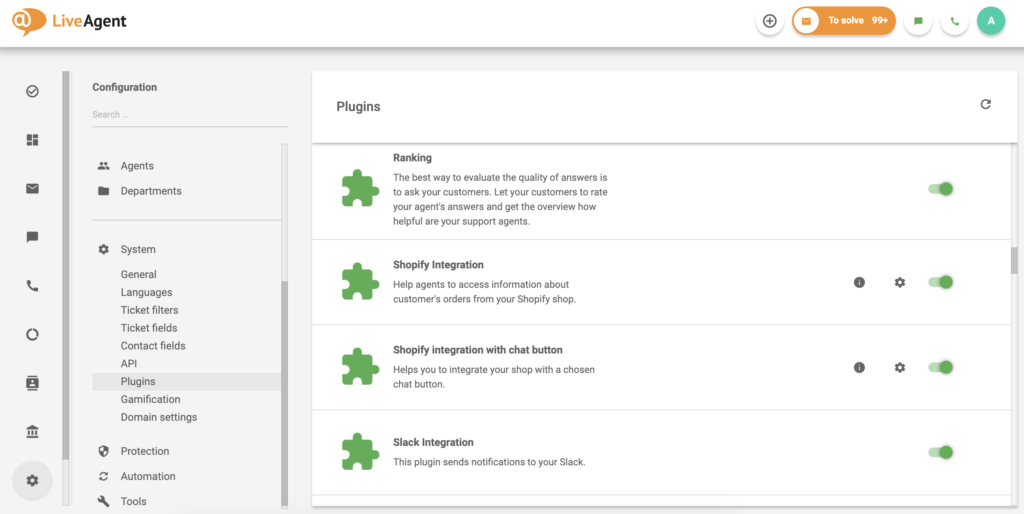 Customer review: "The biggest benefit we get from LiveAgent is being able to communicate with customers and immediately see their order history (shopify integration) and their previous messages with our support team. This saves time for both us and the customer."
Pricing
Free: $0/agent per month
Small: $9/agent per month billed annually or $15 monthly billing
Medium: $29/agent per month billed annually or $35 monthly billing
Large: $49/agent per month billed annually or $59 monthly billing
Enterprise: $69/agent per month billed annually or $85 monthly billing
LiveAgent also offers a special plan for startups which offers a 6 months free subscription if the Large plan and additional 50% off the next 6 months.
Free trial: YES, LiveAgent offers 7-day or 30-day free trial
Expert opinion
I believe that LiveAgent is a great choice for any online store that is looking to enhance their customer service operations. Its robust features and seamless integration with Shopify make it a comprehensive solution for managing customer inquiries and delivering an excellent customer experience.
One of the standout features is definitely LiveAgent's live chat feature. It allows e-shop businesses to provide real-time assistance to customers, addressing their questions and concerns instantly. With live chat, businesses can engage with website visitors, guide them through the purchasing process, and resolve any issues they may encounter. This not only improves customer satisfaction but also boosts conversion rates and sales.
In addition, LiveAgent offers a wide range of other features that can be beneficial. The ticket management system allows for efficient tracking and organization of support requests. The integrated knowledge base empowers customers to find answers to common questions on their own, reducing the number of customer tickets. The automation features help streamline repetitive tasks, and the customer feedback tools enable businesses to gather valuable insights to further enhance their customer service processes.
Overall, by implementing LiveAgent, businesses can elevate their customer support game, foster customer loyalty, and ultimately drive business success.
2. Tidio
Tidio is a customer service software that helps businesses provide great customer support by enabling businesses to efficiently manage and respond to customer inquiries. By combining human support with AI, you can easily turn conversations into sales opportunities and drive customer satisfaction.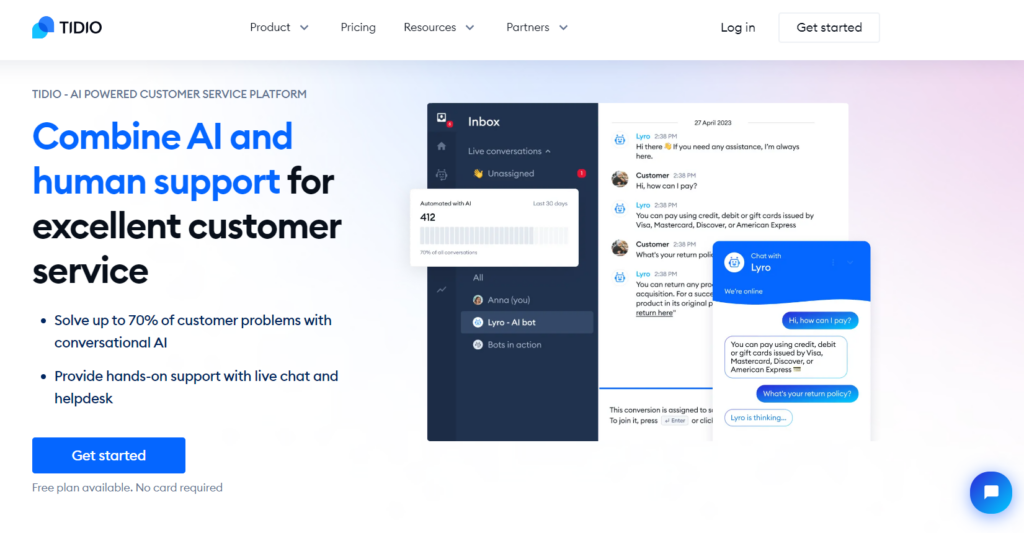 Shopify integration features
Tidio offers wide range of features for your Shopify store:
Live chat
Chatbots
Order management (for Shopify)
Ticketing
Other features that can elevate your customer service:
Canned responses
Pre-chat and post-chat surveys
Shopping cart preview
Order history
Performance analytics
Integration with other messaging channels (Instagram, Facebook Messenger, Whatsapp, email, live chat)
Email marketing automation
Pros and cons
Pricing
Free: €0 per month
Starter: €29 per month
Communicator: €25 per month
Chatbots: starting from €29 per month
Add ons:
Lyro (AI-powered conversations): from €39 per month
Email marketing: from €0 per month
No Tidio branding: €20 per month
Free trial: YES, Tidion offers a 7-day free trial
Expert opinion
Tidio is another great customer support software option for Shopify e-shops. Its wide range of features and integrations make it an ideal solution for businesses looking to enhance their customer service operations.
Its live chat functionality can help e-shop businesses to provide real-time assistance to their customers, resolving inquiries and concerns promptly. This helps to improve customer satisfaction and boost conversion rates. Tidio also offers chatbots, which can automate routine customer interactions and provide 24/7 support.
Another great thing is that you can preview what your customers have in their carts, which allows you to recommend similar products, offer discounts, and easily respond to their purchase questions – stopping them from abandoning their carts.
Overall, Tidio provides e-shop businesses with the tools they need to streamline their customer support processes and deliver exceptional service. With Tidio, online businesses can improve customer satisfaction levels, foster loyalty, and drive business growth.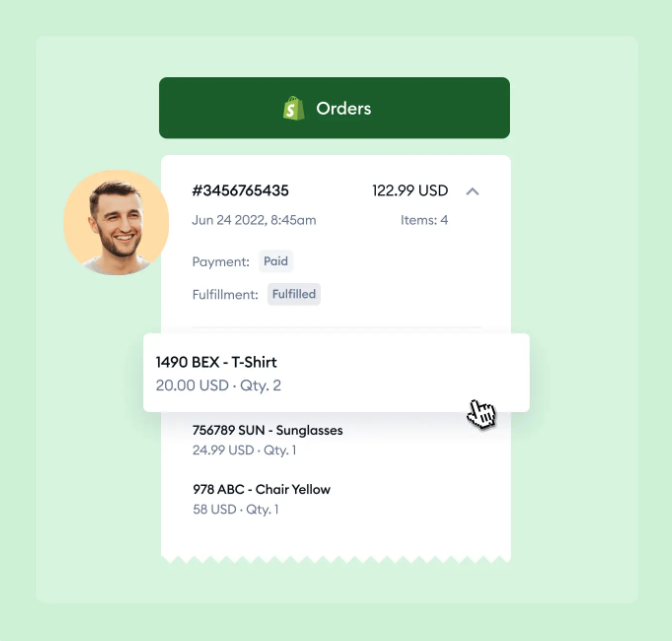 3. Gladly
Gladly is a customer service platform designed to revolutionize the way businesses interact with their customers. With its customer-centric approach and AI-powered tools, Gladly aims to save your costs, boost revenue, and empower your agents to build a loyal customer base through providing great service.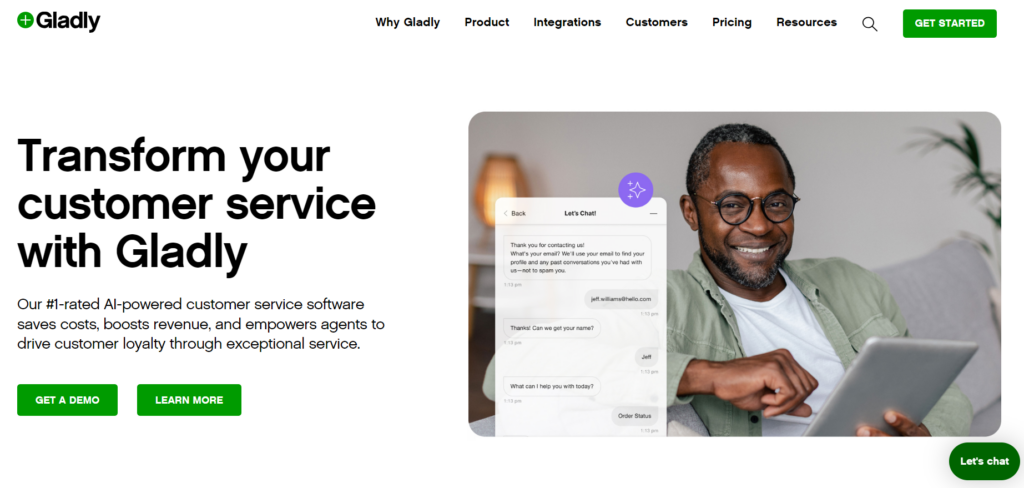 Shopify integration features
Here are the key features for your Shopify e-shop:
Live chat
In-app chat
Call support
Self-service portal
Text support
Email support
Social media support (Facebook Messenger, Instagram, and Twitter)
Gladly also offers a multitude of other features that can be very beneficial to your business:
Incoming calls routing
Proactive SMS
Proactive chat
AI-powered writing assistant
Payments through chat
Channel specific reporting
Email notifications
Create junk inboxes
Pros and cons
Pricing
Hero package: Starts at $180 per agent/month, billed annually (minimum 10 agents)
Superhero package: Starts at $210 per agent/month, billed annually (minimum 45 agents)
Free trial: NO, Gladly doesn't offer a free trial.
Expert opinion
In my opinion, Gladly is a great customer support software alternative for Shopify e-shops. Its innovative platform offers a holistic view of each customer, enabling businesses to provide personalized and efficient support across multiple channels.
With Gladly, e-shop businesses can take advantage of features like customer timeline, which provides a comprehensive history of interactions, purchases, and preferences. This allows customer support agents to deliver a more personalized recommendation for a better customer support experience.
Gladly's collaborative inbox ensures that support inquiries are seamlessly routed to the most appropriate agent, eliminating the need for customers to repeat themselves. Furthermore, its integration and automation capabilities simplify customer service processes, making it easy for e-shop businesses to manage their support operations more efficiently.
Overall, Gladly empowers e-shop businesses to elevate their customer support, providing a seamless and personalized experience. With all the available features, businesses can foster customer loyalty, and drive customer satisfaction.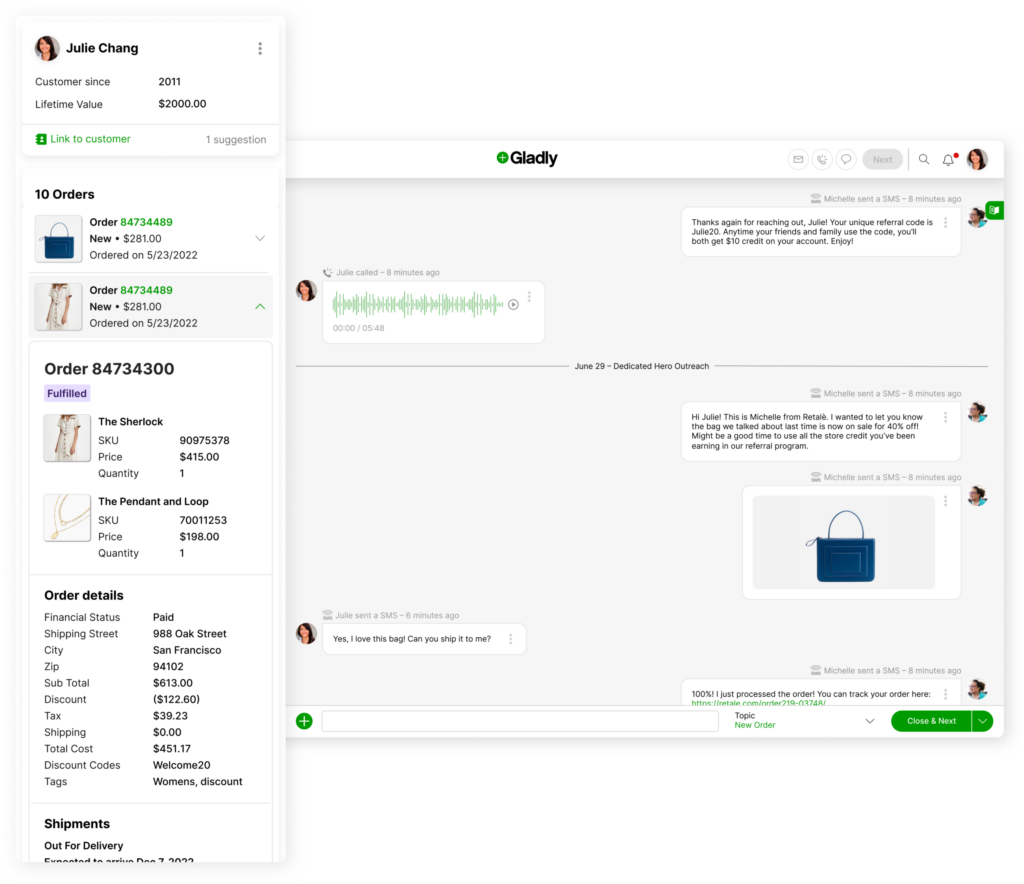 4. Gorgias
Gorgias is an AI-powered customer service solution for Shopify stores that specializes in streamlining customer service operations. With its robust features and seamless integration with Shopify, Gorgias offers a comprehensive solution for managing and automating customer inquiries from multiple channels.
Shopify integration features
Gorgias offers many Shopify integration features, including:
AI- powered ticket management
Returns and tracking management
Omnichannel support
Customer insights
Live chat
Social media integration
Email management
There are also many additional features, such as:
Proactive chat messages
Automated routing
Template responses
WhatsApp integration
Call recording
Custom Interactive Voice Response menu
Pros and cons
Pricing
Starter: $10 per month – 50 tickets per month
Basic: $60 per month – 300 tickets per month
Pro: $360 per month – 2000 tickets per month
Advanced: $900 per month – 5000 tickets per month
Enterprise: You need to contact their sales team for more information
Free trial: YES, Gorgias offers a free trial option.
Expert opinion
Gorgias is undoubtedly a great customer support app for Shopify e-shops. It offers many features, such as the comprehensive ticketing system, which allows you to efficiently manage customer service tickets from various channels in one place. This centralized approach ensures that no customer message goes unanswered, improving response times and customer satisfaction.
In addition, Gorgias offers a range of other powerful features that e-shops can benefit from. The returns and order tracking management feature enables businesses to streamline the returns process, making it seamless for both customers and support agents. The live chat and proactive chat messages features allow for real-time communication with customers, providing instant assistance. Gorgias also integrates with popular ecommerce platforms, allowing e-shops to access customer data, order details, and other relevant information directly from the app.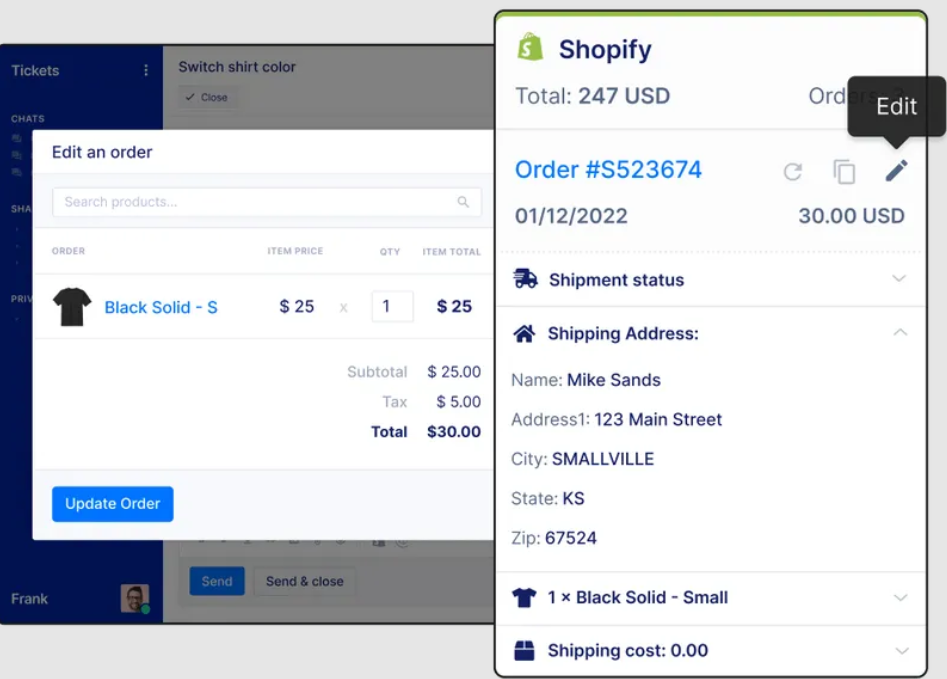 5. Richpanel
Richpanel is a help desk software provider that offers an AI-powered solution for online stores to reduce their incoming ticket volume and resolve customer issues faster. They also aim to help you deliver great customer service which can lead to converting visitors into buyers and loyal customers.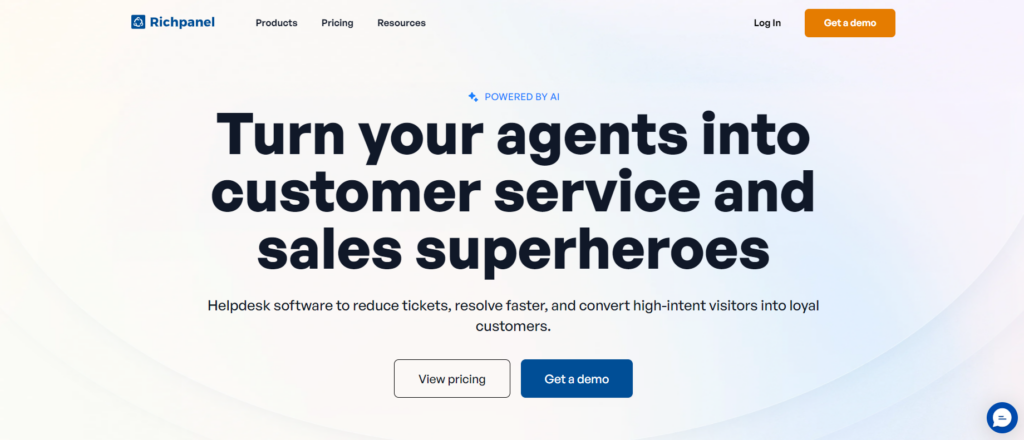 Shopify integration features
Let's mention some of their features that can benefit your e-commerce business:
Live chat
SMS channel
Draft orders
Product recommendations
CSAT surveys
Conversation analytics
Product interactions
Order history
They also offer plenty of other features that are also worth mentioning:
Auto-clean inbox
Automatic ticket tagging
Automated responses
Ticket routing
Spam filter
Canned responses
Self-service portal
Pros and cons
Pricing
Starter: $29 per user per month
Regular: $49 per user per month
Pro: $99 per user per month
Enterprise: Custom pricing
Free trial: YES, Richpanel also offers the possibility of free trial.
Expert opinion
Richpanel is a great alternative for Shopify online stores, offering a wide range of features and capabilities. One of the advantages is its ability to provide access to conversation history from different platforms, allowing support agents to have a comprehensive view of customer interactions in one centralized location. This streamlines communication and enables agents to provide more personalized and efficient support. Additionally, Richpanel offers robust automation capabilities, automating repetitive tasks and workflows to improve productivity and response times.
However, like any new software, there might be an initial learning curve in the beginning in order to get to know the interface and its features. Support teams may need some time to fully optimize the system and get comfortable with it. Additionally, occasional slow loading times have been reported, which can impact efficiency and customer satisfaction. Despite these minor drawbacks, Richpanel is definitely a choice worth considering if you are looking for a powerful ticketing system to enhance customer support operations.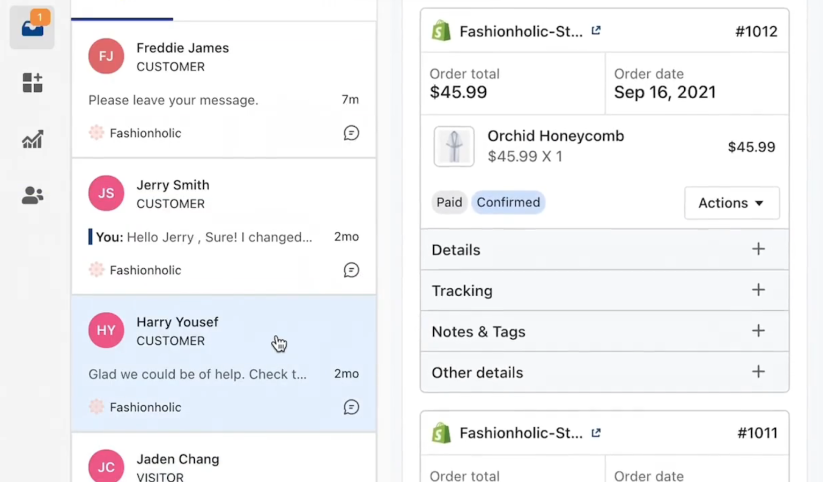 6. Re:amaze
Re:amaze is a customer service software that offers a simple yet powerful solution for Shopify e-shops. It offers a seamless integration with Shopify that allows for easy access to customer data and order information, making it a great choice for online businesses looking to streamline their customer support processes.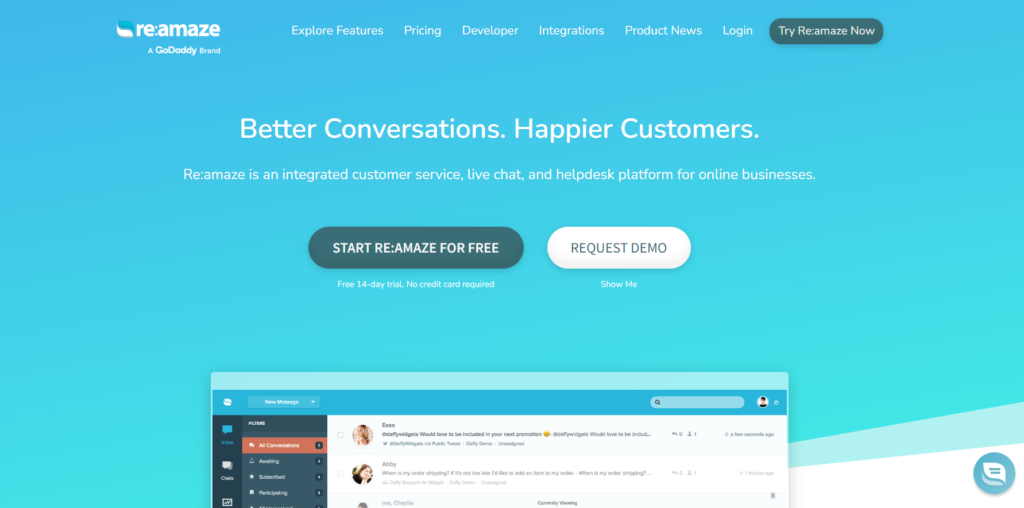 Shopify integration features
Re:amaze offers a wide set of features that can be beneficial for your e-commerce business. Let's look at some of the key ones:
Live chat
Chatbots (Order bot, FAQ bot, Custom bots)
FAQ center
Push campaigns
Built-in status page in live chat
Additional list of features that are worth mentioning:
In-chat video calls
Chat transcripts and typing view
Pre-built bots
Call-to-action buttons
Powered by OpenAI ChatGPT
Powerful search widget
Real-time updates
Customer activity tracking
Pros and cons
Pricing
Basic: $29 per team member/month
Pro: $49 per team member/month
Plus: $69 per team member/month
They also offer:
Starter pack: $59 flat rate per month
Enterprise: custom pricing, contact sales team
Free trial: YES – 14 days
Expert opinion
Re:amaze offers an impressive array of features that can greatly improve customer service and support operations of your online store. Their live chat functionality allows businesses to engage with customers in real-time and provide immediate assistance. The chatbot feature helps automate routine interactions and provide 24/7 support, ensuring that customers' needs are addressed around the clock.
In addition, Re:amaze also offers an FAQ center, empowering customers to find answers to common questions on their own, reducing the need for support tickets. The in-chat video calls help businesses provide more personalized and interactive conversations with customers. Other features like chat transcripts and typing view provide insights and context for support agents, enabling them to provide more efficient and tailored assistance.
Overall, Re:amaze provides e-shop businesses with a complete customer support solution, improving responsiveness, customer satisfaction, and overall operational efficiency. It's a great alternative for Shopify e-shops looking to elevate their customer service experience.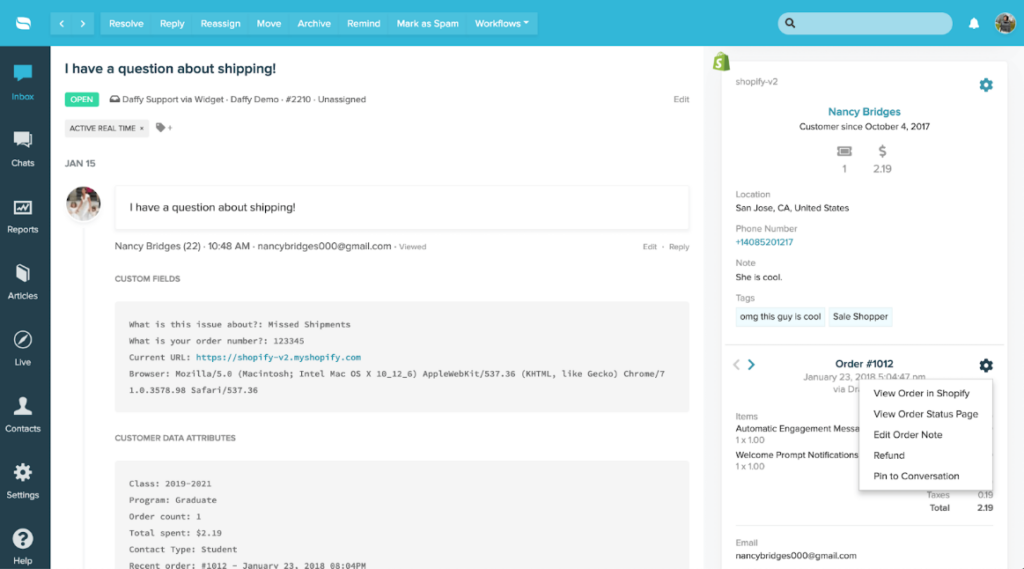 7. Shopify Inbox
Shopify Inbox is a customer support app designed specifically for Shopify e-shops. It allows businesses to manage customer conversations from various channels, create automated messages, and gain valuable customer insights regarding chat conversions. With Shopify Inbox, businesses can streamline their customer service operations and provide exceptional customer support directly from their Shopify dashboard.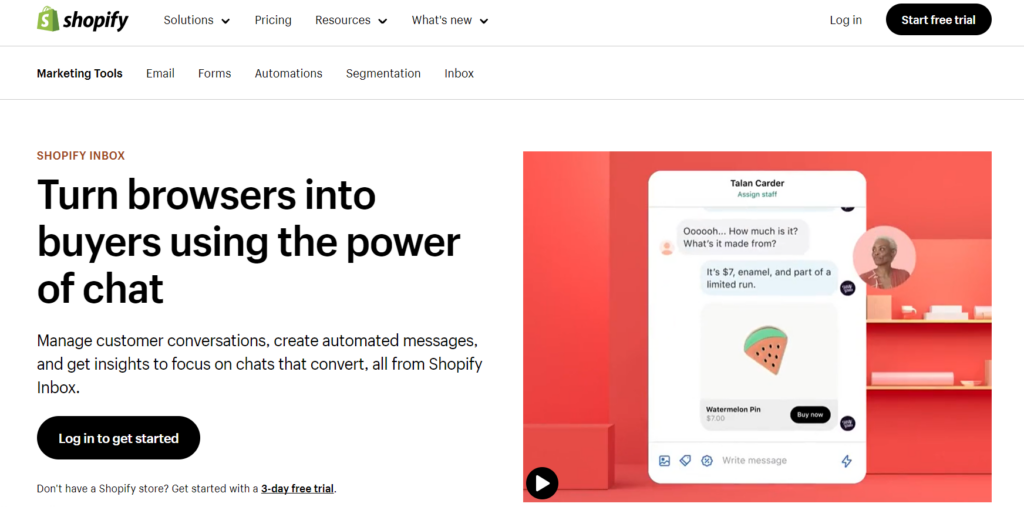 Shopify integration features
Here are some key features:
Shopify inbox
Order management
Inventory management
Returns and refunds management
Analytics and reporting
Social media integration (Facebook & Instagram)
There are many additional features that can be very useful for your e-shop, let's look at some of them:
Automated messages
Message classification
End-to-end automation tools
Live metrics
Pre-built reports
Smart order routing
Real-time order tracking
Shipping analytics
Customer self-serve returns
Pros and cons
Pricing
Basic: €32 per month
Shopify: €92 per month
Advanced: €384 per month
Shopify also offers some alternative solutions:
Starter: €5 per month
Retail: €79 per month
Free trial: YES, Shopify offers a short 3-day free trial.
Expert opinion
Shopify Inbox definitely offers multiple benefits for e-shops. Features, such as order management, inventory management, returns and refunds management, and automated messages, make it a valuable tool for e-shop businesses.
However, it's worth mentioning that Shopify Inbox does lack some important features that may be essential for certain online businesses. For example, more advanced ticketing and reporting capabilities or multi-channel integrations may be required for larger or multi-channel e-commerce operations.
Overall, Shopify Inbox can be a useful customer support app that provides e-shop businesses with the necessary tools to manage customer inquiries effectively. However, depending on the specific business needs, you may need to consider some additional features and integrations to get the most out of it.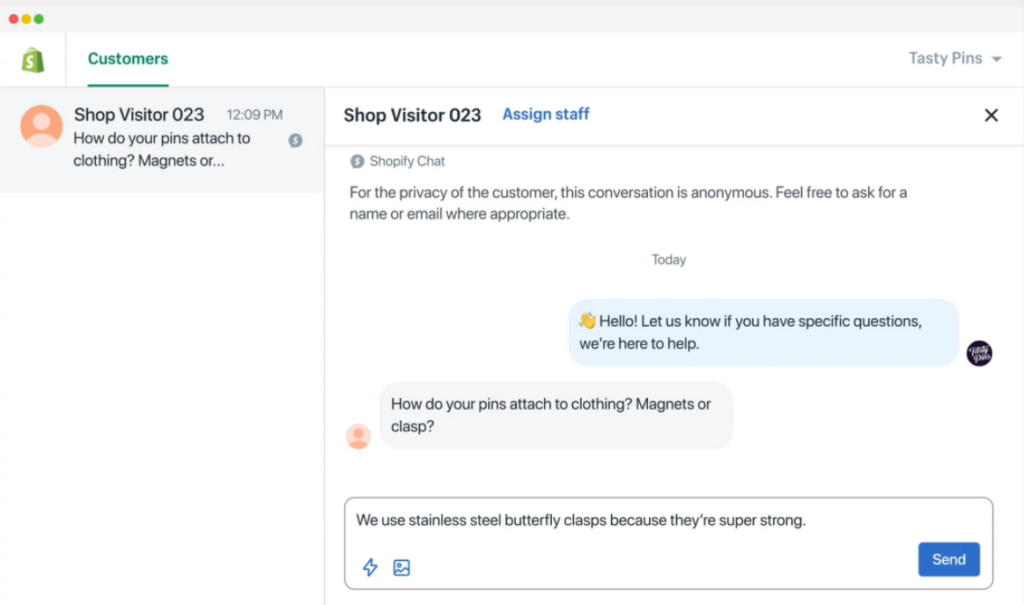 8. Kustomer
Kustomer is a powerful AI-powered customer support app designed to streamline customer service operations for e-shops. With its comprehensive features, Kustomer enables businesses to provide exceptional support and personalized experiences.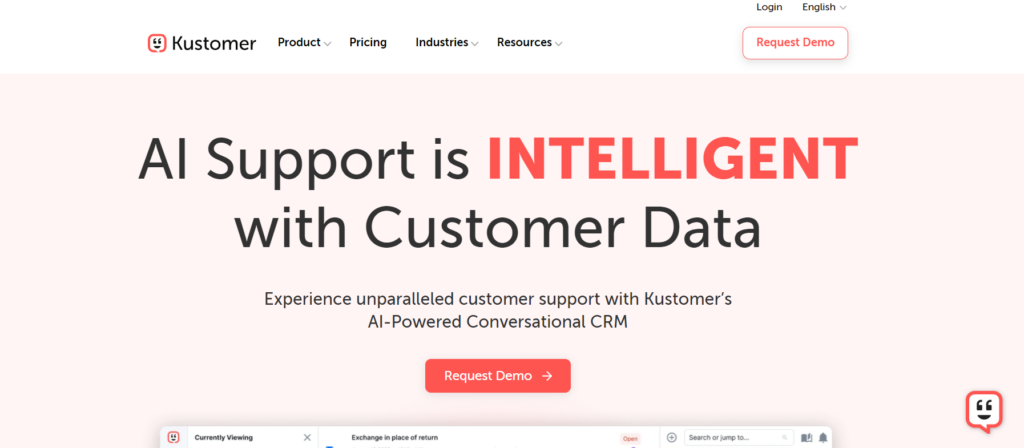 Shopify integration features
Kustomer offers a handful of features that can help your Shopify store:
Live chat
AI-powered chatbots
CRM-powered chatbots
Proactive messaging
Social media integration (Instagram, Facebook, Twitter, WhatsApp)
Knowledge base
Live reporting
Here are some additional features that are worth mentioning:
Push notifications
Built-in spam protection
Call prioritization and routing
Custom reports
Bulk messaging
Multi-brand support
Natural language detection
Pros and cons
Pricing
Enterprise: $89 per user per month
Ultimate: $139 per user per month
Free trial: NO, Kustomer does not offer the free trial option right now.
Expert opinion
Kustomer's AI-powered chatbots and CRM-powered chatbots enable businesses to automate routine interactions, providing seamless and highly personalized customer support. The live reporting feature is great to gain valuable insights into customer support metrics, agent performance – allowing them to optimize their operations accordingly.
However, one area where Kustomer could improve is in its knowledge base functionality. While it does offer a knowledge base, it could benefit from more customization options and advanced search capabilities to enhance the self-service experience for customers.
Nevertheless, Kustomer's overall feature set can be very useful for e-shops that want to deliver quality support experiences to their customer, and build relationships with real time engagement. The ability to centralize customer data and seamlessly integrate with Shopify makes it a valuable tool.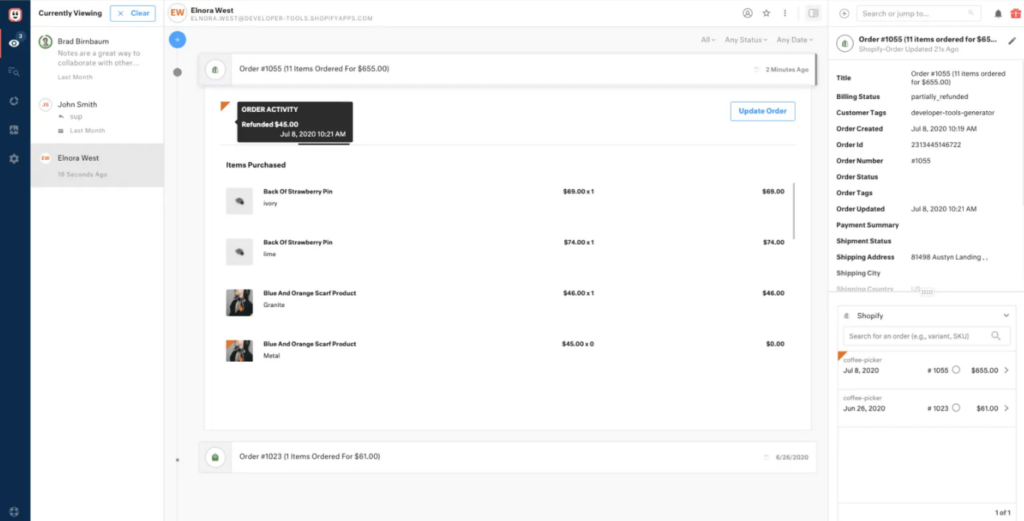 9. Zendesk
Zendesk is a popular customer support solution that offers a range of features to help businesses personalize customer experiences and improve customer support operations. Through personalized support, businesses can achieve higher customer satisfaction, loyalty and boost in revenue.
Shopify integration features
Zendesk comes equipped with many features that are crucial for running a successful Shopify online store. Here are some of the key ones:
Live chat
Chatbots
Intelligent knowledge base
Ticketing system
Pre-build analytics
Omnichannel support
But that is not all, it also offers many additional functionalities and features, such as:
Proactive messaging
Group messaging
Pre-defined responses
Service level agreements
Customer satisfaction ratings
Multilingual support
Customizable dashboards and charts
Community forums
Pros and cons
Pricing
Their pricing depends on the number of agents you have, this pricing is based on 10 agents.
Suite team: €55 per month per agent
Suite growth: €89 per month per agent
Suite professional: €115 per month per agent
Suite enterprise: For more information regarding this subscription, you need to get it touch with their sales team
Expert opinion
Zendesk is a reliable option that can greatly benefit Shopify e-shops in managing their customer inquiries and providing efficient support. It helps unite all data by displaying them to your agents while they communicate with the customers. Thanks to all this data, agents are able to take action and process refunds or cancellations easily. All this is possible without leaving the Zendesk platform.
Its AI-powered chatbots, ticketing software, and omnichannel support enable businesses to enhance customer experiences. The pre-built analytics feature offers valuable insights to improve support processes.
However, Zendesk does have some limitations. The pricing can be a bit high, especially for smaller businesses with limited budgets. Additionally, the abundance of features may require more time and effort to fully understand and utilize it effectively.
Overall, despite these limitations, Zendesk remains a robust customer support solution for e-commerce businesses, delivering the necessary tools to provide excellent support and streamline operations.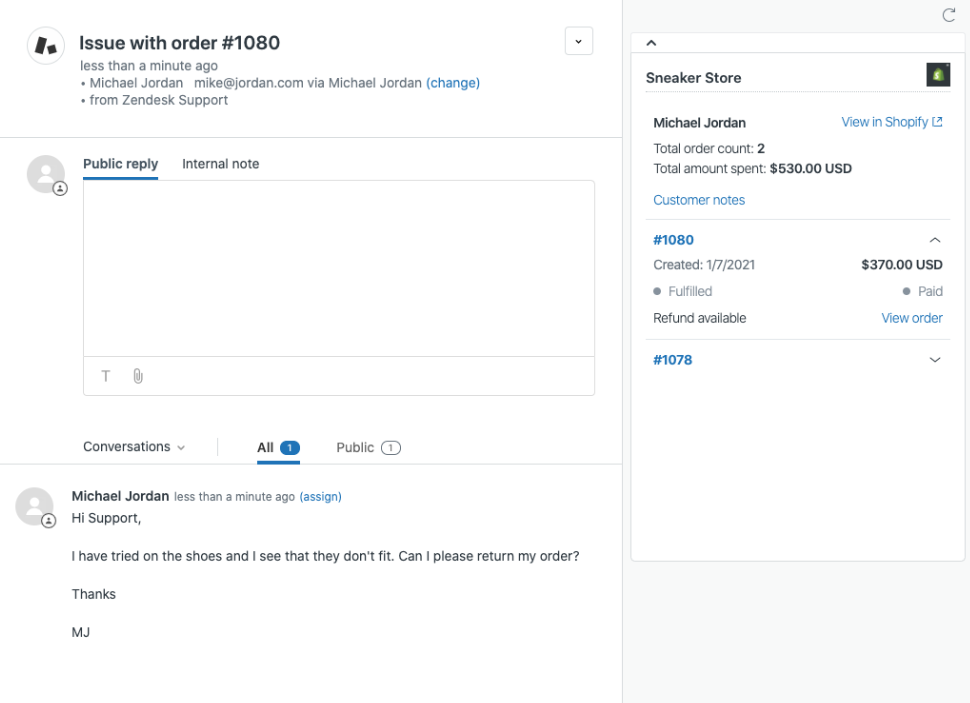 10. HelpCenter
HelpCenter is a customer support provider that allows businesses to create their own help center for their customers. With HelpCenter, businesses can provide a comprehensive self-service platform, offering FAQs, knowledge base articles, and other helpful resources to empower customers to find answers to their questions independently.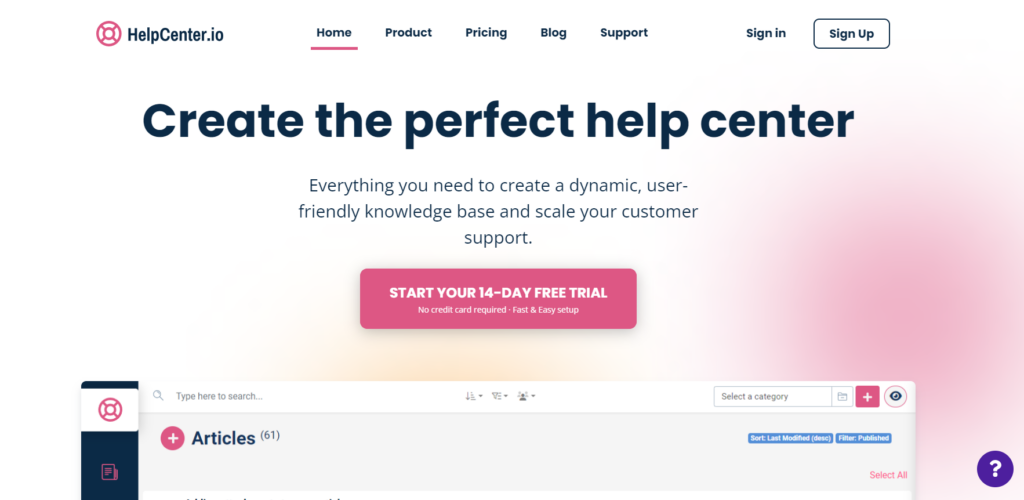 Shopify integration features
HelpCenter offers knowledge base features that can help your customers find answers to their questions quickly and easily. Here are some of the key features:
Article editor
Template customization
Quick internal linking
AI-powered widget
FAQ sections
Analytics and insights
Some additional features that are also worth mentioning include:
Article revisions
Multi-language support
Custom domain with SSL certificate
User management
Privacy management
Pros and cons
Pricing
Catalyst: $199/month per help center
Growth: $149/month per help center
Solitude: $39/month per help center
Basic: $19/month per help center, billed annually
Free trial: YES, HelpCenter offers a 14-day free trial.
Expert opinion
HelpCenter can be a great option for e-shops that are looking for a platform that allows them to create their own customer support portal. It is a user-friendly solution that makes it easy to manage and create articles, ensuring that businesses can provide relevant and up-to-date information to their customers. The reasonable pricing also makes it accessible for businesses of all sizes.
However, there are some limitations as well. HelpCenter's customization options may be limited compared to other providers, which might hinder businesses looking for a more tailored design. Additionally, some advanced features, such as automation, may be lacking in comparison to more comprehensive customer support solutions.
In summary, HelpCenter is definitely worth considering if you are seeking a cost-effective and straightforward solution to build a help center and lower the amount of incoming tickets. It allows businesses to efficiently provide self-service support and therefore improve the customer experience.
40 additional Shopify customer service apps: Quick overview
However, if you are not looking for complex customer support software, and you only want a service that is focusing on a specific part of customer service, don't worry, we got your back. We picked an additional 40 apps that are definitely worth looking into. So, without further ado, let's jump in.
Support ticket management
Live chat support
Contact forms
Customer order tracking
FAQ and knowledge base creation
Feedback and surveys
Phone support
Returns and exchanges
How to choose the right helpdesk for your Shopify store
There are several key aspects you can take into consideration when choosing the best Shopify help desk for your store. Let's look at a few actionable tips that can help you throughout the selection process.
Determine your needs: Start by assessing your customer service requirements. Consider the volume of customer inquiries and the channels where you want to offer customer support (live chat, social media, or email). Understanding your exact needs will help you narrow down your options and choose a help desk that aligns with them.
Assess features and integration capabilities: Look for a help desk tool that offers essential features such as support ticket management, live chat, contact forms, and knowledge base functionality. You should also consider whether the help desk offers seamless integration with Shopify as well as other platforms such as CRM, or other e-commerce tools. This will allow efficient data synchronization and easy access to customer information.
Consider its scalability: We assume that you want your business to keep growing. This means that your customer support needs will most likely evolve too. So, choose a help desk that can easily scale with your business and handle an increasing number of customer inquiries.
Check reviews: Conduct a thorough research and read reviews and ratings to get valuable insights into the user experience, reliability, and overall user satisfaction with the app. This feedback can help you avoid potential issues down the road.
Free trials and demos: Many providers offer free trials or demos of their software, which gives you the opportunity to explore the features and functionalities before you decide to commit. This will enable you to see how intuitive and user-friendly the interface is, and whether it meets your needs and expectations.
Consider your budget: Compare the different pricing plans to ensure that they fit within your budget. Additionally, look into the level of customer support each help desk provider offers to their customers in case you encounter any challenges while using it.
By carefully considering these aspects, you can choose the best helpdesk for Shopify business that you own. Remember to prioritize features and integrations that align with your customer service needs, scalability for future growth, and solid user reviews and support. With the right helpdesk in place, you'll be well-equipped to provide exceptional customer service and elevate your success.
Essential features that a Shopify help desk should have
When you are considering investing in a customer service platform, you should look for these key features, which are highly important to achieve efficient and effective support:
Ticket management: By having a centralized system for managing customer inquiries and support tickets, you will be able to provide timely responses as well as track, prioritize, and assign tickets to the appropriate team members – making sure that no customer message goes unnoticed or forgotten.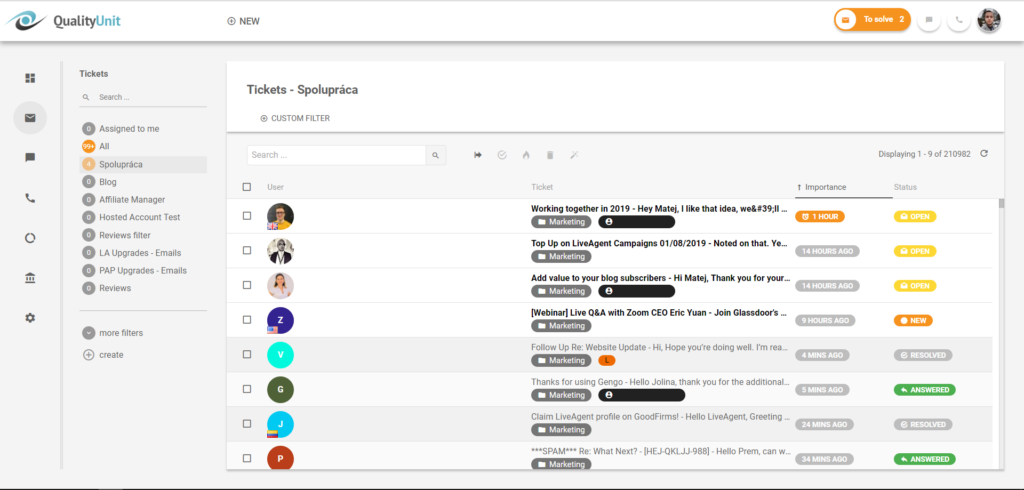 Live chat: Live chat is a great real-time communication channel that facilitates conversations between your support team and customers. Users can get instant responses to their inquiries, clarifications, and receive quick issue resolution. But not only that, live chat also helps boost customer satisfaction by reducing wait times and enhancing the overall support experience.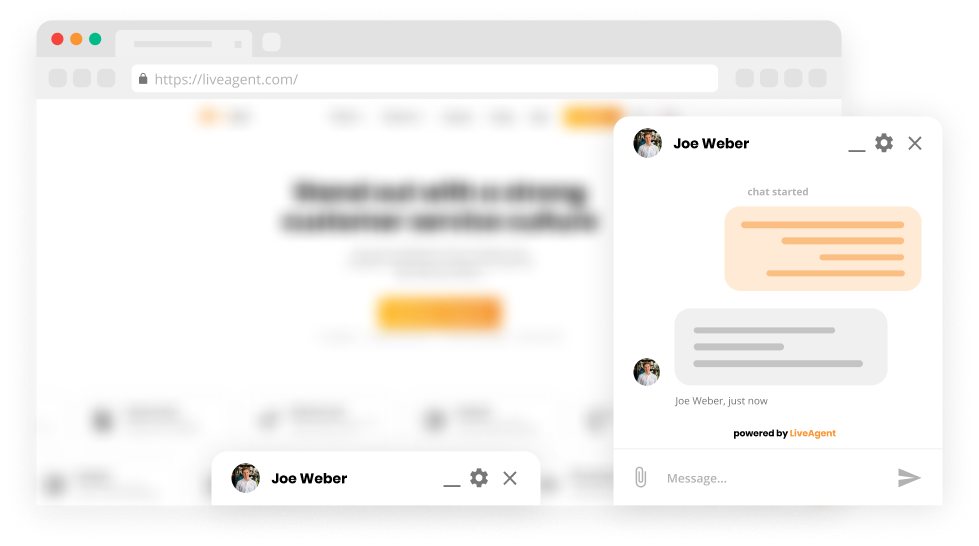 Knowledge base and FAQ: This is another feature you should not underestimate. Creating a comprehensive knowledge base and FAQ section can help you proactively address common customer inquiries and provide self-service options that empower users to find answers to their problems on their own. Thanks to this, you can significantly reduce the volume of incoming support tickets and let your agents focus on more complex tasks.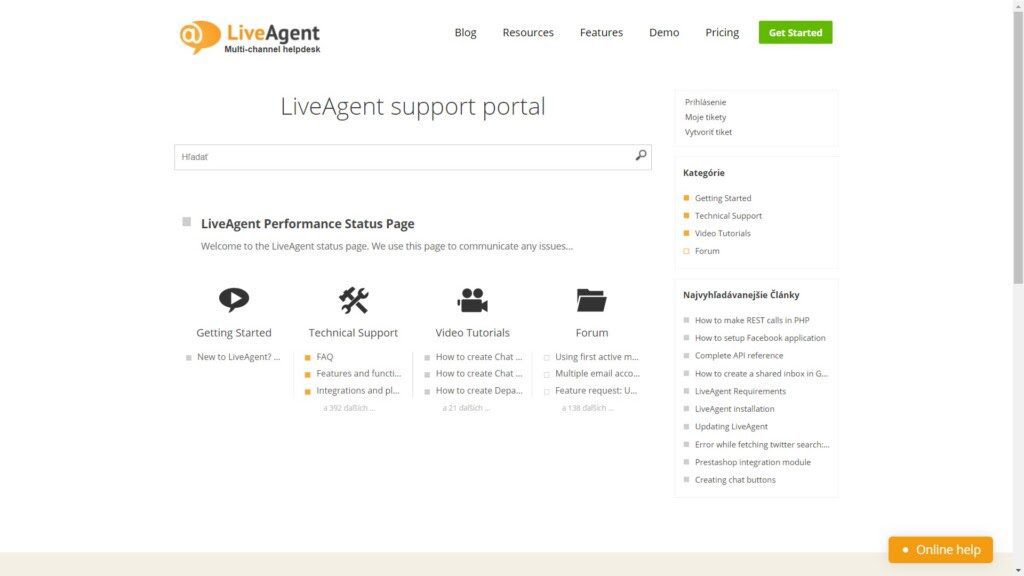 Reporting and analytics: What is a customer service software without the reporting and analytic capabilities. They provide valuable insights into the key performance metrics such as response times, ticket resolution rates, or customer satisfaction ratings. These metrics can help you identify gaps in your service and help you make data-driven decisions to elevate your customer service strategy.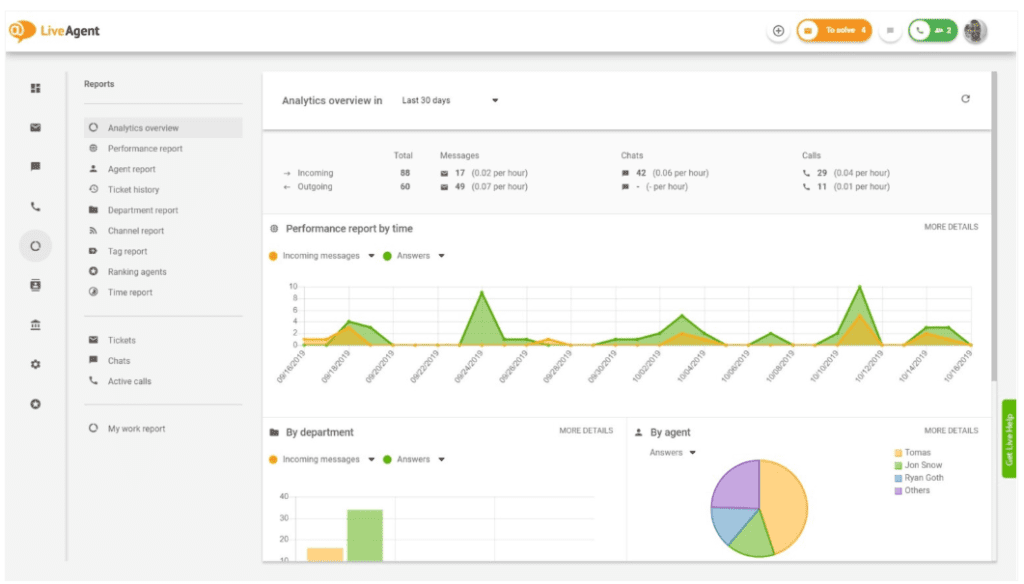 Order tracking: Integration with Shopify's order management system allows you to access crucial information and provide real-time updates on customer order statuses. It can also enable customers to track their orders directly through the app, reducing the number of inquiries related to order status.
Feedback and surveys: Gathering feedback is vital for understanding your customers' satisfaction levels and identifying areas for improvement. A built-in feedback and survey features allow you to collect customer opinions and ratings – providing valuable insights for enhancing your products and services.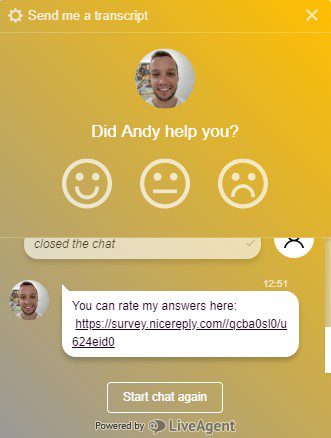 Multilingual support: If you operate globally in multiple markets, having multilingual support can be a game-changer. Find a solution that supports multiple languages, enabling you to provide customer support in different languages. This will accommodate a diverse customer base and ensure effective communication.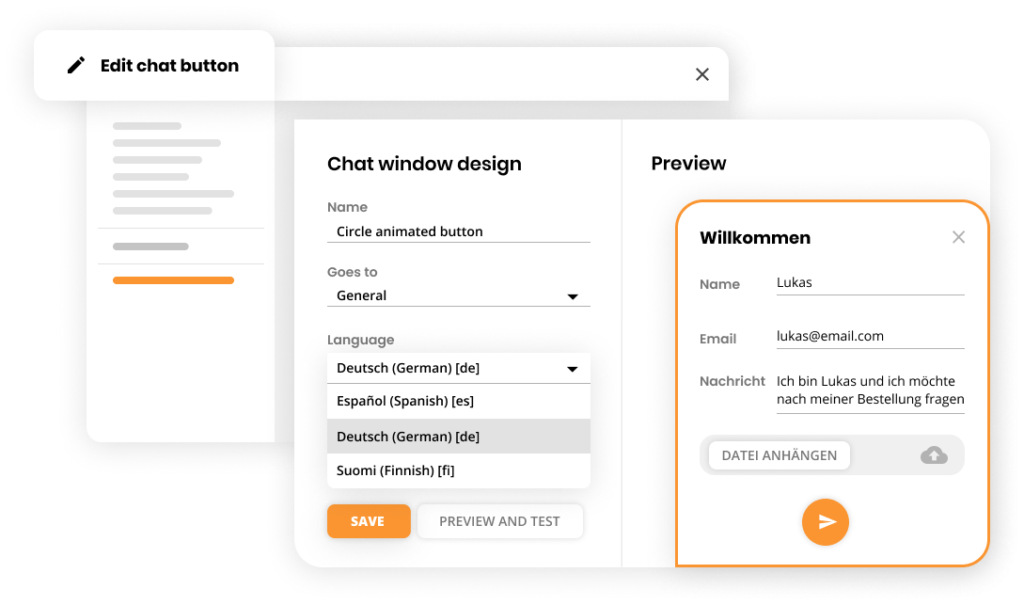 7 Tips for improving customer service on Shopify
Providing excellent customer service on your Shopify eShop is crucial for building customer loyalty and driving sales. Let's discuss some tips you can use to improve your customer service and address some of the most common issues:
Tip 1: Offer multiple contact channels
Provide various contact channels to cater to different customer preferences (for example: live chat, social media, email, phone). Customers have to be able to easily reach out to you with any issues they may have through the channel they prefer the most.
Tip 2: Optimize response times
Set clear response time expectations and strive to reply to all queries within the specified timeframe. Prompt response times demonstrate your commitment to customer satisfaction and help build trust and long-term relationships.
Tip 3: Personalization is key
Treat each customer as an individual through personalized communication. Address them by names, acknowledge their specific concerns, and provide tailored solutions. Personalization enhances the customer experience and makes them feel more valued and heard.
Tip 4: Clear product information
Display clear and detailed product information, including descriptions, specifications, sizing charts, and high-quality images. This helps reduce the likelihood of returns or product dissatisfaction.
Tip 5: Proactive updates of order statuses
Be proactive and keep your customers informed about the status of their orders. Send automated email notifications at key stages, such as when the order is received, shipped, or ready for delivery.
Tip 6: Simple return and exchange process
Returns and exchange policies should be easily accessible on your online store. In addition, try to make the entire process as hassle-free and straightforward as possible to ensure that customers can easily request and process returns if needed.
Tip 7: Listen and act on customer feedback
Actively listen to feedback from your customers and make improvements based on that. You can conduct customer satisfaction surveys, read reviews, and analyze support ticket trends to identify areas where you can improve your customer service processes and strategies.
Why is omnichannel support significant in a helpdesk app?
With today's customers using various communication channels, offering support on just one channel may limit your ability to reach and assist a wider customer base. That's where omnichannel support comes into play to enable seamless and consistent customer service across all of these channels.
To give you a simple example, imagine a customer that has a question about your product and wants to reach out to you via live chat for immediate resolution. But, if your help desk only offers email support, the customer has to wait for a response, or try another way to get their inquiry addressed. This can lead to frustration and a potentially negative customer experience.
Now, imagine you are using a help desk software, such as LiveAgent, that offers omnichannel support. This allows you to provide a seamless experience across multiple channels, enabling customers to reach out to you through their preferred communication method. For example, a customer can initiate a conversation via live chat on your website, and if they need to continue the conversation later, they can switch to email without losing any context.
On top of that, your agents will be able to access the entire conversation history across all channels, providing a seamless and personalized customer experience. Thanks to LiveAgent's omnichannel capabilities, you can better serve your customers, improve response times, and ultimately enhance customer satisfaction.
How can automation simplify your customer service process?
Imagine you receive a high volume of frequently asked questions from customers on a daily basis. But instead of manually responding to each inquiry, you can utilize automation to create predefined responses or canned messages to save time, and increase efficiency of your customer support team.
For example, if one of the common questions is about your shipping policies, you can create a canned message with a clear explanation of your shipping process. When a customer submits a related inquiry, you can simply select the appropriate canned response and send it to the customer as a response. This not only saves you time, but also ensures consistent and accurate information across all responses.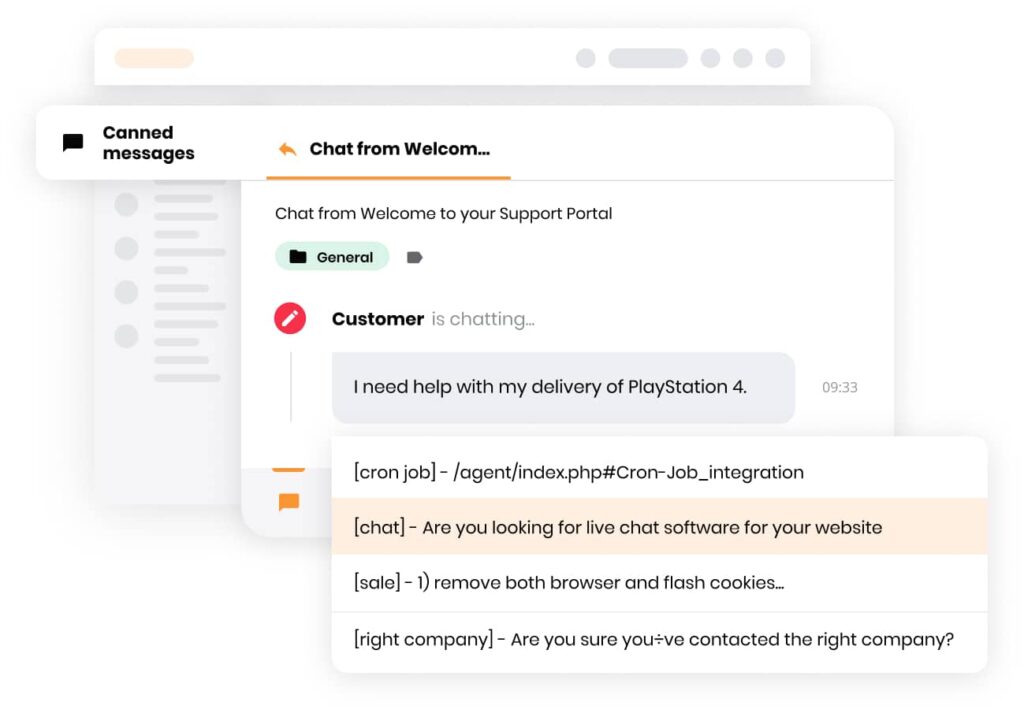 But that's not all! Automation can also be used to assign and categorize tickets based on predefined rules or triggers. For example, if you have specific team members who specialize in certain product categories, you can set up automation rules to automatically assign tickets to the appropriate team member based on these criteria. This ensures that each ticket is handled by the most suitable person, leading to faster resolution times.
Additionally, thanks to automation capabilities, you can send proactive notifications or updates to your customers. To give an example, when a customer contacts you regarding a delayed shipment, you can set up an automation rule to automatically send them an update whenever the status of their shipment changes. This keeps the customer informed and eliminates the need for manual follow-ups every time the status changes.
LiveAgent offers these powerful automation capabilities, so you can easily streamline your customer service process. Whether it's through utilizing canned messages for FAQs, automating ticket assignments, or sending proactive updates, automation simplifies repetitive tasks and allows your customer service representatives to focus on providing personalized and high-quality customer support.
Conclusion
Now you know exactly why choosing the right Shopify customer service app is crucial for online businesses that are looking to provide exceptional support and enhance customer satisfaction. To help you, we compared the top 10 Shopify customer service apps and provided an overview of an additional 40 apps based on their specific focus. We discussed how to choose the right app for your online store, highlighted essential features to consider, and shared tips for improving customer service on Shopify.
With the right app, your business will be able to efficiently manage customer inquiries, provide real-time assistance, and streamline support processes. By implementing a comprehensive solution like LiveAgent, you can take your customer service to the next level. Together with its seamless Shopify integration, LiveAgent also offers a wide range of features, including ticket management, live chat, knowledge base, automation, and customer feedback tools. LiveAgent is a trusted solution that can help businesses deliver exceptional support and improve customer satisfaction.
To experience the benefits of LiveAgent for yourself, take advantage of the 30-day free trial. Try it out and see how it can improve your customer service efforts on Shopify. Don't miss the opportunity to enhance the support experience for your online store and build strong customer relationships.