What is CRM software?
Customer Relationship Management (CRM) is a software solution designed to manage and analyze customer interactions, as well as store and organize every piece of information related to your current and potential customers. By implementing a CRM solution into your strategy, your business can work on improving relationships across the entire customer lifecycle, tracking leads, increasing customer loyalty, managing sales, and so much more.
On the other hand, CRM is a platform that can connect different departments within your company. It is a place where they can organize and share notes and activities in one centralized system. It is easily accessible to your team, helping them use the gathered information to close sales and deliver outstanding customer service. Additionally, it allows multiple people to edit the information regarding a client's customer journey.
In LiveAgent, you can store all your customer data in the contact information box, or you can also integrate your CRM software with LiveAgent. Furthermore, with LiveAgent Help Desk software, you are able to automate many repetitive tasks from setting up a simple cron job to other advanced automation features.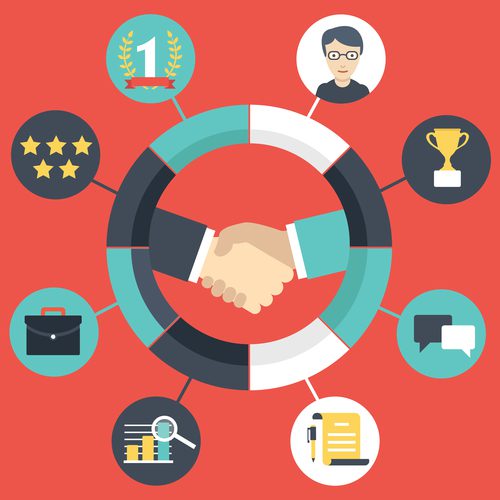 Who is CRM software for?
Companies can use customer relationship management for many different reasons, but the main goal is to increase sales and improve the overall customer experience with your brand. CRM is a tool that can benefit a wide range of companies, from small start-ups to large corporations, as well as companies that are operating in a variety of industries.
Types of companies that can benefit from using CRM software include:
Small businesses
E-commerce businesses
B2B companies
Nonprofit organizations
Each type of company can benefit from CRM software in different ways. To give you an example, a small business can use it to grow its customer base and turn leads into actual customers. This is possible thanks to features such as sales analytics, sales forecasting, document sharing, integration with other systems, data storage, etc.
E-commerce businesses can use CRM to monitor and manage their digital sales, track online customer interactions, analyze their shipping preferences, track purchase history of each customer, and monitor transactions. This gives a clear overview of future sales and marketing opportunities.
B2B companies can use the analytical tools of CRM software in order to analyze the interactions with other businesses, and determine what are the best next steps in their sales process and what methods should be used to approach each client. In addition, CRM can automate sales and transaction processes without sacrificing the quality of the data.
Nonprofit organizations can effectively manage, organize, and collect data about their staff members, donors and volunteers in one database. It can help these companies build stronger relationships based on trust thanks to improved communications and connections.
Generally speaking, any type of business that wants to manage future interactions with its clients and potential customers, can benefit from using CRM software. It provides a deeper understanding of the customers' needs, allowing businesses to adapt their marketing efforts based on the individual customer.
How does CRM software work?
CRM software is a great tool that helps businesses manage relationships with their customers in a more efficient and effective way. It collects information about leads and simplifies the journey of turning potential customers into actual customers. CRM systems also automate various processes that are involved in customer relationship management, such as data collection, personalized interactions, tracking customer journeys, analyzing data, etc.
Data collection
CRM systems collect customer data from many different sources, such as emails, previous interactions on your website, or their purchase history. This information can be entered either manually by employees, or automatically by integrating your other systems with your CRM software. All this information is then stored in one centralized database that is easily accessible to your team.
Data analysis
CRM software uses advanced algorithms and statistical models to analyze customer information and behavior. Some CRM include predictive capabilities that generate forecasts about future customer behavior based on past behavior and purchases. This can help identify customers that are more likely to churn and those that are most likely to make a purchase in the near future.
Thanks to these valuable insights, companies can make informed business decisions about engaging with customers and targeting each customer with personalized services and marketing campaigns.
Personalized interactions
All the customer insights gained from data analysis enable businesses to personalize their interactions and build a customer profile based on their preferences, behavior and communication history with the company. To effectively personalize these interactions and ensure exceptional customer service, businesses can utilize a ticketing tool that is combined with the CRM ticketing tool which allows businesses to build comprehensive customer profiles. By utilizing this tool to your advantage, the insights gained from data analysis can be used to tailor marketing campaigns and customer support interactions. This has a direct effect on customer satisfaction and therefore on sales growth.
Customer tracking
Customer tracking works by collecting data and information about customers that are stored in the centralized database. In addition, it tracks customer activity by focusing on website visits, email interactions and other sources. It also provides lead and opportunity tracking that allows the sales representatives to choose the right marketing campaigns and make informed decisions about resource allocation. This can be helpful in order to make sure that no opportunity is missed, and it provides valuable data that can improve customer service and sales process.
What are the benefits of implementing CRM software?
Customer relationship management software is without a doubt a powerful tool for businesses that want to boost sales and build strong and long-term relationships with their customers. There are many benefits that are worth mentioning when it comes to CRM software. Some of those benefits include:
Increased productivity
CRM can help your team to increase their productivity by automating tasks such as data collection, analysis and reporting, which then saves time and resources. Your employees will therefore be able to focus on other important tasks and areas that need human attention.
Better collaboration within your organization
Another benefit is that CRM software allows your team to share information and work together on different tasks. This affects the improvement of team collaboration within your company. CRM also provides a centralized database that includes all the customer information, previous purchases, records of interactions, and this database is easily accessible to your employees. By having this at their disposal, they don't have to go through countless documents, which is a huge time-saver.
Some CRM systems also have built-in tools for collaboration that allow multiple people to work on one document simultaneously and track their progress.
Better knowledge of your customers
CRM software provides better knowledge of your customers by collecting and organizing customer data in one centralized place, providing a complete overview of customers' interactions with your company. This data includes information such as personal contact information, purchase history, previous interactions, preferences, complaints, etc. It can help your employees get a better understanding of each customer, which allows them to create more personalized customer service.
Marketers can use this to manage and optimize marketing campaigns based on collected data, and get a better understanding of the sales pipeline, which enables them to make more accurate sales forecasts. A CRM solution can also help identify quality leads, meaning that you don't have to waste time and resources on the wrong prospects that are not going to become customers. Instead, you will be able to relocate those resources to valuable leads and convert them into customers.
Improved customer retention
Once you convert leads into customers, you need to put in the work on customer retention and building long-term relationships with them. It can be achieved by understanding your customers and creating targeted marketing campaigns and promotions that will keep them interested and engaged with your brand. This is where CRM software comes in handy, as it can automate follow-up tasks to make sure that customer needs are being met.
Better communication
Another benefit of CRM software is that it provides one centralized platform that facilitates communication with customers, allowing your team to respond efficiently to all customer requests, feedback, and complaints.
Aside from providing a platform for communication between customers and your business, it also makes it much easier for your employees to communicate with each other. They can send each other alerts, send messages, and tag each other in projects, and all this is possible within one system.
Protection of data
CRM software ensures that your customer data is secure by providing access control and digital security mechanisms. CRM can help you comply with data privacy laws and regulations, reducing the risk of data breaches.
What are the key features of CRM software
There are several core features that make up a CRM system, including:
Contact Management
A contact management feature can be compared to a modern-day address book because it stores all contact information about your customers. It is a great way to have easy access to all the necessary information and keep it organized at the same time. You can find information such as full name, residential address, email address, phone numbers, and any additional information that is important for your business.
It also allows you to divide your contacts into groups based on different criteria that you can set. It improves personalization when it comes to marketing strategies, and it can have a huge impact on customer satisfaction.
Lead Management
Lead management is a key element of CRM software because it helps businesses keep track of people who have shown interest in your products or services, and who have previously interacted with your company. By storing all this information, you can take the necessary steps and follow up with these prospective customers in order to turn them into paying customers. CRM lead management maximizes your chances of converting leads into actual customers.
Sales Management
The sales management tool is an important component for those companies that want to stay on top of their sales processes. It provides a complete overview of all sales activities, for example tracking sales leads, tracking the performance of your sales team, tracking follow-ups with customers, and more. By following the performance of your sales team, you can see if they are working towards the same goal and make necessary improvements in order to maximize sales growth. Keeping track of customer follow-ups ensures that you are aware of customer satisfaction and if they are likely to become returning customers in the future.
Marketing Automation
Marketing automation tools help you stay connected with your customers and reach out to them with the right message, at the right time. Thanks to this feature, you can make sure that you are sending perfectly tailored messages that are based on the collected data. You can also set up automatic messages in order to be more time-efficient and focus on other tasks as well. The goal of marketing automation is to keep your customers and leads engaged and see what marketing efforts are working and which are not.
Customer Service and Support
Customer service and customer support teams are key to maintaining satisfied and happy customers. They make sure that all customer issues and concerns are addressed in a timely and effective manner. With this component of CRM software, you will have one centralized space to see all interactions with customers, which provides an overview of what needs to be prioritized based on the urgency or complexity of the issue. In addition, you will be able to measure the level of customer satisfaction with the services they receive, so you will be able to make improvements and provide the best possible customer experience.
Looking to improve your customer service?
Get started with LiveAgent and unify your communication tools in one dedicated help desk solution that can help you solve queries efficiently.
Analytics and Reporting
Keeping an eye on your analytics and reporting features is very important in order to monitor and assess the efficiency of your customer relationship management efforts, and it shows you the impact of your decisions and actions. Thanks to this feature, you can see metrics such as newly acquired leads, customer feedback, customer complaints, sales figures, and much more. By having a clear overview and understanding of these figures, you can implement changes and make improvements. On top of that, the business analytics and reporting component can be shown in visual form as graphs and charts, making it much easier to comprehend the data. It also makes it simple to recognize patterns, trends, and opportunities for improvement.
These are some of the main features of CRM software, however, it is important to keep in mind that different providers may offer different features. Therefore, to find the best CRM software for your organization, you have to take into consideration what are your exact needs and how CRM software can help YOUR business.
Conclusion
Introducing CRM software into your business can cultivate and improve your internal collaboration, as well as interactions with your customers, resulting in sales growth. This is achievable thanks to the possibility of monitoring all customer interactions, getting a deeper understanding of customer needs and preferences, enhancing the management of relationships, and driving sales.
A variety of companies from different industries can benefit from CRM solutions if they want to improve customer relationships and automate easy, everyday tasks. Additionally, it presents the possibility of centralizing customer data, making it easily accessible to your employees and relevant stakeholders. Your team will be able to collaborate easily on important tasks across all departments. By facilitating better communication between your team and your customers, you can improve relationships and concentrate on their objectives, satisfying customer needs and accomplishing your goals.
Frequently Asked Questions
What is a CRM software?

CRM software is a platform that enables contact with various departments in the company, customers and leads. Thanks to this, every employee of the company has easy access to data, regardless of whether they work in the customer service team, in marketing, or sales.

What are the must-have features of CRM software?

There are many common features, as well as additional features that make your job a lot easier. The first is definitely contact management, thanks to which you can edit contacts and have access to them. In addition to contact management, lead management features help keep track of people who have shown interest in your brand, allowing you to follow up on these leads in order to turn them into customers. Email integration is an extremely important feature that enables a better workflow. However, there are many more features that make CRM solution a great business tool for every type of company.

What are best practices of using CRM software?

The best practices for using CRM software include choosing the right software for your business processes. CRM should meet the exact needs of the brand. Another important point is the training of employees. An efficient employee in a given CRM system will be more effective and will feel more confident. It is also good to establish rules of action and cooperation so that each employee has clarity. CRM is also a great tool for automation, so it is important to use it well in the moments that are needed.

What is a CRM in simple terms?

In simple terms, Customer relationship Management is like a digital address book that helps many businesses manage their interactions with their customers and leads. It helps to organize customer data, automate processes such as sales, marketing or customer service, and provide insights into customer behavior. CRM is a great tool to manage relationships with customers, improve customer engagement and achieve business growth.

Can you integrate CRM software with Help Desk software?

Yes, it is possible to integrate a help desk with CRM software. This integration allows businesses to manage their customer interactions from one platform, which positively affects the quality of customer support and customer satisfaction. Integration between CRM and helpdesk software allows customer service representatives to access the customer's complete history, helping them resolve customer issues in a more efficient way and provide more personalized experiences through customer support.
Expert note
CRM software is a powerful tool that allows businesses to manage and analyze customer interactions, automate tasks, and improve collaboration within companies.

Andrej Saxon
Sales manager