What is a call center?
As the name suggests, a traditional call center revolves around one main communication channel – the phone. Call centers were designed to efficiently manage large phone call volumes – either inbound, outbound, or both. They are typically staffed with customer service or sales agents who work in a physical facility or remotely via a virtual call center. Inbound call centers handle incoming customer calls and are mainly focused on providing customer service and support, whereas outbound call centers are mostly focused on sales-related activities. In blended call centers, agents receive incoming calls and initiate outbound calls as well.
Today, most call centers are powered by modern call center software, rather than telephone hardware systems. Inbound call center software solutions rely on intelligent routing and interactive voice response (IVR) systems – that ensure faster issue resolution as callers are always directed to the right departments or agents. Outbound call center software systems are typically powered by different types of dialers that are used to automate the outbound calling process enabling agents to make more calls in less time.
What is a contact center?
Contact centers enable customers to contact businesses via a variety of communication channels (voice, email, live chat, text, social media, etc.). Interestingly enough, contact centers evolved from the traditional call center model. This shift was driven by high customer expectations, the rise of digital communication channels, and the shift in customer preferences.
Unlike call center agents who only engage in voice interactions, contact center agents are trained to handle communications from multiple channels, which provides more staffing flexibility for managers.
Contact centers are powered by advanced help desk software or contact center software solutions that often come with built-in CRM capabilities or can be integrated with a company's existing customer relationship management system. With a professional contact center software solution, where all the supported communication channels are part of the same integrated system, customers can engage with a business according to their preferences. In addition, they can switch to another channel without disrupting service. In that way, contact center solutions help create a consistent customer service experience, no matter where the conversation starts or ends.
Interrested in advanced help desk software?
LiveAgent gives you professional contact center software solution. Curious about all the opportunities?
Contact center vs call center: what is the primary difference?
Channels of communication
As mentioned above, the major and the most obvious difference between call centers and contact centers is communication focus. While call centers stick to phone-based communication either on traditional phone lines or over VoIP, contact centers may manage a variety of channels, including traditional inbound and outbound voice, email, live chat, as well as emerging digital channels like video, bots, social messengers, in-app, SMS/ text.
Data gathering and customer profiles
With call center software, customer data is collected from voice conversations only. As such, call centers rarely understand the entire scope of the customer's journey since customers tend to engage with businesses across different channels. Meanwhile, contact center software aggregates customer data from all channels, creating more detailed customer profiles that also contain all previous interactions. With a unified, 360-degree customer view, businesses can create tailored customer experiences, provide predictive support, and leverage cross-selling/ up-selling opportunities.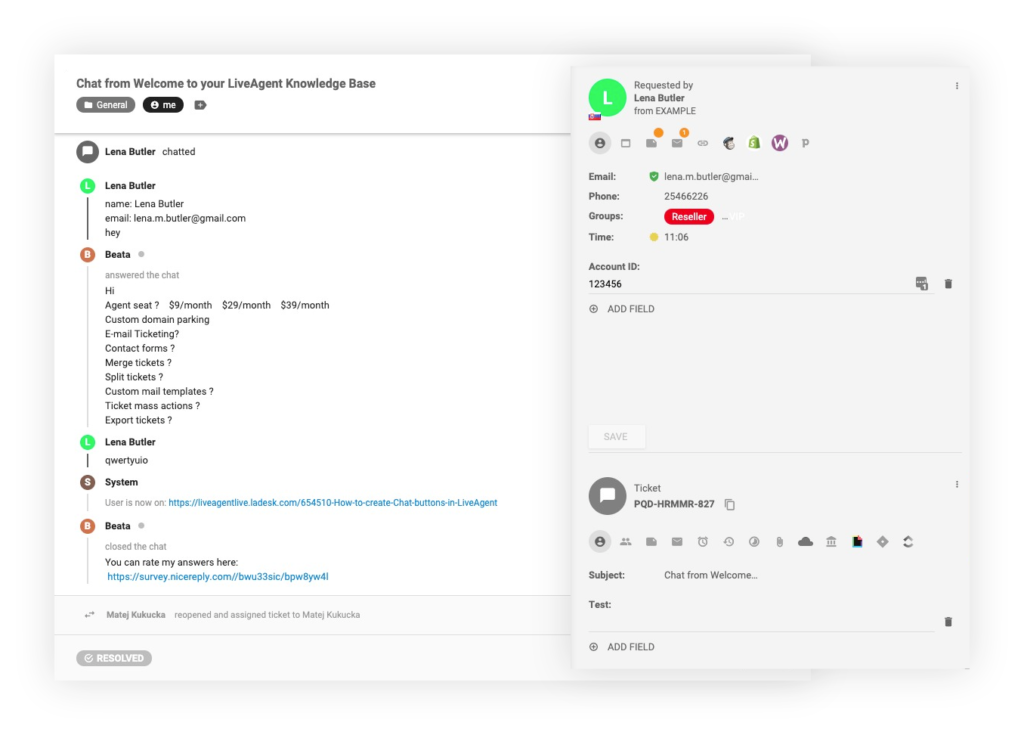 Self-service management
Both call centers and contact centers offer self-service through IVR systems that operate via vocal prompts or keypad entries. These systems are designed to make it easy for callers to resolve issues independently or reach live agents quicker. Contact centers, however, provide more self-service management options. Those may include AI-driven chatbots, two-way texting, self-service portals, and customer communities.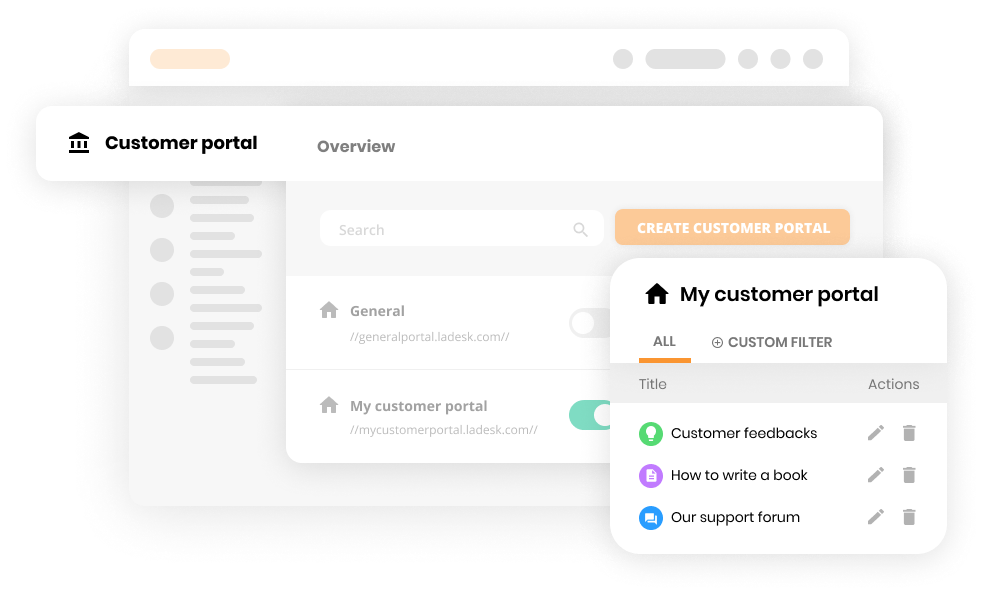 Automations and agent empowerment
Though call center software employs a number of automation options – such as automated ticket distribution (ATD), call queue management, skill-based routing, IVR, etc. – contact center software automation capabilities are more extensive and efficient. With advanced ticket routing and automated workflows, contact center solutions can automate repetitive tasks and give agents more time to engage with customers, improve their performance and productivity, or speed up the resolution time and enhance the service experience.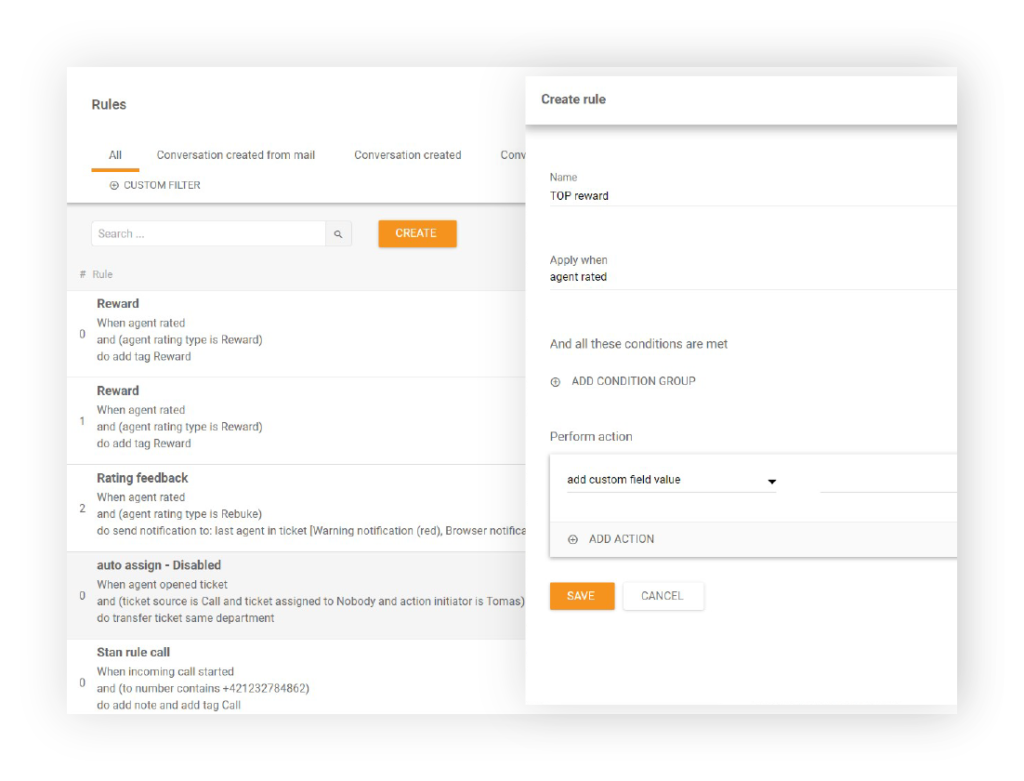 What contact center and call center features does LiveAgent have?
LiveAgent's omnichannel cloud-based contact center software integrates with multiple communication channels and is packed with nearly 200 features. The software streamlines all your emails, live chats, phone calls, social media mentions, and messages from other channels into one universal inbox in which agents can easily and efficiently manage each and every query.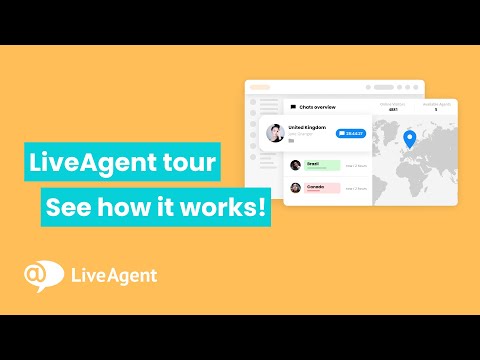 Advanced ticketing
LiveAgent's cloud contact center system consolidates all customer interactions from multiple channels into a single hybrid ticket stream and offers a full range of ticketing features that include workflow automation, seamless ticket distribution, canned responses and templates, SLA management, powerful team collaboration features, and more.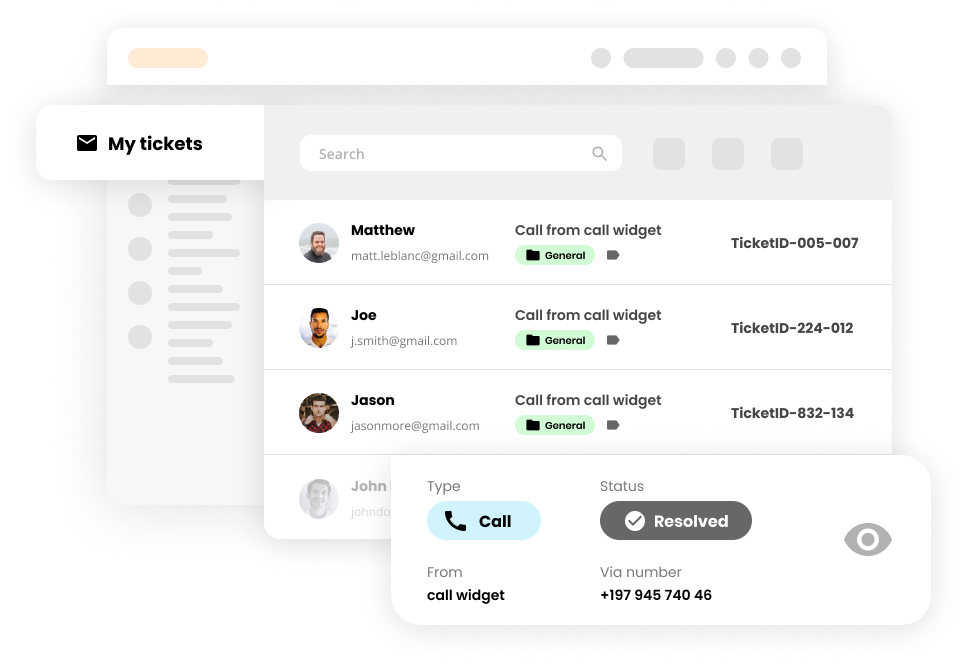 Voice and video calls
LiveAgent's built-in call center integrates with over 99% of VoIP providers and allows agents to make inbound and outbound calls. Support agents can enjoy a wide range of robust call center software features like ACD, smart call routing, IVR, automatic callbacks, call transfers and internal calls, unlimited call recordings, and even HD video calls. With a comprehensive Interactive Voice Response (IVR) designer tool you can create custom IVR trees to make sure customer calls are always routed to the most appropriate departments or agents.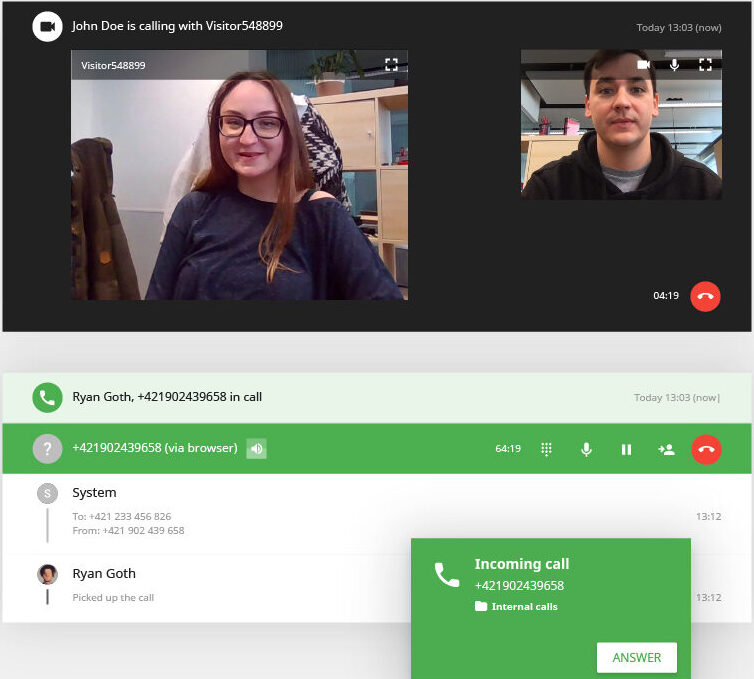 Live chat
LiveAgent's contact center platform enables you to offer live chat support to your customers. LiveAgent's live chat includes dozens of both common and unique live chat features including multiple chat routing options, proactive chat invitations, canned responses, online visitor monitoring, real-time typing view, chat history, internal chats, and more. In addition to that, LiveAgent's live chat widget has been recognized as the fastest and leanest chat widget on the market.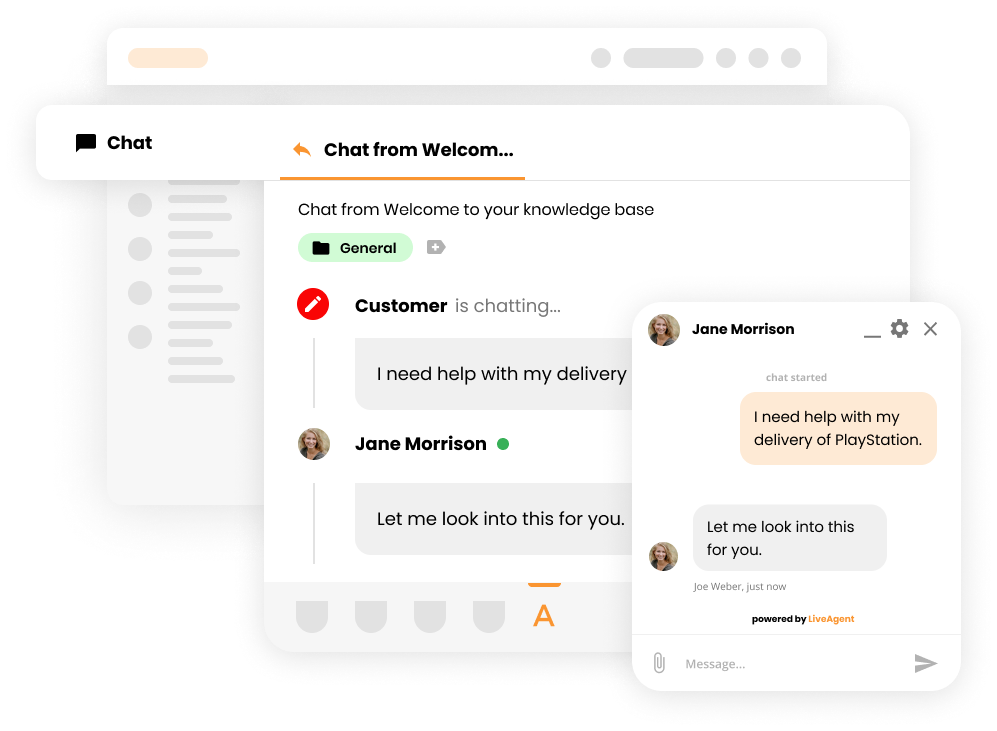 Social media
LiveAgent's omnichannel contact center software collects all your customer interactions from multiple social networks (Facebook, Twitter, Instagram, and Viber) and organizes them conveniently in one place. These social media integrations allow agents to easily manage all social media messages, comments, and brand mentions from a single dashboard. With LiveAgent, you can say goodbye to switching between different social media accounts or monitoring multiple devices.
Self-service portal
With LiveAgent's contact center technology, you can set up a fully customizable customer self-service portal with multiple knowledge bases, FAQs, and customer forums. With a customer portal in place, you extend your customer support capabilities, empower customers to resolve issues on their own without getting your agents involved (meaning your agents will receive fewer tickets) and reduce the time and cost of communicating with your customers.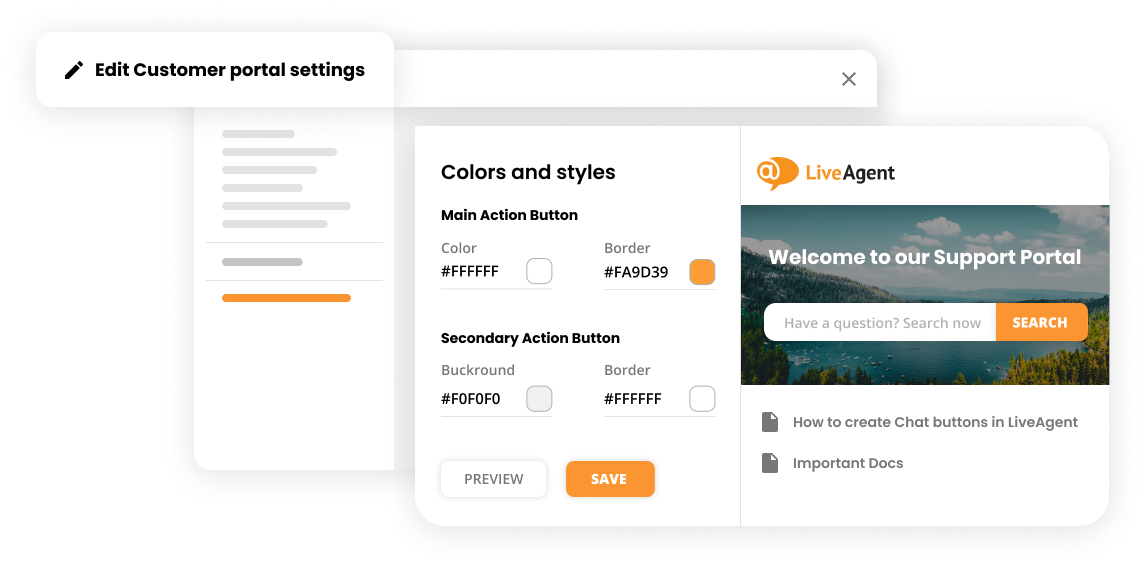 Benefits of virtual call centers
Provide flexibility for support agents
Less expensive than traditional, physical call centers (no rent, less hardware)
Offer automated call routing based on IVR selections
Offer automatic callbacks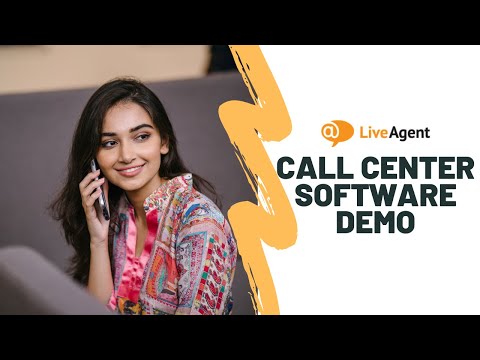 Benefits of contact centers
Streamline all customer communications into a single inbox
Improve agent productivity
Provide agents with additional information about your customers thanks to a built-in CRM
Store internal information and guides that agents can look up at any time
Offer internal communication options
Integrate with tools that you use daily
Setting up your LiveAgent call center
Log into your LiveAgent account and click Call
Click Numbers
Click on the orange Create button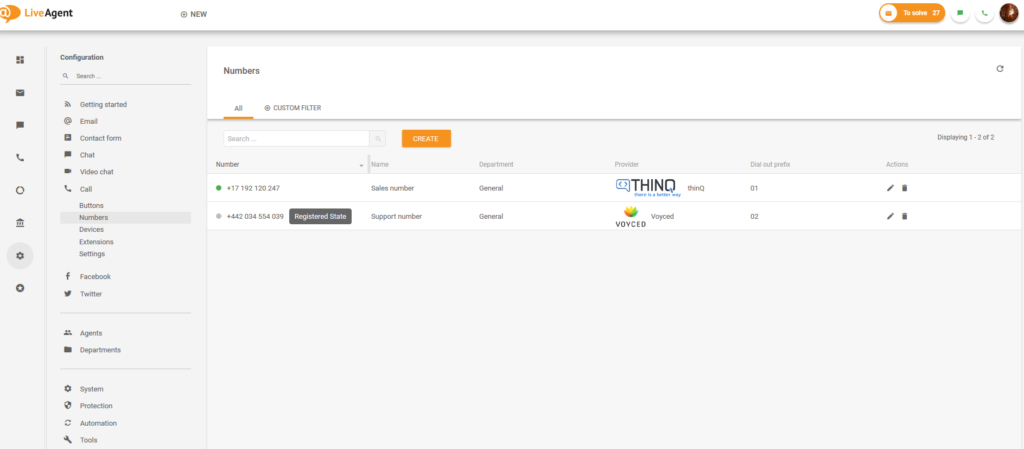 Select your VOIP provider (the VOIP provider from which you've purchased your phone number)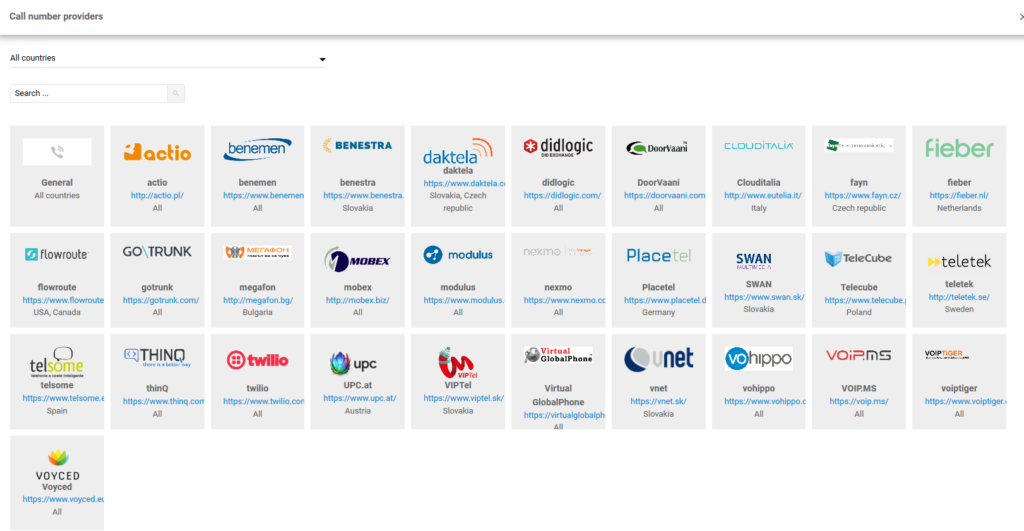 Enter a name (it can be anything, it's just for you to remember which number it is)
Select the department into which incoming calls to this phone number will be routed
Enter the dial-out prefix
Check the Record Calls checkbox if you want to record all incoming/outgoing calls from this phone number
Type in your credentials from your VOIP provider (Hostname, Username, Password)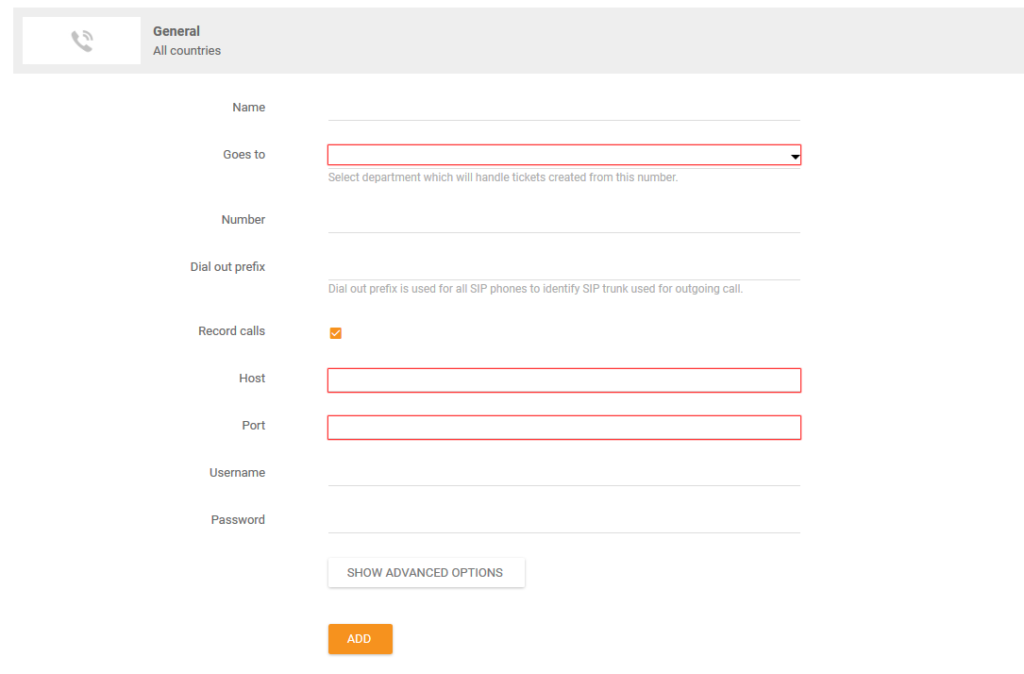 Click Add
If the phone number was successfully added and is active it will have a green dot next to it.
Next, click on the Edit button and click on IVR.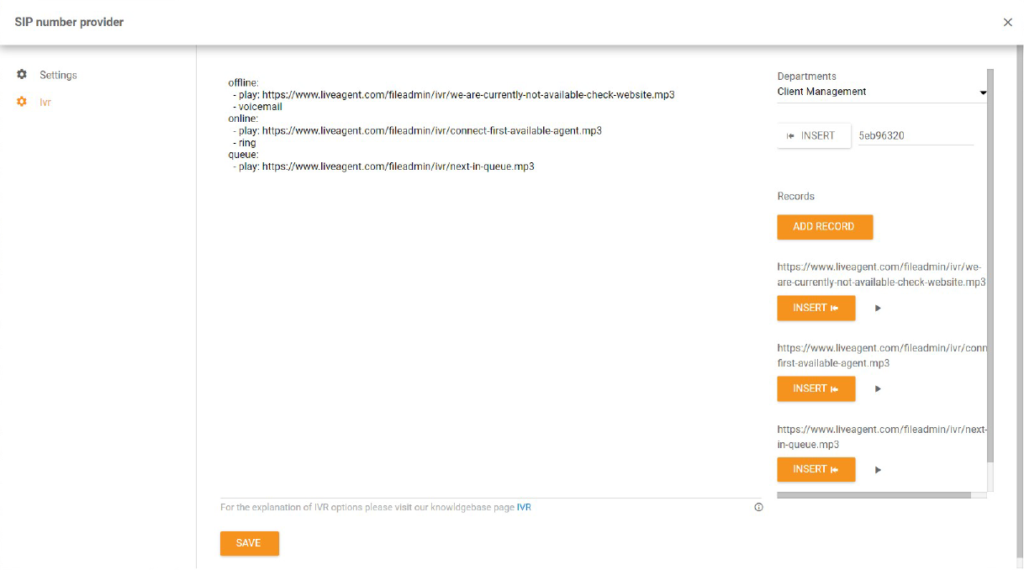 Set up your IVR/welcome messages using this guide IVR (welcome/offline messages).
After you're done setting up your IVR, click on Configuration
Click Call
Click Settings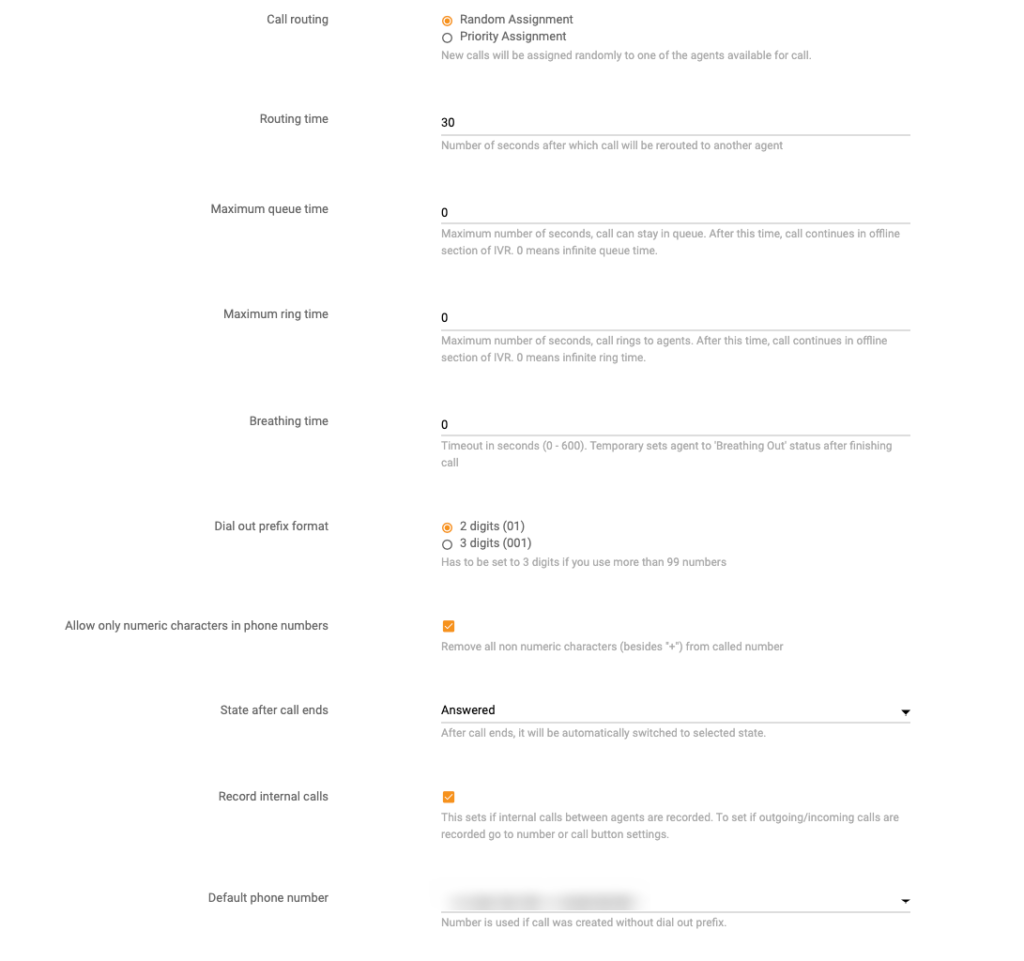 Alter the settings according to your preferences and click Save
Use this guide to add your hardware and software phones to the Devices screen
Next, forward this guide to your agents so they can set up preferred devices for answering calls
Setting up your LiveAgent contact center
To set up your LiveAgent account from scratch please follow this beginner's guide or follow these steps independently:
Log in to your LiveAgent account.
Add users/agents to your account.
Connect your email accounts.
Create and deploy a live chat button.
Set up a customer portal.
Set up your call center by following the steps outlined above.
Frequently

asked questions
What is the key difference between a call center and a contact center?
Though the terms 'call center' and 'contact center' have been often used interchangeably, there is a fundamental difference between the two. Whereas call centers specifically handle customer communications over the phone through inbound and outbound calls, contact centers are able to manage as many as five communication channels or more, including email, live chat, text social media, and other digital channels. That gives customers more options to reach out to and interact with businesses.
What are the must-have features of call centers and contact centers?
When it comes to selecting call center software, some of the most must-have features would include automatic call distributor (ACD), Interactive Voice Response (IVR), different call routing options, call recording, call tracking and monitoring, predictive and power dialers (for outbound call centers), click-to-call and CRM integrations. When choosing contact center software, pay attention to multichannel/ omnichannel support, intelligent routing and queuing capabilities, reporting, and analytics, seamless integration with CRM and other business tools.
What are multichannel and omnichannel contact centers?
Multichannel contact centers often support a variety of channels but they are siloed, meaning agents have multiple desktops for each channel. In omnichannel contact centers, all the channels are integrated which provides a smooth agent/ customer transition between them – that means customers can easily switch channels during the same interaction and still receive a seamless service experience.
Does my business need a call center or a contact center?
When thinking about whether your business needs a call center or a contact center, you need to take into account what channels your customers currently prefer using and what will possibly be needed later on. Though voice still remains the primary channel, digital channels are becoming more prevalent. By partnering with a call center software provider that offers voice communications only, you may end up having to buy several products in the future which will lead to silos and require agents to switch between multiple desktops.
Is contact center a better solution?
By using modern contact center software, you are not only giving your customers multiple ways of reaching out to your business. A professional, well-managed contact center solution provides intelligent routing within and across all customer contact channels making the entire customer journey visible. That means agents always have access to full customer view and 100% context of customers and their issues which makes it easier to deliver a seamless omnichannel experience in every interaction. In addition, it helps to improve agent efficiency and operational KPIs.