Creating a repeatable sales process is paramount if you want to have a pool that's full of qualified leads at all times.
Even though we all know how important repeatable processes are, it's hard to create them. When you're starting to ramp up your sales processes, you won't know exactly what works, and how to implement it.
In this guide, we'll show you everything you need to know about creating sales playbooks. From definitions and benefits to the processes you can follow, plus sales playbook examples you can test at your company.
Let's jump straight in.
What is a sales playbook?
A sales playbook is documentation or a process that details the steps your team can follow to repeatedly engage with new customers and close deals.
When you have defined sales playbooks, anyone on your sales rep team can easily follow each step. It helps to ensure a level of consistent communication with your clients through the sales cycle.
Your playbooks will make it simple for both new and experienced sales reps to generate new leads and sales.
There's no perfect formula for a sales playbook, as the contents and steps to follow will depend on your company, the tools you use, and your customer type. But generally, a sales playbook template includes elements like buyer personas, an outline of sales tools, and key performance indicators (KPIs).
Do you need a sales playbook?
You may have made hundreds of thousands in revenue without having any defined playbooks. After all, if your product solves severe customer pain points, you can get away with not having clear sales processes for a while.
Eventually, you will need to scale up your sales operations to fill your pipeline with leads. When that time comes, you'll be thankful to have sales playbooks in place that outline what works for your business.
They're particularly important when you start hiring. Playbooks enable new hires to come in and be trained on a business processes without needing to be walked through them, or having to figure them out themselves.
How to create a sales playbook
The easiest way is to hold a playbook design session with your sales team as they're working on their day-to-day activities. Make the entire playbook as detailed as possible to achieve your sales goals.
Then, document each key step with screenshots and written documentation.
The tool you choose doesn't matter, as long as it's something your team is likely to use.
Good options include:
Google Docs
Notion
ClickUp
It's important to only create playbooks based on processes that already work. Never add any bad sales practices, not even to discourage sales departments from using them. Include only effective techniques that have been proven to bring new customers and revenue.
On the other hand, if you create your playbooks once you know the exact steps needed to get qualified leads, they'll be more effective when your sales rep team starts using them. 
The sales playbook creation process doesn't have to be needlessly complicated. However, it has to contain your sales methodology, all your advanced sales techniques, your primary goals, the sales process, and the playbook audience.
Next, let's look at some sales channels you can use to start creating playbooks to bring qualified leads and customers into your sales pipeline.
Sales playbook examples
Outbound sales playbook examples
1. Use cold email for a personalized and targeted approach
Cold email is an excellent channel to get in touch with new prospects. Through email outreach, you can contact prospects that match your ideal customers.
To do this successfully, follow these steps:
Firstly, you'll need to identify the prospects that you'll want to reach out to and source their emails. You can use tools like BuiltWith, UpLead, or Clearbit to find contacts within your industry.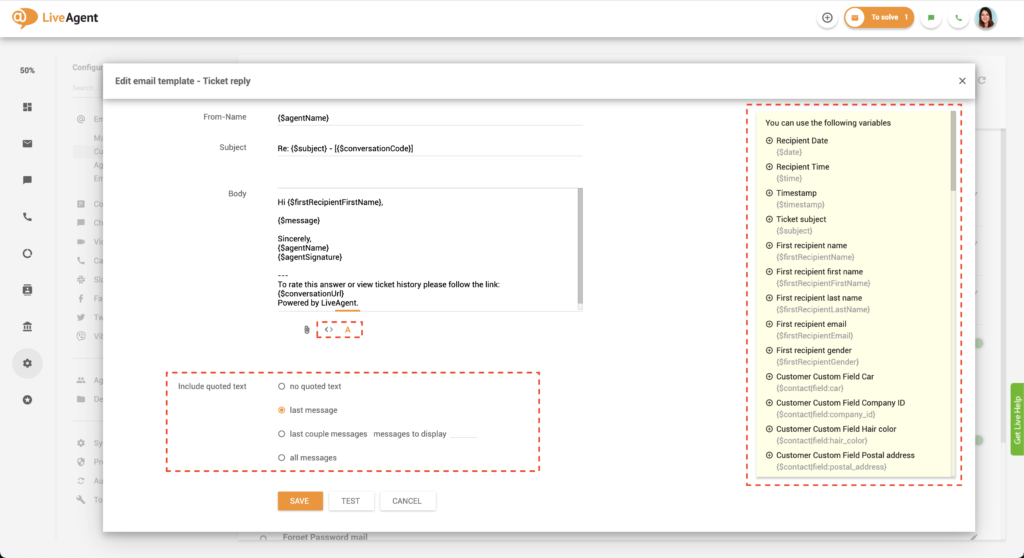 Once you have their contact information, including a verified email address, you'll need to write your cold email templates.
Although you can have parts of your email template that you re-use, each email needs to have unique content for each recipient. You can add a personalized opening line, as well as a first name, company name, and extra personalized details.
For example, you might start your emails by saying:
Congratulations on opening your new office in [location].
I just read the article you published on [topic] – appreciate your transparency into how you built your marketing team.
I listened to you on [podcast name] – great insights!
You don't need to reinvent the wheel when writing your email, as long as it's clear to your prospect that it has been made specifically for them.
Make sure to add some information about why you're reaching out to your prospect, and a call-to-action that makes it easy for them to reply.
We're excited to welcome you to the [Brand] family!
Every single one of us is here to make sure you're happy with [Product]. Firstly, let's make sure your account is set up properly.
Watching our Onboarding Tutorial will help you familiarize yourself with [product]. It covers how to complete your set up process, key features of your account, plus some handy tips and tricks.
Onboarding Tutorial Video
If you need any help at all, drop us a line anytime at (email) or Tweet us @brandname We'll be more than happy to lend a hand!
Until next time,
[YOUR SIGNATURE]

Now you have your prospect list, and your email templates ready. The next step is to send your cold emails.
The best way to do this is with cold email software, like QuickMail. However, there are many email scripts online that you can utilize.
First, import your prospects. Then, add the email templates you've written into the email editor. Even with a single email in your sequence, you'll get replies, but the secret to high-performing cold email campaigns is to follow up after a no reply.
Send three to five follow-up emails with a couple of days between them (a two to four days delay is appropriate).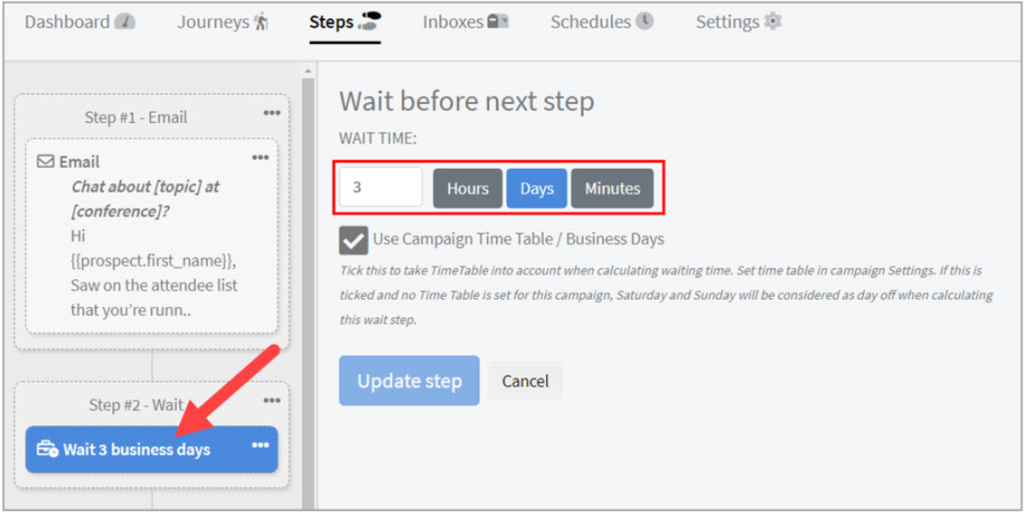 If your first email doesn't catch your prospect's eye, there's a high chance that your follow-ups will.
It won't be long before you're having conversations with qualified sales leads eager to learn more about how you can solve their problems.
You can sync QuickMail with your CRM software so that whenever you receive a reply, it'll be automatically added to your prospect records.
Once you know what type of email templates and call-to-actions generate the most replies, you can create a playbook outlining the basic sales techniques step-by-step. Then, anyone on your sales team can jump in and begin sending cold emails that start fruitful conversations.
Expert's note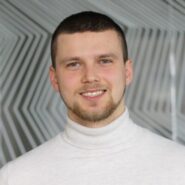 Andrej Saxon
Customer success manager
Customer service directly affects whether or not a customer will return, which is why it is just as important as sales.
Consider LiveAgent's customer service software if you're looking for an all-in-one solution. The system gathers all communication in one interface, reports, and automates your team's daily tasks.
Notable features:
Pros
cold emails give you a direct way to reach customers
automatically send emails and follow-ups using a cold email tool
repeatable process once you have a cold email template that works
low cost, all you need is a prospecting tool and a cold email tool
Cons
can't be fully automated as you always need to personalize your emails
you need to be available to reply when your prospects get back to you
2. Target decision-makers using LinkedIn outreach
LinkedIn is another excellent platform for outbound sales work.
The first step is to optimize your and your team's LinkedIn profiles. Ideally, you'll match your profiles to your company brand, and use all of the profile real estate that LinkedIn offers. If someone lands on your profile, they'll know exactly what you and your entire team can help them with.
Next, you and your team need Sales Navigator accounts. It comes at a small cost, but it's essential to run outbound campaigns on LinkedIn. Sales Navigator gives you more powerful search filters, higher connection request limits, and extra InMail credits. This allows you to send messages that are pushed to the top of your prospect's inbox.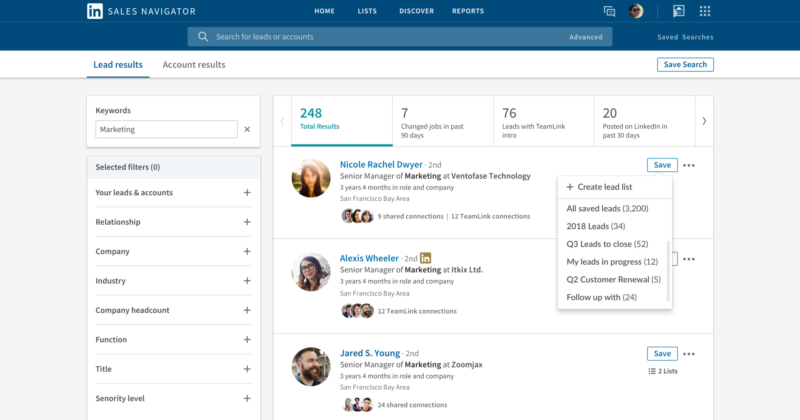 If you want to run effective outbound lead generation, you'll need to use LinkedIn outreach tools. It's vital to note that these can put your account at risk of being restricted (LinkedIn famously does not like it when users add extra functionality to the platform).
Look for a tool that invests in account safety features to minimize this risk. Some popular options include Expandi, LeadConnect, and Zopto, however, do thorough research before deciding.
Once you've chosen a LinkedIn outreach tool, you can use the platform in a similar way to cold email:
create your prospect list
craft a personalized outreach message
schedule your messages to be sent out
Considering 33% of decision-makers say they use LinkedIn when making purchase decisions, it's vital that you maintain a presence there.
Pros
a large number of your intended audience is accessible on the platform
you can automate the outreach using LinkedIn outreach tools
optimizing your profile can lead to inbound interest
Cons
LinkedIn can restrict your account if you go over the invite limits or use non-compliant software
you don't own the platform and tools can be cut off if LinkedIn changes the API
Inbound sales playbook examples
1. Convert more website visitors into customers with live chat
Live chat is often seen as a channel that's only there to help your existing customers.
However, if used correctly, it can be an excellent way to gather information from inbound leads and encourage them to schedule a demo call with you.
Why is optimizing your website experience so significant? Well, picture this: you reach out to a customer with a cold email, LinkedIn message, or paid ad. Even if they don't reply, there's a strong chance they'll check out your website.
If they visit your website and don't take any action, you may never see them again. But, with a live chat system, you can make it easy for website visitors to ask questions and engage with your product team.
Rather than building this functionality yourself, you can accelerate the process with a platform like LiveAgent.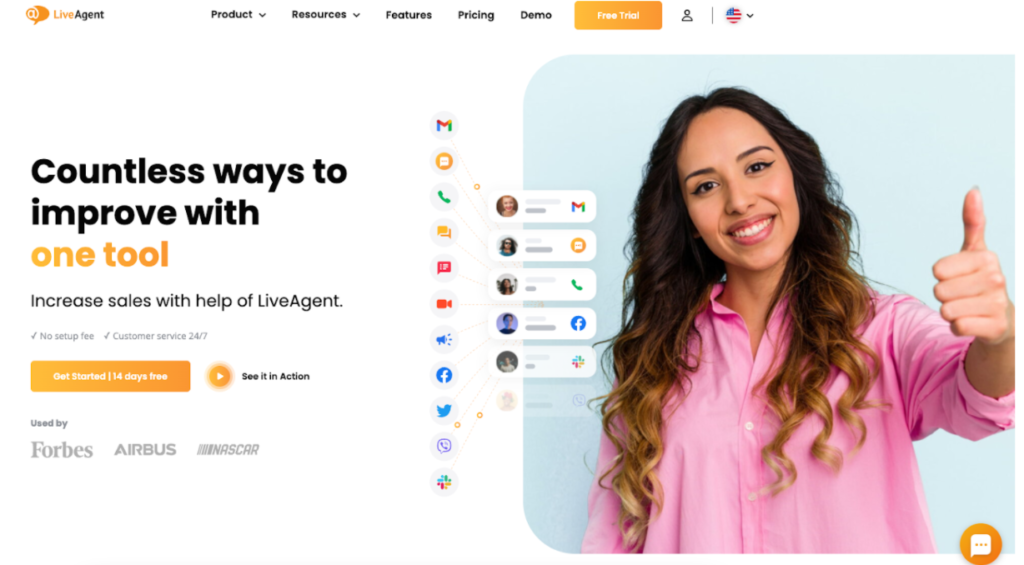 Once you know what common questions your leads have, you can build workflows to automatically answer them.
Over time, you can adjust your live chat scripts, update your call-to-actions, and improve your website conversion rates.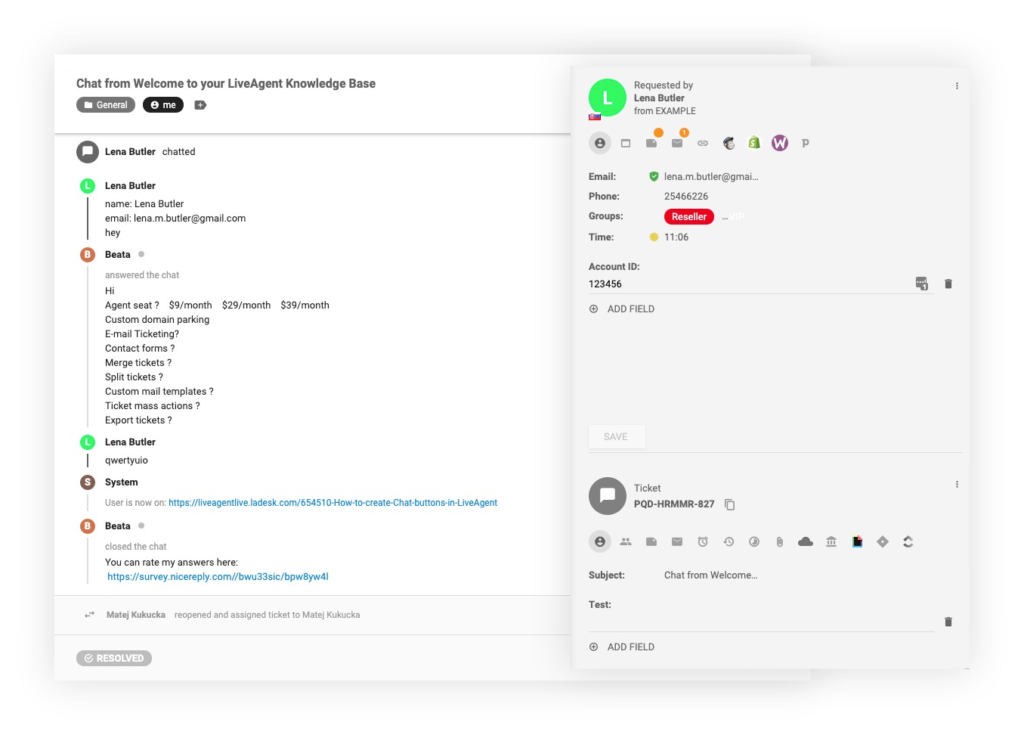 LiveAgent also has a built-in CRM which includes customer profiles. Whenever a lead interacts with your team, the conversation can be logged in their CRM record. When the lead reaches out again you can proactively help them as your whole team can see details of previous conversations.
After your interactions with prospects, you can even send follow-up emails to them directly from LiveAgent, so you'll spend less time jumping from tab to tab.
Pros
engage with warm leads while they're actively researching your company
log sales conversations in a CRM and stay on top of customer interactions
use a tool like LiveAgent to increase your website conversion rate
Cons
need to ensure you have consistent website traffic to see ROI
initial setup required to fit your company's existing processes
2. Use tailored landing pages to improve ROAS on paid ads
Another common sales playbook tactic is running targeted paid ads to your ideal customers and driving the traffic to personalized landing pages.
There are two main benefits of this:
it increases the number of conversions on your landing page
it reduces the cost per lead from your ad campaigns
As well as offering a personalized landing page, you can go the extra mile here by setting up your live chat or help desk software. You can use this to trigger engagement workflows or notify your team when a prospect interacts with your landing page.
There are a variety of tools you can use to create custom landing pages.
Firstly, you could opt to work with the existing platform you're using to manage your main business website – whether it's WordPress, Webflow, or a custom tool. The main concern is that your team is comfortable using it and can publish landing pages without going through several layers of approvals.
Alternatively, you can use a custom landing page builder, like Unbounce or Leadpages. The benefits of these are that they're designed specifically for creating sales-focused landing pages.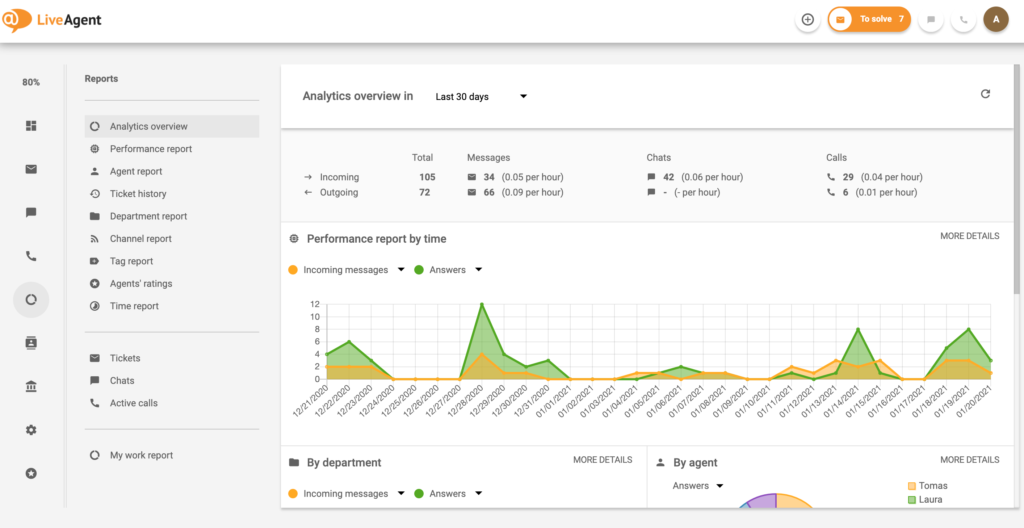 They typically come with features like built-in A/B testing, a built-in conversion analytics platform, and a variety of integrations so you can plug them into your other sales and marketing tools. However, the key benefit is that they let your sales and marketing team create pages without needing any help from developers.
Once you know what elements resonate with your customers, you can scale up your campaigns using them.
Pros
improve the return on investment from paid ad campaigns
show prospects the most relevant headlines with personalized landing pages
Cons
it can take time before you find a headline that converts well
need to invest in ad campaigns to drive relevant traffic
Considerations when implementing your sales playbooks
Not every sales playbook will fit every business. There are no sales strategies that don't have their own set of challenges. Just because you've seen one of our examples here, doesn't necessarily mean it's perfect for your company.
In your business, you might see the best ROI using cold email campaigns combined with a platform like LiveAgent to handle inbound leads.
Another business might see better results with paid ads and sales calls.
Whichever approach you try, make sure to analyze each step to make sure it works for your unique customer type and your conversion flow. If you see positive results, stick to it. If you think there's more potential, you can adjust the sales techniques you're following and find out if there's an improvement.
Regardless of which type of sales playbook your team follows, the key is that you adapt each step to work for you.
It's also natural that your playbooks will change over time. For example, if your sales team starts using a new tool, you'll need to update your playbooks to ensure continued success. Furthermore, if you start targeting prospects in a new market, or you decide to introduce new product offerings, you may need to change your approach and, therefore, your playbooks.
Conclusion
Creating an effective sales playbook is an important step to scaling up your sales operations. It'll ensure your whole sales team as well as sales managers are on the same page and can follow a repeatable process whenever they're planning a new campaign.
There is no need to be intimidated when it comes to creating your playbooks. You can start with a system as lightweight as a shared Google Doc. It can outline the steps your team needs to take whenever you're running inbound or outbound campaigns. Over time, it can evolve into a robust set of documentation that you can use to scale your campaigns and help onboard new team members, and ultimately, close more deals and grow your business.
Increase your sales with live chat
One live chat agent can handle several customers at the same time. LiveAgent improves your productivity and customer satisfaction.