The latest LiveAgent 5.28 update rolled out recently and as usual, we were busy. We worked on more fixes, improvements, and updates that aim to make your workflow smooth and more accessible. We focused primarily on fixes and improvements in LiveAgent 5.28. Keep reading to find out what they are and how you can use them to your advantage. 
New improvements
Date display in internal chat
Our internal chat would show you the times when separate messages were sent. However, you couldn't check the date of when the message was sent. While this wasn't such a huge issue in chats in a recent time period, this wasn't the once they accessed the chat history. We have improved our display to show you the date when you hover your mouse over the "X ago" information in your internal chat messages. 
API v3 key removal confirmation
API v3 keys created in LiveAgent were easy to remove. We added a removal confirmation option so you won't remove your API v3 keys by accident. Each time you want to remove one of the keys, you will be required to check a checkbox to confirm the removal. This will help you avoid unwanted removals.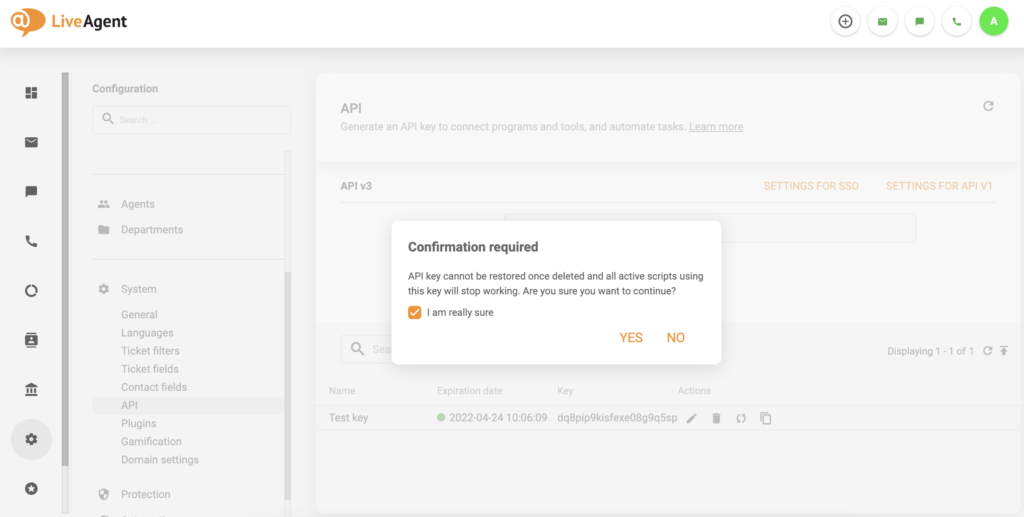 New email message group types
We have added two new email message groups for easier distinction. These types are Incoming email and Outgoing email. You can see this change in the UI in the Rules when setting a condition for a message group type. This change will make it easier to distinguish between sent and received messages. 
New tweaks, fixes, and other updates
Email recipient behavior fix
Some users might have noticed a problem when hitting the "Reply" function in LiveAgent during conversations with multiple recipients. The function would select a random recipient out of all included in the conversation, which was not supposed to happen. We have fixed this by creating a separate group called "ticket participants." This group includes all people who previously participated in an email chain. The system will now correctly recognize the intended recipient of your replies. 
Another change comes with the "Reply to all" behavior. Before the 5.28 update, the function added all recipients that participated in the email conversation since the first email ticket. The "Reply to all" function will only add recipients from the last message received for better convenience. This major fix also helped us to get rid of other related problems. Take a look at the three most important fixes right below.
Wrong names in ticket salutations
The mail account name of the sender is usually used in a salutation of every email reply you make. However, this became a problem if the email address didn't include the person's name. The automation would create interesting salutations, such as Hi [company name] instead of Hi [name of a person]. We have fixed this issue in newer versions of LiveAgent, and the name in the salutation should display correctly.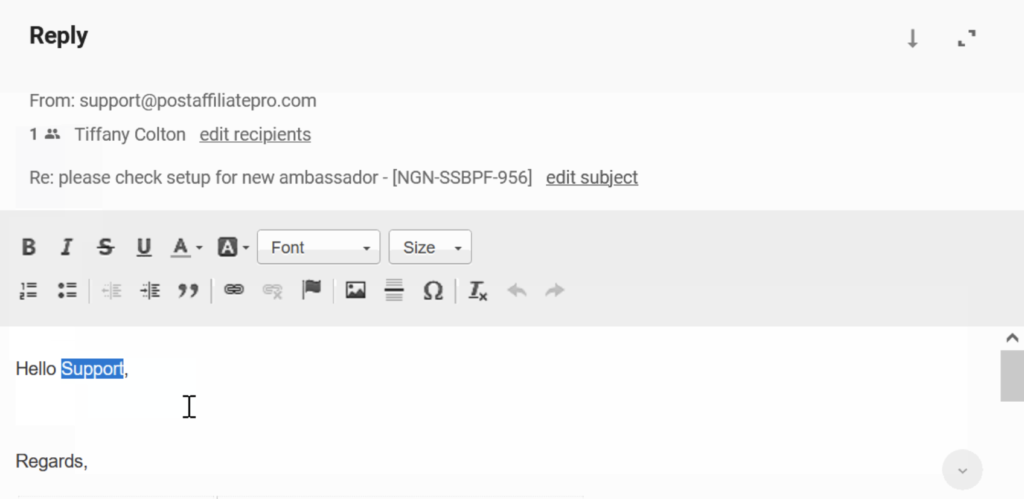 Cc recipient listing in tickets
Whenever you were about to use the "reply all," you might have noticed that the recipients in the Cc didn't show right away. You had to click on Add recipients to see the participants. We have removed this problem in LiveAgent 5.28, and the email addresses in Cc will display correctly.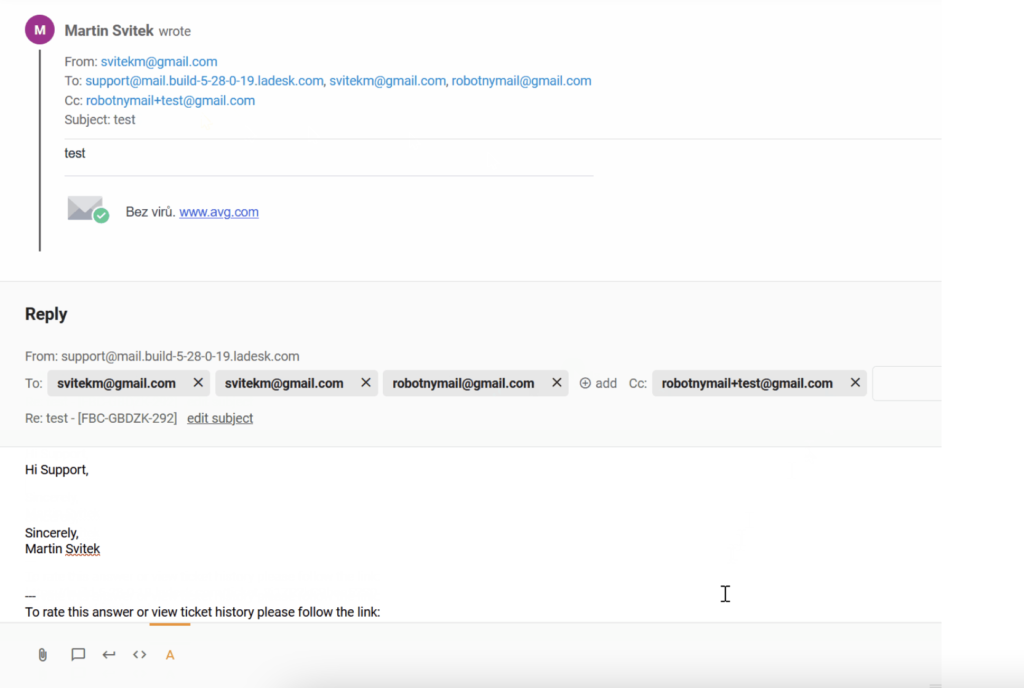 Email address duplicates in tickets
When you hit the "reply all" function in ticketing, the system often adds the sender's original email address twice. This issue didn't cause any major problems, but it was confusing, and users were forced to delete the copy of the same email address. This issue has been removed. 
Tag colors in Firefox browser
Choosing different tag colors for your tickets was difficult due to a bug that Firefox users might have experienced. The browser never saved the color selection for specific tags, and therefore it couldn't change the color. This issue has been fixed, and all LiveAgent users who use Firefox won't experience this issue anymore.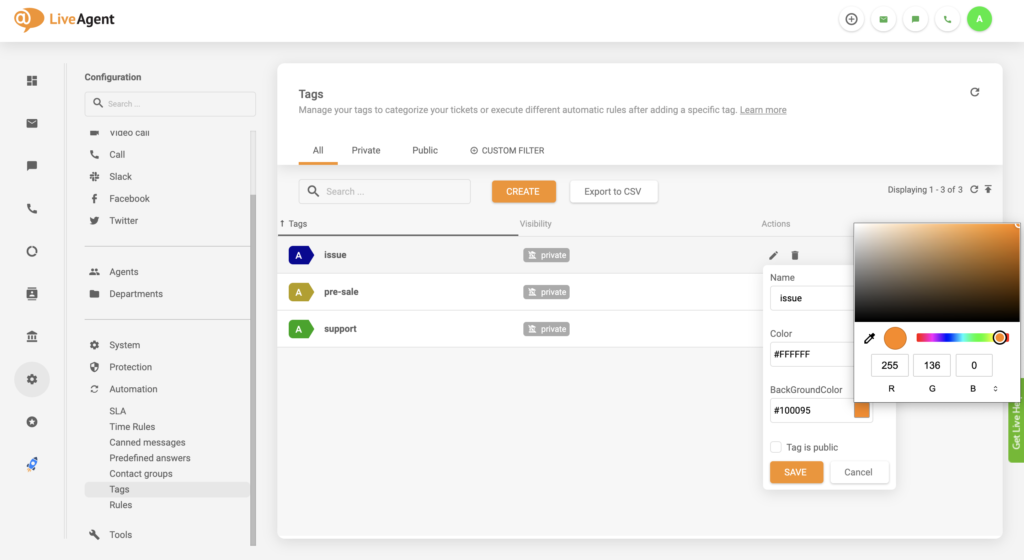 Double copy-pasting in tickets
Some copy-pasting situations in customer tickets showed a bug where the copied image gets pasted twice with a single keystroke command. The picture then had to be manually removed from the ticket before continuing. We took notice of this bug and removed it so you won't have to delete each time the copy-paste function pastes a picture twice. 
Time filter issues
Time filters for email outbox weren't displaying some of the emails within a selected time. This issue was caused by a lack of conversion from local to server time. This issue has been resolved, and the time filter will not display all emails from a selected time. 
Ticket problems with older versions of Safari
Users who rely on older versions of the Safari browser might have experienced issues with tickets. The tickets wouldn't open up on Safari versions 13 and below. We understand that upgrading the browser is not an option for everybody for various reasons, and that's why we fixed this issue to allow access to older versions. 

IP search in ban logs
Searching for banned IP addresses in the ban logs was something impossible due to a bug that wouldn't show IPs that users searched for. This issue has been fixed and won't cause any more problems.
IVR record search
Our Interactive Voice Response records are always stored, but LiveAgent users often rely on our search widget to find the ones they look for when they pile up. Our IVR record search had a bug that halted any search and refreshed the records list. This issue is not present in LiveAgent 5.28, and the search widget will work correctly. 
Facebook message fetching
The Facebook ticketing feature had a bug where the LiveAgent ticketing system couldn't fetch messages with certain parameters. This issue resulted in missing messages that couldn't be retrieved automatically. LiveAgent 5.28 no longer has this issue, and the system will fetch all Facebook messages.
Graph and diagram loading error
Some reports with diagrams or graphs had a bug where none of the report visualizations would show. Whenever the users clicked through types of diagrams and wanted to see the previous option, they would get an error. This error caused the app to stop loading the graph or diagram. This issue has been removed. 
Two-factor authentication QR code
LiveAgent's two-factor authentication setting had a problem. Whenever you wanted to enable two-factor authentication, the QR required for enabling this feature would sometimes disappear. This meant that all users who experienced this issue could not enable two-factor authentication in their help desk system. We have noticed this problem and removed it in 5.28. 
Offline ticket sorting issue
Whenever a customer leaves an offline message for agents in a ticket, our system is supposed to adjust the sorting of these tickets by their importance. A certain bug caused the system to ignore the importance of offline messages and didn't sort them accordingly. Our team promptly fixed this bug related to offline messages. 
Chat availability reports
Chat availability reports sometimes showed wrong chat availability across all departments when our users selected the "any" value. When they clicked on separate departments, the reports showed the correct times. This problem led to some confusion about live chat agent availability values. The problem is no longer present in the 5.28 version. 
Facebook post creation problems
Some users experienced a problem when creating new Facebook posts in LiveAgent. A new window will open when users create a Facebook post via LiveAgent and hit send. However, when trying to open the ticket after it was created, users would get an error, and the post wouldn't open up. We removed this Facebook posting issue.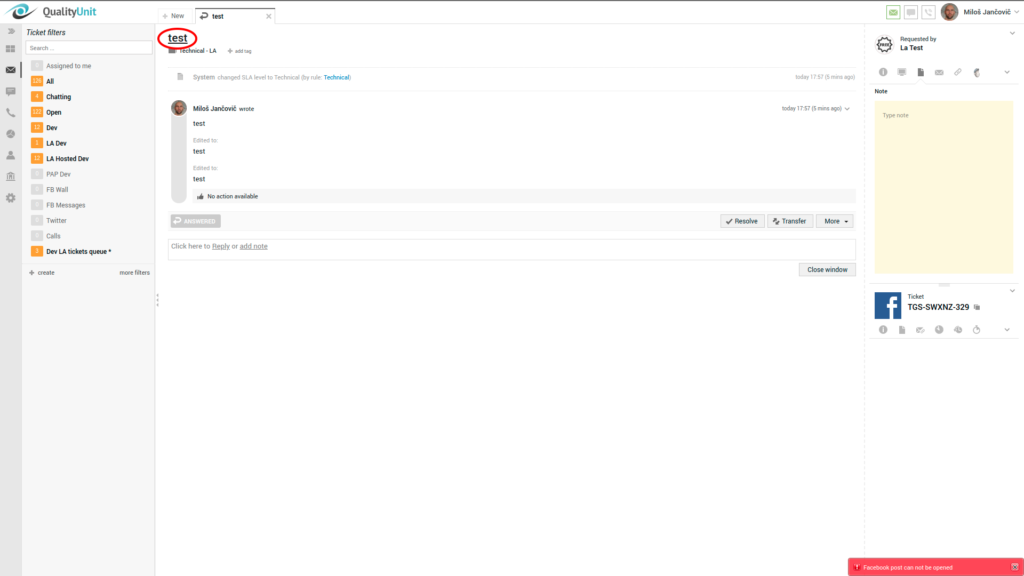 Hyperlinks in tickets
Our tickets always support hyperlinks for agent and customer convenience. However, we have found an issue with ticket codes in tickets that weren't converted into hyperlinks. This issue slowed down the agent workflow when sharing ticket IDs with others. The issue has been removed, and ticket ID hyperlinks will work correctly. 
Ticket recipient removal bug
Sometimes when hitting the reply button in a customer ticket, the recipient email would get deleted from the field. Instead, the system hid the email address in Cc. This has been confusing for agents trying to reply to their customers and led to a surprise when they couldn't see the recipient's email address.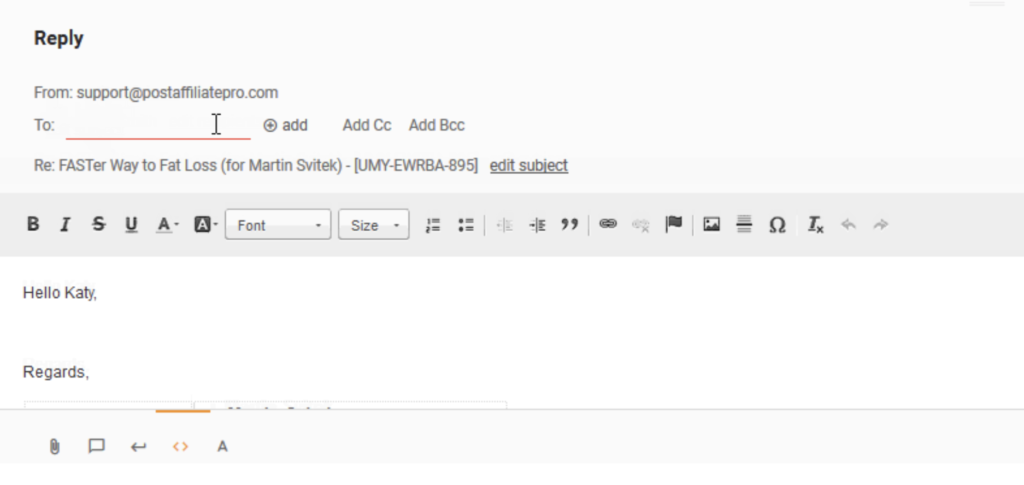 What would you like to see in the next update?
We are currently busy working on the next LiveAgent update, and we would like to hear your ideas. Do you have suggestions for improvements, updates, or even new features you would like to see in the future versions? Hit us up via email, send us a chat message, or give us a call and let us know about your ideas.