Running a successful marketing campaign and generating thousands of prospects is one side of the business coin.
The other side is to build strong relationships with your present customers to make them your raving fans so they will continue to engage with your brand in the future and get a competitive edge.
Every business on social media strives to catch the attention of its target audience as social media becomes the new currency in today's hyperactive world.
You are more likely to lose clients to your competitors who have a better social media marketing strategy if you don't provide consistent value to your customers, don't interact with them regularly, and don't make them feel special via social media customer service.
So let's first explore the why before moving on to the how.
Why is building valuable customer relations important on social media?
Statistics show that an average user on social media channels is able to pay attention to a piece of content for 2.5 seconds and 1.7 seconds on mobile devices.
Adding fuel to the fire, a ton of content floods into your customers' social platforms every minute. It may be difficult to improve customer loyalty on social media if your content doesn't stand out.
With a decrease in customer base, you will:
Experience a downfall in your profit margins
Lose serious revenue
Potentially lose your brand's credibility
So, do you want to retain your social media customers and make them your lifelong fans or lose the race to your competitors?
It's only natural to want to keep your customers as loyal fans! Take advantage of LiveAgent customer success software so you don't need to worry about keeping track of multiple customers. Using LiveAgent's omnichannel solution, you can manage audiences on a social network, so whenever somebody tweets or comments about an issue with your product on Twitter, Instagram, or other popular social media channels, LiveAgent records it in its ticket queue.
As a bonus, here are six more top ways to engage your customers on social media and create lasting relationships.
1. Share brand stories
It is one of the greatest arsenals in human history to grab someone's attention and get them interested in what you want to say by:
Storytelling.
If you want your audience to engage with your brand on social media more often, share your brand stories by adding a branding touch to your videos and photos. This gives a subtle and underlying consistency by stringing your brand image and journey over time.
Consider posting creative photos working with some design elements to grab your viewers' attention, and they will be more engaged with your brand. Think of it as a mixture of relevant content that your business sees as important, and the presentation of how you relay this to the public.
Tell them how you started your brand, share milestones, testimonials, vital partnerships, and make them aware of all setbacks too. These stories will help you build a solid emotional connection with the audience.
They can also help you in word-of-mouth marketing by introducing your brand to their close ones. It will ultimately skyrocket your brand awareness and drive in more engagements.
Here's an example to explain the point where a tequila brand announced its partnership with the Deadpool 2 movie on its social media handle. Sharing something important like this can help you attract your audience's attention and positively impact the engagement numbers.
When sharing your brand story, you should also take into account the best social media posts length for each social media platform to maximize engagement. Attract the user's attention by providing some value, and you'll see a difference in retention.
Look at the information below to get an idea of what content length is ideal for different social media platforms.
Twitter: 71-100 characters
Facebook: 25-55 characters
Instagram: 140-150 characters
YouTube: 3 minutes video
These are a few suggestions from our end, but you can tailor the length according to your requirements. Once finalized, you can schedule your posts with a social media management tool for better reach.
2. Ask for regular customer feedbacks
Social media is a real-time avenue for feedback and communications. Therefore, you need to ask for your customer's feedback regularly to find out about common customer issues.
Making your audience express their views will help them feel special and realize their views matter to your brand.
Customer feedback can be obtained via platforms such as Simplesat, NiceReply, Klaus, and more. Integrate them for free with a comprehensive help desk system like LiveAgent and improve your efficiency immediately.
You can also ask your social media audience for their views whenever you launch a new product or service, similar to YouTubers asking for feedback on the topic at the end of the video. This will help you find out if you've met customer expectations.
Remember: Remember to act on those views; you do not want to convey the message to your audience that you do not care about their opinions.
Check out how Starbucks engaged their audience on Instagram stories by asking which iced coffee was their audience's favorite.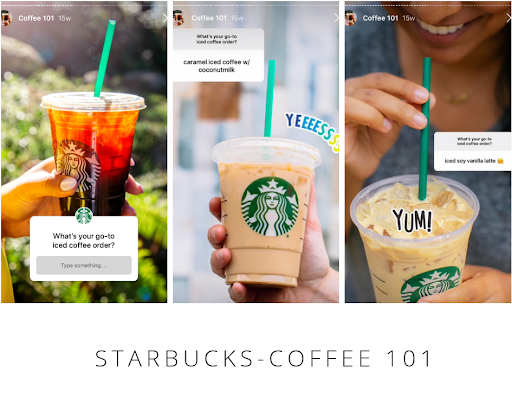 Overall, customer feedback strengthens the bond between a brand and its audience, and the viewers will feel that the brand cares about their views, which ultimately drives high engagement.
3. Conducting contest can help big time
Interacting with customers proactively across social media platforms and conducting regular contests can improve engagement rates. For example, you can ask your audience to vote for one of your favorite products, conduct a giveaway event, or any other creative online competition.
Having an interesting offer for your audience will encourage them to share it with their friends and family, which will increase engagement and social interactions.
Such campaigns will make your customers feel they are part of a community and are likely to be more than happy to be contributors.
Creating a social media contest can also help you achieve goals and strengthen your overall online presence. You can ask your viewers to take specific actions to receive a particular reward. Here's an example to explain this point.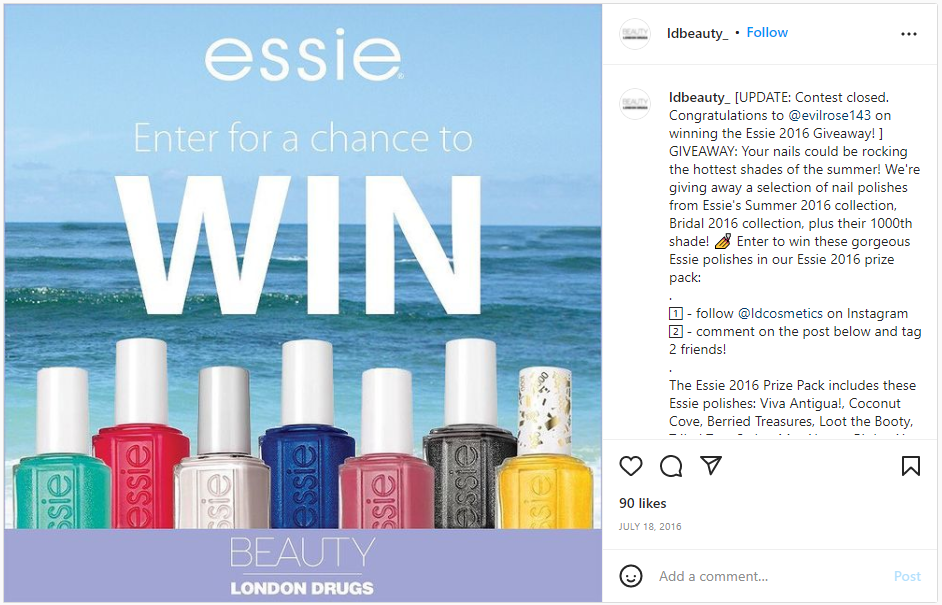 Look at how this brand created a social media giveaway contest and, in return, asked the viewers to follow a page and tag two other friends in the comments. This helps to increase the number of followers and make more people aware of the brand.
Conducting contests is a great engagement asset and also drives new prospects.
4. Offer personalized experience
One of the most underrated ways to build trust and engage with the audience is by providing your customers with a personalized online experience.
When you post your contest results or reply to comments, addressing them using their name creates an empathetic bond with the target audience.
As soon as you start doing this, people will feel more inclined to interact and engage with your brand regularly. This might also improve overall customer satisfaction.
Here's an example that explains the same thought process.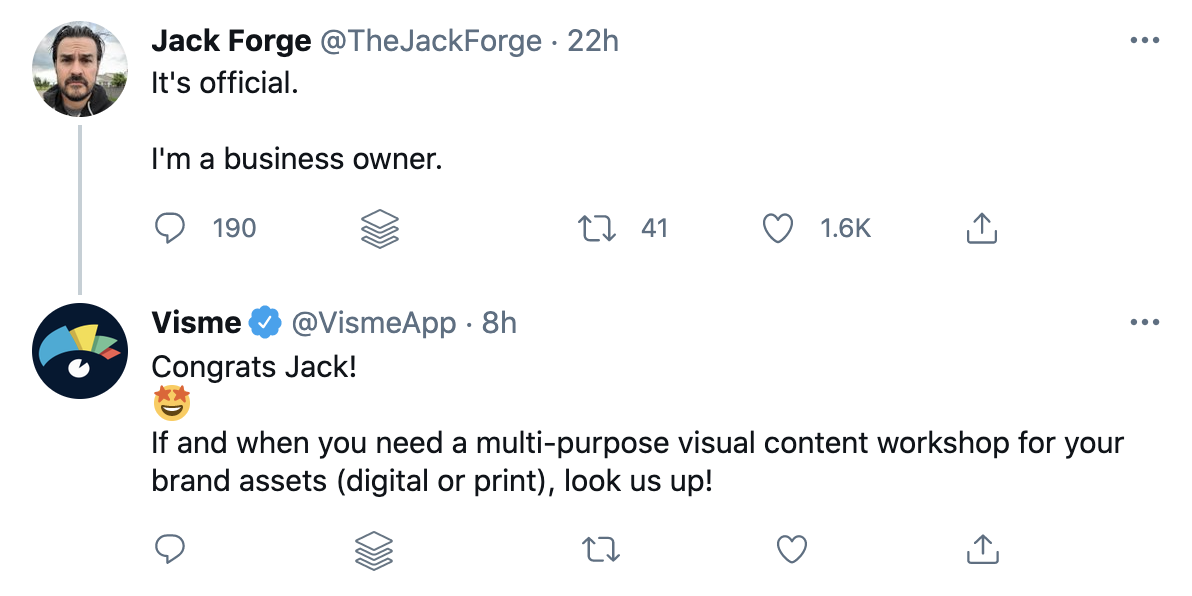 Here's a brand that interacted with a prospect on Twitter and congratulated him on starting a new venture.
You should also update content as per different social media platforms you'll use. Why?
Because every social media platform has a different approach and motive. To maximize your customer engagement, it's crucial to find the best customer engagement platform for your brand. People use multiple social media platforms for content consumption, so you need to mold your social media strategy and content as per the platform and the user requirements.
This will keep your audience hooked because they will find it more relatable and will want to engage with it.
For example, Snapchat and Instagram are great for posting visual brand content. But, on the other hand, Facebook and Twitter can respond to customer service messages and engage with real-time text posts that you don't find on Instagram or Snapchat.
5. Make the most out of videos
Video content is one of the most intuitive and engaging content you can post anywhere across the internet. In 2021, an average person will spend over 100 minutes watching online video content.
Because most social media platforms have raving video content, it is undeniably the most effective way to boost your engagement rates. Due to video-based social media platforms such as YouTube and TikTok, all brands should include video marketing strategies in their marketing efforts.
Social media platforms provide great organic reach for video content, bringing it to the forefront. Brands will benefit from this immediately.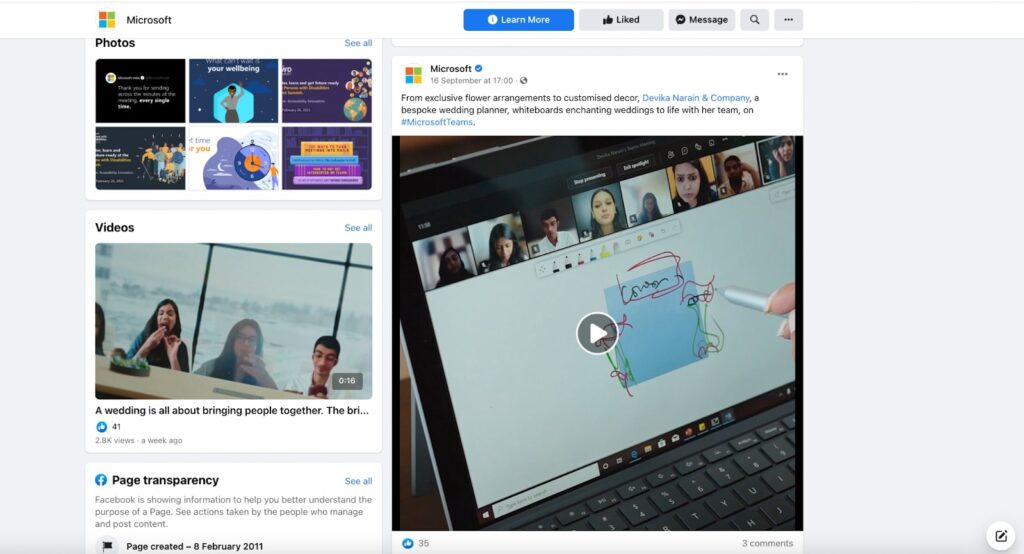 One of the biggest tech giants globally, Microsoft, uses video marketing across social media platforms to engage with its audience and strengthen its social media presence.
6. Educate your audience
The primary reason for having a social media presence is to provide value to your audience and show them why you stand apart from the rest.
One of the greatest hacks in the book is to showcase credibility and authenticity to your audience by providing them with knowledgeable social media content.
If you are good at something, make your audience learn from your experience, share valuable industry insights, and use your product or services to solve real-time problems. It will entice them towards your content and boost engagement efforts.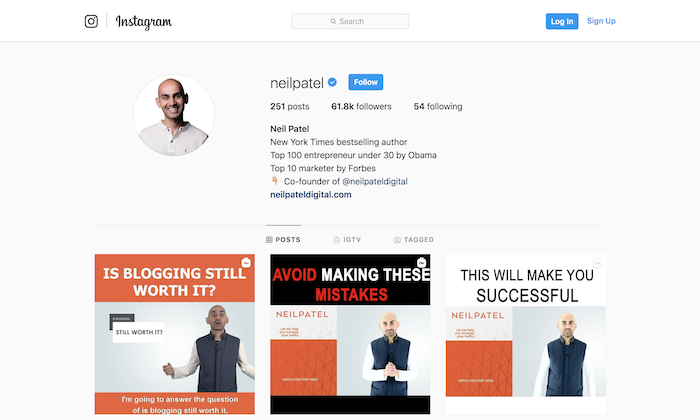 Here's how Neil Patel, a well-renowned brand in the digital marketing world, provides immense value to his audience on social media platforms and shares his expertise.
This last point wraps up the 6 excellent ways to engage with your audience to build trust, long-lasting relations, and achieve social media marketing goals.
Creating relevant content across multiple social touchpoints can be difficult for any brand, but brands can't afford to miss out on this! Set up an efficient social media approval process to guarantee quality because tons of content are provided to the users every second already.
Nobody wants to lose audience engagement. However, with reduced attention span and access to millions of content pieces in minutes, it has become difficult for brands to impact the audience instantly.
But you can still boost your engagements if you consistently apply all the above-listed tactics and tips on social media to provide value to your audience uniquely and enticingly.
Conclusion
Social media statistics have proved the supremacy of social media networks when it comes to interacting with loyal or potential customers. Engaging your customers will increase brand awareness and leave them with a great customer experience. Moreover, by retaining the user's attention for a longer period of time, you can increase your lead acquisitions.
Now that you know all result-oriented tips and tricks to engage with your customers effectively over social media, you can easily retain your precious customers and even add newer ones to the queue.
Taking advantage of social media can help you provide great customer service, since more and more people expect complaints and opinions to be addressed online. But be tactful when tackling negative feedback. Make sure you know what to reply to and what to ignore.